The 5 Best Music Venues in Ottawa
One of the best ways to relax is to listen to live music. It's a great way to enjoy the company of friends and family and get away from the everyday hustle and bustle of life.
In this article, we will explore and review some of the best music venues in Ottawa.
How much do music venues charge in Ottawa?
The usual door charge for music venues in the city is around $10 – $20. This can increase if a notable artist plays at the venue.
For more specifics, refer to the table below:
| Ticket Inclusion | Average Cost |
| --- | --- |
| Entrance fee | $8 - $10 |
| Entrance fee with one drink | $10 - $12 |
| Entrance fee with food and drink | $12 - $15 |
| Entrance fee with backstage access | $20 - $25 |
| Concert ticket (mainstream artist) | $150 - $200 |
The Best Music Venues in Ottawa
To find the best music venues in Ottawa, we looked at the following factors:
1. Live! On Elgin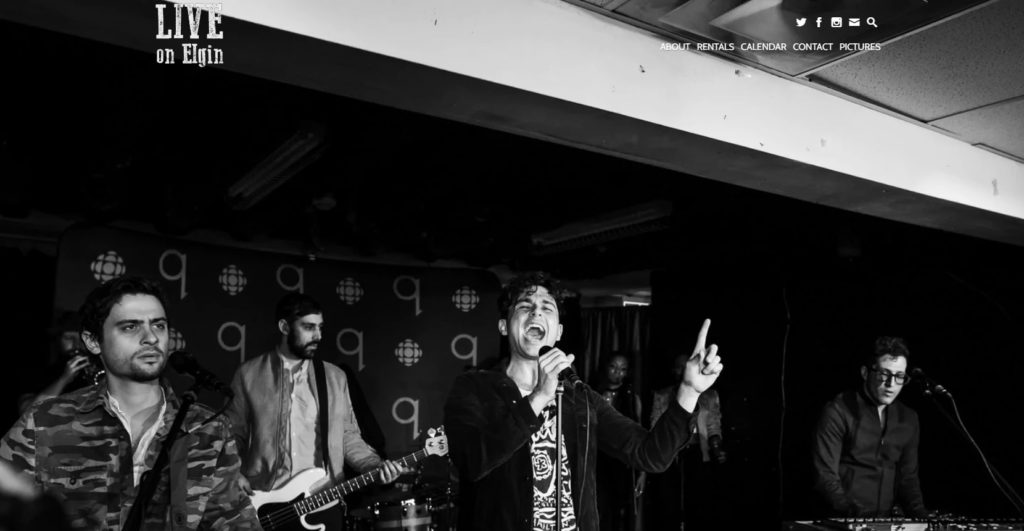 | Test | Info |
| --- | --- |
| AMENITIES | Venue Rental, Live Music, Table Food |
| WEBSITE | https://www.liveonelgin.com/ |
| ADDRESS | 220 Elgin St #2, Ottawa, ON K2P 1L7, Canada |
| CONTACT DETAILS | 613-695-5483 |
| OPERATING HOURS | Appointment only |
| | |
| --- | --- |
| Criteria | Ratings |
| Rates | ★★★★(4/5) |
| Size | ★★★★(4/5) |
| Location | ★★★★★(5/5) |
| Menu | ★★★★(4/5) |
Live! On Elgin is a great spot if you're looking to listen to some live music. The sound quality is great, and the artists that are usually invited there are usually acoustic and alternative bands that play music that is easy on the ears.
Live! On Elgin is a great venue, especially for events and parties, because it can accommodate larger crowds. The layout of the place is also well-designed and makes it easy for people to navigate around and find their seats.
We also love how the owners are music enthusiasts themselves. They are well-connected with numerous local acts and musicians and are always working hard to bring people high-quality live performances that they can enjoy and appreciate.
If you want to celebrate your wedding reception at this venue, you'd be glad to know that the owners have a list of specific bands that can play at your wedding, so you won't have to go through the process of auditioning bands yourself.
The only downside to this place is the fact that there's no wifi. Unless you have an unlimited data plan on your phone, you'd have to go elsewhere if you want to access the internet while at the venue.
Overall, the place's innovative design and its owners' connections are what make Live! On Elgin a good spot for your music cravings.
Venue rental is open for most events
Well-connected with the local music scene
Owners can easily be contacted
Live music every night
No wifi
No indicated hours
Customer Reviews
Impressive
"Great local music spot with maintained masking policy and so many interesting acts. Great stage space, seating, and staff." – Emma Schuster
Thankful
"We went to hear Jessica Wilson and the East Wind here and all 4 of us were so pleased with the show. So nice to hear the audience listening in a bar instead of loud talking.The tall bar chairs I find a bit uncomfortable and I wish they had wifi, but overall the venue was just fine. Great to see they have live music every night of the week." – David Flack
2. Mercury Lounge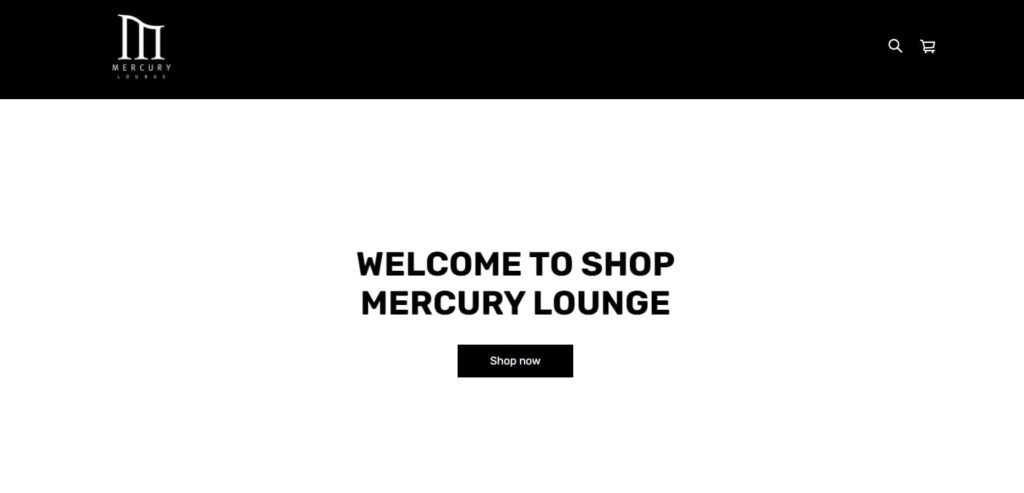 Test
Info
AMENITIES
Live Music, Live DJ Sets, Bar, Online Alcohol Store
WEBSITE
https://mercury-lounge-100356.square.site/
ADDRESS
56 Byward Market Square, Ottawa, ON K1N 7A2, Canada
CONTACT DETAILS
613-789-5324
OPERATING HOURS
Monday 3–11PM

Tuesday 6–11PM

Wednesday 6–11PM

Thursday 6–11PM

Friday 6–11PM

Saturday 6–11PM

Sunday Closed
| | |
| --- | --- |
| Criteria | Ratings |
| Rates | ★★★★★(5/5) |
| Size | ★★★★ (4/5) |
| Location | ★★★★★(5/5) |
| Menu | ★★★★(4/5) |
The Mercury Lounge is another great place you can go to for live music. It's located at Byward Market Square and features live DJ sets and its own bar and lounge area.
What makes the Mercury Lounge unique is its focus on EDM and other modern music genres.
While many live music venues in Ottawa are more into rock and acoustic bands, this venue is geared towards the younger generations who prefer hip-hop, rap, and electronic music.
If you're into dancing to upbeat dance music, this is definitely a place to go. The Mercury Lounge is also located in an area that's full of other cool bars and restaurants you can check out.
We also love how clients can go online to reserve a ticket for the lounge's events. This is an excellent way to avoid long lines, and it also makes many clients feel like they're VIPs.
Overall, the only drawback of this venue is the fact that it's not the best choice if you're looking to sit back and relax because the music is more for dancing and partying with friends.
However, if hanging out with friends while listening to great dance music is your thing, you can't go wrong with the Mercury Lounge.
Has an online store for reservations
Has its own bar
Has multiple performers for different genres
Customer Reviews
The best
"One of the best places to dance in the city on a Saturday night! Easily my favorite dance club in the city. Besides a good layout of the floor for dancing, the staff is fast and friendly. They host a variety of DJs with different styles." – Carl Cencig
Amazing
"Can't say enough about this venue. Easily one of the best atmosphere's in the city. Plenty of early start and late finish events. Amazing DJs, performers and talent. " – Brandon Fairhead
3. The Rainbow Bistro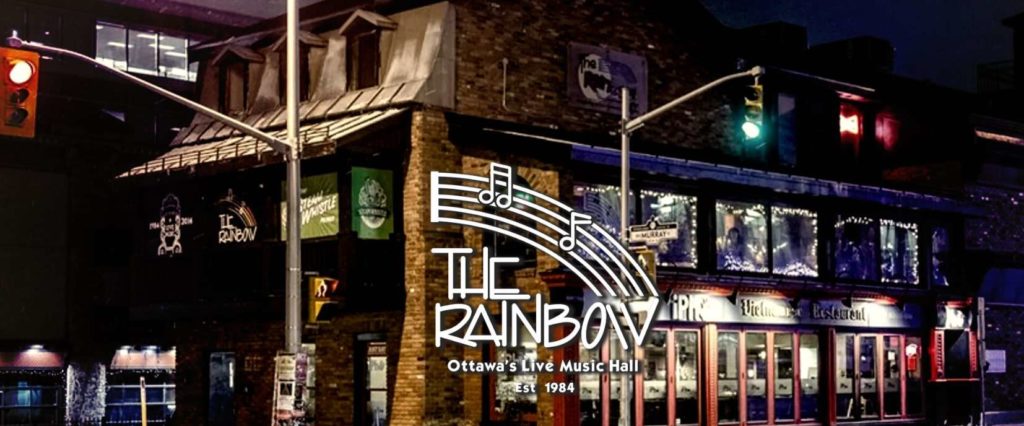 Test
Info
AMENITIES
Live Blues, Bar, Cocktail Station
WEBSITE
https://therainbow.ca/
ADDRESS
76 Murray St, Ottawa, ON K1N 5M6, Canada
CONTACT DETAILS
613-241-5123
OPERATING HOURS
Monday 8PM–2AM

Tuesday 8PM–2AM

Wednesday 3PM–2AM

Thursday 3PM–2AM

Friday 3PM–2AM

Saturday 3PM–2AM

Sunday 3PM–2AM
| | |
| --- | --- |
| Criteria | Ratings |
| Rates | ★★★★★ (5/5) |
| Size | ★★★★★ (5/5) |
| Location | ★★★★★(5/5) |
| Menu | ★★★(3/5) |
Another notable spot for great live music performances is the Rainbow Bistro. This place is perfect for intimate shows because of its smaller size.
Indie blues artists like Koko Taylor, Albert Collins, Dr. John, and more are regular performers at this bar. The establishment is also known for giving unknown local artists the spotlight so they can grow their fan base and make a living performing music.
We love that Rainbow Bistro actually has a mailing list for all of its regulars. Anyone can be part of the mailing list, and all they have to do is put down their email on the venue's website.
The mailing list will let regulars know which artists are playing on specific days. This way, they can plan their schedules ahead of time and show up to the event whenever they want.
Another thing we appreciate about Rainbow Bistro is the fact that it's open for events. It opens its doors to the public during the day, too, so anyone can come to listen to live music or even have a drink or two!
Unfortunately, most of the artists that perform in Rainbow Bistro are focused on the blues genre. It also doesn't have a bar or restaurant inside the venue, so customers will have to order their food outside from one of the restaurants near the area.
Overall, it's still a suitable venue, especially for large gatherings that need decent space and an impressive sound system.
Has its own mailing list for updates
Great for local artists
Artist calendar is open to the public
Also open for events and crowdfunding
Sticks to blues only
No food, drinks only
Customer Reviews
Great music
"One of the best live venues I have been to. Revamped with new audio and lighting, a few changes inside, same amazing vibe. You really feel like you're seeing a showcase, not a stage added as an afterthought. This is a true music destination." – Bengt N.
Excellent bands
"A classic blues watering hole of many years standing. Can't even begin to list the excellent bands I've seen here over the decades." – Scott Clarke
4. City At Night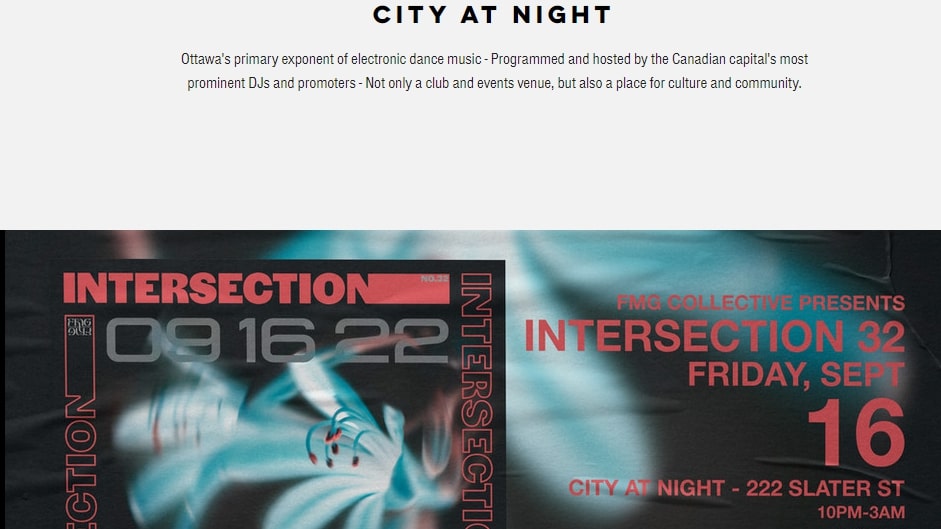 Test
Info
AMENITIES
Live EDM Club, Bar and Food Area, Dance Floor
WEBSITE
https://www.cityatnight.ca/table
ADDRESS
222 Slater St., Ottawa, ON K1P 5H8, Canada
CONTACT DETAILS

[email protected]

OPERATING HOURS
Monday Closed

Tuesday Closed

Wednesday Closed

Thursday Closed

Friday 10PM–2AM

Saturday 8PM–2AM

Sunday Closed
| | |
| --- | --- |
| Criteria | Ratings |
| Rates | ★★★★ (4/5) |
| Size | ★★★★ (4/5) |
| Location | ★★★★★(5/5) |
| Menu | ★★★★★(5/5) |
City At Night is another great place if you're looking for live music. It's a huge club that frequently has guest DJs and performers.
Despite being a club that is usually associated with loud music, what we love about City At Night is its intimate options. It has rooms for small groups where they can enjoy themselves without being bothered by strangers.
The venue also has its own bar that offers finger food and a huge variety of drinks. City at Night hosts regular events that are open to the public, including open mic nights, live music, DJ sets, and more.
This place is perfect for the younger generation who prefer bouncy tracks that scream out loud lyrics. The place is also pretty popular among college students who are on the lookout for new and fun places to hang out with friends.
Unfortunately, it's only open two days a week to preserve the club's exclusiveness. There is also no contact number for reservations, so the best way to get inside is to arrive early during operating hours.
However, if you want to contact the club for any questions you might have, you can send it an email.
Overall, it's an excellent spot for live music, especially if you're into modern electronic music and hip-hop.
Modern music
Lots of performers
Big space
Has table food and a bar
Intimate venues
Only open 2 days a week
No contact number, only email
Customer Reviews
Amazing
"Amazing staff and management. Carl took great care of our group. Will definitely return. Only thing to complain about would be the size. If the venue being a little on the small side. But they make it work with great acoustics. Thanks." – Chad P.
Recommended place
"This intimate venue offers a space where all are welcome and respected. The sound system, bookings, atmosphere, pricing, the staff, the unique events…are all extraordinary! I've had countless positive experiences here, and I hope you do one day too." – B. P.
5.  Red Bird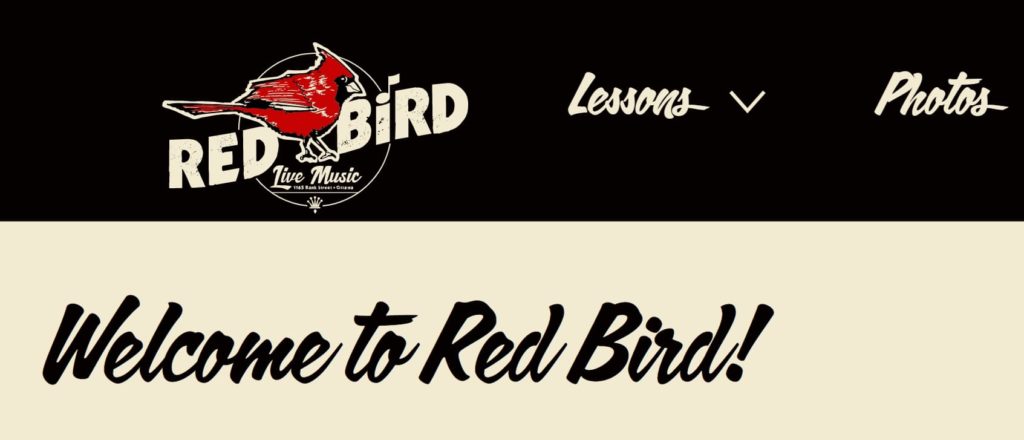 Test
Info
AMENITIES
Live Music Performances, Music Lessons, Table Food and Bar
WEBSITE
https://redbirdlive.ca/
ADDRESS
1165 Bank St, Ottawa, ON K1S 3X7, Canada
CONTACT DETAILS

[email protected]

OPERATING HOURS
Monday 10:30AM–9PM

Tuesday 10:30AM–9PM

Wednesday 10:30AM–9PM

Thursday 10:30AM–9PM

Friday 10:30AM–9PM

Saturday 10AM–10PM

Sunday 10AM–5PM
| | |
| --- | --- |
| Criteria | Ratings |
| Rates | ★★★★★(5/5) |
| Size | ★★★★★(5/5) |
| Location | ★★★★(4/5) |
| Menu | ★★★★(4/5) |
Red Bird is one of the most popular music venues in Ottawa. Not only is it a great place to listen to music, but it's also a good pick if you want to learn how to play different instruments.
Located on Bank Street, Red Bird is an excellent spot that regularly hosts live music events. Its range of sound equipment makes it the ideal venue for bands, and solo artists.
We love that Red Bird is able to host different types of musicians and performers. The usual genres here are Americana, folk music, bluegrass, country music, and more.
Red Bird also has its own cafe that serves both alcoholic and non-alcoholic drinks. This is great for underaged guests who just want to hang out with friends and listen to live music.
It also has a bar area that sells beer, wine, and other beverages. The venue is large enough to fit around 80 people at once and has a nice atmosphere overall.
The only drawback of Red Bird is its closing time. Unlike most gig places, it isn't open until midnight.
Guests who like to stay late and binge-listen a lot of different artists may be disappointed that they can only do so until around 11 pm.
Overall, Red Bird is still one of the best venues in the city, and its musical events are well worth checking out.
Hosts multiple genres
Has its own music school
Offers both alcoholic and non-alcoholic drinks
Has its own cafe
Customer Reviews
Excellent place
"Finally made it out to our first indoor show since the pandemic began. What a place to break the spell. It's the kind of venue that perfectly balances new, chic ambiance (doesn't smell like 50 yrs of stale spilled beer) with the feeling you've come home to your local. Good beer. No draft, yet. Fancy sodas and killer brownie too. Most importantly: *EXCELLENT* sound. – Amanda Putz
A gem in Ottawa
"This new venue is going to be incredibly important for the city of Ottawa – Great bar/cafe with a professional stage, lighting, & sound system that can host fairly large crowds.
A wonderful place for anyone who wants to check out some great local acts or who might want to try getting on stage themselves at one of the open mic nights or jam sessions.
Great friendly vibe!" – George Harris
FAQs about Music Venues in Ottawa
---
That concludes our list of Ottawa's top music venues. Now, you can find a venue that is ideal for your musical preferences.
If you're looking for other venues for your dates, events, and other gatherings, check out the following: