Top 5 MRI Services in Ottawa
Magnetic Resonance Imaging (MRI) scans help detect and find abnormalities in the body, like tumors, cancers, and other complexities. In certain situations, good MRI services can potentially save or sustain a person's life.
We're blessed enough to have one of the best universal healthcare policies in Canada, but you can still opt to avail of private services in medical imaging.

In this listing, we'll introduce you to the providers with the best staff, equipment, and more for your MRI and other medical imaging needs.
How much do MRI scans cost in Ottawa?
Depending on the original bodily region examined and each subsequent area, a private MRI scan can cost anywhere from $500 to $1000. The majority of sessions last between 30 and 60 minutes.

To help you understand the costs, we've compiled the average estimated costs of the most common scans in the table below:

| Fees | Average cost |
| --- | --- |
| Joints | $795 - $1145 |
| Body Segments | $795 - $1350 |
| Spines | $795 |
| Vascular and Breast | $795 - $1150 |
| Head and Brain | $795 - $1160 |
Best MRI scans in Ottawa
Ottawa has a wealth of clinics and hospitals. The best providers for MRI scans must offer the best of the following:
1. The Ottawa Hospital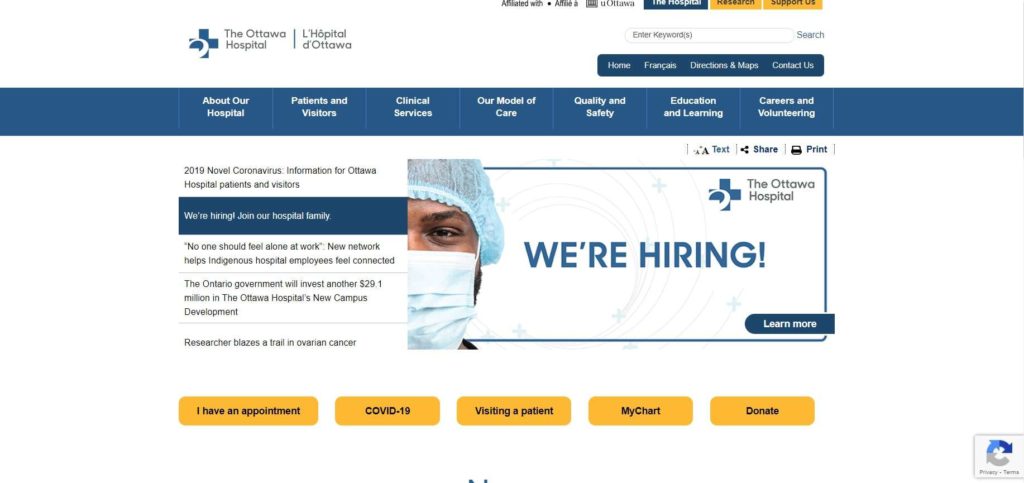 Test
Info
SERVICE
Clinics and Department Services, Specialty Programs, Cancer Program, Medical Imaging, Rehabilitation Centre, Surgery, Intensive Care Unit, MRI Abdomen and Pelvis, MR Angiography (MRA), MRI Body, MRI Chest, MRI Head, MRI Sinuses, MRI Spine, MRI Bones & Joints, MRI Breast, Enterography by MRI, Breast Biopsy by MRI, Prostate Imaging by MRI
WEBSITE
https://www.ottawahospital.on.ca/en
ADDRESS
1053 Carling Ave, Ottawa, ON K1Y 4E9, Canada
CONTACT DETAILS
Phone: +1613-761-4831
OPERATING HOURS
Mondays to Fridays: 7:30 am - 8 pm

Saturdays to Sundays: 9 am - 5 pm
| | |
| --- | --- |
| Criteria | Ratings |
| Patient Experience | ★★★★☆ (4/5) |
| Staff Care | ★★★★★ (5/5) |
| Reasonable Pricing | ★★★★☆ (4/5) |
| Utilities and Environment | ★★★★★ (5/5) |
Established in the 1990s, we've always been fans of Ottawa Hospital's rich history and long years of servicing the city. They have built an overall solid, respectable, and healthy clinical environment for Ottawans.
The best thing about the Ottawa Hospital is that they're open for MRI services on weekends too. This helps them commit to promoting and strengthening our community's health.
The Ottawa Hospital works with various partners to meet the needs of the Ottawans and develop a robust, integrated regional healthcare delivery system. This means they're open to collaborations and investors to develop their facilities and software used for care.
The best thing about the MRI services of Ottawa Hospital is their technical and physical safeguards. They continue to improve their policies in protecting their patients' confidentiality and private health information.
We appreciate how Ottawa Hospital posts an MRI guideline for patients with headaches or back pain concerns. They even included a list of MRI Hospital Referrers too.
To lessen the waiting time, Ottawa Hospital has the Central Intake Program (CIP) that arranges admission to MRI services for outpatients seeking non-urgent MRI exams. It accepts the referral/request and assigns it to the most appropriate site among its locations.
Whether you're an in or outpatient, we appreciate how we have a lesser waiting time for MRI services in the Ottawa Hospital. The appointment booking process is fairly straightforward where you just need to call the booking office to book or cancel.
Open daily
Less waiting time
Recurring complaints about urgent care staff
Parking can be tricky and sometimes crowded
Patient Reviews:
Fast and Reliable
"The Ottawa Hospital was where I had the worst experience of my life, and I couldn't be more thankful. A trip to the emergency room 6 months into pregnancy with high blood pressure had me admitted almost immediately. I think it helped that I had called Telehealth prior to arriving, but still- the speed with which they attended to me was impressive." – Samantha M.
Amazing Staff
"The staff here are awesome. I was late for my appointment and forgot my health card and all my ID at home…lets just say it was a rough morning. The staff worked with me and were so wonderful with registering me into the hospital so that I did not have to pay any fees or reschedule my appointment." – Ashley G.
2. Canadian Diagnostic Network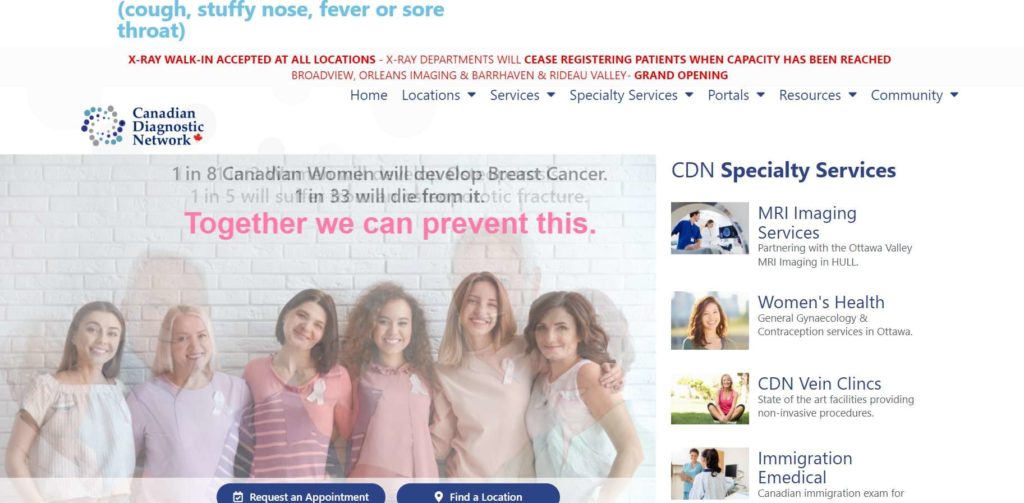 Test
Info
SERVICE
X-ray, Ultrasound, MRI, Mammogram, Breast Ultrasound
WEBSITE
https://cdncare.ca
ADDRESS
1181 Hunt Club Rd Suite 106, Ottawa, ON K1V 8S4, Canada
CONTACT DETAILS
Phone: +16138243252
OPERATING HOURS
Mondays to Fridays: 8am-4pm

Saturdays to Sundays: Closed
| | |
| --- | --- |
| Criteria | Ratings |
| Patient Experience | ★★★★☆ (4/5) |
| Staff Care | ★★★★☆ (4/5) |
| Reasonable Pricing | ★★★★★ (5/5) |
| Utilities and Environment | ★★★★★ (5/5) |
Impressing us since its start of operations last 2014, the Canadian Diagnostic Network made a name as one of the most renowned and iconic diagnostic centers in all of Ottawa. It already has over 21 branches across the city.
What we like about the Canadian Diagnostic Network is that they ensure to provide the finest quality healthcare possible by imposing strict cleanliness policies. We love how spotless their clinics are on our every visit.
We appreciate how we can always count on the Canadian Diagnostic Network's technologies and machinery. They always ensure they have one of the most advanced equipment to provide the most accurate imaging scans that can save many patients.
The Canadian Diagnostic Network boasts a 1-2 days imaging result report. It's pretty impressive, considering they also have a two-day booking time policy that helps lessen waiting times.
Another thing that grabbed our attention is the Canadian Diagnostic Network website. We love how convenient it is since it's made for patients and their medical professionals to communicate securely.
We appreciate how easily we can access our MRI imaging results through their patient portal. Convenience isn't only limited to their patients, but it includes their healthcare providers, too, as they can even view their patient's results through a doctor's portal.
On-time appointments
Short wait list
Pay to park
Limited parking slots
Patient Reviews:
Helpful and Comfortable!
"Called and they were able to locate an office with an immediate opening for me to get an ultrasound before heading out of town. The phone attendant was super helpful and funny. Ended up at the office on Centrepointe. Free coffee?!😁 The rooms are really small, but I felt comfortable with the tech" – Stephanie Egloff
A Great Experience
"My experience was quite good. I had an 11:00 o'clock apponitment and I was literally walking in at 11:02. They were pleasean and fun. Tech was great and helpful." – Soma Chroma
3. Pembroke Regional Hospital
| Test | Info |
| --- | --- |
| SERVICE | X-ray, Mammography, CT Scan, MRI, Ultrasound, Echocardiography, Nuclear Medicine |
| WEBSITE | https://www.pemreghos.org |
| ADDRESS | 705 MacKay St, Pembroke, ON K8A 1G8, Canada |
| CONTACT DETAILS | Phone: +16137322811 |
| OPERATING HOURS | Open 24 hours |
| | |
| --- | --- |
| Criteria | Ratings |
| Patient Experience | ★★★☆☆ (3/5) |
| Staff Care | ★★★★☆ (4/5) |
| Reasonable Pricing | ★★★★★ (5/5) |
| Utilities and Environment | ★★★★★ (5/5) |
Pembroke Regional Hospital has one of the most reliant MRI diagnostic imaging in the Ottawa region. We love the rich history of its foundation since its start in 1878.
We're a massive fan of how clean and pristine Pembroke Regional Hospital's facilities are. All their employees are kind, sensitive, and professional in handling patients of all ages.
Pembroke Regional Hospital boasts of having the most advanced medical imaging and restorative health treatments with their frequent equipment enhancement. Thus, we appreciate the annual upgrades of their medical technology and facilities.
One of the things that put us at ease with Pembroke Regional Hospital is the determination of their whole staff to provide quality physical and emotional treatment for their patients. We saw how genuinely compassionate, and friendly they are to us no matter what day we visit.
Despite having one of the best caring and accommodating healthcare providers, Pembroke Regional Hospital has a long waiting time due to being understaffed. They make up for it by giving you their 100% undivided attention for your needs and care.
The Pembroke Regional Hospital made it to our top list due to their commitment to patients' safety, privacy, and overall comfort. We love how their doctors and staff put effort into informing us about the procedures we need to take, why we need them, and the next step of treatments.
High-quality service and staff care
Well equipped and a very neat environment
Understaffed
Appointment problems and backlog
Patient Reviews:
Helpful, Kind and Caring staff
"Yesterday I dislocated my elbow and have a concussion falling on ice! Every paramedic, nurse and doctor that attended to my injuries at the Pembroke hospital were patient, kind, caring and thorough throughout my ordeal. I am so greatly appreciative of the amazing, thoughtful, people who took great care of me and made me comfortable during my ordeal." – Nicole Webber
High quality and efficient
"This hospital is great! I don't understand why people are complaining about wait time. I was here yesterday. Yes, I was in the waiting room for four hours and four hours to emerge, but when I got to the room I got all the attention I could only ask for. Doctor Was polite and very professional. Nurses are very attentive and knowledgeable. I got asked numerous times if I am comfortable, offered extra blankets." – Valentina Saikouski
4. IRM St. Joseph MRI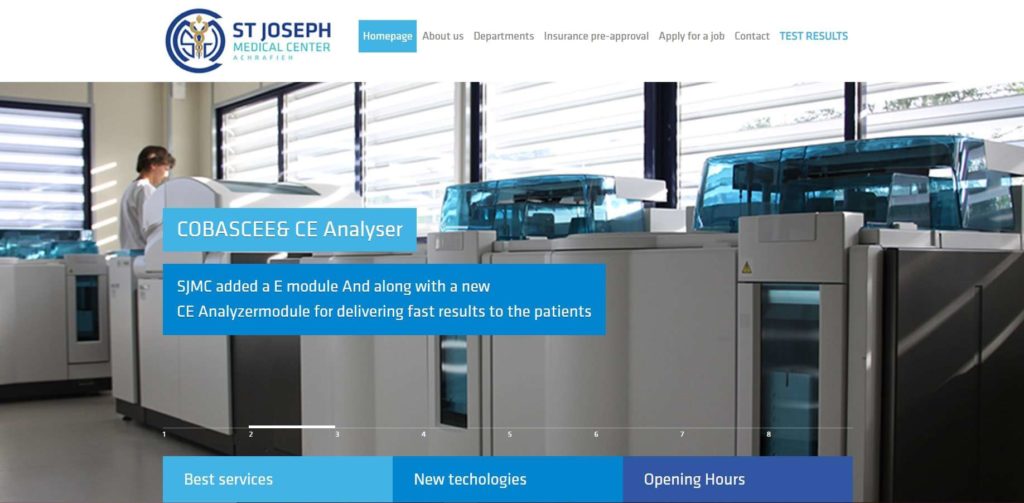 Test
Info
SERVICE
Dentascan, MRI, PET CT, CT scan, Echography, EEG, EMG, Mammography, X-ray, Panoramic, Osteodensitometry, Doppler, Stress Test
WEBSITE
https://www.stjosephlab.com/index.html
ADDRESS
2555 St Joseph Blvd, Orléans, ON K1C 1S6, Canada
CONTACT DETAILS
Phone: +1613-830-1298
OPERATING HOURS
Mondays to Thursday: 9:00am-8:00pm

Saturdays to Sundays: 9:00am-2:00pm
| | |
| --- | --- |
| Criteria | Ratings |
| Patient Experience | ★★★★★ (5/5) |
| Staff Care | ★★★★★ (5/5) |
| Reasonable Pricing | ★★★★☆ (4/5) |
| Utilities and Environment | ★★★★★ (5/5) |
With loyal patients and a strong 5.0 Google rating, IRM St. Joseph MRI join our list. We love how conveniently they are located with just a 5-10 minute drive near downtown Ottawa, giving us a substantial list of medical imaging services in one accessible location.
They might seem to lack online customer support, but one of the best things we like about IRM St. Joseph MRI is their collaboration with Ottawa Valley MRI Centre. Their partnership cemented their position on this list with the website's smooth appointment booking process.
We highly recommend booking an appointment via their website since the clinic has a limited walk-in capacity and may not be able to entertain walk-ins anymore in the future too. However, we're at ease knowing that IRM St. Joseph MRI's website is open 24/7 for scheduling.
We love how IRM St. Joseph MRI invests in modern technology and software to provide only the best imaging result that can potentially help in saving a patient's life. They're using one of the industry's best for imaging, like the HITACHI Open MRI, and NewTOM 3D DentaScan.
Upon entering the clinic, we were a massive fan of how IRM St. Joseph MRI's technicians and staff erased our anxiety about the MRI scans. They play classical songs that help ease their patient's anxiety and get them comfortable throughout their appointment.
We like how modern IRM St. Joseph MRI's whole facility look, which gives us a clean and dependable vibe. Another thing we enjoyed was their Nespresso machine for coffee after any procedure too.
New technology and top-notch services
Accommodating environment
Limited walk-ins
Lack of customer support
Patient Reviews:
Kind and Patient
"I've been dealing with this clinic for the last 5 years or so. At first I used the walk-in clinic, and then eventually found a wonderful doctor there. I'm not sure what all the complaints are about the reception being rude, I've only had positive experiences so far. Yes, you are sometimes on hold for a little while, but that's not unusual. All the staff I've dealt with have been kind and patient." – Rose
AMAZING STAFF AND DOCTORS
"This is a good clinic. The only issue I have had is around the walk-in schedule. It is a little restrictive. That aside, I have been bringing my family here for over 10 years and ALL NURSING STAFF and ALL DOCTORS have been AMAZING!" – David McIntyre
5. Renfrew Victoria Hospital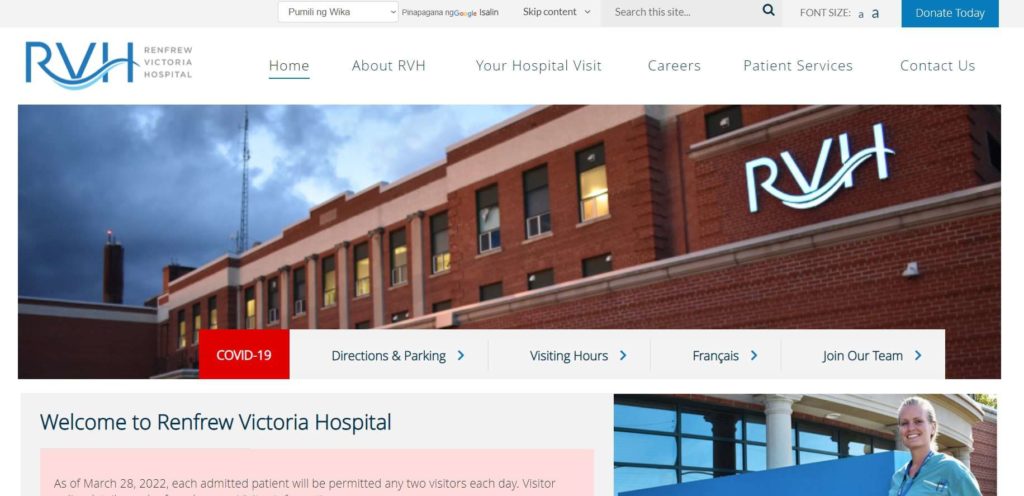 Test
Info
SERVICE
Bone Density, CT Scan, Mammography, Breast Screening, Ultrasound, X-ray
WEBSITE
https://www.renfrewhosp.com/home
ADDRESS
499 Raglan St N, Renfrew, ON K7V 1P6, Canada
CONTACT DETAILS
Phone: +16134324851

Email: [email protected]

OPERATING HOURS
Opens 24/7
| | |
| --- | --- |
| Criteria | Ratings |
| Patient Experience | ★★★★★ (5/5) |
| Staff Care | ★★★★☆ (4/5) |
| Reasonable Pricing | ★★★★☆ (4/5) |
| Utilities and Environment | ★★★★★ (5/5) |
Renfrew Victoria Hospital joins our list when looking for dependable 24/7 MRI services. We're still astounded by their rich history that started in 1897 with only 12 beds, grew to be a general public hospital in 1912, and currently is one of the best hospitals for Ottawans.
What grabbed our attention for Renfrew Victoria Hospital is that they have a very informative guide on their website for the services you want to avail yourself of. We appreciate how they include information on how the procedures go and how you can prepare.
What we love about them is that you get all your laboratory and medical imaging needs inside their facility besides MRI. Their staff and doctors are super jolly and accommodating, and help takes the stress and paranoia that comes with any hospital visit.
Another thing we want to take note of about Renfrew Victoria Hospital is how they constantly update their medical imaging equipment to the latest technologies and software. We appreciate how they always aim to provide the best quality to ensure the lives of their patients.
Renfrew Victoria Hospital doesn't have free parking. An hour costs $1.00, but they give a 20-minute grace period for pick-up and drop-off.
A doctor consultation can have really long wait times in Renfrew Victoria Hospital. However, they do compensate for this with phenomenal care, and they're trying to improve their appointment booking system on their website to improve this too.
125 years in the industry
Updated medical imaging equipment
Paid parking
Long waiting times for doctor consultation
Patient Reviews:
A Great Medical Care
"We attended Emergency at RVH yesterday and received the best care. From Triage with Kathy, the technicians who performed the tests to Dr. Candice Cybulskie, the care and concern we received was top notch! Renfrew is a great place to live and citizens are fortunate to have great medical care!" – Kelly Smith
Exemplary staff and Doctors
"As someone with a complicated medical profile my numerous interactions with the emerg department have all been exemplary. The staff is friendly and sympathetic, the nurses are helpful and the doctors have had some of the best bedside manners I've ever experienced."
– RAINBOW WRITERS
FAQs about MRI
---
We hope that we have been of great help in your search for the best MRI services in Ottawa. With the right clinic or hospital, you will find a suitable and carefree environment for your medical needs.
Which of the following do you think is the best fit in the city? And what are your thoughts on the medical healthcare facilities in Ottawa? Here are some blogs on the different health-related services: