Top 5 Medical Centres in Ottawa
Need to complete a physical exam in order to be certified or complete an official form? Luckily, we'll be reviewing the top medical centres in Ottawa today to help you out.
So whether you need minor medical attention, routine lab work, or preventative care, this listicle is for you. We'll also discuss some fees related to medical centres in the next section.
How Much Does a Medical Centre Charge in Ottawa?
The great thing about medical centres is they're either low-cost or no cost. This is true for people covered by OHIP.
Patients with an OHIP (Ontario Health Insurance Plan) can simply walk into a medical centre for minor health issues or referrals from institutions and not worry about paying for tests or procedures.
However, some medical services are not covered by OHIP such as the ones indicated in the table below. Different medical centres will have various price ranges, but you can check out the estimated costs of some commonly sought services.
| | |
| --- | --- |
| MEDICAL CENTRE SERVICE | ESTIMATED COST |
| Canadian medical exam (for immigration) | $150 – $280 depending on the patient's age |
| Immunization and TB testing | $45 – $65 up |
| Third-party required physical examination | $135 up |
| Medical consultation for travel purposes | $75 up |
| Driver medical examination | $140 up |
These estimates are based on national averages. But it's still a good idea to reach out to the medical centre of your choice to discuss which services have to be paid for upfront.
The Top Medical Centre in Ottawa
It's time to check out which medical centre in Ottawa has the services you need. We'll also discuss some FAQs toward the end of this listicle.
1. Bank Medical Centre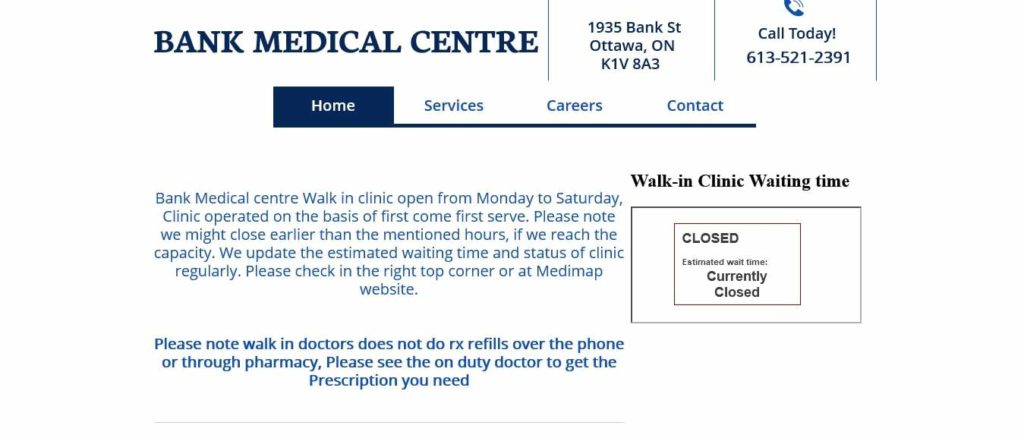 SERVICES
Walk-in clinic, medical staff, pharmacy, laboratory, immigration services
ADDRESS
1935 Bank St Ottawa, ON K1V 8A3
CONTACT NUMBER
613-521-2391


[email protected]

​
WEBSITE
http://www.bankmedicalcentre.com/
OPERATING HOURS
Clinic walk-in hours
Mondays to Friday 8 AM- 6 PM
Closed on Saturdays and Sundays
Patients with minor injuries or illnesses can pop into Bank Medical Centre from Mondays to Fridays. It operates on a first-come, first-served basis.
There's an impressive list of specialists on its staff. Its team of doctors and specialists covers family medicine, respirology, urology, dentistry, and pediatrics.
There's also a panel physician on board to check the health of immigration, refugee, and citizenship applicants to Canada. Bank Medical Centre takes pride in offering multilingual services (in Polish, French, English, and Italian) for its immigration and driver's medical applicants, as well.
There are different hours of operation for each of the centre's services. However, the walk-in clinic is only open on weekdays from eight in the morning to six in the evening.
There's a walk-in clinic waiting time status on the website for easy patient reference. But since there are days when the centre can get understandably full, Bank Medical Centre might have to close earlier than usual once capacity is reached.
No appointments needed
Multi-lingual services offered
An impressive list of specialists on staff
Wide range of medical, diagnostic, and therapeutic services
Could close early depending on clinic capacity
Doesn't do prescription refills over the phone
Open only on weekdays
No BBB accreditation
Customer Reviews
Very helpful and friendly
"I have Dr. Dutta as my family doctor. He has been very good with me. Very helpful and friendly. He knows his stuff. I recommend him for anyone." – Joseph V.
Listens carefully about conditions
"I gave the rating to Dr. W. Laskowski, the walk-in clinic doctor who is working some days of the week at Bank Medical Center walk-in clinic. I went there a few days ago, and he is one of the nicest and most caring doctors I've ever seen. He listens carefully about your condition, and he visits you with patience. He also cares about your feeling about your progress. All in all, he is perfect, and whenever I go there, I will ask to see him as my walk-in clinic doctor." – Ellie L.
2. Southbank Medical Centre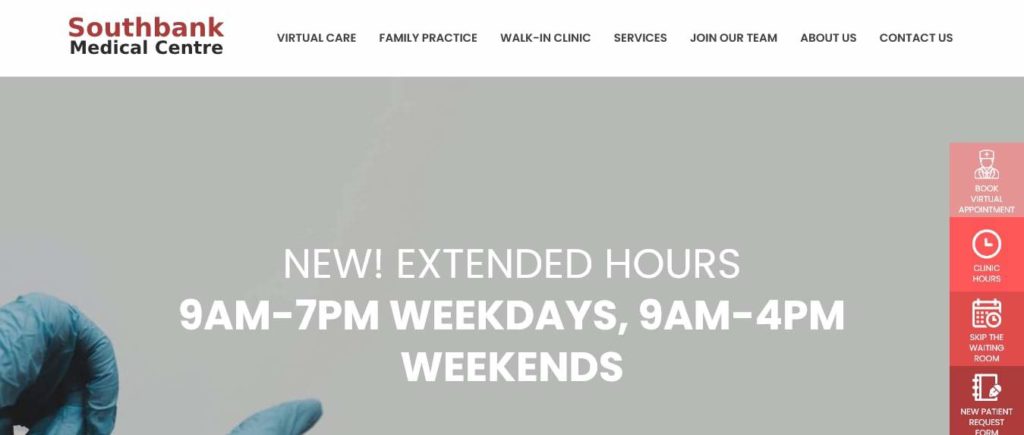 SERVICES
Walk-in clinic, virtual care, family practice, pharmacy, physiotherapy, counselling
ADDRESS
2430 Bank Street, Ottawa, ON K1V 0T7
CONTACT NUMBER
1-613-736-6946


[email protected]

WEBSITE
https://www.southbankmedicalcentre.com/
OPERATING HOURS
Monday to Friday 9 AM – 7 PM
Saturdays and Sundays 9 AM – 4 PM
Established in 1994, Southbank Medical Centre has grown to accommodate ten family physicians and other specialists in its roster.
Southbank Medical Centre also offers virtual care for a wide range of accepted symptoms. These include nose and eye allergy symptoms, anxiety or depression, mild asthma flare-ups, birth control, bug bites, and other mild injuries or illnesses.
Patients who need intensive counselling or a more thorough examination from specialists can get referrals from Southbank, as well. There are counselling services for depression, anxiety, and those who want to quit smoking or have eating disorders.
It's a virtual one-stop outpatient centre complete with family doctors, pharmacy services, and physiotherapy rehabilitation services, too.
Southbank Medical Centre's walk-in clinic is available seven days a week with the option to skip the waiting room via online booking. But if capacity is full, it could close earlier than the indicated operating hours.
Walk-in clinic services are available
Counselling sessions offered
Virtual appointments welcome
Open seven days a week
Might close earlier due to full capacity
Some physiotherapy services might not accept OHIP
No BBB accreditation
Customer Reviews
Absolutely amazing doctors
"Southbank Medical Centre has absolutely amazing doctors, and great staff." – Lina El-Samrout
Always welcomes patients with a smile
"I have been going to this medical center since 2018. I am a patient of Dr. Jabbar, she is one of the best Dr in the city. Very professional and amazing Dr, she always welcomes her patients with a smile and cares about their health. All her receptionists are amazing too and very polite, every time I leave a voice message they return my call ASAP." – Lamyaa Ammar
3. South Ottawa Medical Centre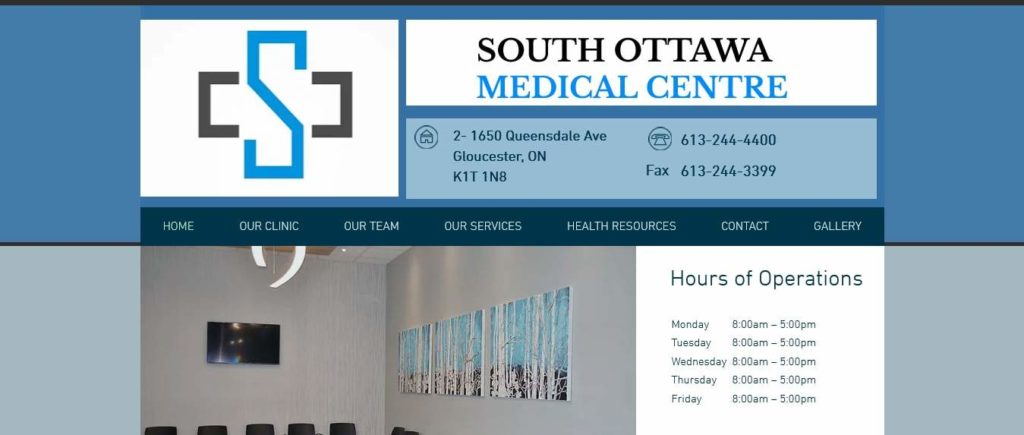 SERVICES
General health, prevention & wellness, adults and children immunizations, work/school/third party physicals, minor procedures, chronic disease management, ear syringing, wart treatment
ADDRESS
2-1650 Queensdale Ave Gloucester, ON, K1T 1N8
CONTACT NUMBER
613-244-4400
WEBSITE
https://www.somc.info/
OPERATING HOURS
Monday to Friday 8 AM – 5 PM
After-hours care available including weekends
Even though it provides mostly routine care for its patients, it's good to know that South Ottawa Medical Centre also offers after-hour care for those with urgent medical needs. It could even accommodate after-hour services on weekdays.
Patients who are insured and uninsured are welcome at the centre. There's a good range of outpatient services in South Ottawa including general health, prevention and wellness, adult and kids immunization, minor procedures, and chronic disease management.
Some services like bloodwork and ultrasound are currently suspended but patients can check back at the website or call the centre to ask when they can avail of them again.
The clinic currently operates on both an in-person and virtual appointment basis. This hybrid model offers a convenient and safe way for patients to consult specialists on a range of routine examinations and minor illnesses.
The downside is that South Ottawa Medical Centre is currently not accepting new patients.
After-hour care services are available
Accommodates both in-person and virtual appointments
Can serve both insured and uninsured patients
Provides helpful health resources on the website
Currently not accepting new patients
Open only on weekdays
Can not accommodate life-threatening emergencies
No BBB accreditation
Customer Reviews
Excellent front staff
"Interaction with the front staff is excellent. We've coordinated a telephone doctor's appointment, prescriptions and the new digital/IT system works perfectly. The doctor called me right on time to discuss my concerns. Highly recommended. Keep up the good work everyone!" – Akhil Parujanwala
Very professional and knowledgeable staff
"Very nice and clean clinic! Dr. Brulotte and the nurses were amazing with my son when he had his circumcision! Everything was clean in packages and sterilized…had time for us to discuss and answer questions! Very professional and knowledgeable staff. Thanks!" – Marzouk
4. Appletree Medical Group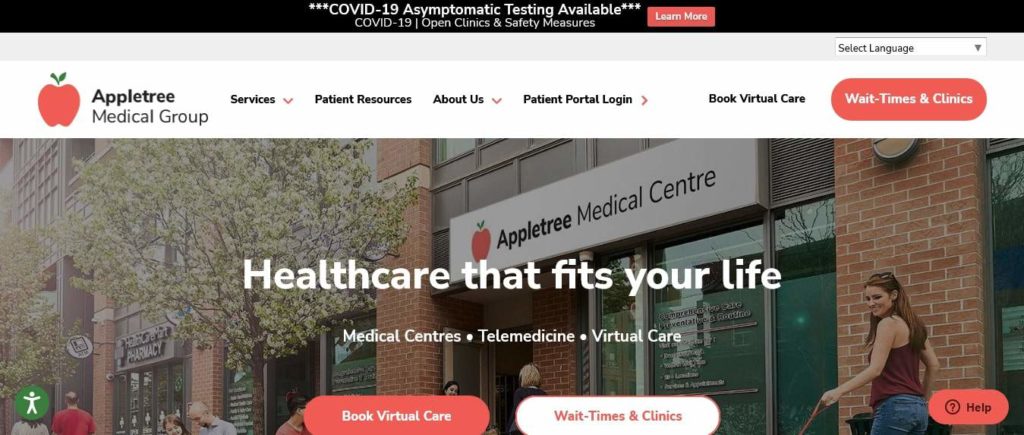 SERVICES
Walk-in clinic, virtual care, telemedicine, family medicine, specialists, healthcare services, wellness services, workplace health
ADDRESS
240 Sparks St. #C153 Ottawa, ON K1A 0X8
CONTACT NUMBER
(613) 482-0118
WEBSITE
https://appletreemedicalgroup.com/
OPERATING HOURS
Mondays and Tuesdays 9 AM – 5 PM
Wednesdays and Thursdays 9 AM – 4 PM Fridays 9 AM – 2 PM
Saturdays
Alternates weekly 9:00 am – 1:00 pm | 10:00 am – 4:00 pm
Closed on Sundays
Beyond providing walk-in clinic services, the Apple Tree Medical Group also offers patients telemedicine services and a variety of healthcare programs. There's a walk-in wait timer for patients to refer to save time.
The centre also has specialists in case a family doctor refers you to one. Apple Tree's medical specialists include dermatologists, endocrinologists, general surgeons, gynecologists, ophthalmologists, orthopedic surgeons, pediatricians, psychiatrists, and more.
There's a helpful patient portal at the Apple Tree website for telemedicine registration. It comes with step-by-step instructions on what to expect and to prepare prior to meeting with a doctor.
Please note that some emergency symptoms such as shortness of breath, chest pain, allergic reaction, or choking are understandably not accepted for telemedicine consultation.
Patients can also book virtual care sessions at the website or opt to find an Apple Tree clinic nearest to them to see available wait times. This kind of flexible arrangement is welcome especially in these times of heightened safety and hygiene awareness.
Offers telemedicine and virtual care
Walk-in wait timer available on the website
Wide range of specialists available for referrals
Open six days a week
Telemedicine service doesn't accept emergency symptoms
Confusing alternating Saturday schedule
No BBB accreditation
Customer Reviews
Very convenient and efficient
"Showed up at 12:30, saw a doctor by 1, he was very friendly and professional, I was diagnosed with an eye issue, got my prescription and was quickly on my way. Very convenient and efficient. Would use it again for a prescription. Use their website to see the wait times ahead of time." – Skip J.
Clean. Efficient.
"Polite, short 40 minutes wait. Clean. Efficient. After 1 day the Cephalexin the doctor recommended seems to have cleared my red spots on the front & back. He assured me it was NOT shingles, for which I had the injection 2 years ago. A great relief the day before going to California for a week. Certainly, a close convenient so-far reliable business, thank you!" – Denzil F.
5. Vital Medical Centre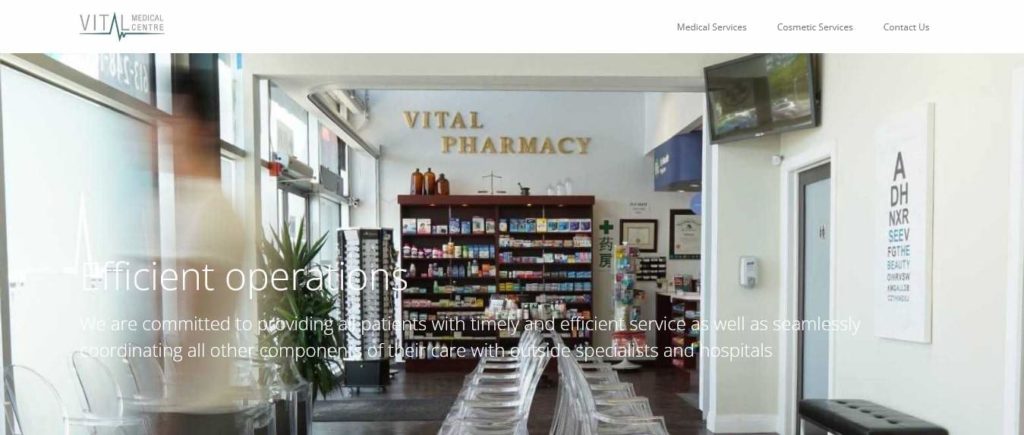 SERVICES
Dermatology, rheumatology, general internal medicine, obstetrics and gynecology, cosmetic services
ADDRESS
224 Hunt Club Road, Ottawa, ON, K1V 1C1
CONTACT NUMBER
613-248-1010


[email protected]

WEBSITE
http://www.vitalmedical.ca/
OPERATING HOURS
Monday to Friday 8 AM – 4 PM
Closed on Saturdays and Sundays
Vital Medical Centre offers both medical and cosmetic services under one roof. There are dermatologists, rheumatologists, doctors specializing in general medicine, and gynecologists available by appointment.
Its cosmetic services include microdermabrasion, chemical peels, microblading, Botox and fillers, and even hair loss therapy. There are over a dozen dermatologists with different specializations ready to accommodate patient appointments at the clinic.
And while it's not the usual practice to offer different clinic practices under one umbrella, Vital Medical Centre justifies this with practical and convenient reasons. It wants its clients to avoid having to travel all over the city for different procedures and tests.
It also aims to minimize waiting times that have become part and parcel of medical clinics and hospital waiting rooms.
We just wish Vital Medical Centre opens its clinic even on weekends or after-hours to accommodate those who are busy with work and school during the weekdays.
All referred appointments covered by OHIP
Wide range of specializations and cosmetic services under one roof
More than a dozen dermatologists available
No after-hours services
Open on weekdays only
No BBB accreditation
Customer Reviews
Prices were fair and explained clearly
"The best Derm centre I have ever been to. The staff and doctors are absolutely amazing. They treated me for cancer and offer multiple cosmetic treatments for spots. The prices were fair and explained to me clearly. I'm not sure what the review below says. Dr. Thuraisingam was very clear that there were fees. Ignore the negative reviews." – Jennifer Geleta
Did more than was expected
"Front entrance was being renovated but that shouldn't last long. The reception was courteous and efficient. The dermatologist was efficient and quickly did more than was expected at the appointment. Very satisfied." – Ken Hayward
FAQs About Medical Centres in Ottawa
---
We hope that this resource can help you pick the top medical centre in Ottawa for your routine checkups and health concerns.
Send us a message if you think we left out a good medical centre in this listicle so we can review it ASAP.
And if you have a child who needs medical attention, you can look at our review of the top pediatrician clinics in Ottawa so they can get the gentlest and most efficient care.