Top 5 Luxury Car Rentals in Ottawa
Its lavish interiors, ultra-high-end features, and remarkable performance make driving a luxury car a one-of-a-kind experience. That's even truer if you love hitting the road.
But the fact stands that most of us cannot afford to own this ridiculously expensive type of vehicle. Fortunately, we have an option to rent one.
We have listed the top luxury car rentals in Ottawa to help you live the dream drive you want. Be sure to dig into our review so you can arrive at an informed decision on what service to use.
In addition, we have provided information about the cost of luxury car rentals in Ottawa and addressed some FAQs to guide you further.
How much do luxury car rentals cost in Ottawa?
In general, car rentals in Ottawa can cost you an average of $85 a day. The range can go as low as $45, usually attainable through discounts.
As for luxury cars, the average per day is $121. The exact cost will depend on your chosen service provider, the car's make and model, how early or late you booked the vehicle, and the duration of your rent.
Additional services may also incur expenses.
To help you compare prices, here is a list of average luxury car rental costs per company in Ottawa:
| Company | Average Cost (Per Day) |
| --- | --- |
| Alamo Rent A Car | $80 |
| National | $91 |
| Hertz | $85 |
| Avis | $79 |
| Infinity Limousine | By agreement |
Know that the average daily prices vary depending on the time of the year. For instance, Kayak's data shows luxury car rental costs usually peak from July to August.
The cost will likely be higher the closer you book your pick-up date. That said, we advise booking at least seven weeks before your travel date so you can get below-average prices.
Top Luxury Car Rentals in Ottawa
While car rental locations in Ottawa are numerous, many of them are owned by only a few companies. That means you will see multiple branches of the same company scattered around the city.
That said, we picked what we think is the best location for each company we are featuring in this article. Here is the set of criteria we have used to determine which deserves mentioning.
1. Alamo Rent A Car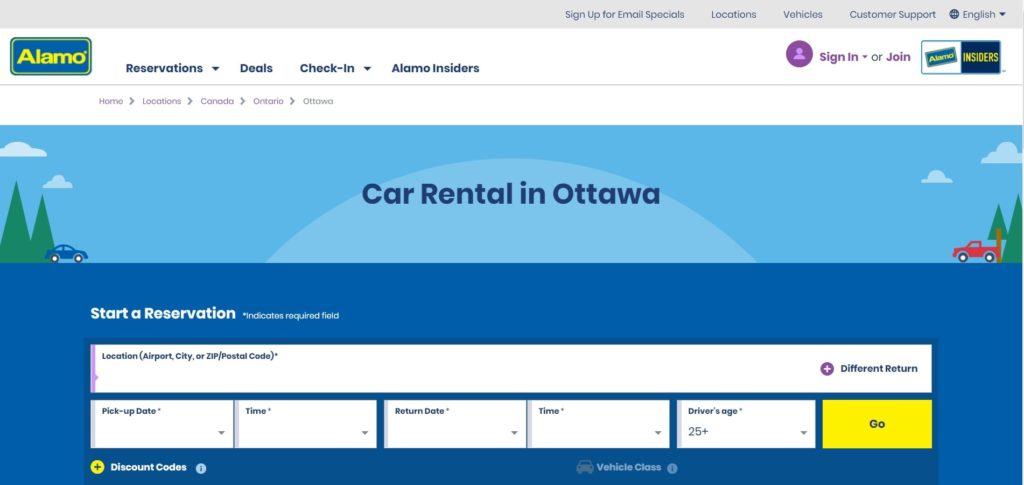 | | |
| --- | --- |
| Criteria | Rating |
| Luxury Car Options | ★★★★☆ (4.5/5) |
| Cost | ★★★★☆ (4/5) |
| Customer Service | ★★★★☆ (4/5) |
| Responsiveness | ★★★★☆ (4/5) |
| Accommodation | ★★★★☆ (4/5) |
| Customer Perks | ★★★★☆ (4.75/5) |
| Promos | ★★★★☆(4.5/5) |
| Additional service features | ★★★★★ (5/5) |
Fancy driving a high-end vehicle down the Ottawa valley? You will love Alamo Rent A Car's offering and location.
The company's fleet includes the gorgeous Cadillac XTS and the equally stunning Jaguar F-Type. Plus, its rental office is conveniently located in the Ottawa International Airport.
Aside from the luxury cars, you can also get your hands on a convertible, perfect for a driving date. Or try an executive vehicle for tourists visiting the city and business people.
But know that you can't always get the exact luxury car you want. Say, when the dates you choose are fully booked.
Fortunately, Alamo will try to make up for it by offering alternative vehicles with comparable features.
Know that the company's busy location holds a lot of potential for mishaps common in this service. Miscommunication, a few inattentive front desk staff, or mixed-up bookings will be possible setbacks.
Still, we love that the company offers deals for both early bookers and last-minute hustlers. It's a plus for us, considering that this rental service is a bit on the expensive side.
Moreover, the company allows you to drive with your pets. Though, you might need to put your fur children in a crate unless they're service animals.
In case you're curious about this company's history, Alamo Rent A Car was founded in 1974. It's owned by Enterprise Holdings and operates in many branches across Canada and the US.
Convenient location
Pet-friendly
Impressive luxury car selection
Easy-to-use online booking system
Cash is usually not accepted as payment
Possible communication and booking glitches
Customer Reviews
Lives up to their cleaning protocols
"Their service is always the best. Their cars don't smell like cigarettes and they're always sanitized with the best car line up." —Luis M, Google Reviews
Keen customer approves
"It was my 1st transaction and it went pretty well. Pleasant staff, good cars, online check-in. Ahead of me was a tough (demanding) client yet the Alamo staff (a nice lady) answered all the questions from the client and handled the situation well. I would definitely rent again from Alamo. Please keep the same level of service and prices." —Aloha Ciao, Google Reviews
2. National Car Rental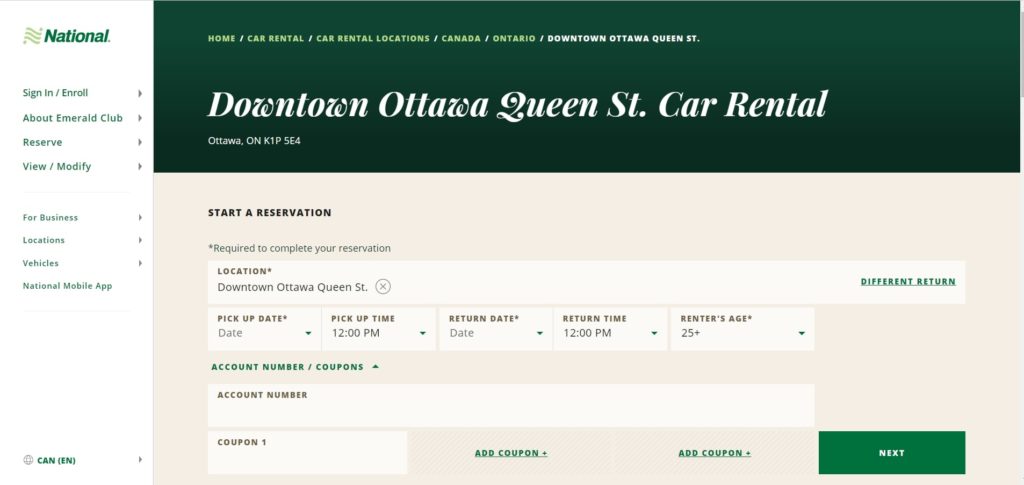 | | |
| --- | --- |
| Criteria | Rating |
| Luxury Car Options | ★★★★☆ (4.5/5) |
| Cost | ★★★★☆ (4/5) |
| Customer Service | ★★★★☆ (4/5) |
| Responsiveness | ★★★★☆ (4/5) |
| Accommodation | ★★★★☆ (4/5) |
| Customer Perks | ★★★★★ (5/5) |
| Promos | ★★★★★ (5/5) |
| Additional service features | ★★★★★ (5/5) |
If you don't prefer car rental services located in the airport, as they're too busy for your liking, we recommend trying a provider downtown. Fortunately, National Car Rental has a branch at Queen Street that can accommodate you.
National is also owned by Enterprise Holdings, so it pretty much has the same luxury car offerings as Alamo. What can perhaps make it better for some customers is its proximity to the city.
Moreover, the company offers van and truck rentals, perfect if you're going on holiday with a large group. You can also get vehicles with winter tires if you're planning to drive during the said season.
Among the many offers from National, the Emerald Club is a stand-out. Although we also find it a double-edged sword.
Sure, you're given priority and flawless service plus discounts if you're a club member. But the same benefits might not be as stellar if you're an occasional client or a first-time customer.
While membership is sure to keep the company afloat, we would love it more if they can maintain extending the same service quality sans the perks to ordinary clients.
That said, being a club member is simple as staying loyal to the service provider. If you've paid enough rentals for a year, you're sure to be eligible.
Broad selection of cars other than luxury ones
Special rental section offered to club members
Has a convenient mobile app for organizing bookings
Branch close to the city
Leans on the expensive side
Same luxury cars as Alamo
Customer Reviews
Acknowledges mistakes and makes up for it
"I rent from here regularly and it's always been great. On the rare occasion [that] anything has gone wrong staff has always gone the extra mile to fix it and I've always left 100% happy." —Graeme Parker, Google Reviews
Location and options hit the sweet spot
"Conveniently located. Good variety of cars. Service is always very friendly." —Jean Francois Quesnel, Google Reviews
3. Hertz Car Rental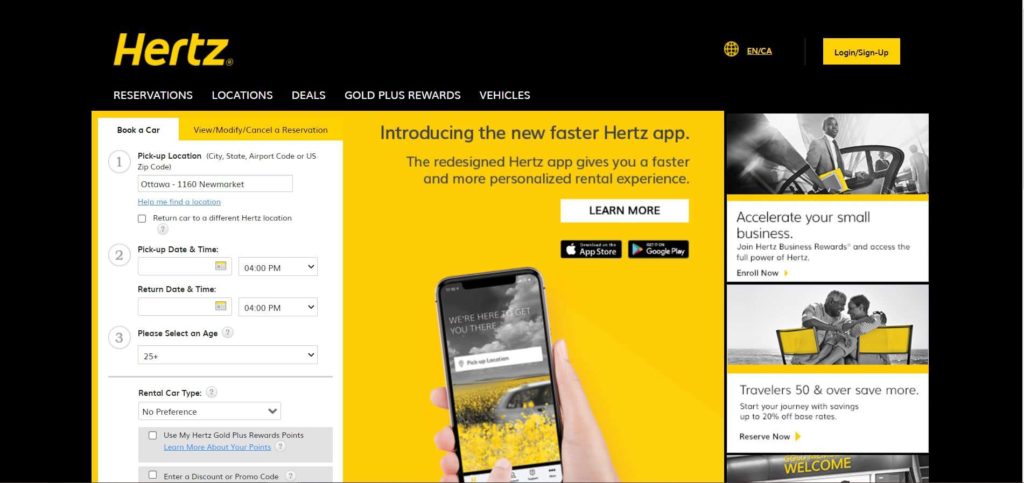 Test
Info
SERVICES
- Car and truck rentals

- Luxury car rentals

- Membership promos

WEBSITE
https://www.hertz.com/rentacar/reservation/
ADDRESS
1160 Newmarket St., Ottawa, ON K1B 1A6
CONTACT DETAILS
(613) 745-1396
OPERATING HOURS
Monday to Friday: 7:00 AM - 5:00 PM

Saturday to Sunday: 8:00 AM - 12:00 PM
| | |
| --- | --- |
| Criteria | Rating |
| Luxury Car Options | ★★★★☆ (4.5/5) |
| Cost | ★★★★★ (5/5) |
| Customer Service | ★★★★☆ (4.5/5) |
| Responsiveness | ★★★★★ (5/5) |
| Accommodation | ★★★★☆ (4/5) |
| Customer Perks | ★★★★☆ (4.5/5) |
| Promos | ★★★★☆ (4/5) |
| Additional service features | ★★★★★ (5/5) |
Are you looking to drive a Volvo or Buick? Hertz Car Rental has your back with its impressive line of luxury cars you can get your hands on.
The company's stellar offerings include Volvo V60, V90 CC, XC60, XC60 AWD, and S90 and Buick Enclave.
We love that apart from a wide array of models, their page also lists each vehicle's features complete with necessary disclaimers. We believe this little detail will tremendously help customers decide on a car.
Another thing we love about Hertz is its mission to make driving easier for the physically challenged. Customers can request hand controls and spinner knobs upon booking an appointment.
However, know that not all cars can accommodate the said add-ons. Fortunately, people with disabilities can opt for a licensed person to do the driving instead.
Remember that you should inform the company upon reserving a car that you're hiring a driver, as they need to include the person's name on the contract.
Hertz has limited discount offers that can help you save on rental costs. But unless you're a Gold Plus Rewards member, you might not be able to get the most out of the company's promos.
The silver lining is that you can apply for the membership free of charge.
More affordable rates
Allows you to enlist additional drivers for the car rental ride
Navigable reservation page
50-year-old-and-over renters can enjoy discounts
Few promos for guest customers
Charges fees for additional drivers
Customer Reviews
Provides satisfying alternatives
"Good service, and responsible PPE all around (but please fix your sanitizer boxes). The premium car I had ordered was MIA, so they gave me the choice of the lot and I drove off in a much nicer SUV than I paid for. Will be a repeat customer the next time I need a rental." —Jason A.H. Mroz, Google Reviews
Seamless system for a reasonable price
"The staff was great and [provides a] very good environment. It was simple, quick, and easy. Just the way I like it. They also were able to save me a couple of bucks which was the cherry on top of the cake. Really appreciate it guys! Great work and keep going!" —Pedro Goncalves, Google Reviews
4. Avis Car Rental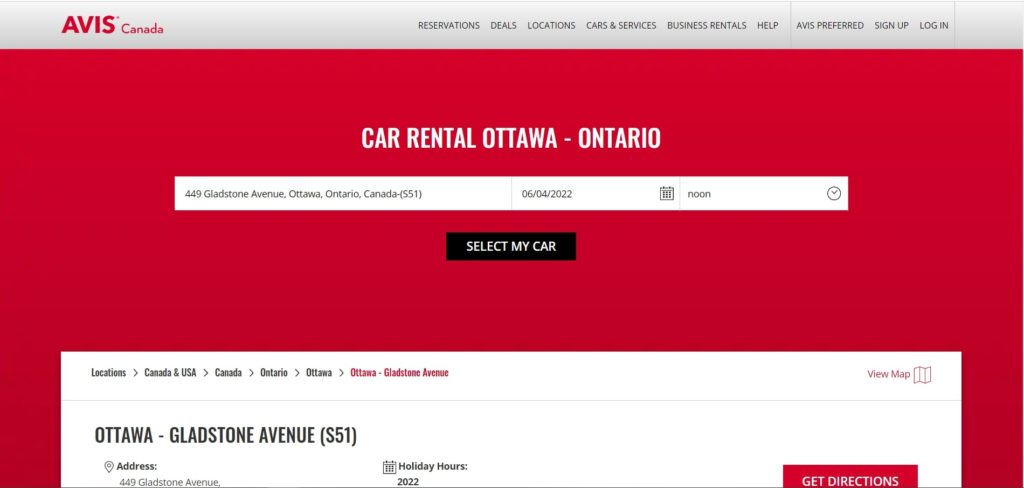 Test
Info
SERVICES
- Car, SUV, and van rentals

- Luxury car rental

- Protection coverages

WEBSITE

Main: https://www.avis.ca/en/home



ADDRESS
449 Gladstone Ave., Ottawa, ON K1R 5N7
CONTACT DETAILS
(613) 238-3421
OPERATING HOURS
Monday to Wednesday: 7:30 AM - 4:30 PM

Thursday to Friday: 7:30 AM - 6:00 PM

Saturday to Sunday: 8:00 AM - 1:00 PM
| | |
| --- | --- |
| Criteria | Rating |
| Luxury Car Options | ★★★★☆ (4/5) |
| Cost | ★★★★☆ (4/5) |
| Customer Service | ★★★★☆ (4/5) |
| Responsiveness | ★★★★☆ (4/5) |
| Accommodation | ★★★★☆ (4/5) |
| Customer Perks | ★★★★☆ (4/5) |
| Promos | ★★★★☆ (4/5) |
| Additional service features | ★★★★☆ (4/5) |
If you've been reading about luxury car reviews, you'll know that a Chrysler 300S is an attractive prospect for its engine and passenger space. Fortunately, you can rent this big boy from Avis Car Rental.
Aside from a Chrysler, the company can also offer equally high-end cars from their signature series. The options are necessary, as the luxury car in question is often unavailable for booking due to the high demand.
You will likely have a hard time booking the said vehicle (or any car) if you're setting an appointment close to your travel date. Hence, planning way ahead will spare you the frustration.
Scheduling hassles aside, we love Avis' clear, no-fuss online booking form. You can choose dates right away, and as soon as you click the "select the car" tab, you'll be redirected to a page with a list of available cars, complete with the rental estimates.
Although, you need to be wary of the disclaimers. The make and models on the booking page are samples only and subject to change, as the company can't guarantee a specific car.
But take comfort in the fact that you can always confirm your reservation a few days before your travel date.
Also, you will get a refund if you choose to cancel. However, note that canceling 24 hours prior to the pickup time will incur a processing fee.
Upfront rental estimate shown online upon booking
Allows you to return the rental car to their airport branch for convenience
Location is near Ottawa's top attractions
Allows you to return the rental car after office hours
No 100% guarantee on make and model of rental car
Rental fee a bit expensive
Customer Reviews
Capable of saving the day
"THANK YOU, AWESOME PEOPLE, AT AVIS GLADSTONE 😀!! A few weeks ago I was stranded in Ottawa and fortunate enough to get a car literally 2 minutes before they were closing. The guy in the office was so understanding and friendly! High-quality service from these guys!!" —Amy B., Google Reviews
Efficiency breeds repeat customers
"Amazing and fast service. We loved the clean car that was provided to us. Would definitely come back here again!" —Jessica J, Google Reviews
5. Infinity Limousine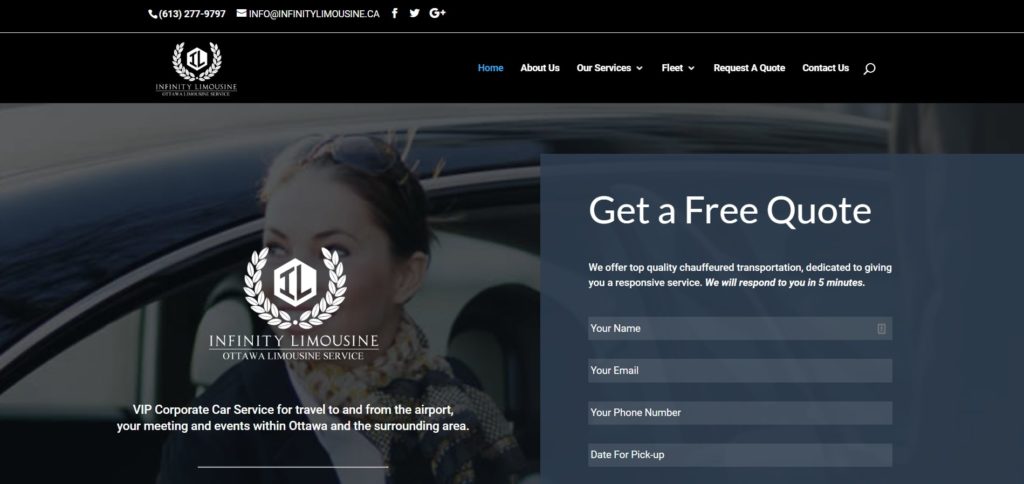 Test
Info
SERVICES
- Limousine services

- Shuttle, van, and coach services

WEBSITE
https://www.infinitylimousine.ca/
ADDRESS
1039 Belfast Rd., Ottawa, ON K1B 3S2
CONTACT DETAILS
(613) 277-9797
OPERATING HOURS
Open 24 hours daily
| | |
| --- | --- |
| Criteria | Rating |
| Luxury Car Options | ★★★★☆ (4/5) |
| Cost | ★★★★☆ (4/5) |
| Customer Service | ★★★★☆ (4.5/5) |
| Responsiveness | ★★★★☆ (4/5) |
| Accommodation | ★★★★★ (5/5) |
| Customer Perks | ★★★★☆ (4.5/5) |
| Promos | ★★★☆☆ (3/5) |
| Additional service features | ★★★★★ (5/5) |
Riding a luxury car during your special day is a way to celebrate the event. And if you want to reduce the stress of driving a rental car, a limousine service is a great alternative.
We picked Infinity Limousine for its specialized approach. We love that they label each service based on the event, say, graduation or wedding.
The limousine services can also help you accommodate business partners in style. Infinity will make sure transportation is smooth and on time so you can leave a good impression on your associations.
Along with the luxury ride, you will also get impeccable service provided by the company's drivers.
Furthermore, the company's fleet is expansive. Aside from stretch limos and sedans, you can rent SUV limousines, luxury vans, and even coaches.
The main downside of renting a limo with a designated driver is that the experience will be limited to pick-ups and drop-offs. You won't be able to get your hands on the car the way you'll do with a Chrysler or Buick rented from the airport.
But if you're keen on pulling off a lavish celebration that requires you to travel to and fro, renting a limousine can provide the luxury you need.
Wide selection of limousines
Can adjust to changes in schedules
Simple online booking system
Charges reasonable prices
Website could use an interface upgrade
Not for car lovers who want to experience driving luxury cars
Customer Reviews
Reliable service for corporate purposes
"They have been around for more than months. & they already have done tremendous work for my corporate purpose. Higher officials were really pleased. I am very much grateful for the amazing service that they provided. For comfortable & pleasing car service, they are the best in Ottawa." —Stephen Henry, Google Reviews
Competent and reliable driver
"Great service! I used them recently for my daughter's prom night and it was great. Very professional driver. We will use them again." —Kosta Hatzis, Google Reviews
FAQs about Luxury Car Rentals in Ottawa
---
Luxury is not an unreachable dream, at least in the case of cars. We hope that you can experience high-class driving using our recommended car rental companies.
There might come a time you will get tired of renting and decide on buying a car for yourself. Should that happen, check out our list of the best car insurance in Ottawa to ensure that you and your investment have protection.