The 5 Best Linen Rental Services in Ottawa
Linen is useful for a lot of things. It's used for upholstery, curtains, tablecloths, and more.
In this article, we will be talking about linen rental services for parties and other special occasions. We will be listing the best options in the city so you're prepared whenever you're in need of linen.
How much does renting linen cost in Ottawa?
The price of renting linen items will depend on their size. The bigger, the more expensive.
There are also bulk options for smaller items like napkins and chair accessories. Check out the table below for a clearer picture of the average costs.
| Types of Linen | Average Rental Cost |
| --- | --- |
| Tablecloth | $18 - $30 each |
| Tableskirt | $20 - $35 each |
| Tablerunners | $4 - $11 each |
| Drapes | $6 - $25 each |
| Napkins | $7 - $10 each |
| Chair Covers | $2 - $4 each |
| Chair Sashes | $1 - $2 |
The Best Linen Rental Services in Ottawa
When we looked for the best linen rental services in Ottawa, we based our list on these factors:
1. Cody Party Rentals & Balloon Design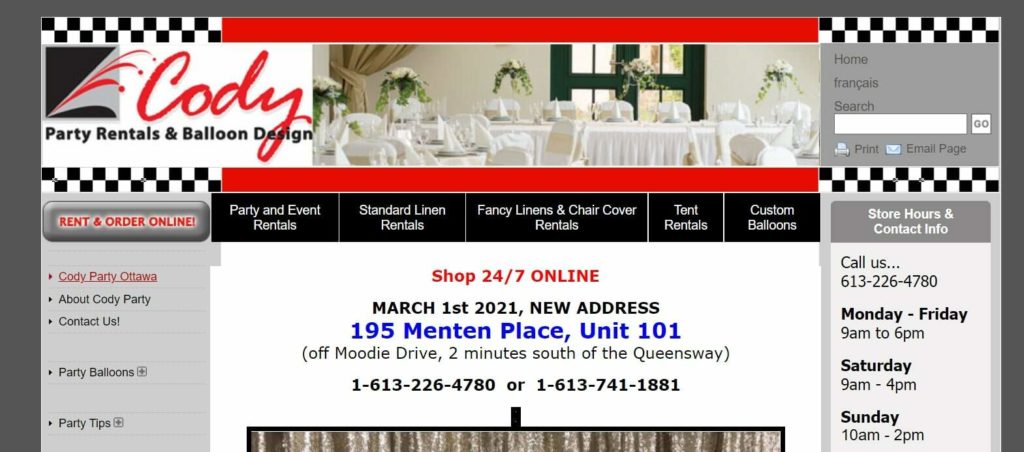 | | |
| --- | --- |
| Criteria | Ratings |
| Rates | ★★★★(4/5) |
| Location | ★★★★ (4/5) |
| Experience | ★★★★★(5/5) |
| Selection | ★★★★★(5/5) |
Cody Party Rentals & Balloon Design has been renting out party needs since 1998. It's one of the oldest companies on our list, but that just means the people behind it have gained a ton of experience.
The good thing about Cody is that it's not just about renting out linen chair covers, tablecloths, and napkins. It also offers event planning services and the rental of other essential party items like balloons, tents, and decor.
It's also awesome for the company to offer customizable options for its linen and balloon rental services. Customers are given the option to mix party themes and even have their names written on the balloons and some of the decor.
Another thing we like about this Cody is its additional 4-day period at no extra charge for linen rental. This is perfect for events that last longer than 2 days like mini-concerts, expensive wedding receptions, and more.
For the company's issues, it should be worth stating that its customer service team can sometimes take a while to respond, so we suggest you visit its office instead.
Cody's website is also outdated and it's difficult to check the services it offers online. You'll need to be patient with the company in this regard.
Multiple services offered
Custom balloons
Online orders
No extra fee for additional 4-day rental
Outdated website
Takes a while to respond
Customer Reviews
Amazing
"Amazing team! Super friendly service and very flexible given the challenges of covid wedding planning. My guests absolutely loved the beautiful tent that Cody Party set up for my outdoor reception last September! Would 100% recommend for any event rental needs. Thank you so much to Annette and her team for everything!" – J Montanaro
Good service
"I rented tables, chairs and plates for my wedding recently and it was a great experience. I had gone in for a quote and to see items in person. They drew up a quote for me which they printed and emailed it to me and weren't pushy at all. They did follow up a few weeks later which was helpful as I needed the push and reminder to finalize." – Samantha E.
2. Fiesta Ottawa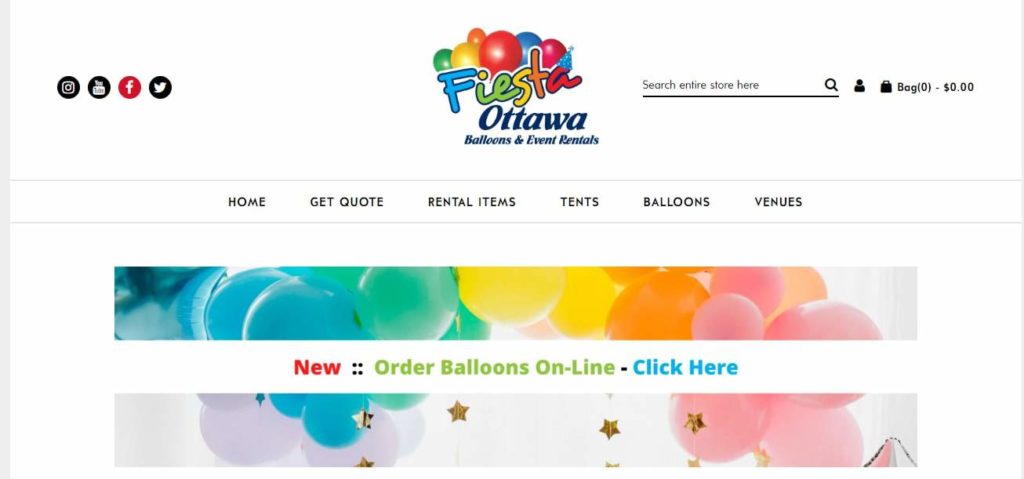 Test
Info
SERVICES
Linen Rentals Ottawa, Balloon Rental, Tent Rental, Wedding Planning Resources, Dinnerware Rental, Glassware Rental
WEBSITE
http://www.fiestaottawa.com/
ADDRESS
1860 Bank St, Ottawa, ON K1V 7Z8, Canada
CONTACT DETAILS
613-260-5556
OPERATING HOURS
Monday Closed

Tuesday 9AM–5PM

Wednesday 9AM–5PM

Thursday 9AM–5PM

Friday 9AM–5PM

Saturday 9AM–5PM

Sunday Closed
| | |
| --- | --- |
| Criteria | Ratings |
| Rates | ★★★★★(5/5) |
| Location | ★★★★ (4/5) |
| Experience | ★★★★★(5/5) |
| Selection | ★★★★(4/5) |
Fiesta Ottawa has been in the party renting industry since 2011. It has gained numerous positive feedback from its previous clients and has a lot to offer not just in linen rentals.
This company is also a Certified Event Rental Professional (CERP) and has gained two recognition awards from the CBA (Certified Balloon Artists) of Canada. If legitimacy is your concern, you won't have to worry with this one.
The company's office may only be open until 5 PM, but it can still be contacted online any time of the day for quotes, estimations, and even to answer inquiries about its services.
Speaking of online, it's good to see that Fiesta is always active on social media. If you're curious about its services, you can check its Instagram and Facebook pages.
For linen, the company offers linen chair covers, tablecloths, napkins, chair accessories, and more. It also has themed decor options for clients who are very particular about style.
Customers can get cheaper deals if they rent the linen materials in bulk.
We also like that the company doesn't ask for payment during quotation. The payment is only done once the deal is 100% accepted by both the client and the company.
The only shortcomings we had to deal with are its operating hours and pricey services. If you don't mind any of that, it's definitely a great company to go with for your linen rental needs.
Active on social media
Has an online store
Free quotes
Also has rental for dinner wares and glasswares
Customer Reviews
Changed my mind
"Although I had a different opinion about this Fiesta in the past, they have completely changed my mind by providing a great service. They ensured a timely delivery of all the rentals I needed. Pick-up was very smooth. A very good selection of items for rent for your special event. Susanna went above & beyond in trying to ensure I was satisfied with their response to a previous review." – Ed Rafid
Very good communication
"I rented some tables and chairs for a backyard event and was extremely happy with Fiesta. They were flexible with my date change due to Covid and were very communicative via email for any questions. The delivery and pick up were on time and the items I ordered were perfect for my event. Highly recommend and would use them in the future." – Lisa B.
3. Groovy Linen & Chair Cover Rentals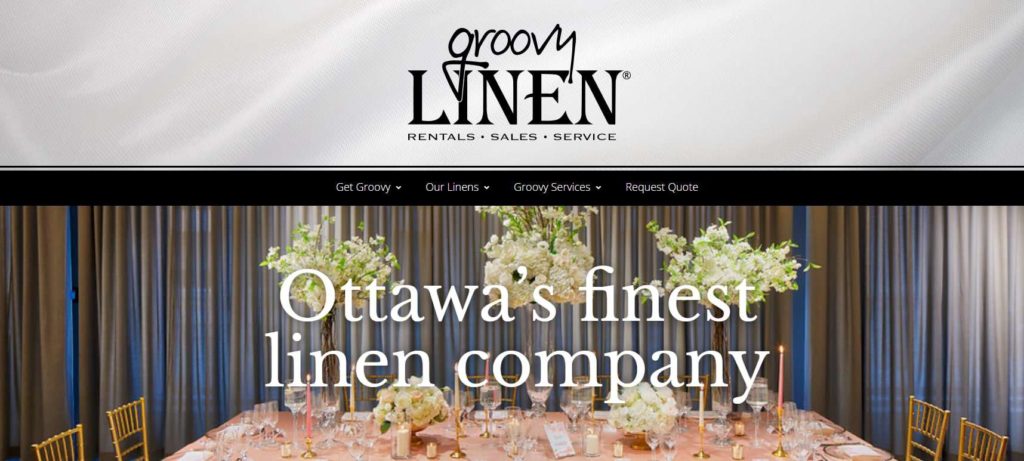 Test
Info
SERVICES
Linen Rental, Chair Covers, Charger Plates, Tablecloths, Table Runners, Napkins, Accessories, Chair Sashes
WEBSITE
https://groovylinen.com/
ADDRESS
19 Grenfell Crescent Unit 12, Ottawa, ON K2G 0G3, Canada
CONTACT DETAILS
613-723-5755
OPERATING HOURS
Monday 9AM–5PM

Tuesday 9AM–5PM

Wednesday 9AM–5PM

Thursday 9AM–5PM

Friday 9AM–5PM

Saturday Closed

Sunday Closed
| | |
| --- | --- |
| Criteria | Ratings |
| Rates | ★★★★★(5/5) |
| Location | ★★★★ (4/5) |
| Experience | ★★★★(4/5) |
| Selection | ★★★★(4/5) |
Groovy Linen & Chair Cover Rentals boasts a more modern and trendy design to its decors and linen options. The company also offers two options for its linen rental — fancy linen and ordinary linen.
The ordinary linen doesn't look bad, but it is kind of dull and plain compared to the fancy ones with different designs embroidered on them. However, which of these two to use will still depend on your event's theme.
It's just cool that the company gives customers the option to choose. It's also neat that it offers many types of linen-based products for rent.
Even the plate covers are linen-based and are quite good-looking, especially for corporate events.
Another thing we found impressive with Groovy is its budget-based packages. Potential clients can specify the budget they have and the rental service's employees will find the best option that will fit the said price range.
The company also offers seasonal discounts, especially for what they call "dead months" where events don't happen often. The company has its own online sizing guide too, so customers have a clearer picture of what it offers.
Despite the seasonal discounts, the company still charges pretty high for most of its rental services. But overall, it's still a great choice that offers many options for linen rentals.
Fancy options
Also offers discounted type of linens
Offers an online sizing guide
Has a lot of options for linen materials
Customer Reviews
Highly recommend them
"Groovy Linens went above and beyond as a supplier for our wedding. Quality, selection and customer service were all excellent. I would highly recommend them to anyone planning a wedding or special event." – Chelsea Connolly
Recommended
"Taylor and company went above and beyond to help take my wedding to the next level! Beyond their great linen offerings, they provided us with outdoor heat lamps, party games, and a stunning champagne wall. My wife and I were touched to see the Groovy team work so hard on our behalf. They showed up right on time, and made sure we were 100% happy with the placement of everything. I would wholeheartedly recommend their services for your event, and be sure to look into their rental items beyond linen and seat covers." – Billy Logan
4. Full Of Beans Party Rental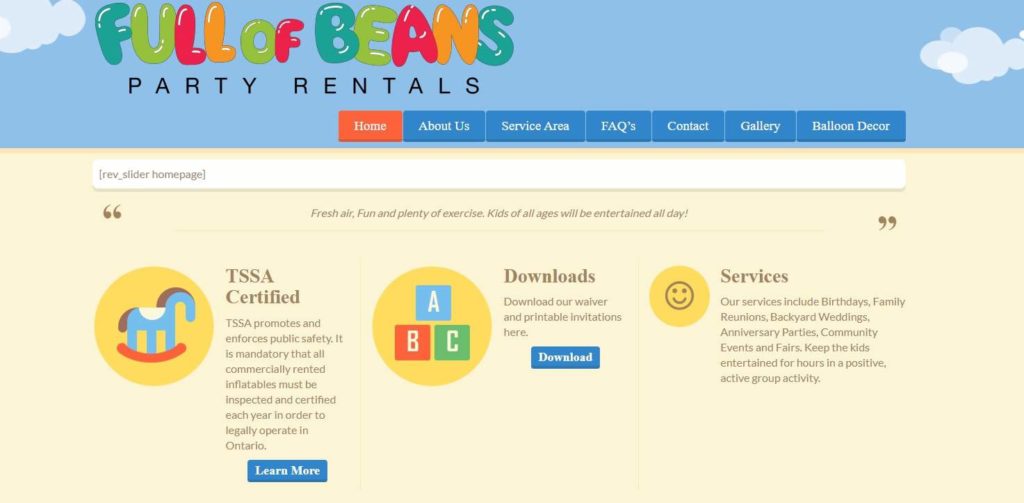 Test
Info
SERVICES
Linen Rental, Arches and Backdrops, Balloon Arrangements, Signs and Decor, Balloon Decorations, Bouncy Castle, Tents, Packages, Party Food
WEBSITE
https://www.fullofbeansparty.ca/
ADDRESS
Appointment only
CONTACT DETAILS
613-228-5330
OPERATING HOURS
Monday 8AM–4:30PM

Tuesday 8AM–4:30PM

Wednesday 8AM–4:30PM

Thursday 8AM–4:30PM

Friday 8AM–4:30PM

Saturday Closed

Sunday Closed
| | |
| --- | --- |
| Criteria | Ratings |
| Rates | ★★★★ (4/5) |
| Location | ★★★★ (4/5) |
| Experience | ★★★★(4/5) |
| Selection | ★★★★★(5/5) |
Full of Beans Party Rentals is a family business and we were able to see that the people behind it understand the value of family gatherings. The company was established in 2014, and although it's still pretty young, it was able to acquire a decent number of clients.
Its clients have mostly given the company positive reviews, so we checked it out ourselves.
It offers a good chunk of rental services for parties and events including linen. For its linen options, it offers the basic choices of tablecloths, curtains, chair covers, and napkins.
What makes Full of Beans special is its kiddie-themed party items. There are colorful linen options and also balloons and bouncy houses that the company offers for rent.
Small linen materials like chair accessories and napkins can be rented in bulk so you can save money.
But this can be a double-sided sword because most of the items that the company offers are for kids' events. It doesn't have much to offer for corporate gatherings or formal events like weddings.
Its services can also be pricey, especially if you don't rent from the packages the company offers. These packages range from low to high rates but even the low rate is a bit more expensive compared to other companies.
Overall, Full of Beans is still a great choice, especially if you're dealing with an event for kids. We strongly recommend that you give the company a call and see for yourself what it has to offer.
Offers huge bouncy castle
Also organizes parties and events
Also offers party food
Kiddie-themed rental items
Most options are for kids' parties
Pricey
Customer Reviews
I'm a regular
"We have rented 5 times from these guys for a community event we host. They are always professional, the equipment is always clean and well maintained. One year we had rain, and there was no issues with the reschedule. We will work with them again." – Bobeesh C
Good service
"We rented a Bouncy Castle for my son's birthday party in the Fall of 2021.
Full of Beans was FANTASTIC to deal with… We had to reschedule twice due to rain. I just sent them an email every time and they rescheduled us no problem. When we were finally able to have the party, they showed up right on time, set up the bouncer quickly and explained everything we'd need to know. As far as my research went, their prices were very reasonable. We would highly recommend them!" – Alyssa Thurston
5. Parliament Parties Ltd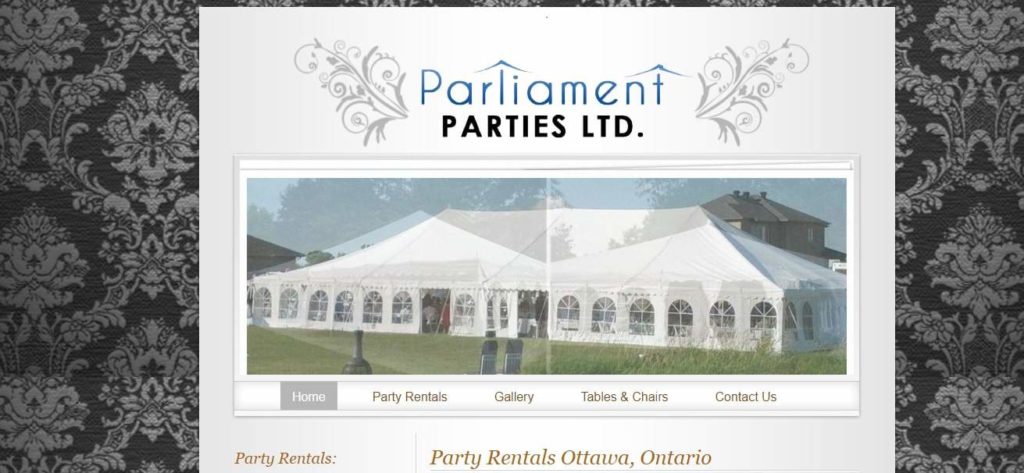 Test
Info
SERVICES
Linen Rental, Tables & Chairs, Staging, Dance Floors, Lighting, Chair Covers
WEBSITE
https://www.parliamentparties.com/
ADDRESS
59 Sparks St., Ottawa, ON K1P 5A0, Canada
CONTACT DETAILS
613-882-4057
OPERATING HOURS
Monday 9AM–5PM

Tuesday 9AM–5PM

Wednesday 9AM–5PM

Thursday 9AM–5PM

Friday 9AM–5PM

Saturday 9AM–5PM

Sunday Closed
| | |
| --- | --- |
| Criteria | Ratings |
| Rates | ★★★★ (4/5) |
| Location | ★★★★ (4/5) |
| Experience | ★★★★★(5/5) |
| Selection | ★★★★★(5/5) |
Parliament Parties is the perfect choice for event rentals if you are planning a formal gathering. Its options are good for weddings, corporate events, and other more mature occasions.
For linen options, the company serves themed napkins, chair covers, tablecloths, and curtains. Most of the colors it offers are black, gold, white, and gray but these options have unique embroidery that makes them special.
If potential customers are interested, the company's website has its own sizing guide to avoid confusion when it comes to its linen materials. There are linen covers for tables, chairs, and even plates.
Parliament also has linen napkins for rent, which can be leased in bulk for a smaller price.
It is also impressive that Parliament has tents, which is perfect for locations with unstable weather and nighttime events. It even has event organizing services that can come in handy.
The only issue we have with this company is its pricing. Although the high prices are understandable given the formal and fancy vibe it's aiming for.
If you have an upcoming formal event and you want an easy way to organize it, this company is definitely a great option. It offers many services and is quite versatile, so you will have a more convenient experience.
Offers fancy options
Has its own sizing guide
Themed options
Event organizing services
Customer Reviews
Friendly and helpful
"Ben at Parliament Parties was fantastic to work with! He provided a tent for our small outdoor wedding on short notice and was even able to hook us up with a table and champagne glasses too. Ben was friendly, helpful, accommodating and very reliable. I'd highly recommend Parliament Parties Ltd for any special event!" – Sarah O'Grady
Great experience with them
"I strongly recommend parliament parties for anything to do with tent rentals! Not only are these guys organized but they were able to accommodate us in the very last minute when we were in a pinch. All the tables, chairs and linens and more importantly the tent itself looked absolutely brand-new! Me and my wife have dealt with other tent rental companies before in the past and these guys are hands down the best we have ever had the pleasure of working with. They're definitely going to be getting a call from us for our next charity event. 10 out of 10!" – Trevor G.
FAQs about Linen Rentals in Ottawa
---
There you have it with our list of the best linen rental services in Ottawa. Hopefully, it was helpful, especially for those of you who have upcoming events planned.
Do you already have a venue for your event? Check out our article on the best event spaces in Ottawa!