The 5 Best Lawn Maintenance Services in Ottawa
Lawn maintenance is not an easy task, especially if you have a large lawn. The good news is that there are plenty of services and professionals who can help you take care of it.
In this article, we will review some of the best lawn maintenance services that Ottawa has to offer.
How much do lawn maintenance services cost?
You can anticipate paying between $50 and $85 per hour for lawn maintenance. These companies will also factor in your lawn's measurements and its current condition.
The table below should give you a clearer picture of how much you'll have to shell out for lawn maintenance services.
| Lawn Maintenance Services | Average Cost |
| --- | --- |
| Regular Mowing | $50 - $85 per hour |
| Mowing + Plant Maintenance | $80 - $100 per hour |
| Fertilizing | $50 - $60 |
| Herbicide | $60 - $150 |
| Sod Installation | $0.75 per square foot |
| Aeration | $75 to $250 |
| Slit Seeding | $60 to $80 |
The Best Lawn Maintenance Services in Ottawa
To find the best companies that offer lawn maintenance services, we looked at the following factors:
1. Hansen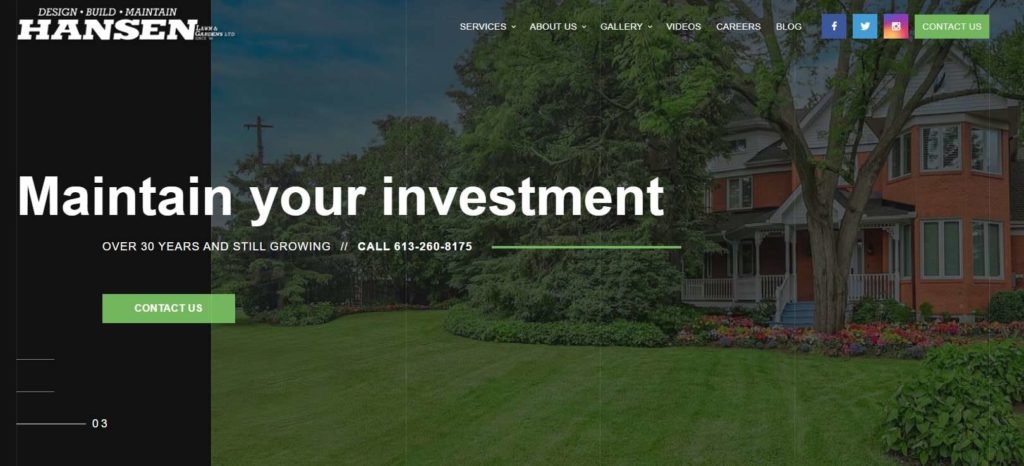 Test
Info
SERVICES
Lawn Maintenance, Landscape Maintenance, Yard Maintenance, Design, Snow Removal
WEBSITE
https://www.greensideup.com/
ADDRESS
2729 Stevenage Dr, Ottawa, ON K1G 3N2, Canada
CONTACT DETAILS
613-260-8175
OPERATING HOURS
Monday 8AM–4PM

Tuesday 8AM–4PM

Wednesday 8AM–4PM

Thursday 8AM–4PM

Friday 8AM–4PM

Saturday Closed

Sunday Closed
| | |
| --- | --- |
| Criteria | Ratings |
| Rates | ★★★★(4/5) |
| Experience | ★★★★(4/5) |
| Equipment | ★★★★★(5/5) |
| Feedback | ★★★★(4/5) |
Hansen is a great company for maintaining your lawn. It has been around since 1988 and is one of the oldest and most reputable lawn maintenance businesses in Ottawa.
With its age comes wisdom and so the people behind Hansen know all the tips and tricks to make your yard look great! It has over 50 full-time employees and is always at the forefront of lawn maintenance.
The company has landscape contractors, lawn gardeners, and design experts all under its belt. Hansen's employees have tons of experience caring for lawns of all types and sizes.
We love that the company is able to provide multiple services in regard to lawn maintenance. Aside from mowing, it also provides aeration services, slit seeding, weed control, and more.
With its versatile services comes great equipment as well. The company uses top-of-the-line zero-turn mowers and also has decent fertilizers to keep your lawn green and healthy.
All in all, we think Hansen is a great option for lawn maintenance. However, it should be noted that it only accepts limited appointments each day and is closed during weekends.
This may be a problem for those who prefer a weekly appointment schedule or those who may be too busy during the week to have a lawn expert visit their yard.
With its versatile services and incredible equipment, we are extremely pleased with what we've seen from Hansen.
Versatile services
Good equipment
Lots of employees
Over 30 years of experience
Limited appointments each day
Closed on weekends
Customer Reviews
Impressive
"We are extremely pleased with our front and backyard makeovers. Everyone we dealt with at Hansen Landscaping demonstrated a professional work ethic and enthusiasm for the job." – Lou Sam
Thankful
"I want to thank the Hansen crew: Jodi, Andrew and Steven for an amazing job. They were very knowledgeable and professional. I'm very happy with the final result. My flowerbed looks great and the 2 trees were properly planted. I can't wait to enjoy my garden this summer and many more summers to come!" – Monica V.
2. Moe's Lawn & Gardening Service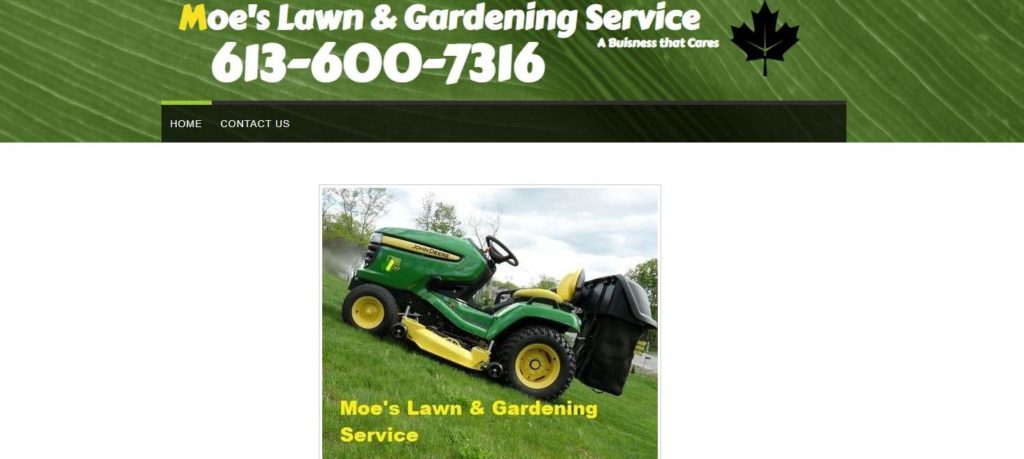 Test
Info
SERVICES
Lawn Maintenance, Cleanup, Grass Restoration, Interlock Washing, Mulching, One-Time Cleanup & Maintenance
WEBSITE
https://moelawngardenservice.webs.com/
CONTACT DETAILS
613-600-7316
OPERATING HOURS
Monday 8AM–6PM

Tuesday 8AM–6PM

Wednesday 8AM–6PM

Thursday 8AM–6PM

Friday 8AM–6PM

Saturday Closed

Sunday Closed
| | |
| --- | --- |
| Criteria | Ratings |
| Rates | ★★★★★(5/5) |
| Experience | ★★★★ (4/5) |
| Equipment | ★★★★★(5/5) |
| Feedback | ★★★★(4/5) |
Moe's Lawn & Gardening Service is also a great choice for lawn maintenance in Ottawa. It is a family-owned and operated business, with years of experience in the lawn care industry.
The company provides a variety of services from lawn mowing and trimming to more complicated tasks such as weeding and fertilizing. It also offers a spring and fall cleanup as well as a leaf removal service.
What we love about this company is the fact that it has discount packages. These packages already include multiple services all at a lower price point, which is great for those who are under a strict budget.
It's great that Moe's offers free quotes for its customers. Potential customers won't have to worry anymore about paying too much because the company will provide them with a quote before starting any kind of work.
Moe's offers professional-grade equipment to ensure quality results. It also has a good set of equipment for its staff to use like weed trimmers, leaf blowers, lawn mowers, etc.
The only drawback of Moe's Lawn & Gardening Service is it is unreachable sometimes. Apparently, some customers have complained about the hotline being busy or unavailable during certain times of the day.
With that said, we think these issues are only minor and are outweighed by the great services offered by Moe's.
Seasonal clean-ups
Serves multiple locations
Offers discounted packages
Free quote
Hotline is sometimes unreachable
Customer Reviews
The best
"Best lawn mowing service ever, very busy and just need to be patient but it's worth the price, wait and customer service." – Alexandre Barbe
Unmatched
"I highly recommend Moe's Lawn Garden Service! I reached out through Kijiji and received a call back within minutes to schedule a one-time lawn mowing service for overgrown grass. The prices are unmatched and the customer service was impeccable. Moe was very professional, friendly and knowledgeable. They have exceeded my expectations and for this reason, I will be continuing with biweekly services." – Mel G.
3. Ottawa Lawn Salon

Test
Info
SERVICES
Lawn Maintenance, Landscaping, Lawn Rejuvenation, Lawn Upgrade
WEBSITE
https://ottawalawnsalon.com/
ADDRESS
106 Battersea Cres, Kanata, Ottawa, ON K2T 0C6, Canada
CONTACT DETAILS
888-334-4551
OPERATING HOURS
Monday 9AM–5PM

Tuesday 9AM–5PM

Wednesday 9AM–5PM

Thursday 9AM–5PM

Friday 9AM–5PM

Saturday 10AM–2PM

Sunday Closed
| | |
| --- | --- |
| Criteria | Ratings |
| Rates | ★★★★ (4/5) |
| Experience | ★★★★ (4/5) |
| Equipment | ★★★★★(5/5) |
| Feedback | ★★★★★(5/5) |
Ottawa Lawn Salon's lawn maintenance service is also one of the best in the city. The company is quite experienced in the field, which means that it uses the best equipment and techniques to maintain your lawn.
We love that it is open on Saturdays too so clients who are busy on weekdays can get their lawns maintained at a convenient time for them.
If you're concerned about the price, you'll be glad to know that Ottawa Lawn Salon offers free quotes so you'll know exactly how much you need to pay in advance.
Because of the quality of services it offers, Ottawa Lawn Salon has also received mostly positive feedback from its previous clients.
Other than lawn maintenance, it also offers lawn upgrades for those who'd like to improve the appearance of their lawns with professional landscaping services.
Unfortunately, Ottawa Lawn Salon's prices are not for everyone. They are rather high compared to other local companies that offer similar services.
It is also reported to respond slowly to requests for quotes, though most customers claimed that the quality of their work was worth the wait.
Overall, because of the quality of its services, the great customer service it provides, and its affordable prices, Ottawa Lawn Salon is still a highly recommended lawn maintenance company.
Open on Saturdays
Offers lawn upgrades as well
Free quotes
Great feedback
Pricey
Long responses for appointments
Customer Reviews
Excellent
"Excellent service at a good price. We use Ottawa Lawn Salon for lawn maintenance and, as required, garden maintenance which is also excellent. Haroon always communicates his schedule and notifies you when his work is upset by weather. He proactively discusses with you problems he sees and suggestions." – Paul Vincent
Highly recommended
"From the moment I hired this company to do my lawn cutting they have lived up to their promises – lawn mowing each week on a specific day. They do an excellent job – the lawn never looked so good. And they are also great at communication. If there is a delay due to a holiday or weather they email me with a heads up – I highly recommend them." – Chris S.
4. J.R. Lawn & Snow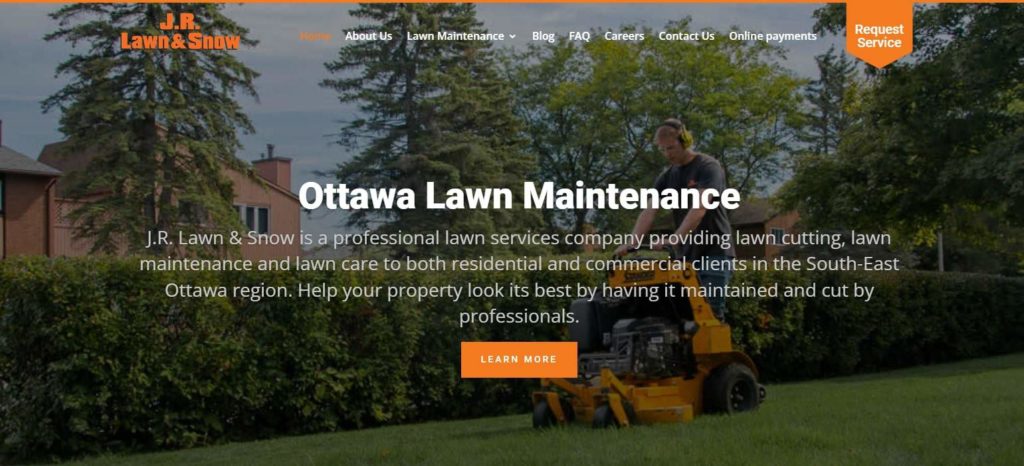 Test
Info
SERVICES
Lawn Maintenance, Lawn Care, Lawn Upgrade, Landscaping
WEBSITE
https://ottawalawnmaintenance.com/
ADDRESS
1555 Michael St, Ottawa, ON K1B 3T3, Canada
CONTACT DETAILS
613-229-4803
OPERATING HOURS
Monday 7AM–5PM

Tuesday 7AM–5PM

Wednesday 7AM–5PM

Thursday 7AM–5PM

Friday 7AM–5PM

Saturday Closed

Sunday Closed
| | |
| --- | --- |
| Criteria | Ratings |
| Rates | ★★★★★(5/5) |
| Experience | ★★★★★(5/5) |
| Equipment | ★★★★(4/5) |
| Feedback | ★★★★(4/5) |
J.R. Lawn & Snow is another great option for lawn maintenance in Ottawa. The company has a wide range of services available, including mowing, edging, trimming, and more.
It also has over 20 years of experience in the industry, so you can rest assured that you're getting quality service.
The company is able to provide services for removing leaves, snow, and other debris from your lawn so you can get your garden looking as good as new.
We also love how convenient its website is; it makes it easy to request a free quote by filling out an online form or by picking up the phone to talk to someone about your needs. It also accepts online payment, which is a plus.
If you don't know how to take care of your own lawn, J.R. Lawn & Snow has a blog that discusses the basics of lawn care as well as tips on how to improve the look of your garden or yard.
Unfortunately, it doesn't offer its services during weekends. For weekdays, it's not always available as well.
However, because of the company's convenient location in the Ottawa area, you should be able to schedule a same-day service or get an appointment booked within a day or two.
With its experience and quality of service, we still recommend J.R. Lawn & Snow for all your lawn care needs.
Over 20 years of experience
Offers cleanup services as well
Accepts online payment
Has a blog for lawn education
Closed on weekends
Limited appointments only
Customer Reviews
Great experience
"I had a great experience when using JR Lawn and Snow! Super happy with the job and experienced only the best customer service. We are very happy with the results and know everyone else would be too – highly recommend! – Katarina A.
Wonderful
"JR Lawn and Snow offers great service. They have wonderful customer service and our experience to date has been exceptional. I would definitely recommend their services!" – Skylar Odonnel
5. Primo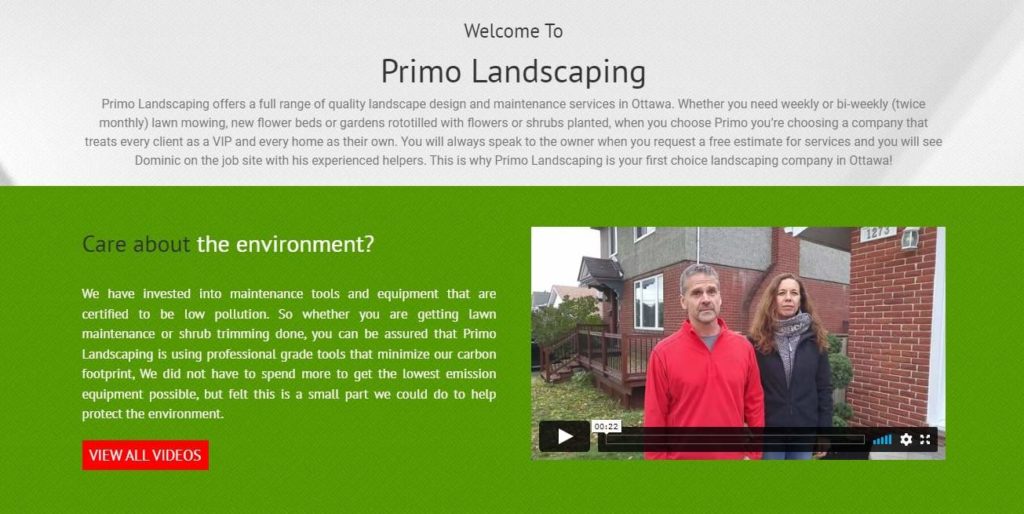 Test
Info
SERVICES
Lawn Maintenance, Landscaping, Lawn Rejuvenation, Ornamental Garden Maintenance, Spring and Fall Cleanup, Tree Trimming, Mulch Installation, Soil Installation, Hedge Removal, Insect Control
WEBSITE
https://www.primolandscaping.ca/
ADDRESS
1285 Brookline Ave, Ottawa, ON K1V 6S4, Canada
CONTACT DETAILS
613-762-1838
OPERATING HOURS
Monday 7:30AM–5PM

Tuesday 7:30AM–5PM

Wednesday 7:30AM–5PM

Thursday 7:30AM–5PM

Friday 7:30AM–5PM

Saturday 7:30AM–1PM

Sunday Closed
| | |
| --- | --- |
| Criteria | Ratings |
| Rates | ★★★★★ (5/5) |
| Experience | ★★★★ (4/5) |
| Equipment | ★★★★★(5/5) |
| Feedback | ★★★★(4/5) |
Primo is a lawn maintenance company located on Brookline Avenue. It is known for providing multiple services, including lawn maintenance, landscaping, mulch installation, soil installation, and more.
This versatility is what caught our attention. When it comes to maintaining your lawn, one size does not fit all, so whether you want to have beautiful flower beds or plush green lawns, Primo is able to assist.
We also love the packaged maintenance deals that it offers. These are less expensive compared to availing of individual services separately.
Apart from that, Primo also has an impressive portfolio that is available for customers to peruse whenever they want.
We were impressed with the company's equipment for lawn maintenance. It is well-maintained and of high quality.
Customizing your lawns is possible with Primo. Show it a photo of your dream lawn and it will develop a plan to make it happen.
But this service is a bit more expensive than your ordinary lawn care plan.
The only shortcoming that we found with regards to Primo is that it is not available all the time. There have been complaints stating that it's hard to contact sometimes.
Overall, because of the high-quality equipment and the versatility of its services, we still recommend Primo as one of the best companies for lawn maintenance in Ottawa.
Multiple and versatile services offered
Good portfolio
Packaged maintenance deals
Reasonable prices
Good equipment
Complaints about being hard to contact
Customer Reviews
Great to work with
"I met Dominic from Primo Landscape, he was engaging, forthcoming, his solution was to slit seeds and provided me with realistic expectations based on what I had to work with. He provided me with detailed instructions on how to achieve these goals based on my budget. I followed his advice and was exceptionally pleased with the results after 3 weeks. I have attached before and after pictures to illustrate." – J.Q.
Amazing
"Primo Landscaping is amazing, Dominic goes out of his way to be accommodating and professional. He is very knowledgeable and honest. I will continue to use Primo for all our landscape needs and will not hesitate to recommend him to family and friends." – Liliane B.
FAQs about Lawn Maintenance
---
And that's it for the best lawn maintenance services in Ottawa. Now you can keep your lawn from turning into a forest! Hopefully, you found our list useful.
If you're looking for related articles, check out the following: