Top Dentists for Kids in Ottawa
It's never too early to teach kids the value of oral hygiene and health. And all of this starts with finding the right dentist.
For your kids, it would be great to find a go-to pediatric dentist as soon as possible. These are highly-trained dentists that specialize in treating patients from infancy to teenage years.
Lucky for you, there are a lot of great pediatric dentists of Ottawa. In this list, we have compiled some of the best in the field.
Here, we have compiled some of the most experienced and coolest pediatric dentists in the area. Find out which one has big screens, gaming consoles, and other child-friendly perks in the clinic.
How much do pediatric dentists cost in Ottawa?
Many factors can affect the cost of pediatric services. Of course, the price range per dentist varies.
At the same time, the severity of your case will also be a factor when it comes to how much you will need to shell out. Nevertheless, here is an estimated price range for various services.
| Services | Cost |
| --- | --- |
| New Patient Examination | Around $105 |
| Emergency Exam | Around $65 |
| 2 Bitewing X-Rays | Around $45 |
| Tooth Removal (Simple) | Around $140 |
| Fluoride Treatment | Around $40 |
Top Dentist for Kids in Ottawa
Several seasoned dentists have made it on our list. Picking any of these would be a great idea for you.
But to find the perfect one, we have established criteria that you may find meaningful. Here are the things that we will look at in reviewing these dentists:
1. Just 4 Kidz Dental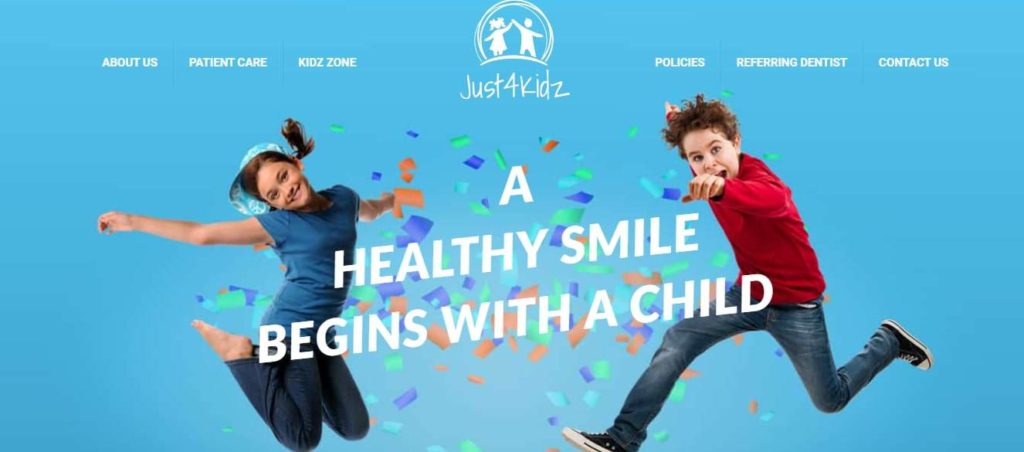 Test
Info
SERVICES
Cleaning and checkups

Restorations

Space maintainers

Sealants

Conscious sedation (nitrous oxide or oral sedation)

General anesthesia (off-site)

WEBSITE
https://www.just4kidzdental.com/
ADDRESS
1335 Carling Ave, Suite 313, Ottawa, Ontario
CONTACT DETAILS
Office Phone: (613) 722-0233

Dental Emergency: (613) 722-0233

After Hours Dental Emergency: (613) 277 3353
| | |
| --- | --- |
| CRITERIA | RATING |
| Child-Friendliness | ★★★★★ (5/5) |
| Experience | ★★★★★ (5/5) |
| Accessibility | ★★★☆☆ (3/5) |
| Variety of Services | ★★★★☆ (4/5) |
Just 4 Kidz Dental is a great option for those who like to do everything online. Whether it's your first time or you're a returning client, you can book your appointment through their easy-to-navigate online form.
However, you can only get treated here if you have an appointment, and there is no available information if they accept emergency cases.
On a brighter note, once you arrive, your kids will surely feel comfortable and at ease. This is because there are so much cool stuff like Xboxes, big screens, and more.
They are also known to be great at accommodating kids with special needs. In fact, most of the positive reviews they have garnered are from parents with children who have anxiety, Down syndrome, and other medical issues.
While your kids will surely enjoy the amenities in the dental clinic, you have to watch out, as costs may rack up. The dentists here would explore the best dental treatment for you, and this place is best for those who have great dental insurance coverage.
Another thing to note is that you will be required to bring your X-rays on your visit, as this service is not available on-site.
Online appointment booking
Have toys and electronics
Accommodates kids with special needs
Appointment-basis only
Pricey compared to other local dentists
Limited services
Customer Reviews
Genuine and Heartwarming
"Amanda was the absolute sweetest and was kind and patient with my very nervous daughter. Dr. Mahal was thorough and his care for his clients was genuine and heart warming. I highly recommend due to the entire experience. I cannot say enough positive things about all of the staff there. They really take the time to ensure that parents and children feel comfortable!" – Stephanie
Definitely Recommended
"Best child's dentist! My child really struggled when we went to another place, but coming here was a great experience for her and myself! They were very kind and caring with her, made sure she felt comfortable and happy. Definitely recommend them to anyone looking for a dentist for their kids!" – Kiki Doyle
2. Woodroffe Pediatric Dentistry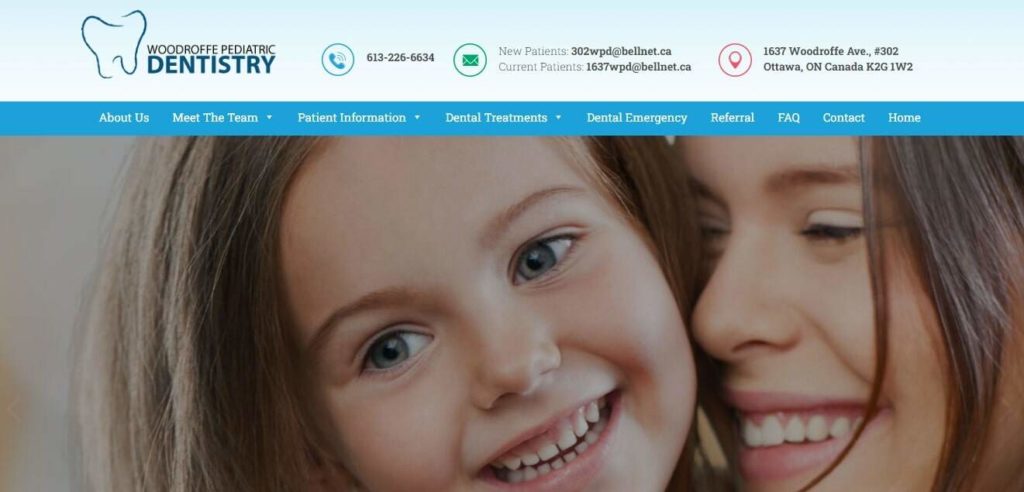 | | |
| --- | --- |
| CRITERIA | RATING |
| Child-Friendliness | ★★★★☆ (4/5) |
| Experience | ★★★★★ (5/5) |
| Accessibility | ★★★★★ (5/5) |
| Variety of Services | ★★★★★ (5/5) |
Woodroffe Pediatric Dentistry prides itself with having staff members that have advanced degrees in their field. This is a great option for parents who are looking for top-notch dental care, especially if their kids have complicated dental issues.
Another thing to note is that they have a wide range of specializations such as development orthodontics, sedation, and management of dental anxieties. This could be a one-stop spot for all of your dental needs if you have multiple children with several concerns.
This clinic is also well-known for being flexible in terms of scheduling, submission of insurance, and other preparations needed for dental procedures. They also accept dental emergency cases.
However, unlike other dental clinics for kids, this does not offer child-friendly perks like toys or electronics. These things are usually used to help kids calm down and feel relaxed before their appointments.
Dentists with advanced degrees
Wide range of specialization
Flexible in scheduling, insurance, and other preparations
Accepts dental emergency cases
Customer Reviews
Great with Kids
"Dr. Dufresne has been great with our kids. They were afraid of getting dental work done at another clinic, but are far more comfortable at Woodroffe Pediatric Dentistry. And kudos to the admin staff for bending over backward to help us prepare and know what to expect prior to more complicated procedures. We feel well taken care of." – Robert Galdins
Exceptional Care
"My child has been coming to this clinic since he was two. Dr. Luong provides exceptional care. She is very patient, and very good at dealing with small children. All of the staff are very kind and accommodating to our needs. I would definitely recommend this clinic!" – Lisa MacDonald
3. Kids & Teens Dentistry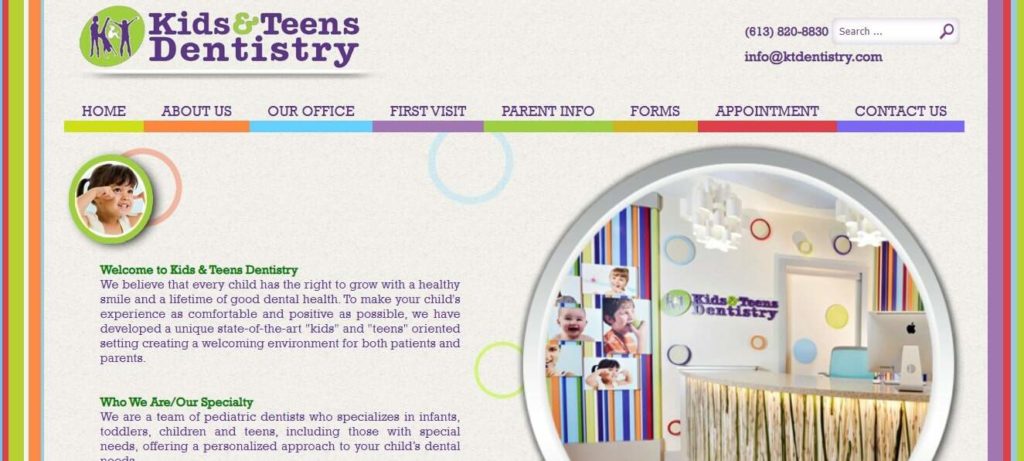 Test
Info
SERVICES
Infant dental exam (starting at 12 months of age)

Comprehensive dental care for children, adolescents, and those with special needs

Preventive care

Diet and nutritional counseling

Trauma and dental emergencies

Interceptive orthodontic treatment (early orthodontic treatment)

Nitrous oxide (laughing gas)

Oral sedation

General anesthesia (private facility or CHEO)

WEBSITE
https://kidsandteensdentistry.com
ADDRESS
3 Larkspur Drive, Ottawa, Ontario, K2H 6K8
CONTACT DETAILS
Tel. (613) 820-8830

Fax (613) 820-8870
| | |
| --- | --- |
| CRITERIA | RATING |
| Child-Friendliness | ★★★★★ (5/5) |
| Experience | ★★★★★ (5/5) |
| Accessibility | ★★★★☆ (4/5) |
| Variety of Services | ★★★★★ (5/5) |
Kids & Teens Dentistry is known for their specialized approach to the individual dental concerns of infants, kids, and teens. Not only are they recommended because of their knowledge in their fields, but parents also love them because they are great at easing the anxiety of both the kids and their guardians.
You may contact them to set up an appointment, and your kid will have a slot where all of the attention is on them. However, changes or cancellations are only allowed strictly two business days before the appointment.
Another thing to note is that less severe cases may get bumped in case there is an emergency case that the dentists need to attend to. The good thing is you will also be prioritized in case you have an urgent dental concern.
You may also want to check your dental insurance coverage, as prices can stack as the dentists will require several tests before any procedure.
On the day of your visit, your kids would surely love the child-friendly interior of the clinic together with their helpful staff.
Eases anxiety of parents and kids
Prioritizes emergency cases
Child-friendly interior and staff
Strictly two days to make changes or cancel appointments
Appointment may get bumped
Pricey compared to other clinics
Customer Reviews
Welcoming. Nice. Comfortable.
"I cannot recommend enough Doctor Castro at Kids and Teens Dentistry.
The whole place is so welcoming, nice, and comforting for kids. More importantly, the team is professional and compassionate. They called me on the phone before the first appointment and Brittany spent considerable time explaining everything and easing my fears.
Doctor Castro was absolutely amazing in every aspect. My child needed extensive dental work and not only she did do a great job, but she also took care to calm down a much nervous mother." – Agnesa Stoyanov
Caring and Professional
"I had a very good experience today. The staff are super friendly and really made my nervous daughter feel comfortable. The dentists and their assistants hide the needles so well the children have no idea. Lastly, Dr.Corbeil is a caring and professional person. Thanks!" – Jake W Purdy
4. Rockcliffe Dental

Test
Info
SERVICES
Kids dentistry

Removable implant overdentures

Sinus lift surgery

Tooth extraction and socket bone grafts

Permanent dentures

Dental implant bridges

Implant-supported dentures

Dental bone grafting

Sedation dentistry

All-on-four dental implants

Sleep apnea treatment

Oral surgery

Tooth crowns and dental bridges

Teeth cleaning

Smile makeover

General dentistry

Cosmetic dentistry

Professional teeth whitening

Porcelain veneers

White fillings

Dental exam for new patients

Gum grafts

Wisdom teeth removal

Root canal

Dentures

Single tooth implants

Emergency dental care

WEBSITE
https://familydentistottawa.com/services/pediatric-dentistry/
ADDRESS
681 Montreal Road, Ottawa, Ontario
CONTACT DETAILS
613-746-4600
| | |
| --- | --- |
| CRITERIA | RATING |
| Child-Friendliness | ★★★★★ (5/5) |
| Experience | ★★★★★ (5/5) |
| Accessibility | ★★★★★ (5/5) |
| Variety of Services | ★★★★★ (5/5) |
Rockcliffe Dental is a prominent dental clinic for both kids and adults. This is a great option if you want the rest of the family to get dental services in one day.
Although they have reputable pediatric dentists in this clinic, it would be important to note that dentistry for kids is not their primary specialization.
If your kids have more complicated or unique dental conditions, it would be more advisable to go to clinics that focus mainly on pediatric cases.
They are recommended for having skilled yet honest dentists who will not recommend services unless you really need to and it's in your best interest. Aside from this, they are also reasonably priced, which makes them a great option for those who are having issues with their insurance.
Another good thing is that they have bilingual staff who can assist you in languages that you may be more comfortable in.
Their receptionist is also top-notch and has been notable to patients for going the extra mile in finding the perfect schedule for them. They also cater to dental emergency cases.
Wide range of specialization
Skilled and honest dentists
Reasonably-priced
Bilingual staff
Flexible appointment settings
Caters dental emergency cases
Pediatric dentistry is not their primary specialization
Customer Reviews
Professional. Friendly. Informative.
"Dr. Koniouchine and his staff are very professional, friendly and informative. I've never seen a dentist like this before, he takes his time to explain preventative measures. My 17-year-old son was told by another dentist that he needed his wisdom teeth removed. After consulting with Dr. Koniouchine, it is in my son's best interest to wait. I really appreciate his honesty. Katrina, the hygenist was very friendly & gentle. I would recommend this dentist 100%. Thank you!" – Elaine Menard
Happy to Have Found This Place
"I had a very pleasant experience with Sylvie (the hygienist) and Dr. Isabelle. Also, both are bilingual and spoke to me in French which was a nice bonus. I generally used to avoid dental visits and hadn't seen a dentist since moving across the city 2 years ago, but I'm really happy to have found this place and actually looking forward to coming back regularly!" – Alexandre Charest
5. Trillium Dental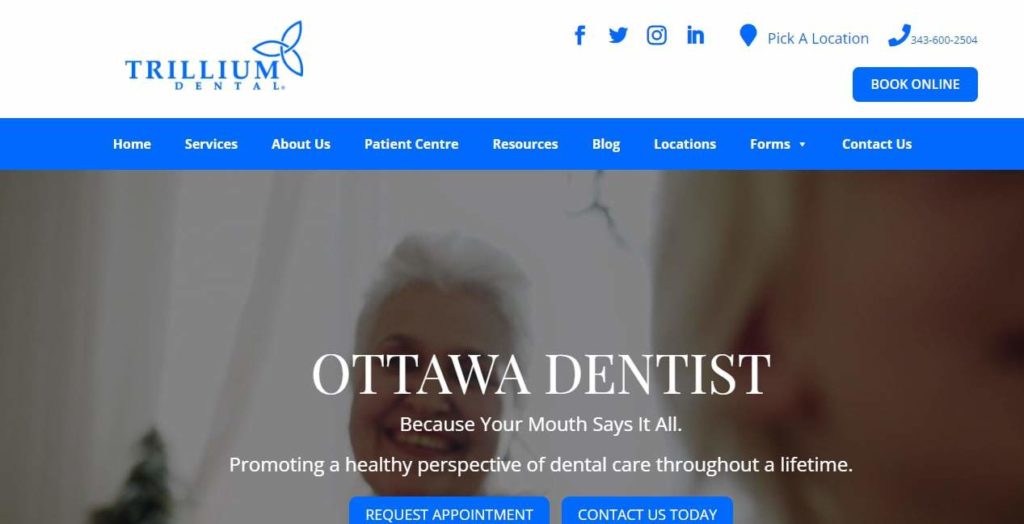 Test
Info
SERVICES
Family dentistry

Metal-free dentistry

Periodontal screening

Preventative dentistry

Tooth decay

Tooth erosion

Tooth sensitivity

Toothaches and dental emergencies

WEBSITE
http://www.trilliumdental.ca
ADDRESS
Minto Place, 407 Laurier Ave West,  Ottawa, Ontario
CONTACT DETAILS
Phone: (613) 233-4885

Fax: (613) 233-6787

Email: [email protected]
| | |
| --- | --- |
| CRITERIA | RATING |
| Child-Friendliness | ★★★☆☆ (3/5) |
| Experience | ★★★★★ (5/5) |
| Accessibility | ★★★★★ (5/5) |
| Variety of Services | ★★★★★ (5/5) |
Trillium Dental is a big family dental clinic with a wide range of services. This includes general dentistry to cosmetic dentistry.
They have impressive pediatric dentists onboard. However, please note that dentistry for kids is not the main specialization of this clinic.
Getting an appointment is smooth and easy, as there are many slots due to the number of their dentists. All you have to do is either call or use their online form.
Their booking system is pretty neat as they aim to not make patients wait in the lobby. The goal is for you to walk directly to the dentist's chair once you have filled out the necessary forms at the front desk.
They also have several clinics in Canada, and one of those is located at the heart of downtown Ottawa. The interiors of the clinic are clean and soothing but not exactly as appealing to kids as the others mentioned on this list.
However, for those who do not have extensive dental coverage on health care, it would be important to note that the prices in this clinic can be costly compared to others. But that is only because the dentists will provide top-notch services and procedures to your kids here.
Wide range of services
Highly-trained pediatric dentists
Smooth booking system
Many clinic locations
Clinics are not child-appealing
Expensive
Customer Reviews
A Well-Oiled Machine
"This dental centre is a well oiled machine. Right away booking was so simple, the staff was very attentive and highly responsive. The detailed client form in advance saves you time and the COVID pre-screening was contact less which was very safe and efficient.
Upon you send a text so the waiting area would not be flooded and kept their clients moving safely though their appointments. This was the first time I have ever gone to a dentist appointment and not waited at all.
Upon entry the staff members were attentive and very welcoming. The entire place is spotless. You can tell every expense and effort has gone into creating a safe environment for their customers and staff members." – Maddie Griffin
Streamlined Efficiently
"What an incredible experience from start to end. Everyone was incredibly friendly once I walked in, everything was streamlined so efficiently, they even had drinks in the waiting room! This centre certainly knows how to do things right!" – Nahid Punjani
FAQs about Dentists for Kids in Ottawa
---
Looking for more dentists? Check out this list and you may just find your perfect match.
Do you know other pediatric dentists in Ottawa? Let us know if you have any other suggestions.