Top 7 Car Financing Companies in Ottawa
Eyeing for a car but still don't have the budget? We got your back!
Our capital city has a long list of car financing companies to aid you, but the question is, which of them can be the best of help? Here are the top companies that can best assist you with car financing in Ottawa.
How Much Do Car Loan Interest Rates Cost In Ottawa
According to Statistics Canada, financing companies' average car loan interest rates are 4.5%. It will, however, depend on the borrower's financial situation.
The interest rate determines how much more you will pay back aside from the principal. Rates vary, and you will need a good credit rating, income, and capital to get a competitive rate.
We have included a table below to help you visualize how the interest will affect your payments. The last two columns show how the rates affect a 4-year loan for the same amount.
| | Low-Interest Rate | High-Interest Rate Estimate from a Bad Credit Rating |
| --- | --- | --- |
| Loan Amount | 30,000 | 30,000 |
| Interest | 4.50% | 19.50% |
| Term Length | 4 years | 4 years |
| Monthly Payment | $625 (principal) + $28.13 (interest) = $653.13 | $625 (principal) + $121.88 (interest) = $746.88 |
| Total Amount Paid | $31,350.24 | $35850 |
| Total Interest Paid | $1350.24 | $5,850.24 |
You don't need to worry if you have a bad credit. There are many dealerships that offer second chance credit for used cars.
Second chance credits refer to a private loan intended for people who can't borrow from a bank due to a bad credit rating. It's usually the last resort and car dealerships are the ones who often offer this kind of financing.
Top Car Financing Companies in Ottawa
1. Bank Street Hyundai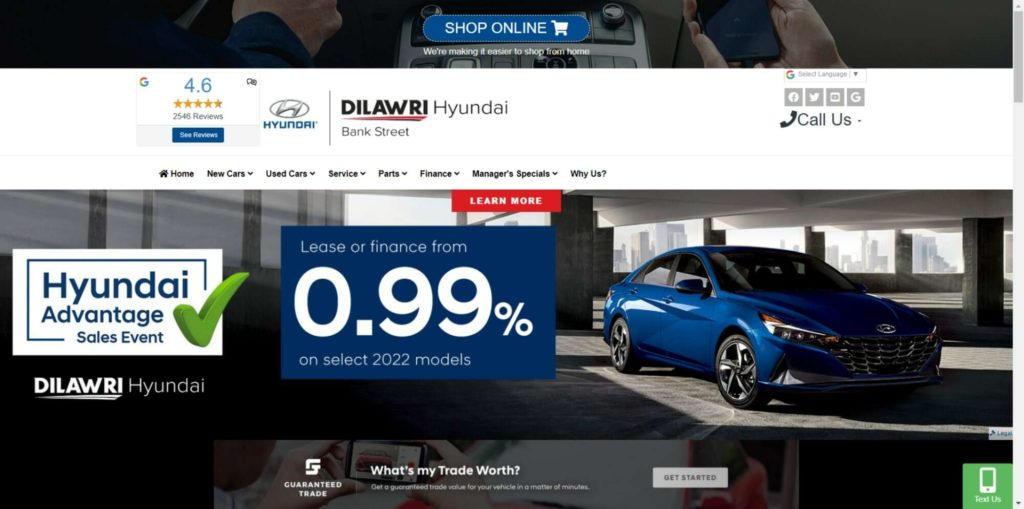 Test
Info
SERVICE
New and Used Cars, Car Repair and Maintenance, Car Financing, Car Parts
WEBSITE
https://www.bankstreethyundai.com/
ADDRESS
2788 Bank Street Ottawa, Ontario K1T 1N3
CONTACT DETAILS
Phone Number: 613-706-9812
OPERATING HOURS
Mondays – Thursdays: 9 AM – 8 PM

Fridays – Saturdays: 9 AM – 6 PM

Sundays: CLOSED
| | |
| --- | --- |
| Criteria | Ratings |
| Interest Rates | ★★★★★ (5/5) |
| Reputation and Track Record | ★★★★☆ (4/5) |
| Customer Service | ★★★★☆ (4/5) |
We can't help but include Bank Street Hyundai on the list for being one of Canada's largest auto retailer conglomerates. The car dealer and financing company has been privately owned and operated by the Dilawri Group of Companies since 1985.
Bank Street Hyundai caught our attention because of their 2nd chance car loans. We like how they promise approval and "no application refused" for everyone.
We also noticed how Bank Street Hyundai can cater to customers with no credit or who have credit issues. The company only requires their applicants to be employed for a minimum of one month.
What makes Bank Street Hyundai even more impressive is how they approve applications regardless of an individual's financial situation. They are willing to help you get on your feet and get your credit back on track.
The company also boasts easy applications and low monthly payments. We like how Bank Street Hyundai is sympathetic to all customers and does not discriminate with their forgiving application process.
Moreover, Bank Street Hyundai also hosts car events. Their low-interest rates of 0.99% caught our eyes for over 3000 selection of new Hyundai vehicles, plus all makes and models of used cars.
True to their name, Bank Street Hyundai has the largest volume of Hyundai vehicles in Ottawa for you to choose from. We're even more delighted that they provide the right service and parts for the vehicles.
Unfortunately, we found recurring complaints of different price quotations for both vehicle and car parts through call and in-store. Bank Street Hyundai compensates it with the amazing customer service in-store that we enjoy.
Despite the company's long track record, they have its fair share of recurring service complaints. Bank Street Hyundai, however, continues to improve and is proud of its 4.6 Google Rating from 2546 reviews.
No application refused policy
Decades of great track record
Recurring complaints about their repair service department
Recurring complaints of different quotation
Customer Reviews
Most friendly service
"I received extremely fast and the most friendly service. I loved everything about my new vehicle purchase; from the first contact with the salesperson Ali over the phone, to the many email messages and fast efficient responses with my various questions, then meeting everyone at the dealership who helped make sure I got just what I was seeking. Everyone was super accommodating, extremely informed with my many queries, and so helpful to make sure I was given all the information I needed on my purchase and verifying if I had any more questions. It felt like I was dealing with close family, I was very comfortable and at ease speaking with Ali and Joe who helped make sure everything was to my expectation." – Jen Mayor
Everyone puts the customer first
"I made my first new car purchase here and everything about the process was amazing! Just walking in the door you are greeted by anyone who is around, thank you Boudy for being so kind. From a warm welcome at the front door, you can tell that everyone puts the customer first. The way the staff rave about each other seems like they are family! I'd also like to thank Paul and Chris for helping me with this milestone, I will never forget this experience you guys are amazing. Professional but also very personable people, ask for them! 10/10 recommend." – Jazlyn W
2. Approval Genie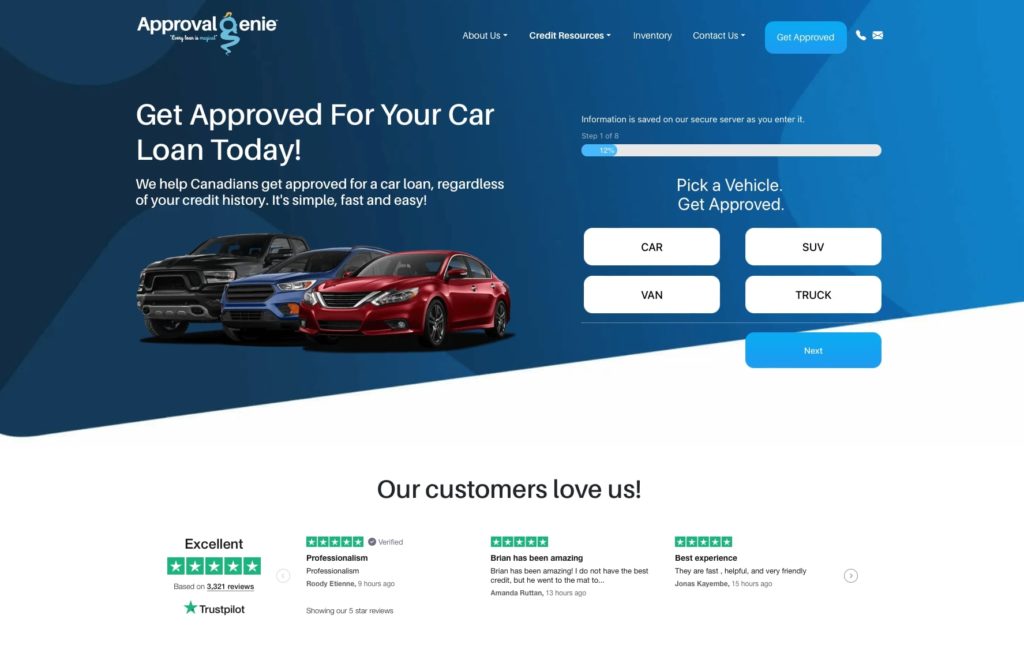 Test
Info
SERVICE
Financing, Auto Financing, Car Finance and Loan Company, Auto Loan, Auto Loans, and Automotive Loan
WEBSITE
https://www.approvalgenie.ca/
ADDRESS
1325 Richmond Rd, Ottawa, ON K2B 6R7, Canada
CONTACT DETAILS
Phone Number: 613.695.7951

Email Address: [email protected]

OPERATING HOURS
Monday to Thursday: 10:00 AM to 7:00 PM; Friday: 10:00 AM to 6:00 PM; Saturday: 10:00 AM to 5:00 PM
| | |
| --- | --- |
| Criteria | Ratings |
| Interest Rates | ★★★★★ (5/5) |
| Reputation and Track Record | ★★★★★ (5/5) |
| Customer Service | ★★★★★ (5/5) |
When it comes to getting a car loan, it can often feel like you're wading through a swamp of paperwork and bureaucracy. That's why we were thrilled to discover Approval Genie.
Approval Genie offers a range of car loan options, including financing for new and used cars, as well as refinancing options for those who are looking to lower their monthly payments.
We were pleasantly surprised to find their website was user-friendly and easy to navigate, making it easy for us to find the information we needed and apply for a loan.
But convenience is the real star of the show here. Approval Genie's online application process is quick and painless, and we were able to complete it in just a few minutes.
The best part? We didn't have to leave the comfort of our own home to do it.
The whole process was digital, which meant we didn't have to deal with any of the hassle of traditional lending institutions. And once we submitted our application, we were thrilled to receive a response in no time.
The quality of Approval Genie's service was also top-notch. We were impressed by the professionalism of their staff, who were friendly and knowledgeable.
They answered all of our questions promptly and made sure we understood all the terms and conditions of our loan. We also appreciated that they took the time to get to know us as individuals, rather than just treating us like a number.
However, Approval Genie doesn't offer discounts and promos at the moment. Check their website from time to time for other fantastic package offers.
Multiple and convenient locations
Quick and hassle-free online application process
Competitive rates with no hidden fees or charges
Friendly and knowledgeable staff
Stellar reputation in Ottawa with many satisfied customers
Closed on Sundays
No discounts and promos at the moment
Customer Reviews
Patient, kind, and helpful
"Jesse was amazing. He helped find the best vehicle for me based on all the factors presented to him. He was very patient, kind, and helpful during the whole process. Very thorough explanations on price, vehicle and credit. Couldn't be more happy with my vehicle and experience with Approval Genie would recommend to anyone looking to buy a vehicle and get the best price for them." — Cody Faucher
Great experience, great advice
"Great experience with Approval Genie. We got approval for a car loan with very low credit. Jesse really gave great advice to improve our credit and we gained new information about the credit system. We just picked up our car it had some minor panel issues nothing big and the team is going to cover everything." — Hartley Benfield
3. Car-On Auto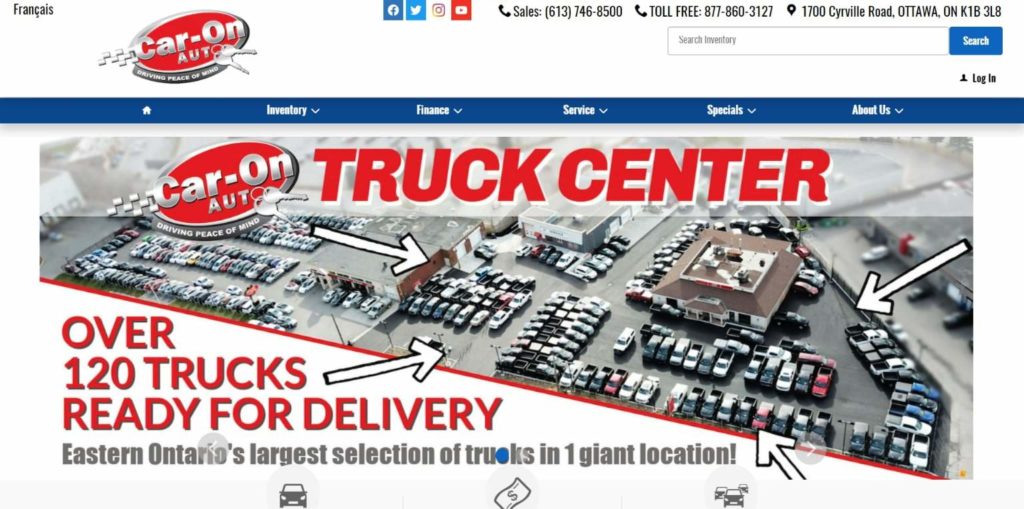 Test
Info
SERVICE
Car Repair and Maintenance, Car Detailing, New and Used Cars, Used Bikes
WEBSITE
https://www.caronauto.ca/
ADDRESS
1700 Cyrville Road, Ottawa, ON K1B 3L8
CONTACT DETAILS
Phone: 613-746-8500
OPERATING HOURS
Mondays to Thursdays: 9 AM - 8 PM

Fridays: 9 AM - 6 PM

Saturdays: 9 AM - 5 PM

Sundays: CLOSED
| | |
| --- | --- |
| Criteria | Ratings |
| Interest Rates | ★★★★★ (5/5) |
| Reputation and Track Record | ★★★★☆ (4/5) |
| Customer Service | ★★★★☆ (4/5) |
We love how Car-On Auto built their pre-owned vehicle dealership in 1998 with a 30-day money-back guarantee. Since then, they have continued to ensure 100% client satisfaction and have aimed to provide the lowest price commitment.
Car-On Auto prides itself as the only pre-owned vehicle dealership that stands behind a 30-day REFUND policy. We're impressed by its owner's principles that buying a pre-owned vehicle should be pleasant and stress-free.
The company continues to impress us with its financing rates that require no down payment and no payments for 6 months. We really appreciate the months of no payments since it allows people to rebuild their finances.
True to the company's belief, Car-On Auto continues to impress us by making used vehicle shopping convenient. We enjoy their user-friendly website that lets us browse their catalogs and even file a financing application – everything is done conveniently online!
In short, no matter your credit status, their team will help you find the best terms and conditions for your purchase. The dealership also boasts of being the only car dealership in Eastern Ontario with access to all major lenders.
Despite recurring complaints on car quality, Car-On Auto goes beyond minimum government measurements for safety checks on used vehicles. We love how they are ready to stand behind their vehicle's quality that they prepared to offer a 30-day money-back guarantee.
30-day refund policy
No payment for six months
Recurring complaints on car quality
Long turnaround time for car repair
Customer Reviews
Great service
Bought 2 vehicles from them and great service. Richard in finance will get you the best rate. Alex in sales will find you the best vehicle for your needs. Rick in service will ensure it's running in top shape. Very patient and professional team. Thanks and will see you guys next time. – Pat Doherty
No pressure
Just picked up a beautiful 2014 Audi Q5 for my wife yesterday. We were dealing with Mario, Matt, and manager Oday. All three of these guys were great to deal with.
No pressure whatsoever to purchase the vehicle. They are all very friendly and informative. I will definitely recommend this place to my family and friends. – B 8
4. 2nd Chance Auto: Sales & Car Loans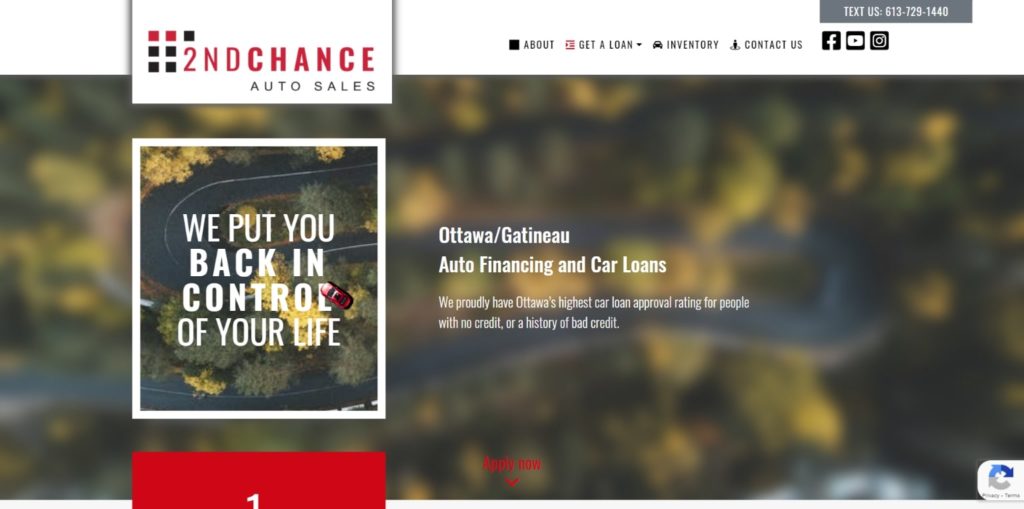 Test
Info
SERVICE
Car Financing, Used Car Sales
WEBSITE
https://www.2ndchanceauto.com/
ADDRESS
1330 Carling Ave. Ottawa, ON, K1Z 7K8
CONTACT DETAILS
Phone: 613-729-1440
OPERATING HOURS
Mondays to Thursdays: 10 AM - 7 PM

Fridays: 10 AM - 6 PM

Saturdays: 10 AM - 4 PM

Sundays: CLOSED
| | |
| --- | --- |
| Criteria | Ratings |
| Interest Rates | ★★★★★ (5/5) |
| Reputation and Track Record | ★★★★☆ (4/5) |
| Customer Service | ★★★★☆ (4/5) |
2nd Chance Auto made it to the list with their service shown in its name. The company helps you get a second chance in getting your finances back on track to get you a healthier credit score.
We appreciate how 2nd Chance Auto included an informative part in their website explaining how a credit score can affect your loan.
What makes 2nd Chance Auto impressive is their 91% approval rate and 2-hour approval time when you apply for financing. We like how convenient it is to fill out their online form and just wait for the results.
2nd Chance Auto's finance team also caught our attention. Their customer service team helps their customers as best they can to get approved by properly guiding them and assisting them with their needs.
The dealership's finance team calls it their "back on track" program. We love how 2nd Chance Auto provides their customers with the necessary information, tools, and a complete blueprint or plan on how you can get a good credit rating within as little as 10-24 months.
Despite the lack of pictures in their catalog, 2nd Chance Auto provides detailed information for the cars in their inventory. We also like their user-friendly vehicle search engine that makes it convenient to look for our desired car.
2-hour approval time
High approval rate
Lack of pictures for inventory
No pricing guide
Customer Reviews
Smooth and stress-free
"Andy was truly amazing! He really helped me out through a tough financial situation, he went above and beyond to make sure I left with a car no matter what. He made the whole process simple, smooth, and stress-free. Definitely ask for him next time you're looking for a car!" – Charlotte Letourneau
Great customer experience
"I've visited several car dealers this past year, but I had the best experience at 2nd Chance Auto. Hamza was a pleasure to work with, he's very genuine and knowledgeable. He really delivered a great customer experience and came through in a short amount of time with a great SUV with all the checkmarks on my list. Even with my personal credit challenges, he made it happen and I'm very grateful. I highly recommend Hamza and the team at 2nd Chance Auto!" – Fitzroy Safar
5. Donnely Auto Credit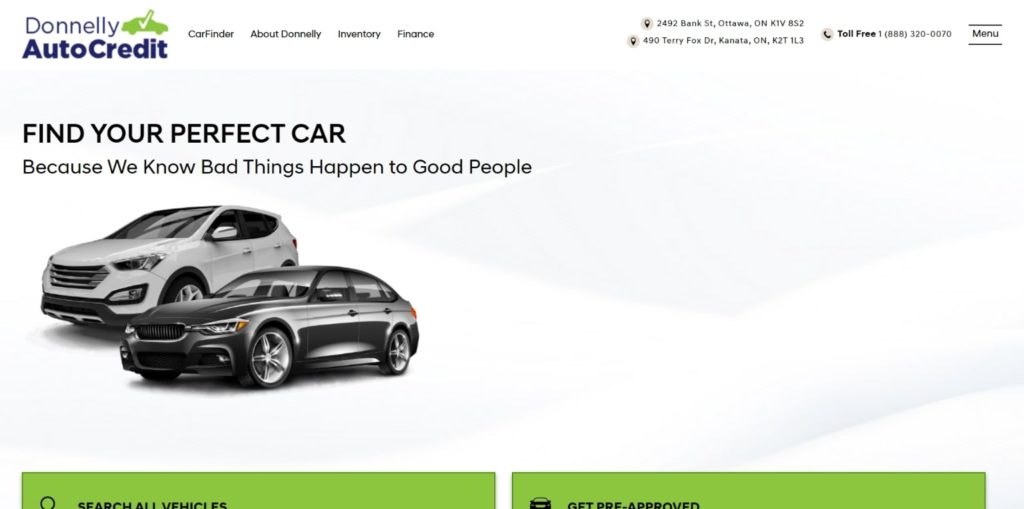 Test
Info
SERVICE
New and Used Car Sales, Car Financing
WEBSITE
https://www.donnellyautocredit.com/
ADDRESS
2492 Bank St, Ottawa, ON K1V 8S2
CONTACT DETAILS
Phone: 1-888-320-007
OPERATING HOURS
Mondays to Thursdays: 8:30 AM - 8 PM

Fridays: 8:30 AM - 6 PM

Saturdays: 8:30 AM - 5 PM

Sundays: CLOSED
| | |
| --- | --- |
| Criteria | Ratings |
| Interest Rates | ★★★★★ (5/5) |
| Reputation and Track Record | ★★★★☆ (4/5) |
| Customer Service | ★★★★☆ (4/5) |
Donelly Auto Credit impressed us with their quick and easy loan application – all it takes is a simple email or a phone call. They're proud of being a trusted name for second chance auto credit in Ottawa for more than a decade.
According to Donelly Auto Credit, they really do specialize in offering automobile credit services for people having financial difficulties. We love how they give out free advice and help you repair your credit score to get your life back on track.
Whenever we enter Donelly Auto Credit, we're always greeted with smiles from their friendly and professional staff without fail. We adore the welcoming and undiscriminating ambiance they give no matter what your credit score.
Unfortunately, Donelly Auto Credit has limited pictures of the cars, SUVs, or trucks in their inventory. They do, however, provide a pricing guide and detailed information about the vehicles.
We're impressed with Donelly Auto Credit's well-structured service. They can give any customer the right vehicle that fits their budget and needs with proper and thorough credit score guidance.
Donelly Auto Credit's approval team also caught our attention. We like their simple and non-intrusive online form that provides convenience to anyone who wants help with their credit status.
One of the reasons why Donnelly Auto Credit made it into our list is their trade-in services. We like how you can trade in your car and use that as a downpayment to get lower loan rates.
Despite having a loan rate of between 4.99% to 29.9%, Donelly's Auto Credit's approval team will help you get the lowest rate possible. You don't need to worry if you have a higher rate at first since they will work hard to reduce your rate over time as you reestablish your credit.
Available pricing guide
Detailed information for available vehicles
High loan rates
Lack pictures for inventory
Customer Reviews
Very accomodating
"Honestly, I highly recommend checking this place out. They are very accommodating and understanding. Mark allowed me to stay within my budget and didn't pressure me to go outside my means. Mark also did everything in his power to provide me with the best rate possible and is honest! I would definitely go back for my next vehicle, until then I will enjoy my all-black 2019 Hyundai Accent! It's a beauty and I am happy to have wheels!" – Chanda Jones
Fast turnaround time
"Inquired about financing online, and within a day heard from Decio, told him the type of vehicle I wanted, and I'll be damn, he got her done! I'm probably one of the most skeptical people on earth, and he left me in awe! Thank you, Decio!!" – Darryl McCain
6. National Auto Finance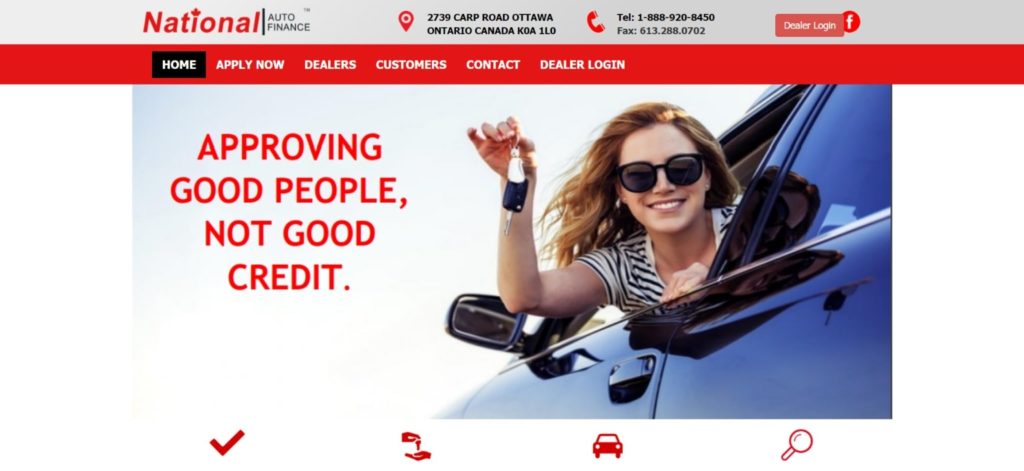 Test
Info
SERVICE
Car Financing, Car Sales
WEBSITE
https://www.nationalottawa.ca/
ADDRESS
2739 Carp Road, Ottawa, Ontario, Canada K0A 1L0
CONTACT DETAILS
Phone: 1-888-920-8450; 613-288-0702
OPERATING HOURS
Mondays to Fridays: 8 AM - 6 PM

Saturdays: 9 AM - 2 PM

Sundays: CLOSED
National Auto Finance made it to our list with their varied financing programs. They are an independently owned lender and registered vehicle dealership since 2005.
For almost 20 years, National Auto Finance served the people of Ottawa in purchasing and financing their vehicles. We love how they strive to build strong friendly relationships with their clients by giving them a reliable vehicle regardless of their credit situation.
National Auto Finance's different financing programs left us in awe. One of our personal favorites is their auto repair financing up to $3000, which offers a 0% interest rate for 12 months.
We appreciate how forgiving National Auto Finance is for accepting previously declined applications. Usually, most finance companies do not accommodate them or will require a co-sign and down payment.
Despite the lack of a pricing guide for their inventory, we are raving for National Auto Finance's excellent flexible terms. Their payments start low as $250 per month or zero interest rates for a couple of months.
We're impressed with how forgiving National Auto Finance's plans are since they accept anyone no matter what their credit score. They also accept applicants with outstanding collections or previous vehicle repossessions or in bankruptcy.
Flexible payment plans.
Different financing programs
Lack pricing guide
Lack pictures for inventory
Customer Reviews
Super nice and friendly
Saw their very affordable car detailing incentive, stopped in. Adam and Anthony were fantastic. Was greeted by the super nice and friendly Natalie, and enjoyed chatting with Tarek. A very positive experience and excellent treatment. Thank you. – Brent Corbeil
Outstanding customer service
Great selection of affordable cars, competitive prices, and outstanding customer service. National got us approved when no other dealership would finance us. Thank you again! – Tarek Tarek
7. CarRate.ca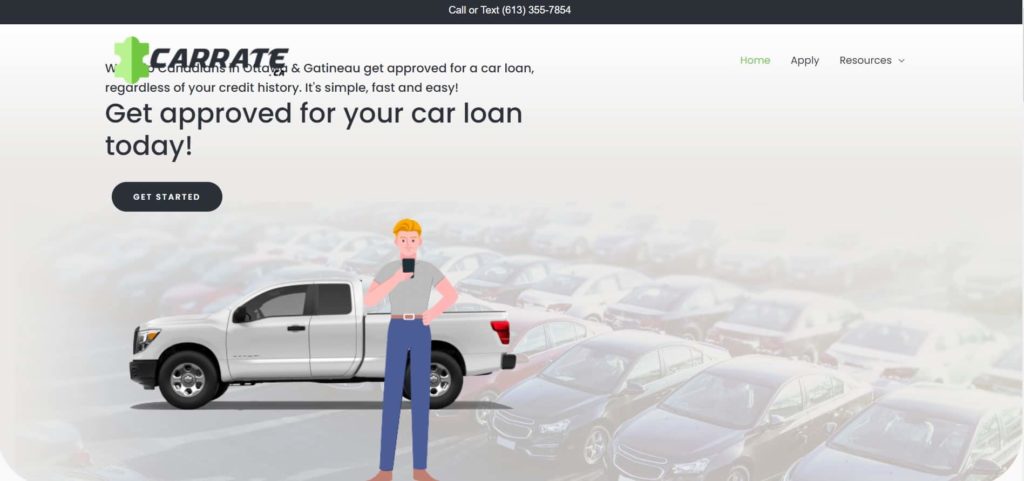 Test
Info
PRODUCTS/SERVICE
Car Loans
WEBSITE
https://carrate.ca/
ADDRESS
Ottawa, ON, Canada
CONTACT DETAILS
(613) 355-7854 / [email protected]
OPERATING HOURS
Monday - Friday 9:00am - 6:00pm

Saturday 9:00am - 5:00pm

Sunday Closed
| | |
| --- | --- |
| Criteria | Ratings |
| Interest Rates | ★★★★★ (5/5) |
| Reputation and Track Record | ★★★★☆ (4/5) |
| Customer Service | ★★★★★ (5/5) |
CarRate.ca is a company that helps clients looking for car loans in the area procure one with boat ease and swiftness to ensure a convenient transaction until they have acquired their desired vehicle from their vast selection.
They understand that each client requires a specific set of needs and preferences when it comes to loans, thus their knowledgeable team of professionals is able to guide them and help procure the best car loan services that they can.
Furthermore, they also accept all credits with no money down needed and SIN to pre-qualify to help clients have an easier time applying for the said car loan without the stress of meeting many requirements as well.
Note though that even if they do display the price rates of their vehicles, these are not yet inclusive of the tax and VAT so clients may need to expect additional fees for that.
Overall, with their accommodating and reliable personnel, practical and professional advice given, and excellent variety of car brands and vehicle types offered, we highly recommend them to clients in the area looking for car loan services.
Fast application process
All credits are accepted
Down money is not needed
Customer Reviews
Here is a review from their client:
"Frank was great to do business with, got me into the perfect vehicle for my family, and was nothing but accommodating and friendly. Thank you again Frank for helping me out with car finance!!"
FAQs about Car Financing in Ottawa
---
We hope that helped your car purchase. If you're looking for a car dealer, you can also check our blog about the best car dealerships in Ottawa.
Loans are longtime commitments, so you should always take time to explore your options. If you're looking for more loan services in the city, check out more of our articles below: