The 5 Best Bathtub Refinishing Services in Ottawa
Soaking in a bathtub after a long day is one of life's greatest pleasures. But what if your tub is old and on the verge of a breakdown?
This is when you'll need refinishing services to fix the surfaces of your worn and damaged bathtub, making it new again.
In this article, we will be discussing the best bathtub refinishing services in Ottawa.
How much does a bathtub refinishing cost in Ottawa?
Contractors usually charge around $800 to $1200 for a refinishing job. There are inclusions and packages available as well.
In the table below, you'll find a more specific price guide for this type of work.
| Type of Tub Material | Average Refinishing Cost |
| --- | --- |
| Fiberglass | $300 - $1,000 |
| Porcelain | $350 - $600 |
| Cast Iron | $350 - $600 |
| Refinishing Type | Average Cost |
| --- | --- |
| Ceramic Refinishing | $400 - $1000 |
| Refinishing + Shower Combination | $600 - $1300 |
The Best Bathtub Refinishing Services in Ottawa
To provide you with the best bathtub refinishing services in the metro, we looked at the following criteria:
1. Kitchens & Bathrooms First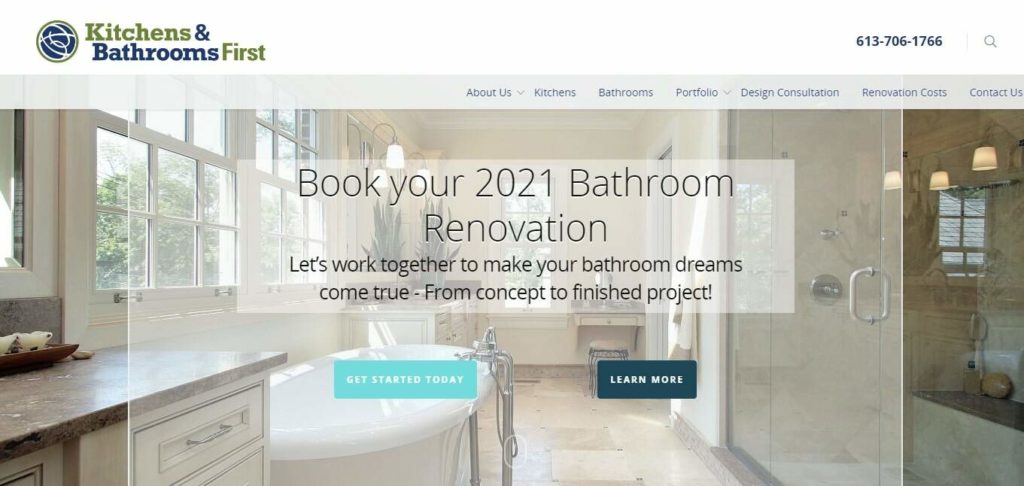 Test
Info
SERVICES
Bathtub Refinishing, Kitchen Renovation, Bathroom Work, Design Consultation, Renovation
WEBSITE
https://www.bathroomsfirst.ca/
ADDRESS
850 Industrial Ave #5, Ottawa, ON K1G 4K2, Canada
CONTACT DETAILS
613-749-1512
OPERATING HOURS
Monday 9AM–5:30PM

Tuesday 9AM–5:30PM

Wednesday 9AM–5:30PM

Thursday 9AM–5:30PM

Friday 9AM–5:30PM

Saturday Closed

Sunday Closed
| | |
| --- | --- |
| Criteria | Ratings |
| Rates | ★★★★(4/5) |
| Location | ★★★★ (4/5) |
| Experience | ★★★★★(5/5) |
| Portfolio | ★★★★★(5/5) |
Established in 2002, Kitchens & Bathrooms First has been serving the Ottawa area for quite a long time. As a family-owned business, it boasts a personal touch not commonly seen in other companies, which we like.
When it comes to its services, this provider obviously specializes in kitchens and bathrooms. It offers remodeling services for both.
The best thing about it is it offers mid-range to high-end bathtub refinishing options. Mid-range options are cheaper compared to high-end options, but they basically have the same effect of resurfacing your tubs.
So if you're on a budget, the mid-range refinishing selections are still worthy of your consideration.
Another thing we like about the company is its seasonal discounts. These don't happen too often, but they happen enough that many customers are able to get good deals on both kitchen and bathroom services.
The company also offers design consultations for those who aren't sure what kind of design they want. This is even applicable to bathtubs as they are able to customize some features.
Overall, the only issues we have are the fact that the provider is closed during weekends and it isn't able to provide a quote immediately. Other than that, it's still a great option for your bathtub refinishing needs.
Offers discount deals
Also offers kitchen & bathroom remodeling
Has both mid-range and high-end options
Closed on weekends
Unable to provide quotes immediately
Customer Reviews
Great service
"We recently contracted Kitchens and Bathrooms First for a full renovation of our main bathroom. We obtained estimates from a variety of sources including both individual contractors and companies. We found this company, with Adam's assistance, to be not only competitive in pricing for the work and the supplies but also very professional in their dealings with us." – Marie Lemay
Impressive
"If you are reading these reviews you must be on your way to begin a kitchen or bathroom renovation. Over the last 30 years or so we have gone through many renovations and have used some of the big name renovators in Ottawa. Within the last month we have had two bathrooms renovated by Kitchens & Bathrooms First and these have been our most stress free and successful renovations of them all." – Charles Armstrong
2. Surface Integrity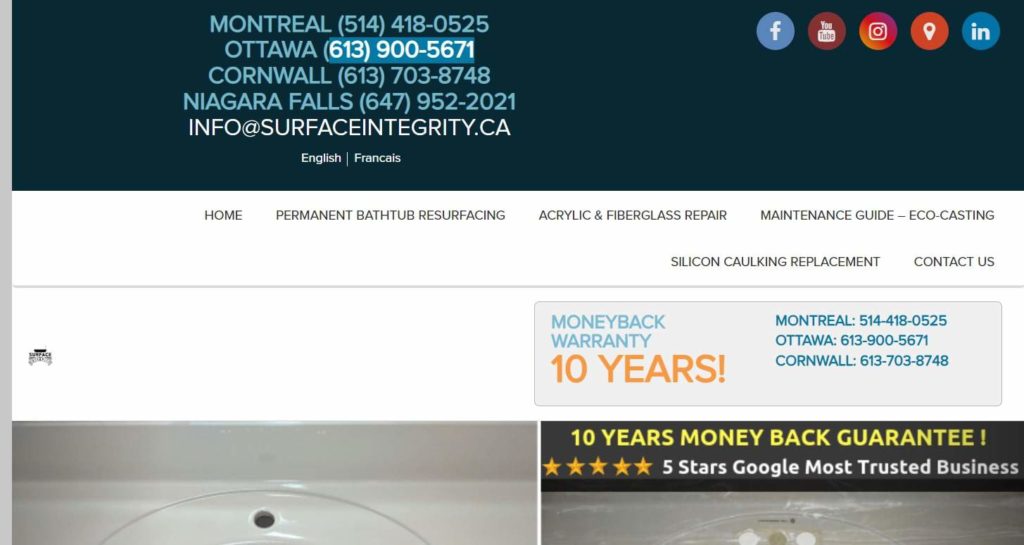 Test
Info
SERVICES
Bathtub Refinishing
WEBSITE
http://www.surfaceintegrity.ca/
ADDRESS
900 Lady Ellen Pl, Ottawa, ON K1Z 5L5, Canada
CONTACT DETAILS
613-383-0458
OPERATING HOURS
Monday 8AM–7PM

Tuesday 8AM–7PM

Wednesday 8AM–7PM

Thursday 8AM–7PM

Friday 8AM–7PM

Saturday Closed

Sunday Closed
| | |
| --- | --- |
| Criteria | Ratings |
| Rates | ★★★★★(5/5) |
| Location | ★★★★ (4/5) |
| Experience | ★★★★★(5/5) |
| Portfolio | ★★★★(4/5) |
What makes Surface Integrity special is its environmentally-friendly options. It is a company that has received multiple positive feedback from its previous customers because of its services and rates.
Not only that, but its resurfacing or refinishing methods are permanent because of the absolute adhesive it uses. This adhesive is 20 times thicker than common refinishing paint.
The company also offers this service with a 10-year warranty, which is very assuring especially for customers who are having doubts about the permanence of the adhesive.
The method Surface Integrity uses for resurfacing is what they call eco-casting, which is more environmentally friendly compared to the usual refinishing paint that other companies use.
You know us, we always appreciate a provider that respects the environment.
Eco-casting is also non-toxic for humans and pets, so the work can be done even while you're at home. It's a really good option for busy families who just want their bathtub to work right.
Overall the few issues we found with Surface Integrity is the fact that it's appointment-based and it's closed on weekends. It's also a hassle to navigate its website, so calling its number is the better option.
With that said, it's still a good company that offers all the right services, so definitely check it out.
Environmentally-friendly
Non-toxic materials are used
Offers warranty
Has a maintenance guide
Appointment only
Closed on weekends
Customer Reviews
Great job
"Kfir at Surface Integrity did an incredible job resurfacing our 50 year old cast iron insert tub. It looks brand new and is easy to clean. We have had it refinished in the past with other methods and there is absolutely no comparison with the surface that Kfir achieved. He does beautiful work, was very accommodating with schedule changes and his customer service was excellent. Highly recommended. Thanks Kfir!" – Derek Potts
Highly recommended
"Our acrylic bathtub suffered a deep gouge, and further damage when trying to repair it by sanding too aggressively. This resulted in a twoonie-sized patch with the acrylic completely sanded away, leaving a yellow patch on the white tub. I contacted Kfir, and after a juggling vacation and availability in my area, he arrived on time as arranged. The wait was completely worth it! Kfir did a great job, the repair is perfect, and the tub looks like it was never damaged! The surface is completely smooth and level, and the paint match is as per the manufacturer's specifications. I recommend Kfir without hesitation." – Denis Bouffard
3. #1 Tub & Tile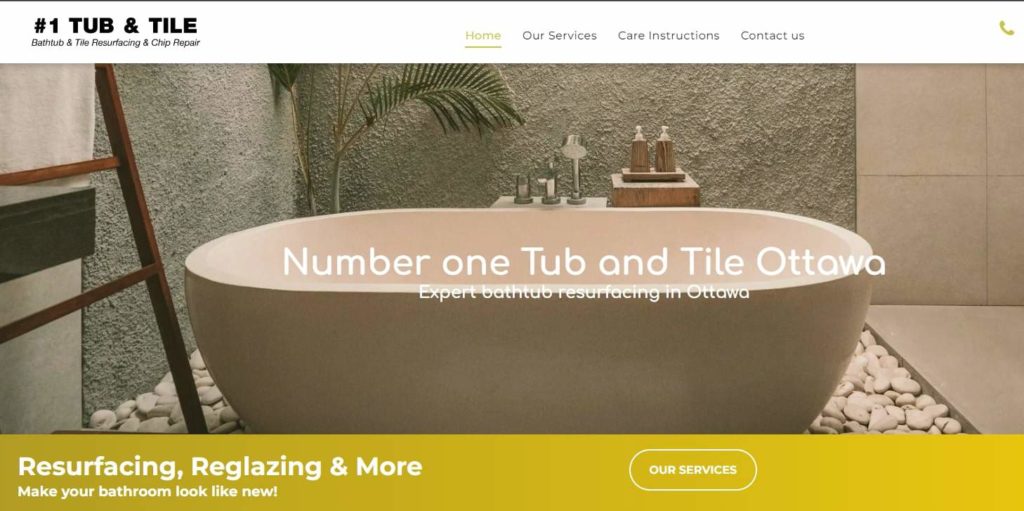 Test
Info
SERVICES
Acrylic tubs, Ceramic Tubs, Iron Tubs, Metal Tubs, Refinishing, Reglazing, Reparations
WEBSITE
http://www.numberonetubandtile.com/
ADDRESS
532 Montréal Rd, Ottawa, ON K1K 4R4, Canada
CONTACT DETAILS
613-299-0343
OPERATING HOURS
Monday 8AM–5PM

Tuesday 8AM–5PM

Wednesday 8AM–5PM

Thursday 8AM–5PM

Friday 8AM–5PM

Saturday Closed

Sunday Closed
| | |
| --- | --- |
| Criteria | Ratings |
| Rates | ★★★★ (4/5) |
| Location | ★★★★ (4/5) |
| Experience | ★★★★★(5/5) |
| Portfolio | ★★★★★(5/5) |
#1 Tub & Tile is another great option for bathtub refinishing. It is able to work on different types of bathtubs, including acrylic tubs, ceramic tubs, cast-iron tubs, and even walk-in tubs that have an unusual shape.
It is also able to offer other services such as tiling and minimal bathroom remodeling services. These services include a warranty of two years, so customers who are not sure about hiring the company might be inclined to change their minds.
We also really like that #1 Tub & Tile gives its customers a care guide for the refinished bathtub. This is because the company has noticed that many customers complain about refinished bathtubs while not knowing how to maintain the tubs' integrity.
With the care guide, customers should be able to make their refinished tubs last longer.
#1 Tub & Tile is accredited by the Better Business Bureau, so it has received multiple positive reviews from the government.
If you're still unsure about hiring #1 Tub & Tile, you can check out its online gallery that includes the previous work its employees have done in other homes. This should give you a clearer picture of how good they can be.
With that said, this business isn't perfect. Its prices can be cheaper and it doesn't offer other services outside of bathroom-related work.
2 years warranty
Willing to work on different types of tubs
Also works on tiling for bathrooms
Has own care instructions
Has an online gallery of previous jobs done
BBB accredited
Services can be pricey
Not many other services to offer
Customer Reviews
Amazing job
"Ray of #1 Tub & Tile did an amazing job on refinishing/re-glazing my condo apartment bathtub! He is incredibly organized, professional and courteous. This fella really knows what he's doing and is excellent in his craftmanship! I highly recommend this true gentleman!" – Debra Harley
Excellent
"Excellent service! We needed an old tub resurfaced and #1 Tub & Tile did a great job with the re-glaze. Work was professional, efficient, and the end product was fantastic. Bathtub looks new again!" – Gerard De Franceso
4. Surface Medic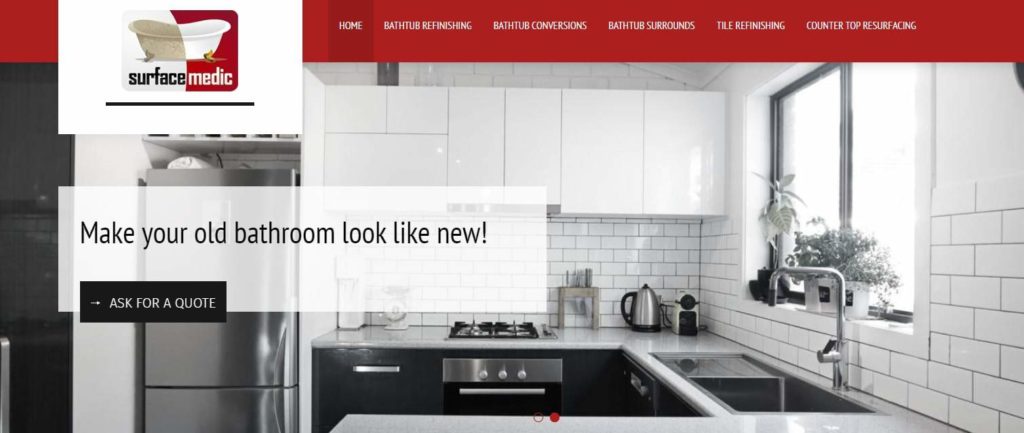 Test
Info
SERVICES
Bathtub Refinishing, Bathtub Conversions, Bathtub Surrounds, Tile Refinishing, Countertop Resurfacing
WEBSITE
https://www.surfacemedicottawa.com/
ADDRESS
21 A Caesar Ave, Nepean, ON K2G 0A8, Ottawa, Canada
CONTACT DETAILS
613-228-5330
OPERATING HOURS
Monday 8AM–4:30PM

Tuesday 8AM–4:30PM

Wednesday 8AM–4:30PM

Thursday 8AM–4:30PM

Friday 8AM–4:30PM

Saturday Closed

Sunday Closed
| | |
| --- | --- |
| Criteria | Ratings |
| Rates | ★★★★ (4/5) |
| Location | ★★★★ (4/5) |
| Experience | ★★★★★(5/5) |
| Portfolio | ★★★★★(5/5) |
Surfaces are definitely no issue when it comes to Surface Medic. With over 40 years of experience, it is definitely one of the best choices when it comes to refinishing bathtubs.
Specializing in both bathroom and kitchen surfaces, Surface Medic is able to offer refinishing that can be used on tiles and tubs.
Of course, it's a different story if your tub isn't ceramic — but luckily, it also has a special adhesive for tubs made of other materials.
What makes Surface Medic special is its team of experts. With a solid manpower behind the company, it is able to finish resurfacing and refinishing work quickly.
It also offers other services such as bathtub conversions and simple bathroom remodeling.
We also like that it is able to give quotes online as long as you give the full details of your requirements. Knowing how much you need to pay is a good thing, especially for customers who have a strict budget.
Speaking of strict budgets, it should be worth noting that Surface Medic's services can be expensive, especially for rushed refinishing projects.
It also does not offer a warranty for its services, which can be a problem for a lot of potential customers.
But overall, it's still a good option for your refinishing and resurfacing needs.
Also offers remodeling services
Works on kitchen resurfacing as well
40 years of experience
No warranty
Service is pricey
Customer Reviews
We're happy
"Well worth the price. I wasn't interested in a full scale bathroom reno or the cost when the tiles and tub are still in great condition so a refinish by SurfaceMedic was perfect. We're happy with the results." – George
Great worksmanship
"Excellent workmanship! It was a pleasure to work with this company to have our old green metal tub painted white. It looks brand new. Their professionalism was outstanding and it was delightful to see someone take such pride in the work they do. I highly recommend Surface Medic Ottawa." – Shirley Graham
5. Bath Fitter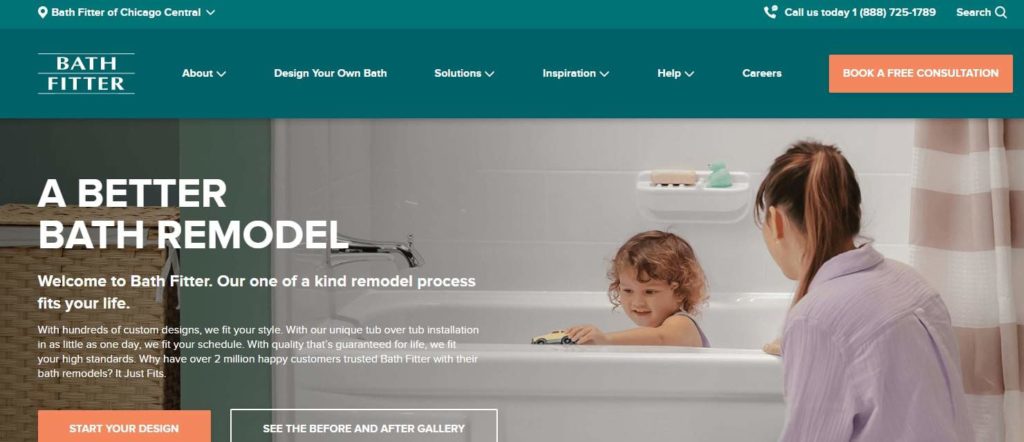 Test
Info
SERVICES
Bathtub Refinishing, Bathtub Remodeling, Custom Bathroom Design
WEBSITE
https://www.bathfitter.com/ca-en/
ADDRESS
3205 Swansea Crescent Unit 1, Ottawa, ON K1G 3W5, Canada
CONTACT DETAILS
343-883-1623
OPERATING HOURS
Monday 7AM–4PM

Tuesday 7AM–4PM

Wednesday 7AM–4PM

Thursday 7AM–4PM

Friday 7AM–4PM

Saturday 10AM–1PM

Sunday Closed
| | |
| --- | --- |
| Criteria | Ratings |
| Rates | ★★★★ (4/5) |
| Location | ★★★★ (4/5) |
| Experience | ★★★★★(5/5) |
| Portfolio | ★★★★★(5/5) |
Bath Fitter is another good choice for your bathtub refinishing needs. It boasts speedy services, able to finish most of its projects in just a day or two.
For customers who are in a rush to use their new refinished bathtub, this is the perfect company. It also offers remodeling and lining services and has luxury accessories available to make your bathroom shine more.
It even has an online gallery that shows off the work it's done in the past few years. Customers who are unsure of its services can check that out to know more about what it offers.
Bath Fitter's refinishing services are unique because they can be customized. It uses what it calls the "tub-over-tub" process.
This process makes the adhesive thicker. It should also be stated that the adhesive is made of high-gloss acrylic that is very easy to disinfect and maintain.
The best part about Bath Fitter is its lifetime warranty. Customers will be glad to hear that the service they paid for is insured for a long time.
The only issues we have with this company are its steep prices and long turnaround times for custom designs.
If you're under a strict budget, you may have to go with a different refinishing service. However, if you can afford Bath Fitter and are able to wait a little longer for custom designs, it's definitely a no-brainer.
Lifetime warranty
Supports custom designs
Also remodels whole bathrooms
Tub-over-tub process makes the adhesive thicker
Pricey services
Customized options will take longer to finish
Customer Reviews
Fantastic even until now
"Fourteen years ago Ottawa Bath Fitter remodeled our bath room. We have been very happy. Then at 10:30 pm on Monday night the shower would not shut off. I phoned them at 7 am Tuesday morning. A Bath Fitter person arrived at our house in two hours. Very quickly the problem was resolved. The service person was incredibly knowledgeable." – Cathy Ternan
Fabulous
"So fabulous! My husband and I were tired of cleaning our grouted bathtub/shower tiles but feared a vinyl install would look cheap. Wow, we were wrong! We got the marbled grey insert, and it looks gorgeous. I love the sturdy grab bars we got, and the side shelves are so much nicer and practical than the temporary shelves we had in there before." – Marnie Andrews
FAQs about Bathtub Refinishing
---
And that concludes our list of the best bathtub refinishing services in the metro.
If you're thinking of other ways to make your home feel new, start with your kitchen! Check out our article on the best kitchen remodeling services in Ottawa!