The 5 Best Bakeries in Ottawa
A lot of things in the world may change, but being able to grab a hot and fresh bread roll from your local bakery is one of the things that remind us of better times.
In this article, we'll take you on a tour of the best bakeries in Ottawa where you can get delicious pastries for great prices and excellent service.
Specialties of Bakeries in Ottawa
Every bakery has its own signature dish or a bestseller that it's known for. We compiled each entry's specialty in the following table:
| | |
| --- | --- |
| Three Tarts | Cakes |
| Bread & Sons | Pizza |
| Bread By Us | Sourdough bread |
| Lusa Bakery | Portuguese baked goods & cuisine |
| Voila Gluten Free Bakeree Kanata | Gluten-free pastries |
Top Bakeries in Ottawa
While carefully looking over all the bakeries in Ottawa, we used the following criteria to narrow down our list of the best:
1. Three Tarts
Test
Info
MENU

Cakes

pies

tarts

cookies

savories

WEBSITE
https://threetarts.ca/
ADDRESS
464 Bank St Unit 3, Ottawa, ON K2P 1Z3, Canada
CONTACT DETAILS
613 729 9832
OPERATING HOURS

Wednesday - Sunday: 12:00 PM - 5:00 PM

Monday - Tuesday: CLOSED
| | |
| --- | --- |
| Prices | ★★★★★ (5/5) |
| Menu | ★★★★★ (5/5) |
| Dining options | ★★★★☆ (4/5) |
| Customer satisfaction | ★★★★★ (5/5) |
Three Tarts is a bakeshop serving customers in downtown Ottawa since opening its doors in 1996. Despite all the changes in the world throughout the decades, this bakery prides itself on staying true to its roots and making everything by hand.
From zesting and juicing its own lemons to rolling the dough by hand, its staff has done this every day without fail for more than 20 years now.
Aside from pre-orders, you can also grab its freshly made pastries baked especially for walk-ins.
It makes extra pies, tarts, cakes, freshly baked cookies, squares, butter tarts, scones, and other baked goods for new customers curious about tasting its offerings.
This bakery is popular, though, so be prepared to wait in line if you arrive at rush hour.
If you're unable to pick your order up by yourself, Three Tarts also does local deliveries, but make sure to place your order by 5 PM of the day before your delivery date.
What's cool about this bakery is that it also sells gift cards through its online store, which means you can gift your loved ones a trip to flavor town. The gift cards can range from $15 up to $100, so you can choose which best suits your needs.
The biggest pet peeve we have with Three Tarts is that it doesn't have any options to dine in. You're only left with takeout or delivery options, which might be okay with some people, but leaves a lot to be desired from others.
20+ years old local business
Freshly made by hand every day
Good menu options
Line can get long sometimes
Doesn't have dine-in options
Customer Reviews
Satisfied every single time
"Three Tarts is a lovely bakery that offers a selection of wonderful, beautiful, delicious desserts. The carrot cake is delightful and moist. The lemon meringue tart is delicious, tart and light while the lemon cheese cake steals the show. Thus far, we have sampled many of their selections and have been satisfied every single time. We highly recommend." – Marie-Eve Giguère
Easy to communicate with
"The staff at three tarts are so welcoming and easy to communicate with. The bakery it's self is in a great location in the glebe and is decorated nicely. I ordered a lemon 10" poppyseed cake for my mothers birthday. Although they don't regularly make this cake in that size they were able to accommodate me which was lovely. The cake looked simple and beautiful-as you can see from the pictures. I was not able to try the cake myself because it was not gluten free but everyone at the party devoured it and were asking for seconds. Overall I had such a great experience here and will return. I am unsure if they have gluten free options, but I sure hope so!" – Zeena Kaddoura
2. Bread & Sons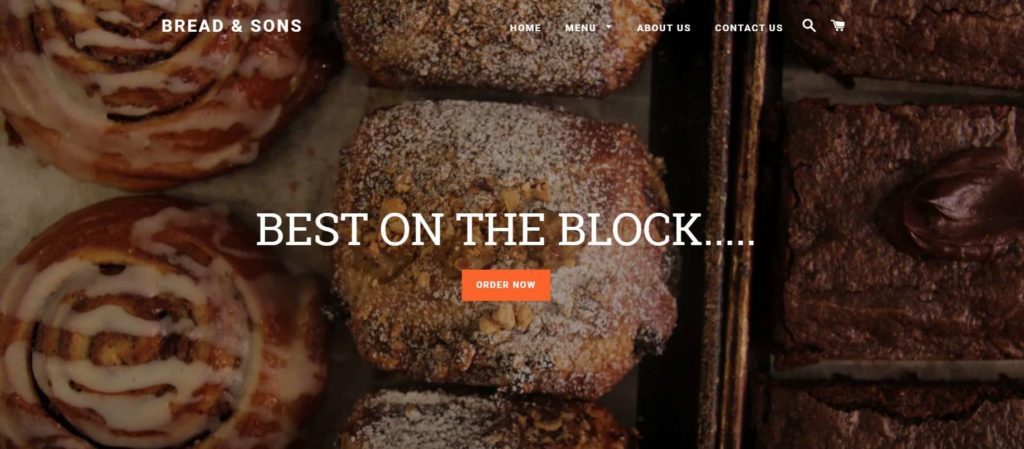 Test
Info
MENU

Bread

cakes

coffee

brownies

cookies

croissant

granola

muffins

pies

pizzas

quiche

sandwiches

tea

WEBSITE
https://breadandsons.com/
ADDRESS
195 Bank St, Ottawa, ON K2P 1W7, Canada
CONTACT DETAILS
613 230 5302
OPERATING HOURS

Monday- Friday: 8:30 AM - 2:00 PM

Saturday: 10:00 AM - 1:00 PM

Sunday: CLOSED
| | |
| --- | --- |
| Prices | ★★★★★ (5/5) |
| Menu | ★★★★★ (5/5) |
| Dining options | ★★★★★ (5/5) |
| Customer satisfaction | ★★★★☆ (4/5) |
Bread & Sons is a bakery established in 2005 as one of the first vegetarian 'all-from-scratch' food establishments in Ottawa.
It started out as a bakery with a few lunch items but has then expanded to serving pastries and more.
These lunch items include everyone's favorites like thin-crust earthy pizza by the slice, finger-licking sandwiches, robust roman style focaccia, rustic bread, etc. It's no wonder it came to be known as 'The Pizza Place' downtown despite being a bakery.
When you drop by for a visit, you should definitely try out some of its best menu items, like its croissants, according to a patron we interviewed. Not only was the food objectively good, but the options all came at very reasonable prices.
Another customer really enjoyed the breakfast sandwich and almond croissant, so much so that they even went back hours later within the same day to try the pizza. We can easily see why this place has been a staple since it first opened.
We also really appreciated that we have the option to dine in alongside takeout and deliveries here. Who wouldn't want to sit at a bakery while eating their own freshly made pastries as the scent of baked goods and coffee filled the air?
The only thing you need to watch out for is Bread & Sons' stock of baked goods. One local source mentioned that the shelves are always cleaned out.
Well, we guess that just means we have to get there earlier and faster before it runs out.
Great selection of pastries and lunch items
15+ years in the industry
Affordable
Customer Reviews
Very reasonable price
"Amazing! Some of the best croissants I had in a while! All the pastries were light and delicious, super fresh. Little store with lots of options for a very reasonable price. Would love to be back for those perfect hazelnut and almonds croissants!" – Indre Ra
Hidden gem
"HIDDEN GEM. This spot has been a staple on Bank since 2005. And now I know why. Everything was delicious. From the sandwiches to the pizza to the amazing treats. My mouth is watering just thinking about all the goodness. This is a must try. Favorites from here was the pizza and the sandwiches." – Richard Salonga
3. Bread By Us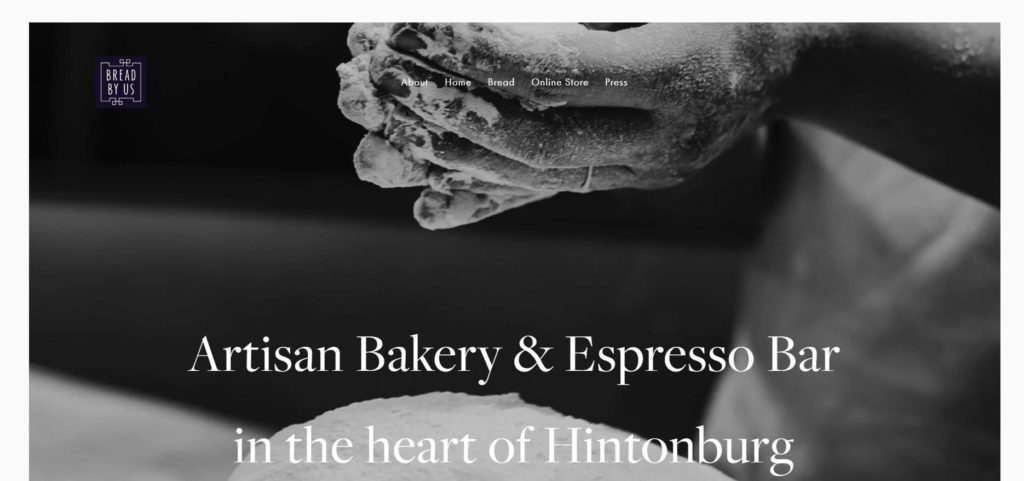 Test
Info
MENU

Sourdough bread

whole wheat

pain au lait loaves & buns

WEBSITE
https://www.breadbyus.com/
ADDRESS
1065 Wellington St. W, Ottawa, ON K1Y 2Y2, Canada
CONTACT DETAILS
613 422 5300
OPERATING HOURS

Monday - Tuesday: CLOSED

Wednesday - Friday: 9:00 AM - 5:00 PM

Saturday - Sunday: 9:00 AM - 4:00 PM
| | |
| --- | --- |
| Prices | ★★★★☆ (4/5) |
| Menu | ★★★★★ (5/5) |
| Dining options | ★★★★★ (5/5) |
| Customer satisfaction | ★★★★☆ (4/5) |
Bread By Us can be considered new, especially compared to our previous entries that have already been in business for decades. Still, don't let its age fool you because this bakery can certainly stand with the big boys.
Established in 2013, it has since then done its best to give customers exceptional artisan bread made with high-quality unbleached, untreated flour. It specializes in sourdough bread, and most of its offerings are dairy and egg-free.
This is great, especially if you're vegan and are looking for vegan-friendly bakery options. Additionally, even lactose-intolerant individuals can safely get their bread here without worrying about upsetting their stomachs.
While not as rare in the past years, it's still great to have a vegan option just in case you're planning on visiting a bakery with a vegan friend or family that can't have dairy.
Rather than having all the kinds of bread it offers made every day, Bread By Us instead has a menu that lists which type of bread is made on a particular day.
Some days would have baguettes and country sourdough, and other days would have cornbread and brioche.
Although this means you'll have to time your visit on a day when it'll serve the bread you like, it's awesome to have a different selection available just the day after.
This might be a hassle for you if you're one to crave a particular type of bread, though.
Vegan, dairy-free, egg-free options
Uses high-quality unbleached, untreated flour
Does not offer all its bread options daily
Customer Reviews
YUMMY
"Oh my goodness… The pastries were DELICIOUS! (*chef kiss*). They were fresh and flakey and buttery! That blueberry danish was huge! And those blueberries were so fresh even though it was not blueberry season! The banana muffin was dense and MOIST (most important quality in a muffin). Not too sweet, so the banana flavour was very present. I highly recommend taking the jam bun! It's like a pastry roll filled with a fruity jam YUMMY. The cheese and almond/maple croissants didn't taste much in their flavours but they do respect their categories of sweet and savoury in comparison to the original butter croissant." – Circo9
Real, good bread
"Would give 7 stars if I could. Thank you so much for keeping the art alive so to say and providing real, good bread. I hope there will always be bakeries like yours and humanity will never see the day when there's nothing left but Costco and big chain grocery stores." – Jay Rawlings
4. Lusa Bakery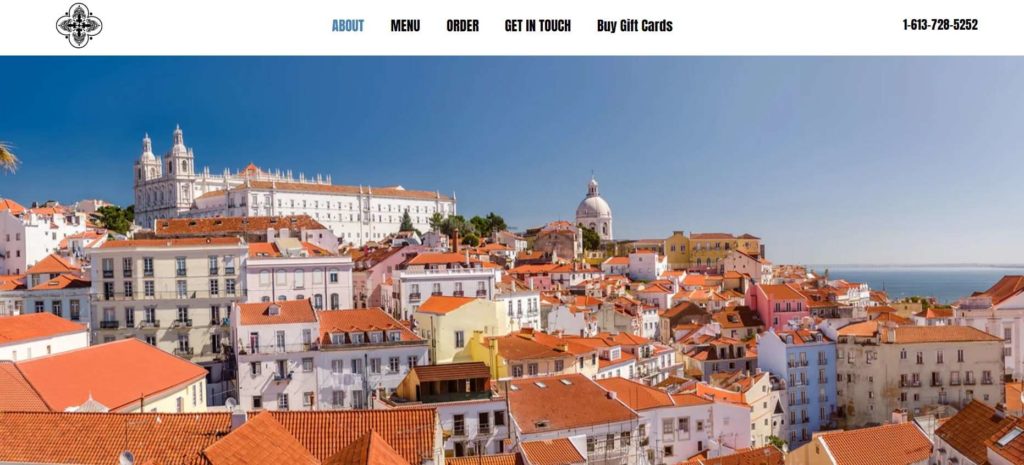 Test
Info
MENU

Pastries

bread

savory dishes

sides

WEBSITE
https://www.lusabakery.ca/
ADDRESS
1111a Wellington St. W, Ottawa, ON K1Y 2Y6, Canada
CONTACT DETAILS
613 728 5252
OPERATING HOURS

Monday: CLOSED

Tuesday - Friday: 8:30 AM - 7:30 PM

Saturday: 9:30 AM - 7:30 PM

Sunday: 9:30 AM - 6:00 PM
| | |
| --- | --- |
| Prices | ★★★★☆ (4/5) |
| Menu | ★★★★★ (5/5) |
| Dining options | ★★★★★ (5/5) |
| Customer satisfaction | ★★★★☆ (4/5) |
Of all our entries, Lusa Bakery is undeniably the oldest, as it was established in 1988 and has been serving the Ottawa and Gatineau area for more than 30 years.
Even now, it still tries to bring the same quality, value, and traditions it did when it first opened.
This particular bakery is also one that proudly showcases and highlights traditional and authentic Portuguese flavors in every pastry or food item it makes.
Its Portuguese team makes sure to bring out these familiar flavors to an international audience.
You'll be glad to know that every baked good is made fresh on the day you walk in, whether you're there for scratched baked buns or pastel de nata. You can find many Portuguese pastries and savory Portuguese items for you to try.
We talked to some locals, and they really enjoyed the pastel de nata, especially as it gave them a taste of Portugal without even having to go there.
Look out for any additional fees, especially if you ever decide to visit and pay with a credit card because it has a credit card transaction fee.
Authentic Portuguese pastries & cuisine
30+-year-old local business
Good menu variety
Additional credit card fees
Customer Reviews
Loved my experience
"Quaint little bakery with a taste of Portugal. Lovely to sit and enjoy the comfort of a baked good along with a nice cup of cappuccino (as i prefer). Or you can have a meal. Lusa Bakery also has the convenience to purchase some of Portugal's finest food and bread. Loved my experience!" – Ane-Isabel Menezes
Felt like we were in Portugal
"Ugh! Stopped by here and was so impressed. Their coffee is *impeccable* we tried at-least 1 of every item in their savoury side : cod cakes, shrimp cakes, ham chorizo and cheese croissants, sausage croissants & of course a tart. Highly recommend! Felt like we were in Portugal." – Patricia Callahan
5. Voila Gluten Free Bakeree Kanata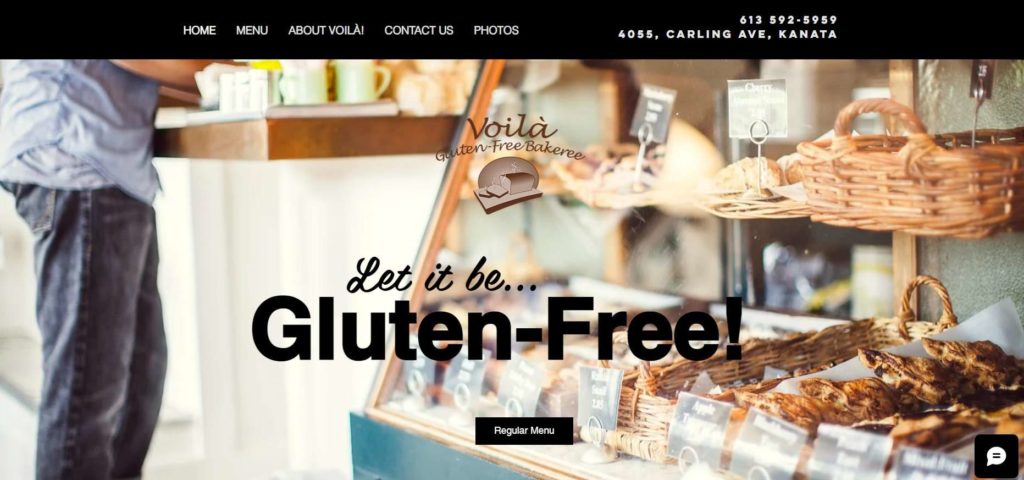 Test
Info
MENU

Bread

cakes

cupcakes

tarts,

cookies

muffins

donuts

pies

savory pies

pizzas

pasta

WEBSITE
https://www.voilaglutenfreebakeree.com/
ADDRESS
4055 Carling Ave #2, Kanata, ON K2K 2A4, Canada
CONTACT DETAILS
613 592 5959
OPERATING HOURS

Sunday - Monday: CLOSED

Tuesday - Friday: 9:30 AM - 4:00 PM

Saturday: 9:30 AM - 3:00 PM
| | |
| --- | --- |
| Prices | ★★★★☆ (4/5) |
| Menu | ★★★★★ (5/5) |
| Dining options | ★★★★☆ (4/5) |
| Customer satisfaction | ★★★★☆ (4/5) |
Last but certainly not least in our list of the best bakeries is Voila Gluten Free Bakeree, which offers gluten-free baked goods. It also has vegan, dairy-free, corn-free, egg-free, and other options available for those with special diet restrictions.
Although it's not the first vegan and dairy-free bakery on this list, it's certainly the first gluten-free bakery!
Bring your family and friends here without any fear of upsetting their stomachs or diet choices because there's probably something here for everyone.
Opened in 2014, it's a locally-owned and family-operated business that was established to bring freshly baked goods to customers who also suffer from celiac disease. Even if you aren't diagnosed, nothing's stopping you from trying these options.
Additionally, those suffering from allergies to wheat, barley, rye, dairy, eggs, peanuts, nuts, and tree nuts can rest assured that there are pastries here for them.
Voila Gluten Free Bakeree does its best to cater to all its customers' special diets.
Some of its offerings are seasonal, which means you can only order them during particular times of the year.
What's more, any orders for cake have to be done in advance so you can't just walk in all of a sudden and ask for a cake immediately.
Voila Gluten Free Bakeree is a great option, but it just needs to work on its customer service some more after we've heard a few complaints about its professionalism.
Gluten-free & vegan options
Wide selection of pastries
Local family-owned business
Poor professionalism
Pre-ordering required for cakes
Some pastries are seasonal
Customer Reviews
Well-priced and plenty of options
"Overall: Well-priced and plenty of options. 1000 times better than the other gluten-free bakery in Kanata where everything just tastes like sugar. Carrot Cake: Amazing, better than many cakes with gluten. Chocolate macaroon: Too much sugar for my liking, couldn't force myself to eat more than half Tried other options on other occasions: Coconut cream tart: Fantastic, not too tart & not too sweet. Butter tart: Good & not too sweet. Chocolate buttercream cupcake: This was out of stock twice when I went there in the late afternoon, but it was good when I came early enough to get one. Vanilla buttercream cupcake & dairy-free chocolate cupcake(not buttercream): Good – the chocolate buttercream is the best one though." – Sarah B
Never had a bad experience
"Their gluten-free food, baked goods and pies are amazing and the staff recognize you. For me they know my allergies and make sure to take that into account and always have lots of delicious treats and food, even spring rolls! Following the COVID rules set out by the government of Ontario, while still maintaining their wonderful atmosphere. They even have paper menu copies you can pick up in store! Best gluten-free bakery in Ottawa. Wonderful prices as well, fresh food, and it's usually equal or cheaper than the grocery store foods. They even ask about your pets health, since there's a vet in the same plaza. I have never had a bad experience at this store." – Allie Melin
FAQs about Bakeries in Ottawa
---
Do you know what goes well with freshly baked goods? Check out our article on the best coffee shops in Ottawa and have the best start to your day!