The 5 Best Attic Cleaning Companies in Ottawa
Having your attic cleaned regularly is very important not just to minimize the risk of damage but also to keep everyone living in your home healthy.
Our list will be reviewing the best attic cleaners in Ottawa so you can find the right company for you.
How much does attic cleaning costs in Ottawa?
Attic cleaning costs around $100 – $200, but that doesn't include decontamination yet. With additional services that come with the cleaning, the total cost may be more expensive.
The table below should give you a better idea of the specific prices. We based our list on the most common attic size in the country, which is between 1600 sq. ft and 1800 sq. ft.
| Cleaning Inclusions | Estimated Cost |
| --- | --- |
| Basic Cleaning Service | $100 - $200 |
| Vacuum Cleaning | $250 - $500 |
| Cleaning + Power Washing | $500 -  $800 |
| Attic Deep Cleaning | $800 - $1000 |
The Best Attic Cleaning Companies in Ottawa
Finding you the best attic cleaners meant we had to narrow down the best of the best in the city. We based our list on the following criteria:
1. RPM Group Ottawa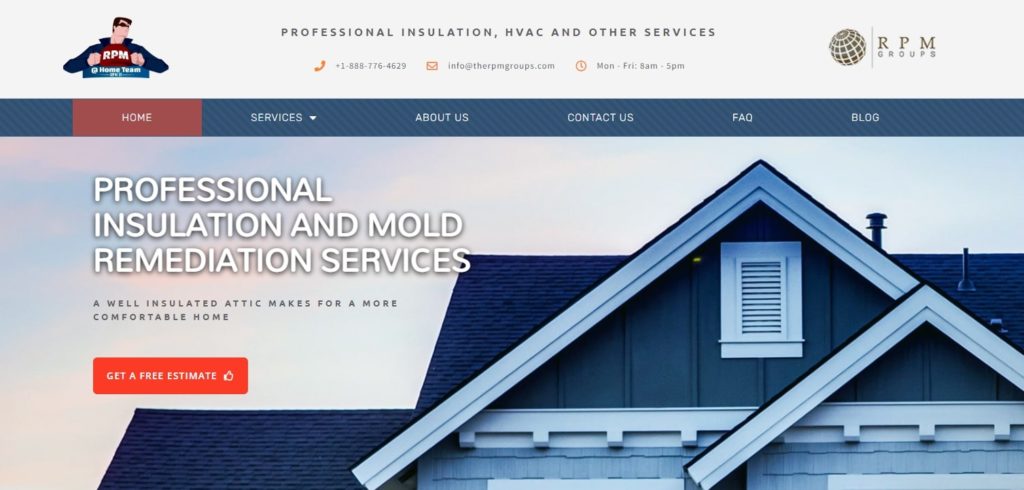 Test
Info
SERVICES
Attic Cleaning, Attic Insulation, Insulation Removal, Replacement,
WEBSITE
https://rpmhomeservices.ca/
ADDRESS
1510 Merivale Rd, Nepean, Ottawa, ON K2G 3J6, Canada
CONTACT DETAILS
888-776-4629
OPERATING HOURS
Monday 9AM–6PM

Tuesday 9AM–6PM

Wednesday 9AM–6PM

Thursday 9AM–6PM

Friday 9AM–6PM

Saturday 9AM–12PM

Sunday Closed
| | |
| --- | --- |
| Criteria | Ratings |
| Rates | ★★★★(4/5) |
| Equipment | ★★★★ (4/5) |
| Discounts | ★★★★★(5/5) |
| Experience | ★★★★★(5/5) |
RPM is a relatively new company but its 4 founders are all experienced when it comes to attic cleaning, insulation, mold removal, and even cleaning AC/furnace systems.
All 4 of these founders combine around 80 years of experience.
One of the best things about this company is its focus on mold removal and prevention. Unlike other companies who just remove mold, RPM also adds prevention methods so these molds don't come back.
We also appreciate the company's focus on window and door cleaning. There are lots of germs that build up in the small nooks and crannies and the technicians here make sure that those areas are completely spotless after every job.
The company's set of equipment is also great. High-end vacuum cleaners, power washing tools, and more make cleaning attics faster and more effective.
We also like that it is open on Saturdays – perfect for a Saturday cleaning session with the family.
Unfortunately, this cleaning service doesn't mention anything about discounts and promotional events, so it's unsure whether or not it offers cheaper alternatives for its services.
RPM also has a lot of clients, so sometimes, it can be fully booked.
RPM is easily one of the best choices when it comes to attic cleaning just because of its focus on smaller areas and molds. If you're looking for a gpood cleaning company, keep this one in mind.
Mold removal and prevention
Special window and door cleaners
Experienced company
No mention of discounts
Has many clients, can be fully booked.
Customer Reviews
Professional service
"I highly recommend these folks for upgrading attic insulation! Alec was knowledgeable, accurate, friendly, and on-time when he came to quote. My time had to be changed twice, but communication was good – I was phoned the night before, and then Tristan phoned when they were held up even longer at the previous job." – C .E.
Very careful and respected my home
"They were careful in keeping the house clean by laying down tarps the whole way and vacuuming after completion. Pictures were taken before and after and shown to me. Nice to have that since I don't venture into the attic at all. All in all, highly recommend this company, Sheldon and Tristan." – Raymond Dans
2. Enviropure Home Services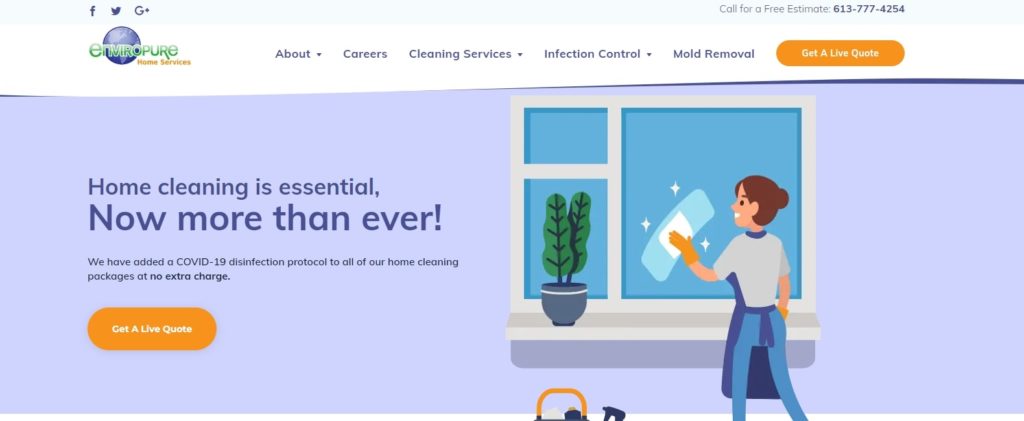 Test
Info
SERVICES
Attic Cleaning, Mold Removal, Infection Control Carpet Cleaning, Duct Cleaning, Hoarding Cleaning, Smoke and Cigarette Odor Removal, Renovations, Deep Cleaning
WEBSITE
https://www.enviropurehome.com/
ADDRESS
2710 Lancaster Rd #103, Ottawa, ON K1B 4W8, Canada
CONTACT DETAILS
613-513-7873
OPERATING HOURS
Monday 7AM–7PM

Tuesday 7AM–7PM

Wednesday 7AM–7PM

Thursday 7AM–7PM

Friday 7AM–7PM

Saturday Closed

Sunday Closed
| | |
| --- | --- |
| Criteria | Ratings |
| Rates | ★★★★(4/5) |
| Equipment | ★★★★ (4/5) |
| Discounts | ★★★★(4/5) |
| Experience | ★★★★(4/5) |
Enviropure Home Services is a pretty versatile company. It offers a lot of services, including attic cleaning, deep cleaning, infection control, odor removal, and more.
We also appreciate that the company is environmentally friendly. Enviropure's employees are required to use non-invasive chemicals during cleaning jobs.
It's also good that these chemicals are safe for young children and pets. Sometimes, we can't leave our home even during cleaning days, but because of the safe cleaning materials that the company uses, we won't have to.
Customers can also opt for regular cleaning sessions. For attics, the recommended cleaning sessions are once or twice a year.
In this case, Enviropure can be booked in advance so its cleaners can come back a few months after the first cleaning session.
If you're interested, the company offers online estimates so you can find out how much you'll be spending. Enviropure also offers free consultation regarding unusual smells and dirt you may find in your attic or anywhere else at home.
The only real issue we have here are the pricey rates and the fact that some of its previous customers have complained about its unresponsive phone number.
Other than that, everything about this provider looks great.
Versatile company, offers many services
Environmentally-friendly
Online estimates
Free consultation
Pricey
Sometimes phone number is unresponsive
Customer Reviews
Worth it
"Enviropure came to clean our house after a large-scale renovation. They used advanced tools and skilled cleaners to take care of dust everywhere – even obscure places we hadn't even thought about. We were able to move back into a house that looked, felt, and even smelled like new, even after lots of renovation work had been done. It was worth every penny." – Kurt R.
So friendly
"Tina's team was impeccable with my home cleaning! I loved walking into my home and smelling the lime smell of cleanliness! Professional, fast, efficient, friendly…all I could ask is for the girls to come back more often!! It feels so nice to be in my clean home, stress free, and able to breathe with ease! And best of all, all the products are organic and natural and totally pet friendly!" – Mandy Fisher
3. First Response Cleaning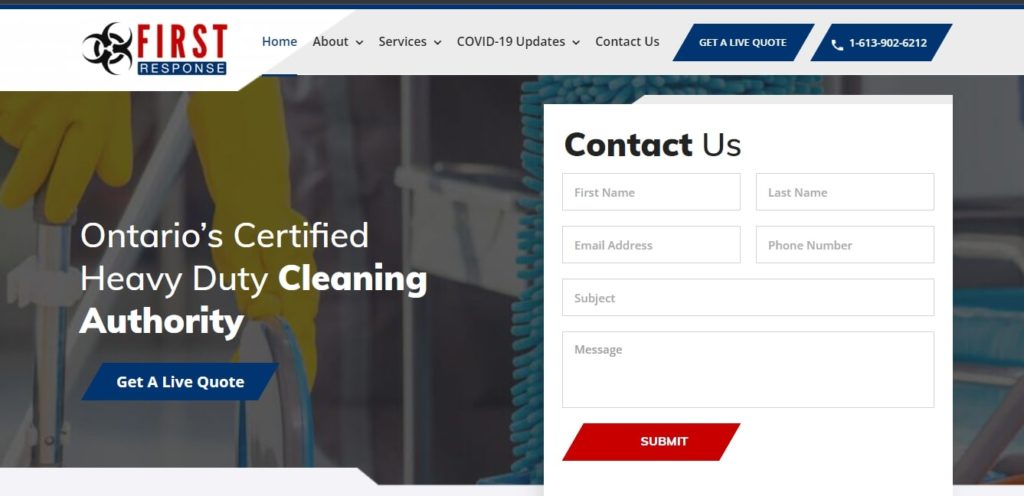 Test
Info
SERVICES
Attic Cleaning, Infection Cleanup, Mold Removal, Disaster Restoration, Biohazard Cleanup, Equipment Rental, Hoarding Cleanup, Crime Scene Cleanup
WEBSITE
https://www.firstresponsecleaning.ca/
ADDRESS
2710 Lancaster Rd #103, Ottawa, ON K1B 4W8, Canada
CONTACT DETAILS
613-979-2795
OPERATING HOURS
Monday 8AM–6PM

Tuesday 8AM–6PM

Wednesday 8AM–6PM

Thursday 8AM–6PM

Friday 8AM–6PM

Saturday 8AM–6PM

Sunday 8AM–6PM
| | |
| --- | --- |
| Criteria | Ratings |
| Rates | ★★★★ (4/5) |
| Equipment | ★★★★★(5/5) |
| Discount | ★★★★(4/5) |
| Experience | ★★★★★(5/5) |
First Response specializes in emergency cleaning, hence its name. However, the company still offers attic cleaning and disinfecting services among its other many specialties.
First Response takes pride in its rapid services. If you are in a rush to have your attic cleaned, this company is your best bet.
We also appreciate its use of high-end equipment. Cleaning attics is complicated, so a well-equipped crew is very important to make sure everything is done properly and quickly.
Sometimes, when an attic is left too dirty for too long, the dust particles collect other germs and can cause diseases. First Response is a great provider when it comes to this problem because it offers decontamination and disinfecting services as well.
Unfortunately, decontamination means strong chemicals will be used to clean your attic. With that, the technicians will most likely require you and everyone at home to temporarily leave the premises.
The cleaning service also charges pretty steeply, which can be an issue for anyone with a strict budget.
It's also hard to reach the employees once they start working on a house, so it's better to let them know basic info about your home before they start.
Overall, First Response is still a solid choice for your attic cleaning needs because of how thorough it is when it comes to disinfection and decontamination.
If you're looking for a good attic cleaning company, remember to consider this one.
Has numerous certifications including BBB
Rapid services
High-end equipment
Pricey services
Possible communication issues
Harsh chemicals are used for disinfecting
Customer Reviews
Cleaned our ducts
"We discovered some asbestos in our 60 year old heating ducts that needed to be addressed before we could proceed with having them cleaned, and doing some renovations. They completed both the asbestos abatement and duct cleaning thoroughly and professionally. We were extremely satisfied with all aspects of the service, from the initial inspection to subsequent testing results to final completion." – Michael S.
Informative and helpful
"I recently purchased a new home and while painting, we found mould behind the basement bathroom walls. I contacted a few companies but First Response was by far the most informative and helpful." – Matt Pavone
4. Ottawa Extreme Clean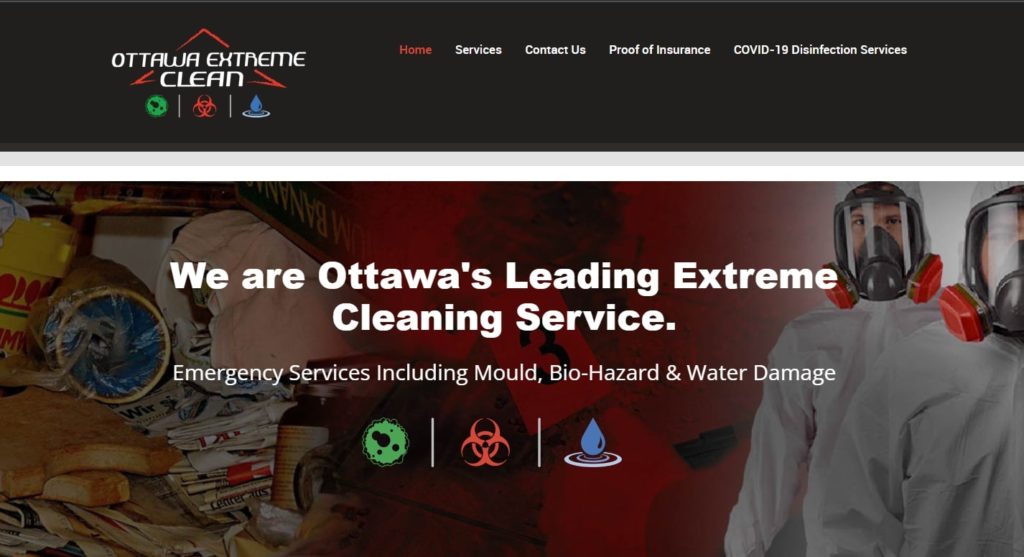 | Test | Info |
| --- | --- |
| SERVICES | Attic Cleaning, Hoarding Cleanup, Biohazard Cleanup, Extreme Cleaning, Asbestos Abatement, Mold Remediation, Decontamination Services, Flood Damage Restoration |
| WEBSITE | https://ottawaextremeclean.com/ |
| ADDRESS | Appointment only |
| CONTACT DETAILS | 613-366-8417 |
| OPERATING HOURS | Open 24/7 |
| | |
| --- | --- |
| Criteria | Ratings |
| Rates | ★★★★(4/5) |
| Equipment | ★★★★★(5/5) |
| Discount | ★★★★ (4/5) |
| Experience | ★★★★★(5/5) |
Ottawa Extreme Clean specializes in attic cleaning, decontamination, disinfection and more. The company is known for its rapid response time and complicated machinery.
As a cleaning company, it takes pride in finishing its cleaning jobs quickly and thoroughly. It does this by having complex and heavy tech that is designed for decontamination.
Unfortunately, these power washing tools and huge vacuums are quite loud, so the company's employees usually recommend that the homeowners temporarily leave the premises.
From what we've seen, there's no need to worry because past clients we spoke to have never complained about anything missing from their homes.
Ottawa Extreme Clean also offers emergency services. This is good because it is open every day for 24 hours, however, attic cleaning is only available during daylight.
Aside from the fact that customers have to leave their homes, another potential issue is the company's pricing. It's a bit steep and can be a problem for those under a strict budget.
This provider is also more inclined to do emergency jobs, so it may not be available all the time for simple cleaning work.
Overall, because of its quick and thorough services and versatility, we still highly recommend Ottawa Extreme Clean for your attic-cleaning endeavor.
Rapid response
Versatile services
Open 24/7
Pricey
More inclined to accept emergency cleaning
Homeowners have to leave their homes temporarily
Customer Reviews
Quickly done
"I do not believe in doing reviews, however, this is an exception. My first contact was with a very pleasant young lady who was sympathetic to my problem. She explained in detail what they would do, and gave me a very quick appointment. " – Delores Riou

Amazing
"Dean was amazing to work with. The whole team was amazing. My home had levels of mold which were 300 times more than an acceptable environment. Within a week they were able to get rid of all the mold and now my home is clean of any threat. Top notch company. I would highly recommend Ottawa Extreme Clean to anyone who has mold problems in their home!!!" – Raffaele Spina
5. Never2Clean

Test
Info
SERVICES
Attic Cleaning, House Cleaning, Deep Cleaning
WEBSITE
https://never2clean.ca/
ADDRESS
Appointment only
CONTACT DETAILS
613-699-7722
OPERATING HOURS
Monday 8AM–6:30PM

Tuesday 8AM–6:30PM

Wednesday 8AM–6:30PM

Thursday 8AM–6:30PM

Friday 8AM–6:30PM

Saturday Closed

Sunday Closed
| | |
| --- | --- |
| Criteria | Ratings |
| Rates | ★★★★ (4/5) |
| Equipment | ★★★★(4/5) |
| Discount | ★★★★★(5/5) |
| Experience | ★★★★ (4/5) |
We also highly recommend Never2Clean for your attic cleaning needs. Although the company mostly provides full-home cleaning, it's also offering attic services for a higher price.
Attic cleaning requires different equipment, so it can be more expensive than the usual house cleaning service. However, with House2Clean, the difference is not that noticeable.
This provider is also a great choice if you want to schedule regular cleaning sessions for your home.
The schedule is customizable and will be based on your preference. But of course, the price will get higher depending on how frequent you want the cleaning company to visit.
We really appreciate House2Clean's flexibility when it comes to its services. However, it should be noted that it doesn't use a lot of attic cleaning equipment and is more traditional.
Some attics require bigger and more complicated equipment and we wanted to clarify that to potential customers.
House2Clean also has multiple clients all over the city, so there will be times when it is not available.
We think House2Clean is a better option if customers want regular light cleaning for their attics.
If you have dust particles that have collected over the years in your attic, that should be no issue for this provider. But if you have something more complicated up there, you may have to go with a different company.
Scheduled cleaning
Versatile services
Free quotes
Affordable rates
Multiple clients, takes time to accept a job
Equipment seems lacking
Can only do simple cleaning jobs
Customer Reviews
Wonderful
"Never2Clean is a wonderful cleaning enterprise. I have been a devoted client for over 10 years, and I've never been disappointed. They have great service and very competent cleaning staff. I also very much like its management – it is very, very attentive to the needs of its clients. I highly recommend this company. – Jeff Richstone
Great work
"Amanda & Jessica do a great job, very thorough and detail-oriented. I'm consistently pleased with their great – and quick – work." – Katie Taylor
FAQs about Attic Cleaning
---
Hopefully you found this article helpful in finding the best attic cleaning services for your home.
If you're looking for full general cleaning services, check out our article on the best cleaning services in Ottawa.