The 4 Best Acupuncture Services in Ottawa
Acupuncture is a centuries-old form of Chinese medicine that uses fine needles to treat a variety of ailments.
This medicinal method is often recommended for people who are struggling with pain, stress relief, and more.
It's a very precise technique, so it's important to find a good therapist that you can trust to do it. In this article, we will be reviewing the best acupuncture services in Ottawa.
How much are acupuncture services in Ottawa?
Acupuncture services in Ottawa average from $70 – $150. Subsequent sessions are cheaper, around $80 – $100 per session.
The table below can give you a more specific look at the possible costs of the most common services acupuncture therapists offer.
| Service | Average cost |
| --- | --- |
| Initial Acupuncture | $120 - $150 |
| Follow-up Acupuncture | $80 - $100 |
| Facial Acupuncture | $110 - $150 |
| Acupuncture + Cupping | $180 - $200 |
The Best Acupuncture Services in Ottawa
When looking for acupuncture services in Ottawa, we considered the following criteria:
1. Xu Acupuncture Ottawa

Test
Info
SERVICES
Acupuncture, Herbal Medicine
WEBSITE
http://www.acupunctureottawa.ca/
ADDRESS
1 Raymond St, Ottawa, ON K1R 1A2, Canada
CONTACT DETAILS
613-263-0123
OPERATING HOURS
Monday 8:30AM–7PM

Tuesday 8:30AM–7PM

Wednesday 8:30AM–7PM

Thursday 8:30AM–7PM

Friday 8:30AM–7PM

Saturday 8AM–6PM

Sunday 8AM–6PM
| | |
| --- | --- |
| Criteria | Ratings |
| Rates | ★★★★★(5/5) |
| Availability | ★★★★(4/5) |
| Experience | ★★★★★(5/5) |
| Feedback | ★★★★★(5/5) |
Xu Acupuncture Ottawa is an acupuncture clinic with years of experience in the industry. It specializes in herbal medicine and acupuncture, providing a comprehensive and personalized service to its patients.
It was established in 1988 and is one of the oldest acupuncture clinics in the area. Over the years, it has provided thousands of patients with safe, effective, and natural solutions to their health needs.
What makes this establishment special is the use of unique Chinese herbal medicines. These are derived from nature and do not contain harmful chemicals or artificial ingredients.
The combination of these medicines and acupuncture treatments helps patients manage a wide range of conditions, including backache, fatigue, headaches, and insomnia.
Dr. Xu also provides custom treatments according to the specific needs of the patient. He has been practicing acupuncture for over 40 years and is renowned in the industry for his exceptional knowledge and skills.
The only drawback of this establishment is the fact that it only has one doctor available. That means the waitlist can be long, especially during the busy season.
Overall, if you're in need of a good relaxing acupuncture session and you're willing to wait for the service, this is one of the best places in town to visit.
The traditional Chinese medicines are of good quality and the services are extremely professional.
Established in 1988
Done by an expert Chinese therapist
Also offers herbal medicine
Traditional method
Has seen thousands of patients
Customer Reviews
Magical
"Acupuncture is magical! Dr. Xu is patient, kind and knowledgeable. He cares about your health and want to help you. Price is very decent and can provide insurance receipt. Highly recommended! Thank you Dr. Xu." – R. Steve
Highly recommend
"I have been coming at Dr Ching Q Xu clinic on Somerset street for many years. He is kind and knowledgeable. I highly recommend his services." – Daniel B.
2. Blaise T. Ryan Acupuncture Clinic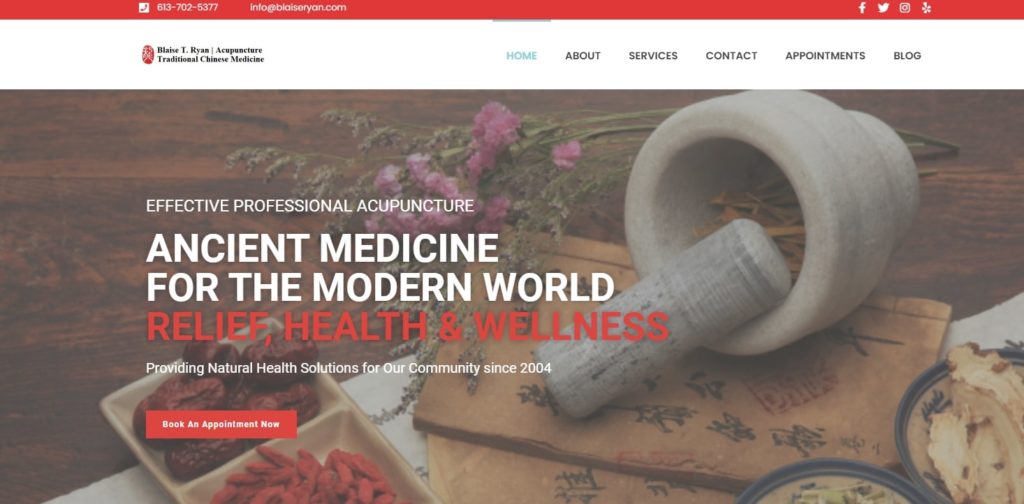 Test
Info
SERVICES
Acupuncture, Facial Rejuvenation Acupuncture, TCM Health Consultation, Cupping, Moxa, Gua Sha, Tui Na, Tei Shin, Electrostimulation
WEBSITE
http://www.blaiseryan.com/
ADDRESS
383 Parkdale Ave #105, Ottawa, ON K1Y 4R4, Canada
CONTACT DETAILS
613-702-5377
OPERATING HOURS
Monday Closed

Tuesday Closed

Wednesday 9AM–8:30PM

Thursday Closed

Friday 3–9PM

Saturday Closed

Sunday 9AM–8:30PM
| | |
| --- | --- |
| Criteria | Ratings |
| Rates | ★★★★★(5/5) |
| Availability | ★★★★ (4/5) |
| Experience | ★★★★★(5/5) |
| Feedback | ★★★★★(5/5) |
The Blaise T. Ryan Clinic is another excellent acupuncture clinic in Ottawa. It offers a wide range of services, including traditional Chinese methods as well as more modern forms, such as facial acupuncture.
It is owned and managed by Blaise T. Ryan, a registered traditional Chinese medicine practitioner with over 25 years of experience. He is also knowledgeable in Thai massage, Indian energy healing, and food healing.
What makes this place great is its options for both acupuncture regulars and those who are new to traditional Chinese medicine. The clinic also provides traditional Chinese medicine consultations or TCM for short.
These consultations include different diagnostic and treatment plans that are designed to treat a variety of common ailments.
Blaine also offers specialty treatments, especially for pregnant women and older patients. Pregnant women may benefit from acupuncture for pain control throughout their pregnancy and the postpartum period.
The only drawback of this place is that it can be full at times due to the fact that there are only two Chinese medicine practitioners working there. However, if you book your appointment early, you can usually get in without a problem.
Overall, it is definitely one of the best places to go for acupuncture in Ottawa.
Multiple services available
Also has specific services for women
Maintained and led by expert doctors
TCM consultation
Specialty treatments
Customer Reviews
One of the best
"One of the best acupuncturists in Ottawa. Blaise is very knowledgeable, professional and has a deep passion to help you feel your absolute best. He takes the time to do a thorough assessment and within two sessions combined with the Chinese herbs I was feeling a noticeably higher level of energy, motivation and feeling like ' happy me ' again." – Lise Jorgensen
So thankful
"Working with Blaise Ryan has benefitted me in a very positive way. I am so grateful to Blaise for helping me with the pain in my knees. I get a real sense of calm and peacefulness with Blaise's positive and caring manner. My pain has dissipated and I no longer limp around. I would highly recommend him to anyone interested in an all-natural, drug-free remedy. The risks of acupuncture are low if you have a completely certified acupuncture practitioner, using proper techniques and sterile needles. Blaise is such a person – thank you so much!" – Mike Poulton
3. Minda Natural Health & Chinese Acupuncture Clinic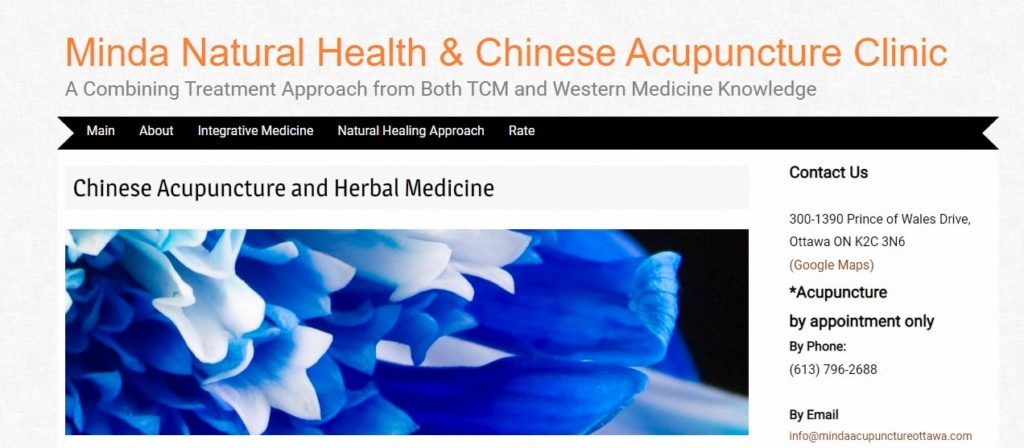 Test
Info
SERVICES
Acupuncture, Integrative Medicine, Natural Healing Approach
WEBSITE
https://mindaacupunctureottawa.com/
ADDRESS
1390 Prince of Wales Drive, Ottawa ON K2C 3N6
CONTACT DETAILS
613-796-2688
OPERATING HOURS
Monday 9AM–5:30PM

Tuesday 2:30–5:30PM

Wednesday 9AM–5:30PM

Thursday 2:30–5:30PM

Friday 9AM–5:30PM

Saturday 8:20–11:30AM

Sunday Closed
| | |
| --- | --- |
| Criteria | Ratings |
| Rates | ★★★★★ (5/5) |
| Availability | ★★★★ (4/5) |
| Experience | ★★★★(4/5) |
| Feedback | ★★★★★(5/5) |
The Minda Natural Health & Chinese Clinic is another great option for your acupuncture needs. The clinic specializes in combining treatment methods from traditional Chinese medicine and western medicine.
Among the services it offers are acupuncture, integrative medicine, and natural healing approach.
The Minda Natural Health & Chinese Clinic has been around for over 35 years and is one of the most well-known traditional Chinese medicine (TCM) centers in the city.
Unlike most acupuncture centers, it combines modern and traditional methods to help you achieve optimal health.
The doctors here are traditional Chinese medicine practitioners but they also have medical doctorates from different universities in the country.
We love using old and new techniques, and the therapists at Minda are able to provide relaxing and effective treatments for different kinds of pain.
The center also has a unique focus on pregnant women. They can expect gentle care and extra attention throughout the different stages of their pregnancy.
Unfortunately, due to the clinic's size, its waitlist can be long at times. We highly recommend getting an appointment early to avoid having to wait too long.
With that said, we would definitely recommend this place if you're looking for high-quality natural healthcare. The doctors and therapists at Minda are very knowledgeable and experienced in their field.
35 years of experience
Doctors are registered traditional Chinese medicine practitioners
Doctors here also have Medical Doctorates
Western and eastern medicine combined
Waitlist can be long at times
Customer Reviews
Pregnancy was more manageable
"I was not afraid of needles but I was skeptical if treatment would help resolve acute symptoms. It did! After receiving the first treatment and standing up from a treatment table, my heartburn was gone, shockingly. I never felt heartburn since then. I continued to develop and suffer from other symptoms like ingestion, bloating and nausea, so I kept going for treatments twice a week for a month. I felt treatment effect lasted for a day to a few days. As my symptoms started subduing at 12-week pregnant, my visit reduced to weekly. I'm pretty happy with overall experience. Dr. Shen was always welcoming, caring and making sure if I'm okay. Thank you for making my pregnancy journey more manageable!" – Chie K.
Fantastic
"My naturopath recommended that I try acupuncture for the first time to help alleviate some chronic sinus issues that I had been dealing with. My experience with Dr.Shen was fantastic! The environment is very relaxing and soothing." – Jennifer Marie Furtado
4. Twelvem Acupuncture
SERVICES
Acupuncture
Tuina Massage
TCM Diet Therapy
Cupping
Energy Healing
Pediatrics
WEBSITE
twelvem.ca
ADDRESS
1090 Ambleside Drive, suite 124, Ottawa, ON.(rear entrance)
CONTACT DETAILS
email: [email protected]
Tel: (343) 988-4427
OPERATING HOURS
Monday: 10:00 AM – 8:30 PM
Tuesday: 10:00 AM – 8:30 PM
Wednesday: 9:00 AM – 8:30 PM
Thursday: 10:00 AM – 8:30 PM
Friday: 9:00 AM – 8:30 PM
Saturday: 10:00 AM – 2:00 PM
| | |
| --- | --- |
| Criteria | Ratings |
| Rates | ★★★★★ (5/5) |
| Availability | ★★★★★ (5/5) |
| Experience | ★★★★(4/5) |
| Feedback | ★★★★★(5/5) |
Twelvem Acupuncture, led by Jocelito Camargo, offers traditional Chinese medicine integrated with modern practices to promote wellness. Jocelito's background in biomedicine and extensive training in acupuncture make him a highly knowledgeable and skilled registered acupuncturist. He combines Western and Eastern medicine to provide an integrated approach for the best patient care.
Jocelito's dedication to patient well-being is evident in his additional studies, including acupuncture for neurological diseases and stroke rehabilitation. He is authorized to provide acupuncture treatment at Bruyère's Saint-Vincent Hospital in Ottawa, showcasing his expertise and credibility.
With a focus on promoting the smooth flow of Qi (life energy) through the body's twelve meridians, Jocelito emphasizes the importance of keeping the body's energetic mechanisms in balance. His treatments encompass various therapies, including acupuncture, TCM nutritional counseling, tuina massage, and energy healing, providing patients with comprehensive and personalized care.
Clients benefit from Jocelito's commitment to honesty, integrity, and communication, fostering a trusting and satisfying experience. Whether seeking treatment for pain, neurological conditions, respiratory issues, or emotional well-being, Twelvem Acupuncture offers a safe, effective, and modern approach to traditional Chinese medicine.
Traditional Chinese medicine is integrated with modern practices.
Highly knowledgeable and skilled registered acupuncturist.
Emphasis on promoting smooth Qi flow for well-being.
Customer Reviews
It was a great experience and I highly recommend
"Joe was very gentle, caring and knowledgeable! He eased any worries and made me feel completely comfortable. The changes to my body and mind over the course of my treatment, blew my mind! I felt so much better than I had in so long. It was a great experience and I highly recommend. Thank you Jocelito!" – Lisa Wickens
Amazing, passionate, and knowledgeable acupuncturist.
"Jocelito Camargo is an amazing, passionate, and knowledgeable acupuncturist. I've been treating my well-being issues with him and I never felt better. Besides the fact that Joe is very professional, he is also super friendly, kind, and humble. I would really recommend visiting him if you have any concerns regarding your health." – Marina Diniz Murta
FAQs about Acupuncture
---
And that's it for the best acupuncture services in Ottawa.
If you're looking for other ways to treat pain and other body issues, you may be interested in the best therapeutic massage services in Ottawa!