The 5 Best Yoga Therapy Centers in Ottawa
Yoga therapy is different from ordinary yoga because aside from the physical benefits it provides, it also focuses on the mental and emotional aspects of the individual.
To get the best out of your therapy sessions, it's important to find a good center that will help you connect better with the teachings of yoga.
In this article, we will be reviewing the best yoga therapy centers in Ottawa.
How much do yoga therapy sessions cost?
Yoga therapy costs around $80 per session. The table below summarizes the prices you may encounter when looking for the right center.
| Service | Average cost |
| --- | --- |
| Private Session | $80 - $200 per hour |
| Group Session | $60 - $150 per hour |
| Basic Class | $20 - $30 per hour |
| Yoga Accessories (mats, headbands, clothing) | $50 - $100 |
The Best Yoga Therapy Centers in Ottawa
To find the best yoga therapy centers in Ottawa, we looked at the following factors:
1. PranaShanti Yoga Centre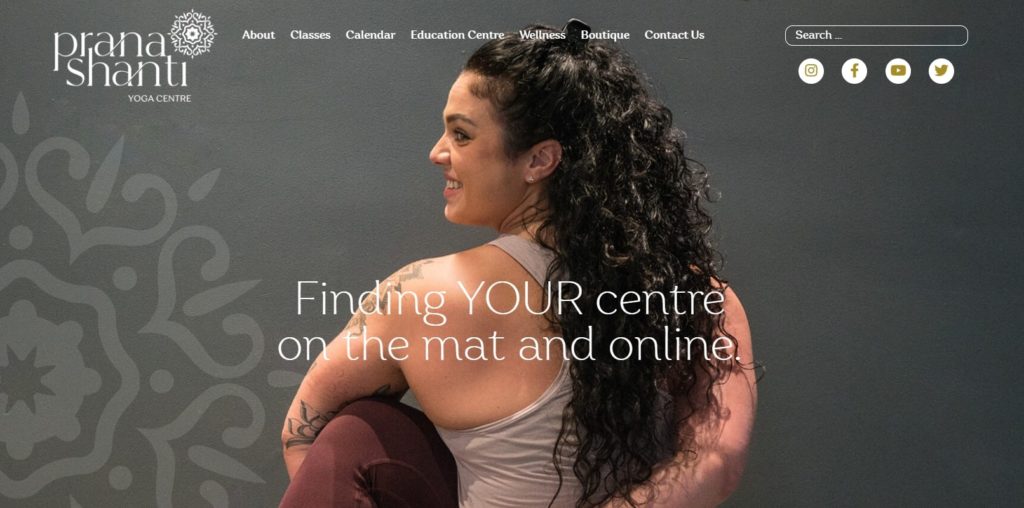 Test
Info
SERVICES

Yoga Therapy

Yoga Classes

Online Yoga

Massage

WEBSITE
https://pranashanti.com/
ADDRESS
950 Gladstone Ave, Ottawa, ON K1Y 3E6, Canada
CONTACT DETAILS

Phone: 613-761-9642

OPERATING HOURS

Monday 9AM–9PM

Tuesday to Thursday : 6:30AM–9PM

Friday & Sunday : 9AM–7PM

Saturday : 9AM–4PM
| | |
| --- | --- |
| Criteria | Ratings |
| Rates | ★★★★★(5/5) |
| Therapists | ★★★★(4/5) |
| Sessions | ★★★★★(5/5) |
| Location | ★★★★★(5/5) |
The PranaShanti Yoga Centre on Gladstone Avenue aims to provide an escape from the hustle and bustle of the city.
Its main focus is providing relaxation and peace of mind through yoga therapy, meditation, and massage treatments.
The center's diverse group of experienced therapists offers a wide variety of therapeutic services. For yoga therapy, it uses a combination of Iyengar, Hatha, Viniyoga, and other techniques to create a unique experience for every visitor.
It provides online yoga therapy sessions for clients who can't make it to the center in person.
There are community events offered throughout the year for those wanting to learn more about the practice or experience it for the first time.
If you're new to yoga, this is a great place to go as it can provide a lot of guidance and learning for beginners. It also sells yoga products like mats and towels to keep you well-equipped for your sessions.
The only downside is PranaShanti's sessions can be pricey and this may be an issue for those who cannot pay for the service on a regular basis.
Nevertheless, it's a great option if you're looking to clear your mind and get away from it all for a while.
Yoga for arthritis
Community events
Multiple locations
Also sells yoga products
Customer Reviews
Good for me
"I've been doing yoga for years because I knew it was good for me but I only started enjoying it when I came here. Such a nice studio, nice staff, also had a great massage here." – Morgan B.
Never looked back
"I started back at PranaShanti in July and have not looked back since. I am grateful for the caring and professional atmosphere in this Yoga studio. Every teacher I have had has been knowledgeable about their craft and willing to share their time and information with those who wanted it." – Ann Mcgowan
2. Glebe Osteopathy and Wellness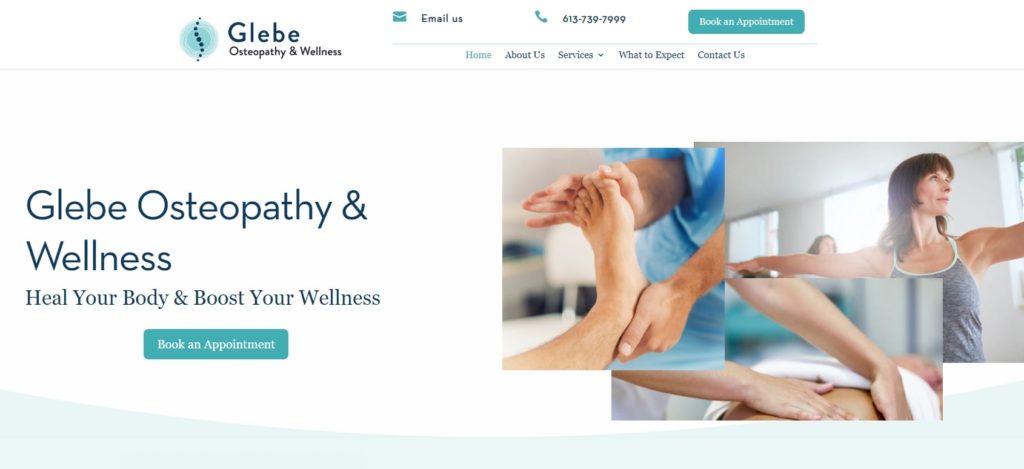 Test
Info
SERVICES

Yoga Therapy

Massage Therapy

Osteopathy

Yoga Classes

WEBSITE
https://glebeosteopathyandwellness.ca/
ADDRESS
901 Bank St 2nd Floor, Ottawa, ON K1S 3W5, Canada
CONTACT DETAILS

Phone: 613-739-7999

OPERATING HOURS

Monday : 8AM–8PM

Tuesday & Thursday : 10AM–8PM

Wednesday : 10AM–6PM

Friday : 9AM–7PM

Saturday : 9AM–3PM

Sunday : Closed
| | |
| --- | --- |
| Criteria | Ratings |
| Rates | ★★★★(4/5) |
| Therapists | ★★★★★ (5/5) |
| Sessions | ★★★★★(4/5) |
| Location | ★★★★(4/5) |
The Glebe Osteopathy and Wellness Center provides manual osteopathy, massage therapy, and of course, yoga therapy.
Each appointment is tailored to the individual and focuses on relieving pain, improving function, and promoting relaxation.
We love the personalized care provided at the Glebe Osteopathy and Wellness Center. The therapists take the time to get to know you and truly care about your health and well-being.
Sessions can be 1-on-1 and range from 30 minutes to an hour. Throughout the session, your therapist will ask you about your goals and how you are feeling — it's a truly holistic approach!
We appreciate that there are lockers available so you can keep your things secure during your session. The center has a clean and comfortable space for changing, including a private washroom.
After each session, you are given stretches or exercises to perform at home in order to further your progress. Your therapist will also provide recommendations to help you continue to improve.
A long savasana at the end of each class is also allowed if you so choose.
For those who don't know, savasana is the final resting pose at the end of a yoga session that lets you fully relax while allowing the muscles and joints to fully release after an intense practice.
Rental mats available
Personalized sessions
Lockers available
Savasana
Customer Reviews
Very impressed
"First time there and was very impressed, calm clean relaxing environment and Kendra was amazing. " – J.H.
Great place
"The space is neat, clean and welcoming. Very easy to book an appointment online." – Chance J.
3. Integrate – PhysioMed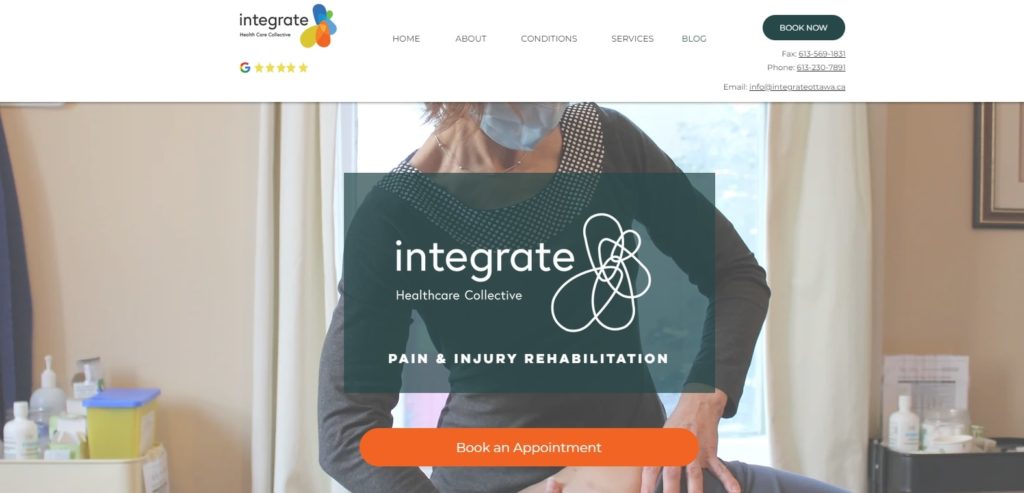 Test
Info
SERVICES

Yoga Therapy

Chiropractic

Psychology

Athletic Therapy

Naturopathic Medicine

WEBSITE
https://www.integrateottawa.ca/
ADDRESS
102 Lewis St, Ottawa, ON K2P 0S7, Canada
CONTACT DETAILS

Phone: 613-230-7891

OPERATING HOURS

Monday & Tuesday, Thursday & Friday : 7AM–8PM

Wednesday : 7:30AM–8PM

Saturday & Sunday : 8AM–3PM
| | |
| --- | --- |
| Criteria | Ratings |
| Rates | ★★★★★ (5/5) |
| Therapists | ★★★★ (4/5) |
| Sessions | ★★★★(4/5) |
| Location | ★★★★(4/5) |
Integrate is a physio-med center located on Lewis Street. Among the services it offers are yoga therapy, chiropractic sessions, psychology, athletic therapy, and naturopathic medicine.
This clinic is especially great for athletes who have rigid joints and have trouble moving after an injury. The therapists here have a lot of experience in this field and are able to help individuals with a wide range of issues.
For yoga therapy, participants are given an individual plan according to their specific needs. They usually start with breathing exercises to help them relax and calm their nervous system.
The regulated physiotherapists that are employed at this center are what makes it a unique choice for yoga therapy. The combination of western techniques and eastern philosophy makes the services at Integrate stand out.
They call this method PhysioYoga and it's the perfect type of yoga for those with back pain and even those who need postpartum recovery.
Pricing is the only issue we have with Integrate. It's not the cheapest option but it's understandable because of the many services and treatments it provides for its clients.
If you have the budget and are having both mental and physical difficulties, we recommend this center for yoga therapy.
Physioyoga
Multiple services available
Spacious studios
Medical guidance
Customer Reviews
Very grateful
"The staff is friendly, knowledgeable and genuinely concerned. The clinic itself has a very homey comforting atmosphere but most importantly these therapists have helped me become pain-free and maintain a higher level of physical health over the last 5 years than I've had before. I'm very grateful for their care!" – Carolyn Gemmell
Excellent
"Chad and the staff at OC3 are wonderful! The care and attention during treatments is un-comparable. I have been a client for 5 years and I've always left the clinic happy and continue to refer people who are looking for chiropractic, massage, physiotherapy, yoga, or even a family doctor. " – Andrea Scheer Hennings
4. Beyond Yoga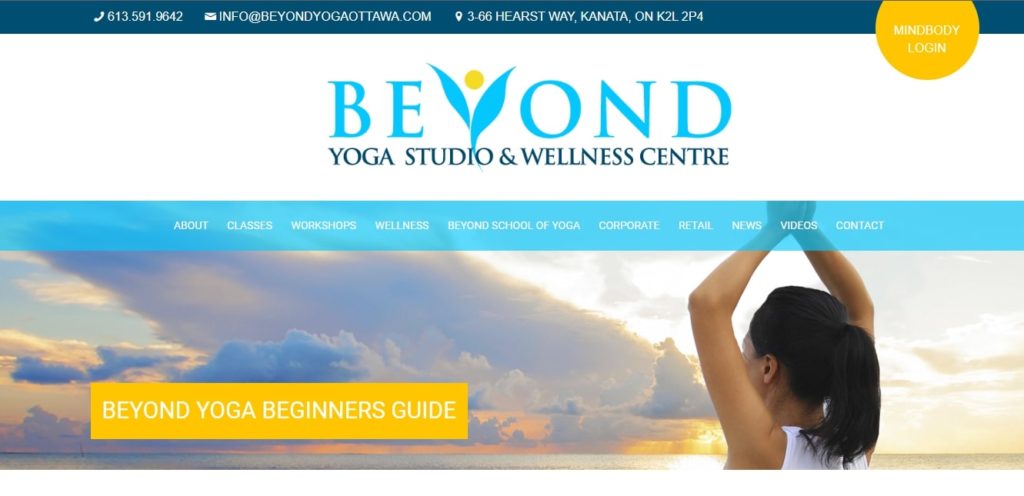 Test
Info
SERVICES

Yoga Therapy

Yoga Classes

Tai Chi

Gong Sound Bath

Restorative Practice

WEBSITE
https://beyondyogaottawa.com/
ADDRESS
66 Hearst Way, Kanata, ON K2L 2P4, Canada
CONTACT DETAILS

Phone: 613-591-9642

OPERATING HOURS

Monday to Thursday : 8:45AM–3PM, 5–8:30PM

Friday : 8:45AM–3PM

Saturday & Sunday : 8:45AM–12PM
| | |
| --- | --- |
| Criteria | Ratings |
| Rates | ★★★★ (4/5) |
| Therapists | ★★★★ (4/5) |
| Sessions | ★★★★★(5/5) |
| Location | ★★★★(4/5) |
Beyond Yoga is known for its yoga therapy sessions and classes in Ottawa.
As its name suggests, the people behind Beyond Yoga want to go beyond the traditional aspects of yoga and explore its many other benefits. To do that, they mix yoga with other practices such as Tai Chi.
The center also incorporates sound therapy with chanting and music to make meditation even more effective. Gong sound bath is also offered at the center to provide a soothing and relaxing environment for your healing.
Beyond Yoga is an excellent choice for beginner sessions as it has a great mix of one-on-one yoga classes as well as group classes that are led by experienced instructors.
There are holiday discounts that new students can sign up for that can encourage them to continue attending their yoga therapy sessions. There are also practice guides that are provided to help beginners understand the different poses.
If you don't have a mat or towel yet, you can rent or buy one at the studio to help you perform your yoga poses more comfortably.
Despite the discount promos, the services of this center can still be expensive, so we suggest signing up for the packages or a class card if you plan to visit regularly.
Beginner sessions
Holiday discounts
Practice guide
Multiple levels of yoga
Has its own store
Customer Reviews
Love it
"I love the classes, the Instructors, and the staff. The ambiance is very warm and welcoming." – Marie Sabourin
Amazing
"I would definitely attend other classes in this style of yoga in the future. I also bought a new yoga mat and it's perfect for my needs and budget." – Elaine H.
5. Soulspeak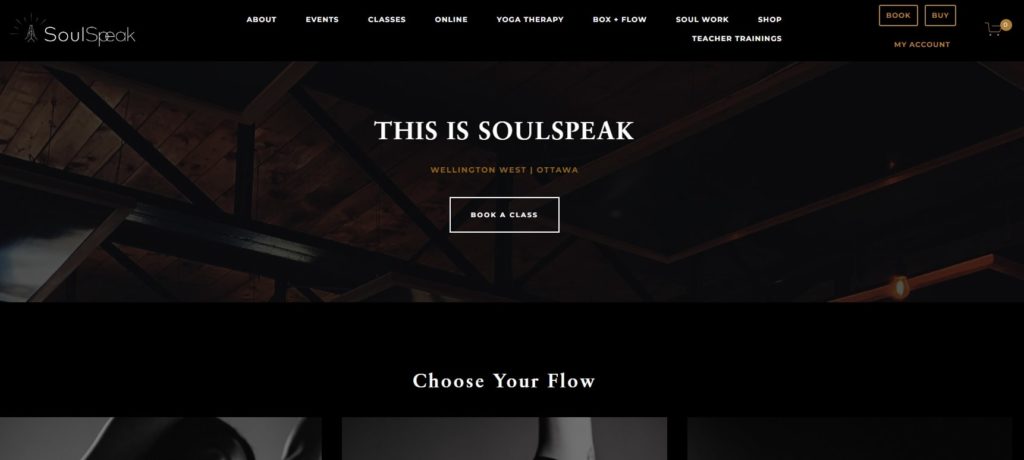 Test
Info
SERVICES

Yoga Therapy

Soul Flow

Home Yoga

Yoga Classes

WEBSITE
https://www.soulspeakyoga.ca/
ADDRESS
1226 Wellington St. W #201, Ottawa, ON K1Y 3A1, Canada
CONTACT DETAILS

Phone: 613-216-1494

OPERATING HOURS

Monday, Wednesday & Thursday : 6AM–8:30PM

Tuesday : 6AM–10PM

Friday : 6AM–6PM

Saturday : 9AM–1PM

Sunday : 9AM–8:30PM
| | |
| --- | --- |
| Criteria | Ratings |
| Rates | ★★★★ (4/5) |
| Therapists | ★★★★★(5/5) |
| Sessions | ★★★★(4/5) |
| Location | ★★★★★(5/5) |
Soulspeak's name could be interpreted as the soul speaking to the body or the soul reaching its peak. This is what the Wellington-based yoga center aims for as it provides therapy sessions, classes, and workshops.
Soulspeak is an excellent option for those who can't attend yoga sessions physically because it provides online sessions that are convenient and flexible.
For those who prefer in-person instruction, the center offers yoga sessions seven days a week with options for beginners and advanced practitioners.
Its main yoga focus is the Pancha Maya Kosha model. This is the practice of yoga that focuses on a combination of body, energy, and physiology.
This model is more science-based because of the physiology aspect. It is based on the biomechanics of joints and muscles to provide a practical approach to yoga and meditation.
It's an excellent option for those with physical limitations because of its focus on providing safe movement-based practices that enable people to move more easily and feel better as a result.
The only issue we have with Soulspeak is its small staff, which can sometimes take a while to respond to questions and inquiries.
Despite this, its offerings are worth trying out if you are looking for a yoga practice that is practical yet comprehensive.
Online sessions
1-on-1 sessions
Flow specialization
Yoga events
Small staff, can take time to respond
Customer Reviews
Special
"SoulSpeak is a special place. All of the instructors and staff are so helpful and welcoming, and the space is cozy and comforting." – Lauren Kelly
Inclusive
"The instructors are really patient and provide alternatives so the classes are for everyone." – Nia P.
FAQs about Yoga Therapy
---
And that's it for the best yoga therapy centers in Ottawa. For related topics, check out the following: