5 Best Wine Shops in Ottawa
Wines are great for social gatherings as they make every moment more memorable. They are also perfect complements for meals and are often drunk by some to unwind and experience euphoria.
To help you with your wine needs, we have amassed in this list the best wine shops in Ottawa.
Specialties of the Best Wine Shops in Ottawa
To give you an idea of what you can expect on your visit, below is a table that shows the specialties of each wine shop in our list.
| WINE SHOPS | SPECIALTY |
| --- | --- |
| Wine Station | Merlot Wine, Pinot Grigio Wine |
| Wine Rack | PS Light Pinot Grigio, Cartier Smores |
| Premium Vintages | Wayne Gretzky Wines, Thirty Bench Wines |
| The Wine Shop | Trius Merlot 2020 VQA, Wayne Gretzky Estates |
| LCBO | Chilean Wines, Vintages |
Best Wine Shops in Ottawa
We used the following criteria to narrow down our options and get the best ones in the business:
1. Wine Station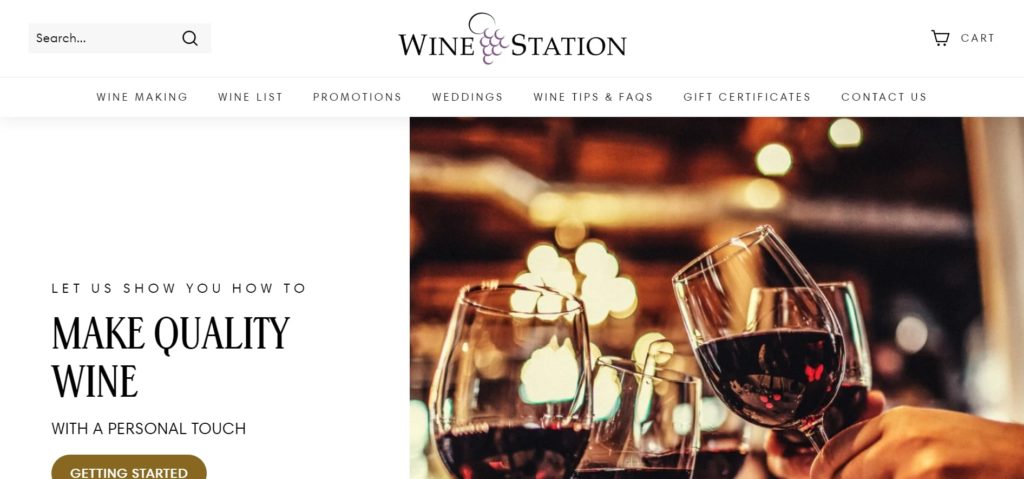 Test
Info
PRODUCTS / SERVICE

Wines, Wine Making, Wedding Wine Recommendations

Personalized Wedding Labels, Gift Certificates

WEBSITE
https://winestation.ca/
ADDRESS
2400 Bank St, Ottawa, ON K1V 8S1, Canada
CONTACT DETAILS

Phone: +1 613-736-0121

OPERATING HOURS

Monday to Tuesday 10 AM - 6 PM

Wednesday to Friday 10 AM - 8 PM

Saturday to Sunday 10 AM - 5 PM
| | |
| --- | --- |
| Criteria | Ratings |
| Inventory | ★★★★★ (5/5) |
| Affordability | ★★★★★ (5/5) |
| Service | ★★★★★ (5/5) |
| General Feedback | ★★★★✩ (4/5) |
An urban winery, Wine Station is dedicated to creating quality wines from grapes and other fruit juices across the world. Established back in 1992, this family business has been serving Ottawa and nearby areas for decades.
Over the years, it has assisted countless customers to make thousands of wine bottles by fusing both modern and traditional techniques in winemaking. Today, it offers a wide array of affordable wines you can choose from.
Among these include red wines, white wines, sparkling wines, and fruit wines. There are limited edition wines, too, such as the Cabernet Merlot and the Malbec Bonarda Syrah.
Selections for these, however, are rather limited compared to the other options available. We also suggest purchasing wines here earlier as its operating hours, especially on weekends, are relatively shorter.
On a different note, should you be interested in making your own wine, you can do so here in 3 easy steps.
The best part is that Wine Station is confident and can guarantee an awesome winemaking experience with satisfying wine to enjoy at the end of the day.
If you're tying the knot soon and would like to have the best wine for your guests, Wine Station can help you decide on this. There's also an option to have your wine bottles customized with labels and foil tops.
But if there's something we love about it, it is the fact that its staff members are super friendly and knowledgeable. The people here are always ready to help you in any way they can to make your experience with them worth remembering.
In business for decades
A wide array of wine selections
Offers wine-making experience
Custom labels and foil tops
Relatively shorter operating hours
Has only one branch
Customer Reviews
Excellent value for our money
"Highly recommend. We used Wine Station to make our own wine for our wedding. First of all the staff are amazing and are keen to help. We were super happy with how everything turned out and we got excellent value for our money. Thanks Wine Station!!!" — Tasha Riddell, Google Reviews
Truly top-notch
"Truly top notch experience. From the moment you walk in, you are greeted by wonderful staff that help you each step of the way, but also let you take control if you feel like it. Extremely cool experience, not to mention great tasting wine for pretty good prices. Been there twice already and would recommend it to anyone." — Mingde Yin, Google Reviews
2. Wine Rack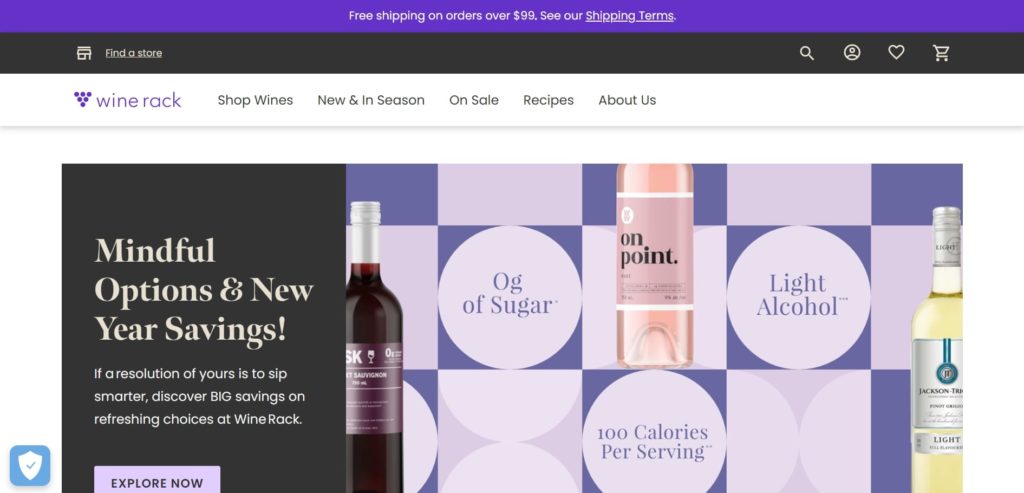 Test
Info
PRODUCTS / SERVICE

Wines, Great Estates Wine Club

WEBSITE
https://www.winerack.com/
ADDRESS
363 Rideau St, Ottawa, ON K1N 5Y6, Canada
CONTACT DETAILS

Phone: +1 613-241-7703

OPERATING HOURS

Monday to Saturday 10 AM - 10 PM

Sunday 10 AM - 9 PM
| | |
| --- | --- |
| Criteria | Ratings |
| Inventory | ★★★★★ (5/5) |
| Affordability | ★★★★★ (5/5) |
| Service | ★★★★✩ (4/5) |
| General Feedback | ★★★★✩ (4/5) |
Despite the relatively smaller space, we like Wine Rack as it is a nice place to explore some of the best and most affordable wines and refreshments in the area. It has multiple locations across Ottawa, so finding one is a breeze.
We are certain that you'd love its specially curated selections of whites, reds, rosés, and refreshers. Some people, however, have deemed some of its products a little too sweet.
Browsing through its selections, you will find popular brands like Jackson-Triggs, Vintage Ink, and Inniskillin, which happens to be Canada's first estate winery. Limited-release wines like the Le Clos Jordanne Jordan Village 2019 are also available.
To further boost your wine experience, you may also opt to join its Great Estates Niagara Wine Club. Being a member lets you enjoy some nice perks, which include free wine tasting, 15% off on exclusive wines, and access to VIP events.
The staff members are also commendable as they are all friendly and exceptionally helpful. We appreciate that customers are always greeted with a smile, and truthful feedback is given when questions are asked.
On top of these, it's great to know that it offers free shipping for purchases over $99. Plus, the recipes posted on its website are perfect if you want to add some twists to your usual drinks.
A vast selection of wines
Great Estates Niagara Wine Club
Offers free shipping
Has multiple locations
Relatively smaller space
Doesn't offer winemaking
Customer Reviews
A little gem
"This is one of my favorite locations. Sure, it may be the size of a bachelor apartment, but it is amazing how much variety can be kept in such a small venue! The employees are my favorite part! I am always greeted with a smile, and if questions need answering, they have both the truthful answers that I am looking for, as well as their own personal experience, but ONLY If I ask. If they haven't tried an item, I can count on the feedback given to me, through them, about how other customers felt about it. Truly a little gem packed to the gills with knowledge, expertise, friendly and helpful staff, plus some truly fantastic wines and ciders!" — Ryan Mierzwa, Google Reviews
Beautiful store
"Beautiful store, lots of product, knowledgeable staff. Ontario wines! What more could one ask for?" — Gillian Garrison, Google Reviews
3. Premium Vintages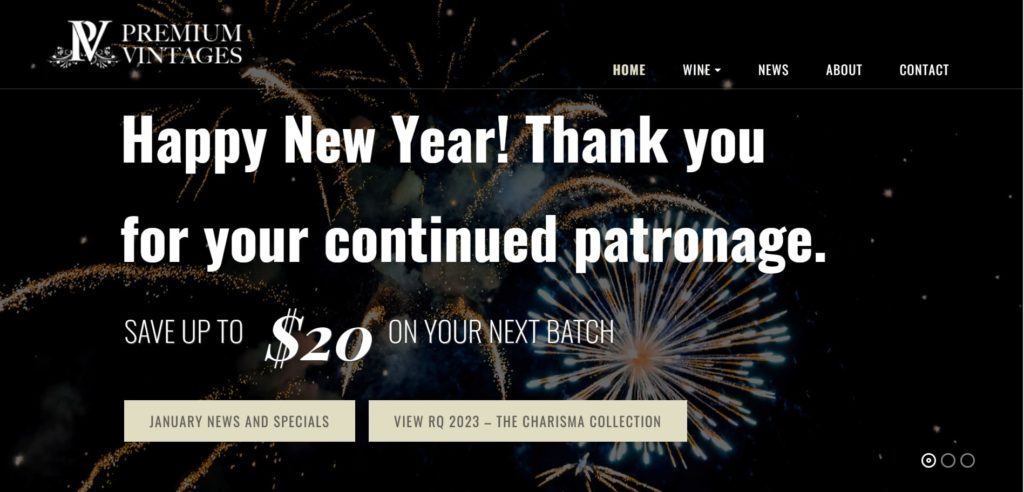 Test
Info
PRODUCTS / SERVICE

Wines, Wine Making, All-Inclusive Packages, Custom Labels

WEBSITE
https://www.premiumvintages.ca/
ADDRESS
102 McEwen Ave Unit C, Ottawa, ON K2B 5K7, Canada
CONTACT DETAILS

Phone: +1 613-829-4523

OPERATING HOURS

Monday, Wednesday, Friday 10 AM - 6 PM

Tuesday, Thursday 12 PM - 8 PM

Saturday 9 AM - 4 PM
| | |
| --- | --- |
| Criteria | Ratings |
| Inventory | ★★★★★ (5/5) |
| Affordability | ★★★★★ (5/5) |
| Service | ★★★★✩ (4/5) |
| General Feedback | ★★★★★ (5/5) |
For some of the highest quality grape juices and concentrates, Premium Vintages is one of the places to be. With over 25 years of experience, we are confident that its wines will not disappoint.
We like that in its wine-making processes, it only uses premium kits. These are matched with nice bottling equipment that helps ensure quality vintages at all times.
It even offers a 100% money-back guarantee should you find yourself unsatisfied with your wine. No wonder there had been over 72,000 wine batches made over the years.
There are also commercial wines that are readily available for purchase. Among the product lines it carries include En Primeur, Cru Select, and Orchard Breezin'.
If you're planning for a special occasion like a wedding, its all-inclusive packages might interest you.
Unfortunately, there's limited information about these packages on its website, so sending a message is the only way to go. Custom labels, which are perfect for labeling your own collections and for other occasions, are available as well.
But above all, the friendly, knowledgeable staff is what really keeps us coming back. Through them, everything else becomes pleasurable and relaxing.
If you're thinking of paying a visit, it is worth remembering that it is closed on Sundays and has relatively shorter operating hours on Tuesdays and Thursdays.
Over 25 years of experience
100% money-back guarantee
Great wine selections
Offers all-in packages
Limited information on the website
Closed on Sundays
Customer Reviews
Do yourself a favor
"I could not believe how good the wine was here, even on bottling day. Peter (the owner) is so knowledgeable, professional, and helpful. I am very lucky that this place was recommended to me. If your looking to save some cash and still crave excellent wine, do yourself a favor and check this place out!" — Frank Rauche, Google Reviews
For anyone that loves wine
"My wife and I have been bottling our wine from Peter for well over 20 years. The variety of wines to choose from are excellent. Peter's professionalism, knowledge and his passion for the business is unmatched. He serves all his customers with great care and a smile on his face. If you're looking for a premium wine then look no further, you've found it. I highly recommend "Premium Vintages" for anyone that loves their wine and the price is right." — Kelly Searson, Google Reviews
4. The Wine Shop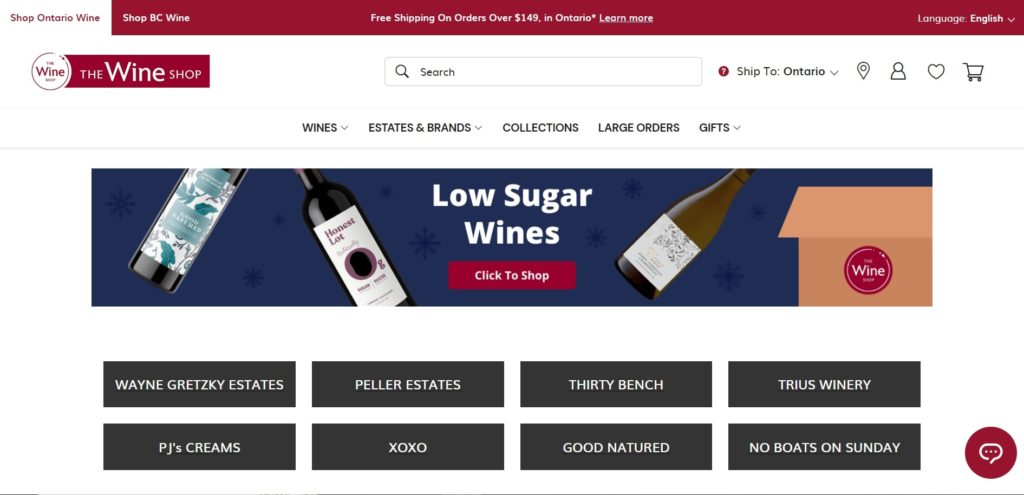 Test
Info
PRODUCTS / SERVICE

Wines, Estates and Brands, Large Wine Orders, Gifts

WEBSITE
https://www.thewineshops.com/
ADDRESS
Southgate 2515, Bank St, Ottawa, ON K1V 0Y4, Canada
CONTACT DETAILS

Phone: +1 613-523-5837

OPERATING HOURS

Monday to Friday 10 AM - 8 PM

Saturday 10 AM - 7 PM

Sunday 10 AM - 6 PM
| | |
| --- | --- |
| Criteria | Ratings |
| Inventory | ★★★★★ (5/5) |
| Affordability | ★★★★★ (5/5) |
| Service | ★★★★★ (5/5) |
| General Feedback | ★★★★✩ (4/5) |
When in need of some nice wines, The Wine Shop is one place to go. With multiple locations within Ottawa, reaching one is made extra easy and convenient.
Its vast collections of wines come from popular brands like the Wayne Gretzky Estates, Trius Winery, and Good Natured. Options extend from red and white wines to rosé and sparkling wines.
There are craft cream liqueurs, too, like PJ's Salted Caramel Cream, which are great for coffee and cocktails.
There are options with low sugar like the No. 99 The Icon 2020 VQA and with lower alcohol contents such as the No Boats On Sunday Dry Rosé Cider as well.
It's great to know that there are various gift sets, which are perfect for all sorts of occasions.
We appreciate that it offers free tasting, which helps you ensure that you're getting the wine you want. Then there's the free shipping for orders over $149 within Ontario.
But what really keeps regulars staying is the great customer experience it offers. Although some may not agree, we like that the staff is friendly, helpful, and well-informed.
It's also great that The Wine Shop is open daily from 10 AM, with only shorter hours on weekends. With great staff and affordable products, this is one of the shops to go to.
A wide collection of wines
Gift sets
Free wine tasting
Offers free shipping
Has multiple locations
Some staff issues
Shorter hours on weekends
Customer Reviews
Excellent service
"I have been a regular customer at The Wine Shop for about a decade. It's always enjoyable to spend time in this shop. They are friendly and helpful and very well-informed. Excellent service!" — ThisDream, Google Reviews
Would give it 10 stars
"Best place in town. Very good service. I would give it 10 stars if I could ! They all know my order. I always get the same thing and I love being a regular there. :D" — Mark Philip Fournier, Google Reviews
5. LCBO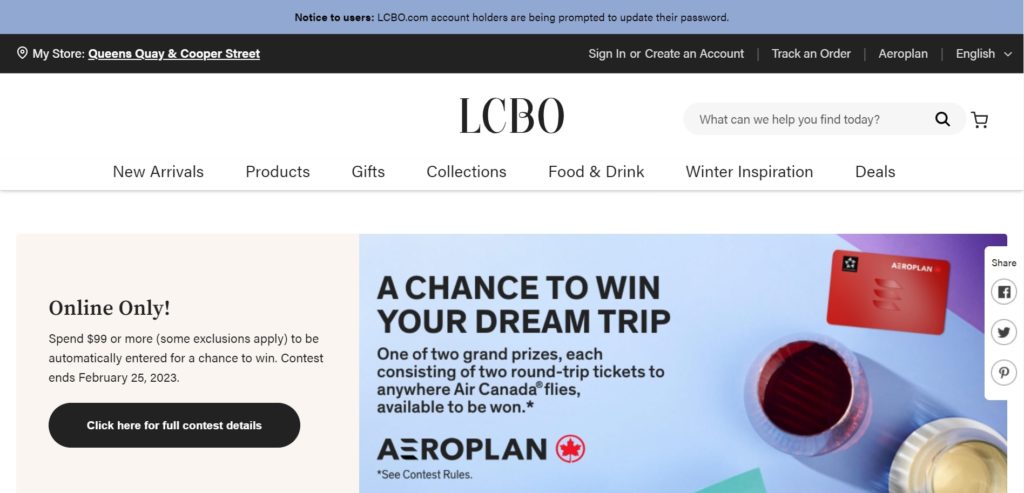 Test
Info
PRODUCTS / SERVICE

Wines, Spirits, Coolers, Beer and Cider, Vintages

WEBSITE
https://www.lcbo.com/
ADDRESS
275 Rideau St, Ottawa, ON K1N 5Y3, Canada
CONTACT DETAILS

Phone: +1 613-523-5837

OPERATING HOURS

Monday to Friday 10 AM - 8 PM

Saturday 10 AM - 7 PM

Sunday 10 AM - 6 PM
| | |
| --- | --- |
| Criteria | Ratings |
| Inventory | ★★★★★ (5/5) |
| Affordability | ★★★★★ (5/5) |
| Service | ★★★★★ (5/5) |
| General Feedback | ★★★★✩ (4/5) |
A government enterprise, the Liquor Control Board of Ontario (LCBO) is a good start when looking for some nice quality wines. It was established in 1927 and has been there for almost 100 years, making moments great.
We like that it continues to support the province's social and environmental needs through its Spirit of Sustainability platform, which aims to protect the planet in all its operations.
Over the years, it takes pride in its vast collections of wines, beers, and spirits in Ontario. Annually, it offers more than 28,000 products that are loved by people across the globe.
For wine lovers, wine options include reds, whites, rosés, and sparkling. There are also fortified wines like Dillon's Vermouth, and sake and rice wines such as Walmae Makgeolli Korean Rice Wine and the vintage Gekkeikan Junmai Sake.
We love that the staff members are very accommodating. Not to mention that they are very knowledgeable and honest when providing feedback and suggestions.
Prices are also pretty decent and the place is well-organized despite its huge size. Parking space, however, can sometimes be problematic.
Its surrounding is also deemed unsafe by some because of the growing number of homeless people hanging around the area.
Nonetheless, with great service and massive collections of wine and other alcoholic beverages, LCBO is worth a visit. As it has multiple branches, finding it would be a breeze.
Established in 1927
Vast collections of wines and other liquors
Well-organized store
Has multiple locations
Parking can be problematic
Homeless people around the area
Customer Reviews
Anything and everything you need
"One of the best locations I have been to. Met a wonderful staff and crew. If you are looking for the best and only the best, go see George. He will not steer you wrong. Also, the staff know the area very well and are accustomed to Canada's great history. So the knows behind distilleries and places to check out are awesome. You will find anything and everything you need here. Just don't get lost ;)" — The Googler, Google Reviews
This place is heaven
"Have you ever walked into a place and thought this place is heaven? Me neither, but this is the closest I've ever gotten. The vintages downstairs, the scotches, and bourbons, and whiskeys, the moment you walk in… Not mention all the liquors, wines and beers that you can't get any where else. If you're the casual one glass a week on special occasions or pound em down type of person this is the place for you." — Braeden Stewart, Google Reviews
FAQs about Wine Shops
But if you're busy, you might want to consider getting the wine of your choice through some of the best alcohol delivery services in Ottawa.