8 Best Window Washing Services in Ottawa
You could have regular or seasonal window cleaning days with a trusty bottle of Windex and rags. However, windows require deep cleaning to keep the panes and all parts sparkling and clear, too.
So for huge windows and those that require a tall ladder, you're better off with the best window washing services in Ottawa.
There are also some handy FAQs at the end of the listicle which can hopefully clear up concerns you may have.
How Much Does Window Washing Cost in Ottawa?
Cost estimates for window washing in Ottawa could hinge on several factors. They include the number of windows you have, how tall they are, if they require ladders to reach, and if they're screened.
If you have extremely neglected and filthy windows, you could expect to pay higher than the base price to have them cleaned.
Window washing companies can charge customers in several ways. They could have a flat hourly rate, or they could charge per window or pane.
We looked up national averages and put them together in one table to serve as a cost guide.
WINDOW WASHING SERVICE
ESTIMATED COST
Hourly flat rate
$45 – $70
Per window
First or second floor $10 – $15
Third or fourth floor $13 – $20
Screen cleaning
$0.50 – $5 per screen
Per pane
$4 – $8
Please note that the final invoice will depend a lot on whether you're dealing with a reputable window cleaning service that's insured, bonded, and licensed, and a freelance handyman that doesn't have the experience and tools of a professional.
The Best Window Washing Services in Ottawa
Ready to get your windows sparkling clean and looking new? Then it's time to review the best window washing services in Ottawa.
We selected the ones in this listicle based on the following factors:
1. Performance Window Cleaning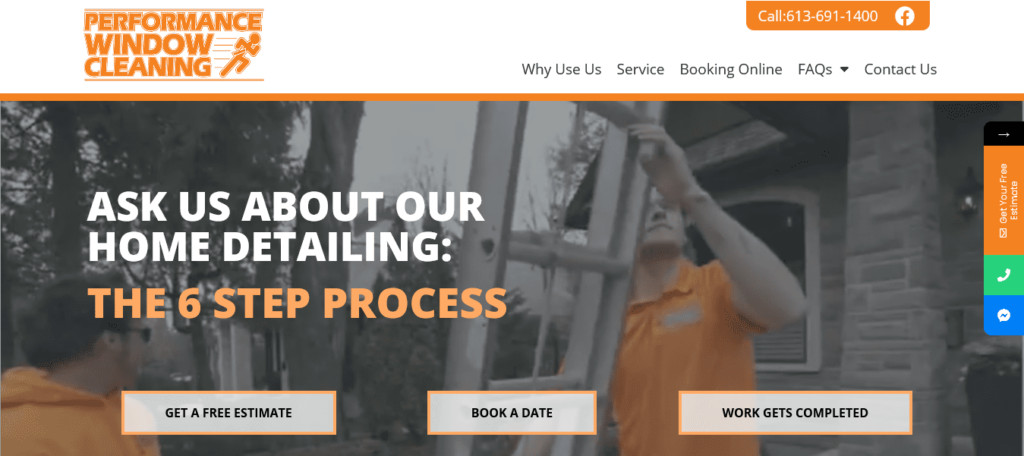 SERVICES
Window cleaning, pressure washing, spider spraying, siding cleaning, decks and gutters polishing, driveways and house washing
ADDRESS
532 Montreal Rd Suite 255, Ottawa, ON K1K 4R4
CONTACT NUMBER
613-691-1400
WEBSITE
https://performancewindowcleaning.com
OPERATING HOURS
Monday to Friday 8 AM – 6 PM
Saturdays and Sundays by appointment
Performance Window Cleaning throws a bit of shade at one of the other companies in this listicle. It states that they're "not a student-run organization" and that its technicians take their work seriously.
Snide remarks aside, this company's workers are fully bonded, insured, properly compensated, and have been checked and cleared of criminal records. The window technicians are trained for safety compliance, too.
It primarily does window washing for residential clients but also performs house washing, commercial pressure washing and window cleaning, gutter cleaning, and residential pressure washing for decks and driveways.
Performance Window Cleaning has done work for notable clients like Ford, Mercedes Benz, and Ashbury College.
On the website, there's a page for what initially looks to be a pricing guide. But scrolling through the long and meandering text about "perceived value" with the bottom line of customers respecting service providers leaves us cold (and still clueless about any sort of pricing information).
Gives free estimates
Fully bonded and insured technicians
Impressive clientele
Weekends by appointment only
Could tone down the sarcasm on its website
Doesn't provide a pricing guide
No BBB accreditation
Customer Reviews
Respectful and dependable
"Brock is great, respectful and dependable. We recommend Performance Window Cleaning to our clients. They are very professional and have a unique method of cleaning. 5 Stars!" – Marilyn Wilson
The guys were professional and courteous
"Really happy with the work they performed – my windows are so clean!! 🙂 And the guys were professional and courteous. Would definitely recommend." – Tracey Crane-Laham
2. Quantum Cleaning Services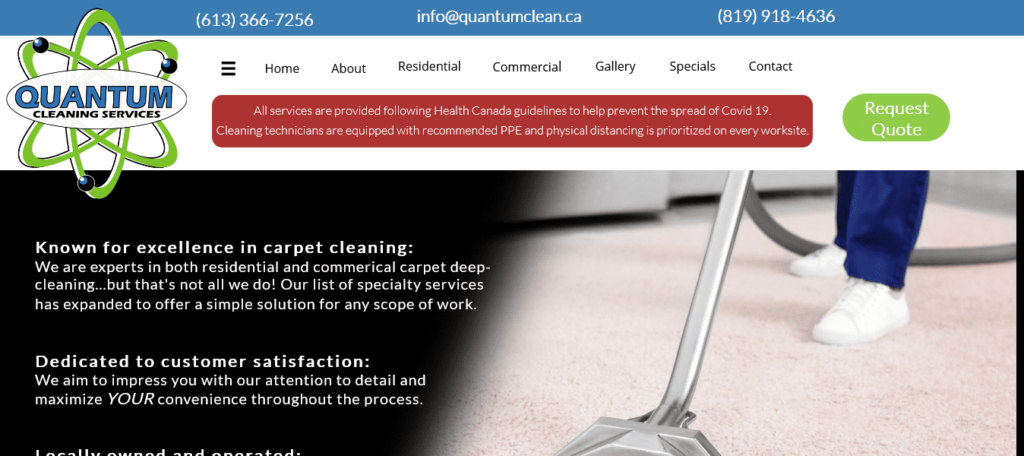 Quantum Cleaning Services is a locally-owned and operated business that serves clients in the Ottawa and Gatineau areas. It's primarily known for its carpet cleaning service but also offers comprehensive deep cleaning for residential clients.
The company does basic window washing services for interior and exterior windows, too. However, its team can only accommodate exterior cleaning for up to two stories.
Clients can choose between eco-friendly cleaning solutions and more traditional ones. This is quite a considerate move to give customers choices, as well as helpful information on both the non-toxic and chemical products.
To sweeten the deal, potential customers can request free quotes on both the products and the cleaning service they require.
Each technician is equipped with proper tools and gear in compliance with Health Canada guidelines for the pandemic. We think it's great that Quantum prioritizes the health and safety of its team members as well as its clients for every job.
Gives free quotes
Technicians follow Health Canada guidelines
Carries eco-friendly and traditional cleaning products
Accepts different kinds of payment options
Primarily known as a carpet cleaning service
Exterior window cleaning up to two stories only
No BBB accreditation
Customer Reviews
Offers natural cleaning products
"Very professional, excellent cleaning and also offer natural cleaning products.
Highly recommended!" – Beatrice H.
Fast, punctual, clean, fair price
"D'arcy did an awesome job. Fast, punctual, clean, fair price and accurate. Thanks for the great work. I'll be referring all my clients needing your services to you!" – Bill V.
3. Clear Ottawa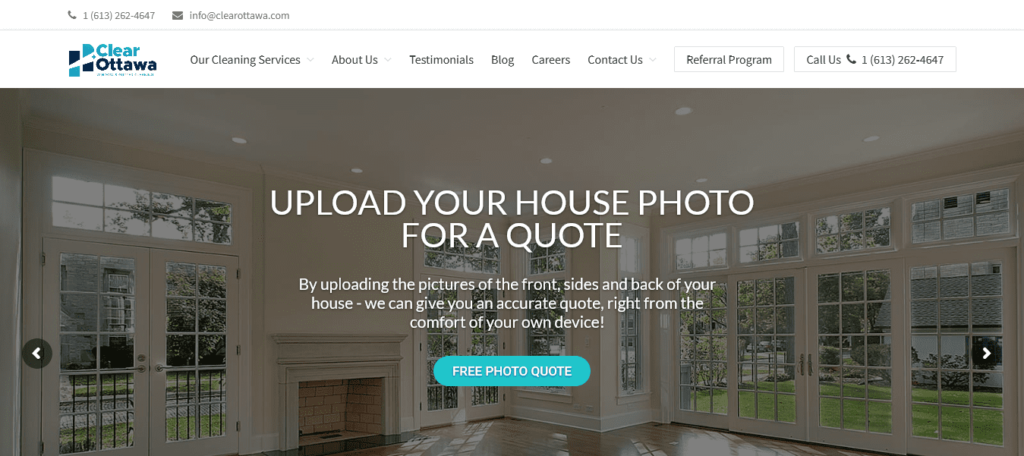 SERVICES
Window cleaning, soft washing sanitizing, gutter cleaning and repair, gutter guard and drip edge installation, pressure washing, soft washing, Christmas light installation specialists
ADDRESS
532 Montreal Rd #415, Ottawa, ON K1K 4R4
CONTACT NUMBER
+1 (613) 262-4647


[email protected]

WEBSITE
https://clearottawa.com/
OPERATING HOURS
Monday to Friday 8 AM – 5 PM
Saturdays 8 AM – 3 PM
Closed on Sundays
Clear Ottawa has one of the most unique (and handy) referral programs we've seen so far. Clients can simply refer a friend and make money via a tiered system that could save them hundreds of dollars (starts at $30 for one referral).
It's a Better Business Bureau-accredited locally owned company that's been around since 2010. Clear Ottawa serves both commercial and residential clients and offers free estimates for potential customers.
One of the things that make it stand out from other window cleaners is its soft washing system. It's designed to thoroughly clean surfaces without causing damage or leaks while meeting industrial-grade cleaning standards.
It also uses eco-friendly cleaning soap and solutions to ensure no damage on glass and frames occurs. All its technicians are properly equipped with the tools for the job so the clients can rest assured they won't have to bring out their own supplies.
And unlike other companies that can only clean a couple of stories, Clear Ottawa can even wash higher windows and even skylights.
We just wish there were some base pricing information offered, though clients can always ask for a free quote instead.
Gives free estimates
Discounts under its referral program
Can clean higher windows
BBB-accredited, Aᐩ rating
Doesn't give pricing info
Closed on Sundays
Customer Reviews
Very pleased with the results both inside and outside
"Found Clear Ottawas Windows through Better Business Bureau. They actually came 2 days early for the exterior and interior window cleaning. Full crew (more than 40 windows) and they did a great job. I was very pleased with the results both inside and outside. Windows are sparkling clean. Very professional and courteous. I will hire them again." – MaryLou O'Rourke
Polite and worked really hard
"We were so pleased with the excellent quality of work that this team performed. Shishamu and Eugene were polite and worked really hard to give us beautifully cleaned windows and gutter. Highly recommended!" – Stephanie Watson
4. Diamond Windows & Eaves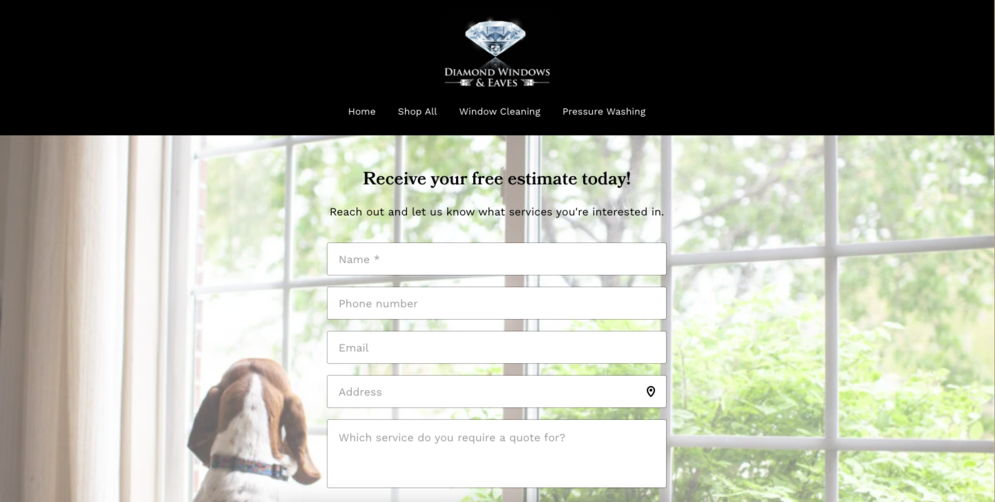 SERVICES
Window Cleaning, Pressure Washing
ADDRESS
150 Katimavik Road, Ottawa, ON K2L 2N2, CA
CONTACT NUMBER
(613)-879-1602


[email protected]

WEBSITE
www.diamondwindowsottawa.com/
OPERATING HOURS
Monday to Friday: 9:00am – 5:00pm
Saturday 11:00am – 5:00pm
Sunday Closed
Diamond Windows & Eaves is relatively new to the scene, but that doesn't mistake them for amateurs. These window cleaning and pressure washing specialists can get the job done.
Since they entered the business, they've been making homeowners' windows sparkling and squeaky clean, leaving all these customers thoroughly impressed.
They make use of soap that is biodegradable, streak free and specifically designed for residential windows, and the result of using it is amazing.
However, they only have these two services listed on their website. So, if you're looking for a company that can do more, you may look through the list for more options.
On the whole, we highly recommend Diamond Windows & Eaves the same way their past customers do!
Free estimate available
Makes use of biodegradable and streak free soap
Window cleaning and pressure washing specialists
Offers sales on their website
Closed on Sundays
Fewer services compared to the rest
Customer Reviews
Here are some reviews from their clients:
"The best in the business. Very punctual and made my house look the nicest on the block!!!.very professional and very polite highly recommended"
"Great services and prices, wouldn't go to anyone else in the city for quality window cleaning"
5. Glassmate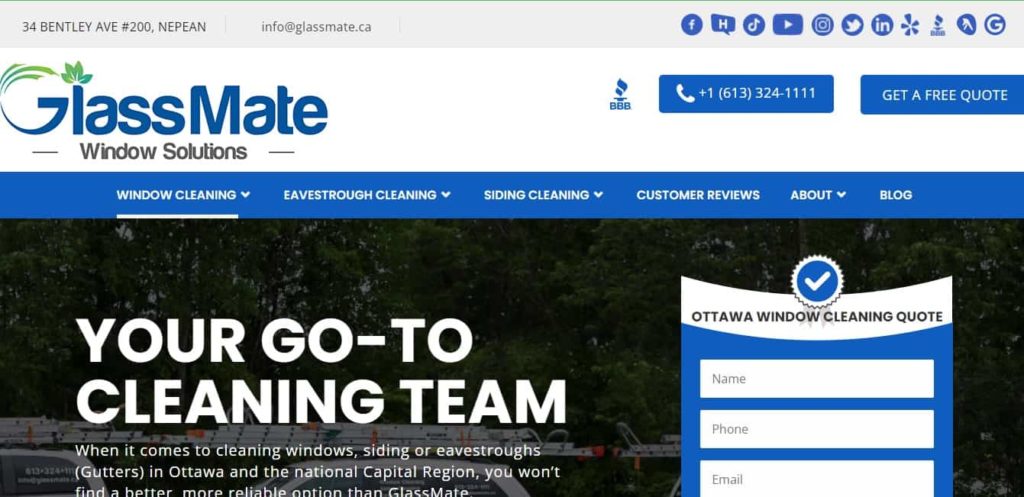 SERVICES
Window Cleaning
Eavestrough Cleaning
Siding Cleaning
ADDRESS
34 Bentley Ave #200, Nepean ON K2E 6T8
CONTACT NUMBER
+1 (613) 324-1111
[email protected]
WEBSITE
https://glassmate.ca/
OPERATING HOURS
Monday-Friday: 8:00 AM – 8:00 PM
Saturday: 9:00 AM – 7:00 PM
Sunday: 10:00 AM – 6:00 PM
Glassmate is one of the trusted windows, gutter, and eavestrough cleaning companies in the area that have been operating for more than 10 years already. Building long-term relationships with their clients, with services that are up to industry standards if not beyond them.
We find it commendable that they are able to employ and apply updated and the latest approaches when it comes to effective cleaning services which they highly specialize in when it comes to residential settings.
All the products that they use for cleaning are eco-friendly and biodegradable to ensure not only the safety of the client but also of the surrounding ecology that might be affected by cleaning.
Another thing we find exemplary is that all of their cleaners are adequately insured, licensed, and trained for the job so that clients can have peace of mind regarding their safety and that of the workers as well.
Overall, their past clients have praised them for their professionalism and friendly rapport with the client which build a good foundation for transparent and equally expert services that makes up an amazing experience with them.
BBB certified
Free online quotes available
Eco-friendly products used
Customer Reviews
Here are some reviews from their clients:
"Thank you to Andrew and Liam for a great job on our windows. They were friendly, hard-working and very professional in every way. Thank you again for a job very well done! Thank you to Andrew and Liam for a great job on our windows. They were friendly, hard-working and very professional in every way. Thank you again for a job very well done!" – Steve And Pat Dundas
"Excellent service, Reshad, Bruno and the team really went above and beyond to help with my exterior cleaning and provided aluminum, brick cleaning solutions. I am very happy with the service and results. Will definitely use them again for all my exterior cleaning needs." – Aliza H
6. Ottawa Student Windows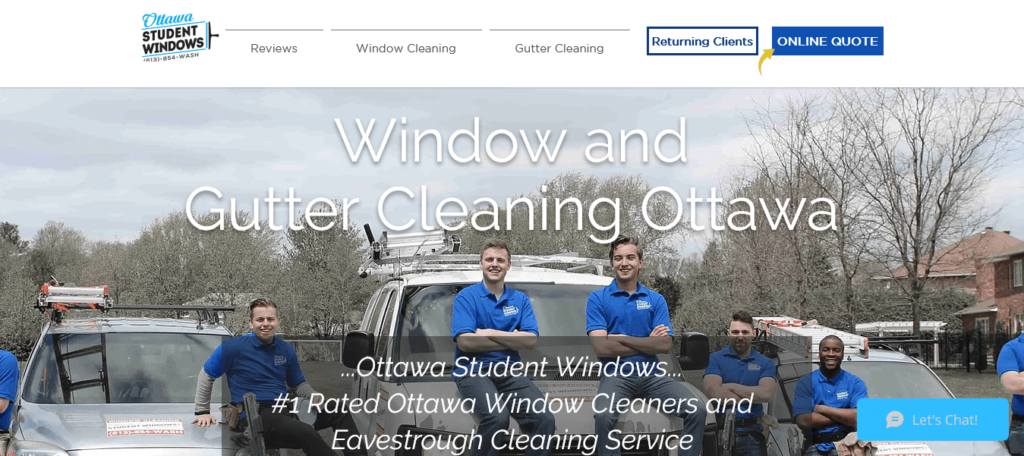 Not a lot of window washing companies will hire post-secondary-aged people on their team, but Ottawa Student Windows would beg to differ. It's made up of post-secondary education students and has a charitable partnership with The Boys and Girls Club.
There are two types of window cleaning services offered here: exterior and interior-plus. Both involve a thorough three-step process that is fully customizable for the client's needs.
Washing, squeegeeing, polishing, wiping, and cleaning are good steps, but it would've been nice to have some high-pressure cleaning options thrown in.
Still, we like how Ottawa Student Windows utilizes eco-friendly cleaning solutions that are non-staining and fully biodegradable. This ensures less harm to the environment and the occupants of the house.
The company confidently guarantees 100% money-back if the client isn't fully satisfied with the job done or won't recommend its services to others.
Potential clients can request a free quote for window cleaning jobs which is practical since there's no pricing guide for its services.
Gives free quotes
Open seven days a week
Comes with a liability insurance
Offers a money-back guarantee
Doesn't offer high-pressure cleaning
No pricing info provided
No BBB accreditation
Customer Reviews
Did a fabulous job on the exterior windows and frames
"Two very pleasant young men showed up at our house and did a fabulous job on the exterior windows and frames. We are having them back end of the week to do the interior. Excellent work keep it up!!" – Sandy Walker
Windows were spotless after the crew left
"Bought a house, and hired Ottawa Student Windows. The windows were spotless after they left. The price was entirely reasonable, and the crew was fantastic. Would definitely recommend." – Dylan Levac
7. WindowGuru Window Cleaning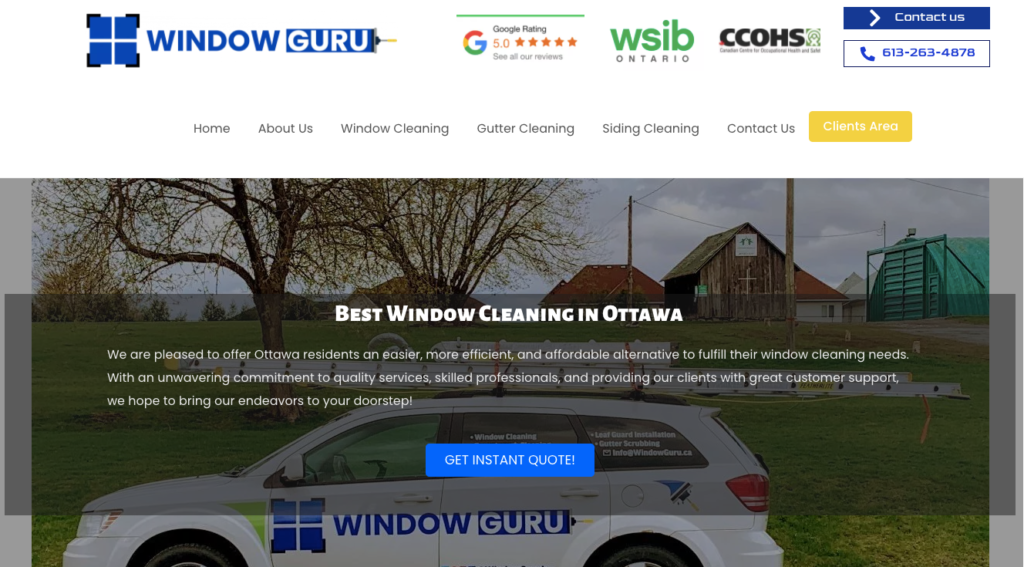 SERVICE
Interior-Exterior Window Cleaning (Basic, Deluxe, Premium), Storm Window Cleaning Premium Plus, Gutter & Eavestrough Cleaning (Basic, Deluxe, Premium), Vinyl and Aluminum Siding Cleaning
ADDRESS
281 Sceptre Way, Ottawa, ON K2V 0C6, Canada
CONTACT NUMBER
+1-613-263-4878 (GURU)


[email protected]

WEBSITE
https://www.windowguru.ca/
OPERATING HOURS
Monday to Sunday: 8:00 AM to 6:00 PM
Being in the window cleaning industry for more than a decade, WindowGuru Window Cleaning is a well-known window cleaning, gutter and sliding cleaning company in Ottawa.
As the have been in the industry for quite sometime, they make sure that they provide their utmost service for your window, gutter and siding cleaning needs with their talented and specially trained team.
We are also amazed by this company for they see to it that their services are well costumized to the needs of their clients. They offer one time cleanings, weekly, bi-weekly or monthly depending on the client's request.
Not only that, they also use products that are environmentally friendly and do not harm their customers' plants, pets, or other belongings. To ensure a safe and efficient cleaning, they only use the highest quality window cleaning equipment and products.
Good thing that they offer free quote for their cleaning jobs as this convenient because the company doesn't have a pricing list indicated on their website.
Customer Reviews
"Shout out to the gentleman who cleaned my exterior windows. Professional, friendly and efficient! They went above and beyond what I requested. Highly recommend! Thank-you!" – Maureen Fahey
"The Window Guru did a super job cleaning our windows! They are extremely professional….on time, did an thorough job, and asked for an inspection when they were done. In addition to the windows they did the frames and ledges which were quit dirty due to back yard stone work. The results were immaculate. They will be hearing from us next year." – Julia Cronin
Gives free quotes
BBB Rating A Accredited
Has a 5-star rating in Bark
More than 12 years in the industry
Affordable and competitive rates
Cutitng edge technology
Eco-friendly products
100% Satisfaction Rate
Doesn't offer high-pressure cleaning
8. Vertical Building Services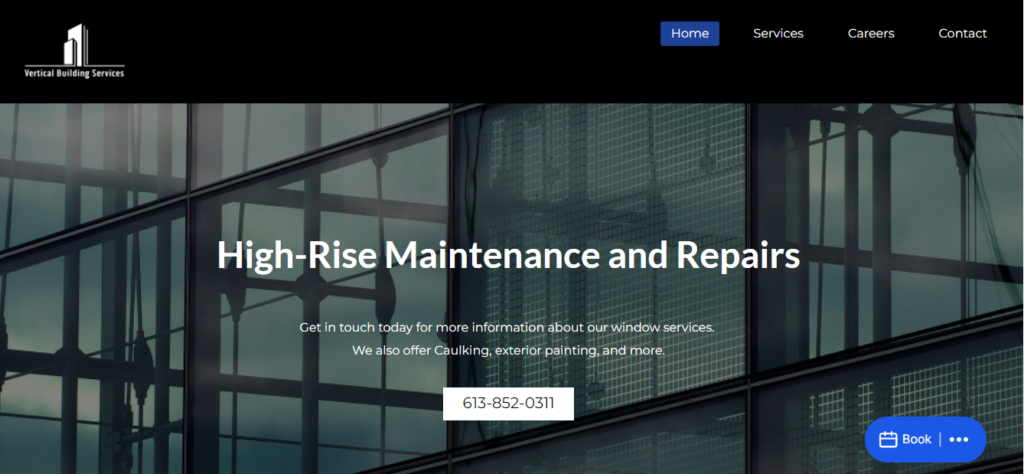 SERVICES
Window Cleaning and Restoration, Caulking, Window Installation and Glass Repair, Pressure Washing, Post-Construction Cleaning, Building Inspections, Painting, Vent Installation and Cleaning, High Angle Snow and Ice Removal
ADDRESS
Ottawa, ON, Canada
CONTACT NUMBER
613-852-0311
[email protected]
WEBSITE
https://verticalbuildingservices.com/
OPERATING HOURS
Monday-Saturday, 8AM – 5PM
As the brand name suggests, Vertical Building Services is a great choice for high-rise buildings that need extra TLC for their windows.
Clients will be pleased to know that their founder Andre Ouelette has over 20 years of industry experience in his arsenal. He has trained his team with his expertise, allowing clients to feel reassured about the consistent quality of the work.
We appreciate that Vertical Building Services can cater to both residential and commercial clients, which allows both categories to have access to their services. They offer free estimates, which clients who are still in the process of canvassing can certainly take advantage of.
Their services are extensive, ranging from standard window cleaning and restoration to post-construction cleaning and high-angle ice and snow removal. Clients are sure to appreciate this, as they need only to go to one company for all of their window maintenance needs.
Current and former clients love how responsive the team is, as they are able to promptly answer any questions they may have. This is extremely important in their line of work where window-washing almost becomes an art form due to the complexities a high-rise structure may bring.
We like that they keep their communication lines open, even allowing their clients to give them feedback. They have taken these comments onboard and used them to further improve their services, which shows humility and a desire for healthy growth.
Free estimates
Good communication
Services residential and commercial clients
Over 20 years of industry experience
All technicians certified
FAQs About Window Washing in Ottawa
---
The best window washing services in Ottawa can make your windows sparkling clean without breaking the bank.
Send us a message if you have a window washing service to recommend for review.
And if you want other cleaning services, we recommend reading these published posts to guide you: