Best Window Treatment Services in Ottawa
Hiring professionals to dress up your windows is practical and convenient. Experts will assess your home and provide optimum advice, not to mention that they will install your blinds or drapes for you.
Looking for such professionals in your area? We've put together a list of providers offering the best window treatments in Ottawa to help you choose.
How much do window treatments cost in Ottawa?
The estimated cost range for window treatments can go anywhere from $100 to $1000 per window. The specific price will depend on the type you choose for your space.
Here is the range per window treatment type:
| General Type | Specific Product | Cost Range (per Window) |
| --- | --- | --- |
| Blinds and shades | Cordless blinds, blackout roller shades, cellular shades, faux wood blinds, Roman shades, etc. | $80 to $300 |
| Draperies | Sheer curtains, grommet curtains, pinch pleat drapery, rod pocket drapery, etc. | $120 to $250 |
| Motorized | Can be blinds or shades, integrated into home automation hubs or remote-controlled | $300 to $1000 |
Other factors that will affect the price include the number, style, and size of your windows, your choice of materials, and installation costs.
Depending on your goals, you might account for two windows for a single room or ten windows for a three-bedroom house. The larger the space, the pricer the project gets.
Windows vary in form and measurements, affecting the type and size of your window treatment.
For instance, a long-spanning picture window will require more fabric to cover. On the other hand, medium-sized awnings need less material to dress.
Your choice of material will also affect the total cost. Curtains made of natural silk are more expensive than cotton; wood-crafted blinds will be pricier than aluminum shades.
Installing window treatment solutions can add to the overall price as well. Usually, the rate is aligned with the city's labor wage, but you can check with your chosen provider to know the exact fees.
Nevertheless, we have good news: the best window treatments in Ottawa included in this list all offer free consultations.
Top Window Treatments in Ottawa
Now we go into the details of our chosen service providers.
But before that, it's worth mentioning the criteria we've used to come up with the selection:
1. Blinds to Go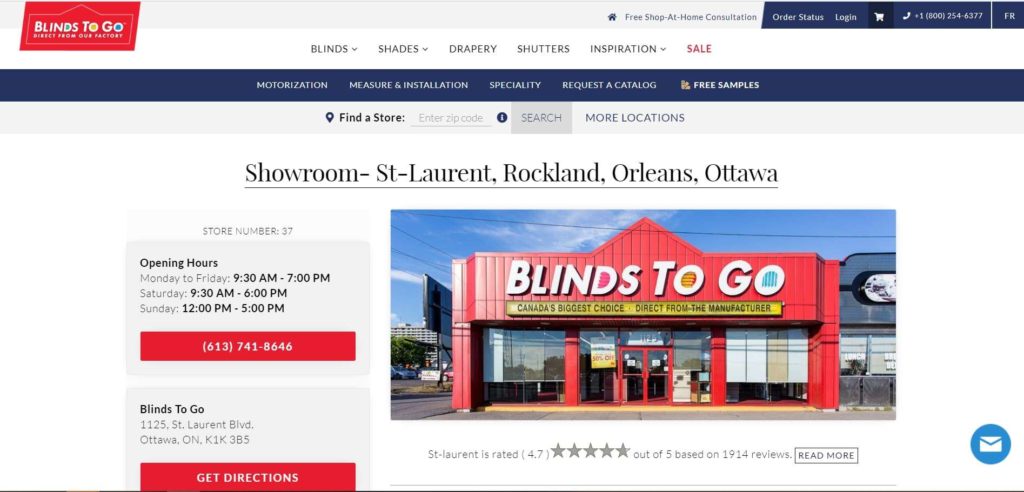 Test
Info
SERVICES
- Consultation

- Window treatment customization

- Direct manufacturer of blinds, shades, shutters, drapes, and specialty window treatment products

WEBSITE
https://www.blindstogo.com/en/stores/st-laurent
ADDRESS
1125, St. Laurent Blvd. Ottawa, ON, K1K 3B5
CONTACT DETAILS
(613) 741-8646
OPERATING HOURS
Monday to Friday: 9:30 AM - 7:00 PM

Saturday: 9:30 AM - 6:00 PM

Sunday: 12:00 PM - 5:00 PM
| | |
| --- | --- |
| Criteria | Ratings |
| Price Competitiveness | ★★★★★ (5/5) |
| Range of Products | ★★★★★ (5/5) |
| Customer Service | ★★★★☆ (4.6/5) |
| Window treatment expertise | ★★★★★ (5/5) |
| Delivery and installation efficiency | ★★★★☆ (4.5/5) |
| Reachability and responsiveness | ★★★★☆ (4.5/5) |
| Bonus Features | ★★★★☆ (4.65/5) |
| Extra offers | ★★★★★ (5/5) |
| Website | ★★★★☆ (4.3/5) |
Blinds to Go has been operating in Saint Laurent since 1997. Their longevity has helped the company form a reputable status in Ottawa that is still known today.
They offer a wide range of blinds, shades, draperies, and shutters. You can access their website to see product photos, helpful descriptions, and prices.
Note also that they manufacture their own products. That means you get to buy items at factory prices.
If you can't decide by simply browsing the website, you can also opt to visit their showroom.
That said, we recommend booking an in-home consultation. Doing so will allow the consultant to see your home, helping them form tailored plans for dressing your windows.
The company was on the right track when it decided to focus on customer satisfaction and offer a lifetime warranty. These two qualities allow them to enjoy continued consumer trust.
Moreover, clients being impressed and grateful to their consultants and installers is a good sign. After all, there's nothing more reassuring than the feeling that we, the clients, are in good hands.
However, probably due to having many clients, there might be a few requests or complaints that they'll miss. The good thing is that their customer service department does its best to fix problems.
Despite the few setbacks, Blinds to Go remains a certified go-to for people who value seniority, expertise, and product diversity. It's also reassuring how they have endured the test of time, especially if you're a long-time customer.
Open daily
Factory price products
Offers lifetime warranty
You can consult in-person at the comfort of your home
Responsive to online reviews, even negative ones
Not BBB-accredited
Possible delays on response due to high volume of requests
Customer Reviews
Lifetime warranty at its finest
"I purchased the blinds 21 years ago in the year 2000 from Blinds To Go. A few of the carrier clips/hooks on the track that hold the fabric vanes broke this year, in 2021. I called Blinds To Go to ask if I can purchase these carrier clips/hooks. The wonderful staff told me to bring the track in for service. To my surprise, they found the original receipt and they replaced the entire track at no expense to me. Remember, this is 21 years later. They truly stand by their lifetime warranty. I'm a very happy customer. I'm not associated with Blinds To Go or received any money to post this review." —AI G, Google Reviews
Built for speed
"Went into the store with an idea of what I wanted, came out 20 minutes later with the next day in-home consultation. Very impressed with the service. Melissa O was fantastic and Ryan the installation tech was timely and professional. Will be back when I am ready to do the other windows in my house for sure!!" —Crystal Butler
2. TA Blinds and Interiors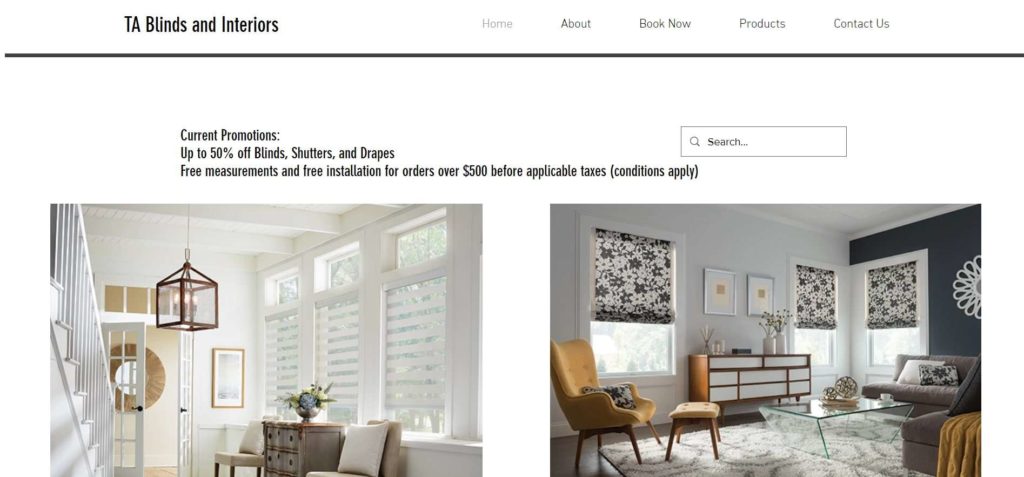 Test
Info
SERVICES
- Blind installation

- Blinds and shades sales

- Custom blinds, shades, and drapery, motorized window treatment

WEBSITE
https://www.tablindsandinteriors.com/
ADDRESS
22 Antares Drive, Unit F, Ottawa, ON K2E 726
CONTACT DETAILS
(613) 261-4492
OPERATING HOURS
Tuesday to Thursday: 9:00 AM - 6:00 PM

Friday: 9:00 AM - 5:00 PM

Saturday: 9:00 AM - 2:00 PM
| | |
| --- | --- |
| Criteria | Ratings |
| Price Competitiveness | ★★★★★ (5/5) |
| Range of Products | ★★★★☆ (4.5/5) |
| Customer Service | ★★★★★ (5/5) |
| Window treatment expertise | ★★★★★ (5/5) |
| Delivery and installation efficiency | ★★★★★ (5/5) |
| Reachability and responsiveness | ★★★★★ (5/5) |
| Bonus Features | ★★★★☆ (4.5/5) |
| Extra offers | ★★★★★ (5/5) |
| Website | ★★★★☆ (4/5) |
Established in 2017, TA Blinds and Interiors is relatively new in the game. Yet it managed to catch our attention thanks to its focus on customer satisfaction, reflected in its stellar online reviews.
The company offers a wide range of window-covering products, from the most affordable blinds to the more expensive motorized shades and drapes.
They get their products from high-end suppliers. That said, they ensure that prices for the window treatment remain reasonable.
A quick check on its website gives you an idea about the range of its product offerings. However, item details are lacking, so you'll need to call the service provider to acquire more information, including pricing.
What it lacks in online information, though, it makes up through its free in-store and in-home consultation. You also get a chance to work with a reliable designer with 13 years of experience.
Its family-owned quality may appeal the most to people searching for new, under-the-radar service providers. Its small patronage size can also mean that you can count on it to respond more quickly to requests and queries.
Fast and efficient service from consultation to installation
Tries to price match your target quotes
Offers free installation upon reaching a minimum price
BBB-accredited: A+
Revamped website lacks pricing details
No at-a-glance warranty information
Customer Reviews
Friendly and knowledgeable consultant
"Trishna and her team were a pleasure to work with. She has a wonderful design sense, and truly listens to her clients to help achieve their goals. The product lines were high quality, arrived on time and functioned exactly as described. Trishna and her team were professional, courteous and a joy to be around. What more could you ask for? I will definitely be hiring them again for my next project." —Jeniffer G, BBB
Inspires one to support local businesses
So pleased with my entire experience with TA Blinds and Interiors!! I shopped around and ultimately made my decision to go with TA Blinds and Interiors because of the online reviews and my experience with Trishna who is so professional, personable, and accommodating. Their prices were also very reasonable and comparable to larger stores.
Denis installed my order and he was quick, clean and friendly. New window coverings have brought a refreshing zenness to my home. I will absolutely use them again when I have another project. So happy to support a small local business. They are passionate about what they do and I wish them much success and more happy homes like mine!! —Emily Chan, Google Reviews
3. Gotcha Covered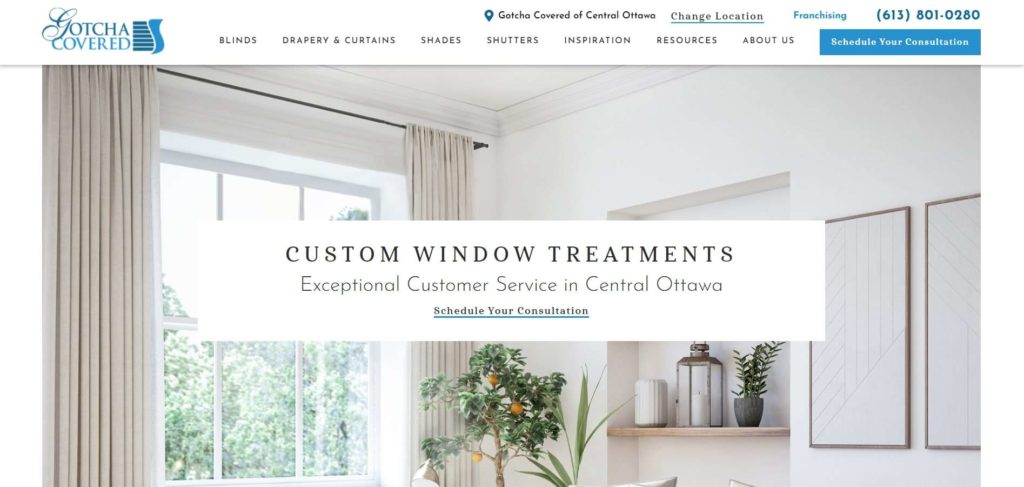 Test
Info
SERVICES
- Consultation

- Custom window treatment including drapery, shades, shutters, blinds, and motorization

WEBSITE
https://www.gotchacovered.com/central-ottawa/
ADDRESS
323 Chapel Street, Suite 202, Ottawa, ON KIN 7Z2
CONTACT DETAILS
(613) 801-0280
OPERATING HOURS
Monday to Friday: 8:00 AM - 5:00 PM
| | |
| --- | --- |
| Criteria | Ratings |
| Price Competitiveness | ★★★★★ (5/5) |
| Range of Products | ★★★★★ (5/5) |
| Customer Service | ★★★★☆ (4.6/5) |
| Window treatment expertise | ★★★★★ (5/5) |
| Delivery and installation efficiency | ★★★★☆ (4.5/5) |
| Reachability and responsiveness | ★★★★☆ (4.5/5) |
| Bonus Features | ★★★★☆ (4.5/5) |
| Extra offers | ★★★★☆ (4.5/5) |
| Website | ★★★★☆ (4.5/5) |
Gotcha Covered is your usual window treatment service provider but with a twist: it offers franchises for people who want to own a business.
Its confidence to branch out to franchising stems from its devotion to achieving 100% customer satisfaction. The company has cemented its reputation in the community and other parts of the country by constantly hitting the said goal.
You can also see traces of their customer-first mantra on their website through the ever so helpful "What Design Style Are You?" quiz. This mini-test is perfect for people at a loss on what window treatment style they should adopt in their homes.
Gotcha Covered is also open for free online and in-home consultations. These services allow you to learn more about window treatments without spending a penny in the comfort of your home.
Though, it's important to note that such a large company is not immune to communication hiccups. With franchise owners around the country, you're bound to encounter branches that perform well and others that fall short.
Fortunately, the provider stationed in Ottawa has received positive feedback, thanks mainly to its consultant's expertise topped with a pleasing personality.
You may find some issues with delayed orders or unaddressed customer requests, but they are few and far in between.
That aside, Gotcha Covered's product line and window treatment expertise are high above the ranks, so you can expect to get premium quality drapes, shades, and blinds that perfectly match your taste.
High-quality products
Interactive and user-friendly website
Offers franchise ownership
Warm and personable consultant
Not BBB accredited
Lackluster images on online portfolio
Customer Reviews
Understands clients well
"My new living room blind arrived, put up in about 10 min. Very nice installer, and Cathleen is so professional, she knew exactly what I was looking for so she was well prepared with samples for me to look at. The first sample was the one. It was only a few weeks from the time I ordered until it was here. So very excited and pleased with our purchase. It updates our living room. Great product. Highly recommend this company." —Debbie Duguay, Google Reviews
Competitive customer service
"We did a lot of research on price and companies and in the end we couldn't be happier with the product and service delivered by Cathleen. Cathleen was very helpful to narrow down the best fabric and colour for our window and suggested the valence to give it a finished look which really does give it a finished look! The shade was installed within the time frame she gave and the installer, Keith, was fast and friendly." —Steve S.
4. Budget Blinds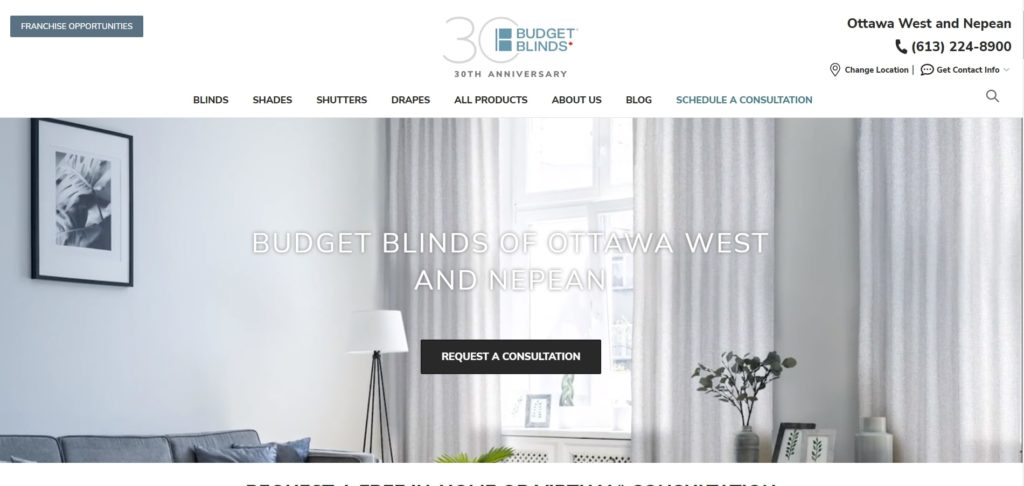 Test
Info
SERVICES
- Custom window treatments

- Smart home technology for window coverings

- Virtual consultation

- Blinds, shutters, and shades sales

- Commercial window coverings

WEBSITE
https://budgetblinds.com/en-ca/ottawawest/
ADDRESS
By appointment
CONTACT DETAILS
(613) 616-2948
OPERATING HOURS
By appointment
| | |
| --- | --- |
| Criteria | Ratings |
| Price Competitiveness | ★★★★★ (5/5) |
| Range of Products | ★★★★★ (5/5) |
| Customer Service | ★★★★☆ (4.6/5) |
| Window treatment expertise | ★★★★★ (5/5) |
| Delivery and installation efficiency | ★★★★☆ (4.5/5) |
| Reachability and responsiveness | ★★★★☆ (4.5/5) |
| Bonus Features | ★★★★☆ (4.6/5) |
| Extra offers | ★★★★☆ (4.5/5) |
| Website | ★★★★☆ (4.7/5) |
If you're from Ottawa West and looking for a window treatment service provider, you might want to consider Budget Blinds.
This veteran has been around since 1992, making it an appealing prospect for clients who believe that longevity and reputability go hand-in-hand.
Aside from its perceived competitiveness, you will also find Budget Blinds reliable if you're concerned about costs. After all, they live up to their promise of customizing within the client's budget.
Delving into their website's product list has also been an educational experience. The products are curated neatly, and each item features professional photos, vivid descriptions, and benefits.
Unfortunately, they don't indicate the product prices, so you need to call them to know more. That said, we recommend booking an in-home or virtual consultation so you can get a better understanding of their product line and services.
You might also miss getting a quote if you talked with the provider purely online. Try alleviating these inconveniences by requesting a home visit instead, and make sure that you follow up through email and telephone.
Aside from the few possible communication misses, Budget Blinds has a lot to offer with its stellar products and quick, efficient installations.
Can work around various budgets
BBB-accredited: A+
Also serves commercial establishments
Strictly follows government ordinances on blinds
No physical store/showroom for this particular franchise
Few reports of delayed quotes
Customer Reviews
Ever reliable installer
"We had some zebra Blinds and shutters installed and we absolutely love them! Matt did a fantastic job installing them. He was so polite and a pleasure to deal with. He took his time to make sure they fit properly. This is our second time ordering from Budget Blinds. The first time was a few years ago and we were very happy with them. We will definitely contact Budget Blinds again when we replace our next windows." —Nicole Gallant-Daigle, Google Reviews
Proven service efficiency
"We hired Budget Blinds to come and give us a quote for blinds. Peter was quite knowledgeable and pleasant and provided us a quote the next day. Delivery took roughly 4-5 weeks and Matt the installer took care of the rest and completed the installation in 1:30. The solar shades are amazing and I would recommend Budget Blinds to anyone." —Sean Dicks, Google Reviews
5. Blindall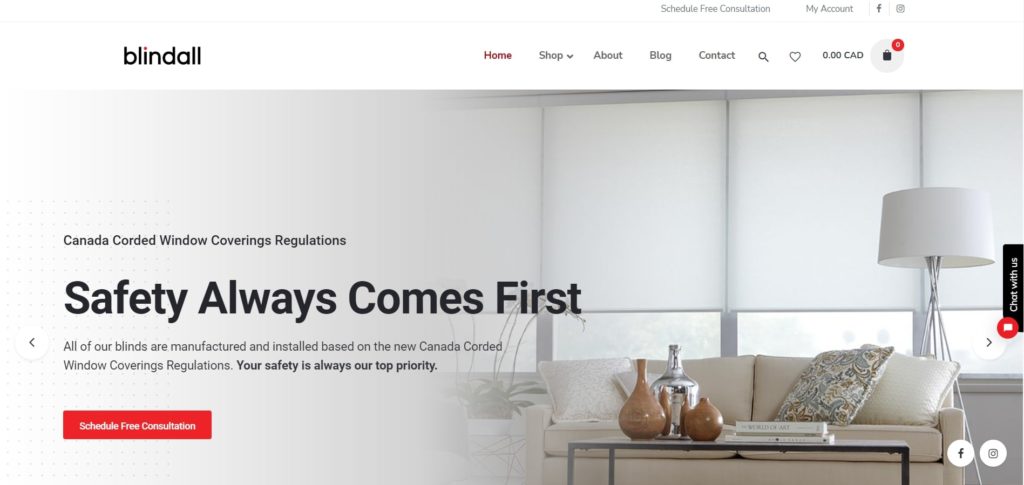 Test
Info
SERVICES
- Consultation

- Custom cut Canadian and European blinds and shades

WEBSITE
https://blindall.ca/
ADDRESS
262 Forestbrook St., Ottawa, ON K2K OB4
CONTACT DETAILS
(613) 663-2990
OPERATING HOURS
Monday to Friday: 9:00 AM - 6:00 PM

Saturday: 10:00 AM - 5:00 PM
| | |
| --- | --- |
| Criteria | Ratings |
| Price Competitiveness | ★★★★★ (5/5) |
| Range of Products | ★★★★☆ (4/5) |
| Customer Service | ★★★★★ (5/5) |
| Window treatment expertise | ★★★★★ (5/5) |
| Delivery and installation efficiency | ★★★★★ (5/5) |
| Reachability and responsiveness | ★★★★★ (5/5) |
| Bonus Features | ★★★★☆ (4.75/5) |
| Extra offers | ★★★★☆ (4.5/5) |
| Website | ★★★★★ (5/5) |
If you're set on installing blinds and shades to beautify your windows, no other provider is as stellar as Blindall.
This local company provides high-quality window treatments, expert consultation, and efficient installation. Its customers' overwhelmingly positive feedback can attest to that.
The catch is that the company has been around early, being incorporated only in 2019.
One of the impressive qualities of the company is its commitment to catering to any budget. It will even try to compete with leading providers to give its clients the best price possible.
We also love the company website. They have their products on full display online, and you can see the prices once you select one.
Moreover, you can opt for a no-obligation consultation if you're uncertain about what blinds or shades to buy.
You might want to opt for other picks from our list if you're more inclined to draperies. Blindall has limited items for the said window treatment type.
Also, remember that not all the shades and blinds they offer are Canadian-made, making it less appealing for customers who are into supporting local products.
That aside, the stellar reviews still make Blindall a service provider worth checking out.
On-time delivery and installation
Allows smooth online shopping of shades and blinds
Offers free shipping upon reaching the price threshold
Provides special offers (such as coupons) to subscribers
Products not entirely local
Specializes in blinds and shades only
Customer Reviews
Service worth recommending
I was referred for Blindall by one of my very close family. I have had an amazing experience and am very happy with the professionalism the team has. The choice of material, suggestion, pricing has been excellent. I ordered blinds for the entire house and goes without saying, Kaan has been amazingly helpful during the selection and Paul and Joe when visited for installing the blinds have been super quick and accurate while installing. The blinds after installation look Excellent!!! —Tejpaal Sohal, Google Reviews
Hard-to-beat pricing and efficiency
We went with Blindall for our fabric blinds installation in our home (bedrooms, living room, and all of the sunroom) after checking out and getting estimates from different small and big blinds companies. The product is very high quality and the prices are unbeatable! Their selection of the different types of blinds is very stylish and elegant in terms of design and colour. Most importantly, Khan offered the best customer service and planning. During the free consultation, he answered all our questions in detail, took the time to carefully get all the measurements, advised us of the best recommendations for the types of blinds to choose, as well as was very efficient and thorough with regards to coordinating the prompt installation. Overall, I would use Blindall again and I am already recommending it to anyone I know. Thanks, Khan and Blindall for 5-star service and product. —Nancy Elhajjar
FAQs about Window Treatments in Ottawa
---
Window treatments are investments that can make or break the overall appeal of a room. Installing shades or blinds that will not resonate with your interior will be a regretful move.
Our recommended top window treatment services in Ottawa will help you avoid unwise purchases and DIY pitfalls. You may spend a bit today, but you'd thank us later once you see the results.
If you're into the contemporary appeal of blinds, we also have recommendations. Check out our list of the best blind stores in Ottawa to be acquainted with more premium services in your area.