6 Best Volunteer Groups in Ottawa
Has life been good to you and do you feel like giving back to those in need? The great news is that there's always a group that can benefit from your volunteered time and effort!
There's no shortage of people and causes that need help so you won't have a hard time finding one that resonates with you. In fact, there's a special section at the City of Ottawa website that's dedicated to volunteering.
But for this listicle, we're also featuring the best volunteer groups in Ottawa for you to consider.
Does It Cost Anything to Volunteer in Ottawa?
We made sure to carefully vet the organizations we're featuring in this article so you won't fall prey to scam "voluntourism" groups that fool well-intentioned people into paying them.
So if it isn't a voluntary program abroad, there's no real reason for you to pay a fee to volunteer for Ottawa groups at all. However, getting involved in different causes under legitimate organizations does require some official steps.
We made a table to show some of the typical steps that a real organization requires of volunteers. Besides, each one is either a linked resource or a more practical description of how and where to obtain it.
| | |
| --- | --- |
| STEPS TO VOLUNTEERING IN OTTAWA | RESOURCE |
| Police records check | Ottawa Police |
| Accessibility training | IASR Training for volunteers |
| Parental consent | Parents or guardians of volunteers under the age of 18 |
| Application, interview, orientation | Website or office of the chosen volunteer group |
Of course, not all volunteer-based groups will have the same application process and requirements. It's good to do your own research or speak to a resource person from the organization you're interested in volunteering.
The Best Volunteer Groups in Ottawa
Are you ready to share your time, energy, skills, and other personal resources for a good cause? Then let's take a closer look at some of the best volunteer groups in Ottawa.
1. Ottawa Humane Society
SERVICES
Lost and found, community outreach, mobile spay/neuter services, room rentals
ADDRESS
245 West Hunt Club Rd. Ottawa, ON K2E 1A6
CONTACT NUMBER
613-725-3166


[email protected]

WEBSITE
https://ottawahumane.ca
OPERATING HOURS
Municipal Animal Shelter:
Monday to Friday 11 AM – 7 PM.
Saturdays 10 AM – 5 PM
Sundays 11 AM – 4 PM
*Closed on Statutory Holidays
Adoption Centre by appointment only
Year after year, the Ottawa Humane Society has been caring for thousands of homeless, injured, and sick animals. This registered non-profit has been around since 1888 and has continued its animal welfare programs with the support of volunteers and community members.
Some of its most popular services include a mobile spay/neuter clinic, animal emergency shelters, adoption programs, and Humane Education programs for kids.
There are three main ways to get involved with OHS's programs: by volunteering, attending or organizing events, and launching a career with the organization. If you want to volunteer, you must be 18 years or older, have useful skills to contribute, and can commit to at least a year in the volunteer program.
There's a youth volunteer program in place for those who are under 18 years old. Unfortunately, OHS is not currently recruiting under this program.
You can also get involved by taking part in events. It's as easy as creating a Facebook Fundraiser or a GoFundMe campaign on behalf of the Ottawa Humane Society!
Allows completion of high school community service hours
Child and youth programs are available
Regular community calendar events
No cooperative education placements for student volunteers
The adoption centre is closed until early September
The youth volunteer program is currently not recruiting
Customer Reviews
Read the following feedback on the Ottawa Humane Society:
"We're fortunate to have services like the Ottawa Humane Society. Unwanted pets and rescue animals etc need our help sometimes. It's understandable why people can't afford to keep their pets anymore. There could be many reasons why. Bringing them to the humane society is the best step if there aren't any other options. We needed to sadly let go of a couple of rescue cats because it wasn't feasible. The society was helpful and courteous and took them in. I'm sure they will find a good home. Thank you!" – "Yodaman"
"I have had all 3 of my rescue kittens fixed and microchipped at the mobile clinic and it has always been a pleasant experience. They are polite and very professional. All 3 procedures went well and never had any complications. 5 Stars!" – Jackie
2. Habitat for Humanity Greater Ottawa
SERVICES
Volunteer-based charity building simple, decent, and affordable homes, sells with no-interest mortgages to local families of all faiths and cultures
ADDRESS
3 Iber Road Ottawa, ON, Canada K2S 1E6
CONTACT NUMBER
613-749-9950


[email protected]

WEBSITE
https://habitatgo.com
OPERATING HOURS
Monday to Friday 8 AM – 4 PM
Closed on Saturdays and Sundays
Habitat for Humanity Greater Ottawa recognizes the need for affordable housing for tens of thousands of low-income Ottawa families. So instead of the usual five-year waiting time to access social housing, this organization aims to streamline the process and turn them into homeowners instead.
The organization does not provide free homes to people. Instead, it works with volunteers and partners to build homes and sell them to needy families with no downpayment and at a fair market value.
And because volunteers are what keeps Habitat for Humanity Greater Ottawa going, there's room for your shared time and efforts here. You can opt to volunteer at build sites, with the ReStore, or at the various community events in Ottawa.
For safety reasons, the organization doesn't accept volunteers under the age of 16. However, the Habitat ReStore does accept volunteers aged 16 to 18 years old provided they can work alongside adults.
Note: At the moment, both build and ReStore programs are currently not accepting new volunteers because of the pandemic. But the organization encourages volunteer applications to continue so they can be processed as soon as things get back to normal.)
Offers several constructive ways to volunteer or get involved
Affordable Homeownership Program open for volunteers
ReStore sells appliances and furniture at reduced prices
Currently not accepting build or ReStore volunteers
Limited donation pickup service for some ReStore items
16 – 18-year-old volunteers will require adult supervision
Customer Reviews
The following have good words to say about Habitat for Humanity Greater Ottawa:
"Their efficiency, ability to provide training to help build, how they prepare the families to own the houses and budget to pay for them, and so much more!" – Marta Varisco
"Habitat GO does tremendous work within the community – they are an amazing organization to work with!" – Ryan McBride
3. Ottawa Food Bank
SERVICES
Grows, collects, purchases, sorts, and distributes food from various sources to feed Ottawa communities
ADDRESS
1317 Michael Street Ottawa, ON K1B 3M9
CONTACT NUMBER
613-745-7001


[email protected]

WEBSITE
https://www.ottawafoodbank.ca
OPERATING HOURS
Monday to Friday 8 AM – 4 PM
Closed on Saturdays and Sundays
The volunteers at Ottawa Food Bank are pretty hands-on with what they do. Aside from food sorting tasks at the main warehouse, volunteers can also participate in the organization's Community Harvest farming program.
The Ottawa Food Bank also allows group bookings with a maximum of 15 volunteers per group. Those who have up to 30 people in a group are encouraged to volunteer as Community Harvest helpers to prep soil, weed, plant, and harvest crops for the food bank instead.
Like most nonprofits, all volunteers are required to be at least 18 years old while pandemic regulations are strictly observed. However, the organization does have youth and student programs in place for younger volunteers.
But unlike other charities and non-profits, volunteering with this organization doesn't require a minimum time commitment. The Ottawa Food Bank also generally doesn't require volunteers to undergo a police records check (though this is subject to the decision of the volunteer coordinating team).
No minimum time commitment to volunteer
Allows completion of high school community service hours
Accepts group volunteer bookings
Volunteer shift lengths are on an as-needed basis
Currently not accepting new volunteers for food sorting
Drop-in volunteers are not accepted
Customer Reviews
Here is some feedback on the Ottawa Food Bank:
"Doing great work feeding the economically disadvantaged in Ottawa, I contribute to this organization, it is well run." – David Lesley
"This organization represents the best part of our city!" – Lola Chaar
4. Shepherds of Good Hope
SERVICES
Supportive housing, transitional shelter programs, community support services
ADDRESS
233 rue Murray Street Ottawa ON K1N 5M9
CONTACT NUMBER
613-789-8210
reception@sghottawa.com
WEBSITE
https://www.sghottawa.com/
OPERATING HOURS
Always open
Tours by appointment only
The mission of Shepherds of Good Hope centers around harm reduction and providing hope for the homeless and vulnerable people of Ottawa. It does so via ethical fundraising and financial management with an emphasis on donor-centred sustainability.
Its main services include supportive housing facilities, transitional shelter programs, and other community services. There's a soup kitchen that serves up 400 meals a day for the community and an evening drop-in centre helping over a hundred people nightly.
There are individual, seasonal, and group volunteer programs in place at this organization. All volunteers need to be at least 18 years old and should fill out the application form for their selected program.
Individual volunteers are needed for a wide range of roles and skills. You can help out at Shepherds of Good Hope's soup kitchen, as an office administrator, and more.
If you're aiming to volunteer as part of a group, make sure you don't go beyond 20 people. Weekends are also typically booked in advance for group volunteers as those are the most convenient times for most people.
Accepts seasonal and group volunteer bookings
Multiple volunteer roles are available
Personal tours are available
Weekend volunteer shifts are usually booked in advance
Limited slots for seasonal volunteers
No youth or student volunteer programs in place
Customer Reviews
Read what people have to say about Shepherds of Good Hope:
"Compassionate place that helps homeless and vulnerable people in Ottawa. Great place to work and volunteer. Thanks for all you do, Shepherds of Good Hope!" – Chris O'Gorman
"While I was a member of the Ottawa Police Force I took many people on the street to the Shepherds of Good Hope always they came back to me that they taking care and the staff, the food and the bedding had been the best place to be while getting on their feet. Anyone how to write a review not to be well treated or the food is not good I will tell you; You should spend one night working as a volunteer at that place and see what you can do better. To the personnel God Bless You for what you are doing you cannot do more to those who always see things differently because they do not know any better." – Andre Lavoie
5. Volunteer Ottawa
SERVICES
Database of volunteer opportunities, Volunteer Pool, and volunteer resources, helps organizations find the volunteers they need and help volunteers give back to their community
ADDRESS
815 St. Laurent Blvd, Suite 208 Ottawa, ON, Canada K1K 3A7
CONTACT NUMBER

[email protected]


+1 613-736-5270
WEBSITE
https://www.volunteerottawa.ca/
OPERATING HOURS
Monday to Friday 9 AM – 4 PM
Closed on Saturdays and Sundays
For a change of pace, we're including a portal for volunteer opportunities in this listicle instead of an actual organization or charity group.
Volunteer Ottawa aims to fortify the non-profit sector by providing users access to tens of thousands of pooled volunteer resources. It's meant primarily for the legitimate organizations in Ottawa and its surrounding areas that regularly need around 40,000 volunteers to help them with their work.
The website has helpful articles on volunteering, leadership, and training for different kinds of non-profit vision missions. We find the volunteer pool feature especially handy for non-profits who want to get a comprehensive picture of what a volunteer can contribute to their organization.
The Volunteer Profiles will easily determine if a person is the right candidate for a particular cause. To sweeten the deal, nonprofits who are members of Volunteer Ottawa can enjoy several benefits like unlimited postings, discounted workshop registration fees, and more.
So whether you're in need of volunteers or want to be one, you can register to join this site and get notifications for opportunities for either (or both).
Pools resources on volunteer profiles for Ottawa nonprofits
Virtual volunteering opportunities are available
Makes volunteer opportunities streamlined and easy to find
Services and benefits are geared more for nonprofits than volunteers
Volunteer Management and other workshops are not free for members
Undetermined response time between organization and volunteer
Customer Reviews
The following have good things to say about Volunteer Ottawa:
"Discovered this awesome site and looking with great anticipation in getting the Volunteer position that I am after. I have a very positive attitude and know in time that I will reach the goal that I am looking for with these awesome people, very highly recommended." – Vivian Rank
"Absolutely recommend! The demand for volunteers is greater than ever so the work done here is critical. They are making great progress." – Dennis Jackson
6. Dress for Success: Ottawa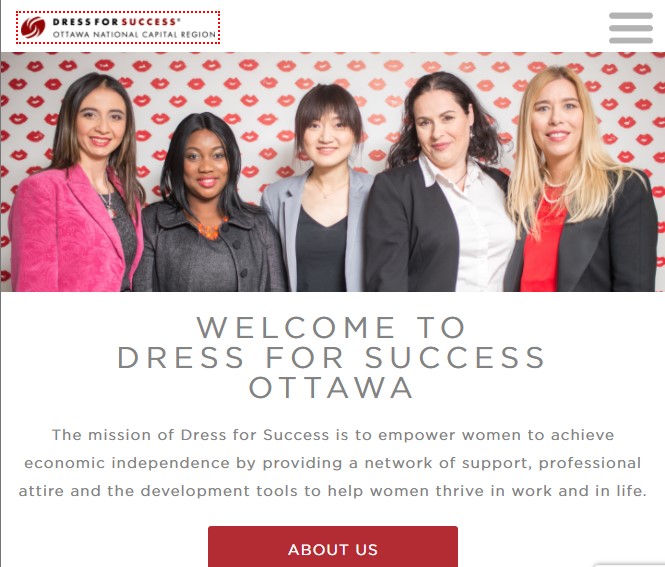 SERVICES
Support Network for women and gender nonconforming individuals to achieve economic independence + professional clothes donation
ADDRESS
200 Catherine St, Ottawa, ON K2P 2K9, Canada
CONTACT NUMBER

[email protected]


+1 613-277-0111
WEBSITE
https://ottawa.dressforsuccess.org/
OPERATING HOURS
By appointment,  9 to 5 pm Monday to Friday and 9 to 2pm on Saturday
Dress for Success Ottawa National Capital Region fills the gap for the corporate needs of disenfranchised women and gender nonconfirming people. The systems in place are already difficult as it is for women and nonbinary folk, so Dress for Success: Ottawa is here to cover all the basic needs.
Their main niche is providing professional attire for their constituents that are preparing for the workplace. However, they also provide career development tools to help people upgrade their skills, online courses, virtual workshops, peer support and networking.
This charity organization also arranges their volunteers to create safe spaces and support systems for the women and nonbinary individuals which could range from being Wardrobe Consultants, Career Specialists, Committees Members and more.
 They also have a program for long-term placement for students. Not only do they help people in need, but they also take care of their own.
Dress for Success Ottawa is 100% funded by the generosity of Ottawans. So, if you're not in the area to donate your clothes you can still help the cause by making a financial donation online.
But if you are in the area, you have multiple ways to help. Outside of donating your clothes and volunteering, this charity organization is also encouraging you to host fundraisers and donation drives with their assistance.
Remote volunteer programs available
Casual Volunteer Positions available
Long-term student placement programs available
Different volunteer roles and opportunities available
Most Volunteering Opportunities are remote
Some volunteering opportunities require a Police Record Check
Customer Reviews
The following have good things to say about Dress for Success: Ottawa:
"Amazing volunteer based boutique for assisting in getting you clothes for your next interview and job"
"Psyched about this charity and what they are doing for women in the ottawa area. I'll be bringing another box of stuff to their next donation day. This charity takes donations once a month that are gently used and interview appropriate to help women in need in the ottawa area on their road to success."
FAQs About Volunteer Groups in Ottawa
---
We hope you'll soon find the organization you'd want to help now that you read about the best volunteer groups in Ottawa.
Did we leave out a volunteer group that's worth mentioning? Send us a message so we can review it.
Aside from volunteering, there are other ways you can get to know this city. Read our listicle on the weird things to do in Ottawa for some offbeat recommendations.