The 5 Best Videography Services in Ottawa
Today, almost anyone with a smartphone can shoot a video and call it content. It takes real skills and experience to turn that video into something worth watching.
Weddings, parties, and other events all contain memories we'd like to treasure forever. A good videographer is key to how we can always remember these moments.
In this article, we will discuss the best options for videography services in Ottawa.
How Much Does Videography Services Cost in Ottawa
The typical hourly rate for videography services in Ottawa is between $30 and $80. We've put together a list of the top in the city for you to choose from.
We created a table that displays their expected rates as well as the services they provide, allowing you to compare each entry on your own.
| Videographer | Packages/Services Available | Estimated Price |
| --- | --- | --- |
| Ajax Creative | Directing | $30/hr - $260/hr |
| | Screenplay Writer | $70/hr - $160/hr |
| | Voice Work | $110 - $410 |
| | Audio Editing | $40 - $1,010 |
| | Camera Apparatus Rental | $30/hr - $110/hr |
| | Video Editing | $70/hr - $170/hr |
| | Camera work | $110/hr - $410/hr |
| | Supplemental/Establishing Shots | 10% to 50% additional fee increase |
| Dear Darling Films | Camera Work: | $300 - 400/hour |
| | Audio Editing: | Starts at $20, increases every additional 10 mins of footage |
| | Video Editing: | Starts at $100/hour |
| Union Eleven | Wedding Package: | Starts at $2,950 |
| Mocha Tree Studios | The Classic Film | $3,600 |
| | The Heirloom Film | $4,100 |
| | The Epic Film | $6,000 |
| | Additional Photographer: | $600 |
| Cloud in the Sky | Cloud in the Sky Basic Package | Starts at around $750 to $1,000 |
The Best Videography Services in Ottawa
There are numerous video production houses all over Ottawa but we want the best for you. We listed down the top options in the city and compared them with the criteria below:
1. Ajax Creative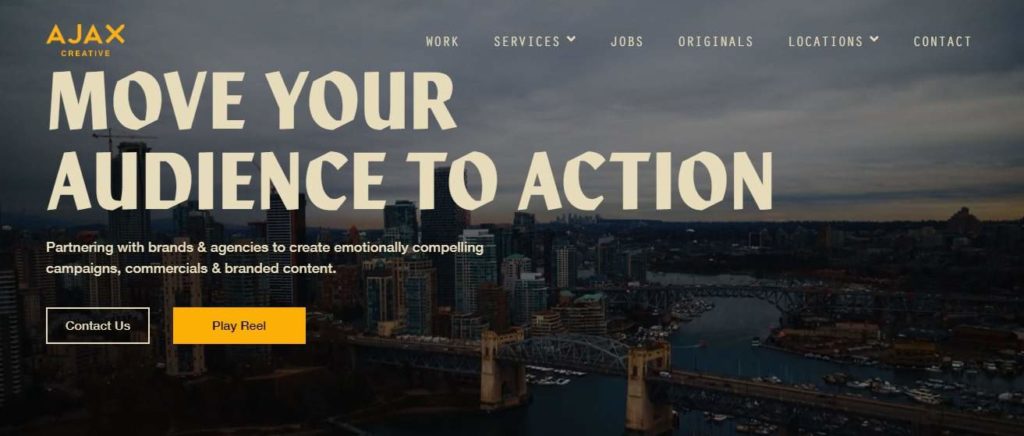 Test
Info
SERVICES
Video Production, In-House Talents, Creative Development, Project Management, Animation, Sound, Post Production
WEBSITE
https://ajaxcreative.com
ADDRESS
116 Albert St Suite 300, Ottawa, ON K1P 5G3, Canada
CONTACT DETAILS
613-706-6731
OPERATING HOURS
Monday - Friday: 9:00 AM - 6:00 PM

Closed on weekends
| | |
| --- | --- |
| Criteria | Ratings |
| Rates | ★★★★☆ (4/5) |
| Equipment | ★★★★★ (5/5) |
| Services Offered | ★★★★★ (5/5) |
| Staff Experience | ★★★★★ (5/5) |
Ajax Creatives is a video production agency that has 3 locations in Canada – Ottawa, Toronto, and Vancouver.
For serious videography and filmmaking needs, Ajax Creatives is one of the best choices. They offer the usual video production and other important services such as animation, post-prod, sound, and more.
We like that Ajax Creatives have what they call the 7 codes to making a perfect video: sound, color, transitions, framing, mood, and rhythm. With these 7 elements in check, they believe they can make the right video for you.
Ajax Creatives is a good choice for clients who have a pretty high budget. They've worked on many commercials featuring famous brands like Microsoft, Unilever, and Virgin.
They're also willing to work on short films, documentaries, and advertisements. Another factor we like about Ajax is that they're basically a film studio – they have in-house talents, and post-prod editors that can do everything you need in a video production.
In other words, you don't have to hire anyone else if you decide to go with them because their services are complete. They even do animations which is not a common service offered by other production houses.
The only true issue with Ajax Creatives is the price. Only those with a high budget can hire them, like medium to large companies.
If you plan on making a simple video and are just looking for a good videographer to handle the camerawork, Ajax Creatives isn't for you. However, if you're part of a big company or have a business that's looking for a good production house to take care of all your video needs, Ajax Creatives is the right choice.
Multiple services offered
The 7 Codes of Quality
Complete equipment
They handle multiple clients that they might prioritize over you
Expensive
Customer Reviews
Perfect for businesses

"Ajax really took the time to understand our business, our objectives and developed a well thought out storyboard, concept and framework for the video. Their production value is unlike any other that we have seen in the city and were extremely impressed with how they were able to interact with our team to get the best out of them for the video. They are very professional, reliable and creative. We are extremely impressed with the overall project and look forward to working with them again soon! We highly recommend Ajax Creative for any video needs." – Nick Mcrae
Top notch

"Ajax Creative is a top notch video partner. We on-boarded them as our video agency in the fall and have had nothing but a smooth, positive experience. The team is highly communicative and very adaptable to the needs of your business. I would recommend their services to any business in Ottawa looking for kickass video content!." – Roger Meager
2. Latcon Demolition

Test
Info
SERVICES
Wedding Videography
WEBSITE
https://deardarlingfilms.ca/
CONTACT DETAILS
613-804-5534
OPERATING HOURS
Monday - Friday: 9:00 AM - 8:00 PM

Open 24 hours on weekends
| | |
| --- | --- |
| Criteria | Ratings |
| Rates | ★★★★★ (5/5) |
| Equipment | ★★★★★ (5/5) |
| Services Offered | ★★★★☆ (4/5) |
| Staff Experience | ★★★★★ (5/5) |
Filmmaker Natasha Cloutier's Dear Darling is a videography company that specializes in weddings.
The first thing that caught our eye about Dear Darling is their staff. Their personnel is a team of women who all studied videography.
An astounding number of videographers are men and according to them, being an all-female team gives them a fresh and unique perspective on how wedding videos should be done.
Like Dear Darling, we believe that women have a sixth sense when it comes to weddings and this can be seen with how Dear Darling's videographers handle their projects. They emphasize on the natural but beautiful moments in weddings.
They focus on the couple in their most honest and most vulnerable moments which gives their videos a personal touch. Dear Darling's staff also takes pride in their discreteness.
They want to be as stealthy as possible when taking videos during your event. They strongly believe people act more natural and candid when there's no camera pointed at them.
They want to capture the most genuine moments in your wedding and they do that by dressing like the guests. Their staff wears dresses to blend in with your guests so they won't be too noticeable.
Our only gripe with Dear Darling is their lack of other services. If you're looking for something else to film that isn't a wedding, it's better if you look elsewhere because Dear Darling only does weddings.
However, if you're a couple that wants a wedding video that captures the love you have with each other naturally, Dear Darling is the perfect choice.
All-women Staff
Personal touch and experienced videographers
No main office
Services are limited
Customer Reviews
Perfect for weddings

"Having a videographer capture our wedding day was something I always dreamed of and working with Dear Darling Films was the best decision we ever made. Dear Darling Films not only timelessly and beautifully captured our wedding day but the team was so professional and kind. Tash took the time to get to know us individually and as a couple. Getting married during a pandemic was not easy but Tash was so supportive and accommodating through all our changed plans. I'll never forget the feeling of seeing that email come in with our wedding teaser film. Watching it brought us so much joy, and Dear Darling Films captured moments, reactions, and emotions that would not have been remembered otherwise. The team's perfectionism and professionalism shines through in every wedding video. Dear Darling Films will make sure your video is perfect and unique to your couple. If you are debating getting a videographer, I would highly recommend Dear Darling Films!" – Natalia DD
Natasha did great!

"Dear Darling was not only such a pleasure to work with, but she did such an outstanding job with our wedding video! If you had to choose between photos or a film, I would definitely go with the film. It brought out so much emotion while watching and Natasha did such a great job capturing all the important moments. It meant a lot to us. Thank you!! – Krista O'Connor
3. Union Eleven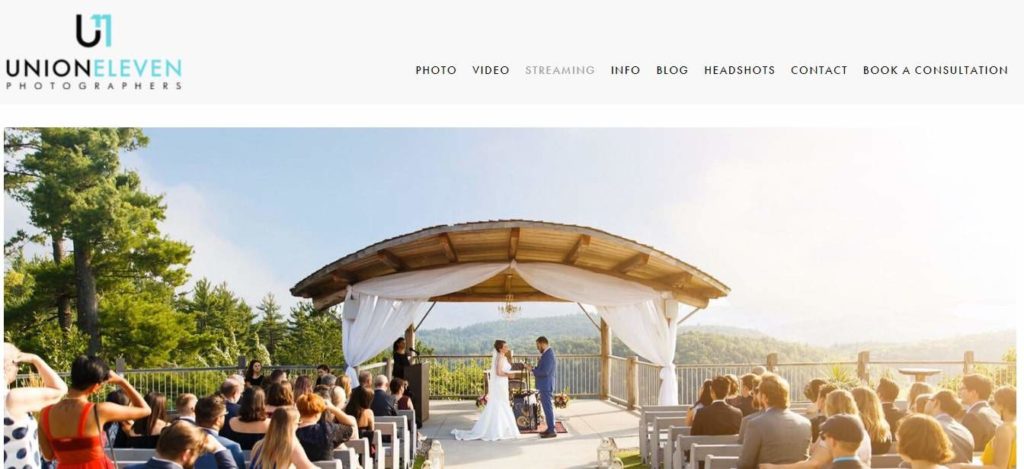 Test
Info
SERVICES
Wedding Videography, Commercial Videography, Photography, Streaming Assistance, Headshots
WEBSITE
https://www.unioneleven.com/
ADDRESS
619 Bank St, Ottawa, ON K1S 3T5
CONTACT DETAILS
613-317-7566
OPERATING HOURS
Monday - Friday: 9:00 AM - 5:00 PM

Closed on weekends
| | |
| --- | --- |
| Criteria | Ratings |
| Rates | ★★★★☆ (4/5) |
| Equipment | ★★★★★ (5/5) |
| Services Offered | ★★★★★ (5/5) |
| Staff Experience | ★★★★☆ (4/5) |
Union Eleven was established in 2011 by partners Andrew Geddes and Derrick Rice. The two first started with their own photography companies but eventually partnered up to create Union Eleven.
Union Eleven was built by the pair on the belief that photographers should be able to express themselves with their photos. They add a personal touch to every picture they capture and we'd like to think they do the same with the videos they produce.
One of the first things that we noticed about Union Eleven is their streaming options. They offer streaming options for your loved ones that can't come to the wedding.
It's also a good thing that Union Eleven is able to do videography projects outside of weddings. This is good for those on a budget and just want a simple videography team for their event.
Union Eleven primarily does wedding videography and photography but they also offer commercial services like headshots. These are cropped photos of a person's face, typically used by aspiring models and actors for their resume.
For their videography, they are able to do one-day edits for rushed content. Their editing services consist of sound design and color grading so you won't need to worry about your video looking unprofessional.
Another good thing with Union Eleven is that the music they use for their wedding videos are actually licensed. You can post them online without having to worry about copyright issues.
Overall, Union Eleven is another good company to check out when it comes to videography. They have multiple services and their portfolio is available to check out anytime on their website.
Wedding services + more
Experienced staff
Limited services for other videography needs
Wedding coverage is a bit pricey
Customer Reviews
Great pictures

"Highly recommended! Heather from Union Eleven was amazing. Very kind and very patient with my family and me! Thank you very much for these great pictures!" – Louiza Toussaint Merone
Livestream was great

"We used Union Eleven to livestream our wedding this July and it was one of the best decisions we made. Derrick was fantastic and we received so much positive feedback about the livestream. It was seamless, professional and high quality. Really top notch. We cannot recommend them enough." – Alex G
4. Mocha Tree Studios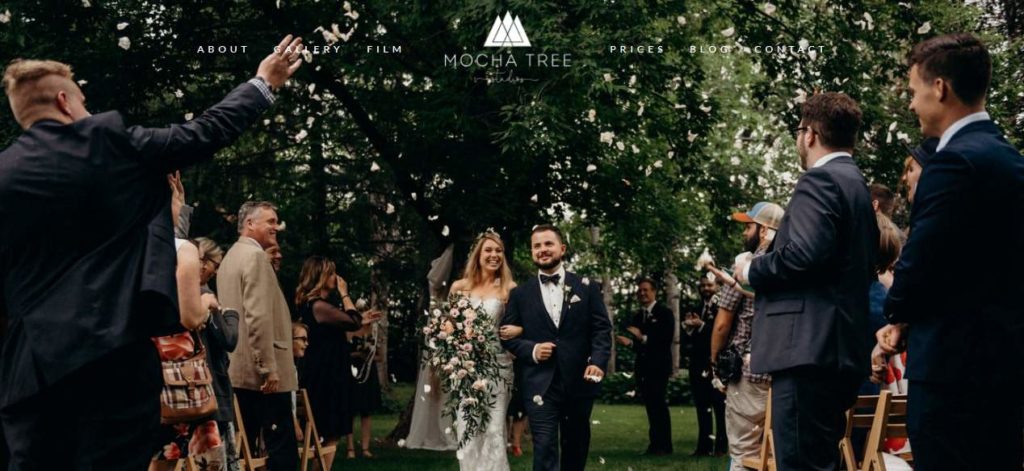 Test
Info
SERVICES
Wedding Videography, Wedding Photography
WEBSITE
https://www.mochatreestudios.com/
ADDRESS
378 Gallantry Way, Ottawa, ON K2S 0R1, Canada
CONTACT DETAILS
613-866-7663
OPERATING HOURS
Monday - Friday: 9:00 AM - 5:00 PM

Closed on weekends
| | |
| --- | --- |
| Criteria | Ratings |
| Rates | ★★★★☆ (4/5) |
| Equipment | ★★★★★ (5/5) |
| Services Offered | ★★★★★ (5/5) |
| Staff Experience | ★★★★★ (5/5) |
Mocha Tree Studios is another videography company that specializes in weddings. They're very proud of how they emphasize narrative in their videos, adding a sense of story to their client's wedding films.
They have won multiple awards for their services and have been revered by numerous wedding-related companies in Ottawa such as The Wedding Show, The Knot, and WeddingWire.
We like that Mocha Tree Studios gives a sort of plot to their clients' wedding day. It gives more life to the clients' special day and also gives the guests and audiences something to root for.
This movie approach makes their services unique and makes their clients' wedding day more memorable. Moche Tree Studios believe that wedding videos are the best way to immortalize the special day you and your significant other will have.
Everything, from the cake to the flowers to what the guests were wearing will be captured in detail by their experienced videographers and photographers. It's a special day and they want you to remember it forever.
The only downside we noticed for Mocha Tree Studios is their expensive price. They have three packages to offer for their videography services, all of which are somewhat expensive.
The Classic Film package starts at $3,600, and covers 8-hours of wedding day coverage, one photographer, access to client portal, private online gallery, a custom USB box and assorted small prints, and consultation and timeline assistance.
The Heirloom Film package starts at $4,100 and covers the same inclusion as the Classic Film pack with additional 2 hours of wedding day coverage.
The Epic Film starts at $6,000 and covers everything the previous package has plus 2 more hours of wedding coverage and another photographer.
Despite the price, it's still appreciated that their services are packaged. It will be easier to organize and plan your wedding when the videographers' services are easily calculable.
If you want a wedding video that feels like a romantic film made by professionals, Mocha Tree Studios is definitely the choice for you.
Focus on storytelling
Excellent portfolio
Expensive
Numerous clients, better to call them ASAP
Customer Reviews
Professional

"Cannot stress this enough – they are the absolute best! Their personality and creativity shines through their work! Michael and Sheen not only receive positive feedback from us, but also with our friends and family! One of the biggest feedback we've received was how professional and fun they were throughout the wedding "they fit in with us so much! As if they were part of the gang!" Thank you so much Michael and Sheen, you two hold a very, VERY place in our hearts and we cannot thank you enough!!" – Jane Vince
Out of this world

"The experience my husband and I had with Mocha Tree's on our wedding day was so wonderful and truly out of this world, it made the wedding that much more special. All of my family and friends were complimenting how comfortable Michael made them feel behind the camera. We are very happy with the final product and would highly recommend Mocha Tree Studios for any and all events!" – Sara Teller
5. Cloud in the Sky Studios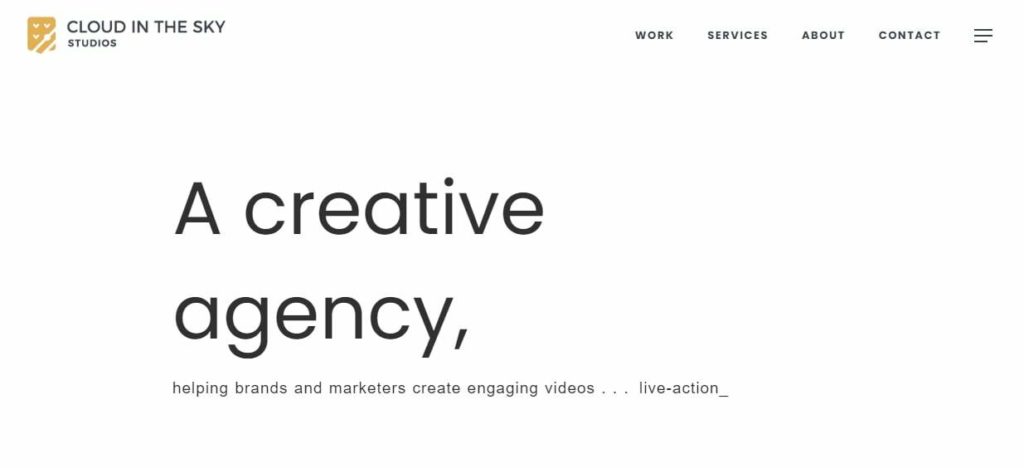 Test
Info
SERVICES
Video Production, In-House Talents, Creative Development, Project Management, Animation, Sound, Post Production
WEBSITE
https://cloudintheskystudios.com/
ADDRESS
384 Bank St., Suite 201 Ottawa, ON K2P 1Y4
CONTACT DETAILS
613-902-8056
OPERATING HOURS
Monday - Friday: 9:00 AM - 7:00 PM

Closed on weekends
| | |
| --- | --- |
| Criteria | Ratings |
| Rates | ★★★★★ (5/5) |
| Equipment | ★★★★★ (5/5) |
| Services Offered | ★★★★☆ (4/5) |
| Staff Experience | ★★★★★ (5/5) |
Cloud in the Sky is another good choice for your videography needs. They offer numerous videography services including post-production, camera operating, in-house talents, and creative development.
The company was established in 2010 and until now, it's going strong. The Cloud in the Sky team has a passion for creating stories making sure that they feel real.
This doesn't necessarily mean that all of their videos are grounded to reality, they just want the stories to feel authentic and from the heart.
The Cloud in the Sky team consists of artists, writers, directors, cinematographers, photographers, designers, and editors. They will be under your supervision if you decide to hire them.
Cloud in the Sky specializes in working with corporate and commercial videos but they're also willing to work on smaller productions like wedding videos and short films.
What we like about Cloud in the Sky is their project development services. You can hire them to work with you in developing a script for a short film you're working on.
This is a good way to get your creative juices going because you'll be working with other people who can share their knowledge with you. Brainstorming with a team is certainly more productive than just trying out ideas on your own without getting anyone's feedback.
They also have a dedicated post-production team that will work on your video after the filming process is finished. All of these services are of course more expensive than just your usual camcording team.
If you have the budget, Cloud in The Sky could be the right videography company for you. Their services aren't limited to weddings and they will work with you not just for the money but for the sake of being creative as well.
Multiple services
Project development
Customer Reviews
Punctual

"My wife and I knew the moment we saw one of Cloud in the Sky's short videos that we wanted them to film our big day. Julien and Joseph were incredible! From start to finish they made us feel comfortable while capturing all the most beautiful aspects of our wedding." – Adam Sproule
Highly recommended!

"I cannot recommend Cloud in the Sky Studios enough! We chose this team based on their impressive online portfolio, loving their creative ways of capturing the real life moments and turning it into art. Not only were they all clearly professionals in their field, but they were also the most down to earth group of individuals." — Amy M
FAQs about Videographers in Ottawa
---
Do you have an upcoming event that you want recorded? Or maybe you're thinking of producing your own short film? Check out the best videography services available in Ottawa!
Do you think we selected the best options in the city? If you have any suggestions, let us know!
Looking for photo services instead? Check out our guide to the best photo printing services in Ottawa!