5 Most Popular Shops for Used Auto Parts in Ottawa
Car repairs at some point can be inevitable and expensive too. If you are looking for the best repair solutions but are trying to cut costs, getting some used auto parts might just be the best way to go.
We looked through the most popular shops that offer used auto parts here in Ottawa. We hope these recommendations will help you find some high-quality parts that you've been looking for!
Why should I get used auto parts?
Getting Original Equipment Manufacturer (OEM) parts is the best option for any car repair, but that can most likely cost a hefty amount of dollars.
Although there's the option to get aftermarket parts, these can turn out to be unreliable. After all, who knows what's best for your car other than its original manufacturers, right?
This is where buying used auto parts become the next best option if your car needs repairs.
Most used auto parts car dealers buy secondhand cars to salvage them or recycle their parts.
They fix those that can be salvaged and sell them again. Those that really can't generally be functional anymore are kept as inventory, and the used parts that are still in good condition are sold.
Now you get auto parts that are as good as OEM but at a more practical price. It's also perfect if you have older car models with hard-to-find spare parts.
How much more can I save if I buy used auto parts?
OEM parts guarantee you optimum performance since they are made exactly for your car model's needs but at a price. If you think getting aftermarket parts will save you a lot, you may want to reconsider.
Since aftermarket parts are made by third-party manufacturers, their compatibility with your car is not always guaranteed. This may lead you to even more repairs and more expenses than you have expected in the long run if you're not careful.
Getting used auto parts can save you just about 50% to 75% off compared to brand new OEMs, and they will still give the same quality performance that your car requires.
Know where to get the best used auto parts in Ottawa
We tried to find why these auto parts dealers are favorites among the locals. We assessed them through the following criteria so you can see for yourself which shop will best suit your needs.
1. Arnprior & Ottawa Auto Parts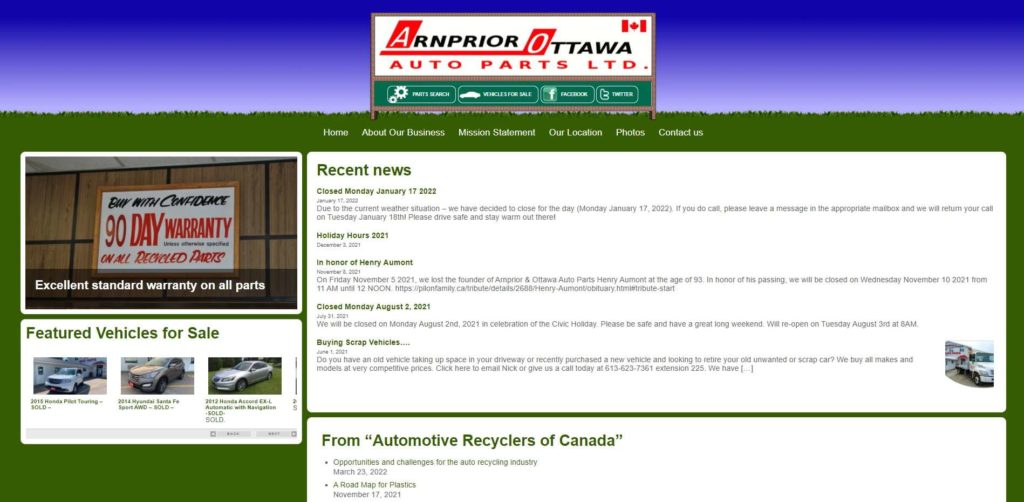 Test
Info
WEBSITE:
http://www.a-oautoparts.com/
ADDRESS:
5445 Madawaska Blvd, Arnprior
CONTACT DETAILS:
Local: (613) 623-7361

Toll-Free: 1-800-267-7386

OPERATING HOURS:
Monday to Friday: 8 am to 5 pm

Closed on weekends

SERVICES:
In-store shopping, curbside pickup, delivery
| | |
| --- | --- |
| Services | ★★★★☆ (4/5) |
| Credibility | ★★★★★ (5/5) |
| Inventory | ★★★★☆ (4/5) |
| Warranty | ★★★★☆ (4/5) |
Sitting on the boundary of Arnprior and Ottawa, this family-owned business has been running since 1967. They have been a go-to spot for locals whenever they're looking for car parts for old and new models alike.
Their huge inventory and expertise in auto parts are highly regarded by many. But it's their good customer service and clean environment that bring them a tier above their competitors.
They're pretty responsive to online and phone call inquiries. Their staff is just as amiable and helpful in person too.
They'll go out of their way to find you parts that you need. And if you are displeased with what you get in any way, they will try to rectify this issue and make up for it.
Their excellent customer service made them a trusted source of used auto parts. Returning customers would find themselves running to Arnprior and Ottawa whenever their cars need some part replacements.
They're also proud members of the Ontario Automotive Association and Automotive Recyclers of Canada as well as registered dealers of the Ontario Motor Vehicle Industry Council.
Being associated with reputable organizations in their industry shows they pass the muster of their peers.
As for the warranty on their used parts, they offer 90 days on most, unless mentioned otherwise. That speaks a lot about the confidence they have in the quality of the recycled auto parts they put out.
It's also worth mentioning that despite their huge inventory, they still manage to keep the place decent and clean. A lot of recycled car garages don't get to maintain cleanliness that well.
You'll also find their online inventory very convenient. If you know what kind of parts you need, you just have to key in your car model into their website's inventory search bar.
You can have these parts reserved for you to pick up or have them delivered to you. They ship their parts promptly so you can get them as early as the next day upon placing an order.
The downside though is that if you're not from Ontario, they won't be able to deliver huge items outside the province.
Since they only sell auto parts, they do not provide installation services. So, if you do not have the know-how to install them on your own, you'll need to find an auto repair shop to do the job for you.
But if you can DIY your way, you'll save a ton of bucks because their prices are also pretty reasonable.
It also helps to know that Arnprior and Ottawa take health protocols seriously. Since the pandemic, they have halted in-store shopping until further notice.
Offers in-store shopping, curbside pick-up, and delivery
90-day standard warranty for recycled auto parts
Online inventory search
Accommodating staff for in-store inventory search
Clean area and environment
Decent prices
No installation services
Technically sits at the boundary of Arnprior and Ottawa and may require a 40-minute drive
Limited delivery for big parts outside of Ontario
Not available on weekends
Customer Reviews
Sincere Business
Excellent service and a fast reply from Matthew, he gave me a great deal on a set of rare calipers for my MINI. I got the parts shipped and delivered the next day. I highly recommend Arnprior & Ottawa Auto Parts as they are sincere and do their best to maintain their business and customers happy, see you soon for more spare parts for my car. – Luis Mendez
Best Service Ever
Best Service I have ever had. Better than new parts. I purchased a new van thinking it was stow and go. The guy at Arnprior auto parts found me everything I needed to make it stow and go. Cleaned them up and even gave me tips on installation. Great prices. I am a repeat customer and I always know I can count on them. – Ron
2. A-16 Auto Parts & Recycling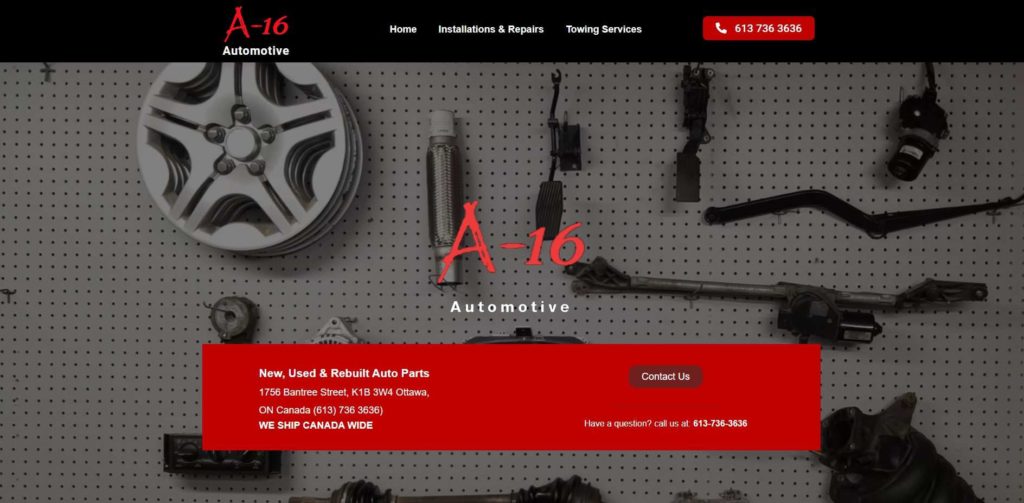 Test
Info
WEBSITE:
http://www.a16automotive.ca/
ADDRESS:
1756 Bantree Street, K1B 3W4 Ottawa
CONTACT DETAILS:
(613) 736 3636
OPERATING HOURS:
Monday to Friday: 9 am to 5 pm

Closed on weekends

SERVICES:
In-store shopping, in-store pick-up, delivery, repairs, and installation
| | |
| --- | --- |
| Services | ★★★★☆ (4/5) |
| Credibility | ★★★★☆ (4/5) |
| Inventory | ★★★★☆ (4/5) |
| Warranty | ★★★★☆ (4/5) |
For 29 years, it seems the A-16 Auto team has made a remarkable impression among their customers.
Their inventory boasts of several brands, from OEMs to recycled auto parts.
They do have a decent inventory of parts on hand. However, they rely on an inventory network, so you might have to wait for a few days for some auto parts that aren't available on hand.
If you need a part that's not available in-store, they can still help you get one, as they are affiliated with one of Canada's largest inventory networks.
What we like best about A-16 is that they also offer installation services. So, if you're clueless when it comes to cars, you can get help to install the auto parts you need for your vehicle.
They can also help test out parts for you so you get to make sure that your purchased recycled parts are functioning well and are in good condition.
Not only that, but they also offer repair services, so it's basically a one-stop shop for everything your car may need.
It's a good place to go if you can't figure out what seems to be wrong with your vehicle. They can check for you and recommend what needs to be done.
If you're lucky, you really don't have to go elsewhere to meet all of your car's needs. They can provide you with the parts you're looking for, install them, do repairs if needed, and get your car running back in shape.
And if you know just about what you need, you don't have to visit the site to find the part. You can opt to search for it in their online inventory system and choose whether to pick it up or have it delivered to you within the day.
It also helps that all the parts they offer come with a 90-day warranty so you can be confident about purchasing their used auto parts.
Extends delivery of parts all throughout Canada
Provides repairs and installation services
All auto parts come with a 90-day warranty
Decent prices
Relies on an inventory network, so some parts may not always be readily available
Not available on weekends
Customer Reviews
Saved Our Car for a Fair Price
We thought our old car was too expensive to repair (by another mechanic) and called A16 to try and sell it for parts. Found out they also do repairs and A16 were able to find the parts needed and repaired our old car at a very fair price! Thank you to Billy and your staff for your excellent customer service. – Nancy Chow Joliffe
Very Helpful
Excellent Service. I took an old ranger there for some work and the guy Billy at the desk was very helpful. He called around for the part i needed and he managed to get it delivered and installed on my truck within a few hours. I tried other locations around and only received a run around like my problem was insignificant. Thanks Billy and the crew.Please like this review if you read it. Thank you and have fun. – Twin T
3. Belfast Auto Recycling & Garage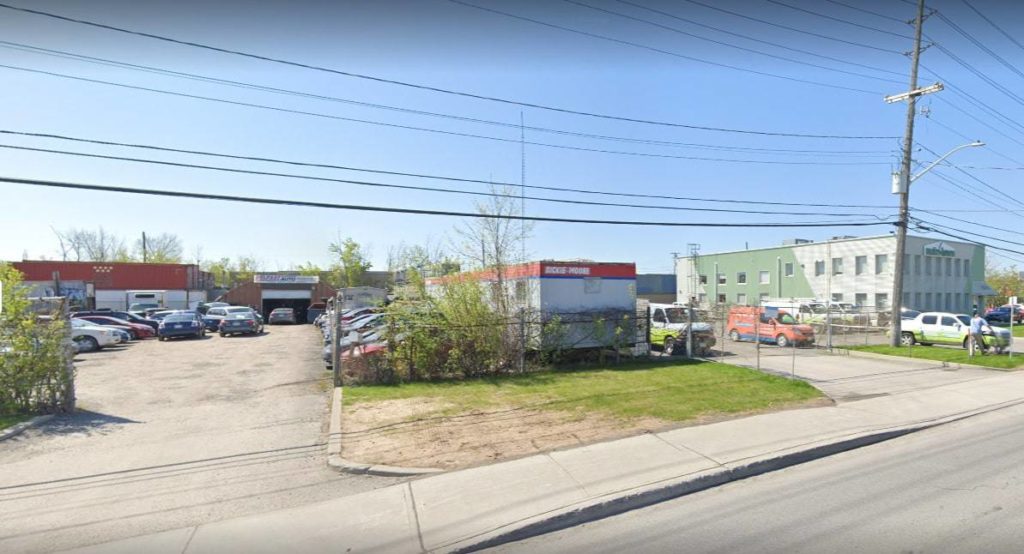 Test
Info
ADDRESS:
1038 A Belfast Rd, Ottawa
CONTACT DETAILS:
(613) 747-4477
OPERATING HOURS:
Monday to Friday: 8 am to 5:30 pm

Saturday: 8:00 am to 2:00 pm

Closed on Sundays

SERVICES:
In-store shopping, in-store pickup, repairs and installations
| | |
| --- | --- |
| Services | ★★★★☆ (4/5) |
| Credibility | ★★★★☆ (4/5) |
| Inventory | ★★★☆☆ (3/5) |
| Warranty | ★★★☆☆ (3/5) |
Among the may automotive shops in Ottawa, a traditional yet trusted garage like Belfast Auto Recycling & Garage still standing can be very remarkable.
They have been in the business for decades and have generations of returning clients. When people and their children and grandchildren turn to you for your services, that speaks volumes of the quality of your services.
If you can't specifically pinpoint what's wrong with your car, Belfast Auto Recycling & Garage can look into it for you.
They can check your car and explain to you in detail what it needs. And of course, they can also provide you with the auto parts you need to keep it running in good condition again.
They're transparent about what repairs and installations they have done so you are fully aware of your vehicle's status.
The shop has also built a sense of trust among their clients, especially their returning customers. It helps that though they're little in number compared to their bigger competitors, they still have the same staff running the place over the years.
Plus, they can all be very funny and welcoming to their customers too.
Unfortunately, they do not have a website or a search inventory, as they're traditional and old-fashioned. But giving them a visit would be worth it because of their good customer service.
However, don't expect the sleekness of modern garages; the place could do well with a little cleanup. But that won't be too much of an issue once you experience the sincerity of their services and the care they give to your vehicle.
They'd even go out of their way to help you salvage old units that other auto repair stores have given up on.
They do the job fast, and they do it well—with sincerity too! To be honest, that's all you really need to provide excellent customer service.
They do small repairs and installation services
Can do car checkups and explain to you your car's condition
Open on Saturdays
Provides warranty on installed motors and transmissions
Fair prices
No website and inventory search
You will need to call or visit them directly to inquire for parts that you need
Decent place but needs a cleanup
Customer Reviews
Happy Customer
First time going and I cannot rave enough. Took there time explaining everything to me so that I would have a better understanding of how my car works. Polite, professional, funny.
They did not rush took there time. Fantastic prices compared to other research I had done.
It will 100 percent be my go to place, and will highly recommend them to anyone whom will listen too me. One happy Customer! – Donna Ashby
10 Years of Good Work
I've been going to Belfast Auto for almost 10 years now. Danny always gives me a reasonable price and I bought my current car from him. He even insists on showing me any part he removes from my car so I can see that it really needed to be changed. The work is good, affordable and he always takes care of me. – Melanie Noll
4. Standard Auto Wreckers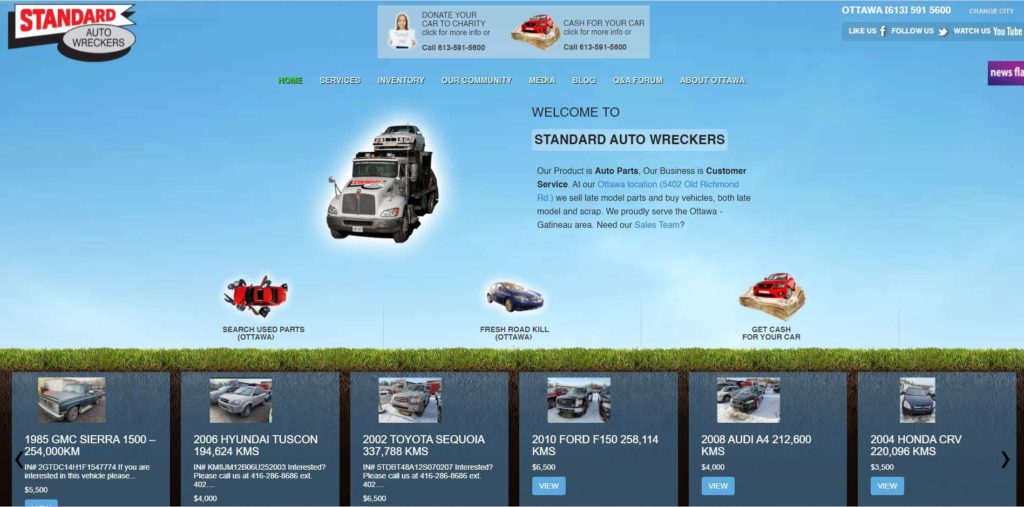 Test
Info
WEBSITE:
https://www.standardautowreckers.com/main-ottawa/
ADDRESS:
5402 Old Richmond Rd, Nepean
CONTACT DETAILS:
(613) 591-5600
OPERATING HOURS:
Monday to Friday: 9 am to 5 pm

Saturday: 9 am to 3 pm

Closed on Sundays

SERVICES:
In-store pickup, delivery
| | |
| --- | --- |
| Services | ★★★☆☆ (3/5) |
| Credibility | ★★★★☆ (4/5) |
| Inventory | ★★★★☆ (4/5) |
| Warranty | ★★★★★ (5/5) |
If you're a car person and know everything you need to find, Standard Auto Wreckers might be a used car parts paradise for you. Basically, they have this vast inventory of old cars whose parts you can pull by yourself.
They even have a Free Parts Day Sale once a month from March to October. On these days, they open their yard and charge a flat rate of $65 per person, and you can pull out as many parts as you can carry from the more than 1,000 cars and trucks in their inventory.
Unfortunately, you'll have to do everything on your own. Make sure to bring your own tools.
Mainly providing services in the Ottawa-Gatineau region for 30 years now, they have been a local favorite for pulling used auto parts. For newer parts and later models though, the inventory for items with Unique Property Identification Code (UPIC) has been moved to Port Hope.
You can check out their vast inventory through an Interchange System across all their branches in Canada. You can even find the rarest recycled auto parts by simply using their search inventory system on their website.
You may either search through their Direct Fit Auto Parts Search or General Parts Search sections on their website for easier tracking of car parts that you may need.
It's also worth noting that they provide different types of warranties on top of their classic 60-day warranty for all their auto parts.
They provide extended packages for these warranties that include labor, should you need to have your purchased items repaired.
These warranty packages come in tiers:
The Silver Plan gives you parts coverage for a year from the date of purchase.
The Gold Plus Plan gives you coverage for one year, plus one-time labor coverage.
The Platinum Plus Plan gives you coverage for three years, plus one-time labor coverage.
However, given that it's a self-service system in here, you might just find their staff a little indifferent to you. Don't expect full-on attention while you look around since they're clear that you'll have to pull things on your own.
That being said, you can find a lot of great deals from Standard Auto Wreckers if having to look around, pull out, and install the parts by yourself is not a deal breaker for you.
Provides online inventory search
Utilizes Interchange System to help you find parts in other areas when not available in Ottawa
Free Parts Day Sale
Wide range of cars and trucks inventory for auto parts pullouts
Provides warranty tiers on top of their classic 60-day warranty
Open on Saturdays
Self-service, including pulling out of the parts from auto units
You might also have to locate parts from their inventory on your own
Ottawa location only offers used car parts for old car models
Customer Reviews
You Can Find Gemstones In Their Yard
I've been here soo many times that one of the staff actually told me they would start charging me rent… 🙂 I haven't had any issues that were reported by other reviewers. I hunt mostly for MK5/6 Volkswagen, and they're hard to come by..I guess the demand is pretty high for these cars. I'd recommend this place, the UPIC yard as you can find gemstones in there for a very, very small portion of the price you'd pay for a new part at the dealership. I'll give it four stars 'cause they're closed on Sundays! I guess the staff have to have a day off and sleep… – F Glaude
Big Savings
I got a replacement bumper for my Grand Caravan there at a great deal last Summer. Their excellent availability of parts and prices enabled me to fix the front of my van, including extra parts and welding supplies (straightening out the metal and filling holes to the sides of the bumper) for less than $200 total. If I had taken it to a shop instead of doing it myself with the help of Standard, it would have cost me at least $4000. – Mike Goguen
5. Kenny U-Pull Ottawa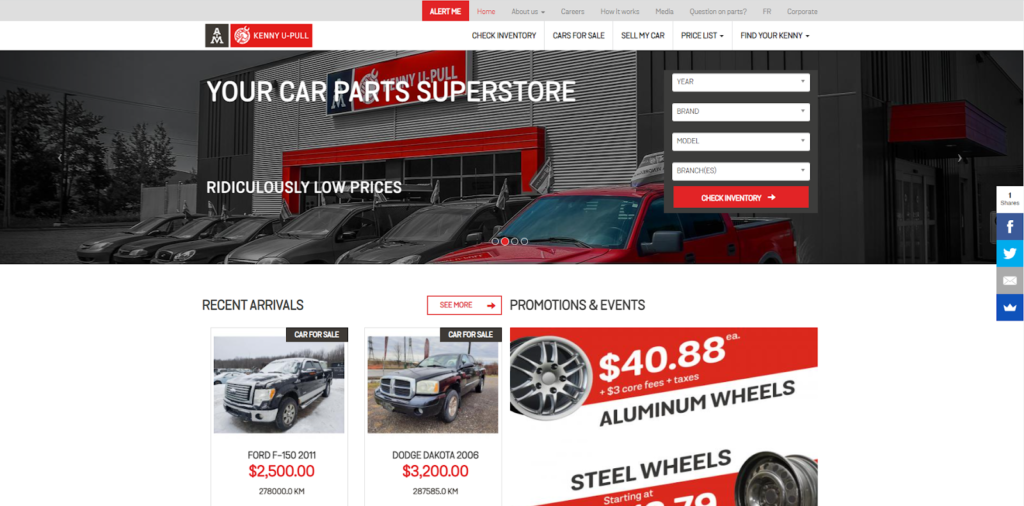 Test
Info
WEBSITE:
http://www.kennyupull.com/
ADDRESS:
6638 Bank Street, Ottawa
CONTACT DETAILS:
(613) 536-6987
OPERATING HOURS:

In-store:

Monday to Sunday: 9 am to 5 pm




Online service:

Monday to Sunday: 7 am to 8 pm

SERVICES:
In-store shopping
| | |
| --- | --- |
| Services | ★★★★☆ (4/5) |
| Credibility | ★★★★☆ (4/5) |
| Inventory | ★★★★☆ (4/5) |
| Warranty | ★★★☆☆ (3/5) |
Kenny-U-Pull has a really big inventory of over 1,000 cars in their Ottawa yard. Their search inventory works like a library system but for cars, so you can search through the yard on your own.
From their name itself, you'll know how it works around there. You'll need to DIY pulling out used auto parts by yourself.
They do offer tool rentals, but it would be best to bring your own tools to save on money.
Searching on their online inventory helps; you can check ahead if they have what you need. If you don't find what you need in their Ottawa branch, you can also access their cross-branch inventory.
They also have a very helpful price list posted on their website so you can have an initial idea of how much you need to spend. Their used auto parts are priced the same regardless of brand.
The best part is they are open all seven days of the week, but you'll need to pay an entrance fee of $3 to get in.
Despite having to pull out used car parts on your own, the Ottawa branch has very accommodating staff who can help you find your way around their huge yard.
They're very knowledgeable too about cars in general and those that can be found in their inventory. You're bound to have a nice chitchat, as some of them can give you fun facts while answering all your questions!
We suggest giving yourself a whole day to scavenge around their yard. They'd let you check out units and cars that you find interesting while you try to find what you're looking for.
Open Monday to Sunday
Simplified pricing
Cross-branch inventory system
They provide inventory alerts if you are a subscriber
Requires yard entrance fee regardless if you pull something or not
Completely self-service, including pulling out of used auto parts
Only offers 30-day warranty
Customer Reviews
Above and Beyond
I needed to find some car parts and someone mentioned that I should go to Kenny U-Pull and I'm very happy that I did. You get to peruse all these other interesting cars when getting to the section you needed to go to, which I found fascinating. Dave came up to me with a big smile on his face, asking if I need assistance looking for the part, he was attentive, answered all my questions, and even got fun facts trivias (I ❤️ trivia!). He went above and beyond what is required for customer service and I really appreciate it! – Natasha Brice
Best Kenny U-Pull Branch
I've been to several scrap yards, including other Kenny U-pull locations. This one is the best around. Service is helpful, friendly and Jojo who works there is the best. Extremely knowledgeable and always goes above and beyond. Yard is well organized and tidy – Richard Carriere
FAQs about Used Auto Parts in Ottawa
---
Looking for a new car? Whether it's your first purchase or a replacement for an old one, here is our list of the best car dealerships in Ottawa.