6 Best Upholstery Services in Ottawa
A beloved piece of furniture doesn't have to be thrown away if all it needs is a bit of sprucing up by a professional.
So today we'll take a closer look at the best upholstery services in Ottawa to give your furniture a second life.
And if you want to know more about upholstery, there's an FAQ section at the bottom of this listicle. But first, let's talk about the costs.
How Much Does Upholstery Cost in Ottawa?
Based on national averages, getting upholstery services in Ottawa can set you back anywhere between $350 to over $1,000. Of course, the final invoice will depend on several factors.
Upholsterers typically charge by the size of the furniture piece and how much fabric will be needed for it. Again, the kind of fabric to be used will dictate how much you're going to pay for it.
Then they will add their labour fee which will also depend on how complex the project is.
For guidance, here's a table showing some common upholstery services and the average costs that go with them.
UPHOLSTERY SERVICE
ESTIMATED COST
Dining chair
$50 – $1,500
Sofa
3-seater $600
Sectional $2,000 – $4,000
Ottoman
$300 – $700
Headboard
$200 – $2,000
Leather upholstery
$100 – $4,000
Restaurant booth
$100 – $500
Labour fee
$40 – $100 per hour (fabric not included)
$50 – $1,000 per piece (labour and materials included)
The Best Upholstery Services in Ottawa
For a listicle of the best upholstery services in Ottawa, we considered the following factors:
Now it's time to breathe new life into your old furniture!
1. Baldwin's Upholstery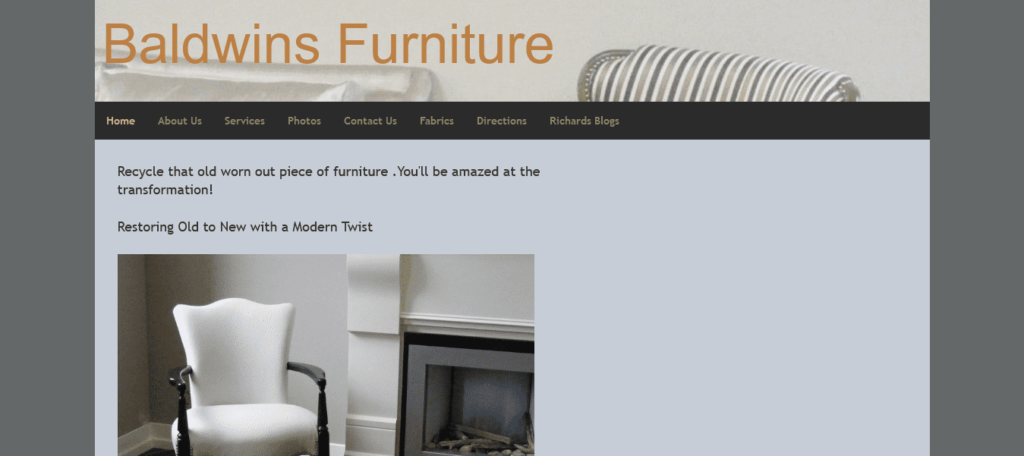 SERVICES
Furniture refinishing, reupholstery, custom building
ADDRESS
1 McCormick Street Ottawa, ON K1Y 1M4
CONTACT NUMBER
613-798-7161


[email protected]

WEBSITE
https://baldwinsupholstery.com/
OPERATING HOURS
Tuesday to Friday 9 AM – 4 PM
Saturdays 10 AM – 1 PM
Closed on Sundays
The people behind Baldwin's Furniture have been doing restoration and reupholstery since 1973. Its co-owner Richard has a background in wood refinishing and specializes in many finishes including antique, high gloss, lacquer, and crackle.
Today, the couple continues to breathe new life into heirloom furniture pieces as well as create new ones using old-fashioned upholstery methods with innovative furniture production. Clients can get their old chairs, sofas, and other items reupholstered, restyled, and refinished to look brand new.
If you want customized new furniture pieces, Baldwin's can do that, as well. They guarantee sinuous springs in the seats and the backs of chairs, sofas, and ottomans, and have hypoallergenic foam seating for comfort.
But given Baldwin's extensive background in upholstery and finishes, we wish its owners could spruce up its website, as well. As it is, the design is awkward and unattractive, and some links don't even work.
Extensive refinishing styles
Can custom build furniture
Open six days a week
BBB-accredited, Aᐩ rating
No pricing information provided
Doesn't give warranty info on labour and materials
Website design and information needs updating
Customer Reviews
Attention to detail is second to none
"Amazing craftsmanship! Attention to detail is second to none." – Marc Lavoie
Outstanding place to get furniture reupholstered
"I would recommend Baldwin's to anyone who is looking for an outstanding place to get furniture reupholstered or refinished. Tell your friends." – Elizabeth Hession
2. Wael's Upholstery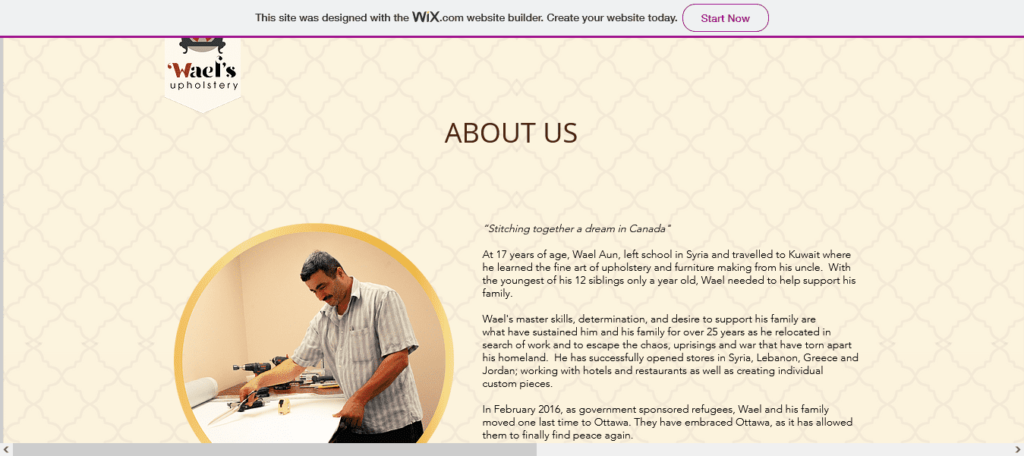 Wael Aun is the force behind Wael's Upholstery who describes his business as "stitching together a dream in Canada". Originally from Syria, he studied upholstery and furniture making in Kuwait, worked with hotels and restaurants overseas, and finally settled in Ottawa as a sponsored immigrant.
His shop opened in 2017 and has since earned a reputation among customers for his attention to detail. His craftsmanship can be seen with the client testimonials on his website as they attach before and after photos of furniture they had him reupholster.
His specialization is on plush Middle Eastern-style upholstery for different kinds of seats. However, he can also do clean and streamlined reupholstery as long as there's a reference photo and the right kind of fabric for the job.
We like the determination and hard work that goes behind the scenes at Wael's upholstery, along with the proof of his upholstery skills. We just wish his website reflects those as well, as it's pretty bare-bones at the moment.
Can serve residential and commercial clients
Accommodates automobile and marine furniture upholstery
The owner does the work himself
Impressive before and after photo gallery
The website could have better design and information
No pricing information provided
No BBB accreditation
Customer Reviews
Work is first class
"Wael did a wonderful job on my upholstered chair! His work is first class! We especially love how he made the protectors for the arms and head. They never fall off! And the extra pillow he made is perfect for back support!" – Cathy P.
Gave second life to the chair
"I LOVE the second life Wael gave to my chair. A 20+-year-old reupholstered favourite of mine looks brand new, including the legs! He was polite, helpful and it was clear how happy he was to be the cause behind my joy. I wish Wael success in his enterprise and a warm welcome to Canada!" – Johanne Berube
3. The Wooden Button Studio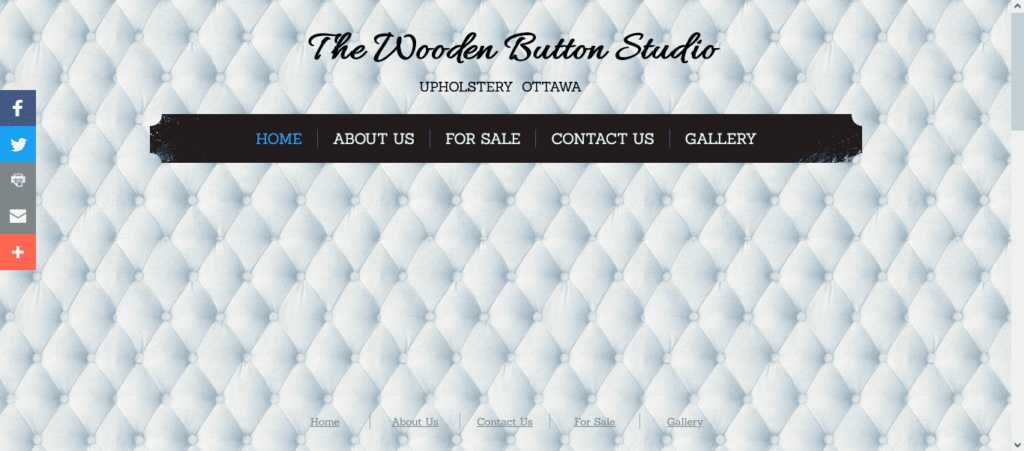 The Wooden Button Studio is all about reupholstery, reusing furniture, and reducing consumption. Brittany Martin is the talented upholsterer behind the shop who brings her background in furniture making to offer Ottawa clients a fresh spin on mid-century and antique furniture.
She can visit clients' homes at no additional cost to get a true understanding and feel for their tastes and requirements. Brittany believes in taking the time to listen to her customers to provide the best service.
Her website also offers pre-made refashioned pieces for sale, too. They're reasonably priced and only have one piece each in stock so they can get sold out pretty quickly.
Brittany states that she strives to make her services as affordable as they could be for clients. But while her For Sale gallery has pricing information, there's none for the upholstery services themselves.
We also think that the Wooden Button Studio website itself needs some "reupholstering" as it's currently a hodgepodge of unreadable fonts that clash against the background.
Unique pre-made pieces for sale
Can do evaluation visits at no extra cost
Can handle antique and mid-century modern furniture
Reasonably priced furniture for sale
The website needs better navigation and design
Pre-made pieces can get sold out quickly
No pricing information for services
No BBB accreditation
Customer Reviews
Custom harvest table is a beautiful show stopper
"We just received our custom harvest table and it is a beautiful show stopper. We had friends over for dinner and they were sold. They also just place an order with Wood for life. We would recommend them to anybody." – Sam R.
4. Flesher's Upholstery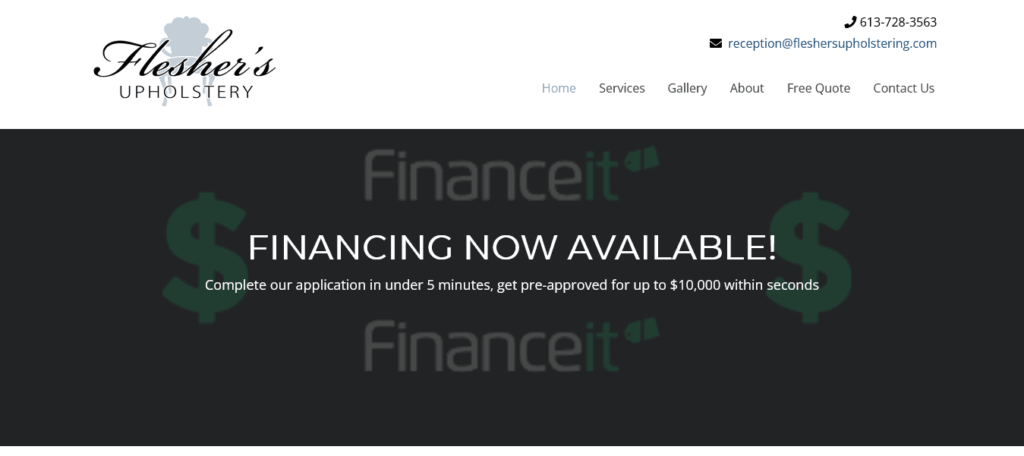 SERVICES
Residential and commercial upholstery, leather and vinyl repair, marine and outdoor services, custom design and build
ADDRESS
190 Colonnade Rd #31 Ottawa, ON K2E 7JS
CONTACT NUMBER
+1 (613) 728-3563


[email protected]

WEBSITE
http://fleshersupholstering.com/
OPERATING HOURS
Monday to Thursday 7 AM – 4.30 PM
Fridays 7 AM – 4 PM
Closed on Saturdays and Sundays
Flesher's Upholstery is another Better Business Bureau-accredited upholsterer that makes it to this listicle. Aside from that, we hand-picked it for several reasons.
For starters, it's got quite an impressive history since it was established in 1929. For another, it accommodates both residential and commercial clients for upholstery and repair services.
For the outdoorsy type of clients, there's also a marine and outdoor furniture service that makes use of waterproof and weatherproof upholstery to breathe longer life into them.
There's a gallery of the company's most recent work for clients. The pictures show skilled and clean craftsmanship, though it would be nice to have some information to go along with them.
Customers will also be glad to know about Flesher's financing options. They can get pre-approved within five minutes for up to $10,000 in monthly or bi-weekly payment plans!
There's no pricing guide on the website for the services but there's a free upholstery quote form, which is always handy.
Financing options offered
Free quotes
Can upholster marine and outdoor furniture
BBB-accredited, Aᐩ rating
Open on weekdays only
No pricing info provided
Gallery photos need captions
Customer Reviews
Turnaround time is insanely fast
"Fleshers is close to home, the price quoted for the service was very reasonable, and – because this ain't their first rodeo – the turnaround time is insanely fast. That's the difference between them and another company that may be bigger and "better" because of name recognition as a result of marketing and advertising. Word of mouth advertising is where it's at, and has always been a better indication of quality than anything else. Plus, supporting a family-owned local business is priceless." – Omer H.
Great pricing and high-quality work
"Friendly, Professional service! Great pricing and high-quality work! Quick turnaround time as well. We'll be taking all our upholstery projects here." – Bill Powell
5. Fibrenew Ottawa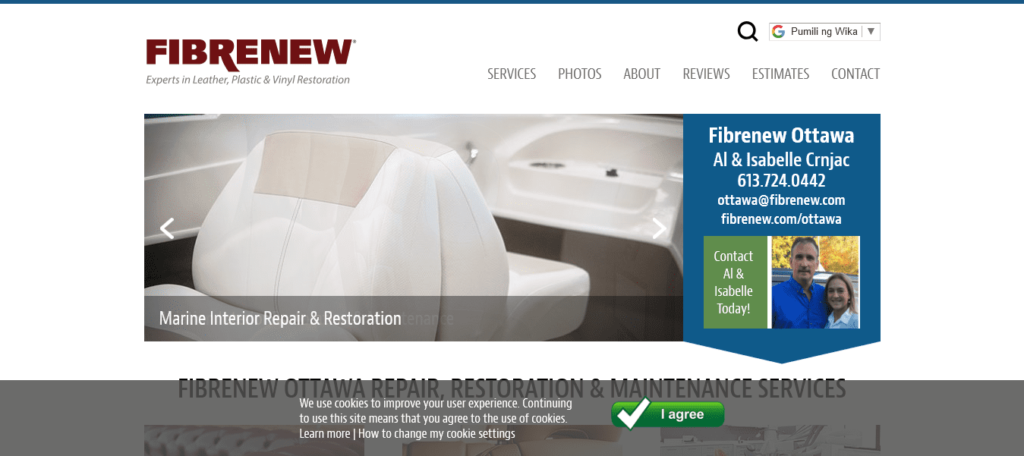 SERVICES
Leather, plastic, vinyl restoration, furniture upholstery, automotive, aviation, commercial, medical, marine and residential upholstery
ADDRESS
Ottawa, Ontario K1B 3T3
CONTACT NUMBER
613.724.0442


[email protected]

WEBSITE
https://www.fibrenew.com/ottawa/
OPERATING HOURS
By appointment only
Monday to Friday 8 AM – 4 PM
Closed on Saturdays and Sundays
Fibrenew arguably has the most extensive range of services in this listicle. Aside from residential furniture upholstery and repair, the company can do automotive and medical furniture restoration, marine and aviation interiors, leather cleaning and protection, and all sorts of commercial reupholstery.
It also offers a convenient mobile service that has its team going to clients' locations. This is particularly helpful for boat and airplane owners, as well as those whose RVs and businesses need emergency reupholstery and repair services.
For businesses that require regular maintenance and cleaning like restaurants and clinics, Fibrenew offers an ongoing maintenance service. This allows them to extend the lives of upholstered furniture with consistent maintenance, cleaning, and protection.
To showcase its team's skills and craftsmanship, there's a photo gallery of before and after projects. However, it would've been nice to have some pricing guide indicated with the pictures.
Wide range of upholstery services for different clients
Has a mobile service
Offers furniture maintenance programs
Impressive before and after photo gallery
Open on weekdays only
No pricing guide provided
No BBB accreditation
Customer Reviews
The repair was quick and looked brand new
"Great service. Benoit fixed up 2 cigarette burns in our back seat. The repair was quick and it looks brand new." – Kevin Mckenny
Fast response time from inquiry to in-home repair
"Highly recommend. Fast response time from inquiry, to estimate/quote, to in-home repair. Pat arrived on time, was professional/respectful, friendly, and efficient – and great to chat with. Repaired both recliner seats on my 10-year-old leather sofa and tightened up the back portion. Fantastic customer service. The price was very reasonable and as per estimate. Superb repair work and attention to detail. Will be recommending FibreNew and Pat to everyone. Thanks for the great work." – Kim Saunders
6. Clean Freaks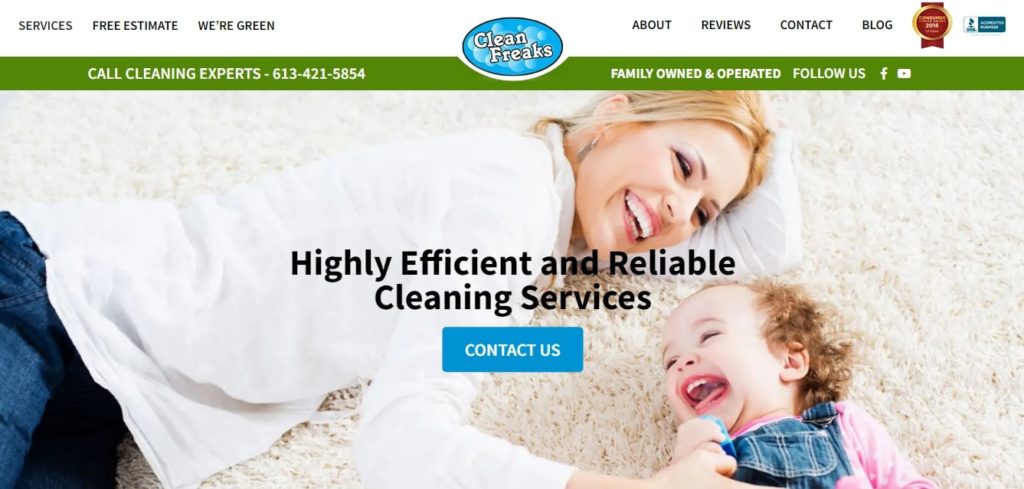 | | |
| --- | --- |
| SERVICES | Carpet Cleaning, Upholstery Cleaning, Pet Odour Removal, Leather furniture Cleaning, Rug Cleaning, Wall Washing, House Cleaning |
| ADDRESS | Ottawa, Ontario K1K 3Y5, Canada |
| CONTACT NUMBER | 613-421-5854 |
| WEBSITE | https://cleanfreaksottawa.com/ |
| OPERATING HOURS | Monday to Friday 9 AM – 5 PM |
Clean Freaks is a company that offers a variety of cleaning services that is both reliable and efficient for both commercial and residential settings. From carpet cleaning to complete house cleaning, they are among the known companies in the industry locally.
We think that their usage of non-toxic chemicals and cleaning aids adds a level of safety when it comes to households who have pets and children which is very ideal for family-centered cleaning.
They also offer clients inclusive packages that are affordable and give the money paid a great value and equally clean results as well.
Another thing we commend them for is their diverse resource of information that clients can use free of charge should they need evidence-based advice and tips when it comes to cleaning certain furniture such as mattresses and sofas.
Sporting 4.8 stars review, though clients need to take extra care in checking the inclusions of their cleaning services, they are highly commended for their professional customer service and quality cleaning care to the clients' homes.
Free estimate
Eco-friendly products
Knowledgeable experts
Customer Reviews
Here are some reviews from their clients:
"I will never use anyone but Clean Freaks! We chose Clean Freaks based on their reviews and we were not disappointed. Stephen is professional, knowledgeable and provided the highest quality of service. In the past we have used other companies on an annual basis to have our carpets steam cleaned and based on previous results I wasn't hoping for a lot. What a surprise! Stephen brought our carpets back to an 'almost new' condition, explaining and demonstrating his process and I knew that I was receiving the best quality of service. The results far exceeded my expectations and we are extremely satisfied. I will definitely book Clean Freaks again and I'm happy knowing that I have a company I can trust."
"Very professional and knowledgeable. Invited me to see what he was doing, explained everything. I thought our carpets were finished and considered wood floors. Now my carpets look brand new. I highy reccomend them."
FAQs About Upholstery in Ottawa
---
The best upholstery services in Ottawa can breathe new life into your beloved old furniture pieces. If you have other upholstery shops to suggest, please send us a message.
Your furniture might not be the only thing that needs maintenance and repair, so we thought the following published resources can help make your home spick and span: