The 5 Best Tummy Tuck Clinics in Ottawa
Keeping in shape is hard, especially for people who don't have time to work out every day. Luckily, there are tummy tuck services available in the city that can help you lose belly fat.
In this article, we will discuss the best tummy tuck services available in the Ottawa area.
How much do tummy tuck clinics charge in Ottawa?
Generally, a tummy tuck would cost around $8500 to $11,000. In the table below, you'll see a more specific price table for other related procedures.
| Service | Average Estimated Costs |
| --- | --- |
| Tummy Tuck | $8500 to $11,000 |
| Arm Fat Reduction | $1,500 to $5,000 |
| Muscle Repair | $1,888 to $9,335 |
| Liposuction | $1,600 to $5,000 |
| Hip Reduction | $1,600 to $5,000 |
| Buttocks Reduction | $1,500 to $4,000 |
The Best Tummy Tuck Clinics in Ottawa
Finding the safest option for procedures like tummy tucks is very important. To find the best in the city, we based our list on the following criteria:
1. Ottawa Plastic Surgery (Dr. Howard Silverman)

Test
Info
SERVICES
Tummy Tuck, Breast Implants, Breast Augmentation, Breast Lift, Breast Revision, Male Breast Reduction, Weight Loss Breast Reduction, Butt Lift, Labiaplasty, Neck Lift, Laser Hair Removal
WEBSITE
ADDRESS
502-1525 Carling Avenue Ottawa, ON K1Z 8R9
CONTACT DETAILS
613-792-4137
OPERATING HOURS
Mondays to Fridays: 8:30AM – 4:30PM

Closed on Weekends
| | |
| --- | --- |
| Criteria | Ratings |
| Rates | ★★★★ (4/5) |
| Location | ★★★★ (4/5) |
| Experience | ★★★★★(5/5) |
| Portfolio | ★★★★★(5/5) |
With over 20 years of cosmetic surgery experience, Dr. Howard Silverman is definitely one of the best options for a tummy tuck. He works in Ottawa Plastic Surgery, a clinic dedicated to this type of cosmetic procedure, and more.
The Ottawa Plastic Surgery is also staffed with experienced aestheticians for other beauty concerns, as well as nurses and patient care coordinators to make sure that patients are being treated with safety and professionalism.
For the tummy tuck procedure, the doctor will administer anesthesia to make the process painless. Incisions are done to the patient's tummy area then excess fat is removed and muscles are tightened.
Aside from Doctor Silverman, patients can also book an appointment with Doctor Kristy Boyd, who is an expert in cosmetic surgery. Any client who is uncomfortable with a male doctor can always ask for her instead.
We are also happy with the fact that the clinic's appointment booking system is fairly simple. After the initial check-up and once both the patient and doctor are ready, scheduling a surgery will immediately begin.
We think the whole setup is impressive. The nurse is very welcoming and both doctors are experts in their field, which throws our safety concerns out the door.
Overall, the only downside we saw with Ottawa Plastic Surgery is its pricing. Some procedures are too expensive.
But with the service its doctors provide, we think everything is still worth it.
There are discounts available
The clinic has a team of experts dedicated to patient care
Some procedures are too expensive
Closed on weekends
Customer Reviews:
Detailed process
"I recently had surgery with Dr. Silverman, every step of the process was detailed and well explained. All his staff and himself are extremely professional and caring. My results are even better than I had hoped for and I would 100% recommend Dr. Silverman to anyone looking for a breast augmentation!" – Kayla K.

Terrific service
"I would highly recommend Dr Silverman based on my experience.  I had abdominoplasty and liposuction and am extremely happy with the results!  Both of my children were born through C-Sections and it left my abdomen with a high scar and "pouch" that no diet or exercise could get rid of.  I never imagined that my stomach could look this great, and I feel so much more confident with myself, I wish I would have done it sooner!" – Erin C.
2. Gloria Rockwell MD (Dr. Gloria Rockwell)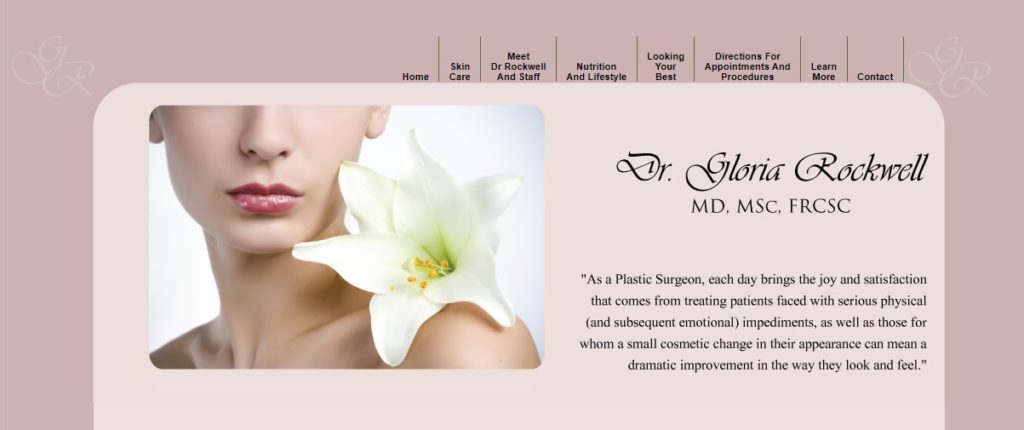 Test
Info
SERVICES
Tummy Tuck (Abdominoplasty), Breast Augmentation, Breast Lift, Breast Reduction, Male Breast Reduction (Gynecomastia), Brow Lift, Eyelid Lift (Blepharoplasty), Face Lift (Rhytidectomy), Fat Grafting, Liposuction, Neck Lift, Arm Lift (Brachioplasty)
WEBSITE
ADDRESS
1967 Riverside Drive Room A217K2, Ottawa, ON K1H 7W9, Canada
CONTACT DETAILS
613-737-8388
OPERATING HOURS
Monday – Friday: 9AM–8PM

Closed on Weekends
| | |
| --- | --- |
| Criteria | Ratings |
| Rates | ★★★★(4/5) |
| Location | ★★★★ (4/5) |
| Experience | ★★★★★(5/5) |
| Portfolio | ★★★★★(5/5) |
For a tummy tuck, Dr. Gloria Rockwell's clinic is another good option to consider. She has been a cosmetic surgeon for over 10 years and is one of the top choices in the city because of her personal approach to her procedures.
Although she works in a clinic, most of the work is done by her alone. She has a few nurses that assist her, but the clinic itself doesn't have any other doctors, which also means that some procedures may take longer.
Despite the long wait, Dr. Rockwell is known for making sure that her procedures are done slowly but surely. For tummy tucks, the waiting time for an appointment may take a week or two.
Dr. Rockwell also takes time to give patients all the information they need before deciding to go through with the surgery. After all, some people want tummy tucks without understanding the whole process, so she aims to reduce uncertainty by briefing them first.
We also like that Dr. Rockwell's clinic offers other cosmetic surgeries. If you plan on working on other parts of your body besides your tummy, this place is perfect for you.
The clinic also has a post-surgery guide so patients can stay healthy after their procedures.
With that said, it should be noted that the clinic is smaller compared to others and can get crowded once in a while. But overall, it's still one of the best choices for tummy tucks in the area.
Extensive portfolio
Experienced team despite not having other doctors
Female doctor, which makes the process more comfortable for women
Some procedures can be pricey
The clinic is smaller compared to other clinics
Customer Reviews
Excellent service
"Excellent! I had a finger tendon that was torn.. Not properly treated by another surgeon . Dr. Rockwell splinted it and advised me that ANY removal of the splint for 4 months would require starting over.. I was diligent, followed her advice and my finger is now fine. It looked like a claw before.." – Neil T.
Satisfied completely
"I was very satisfied with my procedure + overall care. The office staff was caring + flexible with appointment scheduling. Dr. Rockwell is thoroughly invested in giving you the best possible outcome. She delivers information frankly and upfront to ensure patients are informed with realistic expectations. I would definitely do this again, no regrets and would recommend her. Thank you." – ASN
3. Abboud Plastic Surgery Centre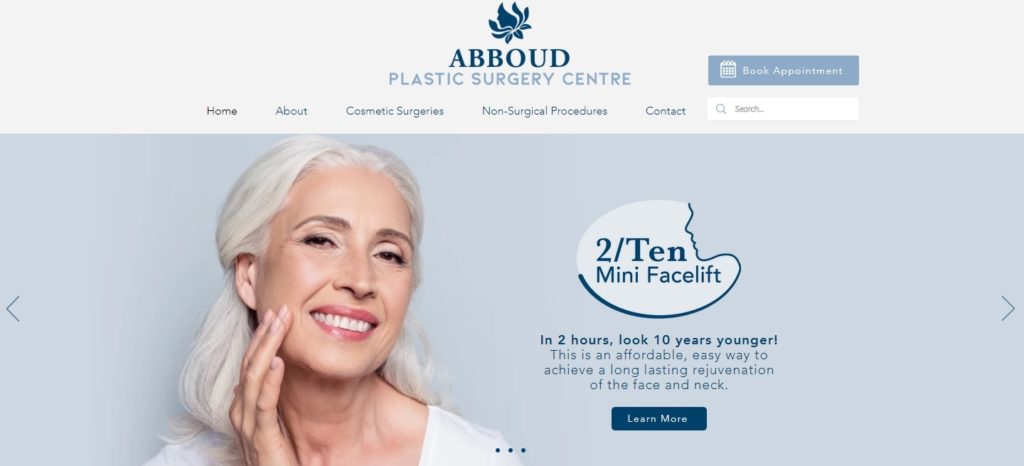 | Test | Info |
| --- | --- |
| SERVICES | Tummy Tuck, Liposuction, Neck Liposuction, Face Lift, Breast Augmentation |
| WEBSITE | |
| ADDRESS | 770 Broadview Ave Suite 306, Ottawa, ON K2A 3Z3, Canada |
| CONTACT DETAILS | 613-321-8328 |
| OPERATING HOURS | Appointment only |
| | |
| --- | --- |
| Criteria | Ratings |
| Rates | ★★★★(4/5) |
| Location | ★★★★ (4/5) |
| Experience | ★★★★★(5/5) |
| Portfolio | ★★★★★(5/5) |
Dr. Jeffrey Abboud is certified by the College of Physicians and Surgeons of Ontario and has been practicing medicine since 1995. He has worked as a plastic surgeon not only in Ottawa but also in the U.S.
When he's not in the clinic, he is working at Ottawa and Arnprior Hospitals. It's safe to say that Dr. Abboud is a hard-working doctor and has worked hard to earn the reputation he has.
Dr. Abboud and his clinic offer a variety of cosmetic and aesthetic procedures, including tummy tucks, for men and women. The clinic is co-owned by Elizabeth Lavoie, a nurse practitioner from the Ontario College of Nurses.
Both CEOs are experts in their fields and only work with the best. The clinic staff works together to ensure the patient's comfort before and after the surgery, which we appreciate.
They do this by making sure surgery is safe for a certain patient. Once that's determined, they brief the patient on the effects of the surgery so they can decide whether or not to go through with it.
We like this personal approach. The clinic treats patients as human beings and not just as a way to make more money.
Overall, we are big fans of Abboud Plastic Surgery Centre, despite its smaller clinic size. It also has CPSO certification so it is trustworthy, especially for patients concerned with surgery safety.
Has 2 main doctors
CPSO-certified
Pricey
The clinic is a bit small and gets crowded
Customer Reviews
Highly recommended this place
"I highly recommend, Dr Abboud's plastic surgery Centre. I Had a mini face lift and I'm very pleased with the result. Dr Abboud is very meticulous and he take the time to explain the surgery and the healing process. His make himself available anytime you have questions. His office has the leading edge technology and an amazing staff." – Charron Marie
Excellent
"Dr Abboud is an excellent surgeon. The best part is the after care, always only a phone call away. I am thrilled with both my mini facelift and eyelid surgery. Everyone at his office, is warm and friendly. Amy you rock and Liz Milligan laser fractional treatment was icing on the cake. Thank you one and all." – Barb Hannemann
4. The Best You Ottawa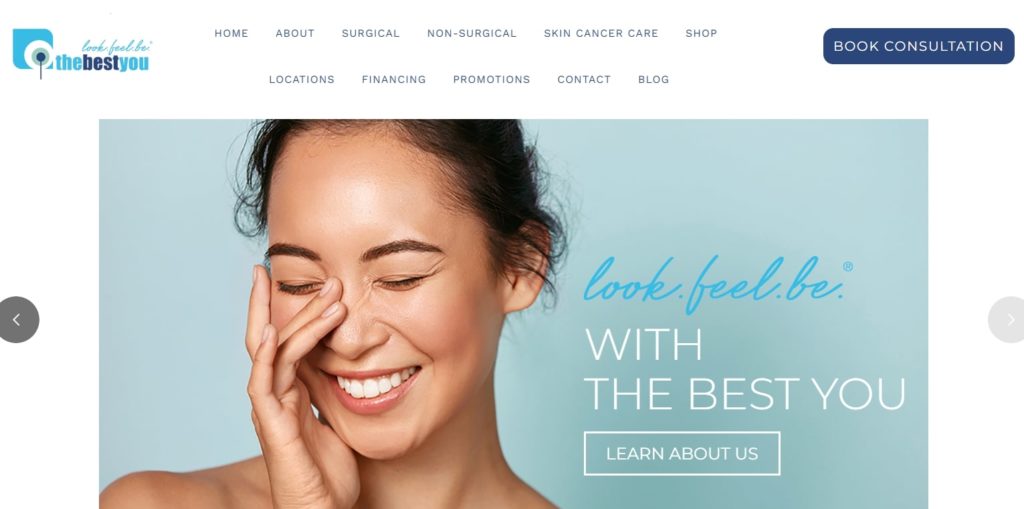 Test
Info
SERVICES
Tummy Tuck, Arm Lift, Blepharoplasty, Breast Augmentation, Breast Lift, Chin Implants, Facelift, Liposuction, Otoplasty, Rhinoplasty, Tight Lift
WEBSITE
ADDRESS
1545 Carling Ave Suite 202, Ottawa, ON K1Z 8P9, Canada
CONTACT DETAILS
613-728-1008
OPERATING HOURS
Mondays to Fridays: 9AM – 5PM

Closed on Weekends
| | |
| --- | --- |
| Criteria | Ratings |
| Rates | ★★★★ (4/5) |
| Location | ★★★★ (4/5) |
| Experience | ★★★★★(5/5) |
| Portfolio | ★★★★★(5/5) |
The Best You Ottawa is a cosmetic clinic located in Carling Avenue. One of its main doctors is Dr. Deniz Akyurekli who is an expert cosmetic surgeon and aesthetician.
Dr. Akyurekli works on facial plastic surgery, tummy tucks, breast augmentation, neck surgery, and more. He has experience of over 23 years and is regarded as one of the best doctors in the clinic.
Another doctor is Dr. Jessica Gencarelli, who is an expert in all skin care matters. Other than the two doctors mentioned above, there are dozens of other specialists on Best You Ottawa's roster — and that is one of the main reasons it's on this list.
We like that the clinic also has a staff dedicated to patient care, which includes nurses and even post-surgery therapists to make sure patients are cared for physically and mentally post-surgery.
For procedures of abdominoplasty or tummy tucks, the clinic will recommend one of its doctors who are experts in the area. We like this because patients will be able to choose between a few doctors with who they feel more confident.
The clinic also offers tummy tucks for recently pregnant women who have excess skin and need to re-contour their abdominal area.
Overall, we definitely recommend this clinic for its multiple doctors, great equipment, and many procedure options. It should be noted, however, that its services can be expensive.
Most of the doctors are also male, which might be uncomfortable news for some female patients.
Multiple doctors
Great set of equipment
Offers numerous procedures
Pricey
Most doctors are male, which can be uncomfortable for some female patients
Customer Reviews:
I feel beautiful
"I have been a client for at least 10 years and the staff are very professional and knowledgeable on all the products they offer. The Best You staff become a part of my family. Diana is exceptional and I am always 110% happy with her services. Thanks for the BEST You staff for making my skin look so beautiful and ageless." – Tania Micucci
What a gem
"Ok ok where have these gems of humans been all my life. As soon as you walk in you are met with the biggest smiles. Honestly just the best. See you next week." – Anthony Conway
5. Dr Moein Momtazi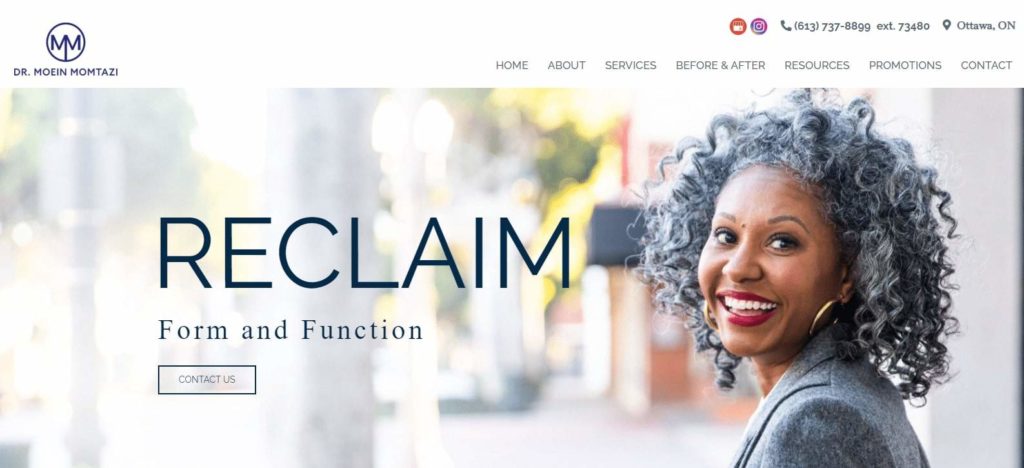 Test
Info
SERVICES
Tummy Tuck, Breast Implants, Breast Augmentation, Breast Lift, Revision Breast Surgery, Male Breast Reduction, Liposuction, Post Weight Loss Surgery, Butt Lift, Rhinoplasty
WEBSITE
ADDRESS
501 Smyth Rd, Box 213 Room M2569-A, Ottawa, ON K1H 8L6,
CONTACT DETAILS
613-737-8899
OPERATING HOURS
Mondays to Fridays: 8AM–3PM

Closed on Weekends
| | |
| --- | --- |
| Criteria | Ratings |
| Rates | ★★★★★(5/5) |
| Location | ★★★★ (4/5) |
| Experience | ★★★★★(5/5) |
| Portfolio | ★★★★★(5/5) |
Dr. Momtazi's clinic is a bit new, only established in 2015. But it has since built a name for itself with its extensive portfolio and acclaimed services.
Dr. Momtazi, the lead doctor, first worked in the Ottawa Hospital. What makes him stand out is his experience in cancer reconstruction.
That type of skin reconstruction is complicated, but he is able to do it properly while showcasing immense expertise.
Since Dr. Momtazi's clinic only has one doctor (himself), it may take time to schedule an appointment. But the process is more personalized since you only have one doctor that takes care of you.
This service is more expensive than usual, but good results are guaranteed.
We also like the recovery advice that this clinic gives to its patients. There are also follow-up checkups done after the surgery so patients can make sure that they get medical advice during their recovery period.
It should be noted, however, that the clinic is well-known and has a lot of clients. If you plan to schedule an appointment this year, better do it early so you can secure a slot.
Overall, we think this clinic is one of the best options because of the personalized services and the solid experience that Dr. Momtazi has.
The clinic's equipment is also worth noting, which is all up to date and sterilized properly.
Experienced doctors
Trusted by many clients
Good portfolio
Closes early and also closed on weekends
Lots of clients, which makes booking difficult
Customer Reviews:
Impressive
"It gives me great pleasure to provide this review for Dr. Moein Momtazi. Dr Momtazi is an energetic, positive person who inspired confidence in his abilities. From first telephone consultation with him I felt comfortable, it was his positive attitude and confidence that gave me the courage to proceed with the surgery. – An Champ
No place like this
"I was recommended to Dr. Momtazi last year when I had to have a cancer removed from my face. From my first appointment I found Dr. Momtazi made me feel completely at ease. He was confident and competent and very considerate of the younger doctors who worked with him. He was available in between my appointments for questions to which he provided answers in a way that a non-medical person could understand." – Ann O'Gorman
FAQs about Tummy Tuck Clinics in Ottawa
---
We created this list of the best tummy tuck clinics in the area so you can find the right one for your needs.
Looking for other ways to look and feel good? Check out the best clinics for chemical peels in Ottawa.