The 5 Best Trucking Companies in Ottawa
Shipping goods by trucks has changed how businesses move their products. Large quantities can be dispensed with longer distances covered.
Having a list handy of the best trucking services in Ottawa can help entrepreneurs make informed choices. They can compare the services offered by the trucking company against what their business needs.
For today, we've rounded up the top performers in this industry. We also prepared rough estimates of common trucking services and some FAQs.
How much do trucking services cost in Ottawa?
The costs of trucking services depend on many factors. One of the major determiners is the distance covered between the point of origin and the destination.
Shipment weight also plays an important part in how trucking companies compute their costs.
Full truckload shipping usually charges higher than less-than-truckload shipment.
There are some notable differences too based on the kind of freight truck used. Refrigerated trucks (or reefers) require more maintenance costs (thus can charge more) as compared to dry vans and flatbed trailers.
Finally, current fuel costs will influence the price that will be quoted to the clients.
The table below shows the price range per mile of different kinds of freight trucks.
| KIND OF FREIGHT TRUCK | ESTIMATED PRICE RANGE PER MILE |
| --- | --- |
| Refrigerated trucks (reefers) | $3.19 to $4.77 |
| Dry vans | $2.76 to $3.90 |
| Flatbed trailers | $2.63 to $3.14 |
Most trucking companies offer a free quote. Don't hesitate to shoot them a message for you to have a more precise quote for your shipping needs.
The Best Trucking Companies in Ottawa
Business owners only want to partner with the best trucking companies in Ottawa to ensure that their shipments reach their customers on time and in good condition.
But, how can you tell if you're dealing with a premier trucking company? We used these simple guidelines to whittle down our choices.
1. Manitoulin Transport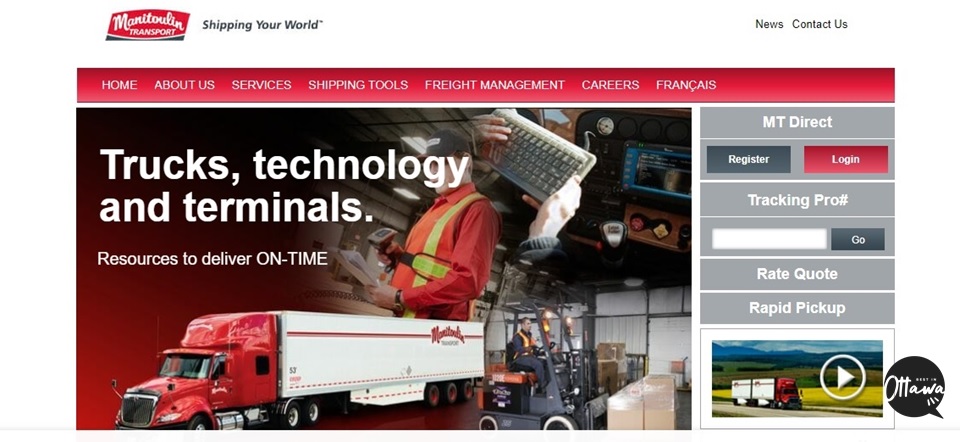 | Test | Info |
| --- | --- |
| SERVICES | Less than truckload/truckload, transborder, rail intermodal, private fleet, guaranteed service, specialized service |
| WEBSITE | https://manitoulintransport.com/ |
| ADDRESS | 4120 Belgreen Drive, Box 423, Gloucester, ON K1G 3N2 |
| CONTACT DETAILS | (613) 736-8902 |
| BUSINESS HOURS | Monday to Friday 8 AM to 6 PM |
| | |
| --- | --- |
| Criteria | Ratings |
| Range of services | ★★★★★ (5/5) |
| Quality | ★★★★✩ (4/5) |
| • Turnaround time | ★★★★✩ (4//5) |
| • Handling | ★★★★✩ (4/5) |
| Technology | ★★★★★ (5/5) |
| Customer service | ★★★★✩ (4/5) |
| • Professionalism | ★★★★✩ (4/5) |
| • Friendliness | ★★★★★ (5/5) |
Manitoulin Transport has been in the trucking industry for around six decades. It has managed to grow into 80 terminals in Canada and around 200 service centres in America.
With this diverse distribution network, they can manage to offer various services such as full truckload and less than truckload shipments, transborder shipping, and rail intermodal.
We love the fact that they arrange their shipments to be pre-cleared even before reaching borders. This way, clients are assured of a smooth transfer of their goods.
We also appreciate that all their vehicles have GPS in them. Being able to track their shipments give the clients a sense of control over the logistics of their business.
Manitoulin has also kept abreast of the current trends in technology. They have automated transactions such as generating an instant online quote and producing a bill of lading.
What's more, they even utilize a machine called Dimensioner. By scanning the items, this tool can give a precise measurement of the item/s to be shipped leading to more accurate pricing.
Manitoulin Transport also handles temperature-sensitive commodities and even dangerous goods. Their personnel is equipped and trained to ship specialized goods.
We also love another service by Manitoulin which is the RockSolid service guarantee. It's their same-day (12 NN or 4 PM) delivery guaranteed or your money back.
Their bilingual website has all this information and more. You can just click English or French according to what language you're more comfortable with.
It's unfortunate, though, that Manitoulin has no business hours during weekends. Also, it's quite odd that for 60 years in business they haven't sought BBB accreditation yet.
Another letdown is some negative feedback that they have received from previous clients. Even how scarce these unpleasant experiences are, the company should still take heed of them as these could mar their reputation in the industry.
Offers RockSolid Service guarantee
Handles dangerous goods
Shipment pre-cleared before reaching borders
Has GPS for all vehicles
Uses Dimensioner for precise measurements
Has over 80 terminals
Automated transactions
Bilingual website
Closed on weekends
Not BBB accredited
Some complaints on the quality of shipping and customer service
Customer Reviews
Nothing but great experience
"We are a small business with over 30 years experience here in Ottawa. I have to say, once switching to Manitoulin Transport I have had nothing but a great experience. They have always worked with us in a professional manner in coming up with solutions if we run into an issue. The Ottawa guys are fantastic and my sales rep has always taken my calls when I need to speak with him. Keep it up Manitoulin and I look forward too many more years of our partnership." — Andrew Childerhose
Above and beyond service
"I was highly impressed by the professionalism offered to me. I was shipping from Ottawa to Northwest Territories and needed pallets to ship them on. The Ottawa terminal manager Tyler Begin brought me 2 empty pallets on his own time after work! Above and beyond the call of his regular duties. I deal with Manitoulin up north on a weekly basis their drivers and dispatch are always top notch. I would highly recommend Manitoulin transport for any shipping needs anywhere in Canada. Amazing service." — Bruce Dowdeswell
2. The Rosedale Group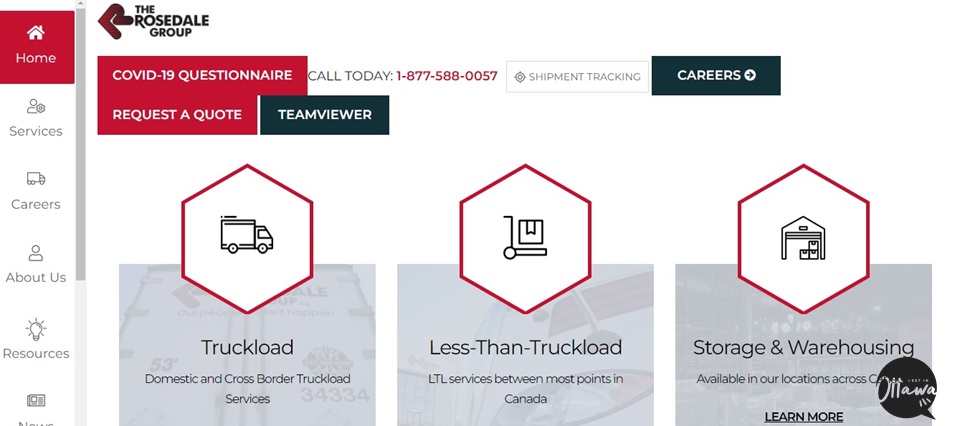 | Test | Info |
| --- | --- |
| SERVICES | Truckload, less-than-truckload, storage and warehousing |
| WEBSITE | https://www.rosedalegroup.com/ |
| ADDRESS | 9460 Mitch Owens Road, Ottawa, Ontario K0A 1V0 |
| CONTACT DETAILS | (613) 741-3077 |
| BUSINESS HOURS | Monday to Friday 8 AM to 12 NN, 1 PM to 3 PM |
| | |
| --- | --- |
| Criteria | Ratings |
| Range of services | ★★★★✩ (4/5) |
| Quality | ★★★★★ (5/5) |
| • Turnaround time | ★★★★★ (5/5) |
| • Handling | ★★★★★ (5/5) |
| Technology | ★★★★✩ (4/5) |
| Customer service | ★★★★★ (5/5) |
| • Professionalism | ★★★★★ (5/5) |
| • Friendliness | ★★★★★ (5/5) |
The Rosedale Group is a family-owned business that started small but has managed to acquire 40 trucks, 500 tractors, and 1300 trailers to date. This fleet is used for Rosedale's full truckloads and less-than-truckloads shipments.
However, it's only in their full truckloads shipments that cross-border services are offered. Their less-than-truckloads only service within Canada.
It doesn't mean, though, that their LTL is an inferior service. With 15 terminals, Rosedale ensures a smooth transfer of goods from one point to another.
We also like that Rosedale offers storage and warehousing services. This offering includes storage of palletized and rolled goods, cross-docking, and hold for pick-up, among many others.
We also appreciate that this trucking company is updated with certain trends in trucking technology. They use software that can automate transactions and track your shipment in real-time.
One downside, though, is that Rosedale doesn't operate on weekends. Some commodities at times need to be shipped even beyond the weekdays.
Also, it isn't clear if they offer to ship temperature-sensitive goods. There was no mention of reefers or refrigerated trucks on their website.
To add, we find it strange that a trucking company that has been in the industry for around 50 years is still not BBB accredited. An affiliation in such an organization might help draw more clients to their business.
Real-time shipment tracking
Automated transactions
Large fleet of vehicles
Offers storage and warehousing
Has 15 terminals
Closed on weekends
Not BBB accredited
Less-than-truckload shipments are within Canada only
No mention of reefers
Customer Reviews
Delivers in timely manner
"Always helpful, friendly staff. Helps will all my deliveries in a timely manor. Best truck drivers hard workers." —Ottawa Jonathan
Helpful and professional staff
"Your company driver Mr. Neil.. he is very helpful genuine and very kind person… thra wt we call professional driver thanx for helping sir today …" — Lakhvir Brar
3. Swift Delivery Systems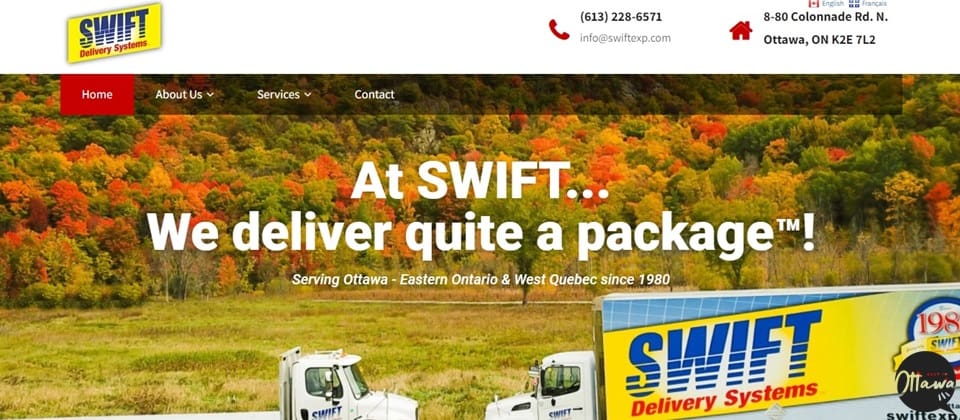 | Test | Info |
| --- | --- |
| SERVICES | Local freight delivery, local flatbed delivery, local courier delivery, dedicated transportation services, white-glove services, Canada/USA overnight |
| WEBSITE | https://swiftexp.com/ |
| ADDRESS | 8-80 Colonnade Rd. N. Ottawa, ON K2E 7L2 |
| CONTACT DETAILS | (613) 228-6571 |
| BUSINESS HOURS | Open 24/7 |
| | |
| --- | --- |
| Criteria | Ratings |
| Range of services | ★★★★✩ (4/5) |
| Quality | ★★★★★ (5/5) |
| • Turnaround time | ★★★★★ (5/5) |
| • Handling | ★★★★★ (5/5) |
| Technology | ★★★★✩ (4/5) |
| Customer service | ★★★★✩ (4/5) |
| • Professionalism | ★★★★✩ (4/5) |
| • Friendliness | ★★★★✩ (4/5) |
As the name of this trucking company implies, they pride themselves on a quick turnaround. Their clients that we have talked with are very satisfied with this aspect of their service.
Maybe part of the reason why Swift can ensure a fast and glitch-free shipment is that they operate 24/7. However, they only take orders by phone starting at 5:30 PM on weekdays, weekends, and holidays.
This BBB-accredited trucking company has a wide range of services including local freight delivery, local flatbed delivery, and local courier delivery. We noticed, though, that shipping temperature-controlled commodities seem to be not part of their services.
However, we appreciate the fact that they have some unique offerings. One of them is the Premium White Glove Logistics where they handle high-value items like medical devices or tradeshow and convention materials.
Though they don't have any other terminals aside from their office in Ottawa, Swift manages to offer USA or Canada overnight deliveries. They have service partners that make these shipments possible.
Swift also kept up with the latest trends in technology as they let their clients do most transactions online. Their clients can get quotes, track their shipments, or place delivery requests with just a few clicks.
One letdown, though, is that we have gathered some complaints about instances where their drivers showed incompetency on the road. We hope that they could provide more training to address this concern.
Open 24/7
Offers USA/Canada overnight
Offers Premium White Glove Logistics
Automated transactions
Bilingual website
BBB accredited
No other terminals
Some complaints on driver competency
No mention of refrigerated trucks
Customer Reviews
Gotten me out of a jam
"Fantastic courier service. They've gotten me out of a jam a few times! Awesome office staff, great fleet, great drivers, competitive prices." —Caleb Frizzle
Fast and convenient
"Such a wonderful service, great staff, they answered all questions and concerns and thoroughly explain anything you ask.. the service is so fast and convenient, definitely best place to go. " -Manal Shalghin
4. BYEXPRESS Logistics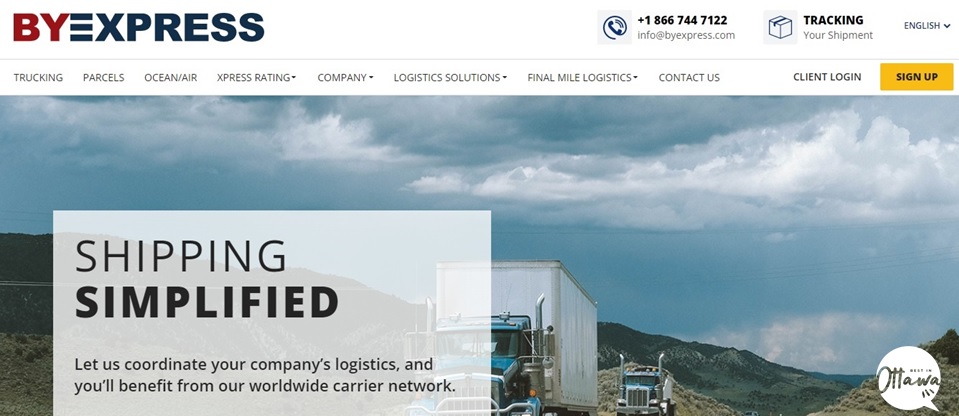 | Test | Info |
| --- | --- |
| SERVICES | Domestic shipping, cross border shipping, international shipping, specialized and oversized transportation |
| WEBSITE | https://byexpress.com/index.php |
| ADDRESS | 2411 Holly Lane Ottawa, ON, K1V 7P2 |
| CONTACT DETAILS | (613) 739-3000 |
| BUSINESS HOURS | Monday to Friday 8 AM to 6 PM |
| | |
| --- | --- |
| Criteria | Ratings |
| Range of services | ★★★★★ (5/5) |
| Quality | ★★★★✩ (4/5) |
| • Turnaround time | ★★★★✩ (4/5) |
| • Handling | ★★★★✩ (4/5) |
| Technology | ★★★★✩ (4/5) |
| Customer service | ★★★★✩ (4/5) |
| • Professionalism | ★★★★✩ (4/5) |
| • Friendliness | ★★★★✩ (4/5) |
BYEXPRESS can provide domestic, cross-border, and international shipping thanks to the wide range of truck types they have. Included in their fleet of vehicles are dry vans, refrigerated trucks, flatbed trailers, step deck trailers, and removable goosenecks.
We love the fact that they didn't stop with the usual freight shipping offerings. BYEXPRESS also offers white glove services, tradeshow shipping, blanket wrap freight, furniture shipping, and time-critical freight.
This versatility of services can make them reach more industries with shipment needs. They even offer same-day shipping in Ottawa, Toronto, Montreal, and Vancouver.
Transactions with BYEXPRESS can be done with ease through the use of technology. Their platform allows you to compare rates online with other carriers, schedule pickups, request invoices, and track your shipments in real-time.
It's unfortunate, though, that they don't operate on weekends. Potential clients (like those in need of tradeshow shipping) can make good use of their services on these lean days so they can have extra time to prepare.
Another letdown is that BYEXPRESS also has its share of negative feedback. The criticisms we heard are issues on turnaround time and mishandling of items.
Lastly, this trucking company has no BBB accreditation yet. In our opinion, getting such a connection can increase their market trust.
Has a wide range of truck types
Offers specialized and oversized transportation
Same-day shipping available in some areas
Can compare rates online with other carriers
Automated tracking and invoices
Closed on weekends
Not BBB accredited
Some complaints on professionalism
Customer Review
Great help for an e-commerce business
"Great logistics company, the first choice if you run a E-commercial based business like me. We have been doing parcel shipping and LTL across CA and US with them for years, always get best deal here!!!! Deliver fast and reasonable price, definitely recommend Byexpress if you are looking for a reliable logistics partner." —Kira Gao
Truly reliable
"Great team at ByExpress Logistics! We have relied on their profession service for over 20 years." —Paul Van Remortel
5. Erb Transport Limited
| Test | Info |
| --- | --- |
| SERVICES | Truckload, less-than-truckload, store door distribution, dedicated services, courier/expedite, cold storage |
| WEBSITE | https://erbgroup.com/ |
| ADDRESS | 182 Colonnade Road, Nepean, ON K2E 7J5 |
| CONTACT DETAILS | (613) 226-1358 |
| | |
| --- | --- |
| Criteria | Ratings |
| Range of services | ★★★★✩ (4/5) |
| Quality | ★★★★★ (5/5) |
| • Turnaround time | ★★★★★ (5/5) |
| • Handling | ★★★★★ (5/5) |
| Technology | ★★★★★ (5/5) |
| Customer service | ★★★★✩ (4/5) |
| • Professionalism | ★★★★✩ (4/5) |
| • Friendliness | ★★★★✩ (4/5) |
Erb Transport Limited is a specialist in transporting temperature-sensitive commodities. At a glance, this is a glaring disadvantage because they have a very limited range of services to offer.
However, we love the fact that this trucking company made sure that their services have many inclusions. First, they made good use of technology by giving their clients access to some important details of the shipment in real-time.
For example, you can have location and status reports available to you with only a few clicks. You don't have to wonder where your goods are.
Another is you can have real-time access to the temperature status of your goods. By having this information handy, you can prevent possible damage to your goods should the temperature be not enough or too much.
Erb also gives their clients peace of mind by taking care of some essential parts of the shipping process. For one, their drivers are well-trained with custom procedures thus making sure that there would be no glitches with the flow of shipment.
This trucking company also offers complete liability insurance for your goods. In our opinion, this shows their commitment to what they do and their care for the goods that they move.
If you're in a hurry to transport your goods, you're in luck because Erb also offers expedited services.
One letdown (but is something quick to fix) is that their website does not reflect any business hours. Potential clients would love to get a message back the soonest time possible so it would be helpful for them to know when is the most convenient time to communicate with Erb.
Another downside is that this trucking company is not yet BBB accredited. Being recognized by such an organization could help establish their credibility in the trucking industry.
Bilingual website
Location and status reports available through Omnitracs
Trained drivers in customs' procedures
Real-time access to temperature status of your loads
Offers complete liability insurance
Offers expedited services
No business hours indicated
Not BBB accredited
Only offers reefers
Customer Review
Complete package
"Great staff and clean enviroment and reliable trucks." —Eric Gervais
Excellent management
Great pay. Good equipment. Excellent management." —Aaron Clair
FAQs about Trucking Companies in Ottawa
---
With the best trucking company in Ottawa, your business will flourish as more of your goods will reach people locally and across borders. You have the assurance that you have a reliable partner that will care for your business as much as you do.
Have you transacted with another dependable trucking company in Ottawa? We would like to hear about your experience.
Do you have smaller items that you have to ship? The best delivery services in Ottawa can help you.