5 Best Tire Shops in Ottawa
Nobody wants to have a tire blowout or generally be inconvenienced by the wear and tear of their tires. But it's a reality for all drivers, which is why we're reviewing the best tire shops in Ottawa today.
We also researched some FAQs about tire shops which you can find at the end of this listicle. But first, let's discuss the costs of some tire shop services.
Are Tire Shops in Ottawa Costly?
Different tire shops in Ottawa can also have various pricing guides. Some charge a single fee for several related services, while others could charge per service rendered.
Below are sample tire shop services and their estimated costs. They're based on the pricing information of some of the shops we're reviewing today.
TIRE SHOP SERVICE
ESTIMATED COST
Tire installation, mounting, and balancing
$18 up
Flat tire repair using a plug patch
$30 up
Tire rotation
$8 up
Car tire change with air top-up
$60 up for 1 tire

$100 up for 2 tires

$160 up for 3 tires
Please note that the prices indicated above could vary by location. It's best to get an initial quote from a reputable shop before committing to any service.
The Best Tire Shops in Ottawa
The tire shops in Ottawa that made it to this listicle were reviewed for the following criteria:
1. Tire Changers

Test
Info
SERVICES
Seasonal tire installation, tire installation, tire repair
ADDRESS
Serves Ottawa
CONTACT NUMBER
1-855-899-8473 |

[email protected]

WEBSITE
https://www.tirechangers.ca/
OPERATING HOURS
Monday to Friday 9 AM - 8 PM | Saturdays and Sundays 9 AM - 7 PM
Tire Changers has introduced clients to a faster and more reliable way of getting their tires changed. It involves three simple steps: scheduling an appointment, having the technicians go to the client's home, and getting the tires replaced within 30 minutes.
It also offers customers a simplified pricing scheme according to the number of vehicles that need their tires changed. The rates are reasonable (starting at $69 for one vehicle) and include air top-ups on all tires.
There are 16 technicians from Tire Changers who are available and ready to service clients at home. And because this mobile service is open seven days a week, they can go wherever the client is (home, the parking lot of an office, etc.) provided it's within business hours.
But since Tire Changers (as its name implies) primarily changes tires, don't expect to be able to buy new tires here. They also can't balance tires or install tires on rims, so tire-changing services will only be done as long as the tires are already on the rims.
Open seven days a week
Reasonable service rates
Technicians can go anywhere the client is
Client feedback on team's politeness and competence
Doesn't sell or balance tires

No BBB accreditation
Customer Reviews
Polite and competent technician
"Been using tire changers since they started. Convenient. Professional. A plus service. Polite and competent technician. Best of all I can wait in the comfort of my own home." – Lisa Harding
Always on time, always polite
"I've used Tirechangers.ca for about 4 years now. Always on time, always polite, always do a good job. So much better than dragging my tires to a mechanic and having to wait while they're changed. Will continue using this service." – Jonathan Ham
2. Tire Direct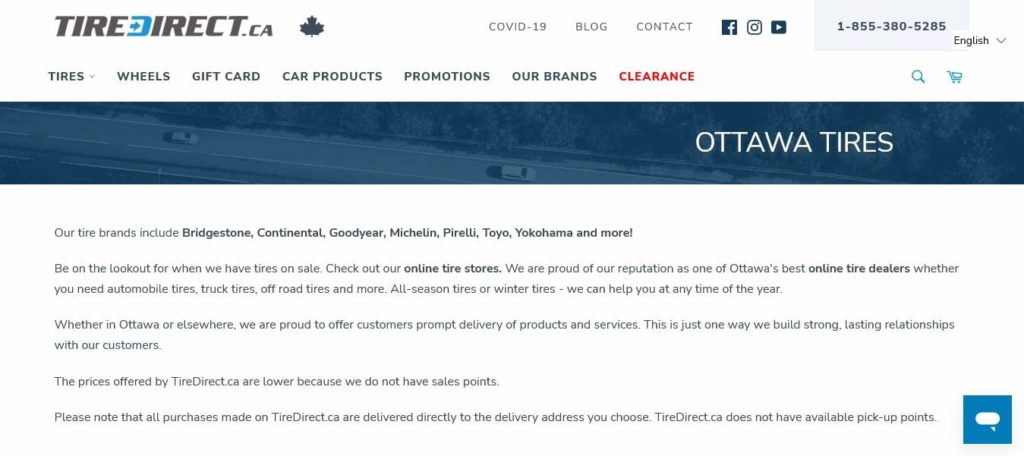 Test
Info
SERVICES
Summer tires, winter tires, winter-certified tires, trailer tires, wheels, gift cards, car products
ADDRESS
Serves Ottawa
CONTACT NUMBER
1 855-380-5285 |

[email protected]

WEBSITE
https://tiredirect.ca
OPERATING HOURS
Monday to Friday 8 AM - 5 PM

Closed on Saturdays and Sundays
Tire Direct is a Quebec-based tire supplier of around ten brands of tires. It wants to offer customers a more convenient way to shop for tires through online purchasing.
And because there's no middleman or outlets, it can offer customers lower-priced tires. This allows Tire Direct to have regular promotions and clearance sales which means bigger discounts for seasonal supplies and stocks.
The downside is that clearance sale products are usually low in stock, with four being the average number per manufacturer and type. Some tires are also slightly used but those are also low in supply.
There's also a price match guarantee which allows customers to send an official price proof (URL, photo, or quote) via email or chat. However, the tires have to be identical to the ones on Tire Direct's catalogue and should reflect the price before shipping and taxes.
The company delivers directly to any point in Canada, including Ottawa. There are no pick-up points available so a valid address is needed for the delivery (PO Boxes are accepted).
Carries more than ten tire brands
Offers lower prices on tires
Delivers anywhere in Canada
Offers a price match guarantee
Limited stocks and types on clearance
Open on weekdays only
No BBB accreditation
Customer Reviews
Great customer service, quick delivery
"Great customers service, love the style of my rims and quick delivery. Would buy from them again." – Jackie K.
Tires were delivered three days later
"Ordered from TireDirect and tires were delivered 3 days later. Tires were a replacement for my Jeep Cherokee Trailhawk OEM tires. So far tires have outperformed the OEM tires. Nice ride and very quiet for an A/T tire." – David B.
3. Ottawa Tires Direct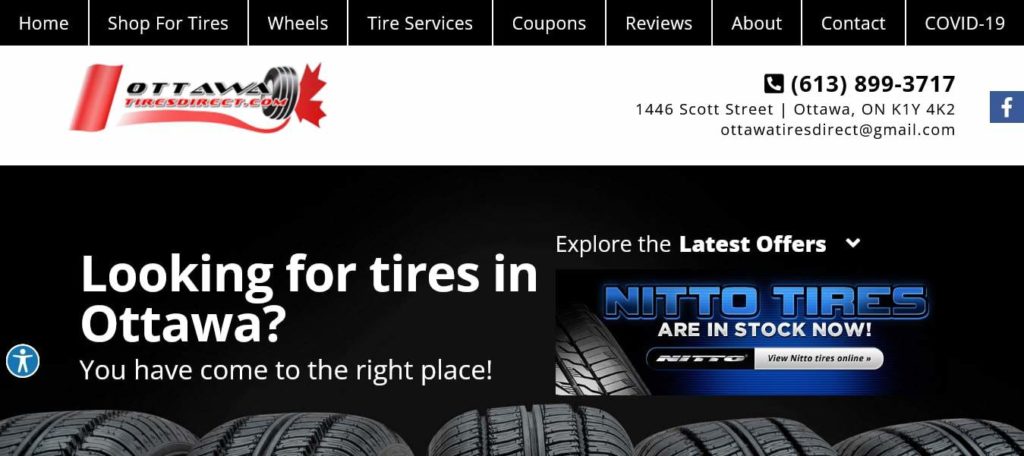 Test
Info
SERVICES
Car, truck, and SUV tires, wheels, TPMS, wheel alignment, tire repair, wheel repair
ADDRESS
1446 Scott Street Ottawa, ON K1Y 4T8
CONTACT NUMBER
(613) 899-3717 |

[email protected]

WEBSITE
https://www.ottawatiresdirect.com/
OPERATING HOURS
Mondays 10.30 AM - 8 PM

Tuesdays and Wednesdays 10.45 AM - 9 PM

Thursdays and Fridays 11.30 AM - 9 PM

Saturdays 10 AM - 5 PM

Closed on Sundays
Ottawa Tires Direct (not to be confused with Tire Direct above) offers a comprehensive tire catalogue with dropdown searches for vehicle type, tire size, and brand. We input different details on the tool and it did yield a satisfactory number of options and useful information.
But while the filtered results come complete with specs, features and benefits, and even customer reviews, there was no pricing information. You'll still have to request a quote from the company.
There are printable coupons from different tire and wheel manufacturers. There are also several for choice auto repair services at the shop.
Aside from supplying tires and wheels, customers can go to Ottawa Tires Direct for auto repair services. It offers tire pressure monitoring, nitrogen inflation, wheel alignment and balancing, wheel installation, tire rotation and repair, and installation after purchasing.
There aren't any price guides for the services, either. The best way to get details about it would be to fill out an appointment form (customers are allowed two appointment choices).
We also think that making an appointment is extra-practical since the shop's operating hours are pretty confusing.
Handy online tire finder tool
Other tire and wheel services are available
Open six days a week
Offers printable coupons
Doesn't provide a price guide
Confusing operating hours
No BBB accreditation
Customer Reviews
Always have had good prices
"************** is a great guy, I have been purchasing tires there for years and they have always had good prices and stand behind their product. I have recommended his shop to 50+ people as well as my family and the only complaints I have received are logistical in nature and never with quality of product/installation/price etc. I highly recommend them, Cheers!" – Kirk D.
Great service, price, and timeliness
"Great service, price and timeliness during new tire installation. One thing they did that is absolutely above board compared to anyone else is that they were running late and actually contacted me well ahead of my appointment time to advise me and ask if they could push the appointment by 30 minutes. As a result, I wasn't waiting around for no reason. This was greatly appreciated and will definitely go back again for new tires when needed." – Angel F.
4. Ottawa Tires and Rims, Inc.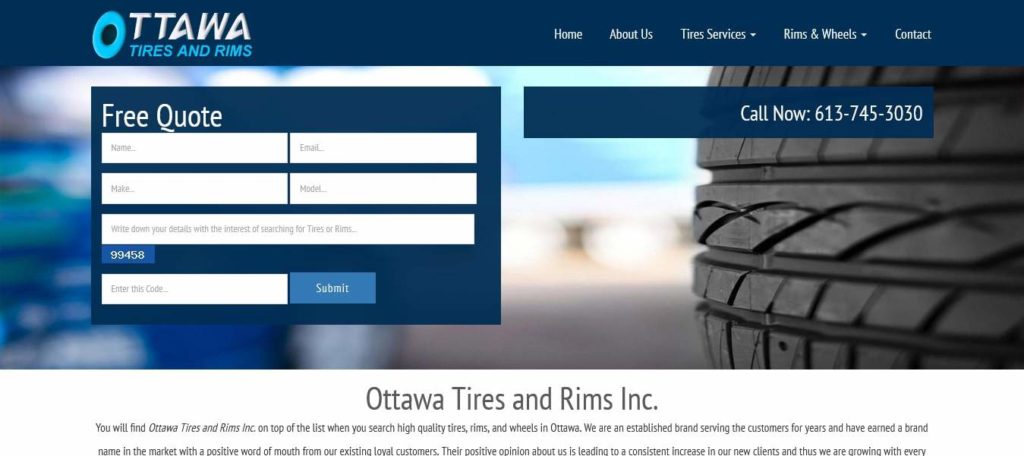 Test
Info
SERVICES
Tire shop, winter tires, summer tires, all-season tires, custom rims, chrome rims, racing wheels, steel rims, replica rims
ADDRESS
5370 Canotek Road Unit 29 Gloucester, Ottawa ON K1J 9E8
CONTACT NUMBER
(613) 745-3030
WEBSITE
http://www.ottawatiresandwheels.com/
OPERATING HOURS
Monday to Friday 8 AM - 6 PM

Saturdays 8 AM - 3 PM

Closed on Sundays
Of course, we made sure to include a Better Business Bureau-accredited tire shop in this listicle. Ottawa Tires & Rims has stocks of tires for winter, summer, and all seasons with a good variety of models available.
It also sells rims and wheels at what it describes as "competitive and economical prices". But these prices are nowhere to be found on the website so it's best to take advantage of the shop's offer of providing free quotes to clients.
Still, there's quite a list of tire brands available at Ottawa Tires & Rims, including BF Goodrich, Goodyear, Pirelli, Michelin, Hankook, Firestone, Continental, and more. Customers can get any kind of tires and rims at any day, with a huge stock to accommodate even bulk and wholesale options.
There's a tire guide tab on the website with a caption that led us to believe we can search by tire size, vehicle, or brand. But when we clicked on it, it just led back to the upper part of the main page which contained a free quote form.
We think it would be good for Ottawa Tires & Rims to update and upgrade its site's navigation and design, and add more helpful information like prices and features.
Gives free quotes
Huge stock of dozens of brands
Can accommodate bulk purchases
BBB-accredited, Aᐩ rating
No price guide on tires and rims
Website design and information needs updating
Tire guide link doesn't work
Customer Reviews
All hands were on deck for a tire change
"These guys are fast. Like if I drove a race car I would be able to compare them to the NASCAR pit crew. We had an appointment, it's the season of winter tires so maybe that's why all hands on deck, but we were happy customers. I needed a bathroom visit and had it been a number 2 it would have taken longer than the tire change. Should we need tires in the future we will certainly be considering coming back here." – Sarah Sutton
Prices are much better than other shops
"What a great shop! They have a large selection of tires available. Awesome service. They took me in the day off and were super helpful in choosing the right tire. Their prices are much better than many shops around too!" – Luca Paoloni
5. Tire Trade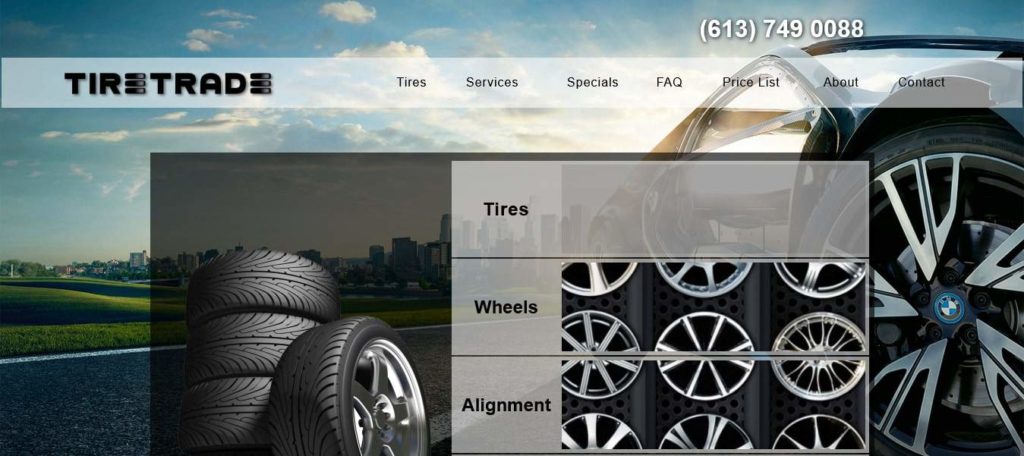 Test
Info
SERVICES
New and used tires, flat tire repairs, tire rotation, wheel alignment and balancing, brakes replacement, muffler repair, suspension and steering repair, wheels (rims) sales, general repair
ADDRESS
1398 Star Top Rd, K1B 3L9 Ottawa ON.
CONTACT NUMBER
(613) 749 0088 |

[email protected]

WEBSITE
http://www.tiretrade.ca/
OPERATING HOURS
Monday to Friday 9 AM - 6 PM

Saturdays 9 AM - 3 PM

Closed on Sundays
Tire Trade sells tires and rims, and also offers automotive repair services to its clients. The company offers specialty tires for passenger, commercial, farm, industrial, and light truck use.
There's a good range of tires selection here. Customers can use the filters to search for tires by season, width, ratio, diameter, and if they're on sale.
There's also a catalogue of tires without any pricing info. Still, the shop offers tire rebates which customers can inquire about via phone call.
Its auto repair services include wheel alignment, repairs on steering and suspension, brakes, exhaust system, and oil changes. And if you get a flat tire, you can also contact Tire Trade because its technicians can repair, rotate, adjust, and install tires, as well.
The shop provides a price list of its basic services and they're quite affordable. A basic tire installation package that includes tire installation, balancing, and mounting only costs $17.50 while replacing a missing or broken lug nut is just $4.
Full range of tire and automotive repair services
Affordable service rates
Good range of tires selection
Offers tire rebates
No pricing info for tires provided
No BBB accreditation
Closed on Sundays
Customer Reviews
Excellent service and fantastic products
"Really excellent service and fantastic products. I purchased my winter tires last year. Connected with a road hazard in a construction zone and needed to replace one, barely used tire. They told me about a warranty I did not know I had…not every business would be so transparent when making a sale. High recommended this business." – Jessica T.
Best deal on winter tires
"Fast friendly service, the best deal on winter tires and no surprises! The phone estimate and service invoice were the same amounts… I recommend this business." – Sly
FAQs About Tire Shops in Ottawa
---
The best tires shops in Ottawa can prolong the life of your tires and prevent road accidents.
If you have more tire shops to recommend, please send us a message so we can review them.
And if you need other vehicle-related services, you can read the following published posts for reference: