The 5 Best Tax Consultants in Ottawa
Tax consultants are important for people who want to save money and make smart decisions when it comes to their finances.
If you're in need of a good tax consultant with a solid reputation and track record, we've got you covered. In this article, we found the best tax consultants in Ottawa.
How much do tax consultants charge in Ottawa?
Tax consultants in Ottawa typically charge around $150 – $500 for basic work. It gets more expensive depending on the complications they may face.
Check out this price table below for more information.
| Tax Consultant Work | Starting Average Price |
| --- | --- |
| Basic tax return | $50 - $150 |
| Multiple income tax filing | $150 - $5000 |
| Null corporate tax return | $250 - $400 |
| Corporate tax filing | $900 - $3000 |
The Best Tax Consultants in Ottawa
Our goal was to make sure that we give you the best tax consultancy options available in the city. We based our list on the following criteria:
1. Accounting Impôts – M. Paradis, CPA

Test
Info
SERVICES
Tax Consultation, Income Tax Preparation, Management Consulting, System Solutions, Accounting, Bookkeeping
WEBSITE
https://www.accountingimpots.ca/
ADDRESS
Erie Ave, Ottawa, ON K1V 6G3, Canada
CONTACT DETAILS
613-260-9641
OPERATING HOURS
Monday 10AM–8PM

Tuesday 9AM–9PM

Wednesday 10AM–9PM

Thursday 10AM–9PM

Friday 10AM–8:30PM

Saturday 10AM–4:30PM

Sunday Closed
| | |
| --- | --- |
| Criteria | Ratings |
| Rates | ★★★★ (4/5) |
| Location | ★★★★ (4/5) |
| Experience | ★★★★★(5/5) |
| Portfolio | ★★★★★(5/5) |
Accounting Impôts is a tax consulting and accounting firm located in Erie Avenue. The firm specializes in consulting for self-employed individuals, professionals, and also rental properties for both small and medium-sized businesses.
The firm has bilingual services, which is a good thing for those who aren't too fluent in English. It's also available for management consulting, bookkeeping, and even system solutions.
We're impressed with the positive feedback that the firm has received from numerous clients. The multiple services it offers prove to be a good thing, especially for clients with different needs.
Accounting Impôts' main accountant is Martin Paradis, who has over 20 years of experience working for both individual tax clients and business tax clients. We also like how the firm is focused on giving back to the community by working with charity organizations.
Overall, this provider is more apt for small businesses and individuals. So if you have a corporate business, you may have to look elsewhere.
The firm is small, and so is its client base. So accepting huge businesses is not on its radar.
As a small firm, the space is also quite minuscule and can be hard for those who need to park their vehicle in the area.
Overall, if you are on a strict budget and aren't really looking for tax consultancy on a huge scale, Accounting Impôts should be just right for you.
Special services for small businesses and property finances
Helps with community development
Wide range of services
Parking area can be full
Some services can be pricey
Not for large-scale businesses
Customer Reviews
Amazing
"Martin is amazing. We have been his clients for twelve happy years,. He not only prepares your return but is a fine financial adviser. We had a complex return this year and he did a great job with it. We are very happy with Accounting Impot.- Carol Anne King
Excellent work
"Martin is professional, courteous, and hard-working. In addition, he is extremely knowledgeable about taxes, and communicated that knowledge very effectively. Not only will I go to Martin for my future tax needs, but I will recommend Martin to others without any hesitation. – Andrew Alkhouri
2. Envolta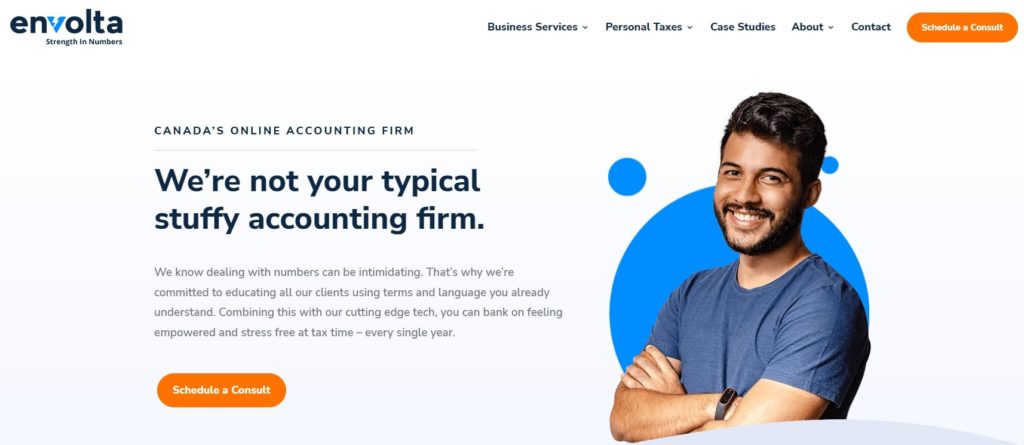 Test
Info
SERVICES
Tax Consultation, Bookkeeping, Payroll, Accounts Payable, Cloud Accounting, Corporate Tax, Tax Planning, Virtual CFO, System Implementations
WEBSITE
https://envolta.ca/
ADDRESS
503 Rideau St, Ottawa, ON K1N 5Z5, Canada
CONTACT DETAILS
613-567-7088
OPERATING HOURS
Monday 8AM–3:30PM

Tuesday 8AM–3:30PM

Wednesday 8AM–3:30PM

Thursday 8AM–3:30PM

Friday Closed

Saturday Closed

Sunday Closed
| | |
| --- | --- |
| Criteria | Ratings |
| Rates | ★★★★ (4/5) |
| Location | ★★★★ (4/5) |
| Experience | ★★★★★(5/5) |
| Portfolio | ★★★★★(5/5) |
Envolta is a firm located in Rideau Street that specializes in tax consultancy, accounting, and bookkeeping.
What really stands out with Envolta's services is the fact that the firm is willing to do online tax consultancy and bookkeeping. This is quite uncommon in this sort of field, so we think this unique feature gives it an edge over its competitors.
Envolta also has its own team of different experts, including tax managers, accountants, and its very own cloud bookkeepers. The cloud bookkeepers are the ones in charge of the online consultancies.
The online services the firm offers allow you to keep track of your money in real-time. This means fewer worries for clients who spend a lot of time moving money.
We found the firm's portfolio very impressive, especially because of its ability to multitask with a lot of experts under its belt.
We are also happy with how Envolta makes sure to educate its clients regarding the basics of tax so they properly understand how the system works.
With that said, it's still disappointing that Envolta is only open 4 times a week. Some of the services the firm offers are also pricey, and we think it's because it was made to work with bigger clients who have corporate backgrounds.
Overall, if you have the budget, you can definitely go for Envolta for the convenience and expertise the company offers.
Has online services
Offers multiple tax services
Also has services for smaller businesses
Open only 4x a week
Some services are pricey
Customer Reviews
Professional
"We were looking for professional help to file our personal taxes this year and a friend recommended Envolta Inc. The owner, David, was quick to provide quotes and answers to all of our questions, phone calls and emails. At the Rideau location, Geneva was an absolute pleasure to deal with. She was professional, client-oriented, patient and also efficient. We were very impressed with the whole process and would recommend the Envolta team to others without hesitations. Excellent service and customer care goes a long way!" – GML
Encouraging
"I filed my taxes with Envolta last week and from the moment I called in to book an appointment, I was extremely impressed with their speed of service as well as their attitude toward myself as a client. On the phone, the owner David encouraged me to ask questions and to voice my concerns. Once on site, everything went very smoothly, all the questions I had regarding my contributions were explained clearly and in a professional way. I would definitely recommend Envolta's services to anybody looking for a competent accountant."– Kenza Gamassi
3. AI Tax Consultants

Test
Info
SERVICES
Tax Consultation, Personal Tax Services, Business Tax Services, Investment Tax, Estate Tax, Overseas Tax
WEBSITE
http://aitax.ca/
ADDRESS
700 Industrial Ave #311, Ottawa, ON K1G 0Y9, Canada
CONTACT DETAILS
866-210-2482
OPERATING HOURS
Monday 10AM–6PM

Tuesday 10AM–6PM

Wednesday 10AM–6PM

Thursday 10AM–6PM

Friday 10AM–6PM

Saturday 10AM–6PM

Sunday 10AM–6PM
| | |
| --- | --- |
| Criteria | Ratings |
| Rates | ★★★★★(5/5) |
| Location | ★★★★ (4/5) |
| Experience | ★★★★★(5/5) |
| Portfolio | ★★★★★(5/5) |
AI Tax Consultants is another great option for your tax consultant needs. The firm has multiple accountants at its disposal and is able to handle a decent number of clients altogether.
Because of this, we highly recommend it for individuals with multiple accounting needs.
Aside from the usual services like tax consultation, business tax profiling, and assistance on investment tax, AI Tax Consultants is also offering overseas tax consultations. This service is very important, especially for those planning to travel.
We are also happy to say that the company is actually open every day. Any emergency issues regarding your expenses can be fixed more quickly because its accountants are available for a longer length of time.
We also like that AI is able to answer basic tax inquiries through the phone. Not everyone has the time and the resources to visit their accountant's office every day, so a phone consultation is a huge plus to its services' convenience.
With that said, it is worth noting that AI Tax Consultants has multiple clients, so there are times that its accountants will have to make you wait.
If you're okay with that, then this company is definitely for you, especially because of the convenience and unique services it offers.
Open every day
Can do consultations through the phone
Multiple services available
Multiple clients, booking an appointment may be difficult
Customer Reviews
Very professional
"I've been filing my taxes through A1TC for some years now and I've always received the most beneficial refund. They are fast at responding to questions, and file returns in a quick and efficient manner. Very professional." – Shvata Chwla
Impressive
"We got very good service from AI tax consultants. Faraz is very approachable and prompt in getting back to us via email & phone. His service is very professional. I and my husband is very happy with their service. – Salu M.A.
4. Premium Accounting & Tax Solutions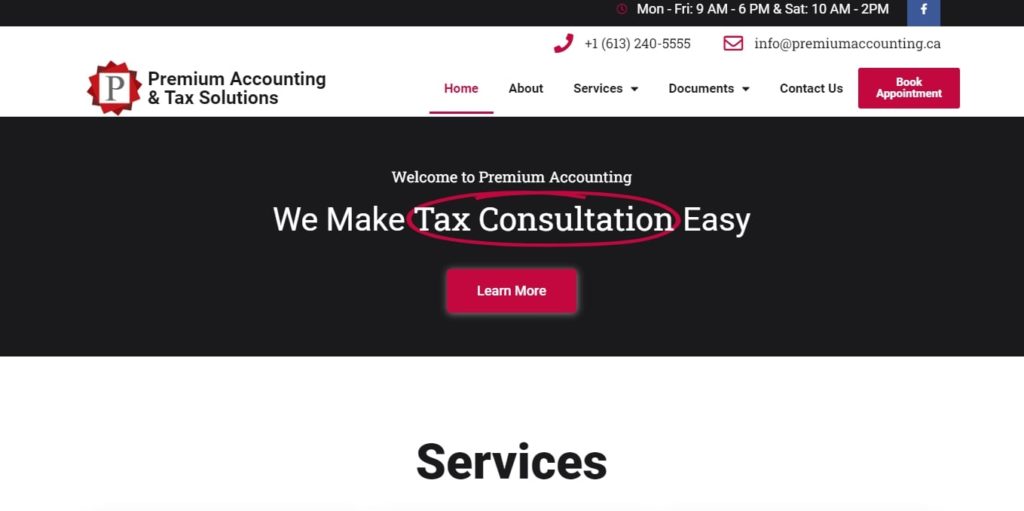 Test
Info
SERVICES
Tax Consultation, Personal Tax, Business Tax, Tax Advisory, Corporate Advisory
WEBSITE
https://premiumaccounting.ca/
ADDRESS
2900 Gibford Dr #117, Ottawa, ON K1V 2R4, Canada
CONTACT DETAILS
613-240-5555
OPERATING HOURS
Monday 9:30AM–5:30PM

Tuesday 9:30AM–5:30PM

Wednesday 9:30AM–5:30PM

Thursday 9:30AM–5:30PM

Friday 9:30AM–5:30PM

Saturday Closed

Sunday Closed
| | |
| --- | --- |
| Criteria | Ratings |
| Rates | ★★★★★(5/5) |
| Location | ★★★★ (4/5) |
| Experience | ★★★★★(5/5) |
| Portfolio | ★★★★★(5/5) |
Premium Accounting & Tax Solutions is also a great choice for your tax consultancy needs. It's an independent firm, so it has no ties to big corporations.
This makes it especially good for personal tax-related work.
From what we've gathered, the firm works well with smaller businesses and self-employed clients but it is also able to cater to established businesses if needed. It has multiple professional accounts at its disposal, so the lack of manpower should be no problem.
The feedback that Premium has received from its customers is also mostly positive. It's known to provide timely and personal service so that clients don't feel alienated and confused with many accounting terms that they don't understand.
Premium is a good firm, especially for first-timers who are still unfamiliar with how tax returns work. We are happy with the personal approach that it is able to give its clients while being able to simplify complicated terms with no issues.
Premium also has different packages available for businesses and corporate tax dealings. It's not as big as other firms but it is able to take care of big clients.
The only downside we found with Premium is the fact that it closes early. Visiting its office should be done early in the day to maximize all the discussions needed, especially for complicated tax issues.
Offers multiple services, including corporate tax
Good portfolio
Various packages for business and corporate tax dealings
Customer Reviews
The best
"Best accounting service ever encountered in all my years in Canada. Jagtar is a great accountant and during my tax filling he educated me on lot of things that I should be doing which my old accountant simply forgot to mention leading to increase in my taxes but Jagtar was able to solve all my queries." – O.R.
Very helpful
"I was referred to Mr. Singh/Premium Accounting & Tax Solutions and I received excellent service with great expert advice and support. Mr. Jagtar Singh is very professional, ethical and well knowledgeable in his profession. Provide excellent customer service and with reasonable price. I highly recommended Premium Accounting & Tax Solutions for personal and business accounting services." – Navreett Kaur
5. Solid Tax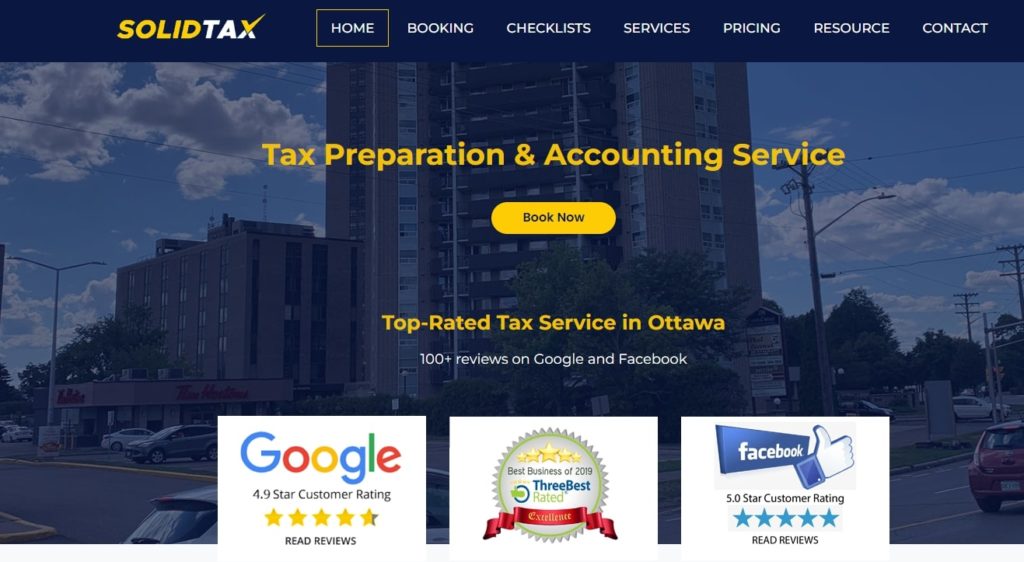 Test
Info
SERVICES
Tax Consultation, Small Business Tax Preparation, Back Tax Preparation
WEBSITE
https://solidtax.ca/
ADDRESS
1390 Prince of Wales Dr #409, Ottawa, ON K2C 3N6, Canada
CONTACT DETAILS
613-421-2012
OPERATING HOURS
Monday 10AM–6PM

Tuesday 10AM–6PM

Wednesday 10AM–6PM

Thursday 10AM–6PM

Friday 10AM–6PM

Saturday Closed

Sunday Closed
| | |
| --- | --- |
| Criteria | Ratings |
| Rates | ★★★★★(5/5) |
| Location | ★★★★ (4/5) |
| Experience | ★★★★★(5/5) |
| Portfolio | ★★★★★(5/5) |
Another good choice for your tax consultancy and accounting needs is Solid Tax, a firm located on Prince of Wales Drive in Ottawa.
It is registered in the Canada Revenue Agency or CRA and has a direct connection to it, which can be very helpful when tracking down your tax documents. This network is one of the reasons we put the company on this list.
The firm is also able to do tax returns very quickly and can even handle and complete multiple years of tax returns in just under a week. This speed is what makes Solid Tax one of the best in the industry.
For the services it offers, Solid Tax is actually pretty affordable. We are quite impressed with how the company is able to provide such quick services without charging its clients an inflated rate.
Unfortunately, outside of tax returns and consultation, it doesn't have any other notable services. If you are only focused on these two, then you should be good.
But if not, you might have to look somewhere else. Even so, we believe that Solid Tax is a great company for tax consultations, especially with the affordable prices and speedy service it offers.
Quick services for tax returns
Has a direct connection to the CRA
Good pricing
Not many services to offer outside of tax consultation
Customer Reviews
Recommended
"Solid tax is simply the best tax service in town! They helped us sort through a huge backlog of many years of missed tax filings and other tax issues in a matter of days! I love that they keep their clients on file, making annual tax filings super easy without us having to supply all the information year after year. Price is super reasonable too! Highly recommend!" – Yuan Thompson
Great service
"Excellent service, cannot recommend them enough! Booking process was easy – done online with options for a phone call or in-person. Amanda Du was amazing. Affordable and seamless. In the past I've had terrible experiences/services with other tax places and regretted it with all the mistakes and lack of communication/follow up. I recommend Solid Tax to anyone!" – Kelly Jackson Z
FAQs about Tax Consultants in Ottawa
---
And that's it for our list of the best tax consultants in the city. If you need help with other financial or business matters, maybe our article on marketing plans could be of use to you.