The 8 Best Tax Consultants in Ottawa
Tax consultants are important for people who want to save money and make smart decisions when it comes to their finances.
If you're in need of a good tax consultant with a solid reputation and track record, we've got you covered. In this article, we found the best tax consultants in Ottawa.
How much do tax consultants charge in Ottawa?
Tax consultants in Ottawa typically charge around $150 – $500 for basic work. It gets more expensive depending on the complications they may face.
Check out this price table below for more information.
| Tax Consultant Work | Starting Average Price |
| --- | --- |
| Basic tax return | $50 - $150 |
| Multiple income tax filing | $150 - $5000 |
| Null corporate tax return | $250 - $400 |
| Corporate tax filing | $900 - $3000 |
The Best Tax Consultants in Ottawa
Our goal was to make sure that we give you the best tax consultancy options available in the city. We based our list on the following criteria:
1. Accounting Impôts – M. Paradis, CPA

Test
Info
SERVICES
Tax Consultation, Income Tax Preparation, Management Consulting, System Solutions, Accounting, Bookkeeping
WEBSITE
https://www.accountingimpots.ca/
ADDRESS
Erie Ave, Ottawa, ON K1V 6G3, Canada
CONTACT DETAILS
613-260-9641
OPERATING HOURS
Monday 10AM–8PM

Tuesday 9AM–9PM

Wednesday 10AM–9PM

Thursday 10AM–9PM

Friday 10AM–8:30PM

Saturday 10AM–4:30PM

Sunday Closed
| | |
| --- | --- |
| Criteria | Ratings |
| Rates | ★★★★ (4/5) |
| Location | ★★★★ (4/5) |
| Experience | ★★★★★(5/5) |
| Portfolio | ★★★★★(5/5) |
Accounting Impôts is a tax consulting and accounting firm located in Erie Avenue. The firm specializes in consulting for self-employed individuals, professionals, and also rental properties for both small and medium-sized businesses.
The firm has bilingual services, which is a good thing for those who aren't too fluent in English. It's also available for management consulting, bookkeeping, and even system solutions.
We're impressed with the positive feedback that the firm has received from numerous clients. The multiple services it offers prove to be a good thing, especially for clients with different needs.
Accounting Impôts' main accountant is Martin Paradis, who has over 20 years of experience working for both individual tax clients and business tax clients. We also like how the firm is focused on giving back to the community by working with charity organizations.
Overall, this provider is more apt for small businesses and individuals. So if you have a corporate business, you may have to look elsewhere.
The firm is small, and so is its client base. So accepting huge businesses is not on its radar.
As a small firm, the space is also quite minuscule and can be hard for those who need to park their vehicle in the area.
Overall, if you are on a strict budget and aren't really looking for tax consultancy on a huge scale, Accounting Impôts should be just right for you.
Special services for small businesses and property finances
Helps with community development
Wide range of services
Parking area can be full
Some services can be pricey
Not for large-scale businesses
Customer Reviews
Amazing
"Martin is amazing. We have been his clients for twelve happy years,. He not only prepares your return but is a fine financial adviser. We had a complex return this year and he did a great job with it. We are very happy with Accounting Impot.- Carol Anne King
Excellent work
"Martin is professional, courteous, and hard-working. In addition, he is extremely knowledgeable about taxes, and communicated that knowledge very effectively. Not only will I go to Martin for my future tax needs, but I will recommend Martin to others without any hesitation. – Andrew Alkhouri
2. Envolta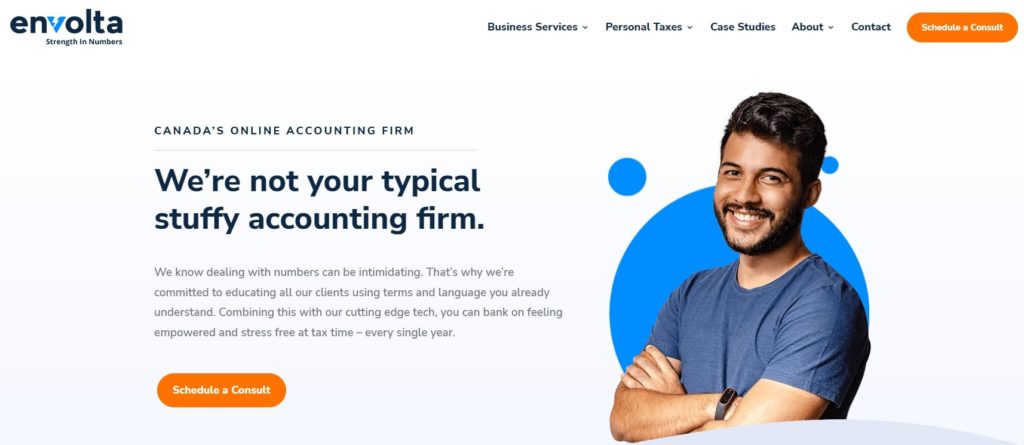 Test
Info
SERVICES
Tax Consultation, Bookkeeping, Payroll, Accounts Payable, Cloud Accounting, Corporate Tax, Tax Planning, Virtual CFO, System Implementations
WEBSITE
https://envolta.ca/
ADDRESS
503 Rideau St, Ottawa, ON K1N 5Z5, Canada
CONTACT DETAILS
613-567-7088
OPERATING HOURS
Monday 8AM–3:30PM

Tuesday 8AM–3:30PM

Wednesday 8AM–3:30PM

Thursday 8AM–3:30PM

Friday Closed

Saturday Closed

Sunday Closed
| | |
| --- | --- |
| Criteria | Ratings |
| Rates | ★★★★ (4/5) |
| Location | ★★★★ (4/5) |
| Experience | ★★★★★(5/5) |
| Portfolio | ★★★★★(5/5) |
Envolta is a firm located in Rideau Street that specializes in tax consultancy, accounting, and bookkeeping.
What really stands out with Envolta's services is the fact that the firm is willing to do online tax consultancy and bookkeeping. This is quite uncommon in this sort of field, so we think this unique feature gives it an edge over its competitors.
Envolta also has its own team of different experts, including tax managers, accountants, and its very own cloud bookkeepers. The cloud bookkeepers are the ones in charge of the online consultancies.
The online services the firm offers allow you to keep track of your money in real-time. This means fewer worries for clients who spend a lot of time moving money.
We found the firm's portfolio very impressive, especially because of its ability to multitask with a lot of experts under its belt.
We are also happy with how Envolta makes sure to educate its clients regarding the basics of tax so they properly understand how the system works.
With that said, it's still disappointing that Envolta is only open 4 times a week. Some of the services the firm offers are also pricey, and we think it's because it was made to work with bigger clients who have corporate backgrounds.
Overall, if you have the budget, you can definitely go for Envolta for the convenience and expertise the company offers.
Has online services
Offers multiple tax services
Also has services for smaller businesses
Open only 4x a week
Some services are pricey
Customer Reviews
Professional
"We were looking for professional help to file our personal taxes this year and a friend recommended Envolta Inc. The owner, David, was quick to provide quotes and answers to all of our questions, phone calls and emails. At the Rideau location, Geneva was an absolute pleasure to deal with. She was professional, client-oriented, patient and also efficient. We were very impressed with the whole process and would recommend the Envolta team to others without hesitations. Excellent service and customer care goes a long way!" – GML
Encouraging
"I filed my taxes with Envolta last week and from the moment I called in to book an appointment, I was extremely impressed with their speed of service as well as their attitude toward myself as a client. On the phone, the owner David encouraged me to ask questions and to voice my concerns. Once on site, everything went very smoothly, all the questions I had regarding my contributions were explained clearly and in a professional way. I would definitely recommend Envolta's services to anybody looking for a competent accountant."– Kenza Gamassi
3. AI Tax Consultants

Test
Info
SERVICES
Tax Consultation, Personal Tax Services, Business Tax Services, Investment Tax, Estate Tax, Overseas Tax
WEBSITE
http://aitax.ca/
ADDRESS
700 Industrial Ave #311, Ottawa, ON K1G 0Y9, Canada
CONTACT DETAILS
866-210-2482
OPERATING HOURS
Monday 10AM–6PM

Tuesday 10AM–6PM

Wednesday 10AM–6PM

Thursday 10AM–6PM

Friday 10AM–6PM

Saturday 10AM–6PM

Sunday 10AM–6PM
| | |
| --- | --- |
| Criteria | Ratings |
| Rates | ★★★★★(5/5) |
| Location | ★★★★ (4/5) |
| Experience | ★★★★★(5/5) |
| Portfolio | ★★★★★(5/5) |
AI Tax Consultants is another great option for your tax consultant needs. The firm has multiple accountants at its disposal and is able to handle a decent number of clients altogether.
Because of this, we highly recommend it for individuals with multiple accounting needs.
Aside from the usual services like tax consultation, business tax profiling, and assistance on investment tax, AI Tax Consultants is also offering overseas tax consultations. This service is very important, especially for those planning to travel.
We are also happy to say that the company is actually open every day. Any emergency issues regarding your expenses can be fixed more quickly because its accountants are available for a longer length of time.
We also like that AI is able to answer basic tax inquiries through the phone. Not everyone has the time and the resources to visit their accountant's office every day, so a phone consultation is a huge plus to its services' convenience.
With that said, it is worth noting that AI Tax Consultants has multiple clients, so there are times that its accountants will have to make you wait.
If you're okay with that, then this company is definitely for you, especially because of the convenience and unique services it offers.
Open every day
Can do consultations through the phone
Multiple services available
Multiple clients, booking an appointment may be difficult
Customer Reviews
Very professional
"I've been filing my taxes through A1TC for some years now and I've always received the most beneficial refund. They are fast at responding to questions, and file returns in a quick and efficient manner. Very professional." – Shvata Chwla
Impressive
"We got very good service from AI tax consultants. Faraz is very approachable and prompt in getting back to us via email & phone. His service is very professional. I and my husband is very happy with their service. – Salu M.A.
4. Premium Accounting & Tax Solutions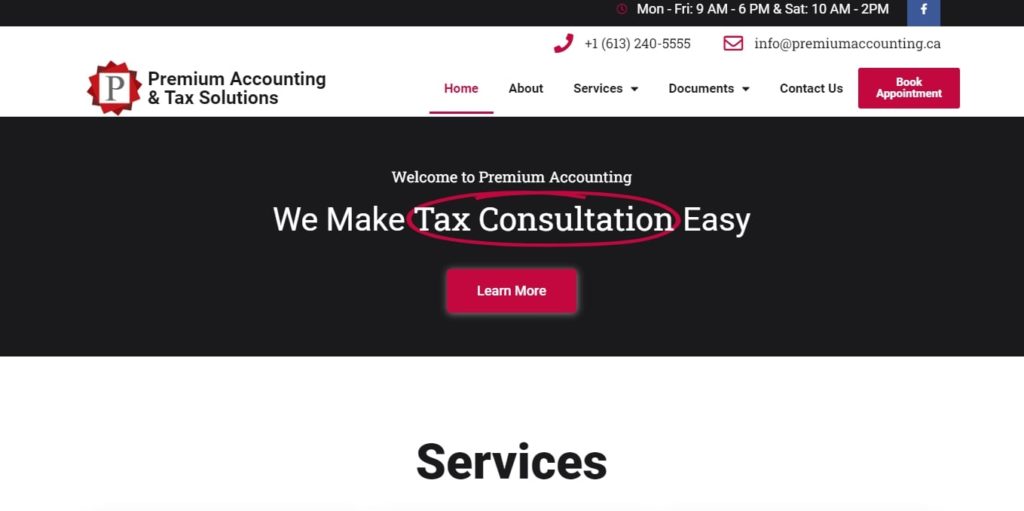 Test
Info
SERVICES
Tax Consultation, Personal Tax, Business Tax, Tax Advisory, Corporate Advisory
WEBSITE
https://premiumaccounting.ca/
ADDRESS
2900 Gibford Dr #117, Ottawa, ON K1V 2R4, Canada
CONTACT DETAILS
613-240-5555
OPERATING HOURS
Monday 9:30AM–5:30PM

Tuesday 9:30AM–5:30PM

Wednesday 9:30AM–5:30PM

Thursday 9:30AM–5:30PM

Friday 9:30AM–5:30PM

Saturday Closed

Sunday Closed
| | |
| --- | --- |
| Criteria | Ratings |
| Rates | ★★★★★(5/5) |
| Location | ★★★★ (4/5) |
| Experience | ★★★★★(5/5) |
| Portfolio | ★★★★★(5/5) |
Premium Accounting & Tax Solutions is also a great choice for your tax consultancy needs. It's an independent firm, so it has no ties to big corporations.
This makes it especially good for personal tax-related work.
From what we've gathered, the firm works well with smaller businesses and self-employed clients but it is also able to cater to established businesses if needed. It has multiple professional accounts at its disposal, so the lack of manpower should be no problem.
The feedback that Premium has received from its customers is also mostly positive. It's known to provide timely and personal service so that clients don't feel alienated and confused with many accounting terms that they don't understand.
Premium is a good firm, especially for first-timers who are still unfamiliar with how tax returns work. We are happy with the personal approach that it is able to give its clients while being able to simplify complicated terms with no issues.
Premium also has different packages available for businesses and corporate tax dealings. It's not as big as other firms but it is able to take care of big clients.
The only downside we found with Premium is the fact that it closes early. Visiting its office should be done early in the day to maximize all the discussions needed, especially for complicated tax issues.
Offers multiple services, including corporate tax
Good portfolio
Various packages for business and corporate tax dealings
Customer Reviews
The best
"Best accounting service ever encountered in all my years in Canada. Jagtar is a great accountant and during my tax filling he educated me on lot of things that I should be doing which my old accountant simply forgot to mention leading to increase in my taxes but Jagtar was able to solve all my queries." – O.R.
Very helpful
"I was referred to Mr. Singh/Premium Accounting & Tax Solutions and I received excellent service with great expert advice and support. Mr. Jagtar Singh is very professional, ethical and well knowledgeable in his profession. Provide excellent customer service and with reasonable price. I highly recommended Premium Accounting & Tax Solutions for personal and business accounting services." – Navreett Kaur
5. Solid Tax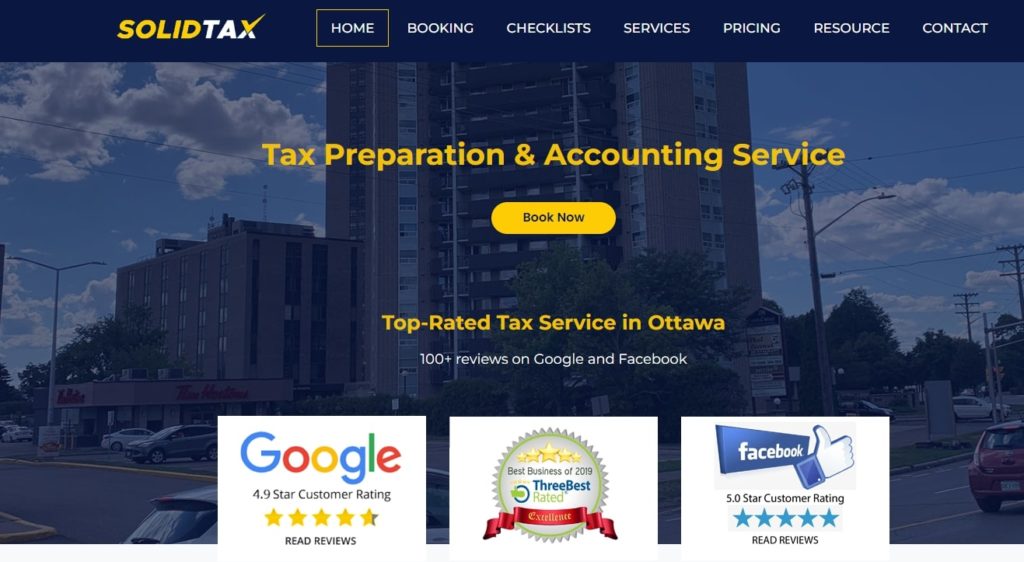 Test
Info
SERVICES
Tax Consultation, Small Business Tax Preparation, Back Tax Preparation
WEBSITE
https://solidtax.ca/
ADDRESS
1390 Prince of Wales Dr #409, Ottawa, ON K2C 3N6, Canada
CONTACT DETAILS
613-421-2012
OPERATING HOURS
Monday 10AM–6PM

Tuesday 10AM–6PM

Wednesday 10AM–6PM

Thursday 10AM–6PM

Friday 10AM–6PM

Saturday Closed

Sunday Closed
| | |
| --- | --- |
| Criteria | Ratings |
| Rates | ★★★★★(5/5) |
| Location | ★★★★ (4/5) |
| Experience | ★★★★★(5/5) |
| Portfolio | ★★★★★(5/5) |
Another good choice for your tax consultancy and accounting needs is Solid Tax, a firm located on Prince of Wales Drive in Ottawa.
It is registered in the Canada Revenue Agency or CRA and has a direct connection to it, which can be very helpful when tracking down your tax documents. This network is one of the reasons we put the company on this list.
The firm is also able to do tax returns very quickly and can even handle and complete multiple years of tax returns in just under a week. This speed is what makes Solid Tax one of the best in the industry.
For the services it offers, Solid Tax is actually pretty affordable. We are quite impressed with how the company is able to provide such quick services without charging its clients an inflated rate.
Unfortunately, outside of tax returns and consultation, it doesn't have any other notable services. If you are only focused on these two, then you should be good.
But if not, you might have to look somewhere else. Even so, we believe that Solid Tax is a great company for tax consultations, especially with the affordable prices and speedy service it offers.
Quick services for tax returns
Has a direct connection to the CRA
Good pricing
Not many services to offer outside of tax consultation
Customer Reviews
Recommended
"Solid tax is simply the best tax service in town! They helped us sort through a huge backlog of many years of missed tax filings and other tax issues in a matter of days! I love that they keep their clients on file, making annual tax filings super easy without us having to supply all the information year after year. Price is super reasonable too! Highly recommend!" – Yuan Thompson
Great service
"Excellent service, cannot recommend them enough! Booking process was easy – done online with options for a phone call or in-person. Amanda Du was amazing. Affordable and seamless. In the past I've had terrible experiences/services with other tax places and regretted it with all the mistakes and lack of communication/follow up. I recommend Solid Tax to anyone!" – Kelly Jackson Z
6. CAN-US Tax & Accounting Inc
| | |
| --- | --- |
| Criteria | Ratings |
| Rates | ★★★★★(5/5) |
| Location | ★★★★ (4/5) |
| Experience | ★★★★★(5/5) |
| Portfolio | ★★★★★(5/5) |
CAN-US Tax & Accounting Inc can handle all types of taxes from United States and Canadian personal taxes to U.S. corporate taxes, sales taxes, and many more. Elliot, their founder, is a US tax specialist that has worked in the US Corporate Tax Services department, providing corporate and individual income tax preparation.
He spent two years as a tax manager in Deloitte LLP's U.S. corporate tax department before launching CAN-US Tax & Accounting Inc, obtaining expertise dealing with U.S. to Canada cross-border transactions for numerous Ottawa-based corporations.
One of his services that gets praises thanks to his proficiency on it is their U.S. Corporate taxes which is for Canadian corporations & real estate investors operating in the U.S. and Canadian Corporate Taxes for Canadian small & mid-size companies.
In addition to their great services, they have a professional list of linked partners that are experienced in dealing with Canadian firms and individuals conducting business in the United States. ConductLaw, MadaPartners, Smith & West, and Synergy are among the firms involved.
Has a professional roster of affiliated partners
Affordable rates
Seasoned professional tax consultant
Works by appointment only
Customer Reviews
I have worked with Elliott and his team for several years and I couldn't be more pleased.
"I have worked with Elliott and his team for several years and I couldn't be more pleased. Not only are they very professional and totally up to date on the US IRS requirements for filing my annual US return, the best part is that it makes my life so much easier! Their patience with my need to have a level of understanding is always on point and I get my answers promptly! I live in Toronto; Elliott's office is in Ottawa. We have never met face to face and yet Elliott and/or members of his team are available, competent, thorough, and a true joy to work with." – Susan Luke Evans
I felt like I was in great hands, and I will be having them help me for many years to come!
"I enlisted Elliott and his team to help me navigate my US and Canadian taxes for the first time. They made the process as painless as possible for me, and I am so grateful for their help! They are well-versed in cross-border tax issues and were able to sort through my situation efficiently. Elliott and his team are responsive, calm, thorough, and service oriented. I felt like I was in great hands, and I will be having them help me for many years to come!" – Katelyn Aase
7. Retirement in View
SERVICES
COMPREHENSIVE RETIREMENT PLANNING PACKAGE
WEBSITE
retirementinview.ca
ADDRESS
240 Catherine St Suite 201, Ottawa, ON K2P 2G8, Canada
CONTACT DETAILS
613-416-9593
[email protected]
OPERATING HOURS
Monday – Friday, 9:30 AM – 5 PM
| | |
| --- | --- |
| Criteria | Ratings |
| Rates | ★★★★★(5/5) |
| Location | ★★★★ (4/5) |
| Experience | ★★★★★(5/5) |
| Portfolio | ★★★★★(5/5) |
You're getting close to retirement and want to be sure that everything is in order so that you may prepare for your future without worries, fear, or concern. A comprehensive plan with expert advice and assistance is required.
Ayana founded Retirement in View to assist people nearing retirement with the financial counsel and comfort they require to have the greatest retirement possible. She provides an unbiased examination of your finances as well as specific recommendations to help you reach your objectives in a pleasant, no-pressure setting.
She understands how perplexing and daunting it may be to arrange your finances. She has assisted hundreds of clients in navigating the difficult world of financial planning, visualizing their long-term objectives, and planning for a safe and comfortable retirement full of the people and activities they like.
She's happy to be a Fee-Only Certified Financial Planner, and I started Retirement in View in Ottawa to provide Canadians with reasonable, honest financial advice without requiring a minimum account size or putting them under pressure to acquire financial products.
Experienced tax consultant
Specialized in retirement planning
Fee-only financial planner
Customer Reviews
Ayana proved to be knowledgeable and professional
"My spouse and I were looking for an independent, fee-only financial planner to help us with our retirement planning, and Ayana proved to be just what we were looking for. We were not interested in purchasing any additional financial products, and just wanted a knowledgeable professional to assess our financial position, and our future plans, and provide useful guidance as we look ahead to our retirement. Ayana proved to be knowledgeable and professional, she was able to answer all of our questions, and she provided advice that will be very beneficial to our decision making. We highly recommend Ayana to anyone who is looking for fee-only financial planning advice as we were." – Bruce Lang
We highly recommend her advice
"My wife Nancy and I felt we were 3-4 years away from retirement and had received some advice from our stock broker firm but also followed the guidance to seek independent advice from someone who is not motivated by keeping your portfolio business. We are really glad we did as Ayana did a more thorough assessment and analysis of our situation than the bank. She recommended some immediate tax treatment advice (rrsp vs mortgage payment) that will save us a bundle on taxes and help us retire a year or two earlier. Our working with Ayana was a very wise investment and we will work with her again as we get closer to retirement to refine our model. We highly recommend her advice."
8. Numetrica City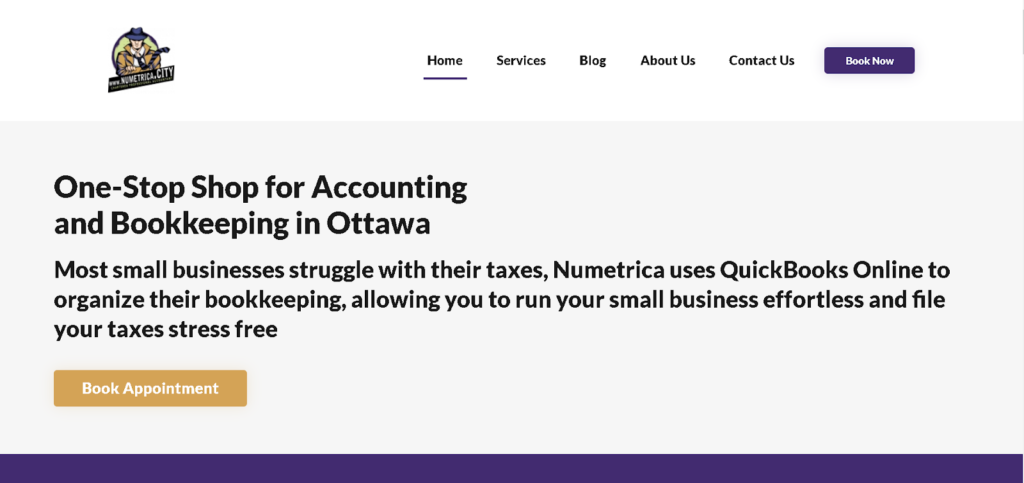 SERVICES
Accounting
Bookkeeping
Corporate Tax
Payroll
Cloud Accounting
Income Tax
CRA
GST HST
Virtual CFO
WEBSITE
numetricacity.ca
ADDRESS
1338 Wellington St. W, Ottawa, ON K1Y 3B7
CONTACT DETAILS
(613) 266-7013
[email protected]
OPERATING HOURS
Monday – Saturday, 9:00 AM – 5 PM
Numetrica City's tax consultants are led by Moe Tabesh, CPA, CGA, B.Comm (Accounting), who has an interesting backstory. He moved to Canada at 21 and worked as a taxi driver to support himself through university. His experience inspired him to start a business that can help people save more money by paying fewer taxes. The company's services include accounting, bookkeeping, cloud accounting, and income tax services. The site also has a superhero concept, which aims to train small business owners to become superheroes in their own right.
Their website is easy to navigate, and their services are presented clearly. The superhero concept may seem gimmicky, but it adds a fun and unique element to the website. The site also provides detailed explanations of the services they offer, which shows that they are transparent and committed to helping their clients.
Overall, the story behind Numetrica City is inspiring, and their services are worth considering for those who need accounting and tax-related assistance. The website's superhero concept is a bonus and may appeal to those who want to learn more about entrepreneurship and business development. If you're a small business owner in Ottawa looking for accounting services, Numetrica City is worth checking out.
Experienced consultants
Services presented clearly on an easy-to-navigate website.
Competitive rates
Customer Reviews
Numetrica City was the quickest in responding
"My wife and I married in the summer of 2022 and for our own reasons we cannot yet live together so she remains in Quebec while I live in Ontario – this posed a real headache for our 2022 tax filing so we contacted three different tax accounting firms. Numetrica City was the quickest in responding and founder Moe Tabesh answered all of our questions in a timely and easy to understand way. It was a real pleasure working with Moe and I would recommend him for both the quality of his accounting services, and interpersonal skills (not to mention that he consistently answered us within the same day – often within minutes of emailing him – which neither of the other two firms (one replied a few days later, the other 10 days later after I followed up) so it's fair to say that Moe and Numetrica City are well ahead of the pack in personal income tax services." – Gilbert LeGras
Provided me with the expert guidance I needed
"I needed some advice and help regarding my taxes that were of a rather urgent nature and did what most would probably do, I searched the web. Prior to contacting Moe I spoke with a number of other random businesses, explained my situation to them and was then promptly told they were too busy and weren't taking on any new customers. I then discovered the Numetrica web site and left a voicemail with Moe briefly explaining my situation. When he called me back he was on his way home from the office and I could tell right away that he too was very busy. Despite this, he took the time to listen to my problem, provided me with the expert guidance I needed and then kept in touch throughout the process until the issue had been resolved. If you are looking for a personable guy who will take the time to listen and help you resolve any tax issues you might have, Moe is your guy." – Charles McCormick
FAQs about Tax Consultants in Ottawa
---
And that's it for our list of the best tax consultants in the city. If you need help with other financial or business matters, maybe our article on marketing plans could be of use to you.