The 5 Coolest Skate Shops in Ottawa
Despite the lengthy winters affecting outdoor activity, skateboarding is continuously growing into a popular recreation and sport in the country, especially in Ottawa.
Since the capital has strict rules when it comes to using skateboards on roadways and even on sidewalks, more and more skateparks are sprouting around the area like Lansdowne Park, Charlie Bowins Skate Park, and Legacy Skate Park.
This sport has been steadily growing and is also forming a subculture, just like it has in various parts of the world. Thus, the demand for all items related to it is also there.
If you are looking for great resources on all things related to skateboards, we have just summed up a list of the coolest skate shops here in Ottawa that you should check out!
Whether you are looking for quality and cool boards, accessories, gear, or fits, we hope this list can help you find the perfect spots to grab whatever you may want and need for skateboarding.
How much do skateboards cost?
Skateboard price ranges vary greatly because of so many factors. Brand, quality, customization, and even where you are buying it from can influence its costs.
There are also various types of skateboards, each meant for a different purpose.
Classic ones like cruiser boards and longboards are made for riding around but are not ideal for stunts and tricks. Meanwhile, there are Verts of Street skateboards that are great for practicing routines.
A decent board can cost somewhere between $89 and $191. A beginner can also opt for a mid-quality board lower than $89.
Those pros at their game usually use professional skateboards that start at $127 and higher.
Whether skateboarding is something you'd love to try or you are looking to upgrade, here's a table to give you a good idea of just how much you'll need:
| Skateboard Type | Price Range | Ideal for |
| --- | --- | --- |
| Beginner Skateboards | $51 to $89 | Mid-quality board for beginners and average skaters |
| Classic Skateboards | $76 to $509 | Allows a good range of skating styles but are not ideal for cruising |
| Street Skateboards | $89 to $254 | Lightweight boards that are best for tricks, glides, and slides |
| Blank Skateboards | $64 to $140 | Solid-colored skateboards favoured by pros |
| Professional Skateboards | $127 to $318 | These have quality decks and are usually seen in skating competitions and tournaments |
| Longboard Skateboards | $76 to $636 | Designed with a stable deck platform for cruising and long-distance |
| Kids Skateboards | $25 to $57 | Smaller type of skateboards made for kids |
Whether it's just a hobby or a serious sport for you, getting a good skateboard can still demand a good amount of money. That's why some resort to building their own skateboards.
But don't think customized skateboards are any much cheaper. You may still need as much as $191 to $255 for parts to build a really good one that can fit your needs and skating style.
Looking for Great Skate Shops in Ottawa
Just like any retail shop, a good skate shop should be able to give you at least a satisfactory shopping experience.
But what really sets it apart should be how much a shop understands and caters to not just the needs of a skateboarder but also the culture and lifestyle that come with it.
To be able to recommend to you the best skate shops in Ottawa, we checked different factors that may affect your shopping experience.
With these criteria, we hope you can find the ideal skate shop in Ottawa where you can find all your skateboarding needs, whether you are a hobbyist, a beginner, or a pro in the skate scene.
1. Birling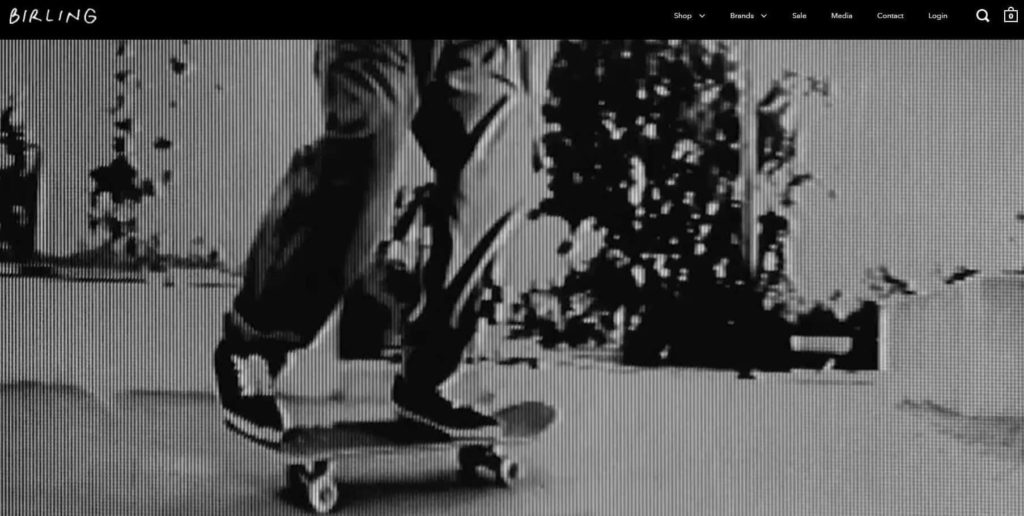 Test
Info
PRODUCTS
Skateboards, decks and accessories, apparel, and footwear
WEBSITE
https://birlingtheottawa.com/
ADDRESS
562 Somerset St W Suite A Ottawa
CONTACT DETAILS
(613) 695-4782
STORE HOURS
Monday to Friday: 10 am to 7 pm

Saturday: 10 am to 5 pm

Sunday: 11 am to 5 pm
| | |
| --- | --- |
| Selection of items | ★★★★★ (5/5) |
| Quality of products | ★★★★★ (5/5) |
| Price | ★★★★☆ (4/5) |
| Shopping convenience | ★★★★★ (5/5) |
| • In-store experience | ★★★★★ (5/5) |
| • Online shopping | ★★★★★ (5/5) |
| Customer service | ★★★★★ (5/5) |
| • Responsiveness | ★★★★★ (5/5) |
| • Flexibility | ★★★★★ (5/5) |
| • Knowledge | ★★★★★ (5/5) |
| • Accountability | ★★★★★ (5/5) |
One of the best, if not the best skateboard brands, Birling creates a range of skateboarding products from domestic suppliers.
With actual street skaters behind the brand, you can see the love for skateboarding with the kind of products they offer.
That being said, they have immensely contributed to the skateboarding community in Ottawa by spearheading skate park building and outreach programs.
For a shop with people who genuinely have a passion for the culture and lifestyle brought about by skateboarding, they can really deliver meaningful products that fit the needs of many enthusiasts.
They offer a really good range of skateboards of every type from various local brands, including their very own Birling® merchandise. They also offer materials and accessories you can use to customize your own skateboard to fit and work as you need it.
Plus, they also offer and carry different footwear and apparel brands along with their own Birling® line that is casual and comfortable for any skater.
There are so many options to check out, and their very friendly staff can make it easier for you to pick out the best ones if you need help.
When you visit their shop, you get a grounded creative vibe from their rustic-vintage facade and interiors.
The physical store itself is aesthetically pleasing with a thoughtfully designed store layout so you can comfortably browse through all their items. You can even grab a cup of good coffee in the store!
When it comes to their online platform, there's really not much to say except that they also provide excellent and convenient products and services here too. Their items are packed well and even come with personalized notes.
Delivery is fast, and shipping can be free if you meet a minimum of $150 per order. Customer service is also efficient and available 24 hours.
The only downside we can see here is that though a lot of the apparel and gear are unisex, they can also consider adding more selections for their female customers.
From the well-curated brands they offer, their own purposeful merchandise, and the thoughtfulness behind the service, Birling definitely comes in as one of the most remarkable skate shops on our list.
Has their own thoughtfully created merchandise
Well-curated inventory of other domestic brands
Highly involved in the local skateboarding community
Great vibe and cool physical store aesthetics
Efficient 24-hour online customer service
Commendable online shopping experience
Limited selections for female customers
Shorter store hours on Sundays
Customer Reviews
My favorite shop in Ottawa
Birling is honestly not only my favourite skateboard shop I've ever been in, it's also my favourite shop in Ottawa. Hard stop.
I came into the shop before work one day, after not owning a skateboard for 13 years. They were incredibly helpful, and worked through every different type of bird, trucks, and wheels with me, to make sure I got a good fit. They didn't try to up sell me or anything – just focused on what I need.
The shop itself is wonderful – great atmosphere, nice clothes, shoes, accessories, the staff has all been wonderful, and the coffee is phenomenal.
After about a week on the board, it feels great. Kyle definitely hooked me up right. Will be back here for all my skateboarding needs, as well as the coffee. – Keyfer Mathewson
Worth supporting
What a great shop, and a great addition to Centretown. They've been heavily involved in community projects for the past 5+ years, so supporting them and supporting local pays itself back. Great place for clothing & shoes or just stopping in for a coffee. – Brian Garson
2. Top of the World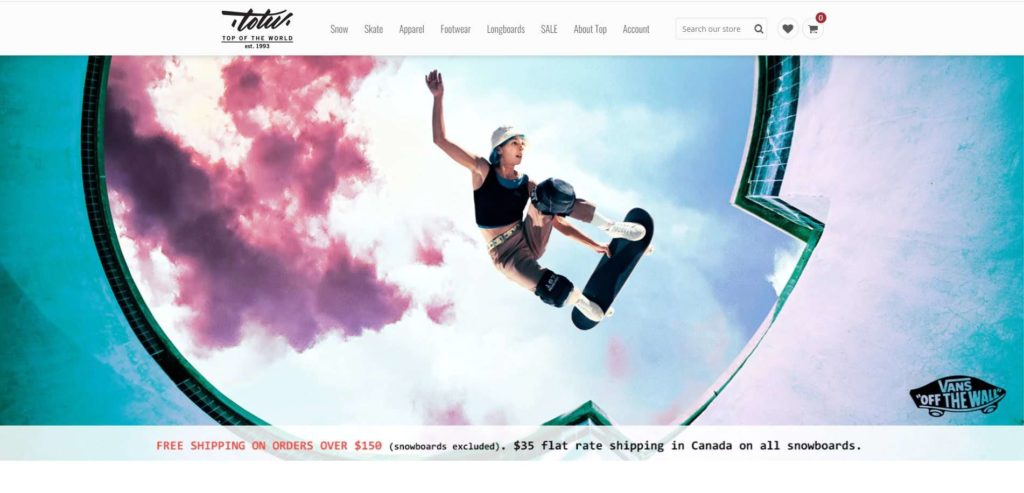 Test
Info
PRODUCTS
Skateboards, longboards, snowboards and gear, apparel, and footwear
WEBSITE
https://www.topoftheworld.com/
ADDRESS
581 Bank St. Ottawa
CONTACT DETAILS
(613) 237-4797
STORE HOURS
Monday to Thursday and Saturday: 11 am to 6 pm

Friday: 11 am to 7 pm

Sunday: 12 pm to 5 pm
| | |
| --- | --- |
| Selection of items | ★★★★☆ (4/5) |
| Quality of products | ★★★★☆ (4/5) |
| Price | ★★★★★ (5/5) |
| Shopping convenience | ★★★★☆ (4/5) |
| • In-store experience | ★★★★☆ (4/5) |
| • Online shopping | ★★★★☆ (4/5) |
| Customer service | ★★★★☆ (4/5) |
| • Responsiveness | ★★★★☆ (4/5) |
| • Flexibility | ★★★★☆ (4/5) |
| • Knowledge | ★★★★★ (5/5) |
| • Accountability | ★★★★☆ (4/5) |
Top of the World has two specialties—skateboards and snowboards. Since 1993, they have been one of the leading providers of the best skateboards, snowboards, and related apparel in the area.
With their 2,500-square-feet retail shop on Bank Street, you can find just about anything you'll need and want when it comes to these two sports.
For skateboards alone, they carry at least 35 brands, including their own, with competitive and reasonable prices too. What's really nice here is they have a dedicated area where you can get help to fix or build your decks too.
They also offer some limited edition finds that you don't just easily see on common retailers. Just keep in mind that stocks for these aren't that many, given their rarity.
Nevertheless, you can enjoy shopping for really creative and quirky designs that can match your personality and style as a skater. We've browsed through their selections. and what they offer here are absolute eye candies.
They also sell different casual and sporty apparel and footwear for men, women, and even kids. It's actually a great place to shop for the whole family.
Plus, they also offer good deals, especially if you're a regular. Being a returning customer won't really be a problem too, since you'll find shopping here a good experience.
Given that it's a local store, you can see that they understand the needs of the people in this part of the world. If it's your first time buying a skateboard, their in-house staff can guide you to find the best one.
The store itself is pretty cozy and neat. Plus, its convenient location easily makes it a go-to spot for locals.
They also have an online store that holds a decent variety of skateboards and parts, snowboarding gear, and all the other merch that they have in store.
Delivery is available to all parts of Canada and even to some European countries.
For good quality items at a reasonable price, Top of the World is a good place to start if you are new to skateboarding.
Good selection of skateboards and other related items
Fairly good prices
Helpful and informative staff
Also offers snowboarding gear
Convenient online shopping platform
Find rare items here from time to time
Good shopping spot for the family
Offers building and repairs of skateboards
Some items tend to have limited stock
Shortened store hours on Sundays
Customer Reviews
Everything a skate shop should have
Great downtown skate shop. Shoes are important and they have a room which is religiously dedicated to them. Fixing up boards is important and they have a workbench and pros on staff to help you. Prices are reasonable and they'll fix up your boards when you have no idea what to do and don't have the parts. They fixed two of my longboards today and only charged $12.43 for parts. Work and expertise was free. – Charlie Shan
We'll surely be back
Went with my girlfriend before they closed. Be both wanted learn how ti skate for the first time ever. the staff was very friendly and knowledgeable and helped both of us feel better about picking a board and learning. Whenever we want a new board or new parts we will return here for sure. – Michael Stewart
3. On Deck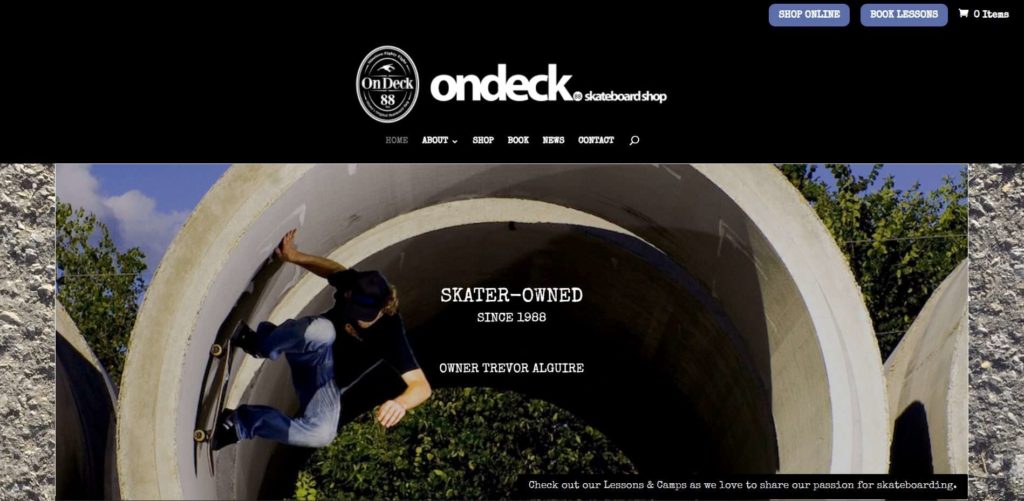 Test
Info
PRODUCTS
Skateboards and parts, apparel, footwear, and accessories
WEBSITE
https://ondeckskateboardshop.com/
ADDRESS
On Deck, 141 Bentley Ave, Nepean
CONTACT DETAILS
(613) 723.0550
STORE HOURS
Monday to Friday: 11 am to 6 pm

Saturday to Sunday: 11 am to 5 pm
| | |
| --- | --- |
| Selection of items | ★★★★☆ (4/5) |
| Quality of products | ★★★★★ (5/5) |
| Price | ★★★★☆ (4/5) |
| Shopping convenience | ★★★★☆ (4/5) |
| • In-store experience | ★★★★☆ (4/5) |
| • Online shopping | ★★★★☆ (4/5) |
| Customer service | ★★★★★ (5/5) |
| • Responsiveness | ★★★★★ (5/5) |
| • Flexibility | ★★★★★ (5/5) |
| • Knowledge | ★★★★★ (5/5) |
| • Accountability | ★★★★★ (5/5) |
Another local shop owned by an actual skater, Trevor Alguire, On Deck has been in business in Ottawa for three decades.
Because skateboards have been his passion and the motivation behind the store, you can expect to find goods that cater to what skaters really need.
On Deck has been a trusted name when it comes to anything related to skateboards in the local community. Likewise, they have also promoted the art form by providing lessons and camps throughout the years.
Their team is not just knowledgable but may arguably be some of the best skaters in Ontario. That being said, they can really give you the right things you need—be it for learning how to skate or finding the right pro gear.
They have quite a great selection of skateboards, decks, and wheels available both in-store and also on their online shop. You can find some great brands in their inventory, but their best ones are probably those that On Deck produced themselves.
But if you really want a customized board that can allow you to achieve the performance you want, these parts are really of great quality and are worth investing in.
Moving on to their physical location, their shop has a cool facade. They are the only shop in Ottawa that has an indoor skating facility, and that's a great reason to stop by aside from shopping.
However, the ramp seems to take up a huge amount of space, leaving the area for merchandise just a tiny bit cramped.
Nevertheless, the store is pretty nifty and well-organized so it's easy to look around if there are not too many people around.
For a great experience mingling with skating pros, visit their store at Nepean. It's going to be worth the quick trip!
Good selection of skateboards, decks, and trucks
Produces their own skateboards and parts
Competitive prices
Offers skateboard lessons and camps
Has an indoor skating ramp
Great store vibe and design
Highly involved in the local skating community
Limited apparel and footwear selections
Shortened store hours during weekends
Customer Reviews
Great place
Great atmosphere and awesome service. Owner is extremely knowledgeable and helpful. The equipment sold there is professional grade, and many items from decks to hardware are made by On Deck, as well as industry standard brands. He is a professional skateboarder who is passionate about the history of the sport and passing on the knowledge through teaching. There is and indoor ramp for recreation and lessons. Ramp rates are real bargain compared to other skate parks.
We will be spending a lot of time here! – Geoff Shufelt
Worth the trip
Bought my first skate board today and what an amazing store and sale person; Noah. He helped me pick out a board, hardware and tools plus he is a wreath of information, the guy knows his stuff. Although I do not live in Ottawa I would make the drive again since Noah is professional and friendly. He not only built my board but instructed me on how to do it myself and how to maintain my purchase. Thank you for everything, it was worth the drive and the money. – Zack Addis
4. Havoc Skate Shop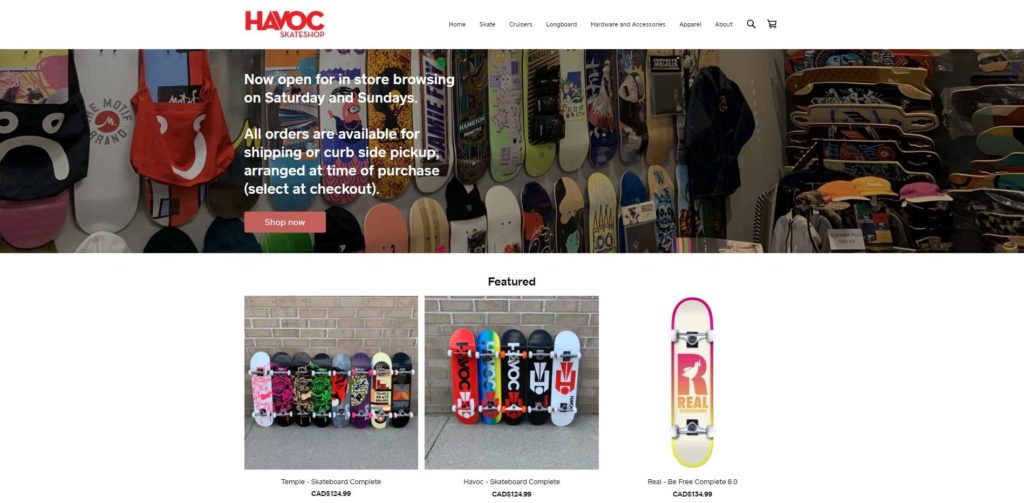 Test
Info
PRODUCTS
Skateboards, longboards, decks, wheels and parts, skating gear, and apparel
WEBSITE
https://www.havocskateboards.com/
ADDRESS
35 Auriga Drive, Unit 112 Ottawa
CONTACT DETAILS
(613) 216-8328
STORE HOURS
Saturday: 11 am to 5 pm

Sunday: 11 am to 4 pm

Closed on weekdays
| | |
| --- | --- |
| Selection of items | ★★★★★ (5/5) |
| Quality of products | ★★★★☆ (4/5) |
| Price | ★★★★☆ (4/5) |
| Shopping convenience | ★★★★☆ (4/5) |
| • In-store experience | ★★★☆☆ (3/5) |
| • Online shopping | ★★★★★ (5/5) |
| Customer service | ★★★★★ (5/5) |
| • Responsiveness | ★★★★★ (5/5) |
| • Flexibility | ★★★★★ (5/5) |
| • Knowledge | ★★★★★ (5/5) |
| • Accountability | ★★★★★ (5/5) |
Contrary to its name, Havoc Skate Shop is actually a skater's paradise in our opinion. They have the largest inventory of skateboards that we have seen so far among all the stores we checked out.
They're pretty much focused on providing great options for skateboards and longboards. This also goes for skateboard parts and accessories that they offer.
It's a great place to source parts if you are someone who's really interested in making customized skateboards.
Their wide range of skateboard selections also comes with very competitive prices. They're not entirely cheaper but are fairly reasonable for their brands and quality.
Unfortunately, they are currently open only on weekends, so you really have to make time to visit.
The good thing, though, is that their entire product inventory is actually available in their online shop too, unlike others that show limited items on their website. At least you can still shop remotely on days when the store is not open.
But if you have a chance to visit their only store, it's really a great experience because they have a great staff that can really help you out. It's something to consider if you are a newbie or really need some advice on finding the right parts for customizing or upgrading your board.
That being said, it's a really great place for beginners and seasoned skaters alike. Their really good range of selections means you can really get a good board that's compatible with you.
You might just get overwhelmed with all the choices available, so do ask for help from their staff whenever you can!
Hopefully, they get to open their doors on weekdays so you can enjoy shopping here more often!
Largest selection of skateboards, longboards, decks, wheels, and parts
Competitive and reasonable prices
Well-curated quality products
Convenient and easy-to-navigate online store
Open only during weekends
Customer Reviews
Love the focus on being a skateshop
Great shop and great people. I love the focus of the store of maintaining such a good and professional skateshop. Their main goal is selling quality skating products and they really stand out for that! No getting sidetracked on too many clothes or anything you might see in other skateshops around Ottawa, they really focus on the boards and equipment they have, which is the type of skateshop I loving seeing! You can find longboards there no other skateshop in Ottawa has to offer, and the people there are really nice! If you guys are looking to getting a new deck or anything skateboard related, I highly recommend this store, it's really awesome!!! 🙂 – Philip Bortnowschi
Best skate shop in the city
Hands-down best skate shop in the city. Unpretentious, fair and not over inflated prices like ALL the other shops..great skate conversations, and super interesting story about how Havoc came to be. Don't be shy to ask when you go and grab an in-house made deck. – Nick J
5. Zumiez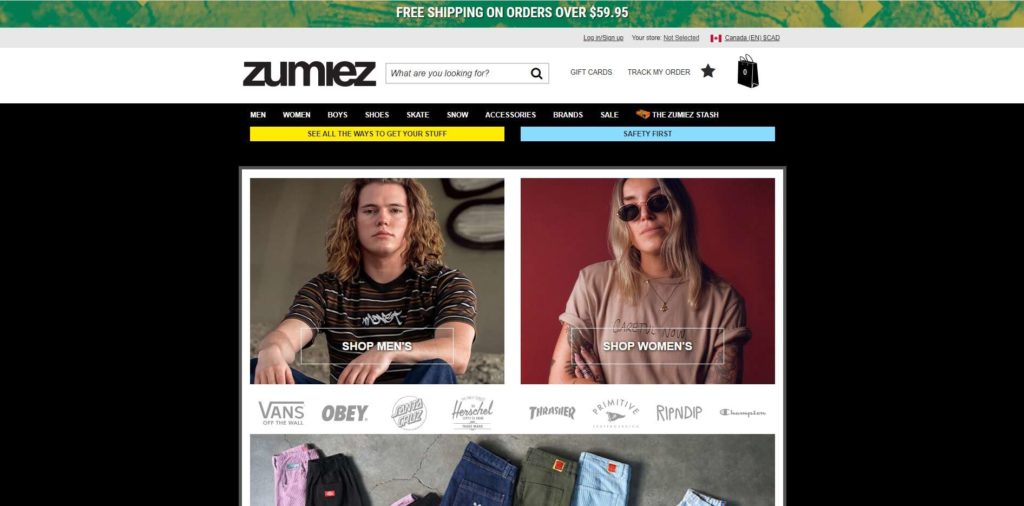 Test
Info
PRODUCTS
Skateboards, longboards, snow activity gear, clothing, footwear, and accessories
WEBSITE
https://www.zumiez.ca/
ADDRESS
1200 St. Laurent Blvd Suite 239, Ottawa
CONTACT DETAILS
(613) 741-3722
STORE HOURS
Monday to Saturday: 10 am to 7 pm

Sunday:11 am to 5 pm
| | |
| --- | --- |
| Selection of items | ★★★★★ (5/5) |
| Quality of products | ★★★★☆ (4/5) |
| Price | ★★★★☆ (4/5) |
| Shopping convenience | ★★★★☆ (4/5) |
| • In-store experience | ★★★★☆ (4/5) |
| • Online shopping | ★★★★☆ (4/5) |
| Customer service | ★★★★☆ (4/5) |
| • Responsiveness | ★★★★★ (5/5) |
| • Flexibility | ★★★★☆ (4/5) |
| • Knowledge | ★★★★☆ (4/5) |
| • Accountability | ★★★★☆ (4/5) |
More of a commercial skate shop retailer, Zumiez is the only name in this list that is not a locally owned business.
Originally from Seattle, Zumiez has expanded with branches all over the US and Canada. Theirs is a very common name in the international skating scene.
That being said, they do offer a good variety of skateboard-related items like apparel, footwear, and of course, skateboard hard goods. They also offer a good selection of items for different snow activities.
Just like all the stores, we mentioned in this list, Zumiez also offers a convenient online shopping service that ships around the world. The best thing about this is that you can avail of their free shipping with orders above $59.95, unlike other stores that require at least $150.
In Ottawa, their store is conveniently located inside the St. Laurent Shopping Centre. It's actually something worth noting because being located in a mall makes it not just accessible but also less intimidating for newbies.
It's actually a good place to start if you have no idea where to go and what to look for. They have superb customer assistance and a very friendly staff.
They have a great inventory of brands so there's really so much to choose from. Unfortunately, this can also be a con for those who are really interested in skating gear.
The store may have that more commercial vibe maybe because it's inside a mall and features tons of sports-related wear. That being said, people really go to Zumiez for good skating and snow apparel and footwear.
Nevertheless, they most likely have whatever it is you may need when it comes to skateboards and everything else in between. There's a reason they're recognized internationally, after all.
Large selection of skateboards and related goods
Convenient online shopping that ships worldwide
Lowest minimum order required to avail free shipping
Conveniently located inside the St. Laurent Shopping Centre
Helpful and very amiable staff
Available all seven days of the week
More popular for their sporty apparel
Not ideal for those who'd like to customize skateboards
Customer Reviews
Staff made me really comfortable
I walked in super inexperienced with skateboards but with an interest in getting started and was really nervous at first. Hannah at this location (st. Laurent) made me really comfortable right off the bat and she was super friendly and knowledgeable and I ended up walking out with a board that I'm really really happy with. Will for sure be going here and asking for her whenever I need any thing else board related – Vanessa Bradley
My go-to store for skateboarding needs
Just like everyone else is saying, the staff at this store are all very friendly. I usually feel very uncomfortable and out of place whenever I enter a skate shop but not at this store. They had exactly what I was looking for and everything went well and quickly. This is the store I will go to in the future for my skateboarding needs. – Geneviève Petitclerc
FAQs about Skate Shops in Ottawa
---
Skating is definitely a fun activity, whether it's just a hobby for you, a newfound love, or something you've been really passionate about for years. We hope this list can help you find really good shops for all your skateboard-related needs, especially if you're just starting out.
For more fun things that you can explore, check out our list of interesting things to do in Ottawa!