The 19 Best Real Estate Agents in Ottawa
Since 2016, property prices in Ottawa have seen a steady increase of over 50%. This has resulted in competitive pricing that's still more affordable than Toronto real estate by a long shot.
During the last five years, the real estate market of Ottawa has become formidable and in-demand. This means if you're looking to sell or invest in a new property, there's no time like the present.
It also means seeking the experience and wisdom of the best real estate agents in Ottawa for realty concerns. Of course, one of those concerns has to do with how much it will cost to hire one.
The Best Real Estate Agents in Ottawa
Once you've made up your mind about hiring a real estate agent, it's time to do your research. To guide you, here's a list of the current crop of best real estate agents in Ottawa.
1. Hamre Real Estate Team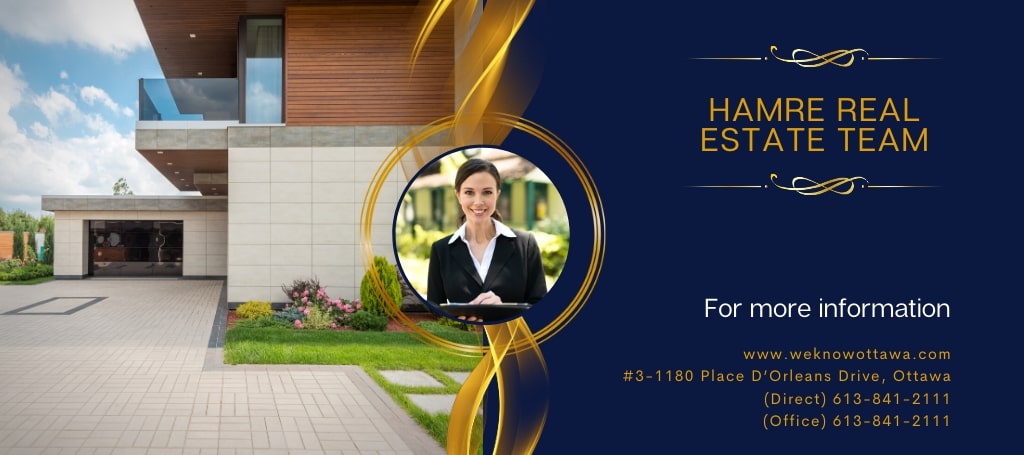 As its URL implies, the entire Hamre Real Estate Team likes saying "we know Ottawa!". The real estate agency has been around since 1980 and takes pride in knowing the ins and outs of Ottawa, Cumberland, Orleans, and Rockland.
Experience and professionalism make this real estate agency stand out, along with a wide range of services. Because of the team's expertise and longevity, they know a lot about the business and are willing to share helpful information with clients.
On its website are featured listings potential clients can peruse and refine according to their needs and preferences. The team can then communicate the property's history, prices, location information, and other pertinent disclosures to its clients.
Hamre Real Estate encourages clients to sign up for a free account on the website. This will enable them to receive new listing alerts matching their specifications as soon as they come up.
Customer Reviews
Thinking of selling your property through the Hamre Real Estate Team? Learn what past clients have to say first:
"Greg was confident and professional, clear detailed explanation. Was very knowledgeable of the market trends, excellent marketing skills with his video to promote the house. Great service would highly recommend to anyone buying or selling their home." – Paul Paquette
"Steve and his team were indispensable in the sale of our home. This was our first time selling and the attention to detail from Steve and his staging team were critical in the quick sale and fantastic closing price!" – Brendan Smith
2. Stirling Johnston Home Team
The Stirling Johnston Home Team is a RE/MAX Lifetime Achievement Awardee and a recipient of the RE/MAX Hall of Fame award. Together, its founders and chief agents Ian Stirling and Julia Johnston have a combined 40+ years of experience in the real estate business.
The team believes in fair market valuation as a key aspect of selling properties. The company lists a wide variety of available properties ranging from condo units and multi-family residences to commercial plazas.
Even first-time buyers and sellers can find full assistance with the Stirling Johnston Home Team. Ian, Julia, and the rest of the staff want their clients to thoroughly understand the selling and purchasing process.
Clients are offered customized searches to narrow down the best potential property matches for them. They can either use the drop-down Property Search tab on the menu or request the agents to create one for them.
Customer Reviews
Learn what past clients have to say about the services of Stirling Johnston Home Team:
"Couldn't have asked for better! Thorough, knowledgeable and consistent. We listened to every piece of advice he gave and we sold our house for well above our expectations in just a few short days. The process was stress-free and painless! Would highly recommend!" – Andrew Goobie
"As first-time home buyers, the process of buying a home can be overwhelming. Ian did a fantastic job with his knowledge, experience and passion for the business to help us find exactly what we were looking for." – Tyler Villeneuve
3. The Andy and Paddy Team
Oh boy, let us tell you about The Andy and Paddy Team.
Our experience with these real estate gurus was like finding a pot of gold at the end of the rainbow. From start to finish, they were the dynamic duo we didn't know we needed.
When it comes to convenience, these guys have it down to a science. They were always just a phone call away, ready to tackle any questions or concerns we had.
It's like they had their own bat signal for real estate emergencies. Quick and efficient — you betcha!
The Andy and Paddy Team are the rock stars of the real estate world. They have a reputation that precedes them, and for good reason.
They know their stuff, and they know it well. We felt like we were in safe hands the entire time, like having our own personal real estate bodyguards.
And let's not forget about the cost. When we first heard about The Andy and Paddy Team, we were worried that their services would come with a hefty price tag.
But boy, were we pleasantly surprised! They not only delivered top-notch service, but they did it without breaking the bank.
It's like getting a five-star experience for a two-star price. Who wouldn't want that?
However, they can get pretty busy during peak seasons. We advise booking an appointment ahead of time.
Customer Reviews
"When we first sat down with Paddy, the message that he left us with is that the Andy and Paddy Team would treat us, and inform us, as if we were family. That really stuck with us and was true from beginning to completed sale! Every member of the team – Paddy, Andy, Nolla, Sarah, and Sarah had a part in the sale of our home. It's truly a team effort, and they are so professional. They went above and beyond on the biggest transactions of our lives. With that, they also have FUN while they work. They maximized the sale of our home and it was the best experience possible." — Patrick Makechnie
"Working with Andy and Paddy was an incredibly smooth and reassuring process. They were very knowledgeable of the area, recent market trends, and what we could expect from the sale of our home. They set up smooth communication processes and were incredibly responsive to our questions and concerns. Their entire team had practical tips and suggestions regarding what we should pay attention to in the lead up to the listing, and really ensured that we hit the ground running when it was 'Go Time'. Their marketing strategies were also above and beyond. Andy and Paddy worked late hours on our behalf and really outdid themselves with the sale of our home. It was such a pleasure working with a team that pays as much attention to detail as we do. We felt that they really understood us, and we would recommend them in a heartbeat." — Clar Ellie
4. Royal LePage Team Realty Adam Mills Brokerage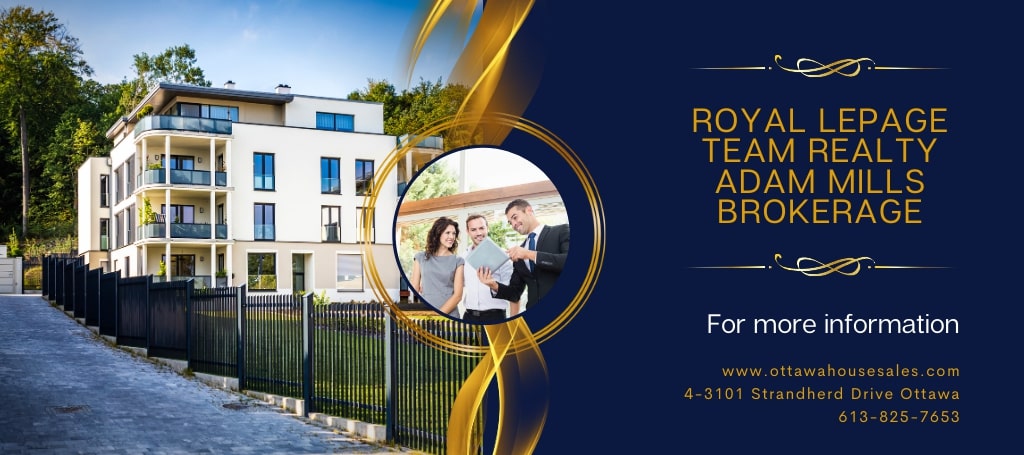 Adam Mills is the young but experienced real estate agent behind the Team Realty Adam Mills Brokerage. His independently-operated firm has won the Royal LePage Canada Top 1% Chairman's Club award for five years thus far.
What makes the Adam Mills firm stand out from other real estate agents in Ottawa is its sensitivity to what clients go through. There are a couple of ways the team demonstrates this in day-to-day dealings.
Foremost is its Perfect Home Life Finder, which is a highly customized search function meant to cater to all ages and walks of life. The clients fall under descriptive categories such as Comeback Kids, Hardworking Homeowners, Footloose Graduates, Silver Urbanites, and more.
The Adam Mills Team also offers a text resource for couples going through separation and looking for new homes. The firm ensures long-term client relationships so that different aspects of their lives are taken into consideration for home-buying decisions.
Customer Reviews
Want to find the perfect home for the next phase of your life? Learn from these clients' experience with the Team Realty Adam Mills Brokerage:
"Both Adam and Christine were amazing to deal with! Both were very knowledgable, professional, responsive and friendly. Adam worked hard to sell our house and make the process seamless. The champagne was a nice touch : ) I highly recommend Adam and company!" – Scott McLeod
"Michela Pagliarello helped me and my partner purchase our first home! She was so responsive and flexible throughout the entire process! I would highly recommend her to anyone looking to buy/sell in Ottawa!" – Allison Holley
5. The Tulip Team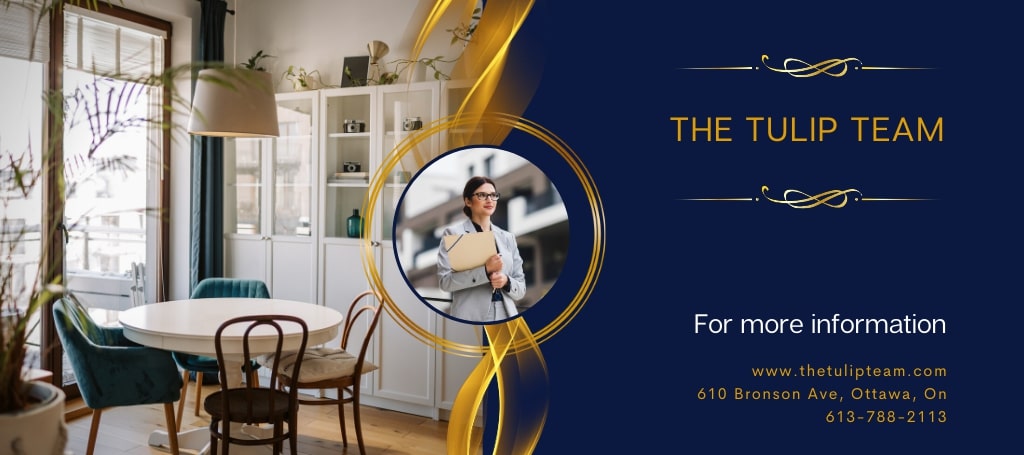 The Tulip Team has established its presence in the Ottawa real estate market since 1985. Its led by Bill Meyer and made up of a team of highly competent brokers and sales representatives.
Aside from providing updated residential listings, the firm also offers free services to its clients. These include home valuations over the Internet, a neighbourhood price watch, and an interactive Dream Home Finder matching system.
The team takes pride in providing a solid timeline for selling and purchasing homes on their clients' behalf. The process begins with either searching or preparing homes for sale, then identifying the best matches for clients or marketing properties for sale.
The Tulip Team promises full navigation assistance during the home buying and selling period. Even the moving and closing processes are professionally and expertly covered.
Customer Reviews
If you're curious about how clients find the services of The Tulip Team, read on:
"Kayla listened to what we were looking for, even when it changed throughout the process, and was flexible in finding the right investment for us." – Anthony Weicker
"The Tulip team helped me buying my house years back now they helped me selling my house. Bill thank you for you patience and for been very supportive through out my selling process. I am looking forward to my next purchase with Bill and the team's help. I will also recommend to anyone. Thank you Bill and The Tulip team." – Ruth B
6. Gauthier Homes Real Estate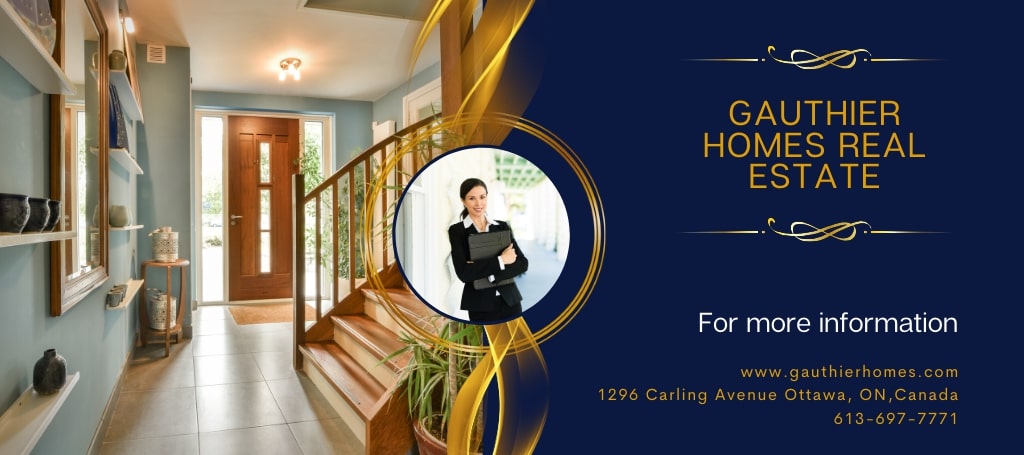 Stephan Gauthier is a real estate agent that aims to help clients get their money's worth for their property. They offer the full range of services suited for investing in or selling a property.
If you're looking to buy a property, you might want to take note of their new listing alerts, which allows you to see a listing before it even goes online. It's perfect for finding the best home for you without having to fight over it.
Meanwhile, their property selling services cover all that's needed to maximise your profit. They make use of professional photography and extensive advertising to ensure that your home is captured at its most appealing and sold at its highest price.
Given their realtor's wealth of experience and dedication to quality, there's no doubt that they're reliable when it comes to real estate. If you're interested, get your real estate journey started by contacting them for a price report– free of charge.
7. Bennett Property Shop Realty, Brokerage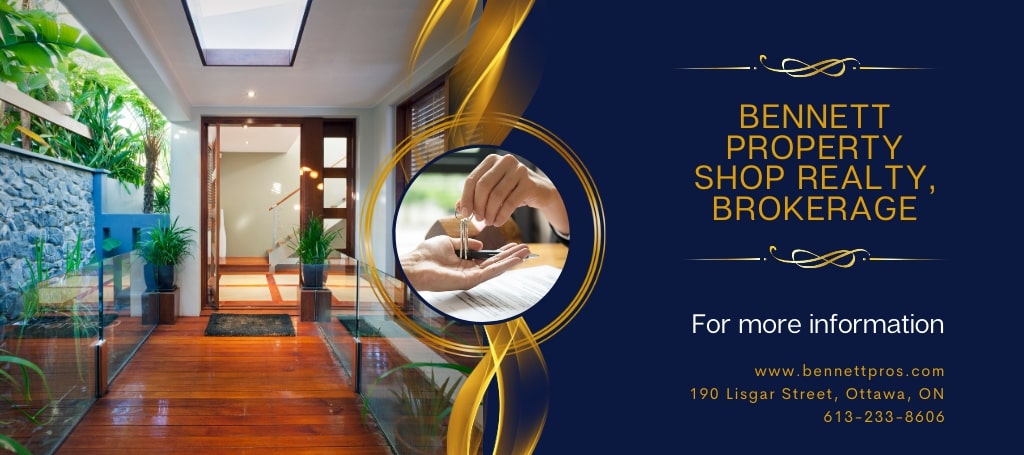 Bennett Property Shop Realty, Brokerage is another agency with impressive longevity. It's been around for nearly 20 years but continues to adjust to changes and trends in the market.
It's also a multi-awarded brokerage firm. Its founder Marie Bennett won the 2010 and 2011 #1 Broker Worldwide for Keller Williams Realty International awards, as well as Ottawa's Professional Businesswoman of the Year for 2008.
The company understands that each client has unique needs and a vision for the best home. That's why it employs an intuitive approach that matches the client's pace and doesn't enforce a rushed process.
On the website, potential clients can search for properties a couple of ways. They can look through featured listings, or narrow down their matches by property types and price ranges.
Aside from its paid services, the Bennett Property Shop Realty, Brokerage also offers assistance to clients at no charge. There are free home and condo evaluations on the menu, which potential clients can avail of by filling up a form on the website.
Customer Reviews
Learn what other clients have to say about Bennett Property Shop Realty services:
"5 Stars for sure… It was a real pleasure to work with Tina Walker. So very professional and helpful in this very emotional big step in our lives. Selling our home which we have raised 3 beautiful adults. Lots of love and investment went into the home to keep it up to date. Good thing!!! We did need help and instruction on staging and decluttering and Tina was there with your in-house professional guiding us along. Note to other Sellers do exactly what they say!! Our home was sold before it went on MLS internally through Bennett connections $150K over asking price. We are very pleased with the outcome our move date works for all just great. Bennett has provided lots of great collateral to help us along with the next steps. Tina is working with our lawyer and bank leads making it so easy. I completely recommend Bennett and highly recommend Tina Walker." – Dominique S.
"3 P's: Prompt Professional Productive Sold over asking …. 1 day!" – Linda C.
8. Dave Power House Realty
At Dave Power House Realty, their pursuit of excellence defines us. With a portfolio that resonates grandeur, their services redefine the real estate landscape.
At the heart of their commitment lies an excellent suite of services. From seamless property acquisition to meticulous guidance through transactions, they orchestrate success with finesse, which we love.
Navigating the real estate maze has never been smoother. Their strategic presence in key locations ensures convenience is a cornerstone of your experience.
Convenience isn't just a word—it's their way of life.
Their name echoes through the industry corridors, a symphony of trust and distinction. With a track record that needs no introduction, their reputation precedes them like an unwavering beacon of reliability.
In the realm of value, they also reign supreme. Their cost-efficient solutions are not just about numbers; they're a testament to their dedication to making dreams accessible without compromising quality.
Moreover, their team isn't just knowledgeable; they're alchemists of property transformation. Guided by seasoned experts, every interaction is a masterclass in real estate ingenuity.
Pioneering tomorrow's standards today, their approach blends tradition with innovation.
The result? A bespoke experience that is as modern as it is timeless.
Unfortunately, they don't offer discounts at the present. We recommend checking their website for other affordable deals.
Customer Reviews
"Dave Power House Realty made my real estate journey seamless and rewarding. Their expertise and personalized approach ensured I found the perfect home."
"Impressed by Dave Power House Realty's professionalism and dedication. They turned my property aspirations into a reality, exceeding my expectations."
9. Jason Polonski – Ottawa Realty Man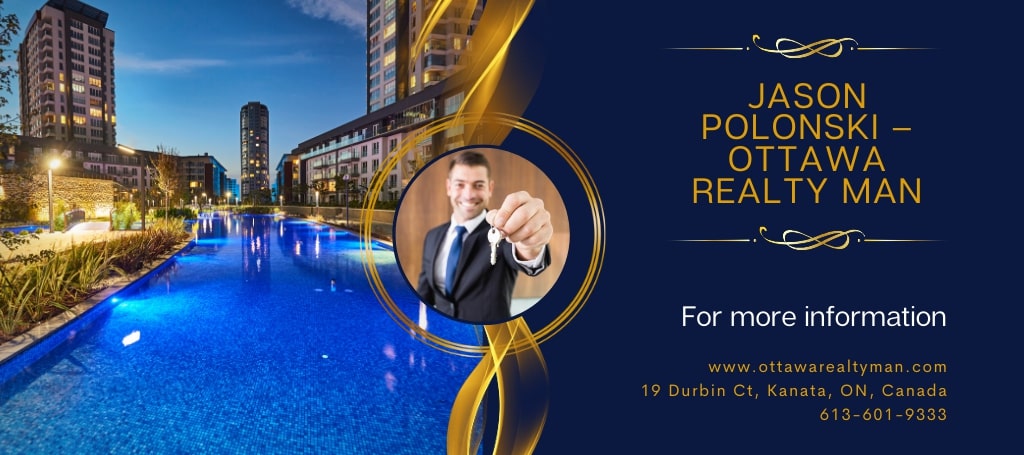 Jason Polonski is one of the beast realtors in Ottawa. His expertise in not only selling houses, but also in making connections to his clients, have proven him to be a great choice when it comes to these types of assistances.
What sets him apart is that Jason knows how to sell homes at the maximum price possible, while also minimizing the cost of commission. He is able to provide the full services needed without having to ask above the general budget.
He takes everything into consideration, not only his job as a realtor, but as a person his client trusts. Aside from being great at selling, Jason Polonski also knows how to find great homes to buy at their optimum price.
So whether you are a seller or a buyer, you rest assured that he will be able to help you when it comes to finding or letting go of your home. Jason Polonski is readily available to be consulted at all times, so feel free to contact him through phone or through their website.
10. Bruce Brown – Ottawa Agent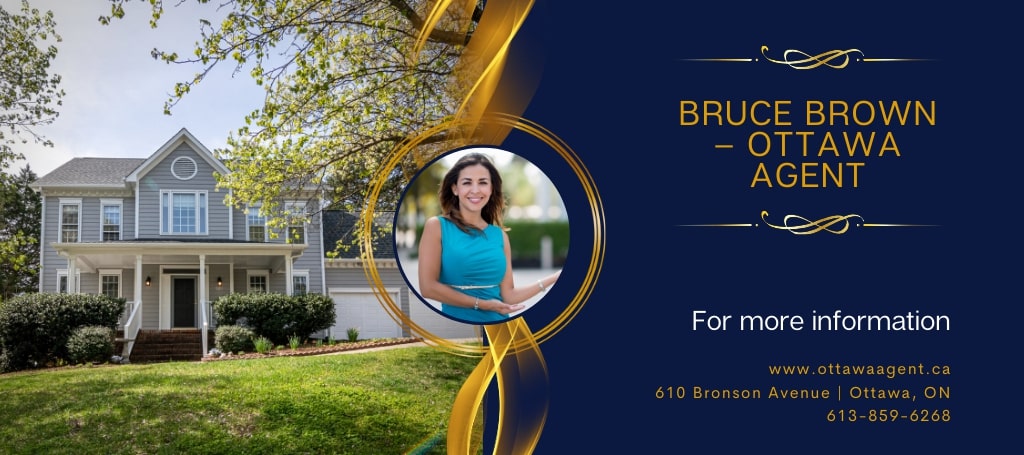 Ottawa Agent doesn't just help buy and sell houses, they also offer advice and information regarding marketing and investing. They want you to stay on the loop of things and remain knowledgeable on what they can do to help you, through informing you of quality of work you deserve.
Bruce Brown, one of their agents, has been in the industry for over a decade. He has many years of experience in the high technology industry.
He employs a client-first approach when it comes to real estate, so he makes sure that any advice he offers will have your personal interests in mind. Many individuals and families have benefitted greatly from his wealth of knowledge and unparalleled skill.
Quality services are only a click away with Ottawa Agent's Bruce Brown. You can rest assured that you will be able to find the perfect home or sell your previous one as soon as possible– all without compromising your budget or profit.
Customer Reviews
Take a look at some of the feedbacks left for OttawaAgen.ca:
"I am truly certain your well crafted letter is part of the reason we got to $(our price). It is a convincing rationale without being hard lined. It's perfect. You state the case with the paperwork to back it up. I know it was a long road getting here but I believe, like you, it's a solid value for what and where it is. I can't thank you enough. From the purchase of my mom's house to now my purchase, your level of service was over and above my expectations for a realty experience. You were my advocate today especially dealing with the board President and Property Manager on my behalf to get the answers to make this happen. It was truly a pleasure on every occasion and I really learned a lot about the process that seemed quite daunting at the start. Thank you so very much. I will not hesitate to recommend you at every opportunity that crosses my path. "
"I always knew you would be the guy to sell it… I just did not know when! You're the best realtor I have ever had! Better stated – you are one of the best professionals… it doesn't matter what the vocation… you remind me of the saying, "pick something and be the best you can at it" – thank you."
11. Ray Smiley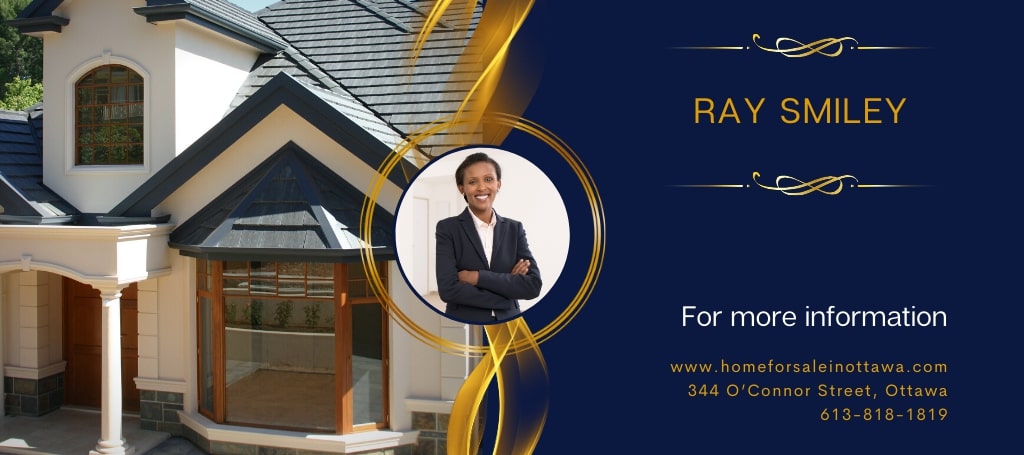 True to his name, Ray Smiley is a real estate agent that aims to bring smiles to his clients by delivering only the best quality real estate services he can provide. He's been serving the Ottawa area for years, all while developing his skills and and expanding his connections in the process.
Ray has a wide range of services suited for buying and selling properties, from a transaction's start to finish. Moreover, he knows the Ottawa area well, so there's no doubt that he can assist you in finding the property you need thanks to his extensive knowledge of the city.
Transparent and communication is what he strives to provide as well, since he knows that a constant stream of information is what Unlike most real estate agents, Ray is fluent in English and French, so French-speaking homeowners won't experience any difficulty in acquiring or letting go of their property.
More importantly, Ray makes sure to keep his client's property preferences in mind during the entire transaction. Given his quality services and client-first approach, Ray Smiley is more than deserving of a spot on this list.
12. Agent DK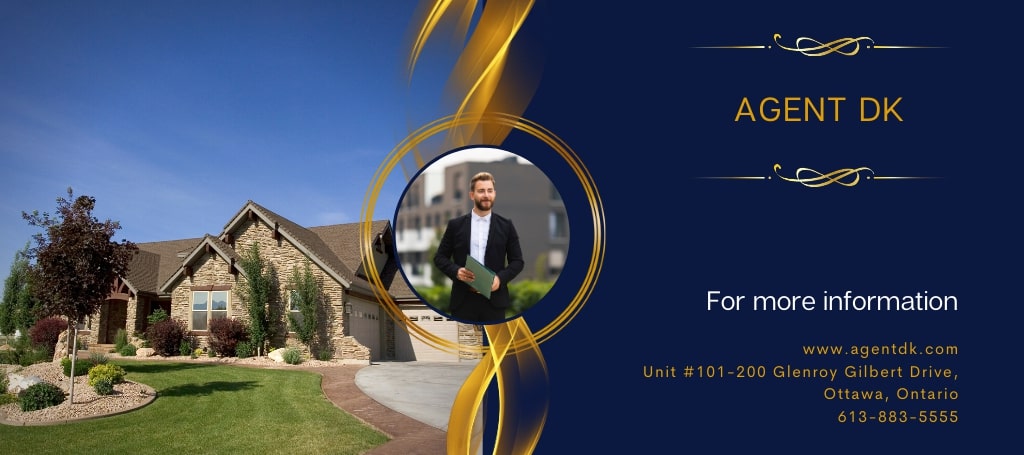 Dimitrios Kalogeropoulos is a Harvard Negotiation Master Class Graduate and is the team leader at Agent DK. Together with his team, they have received numerous recognitions from peers and real estate journals for their work in the field.
Agent DK was named one of the Top 100 Real Estate Teams in Canada for four years. It is backed by Royal LePage, an established industry leader in technology that is quickly growing as a contender in real estate.
With their personalized service and solid communication, they are able to offer comprehensive real estate services. They have a 30-step action plan to sell homes that will guide you throughout the process.
13. Agents In Ottawa
When it comes to the dynamic realm of real estate, Agents In Ottawa stand as unrivaled champions of exceptional service.
Our journey with this esteemed company has been nothing short of awe-inspiring, leaving us convinced they're the epitome of what a best real estate agents company should embody.
At Agents In Ottawa, the concept of service is elevated to an art form.
From the moment we engaged with their team, it was abundantly clear their commitment to our needs was unwavering. Every interaction was a testament to their professionalism and profound understanding of the real estate landscape.
Our journey felt like a partnership, where our objectives were pursued with relentless dedication.
Navigating the labyrinthine corridors of real estate can often be a daunting task. However, Agents In Ottawa deftly transformed this challenge into a seamless voyage.
Their cutting-edge technological prowess was evident in the way they harnessed data and trends to present us with tailored options that resonated with our vision.
The convenience of virtual tours and online consultations further underscored their commitment to our comfort.
The reputation of Agents In Ottawa precedes them—and for good reason.
Throughout our engagement, we were regaled with anecdotes of their triumphs in the industry. Their name is synonymous with integrity, honesty, and results.
This sterling reputation was consistently upheld as we witnessed their formidable negotiation skills in action, ensuring that our interests were fiercely protected.
In a world where real estate transactions can often spiral into financial mazes, Agents In Ottawa emerged as beacons of reason. Their transparent and judicious approach to costs left us pleasantly surprised.
Unfortunately, they can get busy during peak seasons. We advise booking them ahead of time.
14. Charles Khouri
Our experience with Charles Khouri, the real estate agent company, has been nothing short of exceptional. From the outset, their services demonstrated a level of professionalism and expertise that set them apart from the rest.
Convenience is paramount, and Charles Khouri understands this perfectly.
Their streamlined approach ensured that every step of the process was effortless and efficient. No time wasted, no unnecessary complications—just a seamless journey towards our real estate goals.
When it comes to reputation, Charles Khouri stands tall among giants.
With a track record that speaks volumes, they've earned their status as industry leaders. Time and again, their ability to deliver results has left an indelible mark on clients and competitors alike.
With Charles Khouri, it's refreshingly straightforward.
They offer a level of transparency that's as reassuring as it is rare. No hidden fees, no surprises—just a clear understanding of what to expect, and that's something we greatly appreciated.
The caliber of service we received from Charles Khouri is simply unmatched.
Their attention to detail, market insights, and commitment to our needs left us feeling genuinely valued as clients. Our preferences and objectives were not just acknowledged but embraced, making the entire experience uniquely tailored to us.
Sadly, they can get busy during peak seasons. We recommend booking them ahead of time.
15. Michael Schurter and Associates
When it comes to real estate services that redefine convenience and professionalism, look no further than Michael Schurter and Associates. Our experience with this remarkable team has been nothing short of extraordinary.
Michael Schurter and Associates set a new standard in real estate services.
Their expertise in property evaluation, market trends, and negotiation tactics is unparalleled. With each step of the process, we felt guided by their knowledge and unwavering commitment to our goals.
Navigating the real estate market can be daunting, but Michael Schurter and Associates effortlessly turn complexity into simplicity.
Their streamlined approach and proactive communication ensured that no stone was left unturned. We were consistently updated, making us confident our investment was in the right hands.
Reputation speaks volumes, and Michael Schurter and Associates have certainly earned their accolades.
Their solid track record of successful transactions and satisfied clients is a testament to their professionalism and dedication. Joining forces with them instantly boosted our confidence in making informed decisions.
Moreover, value for money takes center stage with Michael Schurter and Associates.
While some may associate top-notch service with exorbitant costs, they shattered that stereotype.
Their transparent fee structure and cost-effective solutions were a breath of fresh air in the real estate realm. We felt assured we were making a wise investment not just in property, but in a partnership.
However, they can get busy during peak seasons. We advise booking them ahead of time.
16. Rushforth Real Estate Inc.
It is hard to predict the Ottawa real estate market. This is why, in today's market, a seasoned agent is essential. Paul Rushforth Real Estate, Ottawa's best selling residential real estate company, is committed to matching the right individuals with the right house at the right price.
Paul Rushforth and his team have helped local buyers, sellers, and investors realize their real estate goals by posting the largest amount of Ottawa real estate transactions since 2008. Whether you are a first-time home buyer in Ottawa, an experienced real estate investor, or wanting to upsize or downsize, the Paul Rushforth Real Estate team will provide results swiftly and professionally.
What we like about them is their unbeatable marketing prowess. Each offering has its own website, photography, virtual house tour, and even drone video. A powerful social media engine with over 20,000 monthly engagements and exclusive showings and announcements, as well as face-to-face networking with top agents.
Customer Reviews
Paul Royce was excellent! He was honest, incredibly helpful and patient.
"Paul Royce was excellent! He was honest, incredibly helpful and patient. Most importantly, he encouraged us to wait until we found what would make us happy instead of getting caught up and settling for something that would do. He provided excellent advice during the buying process and we always felt like he had everything under control. Be provided very clear instructions and next steps and was always available to answer questions." – Robin Brace
Working with Paul Rushforth was the best choice we made
"Working with Paul Rushforth was the best choice we made when it came to selling our home. Our agent worked diligently to ensure that our home got the attention it deserved on the market. From the moment we contacted them to the final sale we felt as though our agent truly had our best interests at heart. Our experience with Paul Rushforth was fantastic and we would recommend their services to anyone looking to sell a home! Great Work Kevin Janega!!" – Justin Lord
17. Keller Williams Integrity Realty
At Keller Williams Integrity Realty, we embarked on a journey in search of the quintessential real estate partner.
Our mission: to find a company that seamlessly blends service, convenience, reputation, and cost into a harmonious symphony of excellence.
When it comes to service, Keller Williams Integrity Realty stands unwaveringly at the pinnacle.
From the moment we engaged with them, our expectations were not just met, but exceeded. Their agents displayed a level of dedication that was nothing short of remarkable.
Every step of the way, we felt like a priority, and our concerns were addressed with precision and care.
Convenience is the cornerstone of modern life, and Keller Williams Integrity Realty knows it. Their streamlined processes and user-friendly tools made navigating the real estate landscape a breeze.
Whether we were searching for properties, scheduling viewings, or signing documents, our experience was seamless, thanks to their forward-thinking approach.
Reputation is the currency of trust in the real estate industry, and Keller Williams Integrity Realty is the gold standard.
Their sterling track record and glowing testimonials from clients are a testament to their unwavering commitment to excellence.
We found comfort in knowing that we were in the capable hands of a company with a reputation built on integrity and results.
Keller Williams Integrity Realty's commitment to transparency also sets them apart.
They provided us with a clear breakdown of all fees and costs, ensuring that we made informed decisions. Their cost structure is not only competitive but also fair, making the entire process surprisingly affordable.
However, they don't offer promos at the present. We advise checking in with them to find other affordable deals.
Customer Reviews
"Keller Williams Integrity Realty made our home buying process a breeze. Their team's dedication and expertise were evident throughout, and we couldn't be happier with the outcome."
"Choosing Keller Williams Integrity Realty was the best decision we made in our real estate journey. Their reputation for excellence is well-deserved, and their transparent approach to costs saved us money without sacrificing quality service."
18. Anna Alemi
We recently had the privilege of engaging Anna Alemi as our real estate agent, and we're delighted to share our experience.
Anna Alemi and her team have truly set a benchmark in the real estate industry.
From the moment we contacted Anna Alemi's agency, we were met with a level of service that exceeded our expectations.
Their responsiveness and attention to detail are nothing short of exceptional. It's evident that they genuinely care about their clients.
Navigating the complex world of real estate can be a daunting task, but Anna Alemi and her team made it incredibly convenient for us.
Their knowledge of the market, coupled with their proactive approach, ensured that we were always one step ahead in our property search. We never had to wait long for updates or answers to our questions.
Anna Alemi's reputation precedes her, and for good reason. Her agency's stellar track record speaks volumes about their dedication to excellence.
We felt confident throughout the process, knowing that we were in the hands of professionals with an impeccable reputation.
Anna Alemi's agency offers tremendous value for the quality of service provided.
They were transparent about their fees from the start, and we were pleasantly surprised by the value they delivered. In this industry, you often get what you pay for, and with Anna Alemi, you get more.
However, they can get busy during peak days. We suggest booking them ahead of time.
Customer Reviews
"Anna Alemi exceeded our expectations in every way. Her team's professionalism and knowledge made our home-buying experience seamless."
"We were fortunate to have Anna Alemi as our realtor. Her reputation in the industry is well-deserved, and her dedication to finding us the perfect home was truly remarkable."
19. Lockhart Danis Team – Engel & Völkers
The Lockhart Danis Team, comprised of Dale Lockhart and Simon Danis, offers exceptional real estate services in both French and English. They pride themselves on providing a personalized and tailored experience to their clients, whether they are buying or selling a property. With their background in design and construction, they possess a unique ability to help clients envision the potential of a property and bring it to life.
The team has established strong connections and has built a solid reputation through referrals, demonstrating their dedication to customer satisfaction. They strive to ensure a stress-free and satisfying sale for their clients. Their expertise and knowledge in the real estate market, coupled with their professionalism and promptness in answering any questions, make them a reliable choice.
The Lockhart Danis Team's commitment to customer service is evident in the positive reviews they have received. Clients praise their exceptional guidance, advice, and support throughout the entire process. Their attention to detail and ability to exceed expectations make them highly recommended real estate agents.
Customer Reviews
"Dale was very accommodating to my needs as a newbie home-seller. She came very prepared with up-to-date market information and realistic goals for selling my home. Her strategy resulted in a larger bid compared to my asking price, and along the way she was the ultimate professional. I received quick replies and felt very assured along the way. Now that my home has sold, I still ask Dale the odd market-related question and she is just as quick to reply with the best can-do attitude. I love Dale and her team!" – Clara Wicke
"Dale has been my real estate agent for four years and has been an expert with three transactions now: two purchases and one sale. Her partner, Simon, was able to step in and help me with my last sale as well, and together they perfected our listing and open houses to find me a perfect buyer during a bad time to be on the market (over the Christmas holidays and while interest rates we're shooting up). Her expertise and character are without compare, and I have always been able to trust her advice and knowledge when figuring out my next steps. Always reliable and very quick to respond, she's helped me at all hours of the day and with some very time sensitive/last minute situations. She has gone above and beyond, navigating my banks and mortgage brokers when I was unavailable, setting up and explaining my home inspections, and even running to my condo to put away some last minute clutter I had left out for a showing while I was busy at work. I will always work with and recommend the Lockhart team, couldn't have done it without you Dale!" – Amanda Campbell
FAQs About Real Estate Agents in Ottawa