6 Best Prenatal Massage Services in Ottawa
Photo by Amina Filkins from Pexels
If you're pregnant and have been suffering back pain or other discomforts, you can get appropriate relief for it. That's why today's listicle is all about the best prenatal massage services in Ottawa.
Other things might require clarification when it comes to this topic, so we created some helpful FAQs at the end of the article.
How Much Does Prenatal Massage Cost in Ottawa?
Because prenatal massage services in Ottawa have to be tailor-made to the patient's needs, there could be variations in their pricing schemes.
However, it's typical of massage services to provide base rates on how long the massage session will be. To illustrate, we created a table below as a guide on average costs for prenatal massages.
| | |
| --- | --- |
| PRENATAL MASSAGE LENGTH | ESTIMATED COST |
| 30 minutes | $60 |
| 45 minutes | $80 up |
| 1 hour | $100 up |
| 75 minutes | $120 |
| 90 minutes | $140 |
These estimated costs are based on national averages but particular massage services could have different pricing guides. The best way to get a price quote would still be to get in touch with them before setting an appointment.
The Best Prenatal Massage Services in Ottawa
Now that you have an idea of the costs involved, it's time to take a closer look at the best prenatal massage services in Ottawa.
We selected the ones in this listicle based on the following factors:
1. Britannia Chiropractic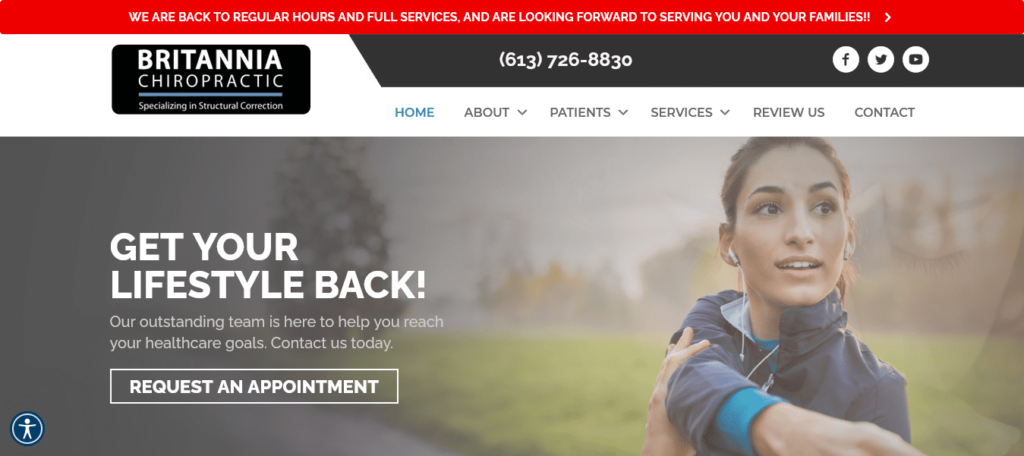 SERVICES
Chiropractic, chiropractic care for kids, custom orthotics, massage therapy, prenatal and pediatric chiropractic care
ADDRESS
1315 Richmond Road Suite 11 Ottawa, ON K2B 8J7
CONTACT NUMBER
(613) 726-8830


[email protected]

WEBSITE
https://www.britanniachiro.com/
OPERATING HOURS
Mondays 12.45 PM – 6.15 PM
Tuesdays 7 AM – 12.15 PM
Wednesdays 7 AM – 12.15 PM, 1.30 PM – 4.30 PM
Thursdays 12.45 PM – 6.15 PM
Fridays 7 AM – 12.15 PM
Saturdays 9.30 AM – 12 PM
Closed on Sundays
Britannia Chiropractic specializes in structural correction with the aim of patients getting their active lifestyles back. Seemingly common pain complaints like headaches, carpal tunnel, whiplash, neck and back pain, and sciatica can be treated here.
The clinic uses a holistic approach to health and healing. The ultimate goal is to have its clients' bodies heal themselves.
It offers prenatal chiropractic care to treat lower back pain, leg pain, sciatica, and other pregnancy concerns that can interfere with daily life.
The Britannia Chiropractic team can create safe and personalized care for each of its prenatal clients throughout the pregnancy up until the postpartum period. In fact, prenatal chiropractic patients have given feedback about having an easier birthing process than they expected.
The good news is that new patients of Britannia Chiropractic are entitled to a complimentary consultation to see if its services are a good fit. It's the best time to inquire about fees since no pricing guide is provided on the website.
Available for emergency care
Bilingual services
Complimentary consultation for new patients
Can treat all sorts of common pain
Confusing operating hours
Doesn't provide a pricing guide
No BBB accreditation
Customer Reviews
A combination of manipulation, massage, and interferential current cured the problem
"I was a professional track and field athlete with chronic hamstring problems for 7 years. Dr. Ken Dick used a combination of manipulation, massage and interferential current and completely cured my problem and I was selected for the Canadian Olympic Games team. Chiropractic works!" – C.B.
Thank you for the combination of healing touch and common sense
"We just completed our first winter ever with no antibiotics for our 2 children. Thank you Dr. Dick for your combination of healing touch and common sense." – K.W.
2. Back in Balance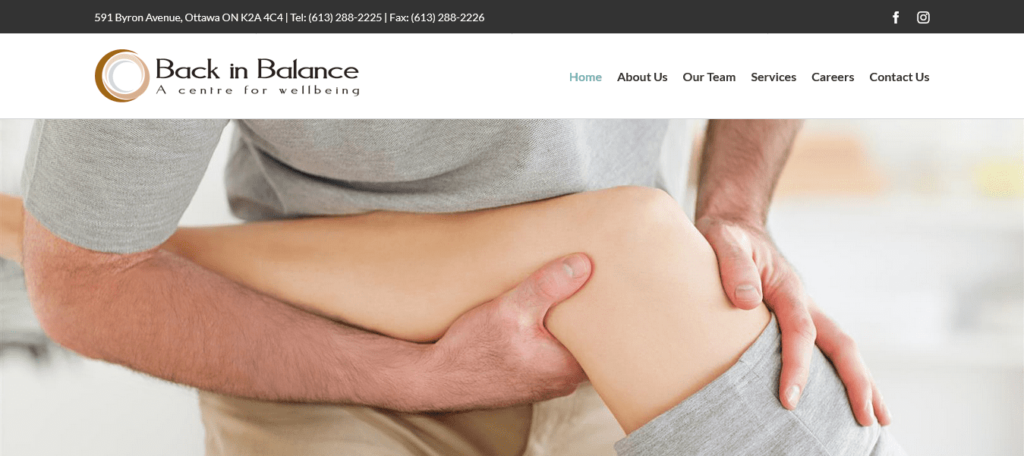 SERVICES
Prenatal chiropractic care, Cranial Adjusting Turner Style, custom orthotic therapy, osteopathy, cold laser therapy, registered massage therapy, physiotherapy, naturopathic medicine, lab testing
ADDRESS
591 Byron Avenue Ottawa, Ontario K2A 4C4
CONTACT NUMBER
613-288-2225


[email protected]

WEBSITE
https://backinbalancechiro.ca/
OPERATING HOURS
By appointment
As its name implies, Back in Balance wants to improve its clients' quality of life by addressing various aches and pains with preventive and alternative care. It's been around since 2005 and is a chiropractic clinic meant for the entire family.
Its clientele's concerns range from pregnancy and pediatric care, women's health issues, men's health issues, nutrition, and optimal sports performance. Back in Balance's team of practitioners are made up of both men and women to address requests for massage therapy, physiotherapy, and gentle chiropractic adjusting techniques.
What's lacking is a price guide or even a base price for any of these services, which is disappointing.
Still, we appreciate how the clinic emphasizes the importance of prenatal chiropractic care to ensure a fully functioning nervous system for both the mother and the baby. Not a lot of centres know how a woman's body changes to adapt to the baby and the issues that arise with it.
There's a good range of other services at Back in Balance so there's really a treatment for practically any concern. For convenience, new clients can register and book an appointment online since the clinic doesn't have fixed operating hours.
An impressive team of specialists
Good range of massage therapy and other services
Online booking available
Generally positive client feedback
No fixed operating hours
No price guide provided
No BBB accreditation
Customer Reviews
Leg and shoulder issues are a thing of the past
"First Rate Care… entered the clinic with leg and shoulder issues and immediately diagnosed with a classic "cross-over" jam of the low back and within a couple visits the jam had cleared and leg and shoulder issues were becoming a thing of the past. thank-you BIB." – Michael
Felt much better after only three visits
"Kelly Watters treated my 5-week old son and she was so good with him. I loved her energy so I decided to see her myself for massage. I have had recurring neck and jaw pain for 5 years. I have been going for massage therapy for many years and no one has been able to help me as she has. And I felt much better after only 3 visits. Thank you, Kelly!" – Sophie
3. Anna Belanger & Associates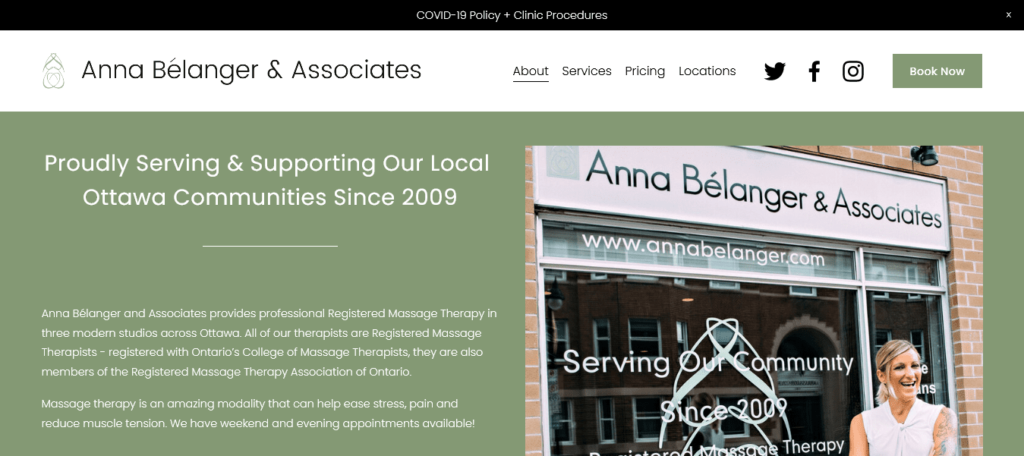 SERVICES
Pre and post-natal massage, therapeutic massage, deep tissue massage, craniosacral massage, relaxation massage, Reiki
ADDRESS
621 Bank Street Ottawa, ON, Canada K1T 3W5
CONTACT NUMBER
+1 613-986-4768


[email protected]

WEBSITE
https://annabelanger.com/
OPERATING HOURS
Mondays 7.50 AM – 9 PM
Tuesday to Friday 8 AM – 9 PM
Saturdays 8 AM – 4.30 PM
Sundays 8 AM – 3.30 PM
Anna Bélanger & Associates may sound like an accounting or law firm. But its tagline "We Change How People Feel" could alert you that this is a professionally registered massage therapy clinic.
It's a proud member of the Registered Massage Therapy Association of Ontario. Its teams of massage therapists are sufficiently trained to assess, treat, and perform massage therapy on pregnancy-related issues.
Anna Bélanger's clinic now has three locations across Ottawa. All of the branches provide prenatal massage with all clinics and rooms having a Body Cushion System in place for extra safety and comfort for its pregnant clients
It also offers therapeutic massage to clients of all ages, including deep tissue massage for sports-related injuries and aches, and craniosacral therapy to address memory trauma and its corresponding illnesses.
The downside is that massage rates are slightly higher than average at Anna Bélanger & Associates'. It starts at $74 for a 30-minute massage, with 90-minute sessions costing $164 (HSTs are already included with the fees, though).
Wide range of massage therapy services
Three locations across Ottawa
Direct billing available
Online booking available
Slightly higher prices for massage services
Doesn't accept cash payments
Somewhat confusing operating hours
No BBB accreditation
Customer Reviews
An amazing, safe experience
"I have been a faithful customer pre- covid and stopped going in only due to covid! I have finally revisited today and wow !!!! I have yet another amazing safe experience. Jessica M is pure magic and super knowledgeable! THANK YOU!" – Priscilla MacMillan
Care and attention to detail
"In uncertain times Anna and her entire team at the bank location were incredibly hygienic and were very professional asking proper medical history questions to fully understand how best to treat me. Their care and attention to detail made me feel very comfortable while wearing a mask which is a tough thing to do." -Taraah Den Boer
4. Renu Massage Therapy and Spa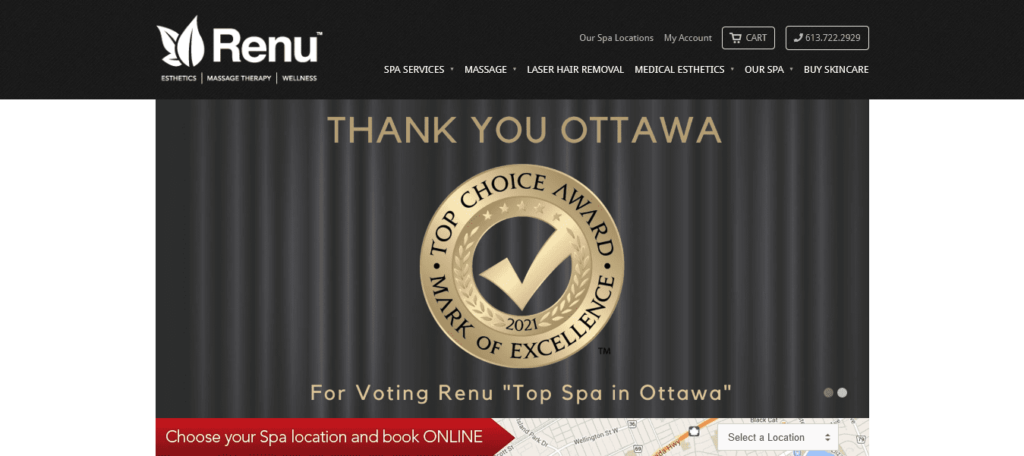 SERVICES
Spa services, laser hair removal, medical esthetics, massage, registered massage therapists for Swedish Massage, Sports Massage, Deep Tissue Massage, Myofacial Release, Trigger Point Therapy, Pregnancy Massage, Couples Massage
ADDRESS
1432 Wellington St. West Ottawa, ON, Canada K1Y 2X2
CONTACT NUMBER
+1 613-722-2929


[email protected]

WEBSITE
https://www.renuspa.ca
OPERATING HOURS
Monday to Friday 9 AM – 8 PM
Saturdays 9 AM – 6 PM
Sundays 9 AM – 5 PM
If you want a spa experience that's tailor-made for you, you can try out Renu Massage Therapy and Spa because this is what it promises. The goal is for clients to step out both mentally and physically rejuvenated and with an overall better sense of wellbeing.
Prenatal massages are included under its registered massage therapy services. Its rates are very close to national averages which start at $95 for a full-hour massage and $143 for a 90-minute massage.
Cupping can be accommodated with any RMT service for an additional fee of $10.
What makes this clinic different from others is that it can accommodate special events and larger groups. This might be a good idea for a relaxing baby shower instead of the usual gift-giving and gender reveal parties.
There's also a couple's massage service that comes with hot stones and runs for 75 minutes. In fact, there's a good range of relaxation and registered massage therapy treatments at Renu, though it is first and foremost a spa and medical aesthetics centre.
Online booking available
Can accommodate large groups and special events
Two locations in Ottawa
Reasonable massage rates
Credit card needed to secure booking
Additional fee for cupping with RMT services
More of a spa and medical aesthetics centre
No BBB accreditation
Customer Reviews
Helped with continuous back pain
"Getting to go to Renu to help with my continuous back pain has been very beneficial! Alysha Cashubec's rehabilitation technique and focus, along with her genuine personality have made it even better! 10/10 would recommend!" – Laura Porter
Consistent pursuit of continued excellence
"Winning the 2020 Top Choice Award is the cherry on top of the cheesecake for Renu Massage Therapy & Spa, their consistent pursuit of continued excellence hasn't gone unnoticed!" – Nathan Neto
5. Relax Massage Group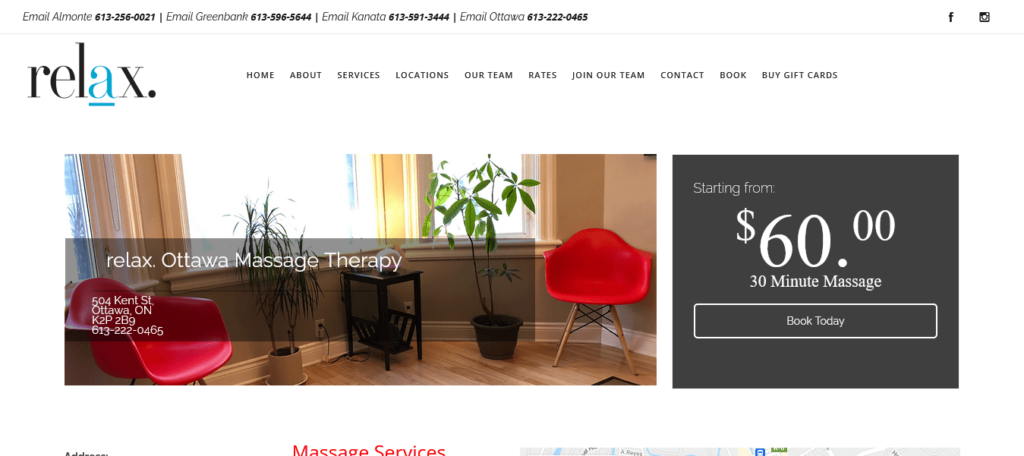 SERVICES
Pregnancy massage, deep tissue massage, Swedish massage, trigger point massage, hot stone massage, sports massage, craniosacral therapy, Shiatsu massage, TMJ, cupping
ADDRESS
504 Kent Street, Ottawa, ON
CONTACT NUMBER
613-222-0465


[email protected]

WEBSITE
https://relaxmassagegroup.com
OPERATING HOURS
Monday to Friday 8 AM – 8 PM
Saturdays 9 AM – 5 PM
Sundays 11 AM – 4.30 PM
Right off the bat, Relax Massage Group presents its statement on diversity and inclusivity: it's better for the clients, employees, and business. It was established in 2001 and now has four locations.
On that note, any of its branches warmly receives clients and staff regardless of age, sexual orientation, religion, race, gender identity, ancestry, and abilities.
The team members made up of RMTs and managers have their headshots and profiles up in case clients prefer the services of particular ones. Appointments can be booked via a convenient app that allows customers to book by treatment or practitioner.
Rates are quite reasonable and are well within national averages. A 30-minute pregnancy massage costs $60 and a 90-minute one costs $140 and is complete with a pregnancy cushion.
Its prenatal massage is guaranteed to be a safe method to relieve pregnant clients at all stages of pregnancy. We just wish there was more information available for this particular service aside from promising customers total comfort during the session.
Has four branches
Affordable massage rates
Clients can book their favourite practitioners
Has a diversity and inclusivity policy
Not a lot of information on prenatal massages
Some practitioners can get booked up fast
No BBB accreditation
Customer Reviews
Helped get through shoulder and hip injuries
"I have been coming here for over a year and I love it. Alanah is amazing. She has helped me get through shoulder and hip injuries. She has helped me make my pregnancy amazing by giving me prenatal massages for my sore back and helping eliminate swelling. I highly recommend Absolute Massage Therapy and Alanah Downey." – Kat Mason
Walked out there almost completely pain-free
"I had a massage today given by Marissa Bouleau. I had a kink in my neck and shoulder that was really painful and I walked out of there almost completely pain-free. She also talked to me a bit after aftercare and gave me tips on how to cope with the pain……so it wasn't the relaxing massage I'm used to but it was incredibly good to be able to move my neck and not wince in pain. Thanks, Marissa. I will come back soon." – Kerri Diffin-Beauvais
6. Om Massage Santé Holistique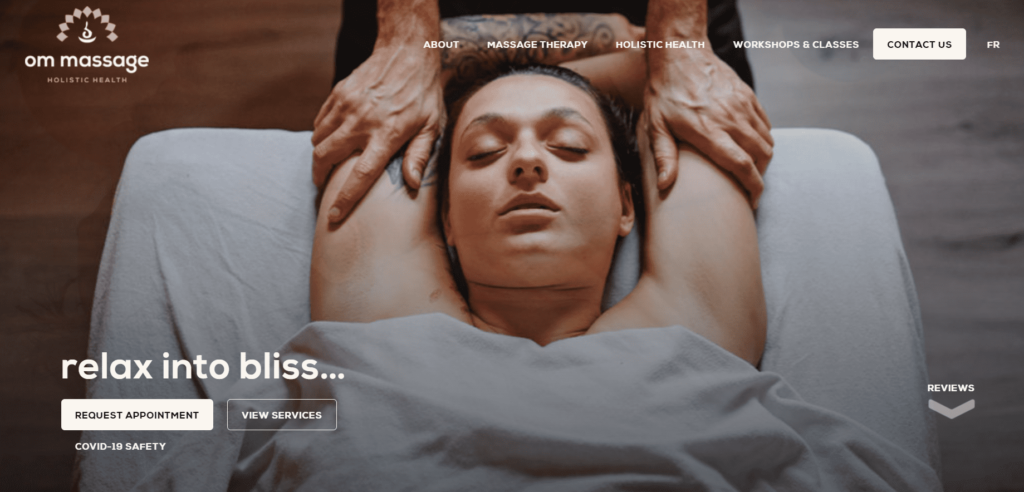 SERVICES
Om Massage
Prenatal Massage
Swedish Massage
Deep Tissue
Home Massage
Reiki
Therapeutic Touch
Private Counseling & Meditation
Combo Treatments
ADDRESS
69 Rue Thomas # 2, Gatineau, QC J9H 3H1, Canada
CONTACT
(819) 968-2995


[email protected]

WEBSITE
https://www.ommassage.net/
OPERATING HOURS
Monday to Friday: 9 AM – 9 PM
Saturdays: 9 AM – 4 PM
Sundays: 1 PM – 5 PM
If you are looking for a quality pre-natal massage service in Ottawa, specializing in prenatal massages, then you might want to check Om Massage for your delicate massage needs!
Om Massage is committed to helping its clients achieve optimal health, peace, and happiness through the application of holistic massages. With over eight years in business and over 1,000 clients served, they can assure your satisfaction.
Headed by owner and therapist Matthew Mackay, your next massage appointment should be complete satisfaction. As a graduate of Massage Therapy at Boulder College with 15 years of experience in the field, he perfected the Om Massage method. Aside from being a therapist, he is an experienced meditation instructor.
Om Massage's prenatal massage is a therapeutic bodywork approach where physical movements relieve both mental and physical fatigue by enhancing the function of muscles, joints, and blood circulation.
Although pricing is available, you can save more if you become a member. Massages are done by appointment so you need to book ahead of time if you want to avail of their services.
Overall, if you are in need of a prenatal massage and want to have the best experience, then you might want to book your next appointment with Om Massage.
Therapist is a graduate of Massage Therapy
Over 8 years of business and 15 years of experience
Appointment-based only
Membership-based advantages
Customer Reviews
Massage results can be felt after one session
"Matthew is really knowledgeable and listens to his clients' needs. He checks in during the treatment and makes sure that you are comfortable. He is very professional and his techniques are really effective. I have had shoulder, neck, and back pain for weeks, and after only one visit, I was feeling so much better. I would recommend him to anyone." – Andreea Andrei
A master at their craft
"I feel so blessed to have been guided to Matthew from Om Massage! He is a Master at his craft! I have had two sessions of reiki massage and I leave feeling completely grounded and like profound knots were released. The office space and massage room are clean and feel safe immediately. There is the use of additional elements like sage and sound healing which is amazing! The massage bed is super comfortable. Matthew is a very calming and kind person. Overall 11/10 experience :)" – Valerie M.
FAQs About Prenatal Massage in Ottawa
---
The best prenatal massage in Ottawa can make your pregnancy journey a more comfortable and pain-free one. We're open to suggestions about other prenatal massage services so drop us a line.
Meanwhile, here are other services we reviewed that we think can also help you on the path to wellness: