The 5 Best Pigmentation Treatment Clinics in Ottawa
Beauty is only skin deep, but everyone deserves the right to feel comfortable in their own skin. In a world as wide as this with so many diverse people from different backgrounds, we're all obviously born with skin unique to ourselves.
This also means that we have problems that not everyone has. For example, skin pigmentation disorders can make us insecure, but that doesn't mean there aren't ways to make the most of your situation.
Whether you prefer to rock your natural beauty or want a little help to bring out the best you, we're here to give you a rundown of the best skin clinics for pigmentation treatments in Ottawa.
The Cost of Pigmentation Treatments in Ottawa
Before booking an appointment at any clinic, it's helpful to know how much you might have to spend. Most skin clinics use high-tech equipment to give all clients the services they deserve, and it costs them a lot to maintain them.
Prices can change from clinic to clinic, but the particular treatment used also plays a big role in determining the prices. That's because each treatment uses different equipment and or techniques, so these businesses always charge accordingly.
To help give you an idea, the table below displays the estimated costs for some of the pigmentation treatments currently available in the market:
| Type of Treatment | Estimated Costs |
| --- | --- |
| Chemical Peel | $200 |
| Intense Pulse Light Therapy (IPL) | $75+ |
| Microdermabrasion | $100+ |
| Laser Peel (Skin Resurfacing) | $500 per treatment |
The Best Pigmentation Treatment Clinics in Ottawa
Taking care of our skin isn't just about trying to look good for other people, skincare is also a form of self-care, relaxation, and a way for us to find comfort in our own skin.
That's why we made sure to look out for the best skin clinics that offer pigmentation treatments here in Ottawa based on the following criteria:
1. The Ottawa Skin Clinic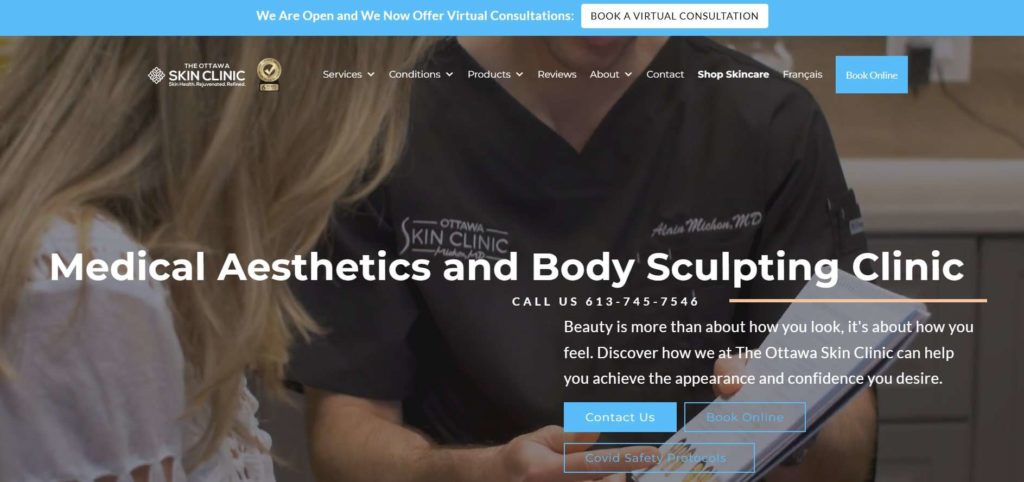 Test
Info
SERVICES
Specialized chemical peels, MELINE Depigmentation Solutions, IPL, SilkPeel
WEBSITE
https://www.ottawaskinclinic.ca/
ADDRESS
349 St. Laurent Blvd, Ottawa, ON K1K 2Z7, Canada
CONTACT DETAILS
613-745-7546
OPERATING HOURS
Open 9:00 AM - 7:00 PM

Closed on Weekends
| | |
| --- | --- |
| Criteria | Ratings |
| Rates | ★★★★☆ (4/5) |
| Equipment | ★★★★★ (5/5) |
| Treatments | ★★★★★ (5/5) |
| Customer Satisfaction | ★★★★☆ (4/5) |
We're starting off this list with the Ottawa Skin Clinic, an awardee of the Top Choice Cosmetic Clinic 2022. There's a lot to love about it and we'll gladly tell you why!

Starting off with its state-of-the-art equipment. It's well-equipped to give you only the best service with its team of highly-skilled professionals.
It's also thanks to this that the clinic offers a wide array of treatments for almost every skin condition. Treating uneven skin pigmentation is just one of the many services it can offer.

It has specialized chemical peels that you can pick and choose from depending on what aspect of your skin you want to work on. Heck, you might even want to try its newest pigmentation treatments like the MELINE depigmentation solutions.

Aside from its skincare and body sculpting treatments, the Ottawa Skin Clinics goes beyond by offering services for Urinary Incontinence. There's no shame in needing help to treat bladder problems, after all.

If skincare isn't your main issue, then that's fine, because the clinic is also ready to provide assistance with whatever you need. In dealing with stubborn acne and even with small issues like stretch marks and double chins, it has something right for you.

What we liked about the Ottawa Skin Clinic is that it's already a large and well-established business managed by a diverse group of professionals. They're trained and experienced to advise and service all the patients who walk through the door.
The only real issue we found is that this also means there's a good number of people waiting at its doors on a daily basis. Plus, it charges quite a bit for its services, but that's expected with how well-known it is.
Paying a visit without a prior appointment may have you waiting a while, so make sure to set an appointment beforehand.
Various available treatments and services
Highly skilled team of professionals
Advanced equipment
Has specialized pigmentation treatments
Customer Reviews
Highly professional staff
"Amazing place! Great atmosphere, highly professional staff. Dr Michon is very professional and experienced everything was explained in detail, my treatment was done with perfection and I'm glad I found this Clinic. I highly recommend it. See you soon!" – Marian Farah
Definition of excellence
"Dear Dr. Michon, I want to thank you for always providing me with professional and excellent customer service. You are so knowledgeable, confident and passionate about helping people, and it is so evident that you love what you do. I trust you and your team implicitly. You are so knowledgeable and cutting edge as it relates to products and procedures. Ottawa Skin Clinic is the "Definition of Excellence." Best Regards, LM" – Cerise Cardinal
2. Skin Revival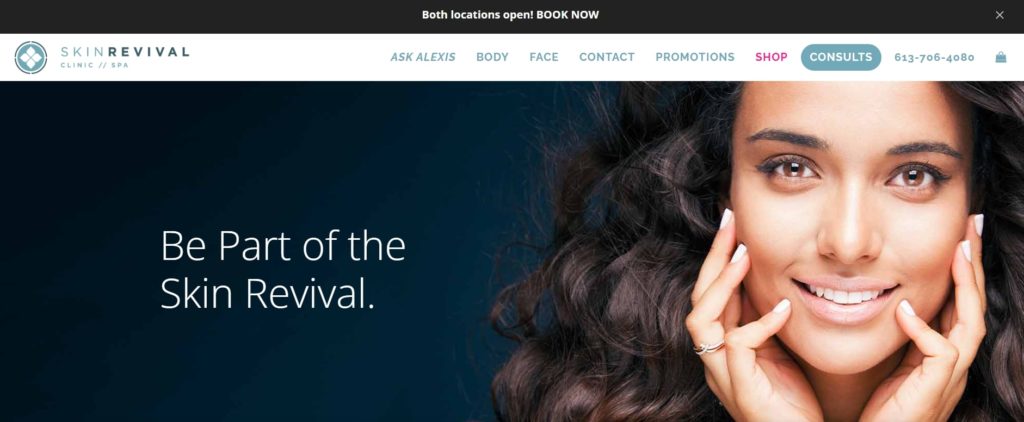 Test
Info
SERVICES
Microdermabrasion, Laser Hair Removal, Chemical Peels, Hydrafacial, Oxygen Therapy, Acne Treatment
WEBSITE
https://skinrevival.ca/
ADDRESS
1900 Merivale Rd, Nepean, ON K2G 4N4, Canada
CONTACT DETAILS
613-706-1908
OPERATING HOURS
Tuesday - Friday: 10:00 AM - 6:00 PM

Saturdays: 9:00 AM - 2:00 PM

Closed on Sundays and Mondays
| | |
| --- | --- |
| Criteria | Ratings |
| Rates | ★★★★☆ (4/5) |
| Equipment | ★★★★★ (5/5) |
| Treatments | ★★★★★ (5/5) |
| Customer Satisfaction | ★★★★☆ (4/5) |
The great thing about Skin Revival is that it's not just a skin clinic, but it's also a spa. This means it offers various spa treatments to give your body the pampering it deserves.
This gives it a slight edge over other skin clinics that only focus on skin treatments. You might want to get your eyebrows and eyelashes done here after a facial to save you the trouble of traveling to another beauty clinic.

For its pigmentation treatments, it has chemical peels, IPL, and microdermabrasion. Its IPL is gentle on the skin by minimizing redness, diminishing pigmentation, and encouraging the natural restoration of collagen and elastin.

If that's not your thing, its microdermabrasion treatment is also another safe alternative, because it's a non-invasive procedure. It focuses only on the removal of dead skin cells on the surface of our skin.

With that said, the rate for microdermabrasion treatments is nothing to scoff at, so just be prepared to pay premium prices for premium services.
Whether you're dropping in for skin treatment or getting your eyelashes done, Skin Revival's professional team has your back.
Be careful though, its clients also know this, but the waiting time can take a while. So make sure to set an appointment early to avoid those pesky lines.
Offers both clinic and spa services
State-of-the-art equipment and spa facilities
Has microdermabrasion treatments
A lot of pigmentation treatments available
Customer Reviews
Lovely people
"I've been going to skin revival clinic for quite some time now. I love going there and the people are always so lovely. I've been seeing Yvonne for my boxcar and ice pick scars and the results of the treatments are amazing so far! I will definitely keep going back" – Danielle Gaudette
Very accommodating
"I love this place. Virginia has been helping me with some hair removal and I never thought I'd see the results I've seen, no matter how light or tanned I am. She also does my facials! Cara for some youth treatments 😉 and I've never been happier. Janis always accommodates my many appointment changes and is just the best. Love this crew!" -Priya Sharma
3. Ottawa Plastic Surgery

| Test | Info |
| --- | --- |
| SERVICES | Chemical Peels, IPL Photorejuvenation, Venus Versa Skin Resurfacing, Brazilian Butt Lift, Tummy Tuck |
| WEBSITE | https://www.ottawaplasticsurgery.com/ |
| ADDRESS | 502-1525 Carling Avenue, Ottawa, ON K1Z 8R9, Canada |
| CONTACT DETAILS | 6137924137 |
| OPERATING HOURS | Monday–Friday: 8:30 a.m. – 4:30 p.m. |
| | |
| --- | --- |
| Criteria | Ratings |
| Rates | ★★★★☆ (4/5) |
| Equipment | ★★★★★ (5/5) |
| Treatments | ★★★★☆ (4/5) |
| Customer Satisfaction | ★★★★★ (5/5) |
Ottawa Plastic Surgery doesn't just offer aesthetic surgeries, as its name might suggest otherwise at first. It also has skin treatments that it proudly presents as part of its medical spa.
Because it mainly does aesthetic surgeries, its team is naturally composed of certified and experienced medical practitioners and aestheticians. They accompany and advise each patient from the initial consultation up to post-op recovery.
Its clinical services range from simple Tummy Tucks and Liposuction to more complex procedures like Brazilian Butt Lifts. It even has some of these services available for men too!
As for its skin treatments, if you're not sure yet which one would best suit you, then you don't have to worry! Ottawa Plastic Surgery has Skincare Consultations where medical aestheticians will help determine the right treatment plan for you.
Skin Resurfacing treatments aren't common, but the clinic has the right technology and training to offer this unique service to clients. It's even given at a lower cost than other clinics whose fees can reach up to a thousand dollars per treatment!
By combining NanoFractional RF™ and SmartScan™, its Venus Versa™ skin resurfacing treatment repairs and rejuvenates damaged skin by using tiny pins that deliver heat through the skin's surface.
It opens tiny channels within your skin that encourage natural healing by increasing collagen production and repairing any damage.
Our only concern, especially when compared with most other skin clinics, is that due to mainly focusing on aesthetic surgeries, the waiting list might be longer here than in other clinics.
Additionally, its fees also reflect its top-quality service for skin treatments and surgeries.
Most of the staff are licensed medical practitioners
Offers aesthetic surgeries and skin treatments
More affordable skin resurfacing treatments
Customer Reviews
Best decision
"I underwent cosmetic surgery at OPS 12 yrs ago with Dr Silverman. It was a very positive, professional and successful surgery. Dr Silverman's work is beyond perfection! He is an extremely wonderful person to talk to and makes you feel very comfortable. He takes the time to explain everything very well and answers your questions. Choosing Dr Silverman was the best decision I made and I was able to put all my trust in him- I knew I was in good hands. His staff are extremely pleasant as well. I've returned to see him for further surgery." – Kim Menard
You won't regret it
"Choosing to do a cosmetic surgery is a big decision. Dr. Silverman and his staff were professional, patient and courteous to the sensitive nature of the procedure and made me feel at ease throughout the entire process. I never felt rushed or pressured. All of my questions were answered and the results from my surgery are even better than I could have dreamed. If you are contemplating a cosmetic surgery I highly recommend booking a consultation. You won't regret it, and you deserve it." – Faith Murray
4. Ottawa Laser Clinic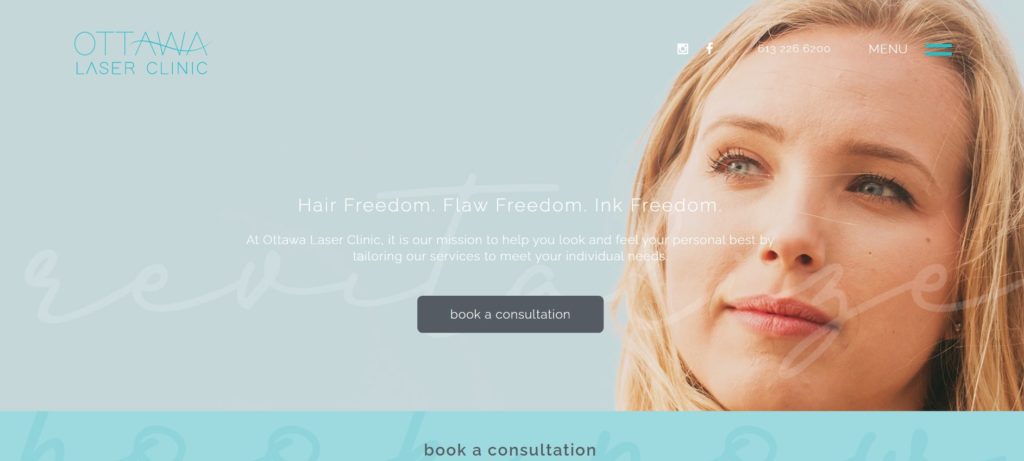 Test
Info
SERVICES
Tattoo/Pigment Removal, Microdermabrasion, Chemical Peels, IPL Rejuvenation
WEBSITE
https://ottawalaserclinic.ca/
ADDRESS
2725 Queensview Dr #400, Ottawa, ON K2B 0A1, Canada
CONTACT DETAILS
613-226-6200
OPERATING HOURS
Monday: 10:00 AM - 6:00 PM

Tuesday to Friday: 9:00 AM - 8:00 PM

Saturday: 9:00 AM - 5:00 PM

Closed on Sundays
| | |
| --- | --- |
| Criteria | Ratings |
| Rates | ★★★★☆ (4/5) |
| Equipment | ★★★★★ (5/5) |
| Treatments | ★★★★★ (5/5) |
| Customer Satisfaction | ★★★★★ (5/5) |
Like the previous entry, its name may be simple, but the service goes above and beyond here at the Ottawa Laser Clinic.
It specializes in laser treatments such as laser hair removal and laser tattoo removals, to name a few. For pigmentation treatments, its laser skin rejuvenation treats uneven pigmentation and hyperpigmentation without any discomfort.
It's quick, easy, and completely non-surgical and non-invasive, meaning it has fewer risks than most other skin treatments.
Speaking of pigmentation treatments, what makes the Ottawa Laser Clinic stand out among the rest is that it directly offers pigmentation removals. As you've read so far in this list, none of the other clinics have this service.
What makes this a game changer is that this service specifically targets your uneven pigmentation. It's godsend compared to the others whose effects only include treating uneven pigmentation or its causes.
For your safety, however, your aesthetician will still test your compatibility with this treatment before administering it to ensure your safety. You deserve to be comfortable in your own skin without risking your health and general well-being, after all.
All this makes the Ottawa Laser Clinic one of the best clinics for your delicate skin. But that also makes it one of the pricier ones because of the technology that's used in its complex procedures.
Though it doesn't have as many available treatments, it makes up for it with its expertise in the products and services it offers. As usual, expect to pay top price for these top quality services.
Targeted pigmentation removals
Various laser-based treatments
Pricey
Limited variety in overall skin treatments
Customer Reviews
Pleasant experience
"I had the most pleasant experience with Ottawa Laser Clinic. I am so happy with the results from the laser hair removal treatments I received. The staff are incredibly nice and polite, and the office is clean, professional, and not to mention, super aesthetically pleasing. I will always recommend OLC to my girlfriends looking for the same procedure. Its SO worth it!" – Rachel Simpson
Exceeds expectations
"It's been almost a year to the day that i had my first appointment at Ottawa Laser Clinic. I've been back 3 times so as you can guess my experience always exceeds expectations. The staff is incredibly friendly and welcoming, the reception is always on the ball with reminding me of my upcoming appointments. Ive had the pleasure of meeting the owner who is also fabulous and makes sure you're comfortable and have everything you need while you are there. I had lip fillers done the woman who did them did an amazing job, hence why i keep going back. my mom also went for laser hair removal and loved the results. Highly recommend going if you're looking for spectacular service and results." – Samantha Wilkie
5. Dermis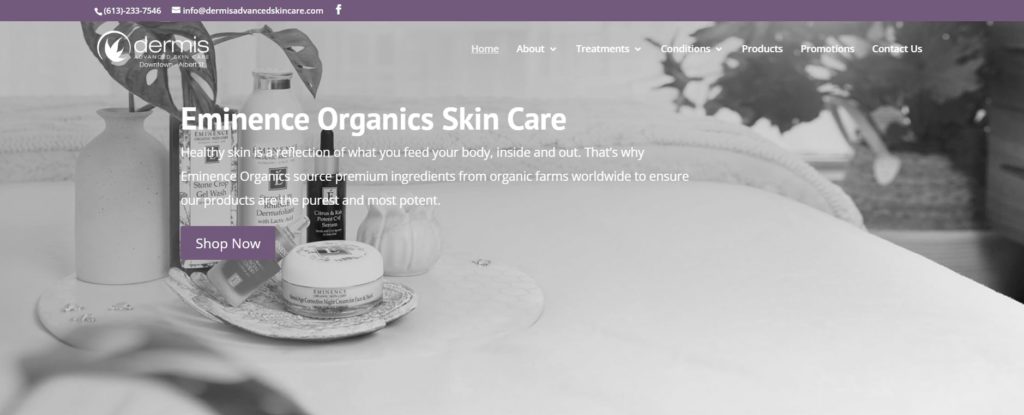 Test
Info
SERVICES
Melasma Spectra Toning, Microdermabrasion, Alumier Chemical Peel
WEBSITE
https://www.dermisadvancedskincare.com/
ADDRESS
116 Albert St #110, Ottawa, ON K1P 5G3, Canada
CONTACT DETAILS
613-233-7546
OPERATING HOURS
Open 9:00 AM - 7:00 PM

Closed on Weekends
| | |
| --- | --- |
| Criteria | Ratings |
| Rates | ★★★★★ (5/5) |
| Equipment | ★★★★★ (5/5) |
| Treatments | ★★★★☆ (4/5) |
| Customer Satisfaction | ★★★★★ (5/5) |
The last but definitely not the least on our list is Dermis, an established skin clinic that's been operating for almost a decade. It's led by a diverse cast of professionals who are passionate about the difference they make in each client's life.
Its services are mostly made up of skincare treatments, but it also offers eyelash enhancements and body sculpting procedures. This includes cellulite reduction treatments and body smoothing.
Dermis is also well-known for its laser hair removals, receiving stellar reviews from both frequent and previous clients. Its high-end equipment and skilled technicians leave most of its customers happy with the quick and painless procedures.
As for its pigmentation treatments, its Melasma Spectra Toning uses laser technology to reduce uneven pigmentation by naturally breaking down melanin molecules.
If you prefer home care treatments, though, it also offers medical-grade products that help stop the overproduction of melanin. Though the frequency and duration of treatment still depend on a case-to-case basis.
What's more, choosing to go with this clinic's products means you can avoid those long lines at the clinic after you purchase them. This is especially nice for people who get a little shy around company.
While Dermis is also expectedly pricey, it makes up for it by offering occasional discounts and promos on packaged deals. So if you're looking to save without settling for less, keep an eye out for its special promos.
Offers homecare treatments and products
Established business
Discounts and packaged deals
Pricey
Packed appointment schedules for in-clinic treatments
Customer Reviews
Best place in the city
"The BEST staff in all of Ottawa. Been getting a few services from this place for 2 years now and the ladies make you feel just at home. Miriam, Sadaat and the front desk ladies are very welcoming. My lazer hair removal treatments have been rather painless. I love the banter and chats I have with the ladies <3 best place in the city. Do beware of the parking situation. You will need to do research before coming, I advise to park at Indigo right beside. You will need the app and it is roughly 5$ per 25mins. :/" – Carina Della Valle
Professional treatment and honest advice
"I highly recommend Saadat for laser hair removal she's great to deal with and has lots of experience. I had several treatments with her and was very happy with the results. My wife also been going to see Saadat for different treatments and she's super satisfied every time. I recommend Saadat for everyone looking for professional treatment and honest advice and the skin care she recommended works great! Amazing results." – Elie Khoury
FAQs about Pigmentation Treatments in Ottawa
---
Feeling comfortable in your own skin is what everyone deserves. For more skin clinics that only want to bring out the beauty in you, check out our article on the best microdermabrasion clinics in Ottawa.