6 Best Photo Printing Services in Ottawa
You can make your memories last longer and be more accessible by having snapshots of them printed, framed, or kept in a photobook.
To help you achieve this, we're reviewing the best photo printing services in Ottawa today.
To add, we have here a photo enhancement service to further amplify the beauty of your photo print. Check this out!
We aim to make this a complete resource so you'll find a pricing guide in the next section and a list of FAQs at the end of this article.
How Much is Photo Printing in Ottawa?
Photo printing in Ottawa has evolved from just handing over a memory stick and hanging around for standard prints to be done. Different trends, materials, technology, and styles have now made the options a bit wider (and speedier).
Most printing shops charge by the amount to be printed, though some can consider one-off printing services. Requests for rush jobs would definitely add up to the final invoice, too.
To give you an idea of average costs, we put together a table of some common printing requirements and their estimated prices.
PHOTO PRINTING SERVICE
ESTIMATED COST
Instant prints
4 x 6 $0.40

5 x 7 $2.30

6 x 9 $2.50

8 x 12 $6

Standard prints
Photo print wallet size $0.40

Photo print 5 x 5 $1.50

Photo print 6 x 6 $1.70

Photo print 8 x 8 $4

Poster prints
11 x 14 $12

12 x 18 $16

16 x 20 $19

20 x 24 $22

24 x 36 $30

Mounted canvas prints
12 x 12 $70

16 x 20 $100

12 x 12 (with frame) $115

16 x 20 (with frame) $150
If you have customized printing requirements and a specific lead time, it's best to ask for a quote from the printing shop of your choice. They might offer a special price or promo for those.
The Best Photo Printing Services in Ottawa
Now that you have an idea of the costs involved, it's time to see which photo printing services in Ottawa will work best for your needs.
We selected the ones in this listicle based on the following criteria:
1. Printing Shark
Test
Info
SERVICES
Custom printing, signs and banners, apparel, stickers, stationery, printing essentials
ADDRESS
100 Metcalfe Street Suite 200 Ottawa, Ontario K1P 5M1
CONTACT NUMBER
613-699-7223 |

[email protected]

WEBSITE
https://printingshark.com/
OPERATING HOURS
Monday to Friday 8.30 AM - 4.30 PM

Closed on Saturdays and Sundays
To accommodate the demand of its clients, Printing Shark has three printing shifts every 24 hours. It runs its presses seven days a week even though its sales and order pickups are available only during weekdays.
It has a wide range of products and services in its catalogue. The company can print images and designs on everything from business cards to media walls and yard signs.
The exhaustive menu of products is impressive, but it's also good to know that Printing Shark can do in-house design services, brand building solutions, and mailing services.
Potential customers can request a free estimate on any of their printing needs. There's a quote request form for any product or service which is handy because there's no base pricing information provided.
Because the company wants to win over its clients' business, it also offers a price match guarantee so it can try to beat other photo printing shops' prices, which we think is pretty awesome.
In-house design and brand building services
Offers a price match guarantee
Exhaustive menu of print products
Offers free estimates
No base pricing info given
Open on weekdays only
No BBB accreditation
Customer Reviews
Professional service, very responsive
"Professional service, very responsive and created some excellent business cards. Very happy with their service." – Krys MC
Great customer service, would order again
"Great customer service and the product turned out great! Very pleasant experience would definitely order again." – Evelyn Hodgson
2. Henry's
Test
Info
SERVICES
Photo centre, standard prints, collage prints, panoramic prints, poster prints, collage poster prints, photo books, calendars, gallery-wrapped canvas, video transfers, 35mm film processing, image recovery
ADDRESS
267 Bank St., Ottawa, Ontario K2P 1X5
CONTACT NUMBER
(613) 232-5368 |

[email protected]

WEBSITE
https://www.henrys.com
OPERATING HOURS
Monday to Saturday 10 AM - 6 PM

Sundays 12 noon - 5 PM
Henry's has 22 store locations across Canada with the Ottawa branch located on Bank Street. While primarily known as a place to buy photography gear, it opened its photo printing services in 2017.
Henry's Photo Centre offers clients convenient online ordering with the option to have prints picked up in-store or shipped to their locations. Customers who can't step out of the house can get instant prints or mobile printing services, as well.
Home delivery is free for orders over $99. Otherwise, there's a $9.95 shipping fee (which is still quite reasonable).
There's a unique service available here that other photo printing shops don't have. Henry's can restore old photographs, retouch blemishes, or remove objects and people via its photo retouching service (available only online).
And if you're an analog photographer, you'll be happy to know that Henry's can process 35mm colour and black and white film! However, since it's done off-site, the turnaround time is between two and three weeks.
Free shipping on orders over $99
In-store pick-up or home delivery options
Can retouch old photos
Can process 35mm film
Open seven days a week
Photo retouching is available online only
2 – 3 weeks for 35mm film processing
Currently doesn't accept orders outside of Canada
No BBB accreditation
Customer Reviews
The staff takes time to listen to customers' needs
"Excellent service! The staff here take the time to listen to customers' needs and make recommendations accordingly. Rather than just trying to sell you a pricey piece of equipment, in my experiences here they have made the effort to understand my needs and help me find what will work best for me. Their advice has been very valuable to me." – Amy L.
Sales staff are photographers and understand beginners' needs
"I give Henry's Camera on Bank Street five stars. Every one of their sales staff are photographers and understand the needs of beginners and professional photographers. They are patient and offer great advice on equipment and information needed. They also keep a record of our purchases which helps for future purchases." – Bente Nielsen
3. Merriam Print, Inc.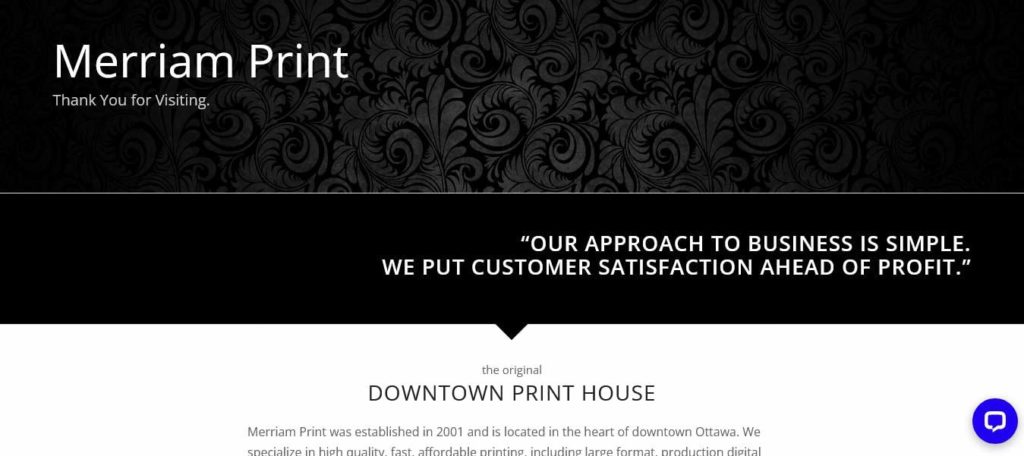 Test
Info
SERVICES
Photo printing, large format printing, promotional products, calendars, Christmas cards
ADDRESS
252 Laurier Ave. East. Ottawa ON K1N 6P4
CONTACT NUMBER
(613) 567-5050
WEBSITE
https://merriamprint.com/
OPERATING HOURS
Monday to Friday 9 AM - 6 PM

Closed on Saturdays and Sundays
Merriam Print, Inc. has been around since 2001 and has since been providing Ottawa clients large format, offset, and production digital printing services.
Under its screen printing service, the shop sells eco-friendly promotional products such as tote bags, pocket notebooks, cotton T-shirts, and mugs. Its large format printing service is quite extensive with everything from canvases, wall graphics, magnets, stickers, posters, and banner stands on the menu.
We like that even photos taken from phone cameras can be printed as beautiful reproductions on photo paper or as canvas prints.
Merriam Print offers best practices on how to submit image files for printing so everything can be done conveniently online. There's a page dedicated to sending files, or clients can attach the appropriate image in the information and quote form.
It's just a bit of a letdown not to see any base pricing information even on its PDF files for promotional products.
Wide range of large format print services
Can print images from phone cameras
A convenient way to submit image files online
Offers eco-friendly promotional products
Website info and design needs updating
Doesn't provide base pricing info
Open on weekdays only
No BBB accreditation
Customer Reviews
Artwork labels done ASAP
"I had a deadline in a few hours and they were very understanding and got my print job for Artwork labels done asap and provided very useful recommendations on margins, borders and mounting. Great experience." – Susu Ahmed
High-quality products, top-notch customer service
"Fabulous service and attention to detail! Don't let the cramped quarters of this print shop put you off, Merriam Print is a little powerhouse. For more than a decade I've turned to this shop for a variety of promo products for my clients — from posters and business cards to custom bags and t-shirts, Jia and her team can produce it for you. Products are high-quality and customer service is consistently top-notch at competitive prices." – Betsy Kitchen
4. Jiffy Photo and Prints
Test
Info
SERVICES
Photo printing, standard print products, custom print order, graphic design, online store
ADDRESS
420 Hazeldean Rd, Kanata, ON K2L 4B2
CONTACT NUMBER
613-831-2121 |

[email protected]

WEBSITE
https://jiffyphotoandprint.com/
OPERATING HOURS
Monday to Friday 9 AM - 5 PM

Closed on Saturdays and Sundays
Jiffy Photo and Prints has an online shop and encourages its customers to place their photo print orders and image files online. It still accommodates passport photo clients but on a strictly by-appointment basis in its studio.
Customers can either build from the online shop's existing templates or upload their files. Orders are typically completed within one to two business days, though Jiffy can make accommodations for specific time frames.
There's an easy way to upload images for its photo printing service just by dragging and dropping them, or browsing and importing from various social media platforms. We think these methods are genius and idiot-proof!
It's great that all these services can be done online especially since the physical shop is closed on weekends.
Jiffy also has photo products in case you want to give that special someone a memento of unforgettable moments caught on camera. They're affordably priced, too — t-shirts of different sizes are as low as $10 and mugs are below $9.
Quick turnaround time
A convenient way to upload images
Reasonably priced products
Passport photos strictly by appointment
Open on weekdays only
No BBB accreditation
Customer Reviews
Impressed with the prices, quality, and speed
"We have been working with Jiffy Photo for a few years now and we could not be happier with their services!! We have ordered labels, stickers, cards & envelopes etc. We are impressed with their prices, quality and speed. I was referred by a friend to Mark at Jiffy Photo and now I like to recommend Jiffy any time I can!
Highly recommend their services! 5 stars!" – Renee McDonald
Great service and quick turnaround time
"So let me tell ya, this business is amazing. I always get great service and turnaround is very quick. They have done so many great printing jobs and are always of the highest quality. Mark is a great guy and so are the rest of the staff. Highly recommended!" – Chris Hand
5. Michael Willems Photo
| | |
| --- | --- |
| SERVICES | Portraits, Printing, Frames, and Photo Restoration |
| ADDRESS | 110 Place d'Orléans Dr, Orléans, ON K1C 2L9, Canada |
| CONTACT NUMBER | 613 702 1874 |
| WEBSITE | https://michaelwillemsphoto.com/ |
| OPERATING HOURS | Open 24/7 |
Our experience with Michael Willems Photo left us captivated by the sheer excellence of their printing services.
With an unwavering commitment to quality, this company has undoubtedly carved a niche for itself in the realm of photography.
From the moment we entrusted them with our treasured memories, their convenience became evident.
Their user-friendly online platform, coupled with prompt communication, made the entire process seamless.
Michael Willems Photo clearly knows that time is of the essence in preserving memories, and they deliver on that understanding.
As we delved deeper into the world of photography, we found that reputation can be a game-changer.
Michael Willems Photo stands tall in this regard, boasting an impeccable track record. Their reputation is not merely a reflection of past achievements but a promise of future excellence.
Cost, in any venture, is often a deciding factor. Michael Willems Photo strikes a remarkable balance between quality and affordability.
They don't compromise on the former, and yet, their pricing remains competitive. It's a rare feat in the world of photography services.
Unfortunately, they can get busy during peak days. We advise booking their service ahead of time.
Quick turnaround time
Quality prints
User-friendly platform
Stellar reputation
Competitive pricing
Customer Reviews
"Michael Willems Photo exceeded our expectations. The prints were stunning, and the process was a breeze. Highly recommended!"
"Impressed by their professionalism and quick turnaround. Our memories came to life through their prints. Will definitely use their services again."
6. 1996 Custom Photo Lab
Test
Info
SERVICES
Digital printing, professional photography, film, customizable photo gifts, photo mounting, video transfer, passport photos
ADDRESS
129 Bank St. Ottawa, Ontario K1P 5N7
CONTACT NUMBER
(613) 233-2509 |

[email protected]

WEBSITE
https://1996photolab.com/
OPERATING HOURS
Monday to Friday 10 AM - 4 PM

Closed on Saturdays and Sundays
There's definitely a vintage look and feel to 1996 Custom Photo Lab's website design. 1996 represents its immigrant owner and operator's dreams of having a better life in Canada and working with people's cherished moments.
It was also the time she brought Sooter's Photography and transformed it to its current state. Today, the shop offers digital printing, professional photography, film processing and printing, customizable photo gifts, photo mounting, and video transfer.
Its photo printing services accommodate several ways for customers to submit their images. They can attach it via email, do a curbside drop-off, have them picked up, or upload them on the website.
1996 Custom Photo Lab can do same-day prints for photos uploaded to its website. There's a price guide on the right side of the page for different print sizes, and they're slightly higher than the average rates (but not by much).
Its more unique services include photo restoration for pictures with water damage, stains, and cracks, and if certain people or objects need to be removed in the background. Analog photographers will be glad to know that the shop also processes and prints film and can reprint from existing negatives!
Three locations in Ottawa
Wide range of photo-related services
Can process and print film
Photo restoration available
Slightly higher same-day print prices
Bank Street location open only on weekdays
No BBB accreditation
Customer Reviews
Highly recommended
"In my opinion, the best photo lab in the city. Highly Recommend." – Diego Alvarado
Quality workmanship
"Excellent customer service. Quality workmanship. good value for money." – Tanusha Moodley
FAQs About Printing Services in Ottawa
---
The best photo printing services in Ottawa can help get your favourite images to come to life. If you think we left out a photo printing shop in this listicle, send us a message.
We also have other printing and file-related services to recommend with the following published posts: