The 5 Best Permanent Makeup Clinics in Ottawa
Permanent makeup is a good way to make yourself look better without being too intrusive to your skin. It doesn't involve surgery, so there are basically no risks to yourself.
In this article, we will be talking about the best permanent makeup clinics in the city so you can find the right one for you.
How much does permanent makeup cost in Ottawa?
A full permanent makeup procedure usually costs around $1000. Check the table below for more specific information:
| Service | Average Estimated Costs |
| --- | --- |
| Permanent Eyebrow/Microblading | $200 - 1000 |
| Permanent Eyeliner | $300 - 700 |
| Permanent Lip | $450 - 600 |
| Freckles | $80 - $350 |
| Mole | $50 - $150 |
The Best Permanent Makeup Clinics in Ottawa
Finding you the best options for permanent makeup is what we aim to do. To help us, we based our list on the following criteria:
1. Ivonne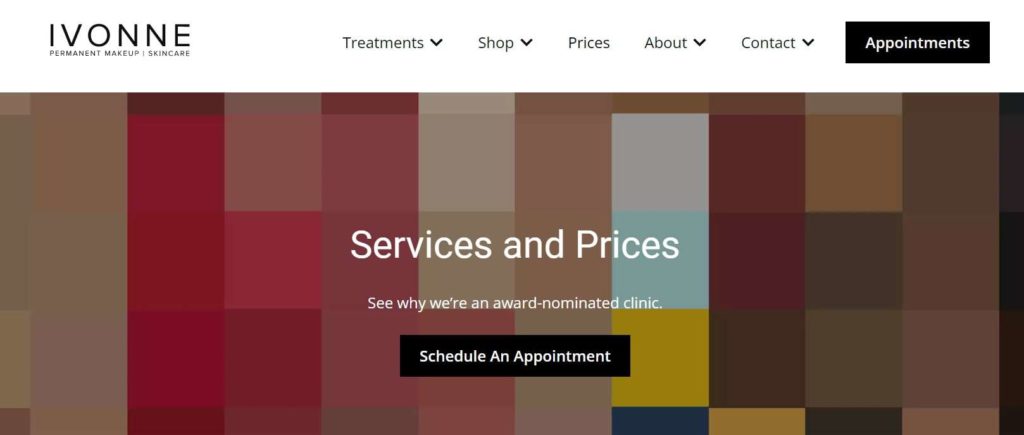 Test
Info
SERVICES
Eyebrow Tattoo, Eyeliner Tattoo, Lip Tattoo, Camouflage Tattoo, Skincare Peels, Skincare Microneedling, PicoWay Resolve Laser Skincare Treatments, Laser Tattoo Removal
WEBSITE
ADDRESS
320 Queen St #0116, Ottawa, ON K1R 5A3, Canada
CONTACT DETAILS
613-695-6662
STORE HOURS
Mondays to Thursdays: 10AM – 6PM

Saturdays: 9AM - 5PM

Closed on Fridays & Sundays
| | |
| --- | --- |
| Criteria | Ratings |
| Rates | ★★★★ (4/5) |
| Location | ★★★★ (4/5) |
| Experience | ★★★★★(5/5) |
| Portfolio | ★★★★★(5/5) |
IVONNE is an Ottawa-based permanent makeup and skincare clinic founded in 2017 by Ivonne Sanches, a passionate skincare enthusiast.
Despite being a relatively new company, IVONNE has already made a name for itself as one of the best permanent makeup clinics in the city. It is an authorized seller of skincare products that are clinical grade and are all double-checked for safety.
IVONNE also sells after-care products for those who just finished their permanent makeup procedure. We also like that the company gives out free samples of its products so customers in doubt can try the products themselves.
For permanent makeup, IVONNE offers multiple options like eyebrow tattoos, eyeliner tattoos, lip tattoos, and more. The clinic also offers microblading and micro-pigmentation options.
Regardless if you want your makeup to stay on longer or shorter, the clinic has you covered.
We are also impressed with IVONNE's pre/aftercare guide. Many customers are first-timers and don't really know what permanent makeup entails, but IVONNE educates them properly before and after the procedure.
Although some of its procedures are expensive, we are still happy with the services it offers. If you plan on visiting IVONNE, just remember to schedule an appointment during the weekdays as it's closed on Fridays and Sundays.
Clinical-grade products
Custom pre/aftercare guide
Some procedures are expensive
Closed on Fridays & Sundays
Customer Reviews:
Best experience

"I had the absolute best experience getting freckles with Ivonne. I had done a lot of research because I wanted them to look more natural than I had been seeing online. Ivonne created the perfect colour for my skin and followed the natural pattern of some freckles I already had. The experience was relaxing and painless & Ivonne had me check in during the process to make sure I liked the results. The aftercare was easy – there was no pain, no itching or peeling, only slight redness. It's been months now and the freckles still look amazing. I also left with some makeup with sunscreen in it which I love. I'm so happy with the entire experience and will 100% be going to the clinic again." – Shannon Hawn

Attention to detail
"My initial contact was with Dana, who made scheduling from provinces away a breeze! She was friendly, patient and competent. I am delighted to say those qualities were carried throughout my entire experience.
On treatment day, I was welcomed by Katya's big smile, who was kind to offer various supplies (water, a charging station, etc.) due to the wind storm a few days prior. To me, these little things make IVONNE steps above the rest." – Andrea
2. Brows & Beyond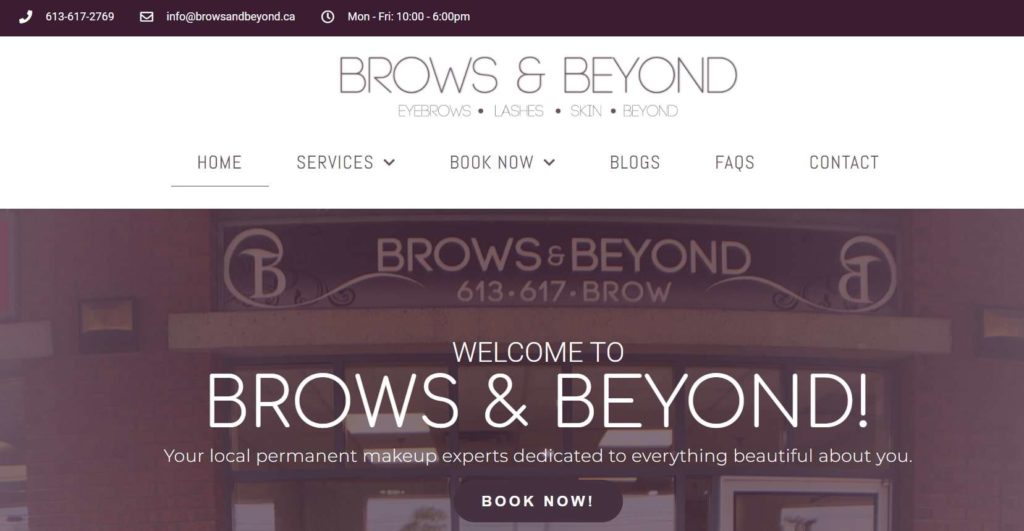 Test
Info
SERVICES
Eyebrows, Lip Blush, Lashes, Eyes, Skincare
WEBSITE
ADDRESS
1530 Merivale Rd, Nepean, ON K2G 3J7, Canada
CONTACT DETAILS
613-617-2769
STORE HOURS
Monday – Friday: 10AM–6PM

Closed on weekends
| | |
| --- | --- |
| Criteria | Ratings |
| Rates | ★★★★(4/5) |
| Location | ★★★★ (4/5) |
| Experience | ★★★★★(5/5) |
| Portfolio | ★★★★★(5/5) |
Brows & Beyond is a beauty clinic based in Merivale Road that specializes in permanent makeup. Founder and CEO Sabria Bullaku studied aesthetics and hair care at the young age of 19 and established the clinic to serve fellow beauty enthusiasts.
We are impressed with how Brows & Beyond treats its patients. As a clinic with only one main aesthetician, the customer service is good — and so is Sabria's patient handling, which is more personal.
This helps ease patients and relaxes them so they are not stressed during the procedure.
For its permanent makeup services, the clinic offers both microblading and micro-pigmentation. Micro-pigmentation is designed to last longer, but it can also be a slightly painful process.
That's why we think Sabria's down-to-earth presence is really a good thing, especially during nerve-wracking procedures.
Aside from brows, the clinic also provides lip blush, eyelash care, and some skincare services. If you are looking for a clinic that can help you with permanent makeup and other skincare procedures, Brows & Beyond is perfect for you.
The only downside of the company is its clinic size, which is smaller compared to its competitors. But some may say that this adds to the personal touch that the clinic keeps on boasting about.
Overall, this shop is great and provides more than enough services for its patients.
Great atmosphere in the salon
Experienced team
Trained artists
Procedures can be pricey
Smaller than other clinics
Customer Reviews
Excellent

"Sabria did my eyebrows and I couldn't be happier with the result! I'm sure once the healing process is finished I'll love them even more. She knew the right shape to frame my eyes and was even able to get the eyebrow color to match my hair. Not to mention, Sabria was also super sweet and easy to talk to. Beautiful little eyebrow bar with great service. Highly recommend." – M.M.
Down to earth
"Sabrije is so down to earth and listens to her clients! I am a tattoo artist myself and wanted a little more of a dramatic brow and she catered to my every need! The colour is perfect, the shape is perfect and she is so light handed during her procedures. The only place I will ever go to for any permanent makeup. My brows came out even more perfect than I could have imagined! Atmosphere at the salon is a chill relaxed vibe as well 😌 thank you again Sabrije for making this a great experience!!" – Loni Dilaj
3. Face First

Test
Info
SERVICES
Permanent Makeup, Facials, Microneedling, Chemical Peels
WEBSITE
ADDRESS
1350 Kitchener Ave, Ottawa, ON K1V 6W2, Canada
CONTACT DETAILS
888-302-2525
STORE HOURS
Monday – Saturday: 11AM–5PM

Closed on Sundays
| | |
| --- | --- |
| Criteria | Ratings |
| Rates | ★★★★(4/5) |
| Location | ★★★★ (4/5) |
| Experience | ★★★★★(5/5) |
| Portfolio | ★★★★★(5/5) |
Face First is a skincare clinic based in Ottawa. It specializes in nano brows, which basically means tattooing eyebrows with smaller needles.
This procedure makes the eyebrows more realistic looking compared to ordinary permanent brow treatments. The smaller needles are able to create a more detailed design that looks like actual strands of hair on your face.
We also appreciate Face First's free touch-up 6 to 8 weeks after the first appointment. Although initially a bit more expensive, its free touch-up makes the procedure cheaper compared to getting yourself a paid touch-up down the line.
The clinic's emphasis on aftercare is also appreciated. The staff at the reception will insist on you picking up the clinic's after-care booklet because they believe that permanent makeup is only as good as how you take care of it.
The only downside with this clinic is it's a bit small and hard to find. If you have your own vehicle, you might have a problem finding a parking space near the clinic.
This is especially true during busy days, so we suggest that you go to the clinic well before your appointment.
Overall, its services are top notch and the free touch-up is a great way to get customers to come back. It also shows how trustworthy the clinic is, so that's always a plus for us.
Experienced team
Free touch-up after the procedure
Pricey
Clinic is hard to find
Customer Reviews
Lips are done beautifully

"I got my lips tattooed by Emily and I am absolutely in love with them! She was friendly, knowledgeable and overall provided a wonderful experience. I highly recommend!" – Jamie Ganzini
Excellent

"I have been getting my henna brows done with Emily every three weeks, and I am obsessed with the results… I love waking up and not having to fill in my eyebrows everyday! She nails the exact shape and color I want so I have booked my appointment to get the nano brow done and cannot wait for them to be permanent. I would recommend her services to anyone looking for an amazing permanent makeup artist!" – Melissa Rasia
4. Pure Beauty Studio And Academy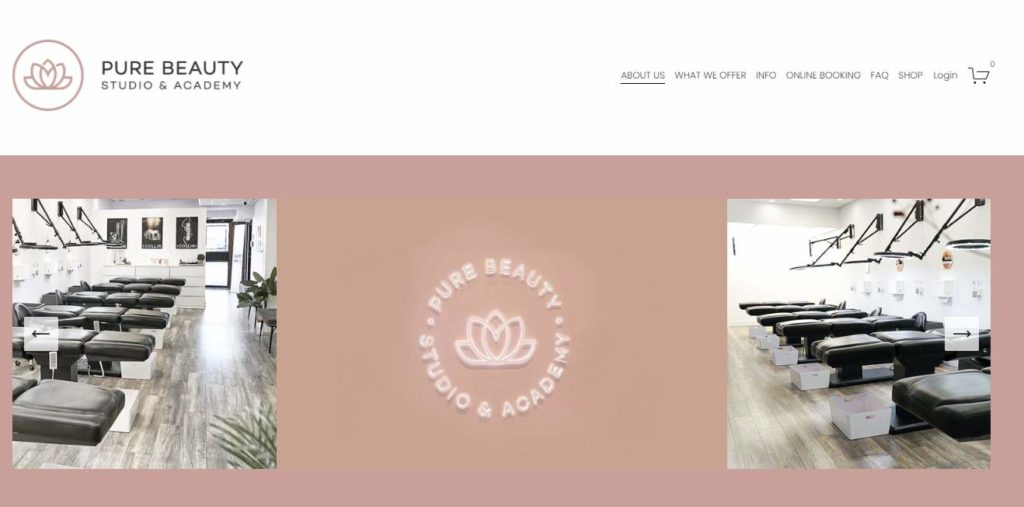 Test
Info
SERVICES
Permanent Eyebrows, Lashes, Lips, Eyeliner, Facial Waxing, Tattoo Removal, Teeth Whitening, Acne Care
WEBSITE
ADDRESS
258 Dalhousie St, Ottawa, ON K1N 7E4, Canada
CONTACT DETAILS
613-695-5088
STORE HOURS
Tuesdays to Saturdays: 10AM – 6PM

Closed on Sundays & Mondays
| | |
| --- | --- |
| Criteria | Ratings |
| Rates | ★★★★ (4/5) |
| Location | ★★★★ (4/5) |
| Experience | ★★★★★(5/5) |
| Portfolio | ★★★★★(5/5) |
Pure Beauty Studio & Academy is a pretty young makeup clinic. It started in 2018 but since has gained numerous clients over the years, making it very well-known in the city.
The beauty clinic offers basic permanent makeup services, such as permanent eyelids, eyebrows, eyelashes, and lips. But it also has more unique services, including teeth whitening and facial waxing.
The clinic also offers skincare services like acne care, which is very useful for men and women who have sensitive skin. We are really impressed with the dynamic set of services that Pure Beauty Studio & Academy offers.
Despite being a younger company, the specialists at Pure Beauty Studio are experienced makeup artists.
One of its employees, Tessa Hoang, has been a specialist since 2014 and has earned numerous certifications from Nguyen Huong Academy, Centre of Permanent Makeup, Philbrow Academy, and more.
Its other specialists, Maria Stone, is a certified esthetician from Algonquin College and Bianca pilon is a Medical Aesthetician who graduated with honors.
That said, we think what really makes Pure Beauty Studio a good beauty clinic is its team of experts. They also act as teachers in the studio's academy, which caters to people who are passionate about beauty and aesthetics.
Overall, the only downside with Pure Beauty is its pricing, which can be expensive for some people who are under a budget. But if you don't mind the cost, this clinic's services are definitely worth the money.
Extensive portfolio
Offers numerous procedures
Experienced team
Customer Reviews:
I'll be back!

"So lucky to have gotten an appointment with Michelle Le. To say I am in love with my brows is a complete understatement; literally the best! Michelle and her coworkers are so skilled and friendly, felt like family. The studio decor and vibe is clean, modern and you feel like a Princess from the minute you step through the door. Cannot recommend Pure Beauty & Michelle enough – I will be back again and again." – Casey Whiticar
Best in Ottawa!

"I booked in as a student model with Michelle Le. She did an amazing job on my combo brows! I am constantly getting compliments on how good my brows look and I love how low maintenance it has made my makeup routine. Highly recommend Pure Beauty to anyone looking to get their brows micro bladed. They're the best in the Ottawa area!" – Hannah Barrie
5. Perfect You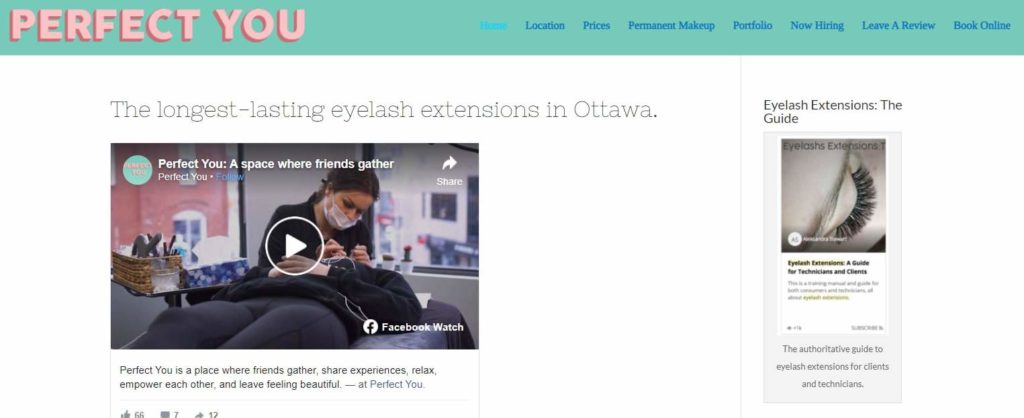 | Test | Info |
| --- | --- |
| SERVICES | Permanent Makeup, Eyelash Extensions, Lips, Facial Care, Skincare |
| WEBSITE | |
| ADDRESS | 441 MacLaren St Unit #310, Ottawa, ON K2P 2H3, Canada |
| CONTACT DETAILS | 613-606-3122 |
| STORE HOURS | Open every day: 8AM–9PM |
| | |
| --- | --- |
| Criteria | Ratings |
| Rates | ★★★★★(5/5) |
| Location | ★★★★ (4/5) |
| Experience | ★★★★★(5/5) |
| Portfolio | ★★★★★(5/5) |
Perfect You is a beauty clinic located on the edge of Maclaren Street. It offers permanent makeup services and other beauty-related procedures.
The clinic started out as an eyelash extension center with only two master technicians. It used to be smaller but now has become much bigger and more premium-looking.
Eventually, the clinic moved to other skincare and beauty services such as permanent makeup, which is one of its best-rated services.
From two master technicians, the clinic now has 5 certified professional technicians that are able to serve its clients.
The people behind Perfect You really want to put an emphasis on luxury, especially with their newly renovated office. The clinic's location is big and has a posh aesthetic, complete with private sunlit rooms for the customers.
It's also located in the center of the city, so customers with vehicles or those commuting won't have a problem finding the clinic.
We really like the comfortable atmosphere that the studio is able to give to its customers. It helps especially with first-timers who are a bit nervous about the beauty procedure they're about to get.
Overall, the clinic itself is solid in terms of location and aesthetics, but we just think that it could have added more services and technicians. Still, for its permanent makeup services, it definitely does the job well.
Open everyday
Great clinic setting, very posh
Extensive portfolio from its team
Some procedures are expensive
Not many services offered
Customer Reviews:
Worth a visit

"I went to see Kelly because I suffer from psoriasis and she was very knowledgeable about what kinds of treatments are available, I have never received such tailored care. She went above and beyond to make sure I was comfortable and informed, it was almost like a therapy session or a nice chat with a long time friend. Being comfortable with your medical professional is so important especially when it comes to women's health. I can't recommend Kelly enough, her services go above what any other clinic can provide and she is such a cool lady with so much experience in her field." – Georgia Mckay
One of the best

"I have been with Alex (owner) for a while now, almost five years. We did both my eyebrows and my eyeliner. Her precision is simply outstanding. Her approach to people's faces is like an artist with a canvas. And her art skills are simply out of this work. She is one of the best permanent makeup artists I have ever met." – Lola Meakinn
FAQs about Permanent Makeup in Ottawa
---
We created this list of the best permanent makeup clinics in the area for anyone looking to get permanent makeup but doesn't know where to start.
Thinking about other ways to look and feel good? Check out the best clinics for chemical peels in Ottawa.