The 5 Best Pea Gravel Suppliers in Ottawa
Pea gravel is used for a lot of things like mulching, making driveways, and furnishing patios. It's very versatile, so many gardening enthusiasts and construction experts use it for a lot of their projects.
In this article, we will be discussing the best pea gravel suppliers in Ottawa. So if you're thinking of redoing your garden or your patio, this might be the perfect article for you.
How much does pea gravel cost in Ottawa?
Generally, a cubic yard of plain pea gravel costs around $15 to $75. Some companies offer a variety of different colors of pea gravel, but those can be more expensive.
The table below should give you a better idea of the prices you'll encounter when looking at pea gravel:
| Material | Average Price |
| --- | --- |
| Pea Gravel | $15 to $75 for a cubic yard |
| Pea Gravel (Colored Variety) | $75 to $100 for a cubic yard |
We also created a table that is based on the size of your project so you can have a clearer picture of what your budget needs to look like.
| Project Size | Average Price |
| --- | --- |
| 4 x 35 feet | $50 for 1 cubic yard |
| 24 x 20 feet | $420 for 9 cubic yards |
| 25 x 15 feet | $250 for 5 cubic yards |
| 10 x 10 feet | $100 for 2 cubic yards |
| 4 x 8 feet | $25 for half a cubic yard |
The Best Pea Gravel Suppliers in Ottawa
The criterion below helped us find the best pea gravel suppliers in the city. Have a look so you have a clearer picture of how we found them.
1. Landscape Depot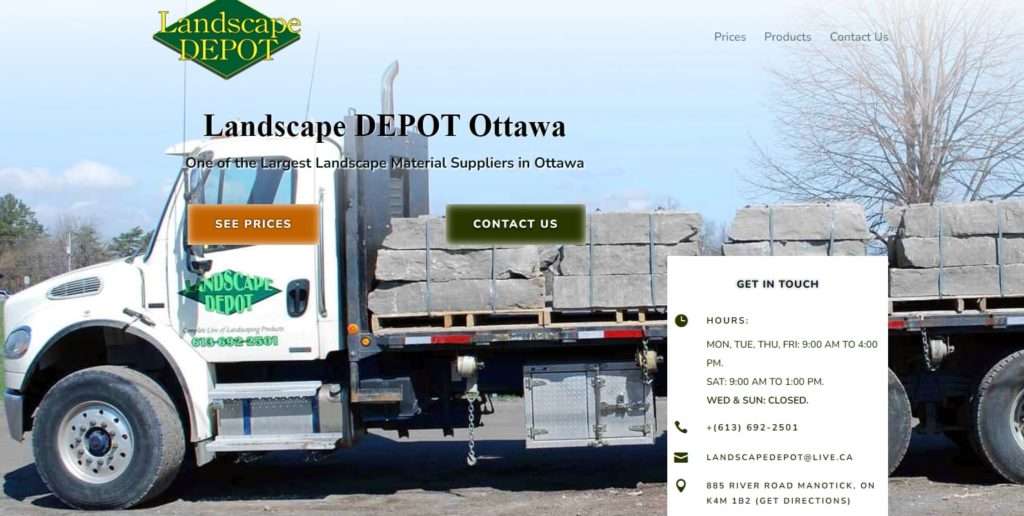 Test
Info
SERVICES
Topsoil, Gravel, Sand, Stone
WEBSITE
https://greelysand.com/
ADDRESS
1971 Old Prescott Rd, Greely, ON K4P 1N6, Canada
CONTACT DETAILS
613-821-3003
OPERATING HOURS
Monday 9AM–4PM

Tuesday 9AM–4PM

Wednesday Closed

Thursday 9AM–4PM

Friday 9AM–4PM

Saturday 9AM–1PM

Sunday Closed
| | |
| --- | --- |
| Criteria | Ratings |
| Price | ★★★★★ (5/5) |
| Location | ★★★★★ (5/5) |
| Services | ★★★★✩ (4/5) |
| Portfolio | ★★★★✩ (4/5) |
Landscape Depot covers a large delivery area in and out of Ottawa. It's a company that deals not just with homeowners but also with commercial contractors and government projects.
With over 50 years of experience, it is safe to say that the people behind Landscape Depot know what they are doing. The company has stood the test of time and continues to grow with more clients by the day.
We were impressed with the quality of the pea gravel that Landscape Depot is able to offer. We also like that the company is able to do rush deliveries, especially in the Ottawa area.
Most of its deliveries are completed the same day the pea gravel is ordered, which definitely gives it a point in our books.
Its customer service also deserves some points. Asking for estimates is easy and the person behind the phone is polite and friendly.
Other than pea gravel, Landscape also supplies armor stone, boulders, garden soil, river stone, clear stone, and more. If you have an upcoming project that needs multiple materials, definitely check out this supplier.
The only downside is if you are doing a project that also requires other construction tools and materials, you may need to look elsewhere. The company doesn't offer many services outside of landscaping and gardening.
Overall, it's a great place to shop, as long as you know what you're looking for.
Lots of stones available
Quick delivery
Drive-in also available
Not much in terms of other services
Customer Reviews
Happy result
"I ordered top soil for my yard, and I couldn't be happier! The delivery was on time and the top soil was delivered exactly how I had asked for it – and the quality is second to none. Great service, wonderful quality! Thanks so much. " – Leonardo De Socio
No one is better
"If you have a utility trailer, nothing can be better than this place. Drive in, pay for what you want, get loaded and out, in less than 10 minutes. I used to get the bags delivered for 10 times the price, not anymore!" – H. S.
2. Greely Sand & Gravel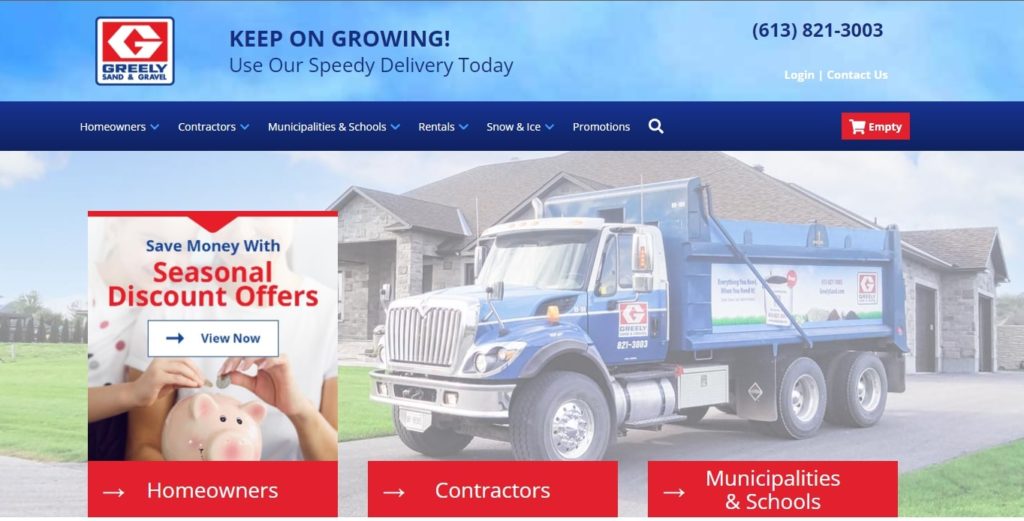 Test
Info
SERVICES
Topsoil, Gravel, Sand, Stone
WEBSITE
https://greelysand.com/
ADDRESS
1971 Old Prescott Rd, Greely, ON K4P 1N6, Canada
CONTACT DETAILS
613-821-3003
OPERATING HOURS
Monday 9AM–4PM

Tuesday 9AM–4PM

Wednesday Closed

Thursday 9AM–4PM

Friday 9AM–4PM

Saturday 9AM–1PM

Sunday Closed
| | |
| --- | --- |
| Criteria | Ratings |
| Price | ★★★★✩ (4/5) |
| Location | ★★★★★ (5/5) |
| Services | ★★★★★ (5/5) |
| Portfolio | ★★★★✩ (4/5) |
Greely Sand & Gravel is one of Ottawa's largest suppliers of pea gravel, topsoil, and other sand and stone materials that can be used in gardening and landscaping. These small decorative stones are the company's specialty, so that's why we put it on this list.
The company was founded in 1982 so it isn't short on experience. The people behind it have been in the industry for a while and understand how landscaping and gardening work for different types of areas.
Greely Sand & Gravel clients range from homeowners to contractors — most of whom have given it positive feedback. The company has also done some supplying work for the government and schools.
We are very happy not just with the many supplying services the company provides but also because of how it delivers this service. Its way of handling customers is very good and its receptionist is polite and gives a detailed explanation of the process.
We are also impressed with how the company is able to provide services even during snowy weather.
The best thing about this provider is its seasonal discounts. So despite its pricey services, it can still be considered a cheaper option when the discounts and promotions are factored in.
Offers seasonal discounts
Works even during snowy weather
Worked in both residential, commercial, and government projects
Customer Reviews
Well done
"Just had a great experience with these folks. They delivered my soil and rock early in the morning of the day they were scheduled and were quick to reply to my email. Overall very happy with the service as it was a seamless online experience. Well done Greely Sand & Gravel " – Shawn Pringle
Just what we needed
"Got a cubic yard of base gravel delivered and then used their waste pickup service to have them pick up the cubic yard bag refilled with the excavation waste. Delivery and pickup were both done smoothly and the stone received was just what we needed for the job" – Simon H
3. Manotick Gardens & Landscaping Supplies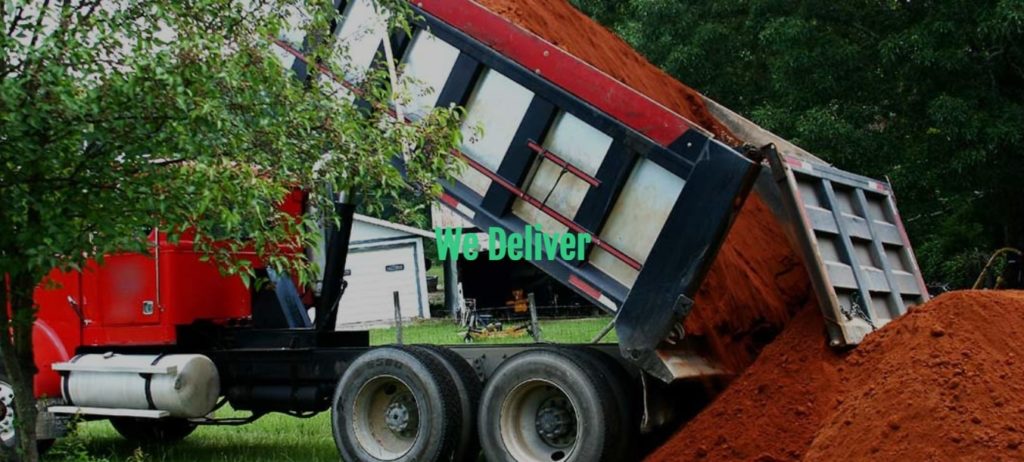 Test
Info
SERVICES
Mulches, Soils, River Stones, Gravel & Sand, Cedar  Hedge, Fresh Sod
WEBSITE
https://www.manotickgardens.com/
ADDRESS
2709 River Rd, Manotick, ON K4M 1B4, Canada
CONTACT DETAILS
613-692-3382
OPERATING HOURS
Monday 9AM–5PM

Tuesday 9AM–5PM

Wednesday 9AM–5PM

Thursday 9AM–5PM

Friday 9AM–5AM

Saturday 9AM–5PM

Sunday 10AM–4PM
| | |
| --- | --- |
| Criteria | Ratings |
| Price | ★★★★✩ (4/5) |
| Location | ★★★★✩ (4/5) |
| Services | ★★★★★ (5/5) |
| Portfolio | ★★★★★ (5/5) |
Manotick Gardens & Landscaping Supplies is also a great choice of company when it comes to supplying pea gravel. It also has reiver stones, cedar hedges, sod, and more, so if you need a lot of materials for landscaping, this company might be the one for you.
We also like that it doesn't just supply, its people can also be hired to build with you. They work on walkways, patios, gardens, and more — we like that because you don't have to hire a separate provider for your building project.
The company also does the installation of pavers and flagstones, which are harder to install compared to smaller stone materials. It also conducts repairs on existing interlock and flagstone projects, which we think makes it very versatile.
Aside from versatility, we are also impressed with the company's delivery service. Its delivery men are fast and very friendly so it's encouraged to hire them even for small deliveries.
The provider's portfolio is solid as well. It has done work for residential areas, commercial areas, and even government-sponsored projects.
Unfortunately, its services can be pricey, so it's better to engage it only if you have the right budget. You can also give the company a call for an estimate regarding a specific service.
Good supplier of stones and gravel
Also does repair on patios
Helps with building projects
Customer Reviews
Quick and easy
"I went late in the season. Although they didn't have much of what I was looking for left in stock, they did have organic soil booster for a very reasonable price. The sales person was very helpful in suggesting other places to look for the other items I was after; she was very helpful." – Joanne Spence
Loved the service
"Love this place. The owners and staff are very friendly and knowledgeable. Purchased plants, soil, picnic table benches and garden ornaments. Love everything. Will be spending my summer adding to my garden." – Tammy Waterman Norrie
4. André Taillefer Ltd.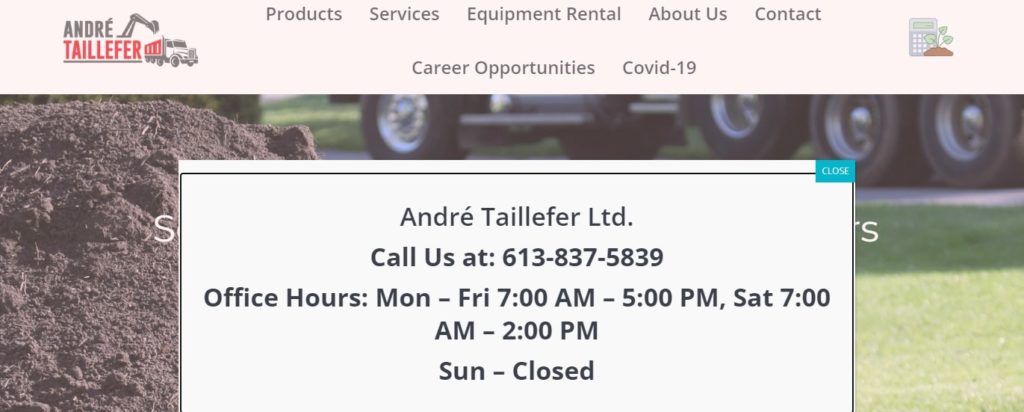 Test
Info
SERVICES
Pea Gravel Delivery, Soil Supply, Excavation, Septic Systems, Demolition, Site Preparation, Planning, Soil and Sand Delivery, Equipment Rental, Float Moves
WEBSITE
https://andretaillefer.ca/
ADDRESS
2210 Colonial Rd, Navan, ON K4B 1J1, Canada
CONTACT DETAILS
613-837-5839
OPERATING HOURS
Monday 7AM–5PM

Tuesday 7AM–5PM

Wednesday 7AM–5PM

Thursday 7AM–5PM

Friday 7AM–5PM

Saturday 7AM–2PM

Sunday Closed
| | |
| --- | --- |
| Criteria | Ratings |
| Price | ★★★★★ (5/5) |
| Location | ★★★★★ (5/5) |
| Services | ★★★★★ (5/5) |
| Portfolio | ★★★★★ (5/5) |
André Taillefer Ltd. was established in 1983. With 37 years of experience, it's no secret that this company is one of the oldest and best options in the city.
It has numerous recurring clients because of its long-standing customer-centric services. It is also a family business, so many homeowners are very particular to it because they believe that family business owners are more adept at giving customers what they need.
From what we've seen, this is also true for André Taillefer Ltd.
As a supplier, one of the best things the company can offer is the delivery of pea gravel and other similar supplies in Ottawa and its surrounding areas. The employees of the company are also bilingual, so it's more approachable to all types of clients.
Unfortunately, the company's delivery rates can be a bit expensive. For pea gravel, we suggest buying in bulk so the delivery is worth the pricey cost.
With that said, despite its high prices for delivery, it's one of the best choices in the city when it comes to pea gravel. Its services are great and as a family business, it specializes in multiple residential designs that you can use as inspiration for your own home.
Open on Saturdays
Has its own bulldozers and tractors
Offers equipment rental as well
Customer Reviews
Highly recommended
"Andre truly takes pride in his work. Very knowledgeable and easy to deal with. Highly recommended to use this company for any of the services they provide." – Altira P
Helpful staff
"The staff was very helpful, making sure i ordered the correct amount and size of stone. The colours are beautiful in the 2.5-5″ Riverwash stone." – Nancy S
5. The Home Depot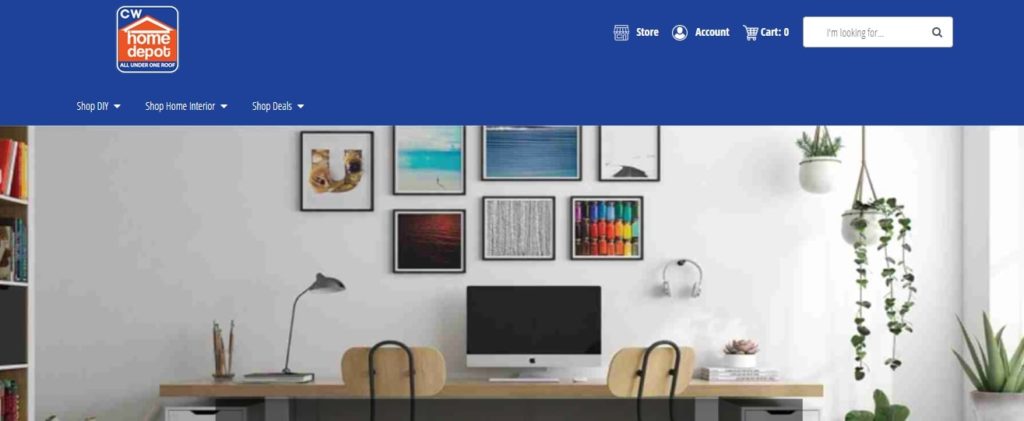 Test
Info
SERVICES
Gravel Delivery, Vehicle Rental, Cargo Vans, Window Installation, Door Installation, Gardening Services, Construction Services
WEBSITE
https://stores.homedepot.ca/on/ottawa/
ADDRESS
1900 Baseline Rd, Ottawa, ON K2C 0C6, Canada
CONTACT DETAILS
613-723-5900
OPERATING HOURS
Monday 6AM–9PM

Tuesday 6AM–9PM

Wednesday 6AM–9PM

Thursday 6AM–9PM

Friday 6AM–9PM

Saturday 7AM–8PM

Sunday 8AM–8PM
| | |
| --- | --- |
| Criteria | Ratings |
| Price | ★★★★✩ (4/5) |
| Location | ★★★★★ (5/5) |
| Services | ★★★★★ (5/5) |
| Portfolio | ★★★★✩ (4/5) |
Home Depot is one of the most popular suppliers not just in the city but in the world. It's already a given that the company has multiple services available, but not many know that it also has pea gravel for sale.
The best thing about Home Depot is its versatility. It pretty much has everything you would need for any kind of home improvement project — that's why we added it to the list.
Home Depot's customer service is also great. And the fact that it has many locations all over the country adds to its convenience.
It's also got an online store that can be accessed from its website, which just makes everything a bit more convenient.
The problem with Home Depot is that it is a big company that has lots of customers and clients. With that, there can be times when the material you're looking for is out of stock.
Luckily since it's a famous retail store, any customer can contact its landline and confirm the availability of the things they need.
We also like how Home Depot has free deck plans that can be used to get inspiration. After buying your pea gravel and other related materials, you can ask for a deck plan so you have a better understanding of how to build your project.
Overall, Home Depot, despite being very mainstream, is one of the best choices when it comes to landscaping and gardening materials.
Well known all over the world
Offers lots of other services
Solid supply of different materials
Famous retail store may not have the newest materials
Customer Reviews
Has everything
"Everything you need for your new house. We took a look at all type of electronics equipments. Loved the floor wood and carpet types and variety. You can also find numerous options for your furniture wood and design. Free sample if you would like to compare wood for flooring and furniture. Surely gonna visit again for some house equipment shopping." – Shekhar S.
Love this place
"I love home depot, I drive to Ottawa Baseline once a week. Whether it's plants or tools I know they'll have it. Staff are always very friendly and helpful at this location." – Betty M.
FAQs about Pea Gravel in Ottawa
---
That ends our list of the best pea gravel suppliers in Ottawa! Hopefully, you find this article helpful.
Did we miss a company you recommend? Tell us all about it — we'd love to hear from you!
Oh, and if you're looking for more ways to improve your home, check out this article on the best awning installers in Ottawa!