The 5 Best Nose Job Clinics in Ottawa
A nose job or rhinoplasty is not a simple procedure. It takes a good amount of expertise for someone to do it, so it's important to find the right clinic that provides the service.
In this article, we list and review the best nose job clinics in Ottawa.
How much does a nose job cost in Ottawa?
The typical price range of a nose job is between $5,000 – $25,000. This depends on how extensive the procedure will be and how much of the customer's nose he/she wants to modify.
You can use the price table below as a more specific guide in terms of the costs.
| Nose Job Type | Average Starting Price |
| --- | --- |
| Open Rhinoplasty | $7,000 |
| Closed Rhinoplasty | $5,000 |
| Secondary Rhinoplasty | $5,500 |
| Filler Rhinoplasty | $6,000 |
The Best Nose Job Clinics in Ottawa
Our goal was to make sure that we give you the best options for nose job clinics. Our list is based on the following criteria:
1. Aesthete MD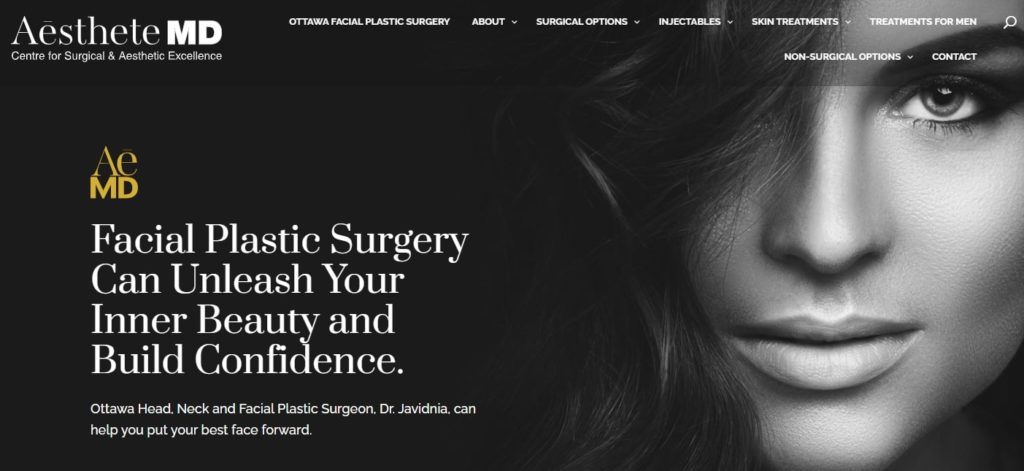 Test
Info
SERVICES
Nose Job, Facelift, Chin Augmentation, Brow and Forehead Lift, Lip Augmentation, Otoplasty, Earlobe Repair, Dimpleplasty, Submental Liposuction, Injectables, Skin Treatments
WEBSITE
https://aesthetemd.ca/
ADDRESS
230 Main Street, Ottawa, ON, K1S 1C7
CONTACT DETAILS
613-867-6673
OPERATING HOURS
Monday 8AM–5PM

Tuesday 8AM–5PM

Wednesday 8AM–5PM

Thursday 8AM–5PM

Friday 8AM–5PM

Saturday Closed

Sunday Closed
| | |
| --- | --- |
| Criteria | Ratings |
| Rates | ★★★★(4/5) |
| Location | ★★★★ (4/5) |
| Experience | ★★★★★(5/5) |
| Portfolio | ★★★★★(5/5) |
Aesthete MD's Dr. Javidnia specializes in facial cosmetic surgery. She is one of the few female cosmetic surgeons in Ottawa and to us, a woman's perspective is always appreciated — especially when it comes to female clients.
Despite being busy with multiple clients, we've seen that Dr. Javidnia's methods are very precise and quick. The clinic uses board-certified technology, and we are really impressed with its portfolio.
The clinic also offers other services outside of facial cosmetics, such as liposuction and injectable procedures. Its versatility is another thing worth praising.
We are glad to say that the clinic offers a very extensive post-surgery guide for all of its patients. This is very helpful, especially for those who underwent procedures with temporary results like facial rejuvenation.
With the post-surgery guide, patients can maximize and prolong the effects of the procedure.
If you are under a strict budget, you'll be happy to know that the clinic's parking area is free of charge. It should also be worth noting that because it's free, there are more people that park there, so it can be full at times.
Overall, with the services it offers and its very competent main doctor for rhinoplasty, we believe Aesthete MD is definitely one of the best options in the city.
Provides a post-surgery guide
Multiple services to offer
Special services for men
Free parking area
Parking area can be full
Some services can be pricey
Customer Reviews
My nose looks great
"Upon consultation I had a broken nose and a deviated septum. Both of which Dr. Javidnia fixed, and my nose already looks amazing! I am only just coming up on a month post op, and already the swelling has significantly reduced. From comparisons online, the fact that my nose looks this presentable a month post op is incredible! I also love how natural and beautiful she was able to make my nose look!!." – Tara A.
Excellent
"Excellent service! Dr Javidnia is an expert in her field, very precise and careful, very polite, kind and professional. Her advices are great. One time trying, continuing forever. Thank you Dr. Javidnia for your help and great results of whatever you do!" – Banafsheh K.
2. Ottawa Plastic Surgery

Test
Info
SERVICES
Nose Job, Weight Loss Breast Augmentation & Reduction, Butt Lift, Labiaplasty, Tummy Tuck, Neck Lift, Laser Hair Removal
WEBSITE
https://www.ottawaplasticsurgery.com/
ADDRESS
502-1525 Carling Avenue Ottawa, ON K1Z 8R9
CONTACT DETAILS
613-792-4137
OPERATING HOURS
Monday 8:30AM–4:30PM

Tuesday 8:30AM–4:30PM

Wednesday 8:30AM–4:30PM

Thursday 8:30AM–4:30PM

Friday 8:30AM–4:30PM

Saturday Closed

Sunday Closed
| | |
| --- | --- |
| Criteria | Ratings |
| Rates | ★★★★(4/5) |
| Location | ★★★★ (4/5) |
| Experience | ★★★★★(5/5) |
| Portfolio | ★★★★★(5/5) |
One of the main doctors in the Ottawa Plastic Surgery clinic, Dr. Kristty Boyd has over 20 years of experience in cosmetic surgery.
Aside from her, the clinic also boasts numerous staff members, from professional nurses to aestheticians, all there to help the patients. It's also impressive how it has its own care center where patients who are done with their surgery can recover and relax.
The rhinoplasty offered in the Ottawa Plastic Surgery clinic is included in its facial cosmetic package. Clients can also choose to avail of other procedures with it, such as lip reshaping, lip reduction, brow lifting, and more.
Although rhinoplasty isn't the only specialty of the clinic, it is still able to garner mostly positive feedback from its patients in this regard.
The clinic is also well-known for its comfortable office and the many services it has to offer. It's also located in a very accessible place, so finding it should be no problem.
The only issues we have here are its lack of weekend appointments and the high prices of some of the procedures. But overall, if you have the time and the budget, it's a great choice for a nose job in Ottawa.
Also has other plastic surgery services
Has a specific care center for patients post-surgery
Promotions and discounts available
No weekend appointments
Some procedures are expensive
Customer Reviews
Professional and caring staff
"I recently had surgery with Dr. Silverman, every step of the process was detailed and well explained. All his staff and himself are extremely professional and caring. " – Kayla K.
Impressive
"I would highly recommend Dr Silverman based on my experience. I had abdominoplasty and liposuction and am extremely happy with the results! Both of my children were born through C-Sections and it left my abdomen with a high scar and "pouch" that no diet or exercise could get rid of. I never imagined that my stomach could look this great, and I feel so much more confident with myself, I wish I would have done it sooner!" – Erin C.
3. Facial Surgery & Cosmetic Centre of Ottawa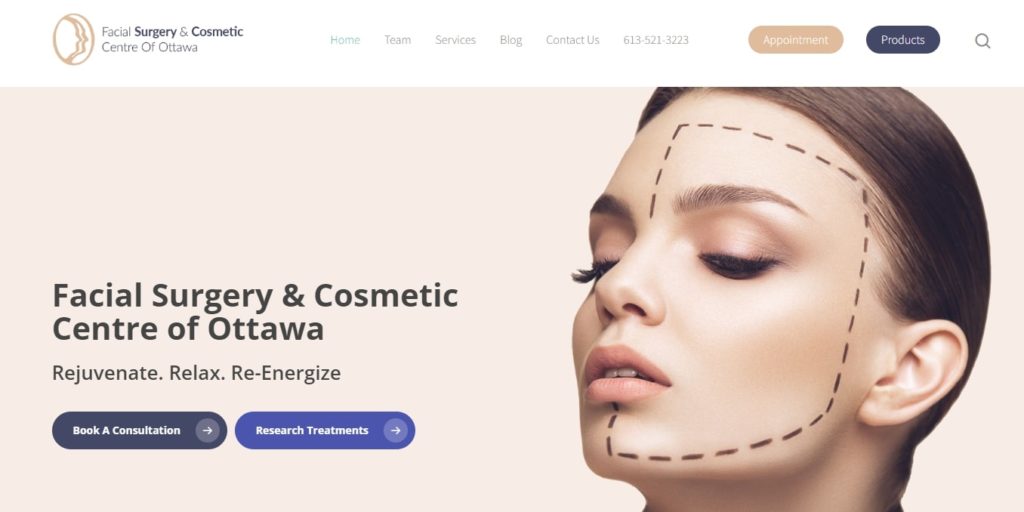 Test
Info
SERVICES
Nose Job, Chin Augmentation, Injectables, Skin Rejuvenation, Injectables, Skin Care, Body Sculpting
WEBSITE
https://ottawafacialsurgery.com/
ADDRESS
1919 Riverside Dr., Ottawa, ON K1H 1A2, Canada
CONTACT DETAILS
613-521-3223
OPERATING HOURS
Monday 9AM–5PM

Tuesday 9AM–5PM

Wednesday 9AM–5PM

Thursday 9AM–5PM

Friday 9AM–5PM

Saturday Closed

Sunday Closed
| | |
| --- | --- |
| Criteria | Ratings |
| Rates | ★★★★★(5/5) |
| Location | ★★★★ (4/5) |
| Experience | ★★★★★(5/5) |
| Portfolio | ★★★★★(5/5) |
The Facial Surgery & Cosmetic Centre of Ottawa is another great option for your rhinoplasty needs. It has many doctors available, all specializing in different fields.
One of its main doctors is Dr. Gregory Antoniak who has gained over 35 years of experience working with numerous doctors. Outside of treating patients, he is a teacher for surgical residents.
Before a rhinoplastic surgery, the patients are made to watch an instructional video explaining the procedure and how to deal with the recovery period. We think this is a great way to ensure that every patient is aware of what to expect.
The clinic also requires a $600 deposit before undergoing the treatment. This may be a problem for some potential patients who have a strict budget, but it is actually standard procedure.
The rhinoplasty options the clinic offers are also quite specific. You can ask the doctor to decrease your nose bridge, remove a bump, change your nose's angle, and do other things to make yourself feel more confident with your own nose.
We appreciate the clinic's specificity when it comes to the procedure.
Overall, the only fault we found is booking time, which can take a while because of the clinic's many clients. With that said, if you need rhinoplasty, you can't go wrong with the Facial Surgery & Cosmetic Centre of Ottawa.
Has its own newsletter that details promos
Has unique methods for rhinoplasty
Multiple services available
Experienced doctors
Instructional video that helps patients be aware of what to expect
$600 required before surgery
Multiple clients, so booking may be difficult
Customer Reviews
Unbeatable service
"The service is unbeatable! Bonnie was so sweet and professional! She always makes me feel so comfortable and informed! She always explains everything to me to make sure that I know how to take care of my skin before and after a facial! She always leaves my skin so glowy and clean! This was my second time going to their clinic and I will definitely be a regular customer!" – Batoul Zeini
Excellent surgeon
"Dr Antoniak is an amazing doctor!!He is kind, gentle, and a doctor with real integrity .
When asked about a few additional procedures, he flat out refused. I never thought that plastic surgeons would refuse to do expensive procedures .He is an excellent surgeon!
– Kristina Haves
4. JB Cosmetics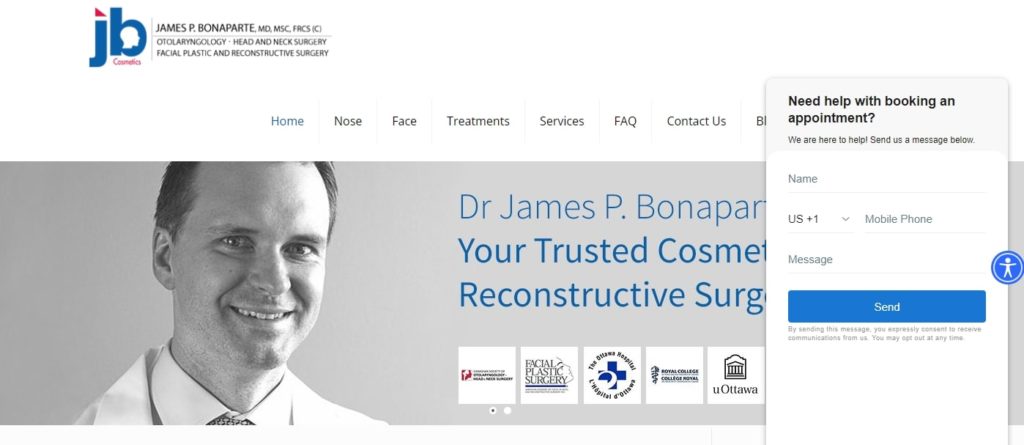 Test
Info
SERVICES
Nose Job, Revision Rhinoplasty, Injection Rhinoplasty, Nasal Fracture Repair, Digital Imaging Rhinoplasty, Face Lifts, Brows
WEBSITE
https://drbonaparte.com/
ADDRESS
Riverside Drive 1919 K1H 7W9 Ottawa, Canada
CONTACT DETAILS
613-909-3147
OPERATING HOURS
Monday 9AM–5PM

Tuesday 9AM–5PM

Wednesday 9AM–5PM

Thursday 9AM–5PM

Friday 9AM–5PM

Saturday Closed

Sunday Closed
| | |
| --- | --- |
| Criteria | Ratings |
| Rates | ★★★★★(5/5) |
| Location | ★★★★ (4/5) |
| Experience | ★★★★★(5/5) |
| Portfolio | ★★★★★(5/5) |
JB Cosmetics was founded by Dr. James Bonaparte, a facial surgery specialist based in Ottawa. As a male doctor, Dr. Bonaparte made it one of his goals to establish a clinic that is willing to focus on men's aesthetics, as well as women's.
This is something we appreciate because men have a different facial texture than women. Their face muscles are usually more rigid, which calls for more tailored approaches to rhinoplasty.
However, if you're a woman, you shouldn't worry either because JB Cosmetics impressively handles female patients as well.
The clinic has state-of-the-art rhinoplasty equipment that can handle both the softer features of women and the rougher faces of men.
Other than rhinoplasty, it also offers facial reconstruction for those who suffered injuries on their face. This is a very good service and should be more known to the public.
The clinic's portfolio is available online in the form of a blog that explains the treatments it has available. If you're still unsure of the services it offers, you can check that out.
Overall, the only gripe we have with this clinic is its prices, which can be pretty high even for simple procedures. Its office is also a bit smaller compared to many clinics.
Despite that, it's still a solid choice and should definitely be on your list.
Lots of rhinoplasty options
Also offers face treatments
Website blog also acts as a portfolio
Customer Reviews
Best doctor I have dealt with
"Dr. Bonaparte is by far the best doctor I have dealt with. He is personable, friendly, patient, and generous with his time. I had a septorhinoplasty performed by him earlier in the year and am ecstatic with how I am healing thus far. It was a real life-changer – for the good.
He applies a great deal of artistry to his surgical skills and spent a great deal of time discussing realistic expectations, proportion, etc, and how everything should balance out in the end. The result looks natural but still enormously improved.
I wish I could articulate it better but he has a very high recommendation coming from me. Absolutely will go to him if ever I need or want any other facial cosmetic procedures. Simply the best. Go to him first if you are considering having your nose done. You will not be disappointed, I assure you.
Thank you, Dr. B!!! :-)" – Charles von Hamm
Supportive staff
"I also left a review on another place. I never do this but had to as I had such a great experience with Dr Bonaparte and the staff (Nancy). I had a rhinoplasty in 2021. I was very scared. After my consult and many worries, I finally felt comfortable and went ahead. I felt supported the whole time. All the staff at the clinic really made me feel respected and I never felt pressured. The nurses in the hospital in Carleton Place were so nice. After the healing was done, I have a really nice result. I look like me but feel much more confident. I cant say anything but nice things about all the staff and Dr Bonaparte. I think what helped the most was the photos we edited at the consult and just the care I received." – Candace McLeod
5. Dr. Peter Brownrigg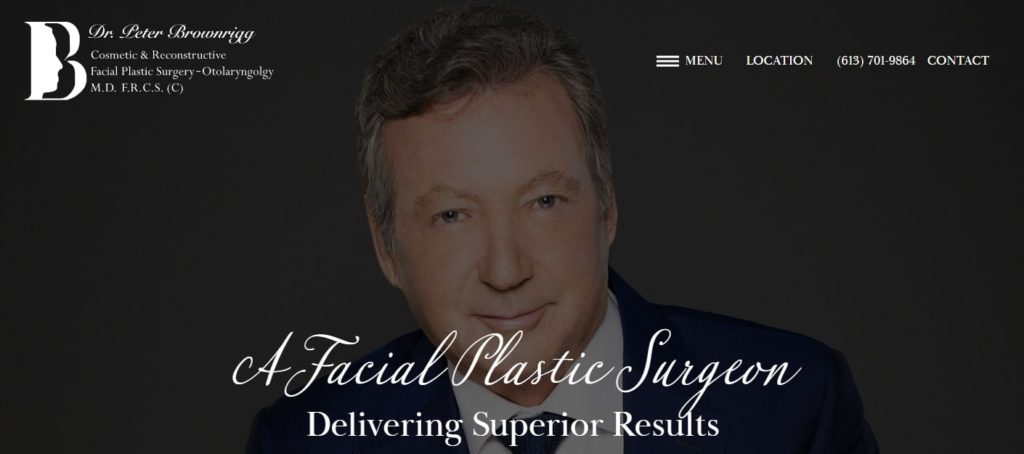 Test
Info
SERVICES
Nose Jobs, Facial Rejuvenation, Brow Lift, Eyelid Surgery, Facial Implants, Neck Lipo
WEBSITE
https://www.drpbrownrigg.ca/
ADDRESS
1525 Carling Ave Ste 608, Ottawa, ON K1Z 8R9, Canada
CONTACT DETAILS
613-724-1214
OPERATING HOURS
Monday 8:30AM–12PM, 1–4PM

Tuesday 8:30AM–12PM, 1–4PM

Wednesday 8:30AM–12PM, 1–4PM

Thursday 8:30AM–12PM, 1–4PM

Friday 8:30AM–12PM, 1–4PM

Saturday Closed

Sunday Closed
| | |
| --- | --- |
| Criteria | Ratings |
| Rates | ★★★★★(5/5) |
| Location | ★★★★ (4/5) |
| Experience | ★★★★★(5/5) |
| Portfolio | ★★★★★(5/5) |
Located in Carling Avenue, Dr. Peter Brownrigg's clinic is one of the few in the area that specializes in nose jobs. But we think it is quite unique from its competitors.
What makes the rhinoplasty services in this clinic impressive is their practical effects. The treatment is not just for aesthetic purposes anymore because Dr. Brownrigg also offers rhinoplasty for those who have trouble breathing.
The clinic calls this "functional rhinoplasty" and the treatment is usually done by fixing a deviated septum or reconstructing a broken nose. We are impressed with the versatility of services the clinic has.
The cosmetic center also offers other facial reconstruction procedures like face lifts, brow lifts, and even lip reshaping. If you are interested in multiple facial modifications, this is the perfect place to get them.
The only issue we have with Dr. Peter Brownrigg's clinic is the fact that he's the only doctor that's usually present. This can mean that booking an appointment might prove to be difficult.

Another issue is the location, which can be difficult to access for those who need to park their car.
Overall, the services the clinic provides are good and versatile. It is definitely worth the parking hassle, especially for those who need multiple services besides rhinoplasty.
Lots of options for facial reconstruction
Also offers non-surgical treatments
Good portfolio of previous clients
Located in a park, so parking may be difficult
Usually only has one doctor
Customer Reviews
Highly recommended
"I highly recommend Dr.Brownrigg! My entire experience with Dr.Brownrigg & his staff went above and beyond. I had a lower face lift and I am cannot be more excited with the results.
Thank you Dr.Brownrigg & Julia for making my experience a pleasurable one." – Shila Mackintosh
Great service
"I can't speak highly enough for Dr. Brownrigg and my own personal experience with him, his staff and my results. It has only been 4 months and I am EXTREMELY HAPPY with the results thus far! I would definitely recommend him! Thank you Dr.Brownrigg!" – Isabelle Boileau
FAQs about Nose Jobs
---
And that's it for our best nose job clinics in the city. If you're looking for other long-term ways to improve your appearance, check out the best permanent makeup clinics in Ottawa.