Best Places to Find a Nanny in Ottawa
As we get busier, the need for extra hands to do things for us becomes a necessity. We even sometimes look for carpet cleaning or lawn care services to get some common chores done.
Finding the best people for these kinds of jobs can be a challenge. The search becomes harder when we need someone to look after our kids or the entire home.
Because we understand how hard this could be, we gathered some of the best places to find a nanny in Ottawa to help you find what you need. But before we look at the list, let's first check out the average rates for nannies.
How Much Do Nanny Services Cost in Ottawa
Nannies are categorized based on what they need to do. While most are required to take care of people's homes and kids, others are hired for more specific tasks.
Because their job descriptions vary, nannies are charged differently. Aside from the nature of the job, experience and availability are also considered when setting rates.
Below is a table that illustrates the average rates based on the type of services nannies provide.
| Types | Average Hourly Rate |
| --- | --- |
| Nanny-housekeeper | $18.67 |
| Maternity nanny | $16 |
| Live-in nanny | $17.80 |
| Live-out nanny | $18 |
| Au pair | $17.50 |
| Mother's help | $17.50 |
| Shared nanny | $16 |
Finding the Best Nanny Services in Ottawa*
With many options to choose from, we filtered those that met our requirements for this review. Our choices for this list are based on the following criteria.
1. Sitly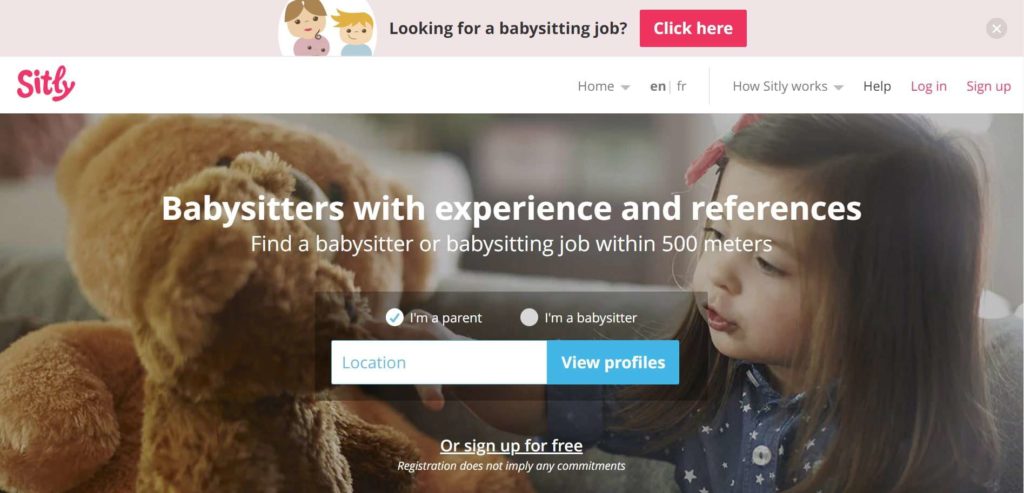 | | |
| --- | --- |
| Criteria | Ratings |
| Available Services | ★★★✩✩ (3/5) |
| Pool of Candidates | ★★★★★ (5/5) |
| Ease of Process | ★★★★★ (5/5) |
| General Feedback | ★★★★✩ (4/5) |
Sitly provides an easy way for people to find the babysitting and nanny services they need. It is also a good place for professional babysitters, nannies, and home care providers to showcase their skills to potential clients.
Sitly has an available app for both iOS and Android users. This means that people can easily browse through the profiles of available service providers in their area.
One nice thing about their apps and website is that they are very straightforward and provide you with options based on your preferences. The profiles of available workers are also informative and well-organized.
We like that each profile shows important details such as years of experience, availability, and hourly rate. They also have photos to give you a better picture of who you are hiring.
Also included in each profile are recommendations from previous clients. We think that it is very helpful as it becomes a good basis for setting an interview.
As a marketplace, there are tons of available options to choose from. The only problem we see here, though, is that Sitly does not screen people beforehand.
That means you have to be extra careful when choosing the people you will be working with. It is advised that you ask for references and plan interviews to make better choices.
Nevertheless, we think that Sitly has tons of potential candidates who are great for your needs.
A large pool of candidates
Mobile apps
Informative homepage
Limited service options
No screening process
Expensive app rates
Customer Reviews
Meets the needs of people
"Sitly offers opportunities to meet the needs of people who are aware of the importance of caring for children with respect and love." — Marcela Rodríguez , Trustpilot
Love this store
"Hello. I am new to looking through potential sitters on Sitly. The information is thorough and well organized. I like how the program lets the client know how close the person lives to our home." — Joanette, Trustpilot
2. NannyServices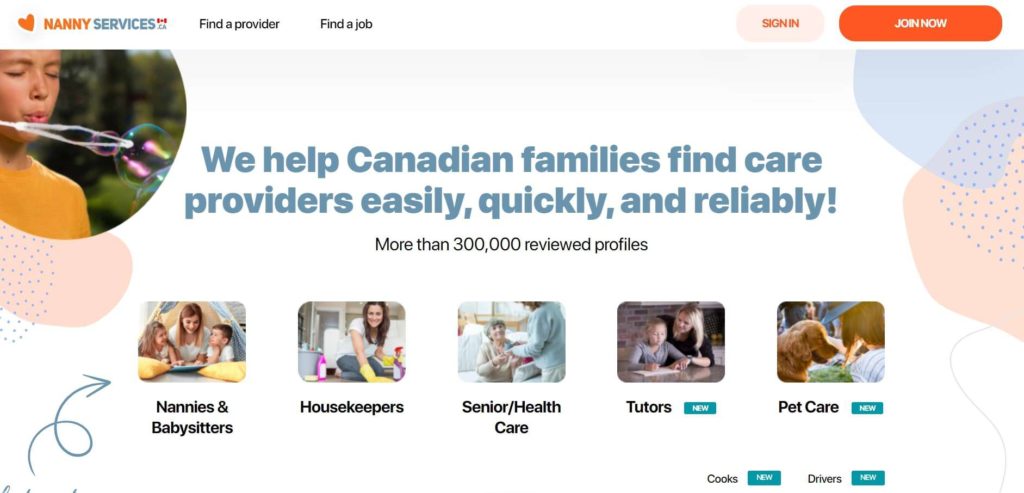 | Test | Info |
| --- | --- |
| SERVICES | Child Care, Housekeeping, Senior/Health Care, Tutor, Pet Care, Cook, Drivers |
| WEBSITE | https://nannyservices.ca/ |
| CONTACT DETAILS | +1 (888) 369-8819 |
| | |
| --- | --- |
| Criteria | Ratings |
| Available Services | ★★★★★ (5/5) |
| Pool of Candidates | ★★★★★ (5/5) |
| Ease of Process | ★★★★★ (5/5) |
| General Feedback | ★★★★✩ (4/5) |
NannyServices is a nice place when looking for some extra hands to help you with various tasks. Their large pool of reviewed profiles lets you find the people you need in one place.
Yes, NannyServices reviews profiles of babysitters and nannies you find on their site. They check on their passports, criminal records, vaccination certificates, and other relevant documents.
We think this is a nice way for NannyServices to increase the confidence people have in the platform. You can even ask for hard copies of documents they have reviewed to help you have a more informed decision.
The profiles of applicants in their database are also very comprehensive. Clicking on one provides a short description, the expected hourly rate, the years of experience, and work availability.
Another good thing that caught our attention is how easy and efficient the searching process is. With very comprehensive preference choices, you can save time and get more accurate results that suit your needs.
Recently, NannyServices has broadened its opportunities for both clients and job seekers. You can now find other people who can tutor your kids and take care of your pets.
You can now also find individuals who could cook for your family and drive for you. So, should you have other needs, we think that checking NannyServices would be a good move.

A large online database
Profiles are reviewed
Provides other related services
Comprehensive preference choices
Limited choices on new services
Full access is not free
Customer Reviews
Vibe is perfect for an art store
"I didn't expect that finding a nanny for my twin girls could be so easy. Within 3 weeks I found an exceptional nanny who fits right into our family… Thank you nannyservices.ca" — Gali K, NannyServices
Store is amazing
"We have successfully employed a nanny through the use of your site. Much better than going through an agency which did nothing for us in the same amount of time it took for us to find a nanny through your website." — Diana G., NannyServices
3. myBestHelper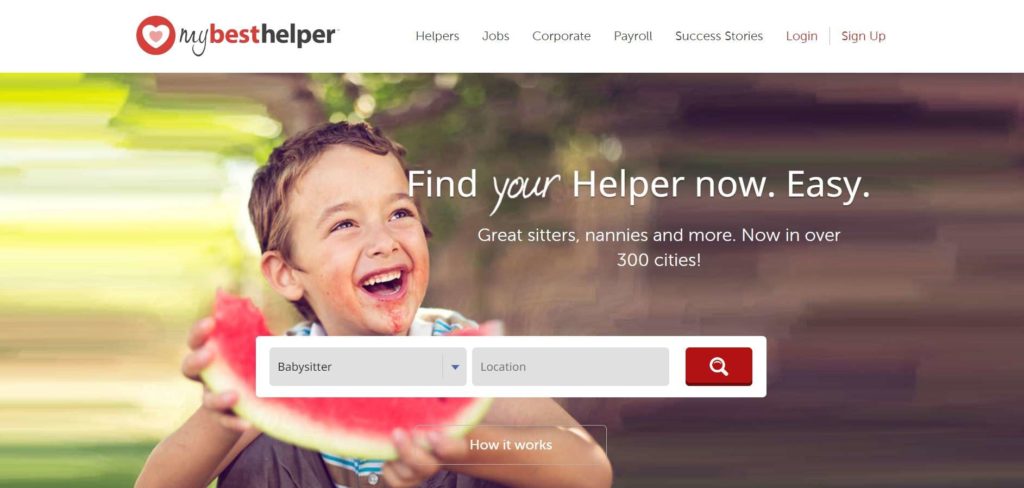 | Test | Info |
| --- | --- |
| SERVICES | Babysitter, Nanny, Housekeeper, Senior Care, Pet Care, Tutors, Payroll And Tax Services |
| WEBSITE | https://www.mybesthelper.com/ |
| ADDRESS | #2099 - 88 West Pender Street, Vancouver, BC, Canada, V6B 6N8 |
| CONTACT DETAILS | |
| | |
| --- | --- |
| Criteria | Ratings |
| Available Services | ★★★★★ (5/5) |
| Pool of Candidates | ★★★★★ (5/5) |
| Ease of Process | ★★★★★ (5/5) |
| General Feedback | ★★★✩✩ (3/5) |
The next one in our list is myBestHelper. With a large database for various needs, it is one of the go-to places by many.
Through myBestHelper, you can find babysitters, nannies, housekeepers, and senior care providers. You may also find here some professionals who can help your kids with schoolwork and walk your furry friends at the park.
Clicking on each profile also gives you the basic information you would need to consider an interview. Together with a photo of the candidate are details that include roles, availability, and skills.
We particularly like that there is also a part on each profile that shows their special skills like the number of languages they speak. Their simple profiles will already give you a good picture of who you might be considering for an interview.
One good thing about myBestHelper is that it helps you find your options in an organized manner. Their website is user-friendly and designed in a way that allows you to save time searching.
Another nice thing that we noticed is that they also provide payroll services for your helpers. This is one hassle-free way of managing your helper's payroll and tax obligations.
If you want to further simplify things, myBestHelper lets you post a job with specific things you require on their website. This is also one good way of narrowing down your choices and helping you find what you need.
Has a large database for helpers
Preference choices ease the search
Allows posts with specific needs
Offers payroll services
Issues with subscriptions
Candidates are not screened
Customer Reviews
Thanks for helping me get a nanny
"I love the website and how passionate the team is, focusing on making our childcare safe and secure for parents like me that don't have time for traditional ways.
I found my first nanny Michelle on the site when my baby was 2 weeks old. I was desperate and found someone the next Monday! She's great and we've been working with her for 9 months.
Thanks for helping me get a nanny!" — Angel P., Yelp
A superior way to connect
"A superior way to connect with qualified sitters, nannies and other types of helpers. Very nice design and great communications management." — Angela Verbrugge, Nicelocal
4. CanadianNanny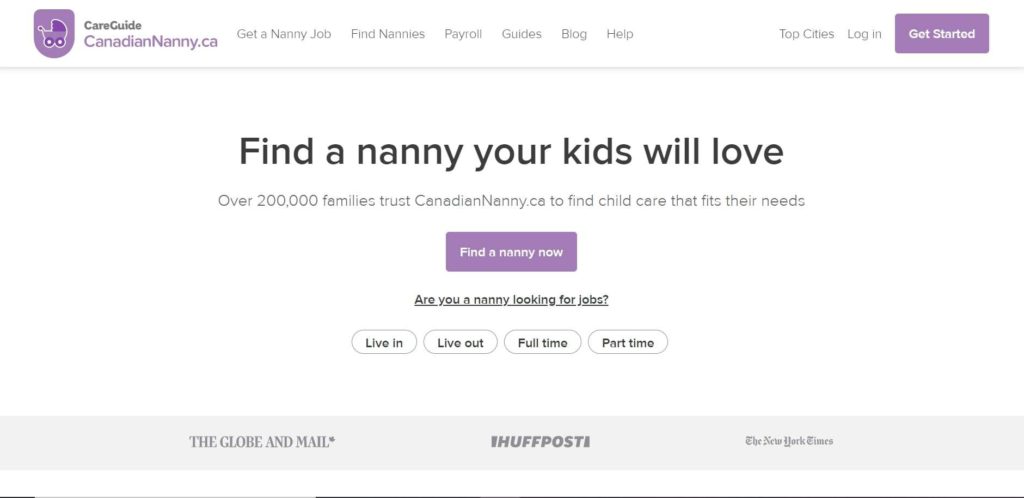 | Test | Info |
| --- | --- |
| SERVICES | Nanny Services, Nanny Agencies, Au Pair, Child Care, Babysitters, Part-Time Nannies, Summer Nannies, Payroll And Tax Services |
| WEBSITE | https://canadiannanny.ca/ |
| ADDRESS | WaterPark Place 1100 - 20 Bay Street Toronto, ON M5J 2N8 |
| CONTACT DETAILS | |
| | |
| --- | --- |
| Criteria | Ratings |
| Available Services | ★★★★✩ (4/5) |
| Pool of Candidates | ★★★★✩ (4/5) |
| Ease of Process | ★★★★★ (5/5) |
| General Feedback | ★★★★✩ (4/5) |
CanadianNanny is one place to visit when looking for – yes – a nanny. They have a decent pool of candidates who can be a nanny, a babysitter, or a childcare provider.
Their website is pretty much straightforward and allows one to find specific needs. All candidates have been categorized based on their specific skills and availability so that alone helps trim down your choices.
They also further funnel things down through their preference choices. You can customize your search and find people who match your needs in no time.
We like the fact that this feature makes searching a lot easier. But if you want nannies to find you instead, you may also choose to post a job and wait for potential candidates to contact you.
Another good thing we like about CanadianNanny is how organized the profiles are. There is even this section on every profile that provides suggestions with similar qualifications.
They also have a part on their homepage where top nannies, based on recommendations, can be viewed. The only issue is that not all profiles show their hourly rates, so a subscription that requires some payment might be the next step.
To provide additional convenience, you may also opt to avail of their nanny payroll and tax services. This, however, would cost you $50 per month.
Has a nice pool of nannies
Allows job postings
Payroll services
Subscription rates can be pricey
Limited service options
No screening process in place
Customer Reviews
Super easy to use and navigate
"Canadian Nanny is super easy to use and navigate, and great at keeping you updated at jobs that fit your profile in your area. Definitely recommend it!" — Carleen Grue, Google Reviews
Quick and easy to find a nanny
"thank you very much Canadian nanny.ca helped me very well, so quick and easy to find a nanny. anybody looking to find a nanny should sign up with them. thank again" — Kambiz Shahkavosi, Google Reviews
5. Care.com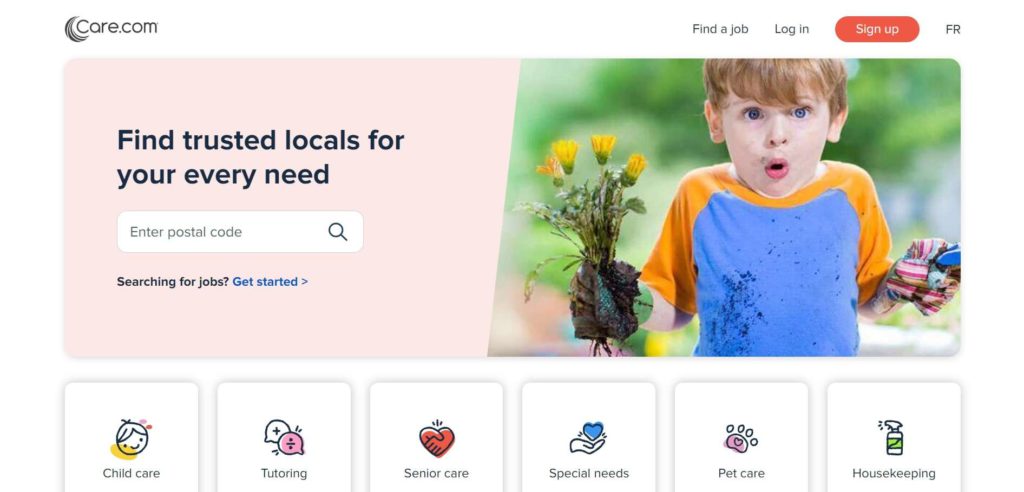 | Test | Info |
| --- | --- |
| SERVICES | Child Care, Tutoring, Senior Care, Special Needs, Pet Care, Housekeeping |
| WEBSITE | https://www.care.com/en-ca/ |
| ADDRESS | 20th Floor, 250 Howe Street, Vancouver, BC V6C 3R8, Canada |
| | |
| --- | --- |
| Criteria | Ratings |
| Available Services | ★★★★★ (5/5) |
| Pool of Candidates | ★★★★★ (5/5) |
| Ease of Process | ★★★★★ (5/5) |
| General Feedback | ★★★✩✩ (3/5) |
Care.com allows you to find someone who could help you with your needs. It has a nice number of babysitters, nannies, and housekeepers.
You may also find here people who could provide you with child and senior care services for your loved ones. Some candidates could tutor your kids or pamper your pets with extra care.
One of the things we like about Care.com is that profiles of candidates show some of the basic information like hourly rates and years of experience. They also contain short descriptions, along with other details like special skills they have or training they have taken.
Also worth noting is the background check badge you see on profiles. This badge indicates that Care.com has checked the candidate's records for any criminal history.
Although limited, the background check as a part of their hiring process provides a better picture of who you are intending to hire. It helps build confidence and trust for both the candidate and the client.
They also offer payroll services through HomePay. For $75 a month, Care.com will take care of your nanny's payroll management and tax processing.
This service even includes Concierge Support, which includes unlimited support for your employees and lifetime access to payroll and tax records.
For you as an employer, availing of this special service will keep state tax notices at bay. This is probably one of the things we like best as it gives employers fewer worries.
Has various service categories
Background check
HomePay services
Issues with subscription renewal
Relatively higher contractor rates
Customer Reviews
Only had good encounters
"I've honestly had only had good encounters with Care.com. I have had more than 3+ nannying and numerous babysitting jobs from this site. I would say the biggest factor is my location. I live in a fairly rural town but in the past few years it has been growing and yes I couldn't find a full- time nannying job the first few months that I was on this site but eventually I did find some good families and ever since then can't recommend this site enough! I am still so close to all the families I have nannied and babysat for. Thank you care.com!" — Jada, Trustpilot
Great resource
"Great resource. We have no family near by to help with our little and Care.com has been a great resource in assisting us find care when we need it. We were able to easily connect with potential caregivers, check references and even pay them through the site. I would highly recommend them to anyone!" — Jess, Trustpilot
FAQs About Nannies in Ottawa
---
Now that you've gone through the list, we hope that your search leads you to the best match!
If you're looking for a nanny, you might also find these articles useful: