The 5 Best Maid Agencies in Ottawa
Are you looking to hire a maid but are unsure of how to go about it? Fear not, for there are a number of reputable maid agencies in Ottawa that can help you find the perfect worker.
In this article, we will review the top maid agencies in Ottawa and highlight some of the services that they offer to their clients.
How much does hiring a maid cost in Ottawa?
You can anticipate spending around $25 to $50 per hour for maid services. Hiring an agency is slightly more expensive but you can be sure that the maid has been screened properly and vetted.
If you need more information, the table below goes more into detail about how much you'll probably end up spending.
| Maid Services | Average Cost |
| --- | --- |
| Maid (daily cleaning with 2 days off) | $25 - $50 per hour |
| Live-in housekeeper | $25,000 - $50,000 annually |
| General cleaner | $15 - 40 per hour |
The Best Maid Agencies in Ottawa
To find the best maid agencies in the city, we looked at the following criteria:
1. Bliss Maid House Cleaning Services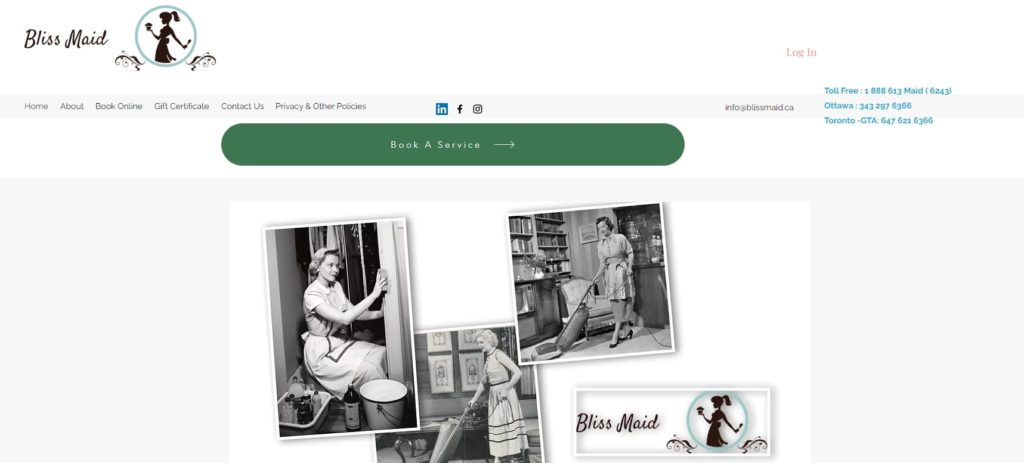 Test
Info
SERVICES
House Cleaning Services, Disinfection, One Time Cleaning, Recurring Cleaning, Spring Cleaning, Fall Cleaning, Move In and Out Cleaning, Post-construction Cleaning, Hotel Housekeeping, Cigarette Odor Removal, Carpet Upholstery
WEBSITE
https://www.blissmaid.ca/
ADDRESS
5509 Canotek Rd unit 15, Ottawa, ON K1J 9J8, Canada
CONTACT DETAILS
343-297-6366
OPERATING HOURS
Monday 9AM–6PM

Tuesday 9AM–6PM

Wednesday 9AM–6PM

Thursday 9AM–6PM

Friday 9AM–6PM

Saturday Closed

Sunday Closed
| | |
| --- | --- |
| Criteria | Ratings |
| Rates | ★★★★★(5/5) |
| Employees | ★★★★(4/5) |
| Availability | ★★★★★(5/5) |
| Feedback | ★★★★(4/5) |
Bliss Maid House Cleaning Services is a maid agency that has been providing quality maid services in Ottawa for years.
Its services range from basic cleaning to more complicated tasks like post-construction cleanups.
What makes Bliss one of the best options for maid services in the city is its convenient booking system. Potential clients can book Bliss' services online or on the phone.
We also appreciate that it has a strict privacy policy. This means that the agency's maids are careful when it comes to your personal belongings and information.
It has an eco-friendly policy so harmful chemicals and cleaners are not used during cleaning sessions. This is good for families with pets or small children that like to touch everything they see.
For those who are under a strict budget, Bliss offers gift certificate options so that you can enjoy quality cleaning services without breaking the bank too much.
The only drawback of this company is the complaints regarding some of its maids arriving late. It has already addressed these and promised that it will do better next time.
With that said, we believe that Bliss is definitely one of the best maid agencies in the city because of its customer-friendly policies and quality of services.
Online booking
Strict privacy policy
Gift certificate options
Eco-friendly policy
Complaints on late arrival of maids
Customer Reviews
Impressive
"The service was exceptional, the cleaning staff not only covered everything on the list but they did even more. They truly went above and beyond. Our home was sparkling!" – Carole Courchaine
Good work
"I called on Bliss Maid to help with my Spring time cleaning. The crew arrived on time, were very polite, wore their mask and worked very hard to get my house sparkly clean. I highly recommend their good work." – Denise Doharty
2. Beaver Maids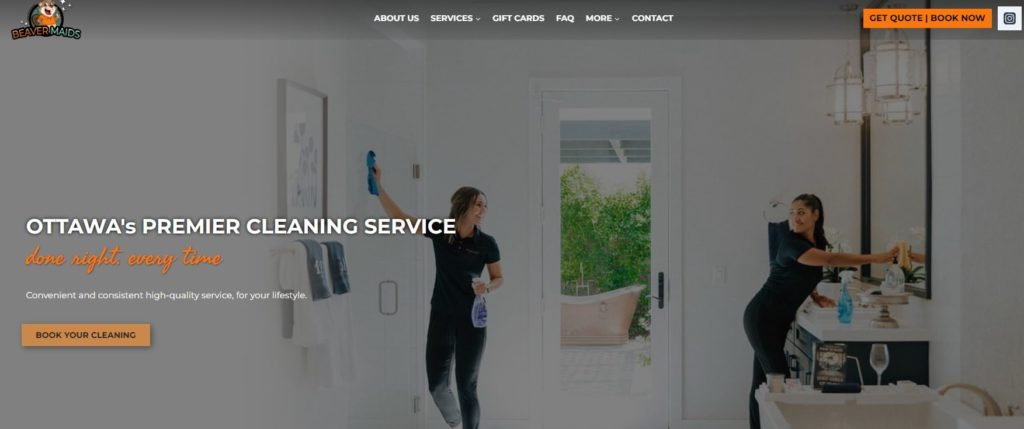 Test
Info
SERVICES
Recurring House Cleaning, Deep Cleaning, Clean My House For Sale, Move In/Out Cleaning, Post Construction Cleaning, Office Cleaning, Free Cleaning for Cancer Patients
WEBSITE
https://beavermaids.com/ottawa-west/
ADDRESS
300 Greenbank Rd #85, Nepean, Ottawa, ON K2H 0B6, Canada
CONTACT DETAILS

[email protected]

OPERATING HOURS
Monday 8:30AM–5PM

Tuesday 8:30AM–5PM

Wednesday 8:30AM–5PM

Thursday 8:30AM–5PM

Friday 8:30AM–5PM

Saturday 8:30AM–5PM

Sunday Closed
| | |
| --- | --- |
| Criteria | Ratings |
| Rates | ★★★★★(5/5) |
| Employees | ★★★★★ (5/5) |
| Availability | ★★★(3/5) |
| Feedback | ★★★★(4/5) |
Beaver Maids is another leading maid agency in Ottawa. The locally-owned company requires its cleaners and maids to be screened and vetted to ensure quality service.
It also makes sure to send 2 uniformed cleaners to every appointment so that homeowners can be certain that their premises are cleaned quickly and efficiently.
Among the services that it offers are residential cleaning, post-construction clean-up, move in/out clean-up, special event clean-up, commercial office cleaning, scheduled cleaning services, and more.
We love that Beaver Maids also provides customized cleaning services. If you want your clothes or pillows done a specific way, you can trust that Beaver's cleaners will follow your instructions to the letter.
It also has a green policy so you can rest assured the cleaning products used in your home are safe for your family and the environment.
We love how it accepts 24/7 bookings in case of late night clean-ups.
The only thing we're iffy about when it comes to this service provider is the fact that it can only be contacted through email or online chat.
Some clients are seniors and are not familiar with using email or chat platforms, so it might be a challenge for them to contact the cleaning company when an issue arises.
Despite that, we still think Beaver Maids is a great choice for anyone looking for a reliable maid agency in Ottawa.
Customized cleaning
Green policy
Locally owned
24/7 booking
Can only be reached online through chat or email
Customer Reviews
Easy appointment
"Setting the appointment was easy. On the day of the cleaning the pair of cleaners came on scheduled time, did a quick walk through with me, and got right to work. In a few hours, the house was sparkling clean! I would recommend Beaver Maids for any housecleaning needs you have!" – Jocelyn Vincent
Professional services
"Staff is very organised and professional, and always responds quickly when we contact them. The cleaners we've had in our flat do a great job for a good price! I'd definitely recommend their business to anyone looking for a cleaner." – Charade Chasy
3. Molly Maid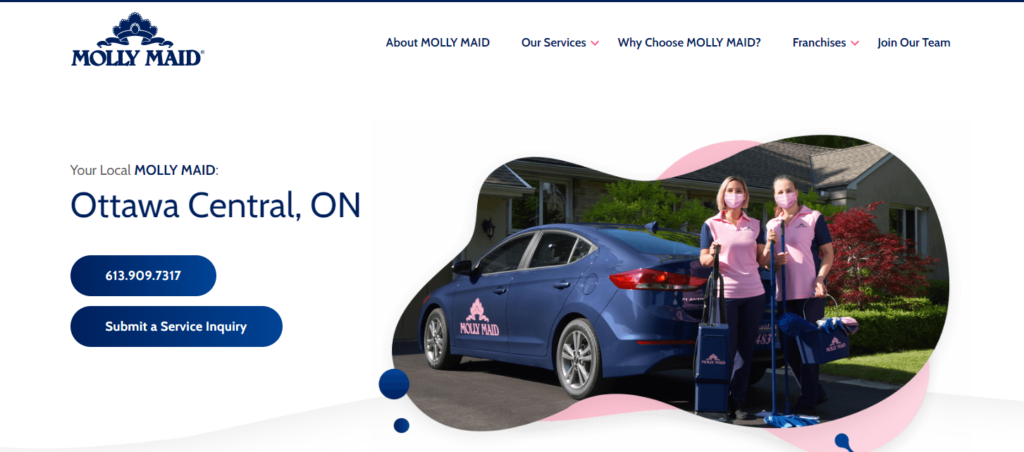 Test
Info
SERVICES
On-Going Cleaning, One-Time Cleaning, Seasonal Cleaning, Move In/Out Cleaning, Apartment & Condo Cleaning, Cleaning for Seniors, Green Housekeeping, Healthy Home Cleaning
WEBSITE
https://mollymaid.ca/
ADDRESS
Appointment only
CONTACT DETAILS
613-909-7317
OPERATING HOURS
Monday 8AM–4PM

Tuesday 8AM–4PM

Wednesday 8AM–4PM

Thursday 8AM–4PM

Friday 8AM–4PM

Saturday Closed

Sunday Closed
| | |
| --- | --- |
| Criteria | Ratings |
| Rates | ★★★★ (4/5) |
| Employees | ★★★★★(5/5) |
| Availability | ★★★★★(5/5) |
| Feedback | ★★★★★(5/5) |
Molly Maid has been around since 1979, making it one of the oldest and most experienced maid agencies in Ottawa.
Offering a wide range of services including full-time, part-time and temporary maids, Molly Maid is a solid choice for all your cleaning needs.
Because the owners are seniors themselves, they have extensive knowledge and experience when it comes to offering household services that are senior-friendly.
Molly Maid can be contacted through phone or online so it's a convenient choice for anyone who has access to both.
The agency also has a green policy so its maids are trained to use environmentally-friendly cleaning products only.
It is also worth noting that Molly Maid serves multiple locations and offers bi-lingual options for its clients, which is great for people who only speak either English or French.
The only drawback of this one is the fact that its prices can be steep. Not everyone will be able to afford the services that it offers, but it is certainly a good option for those who can.
Because of its senior-friendly services and high-quality maids, we would recommend Molly Maid to anyone looking for maid agencies in the Ottawa area.
The price could be better, but if you can afford the company's services, it's definitely a good pick.
Senior-friendly
Green policy
Experience since 1979
Serves multiple locations
Customer Reviews
Friendly and efficient
"My Molly Maid team is Carole and Sharon. They arrive promptly on Monday afternoons every two weeks and do an excellent job cleaning my house from top to bottom. They are friendly but efficient, wasting no time as they move through the house. " – Tania Costanzo
Cleaned everything
"Carole and Sharon were fastidious and thorough and did an excellent job of giving our apartment the move in clean we needed. They cleaned our inside windows, the inside of the refrigerator and every shelf of every cupboard as well as the standard areas. I was very pleased with their skills and their courtesy." – Sheena Zain
4. Tina's Cleaning

Test
Info
SERVICES
Residential Cleaning, Commercial Cleaning, Housekeeping, Customizable Scheduled Cleaning
WEBSITE
http://www.tinascleaning.ca/
ADDRESS
180 Lees Ave #1105, Ottawa, ON K1S 5J6, Canada
CONTACT DETAILS
613-612-8263
OPERATING HOURS
Monday 8:30AM–6:30PM

Tuesday 8:30AM–6:30PM

Wednesday 8:30AM–6:30PM

Thursday 8:30AM–6:30PM

Friday 8:30AM–6:30PM

Saturday Closed

Sunday Closed
| | |
| --- | --- |
| Criteria | Ratings |
| Rates | ★★★★★ (5/5) |
| Employees | ★★★★ (4/5) |
| Availability | ★★★★(4/5) |
| Feedback | ★★★★★(5/5) |
Tina's Cleaning is another great maid agency in Ottawa. The company is less expensive compared to other agencies, but the quality of service is basically just as good.
What caught our attention is that all of the cleaners are experienced maids that have worked with other companies.
Many previous clients have stated their efficiency and they have also mentioned that the cleaners are very friendly and easy to work with.
This is probably due to the fact that Tina's Cleaning has a personalized approach that many other maid agencies don't have.
It does its best to match the client with the right cleaner for their specific needs.
We also love how it is able to accept rushed services for impromptu celebrations and events. This is a huge advantage for clients that have a lot of last minute cleaning needs.
The only drawback with this company is its strict appointments. If you cancel your appointment in less than 48 hours, you will have to pay 50% of the bill.
It's also worth noting that Tina's Cleaning lives up to its name so its services are all about cleaning. Laundry and other errands are not included.
Overall, because of the less expensive prices and the high quality services, we would definitely recommend Tina's Cleaning as one of the best maid agencies in Ottawa!
Experienced cleaners
Personalized services
Accepts rushed services
Less expensive compared to most
Strict appointments
Not much services outside of cleaning
Customer Reviews
The best
"They always leave my house spotless and they really clean everywhere and everything (unlike some other companies I've tried). Hands down, Tina and her team are the best cleaners around, their prices are very reasonable and they are very accommodating." – Maria G.
Went above and beyond
"Tina and her team went above and beyond expectations. I am a mom of three and run a full-time home daycare and have absolutely no time to care for my home at the moment." – Kourtney Oitzl
5. UrbanMop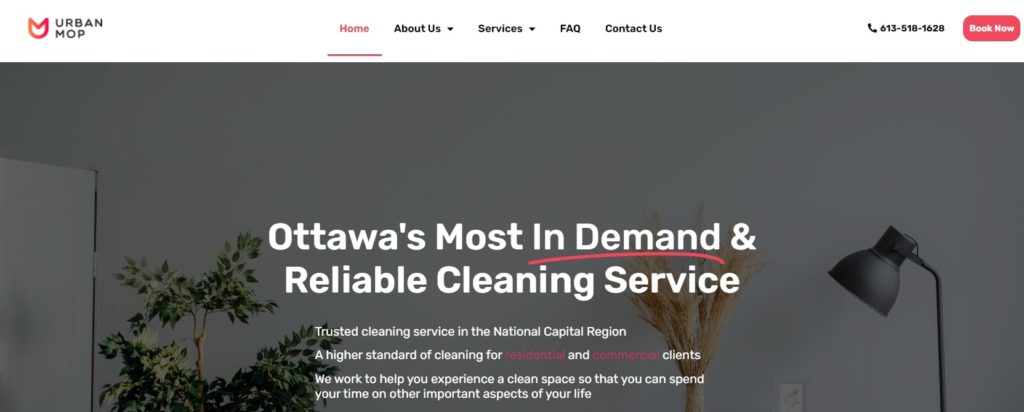 Test
Info
SERVICES
Residential Cleaning Services, Airbnb Cleaning Services, Move-In/Out Cleaning Services, Commercial Cleaning, Deep Cleaning
WEBSITE
https://urbanmop.ca/
ADDRESS
Appointment only
CONTACT DETAILS
613-518-1628
OPERATING HOURS
Monday 9AM–9PM

Tuesday 9AM–9PM

Wednesday 9AM–9PM

Thursday 9AM–9PM

Friday 9AM–9PM

Saturday 9AM–9PM

Sunday 9AM–5PM
| | |
| --- | --- |
| Criteria | Ratings |
| Rates | ★★★★★(5/5) |
| Employees | ★★★★★(5/5) |
| Availability | ★★★★(4/5) |
| Feedback | ★★★★★(5/5) |
UrbanMop is a maid agency that provides excellent services for both residential and commercial clients. It has a wide range of maids and cleaners who are highly qualified and experienced.
What we like the most about this service provider is the fact that it's open everyday.
Clients who prefer to be at home when their maid is around will be glad to know that their maids are available even on weekends.
We also love that UrbanMop is able to do rushed services and is even available for online booking. When it comes to convenience, this agency is definitely one of the top choices.
We'd also like to commend UrbanMop for offering customer-based cleaning services. If you like your house cleaned in a specific way, UrbanMop's maids will do their best to accommodate your requests.
The company offers deep cleaning that includes safe antibacterial chemicals that kill germs and prevent the spread of viruses in your home.
This type of service is ideal for clients who have children or pets in the house.
Overall, the only drawback of this service provider is the fact that it only accepts limited appointments each day.
If you plan on booking UrbanMop, you have to make sure to call ahead of time to guarantee your appointment.
With that said, UrbanMop is a reliable agency that offers outstanding service to customers in Ottawa.
Customer focused
Online booking
Rushed services
Commercial services
Open everyday
Limited appointments only
Customer Reviews
Stress-free
"We use UrbanMop for a monthly clean for our home. The team is so nice and professional and do an amazing job of giving the house a deep clean monthly. UrbanMop makes the booking process super easy and seamless – this entire service is just such a relief and is completely stress-free! Will continue to be a customer for a long time" – Kelley Stephan
Wonderful
"We hired UrbanMop based on it's pricing. Our first service wasn't a great success, and we let them know. The cleaner was pleasant and asked if there was anything he'd missed, but I didn't have time to go through the house when he wasn't finished." – Jessica Uhl
FAQs about Maid Agencies
---
And that's it for the best maid agencies in Ottawa. Now you can keep your house clean and fresh for you and your visitors. Hopefully, you found our list useful.
If you're looking for similar services, check out the following: