The 8 Best Mortgage Brokers in Ottawa
Whether you're an aspiring homeowner or up an coming business owner, you must be looking for a mortgage broker to find the perfect place to set up. Luckily, we've got just the information you're looking for in this article.
We'll be highlighting some of the best mortgage brokers in Ottawa, average costs for their services, and some FAQs at the end, so stick around till then!
What to Look for in a Mortgage Broker
There are a few things to watch out for if you're looking to hire a good mortgage broker (which we're sure you are!):
1. Application Process
Before settling for one broker, ask a few questions about the application process. This is where you'll be able to determine whether they're someone you will want to rely on down the line.
Average time to closing
If they have an online platform where you can upload documents and monitor the progress of your loan
An estimated fee sheet including third-party fees and lender fees
Companies used for home loan services (appraisal, title insurance, escrow, etc.)
Loan product requirements for credit score, debt-to-income ratio, down payment, etc.
Documents and deadlines needed at each stage of the loan process
Cost and timeline to lock in a rate
2. Experience
If you're new to buying homes or refinancing, having someone to guide your through each step of the underwriting process is crucial. Take into consideration how easy they are to contact, their promptness, their team, experience in the business, and if they answer clearly and concisely.
3. Transparency
This is something that both ends should work actively on. In any good relationship, communication is key.
Your mortgage broker will need to be upfront and transparent with all the documents, costs, and limitations. Likewise, if you have a low credit score, you need to let them know as it's vital information that will help them find the best deal that works for you.
4. Rates
To get the most accurate loan pricing, you'll need to ask this question in the most specific way you can. Interest rates fluctuate daily, so provide all the information on the same day you want an estimate on the rates you can get.
How Much Does Hiring a Mortgage Broker Cost in Ottawa?
Mortgage companies charge by percentages and we offer some estimates below! Actual fees may vary, though.
| | |
| --- | --- |
| Term | Average rates |
| 1 year fixed | 2.09% |
| 2 year fixed | 1.69% |
| 3 year fixed | 1.69% |
| 4 year fixed | 1.59% |
| 5 year fixed | 1.39% |
| 5 year variable | 1.29% |
| HELOC Open | 2.95% |
Top Mortgage Brokers In Ottawa
Now that we have the basics out of the way, let's get to the companies you might want to consider hiring from!
1. Andrew Thake – Ottawa Mortgage Broker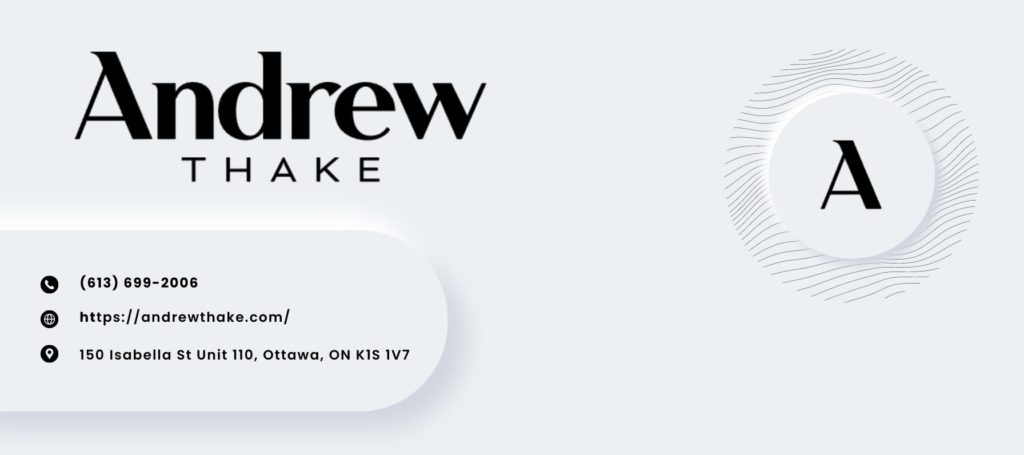 BEST FOR
Personalized services
SERVICES
Purchase
Mortgage refinance
Mortgage renewal
First-time home buyer
Non-resident mortgage
Self-employed mortgage
Construction mortgage
Private mortgage
WEBSITE
https://andrewthake.com/
ADDRESS
150 Isabella St Unit 110, Ottawa, ON K1S 1V7
CONTACT DETAILS
(613) 699-2006
OPERATING HOURS
Mon–Fri 7am–7pm
LICENSE #
M10002605
Now, if you want a mortgage broker that offers personalized services, then Andrew Thake may be the best Ottawa mortgage broker for you. Andrew brings over a decade and a half of experience into the table as he handles all aspects of the mortgage process.
He builds relationships with his clients to know exactly what they want and need and to give them the comfort and security when buying their dream estate. Andrew's specialization includes first-time home buyers, non-residents, and self-employed buyers.
When it comes to options, Andrew boasts of having connections to more than 40 lenders, of which includes banks and credit unions. He has also funded mortgages worth over $600 million in the recent years.
Andrew Thake also offers refinancing and construction mortgage services.
However, Andrew Thake and his team are sought by many home buyers due to his track record. That said, you may have to compete with others for his services.
Handles the entire mortgage process
Connections with numerous banks, credit unions, and private lenders
Caters to non-resident and self-employed buyers
Personalized services
Booking might be difficult because of their highly-demanded services
Customer Reviews
Andrew Thake's quality of services and approach to mortgages have gained him numerous 5-star reviews online. Here are just some of those reviews:
"Moving in the middle of a global pandemic has been no easy feat. Having Andrew on our side handling the whole mortgage process was such a relief! He was extremely knowledgeable and prompt answering questions, submitting our info and acting as the go between for us. I was a little taken aback at first with the online meeting system, but realized how convenient it is to schedule meetings without a million back and forth emails! Highly recommend getting Andrew on your house buying team!"-Amanda M
"We had a great experience with Andrew and the work that he put into helping us find the right financing for our cottage. He put in tons of effort and was very responsive to all of our questions and concerns. I can recommend him without reservation if you need help finding the right mortgage for your property. Thanks again Andrew! You're "top notch" in our books."-Luis Pontes
2. Chris Allard Mortgage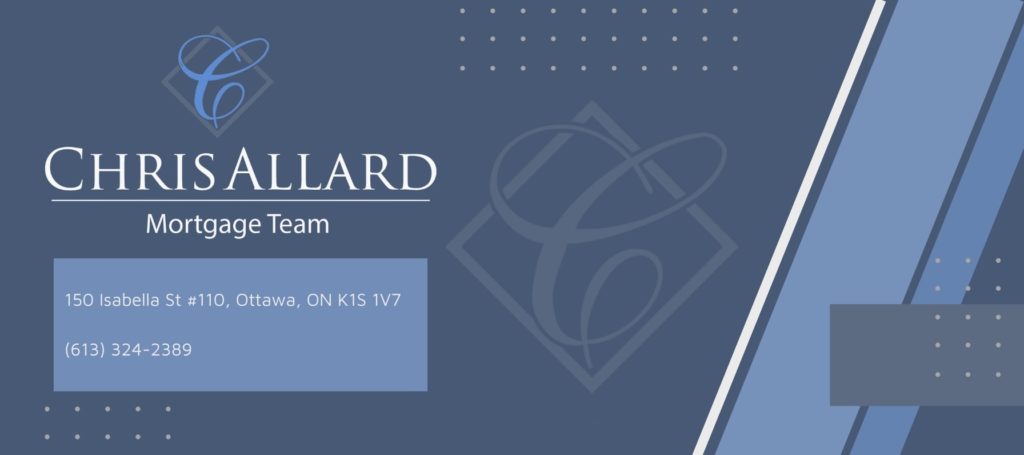 | | |
| --- | --- |
| BEST FOR | Holistic financial services |
| SERVICES | PurchaseMortgage renewalDebt consolidationCredit counsellingEquity refinancingConstruction financingCommercial mortgagingBusiness loans |
| WEBSITE | https://www.chrisallard.ca/ |
| ADDRESS | 150 Isabella St #110, Ottawa, ON K1S 1V7 |
| CONTACT DETAILS | (613) 324-2389 |
| OPERATING HOURS | Mon–Sun 7am–11pm |
| LICENSE # | M11001895 |
Chris Allard Mortgage offers all types of mortgage services, whether it be residential, commercial, or private. This mortgage company also helps home owners who otherwise can't get decent mortgages due to their bad credit.
This company also has a large team of mortgage experts. It's led by award-winning mortgage broker Chris Allard and has three more mortgage agents helping him out.
Chris also likes to take into consideration his clients' wants and needs. And with his early exposure to business and financing, he has the skills to push mortgage applications for approval.
The company also has connections with 15 bank lenders to give its clients more lending options. But what really sets Chris Allard Mortgage apart is that it also offers credit counselling and debt consolidation services to help clients improve their credit status.
But you should also know that there have been clients who were turned down by Chris due to the complexity of their case. At least, that's what customer complaints have said.
Award-winning mortgage broker
Large team of brokers
Offers credit counselling and debt consolidation services
Caters to those with bad credit
Booking might be difficult because of their highly demanded services
Customer Reviews
Chris Allard Mortgage has received positive reviews from its hundreds of clients for its responsive and professional services. Here are some reviews for more information:
"Chris and his team helped us find a mortgage for our new house in Barrhaven. We are first time home buyers so we haven't been through this whole process before. His team was extremely helpful, responsive, and patient as they answered our millions of questions. Everything was done very quickly and we were kept up to date during the entire process. In the end, what I thought was going to be the most stressful part of buying a house ended up being a breeze thanks to Chris!"-Julien Guerinet
"My husband and I live in Orleans and recently dealt with Chris Allard for our re-mortgage/also to obtain some of our equity in order to purchase an investment property…we locked in at a new lower rate which was great. From start to finish Chris and his team were efficient, organized and very quick to respond to any of my questions (and believe me I had a lot). They were always so patient and made sure to explain everything simply so we understood every aspect of the process. Would highly recommend Chris Allard and his team and we will recommend to our friends and family also!"-Jean M
3. The Wilson Team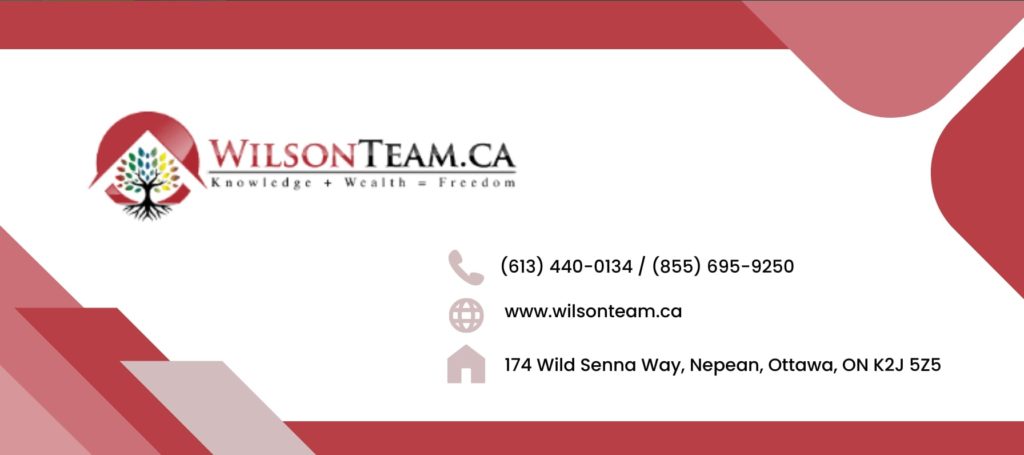 BEST FOR
General Mortgaging needs
SERVICES
Fixed and Variable Rate
Refinance
Home Equity
Second Buyer
Interest Only
Debt Consolidation
HELOC
New To Canada
DND Relocation
Mortgage for Foreign Buyer
Self-Employed, Reverse
First Home Buyer
Commercial Loans
WEBSITE
www.wilsonteam.ca
ADDRESS
174 Wild Senna Way, Nepean, Ottawa, ON K2J 5Z5
CONTACT DETAILS
(613) 440-0134
(855) 695-9250


[email protected]

OPERATING HOURS
Mon – Fri 9:00 am – 9:00 pm
Sat & Sun Closed
Since 1981, The Wilson Team has operated as a full-service mortgage and lending brokerage. They provide clients with professional and licensed services along with personalized solutions throughout Ottawa.
The company has access to a range of over 30 respected lenders who work together with you and select the product that best meets your needs. After all the necessary documents are submitted, you will be provided with a mortgage strategy that will help you achieve your financial and homeownership goals.
According to reviews, The Wilson Team provides a personalized approach to helping customers find the right lending options at competitive rates. Their licensed professionals are also very friendly and easy to work with!
Great customer service
Easy to work with
Customer Reviews
With a solid track record and hundreds of positive reviews, The Wilson Team has secured a place on our list! Here are a couple of reviews from satisfied clients:
"It's easy to learn from real-estates investors but we want to teach you the other side which is about making money work – It's easy to learn from real-estates investors but we want to teach you the other side which." -E.R. Mills
"We booked an appointment expecting to be given some low rates and away you go but we were provided with some fantastic strategies for where we are now, what we want to do and where we expect to be in the future. Kelly was very knowledgeable, has ample experience and is a progressive thinker. By the end of our appointment, we had our minds blown. We cannot recommend Kelly and her Team enough. Thank you!" -Amy S
4. Ottawa – Carleton Mortgage Inc.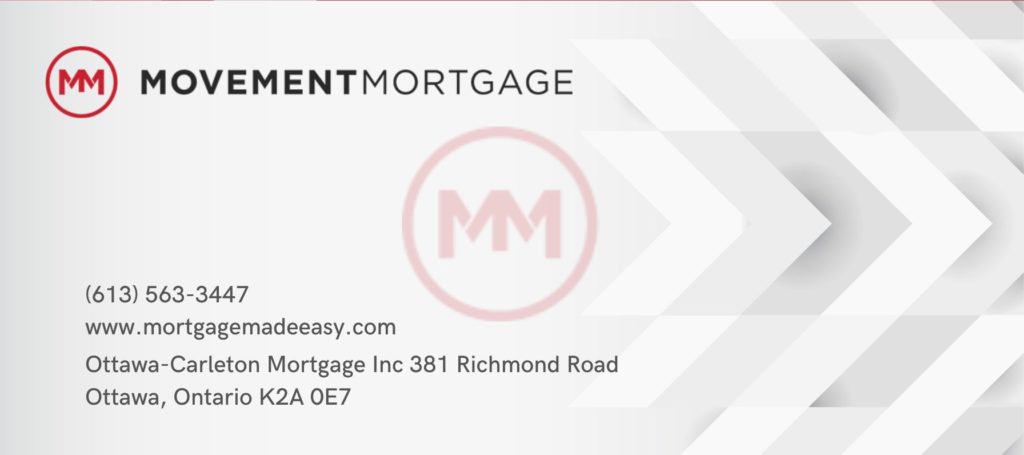 BEST FOR
First timers
SERVICES
Refinance
Renewal
Pre-Approval
Renovation
Investment
Debt Consolidation
Purchase
Property
Residential
Commercial
Remortgage Loans
WEBSITE
www.mortgagemadeeasy.com
ADDRESS
Ottawa-Carleton Mortgage Inc 381 Richmond Road Ottawa,
Ontario K2A 0E7
CONTACT DETAILS
(613) 563-3447
OPERATING HOURS
24 hours
LICENSE #
10419
Since 1989, Ottawa – Carleton Mortgage has been operating as a mortgage originator of up to billions of dollars in mortgages for thousands of clients. They are independent of all mortgage lenders, which means they offer unbiased recommendations from a variety of mortgage sources.
According to them, each of their highly professional and licensed brokers' aims to build a long and satisfying relationship with their clients. As far as we've seen in reviews, this claim holds up very well.
They work with multiple lenders and are accredited by BBB, but that doesn't mean they're intimidating to work with in the least! Each employee is friendly and pleasing, according to clients.
Customer Reviews
Providing great service and equally great customer care is what we're always looking for. According to these reviews, Ottawa – Carleton Mortgage provides just that:
"Fletcher Berry was our mortgage agent for our first home. He was extremely knowledgeable, professional and responsive. When it came time to choosing a lender he secured us an amazing rate. I would recommend Fletcher to anyone looking for a mortgage." -Jordan Wong
"Mary Gilchrist is the best mortgage agent I could ever have hoped for. I highly recommend her and her firm to anyone. She went way above and beyond in a situation where getting approval was proving challenging and all her hard work paid off. I have also dealt with her for over 15 years before and she always demonstrated exceptional service and knowledgeable advice with the highest of integrity to match." -Todd
5. Mortgage In Ottawa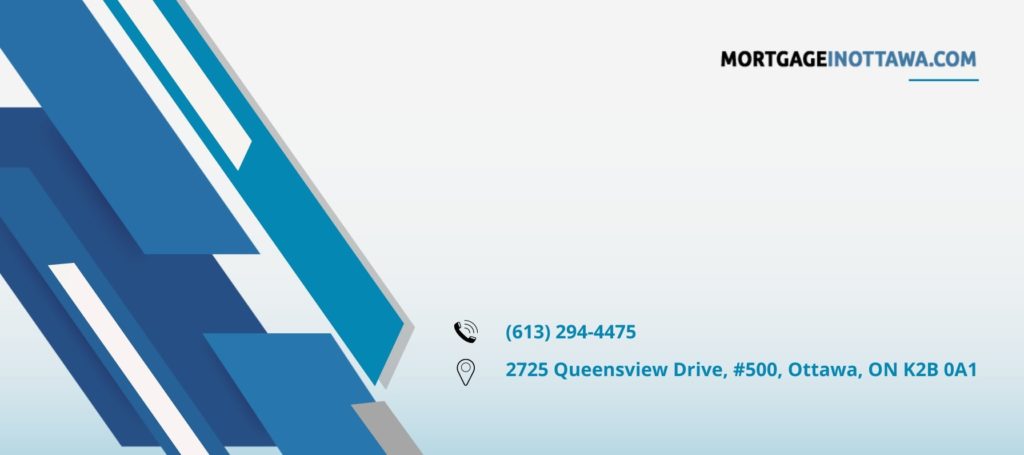 BEST FOR
First timers
SERVICES
Purchase
Condo
Buying a Home
Refinance
First Time Buyer
Reverse
Renovation Loans
WEBSITE
www.mortgageinottawa.com
ADDRESS
2725 Queensview Drive, #500, Ottawa, ON K2B 0A1
CONTACT DETAILS
(613) 294-4475


[email protected]

OPERATING HOURS
24 hours
LICENSE #
#11947 | #M12000088
Nick Bachusky is the mortgage advisor and sole proprietor of MortgageInOttawa.com since its opening in 2014 and has been providing mortgage services in Ottawa.
Being an independent broker, he is the only point of contact you need to get to know and talk to. He offers free estimates and a mortgage tracker that is exclusive for his clients to use.
In his words, he feels that the mortgage process is not easy and straightforward, so that leads most people to not fully understanding their options. He aims to change this, also guaranteeing that he will assist you every step of the way, which clients agree with in reviews.
24-hour service
Very highly rated
Only one employee, so expect backlogs sometimes
Customer Reviews
Though Nick runs the whole show by himself, he's no stranger to stellar reviews:
"Nick was amazing! Jesse and I purchased our first home last month and Nick gave us the right tools and provided us with all of the necessary information that a first time home buyer should know. I am very thankful that Nick provided us with the lowest interest rate and made this homebuying process enjoyable and unforgettable. Thank you again Nick." -Michelle and Jesse
"Nick is an excellent mortgage broker. As first-time home buyers, we had a bunch of questions about the process of getting a mortgage and the details of how it works, and Nick would respond to the questions almost as fast as we could think of them. He also gave us some valuable advice on what to look for in a mortgage as well as other aspects of the house-buying process. we would highly recommend him. In fact, we already have recommended him to other people!" -Evelyn W
6. Mortgage Brokers Ottawa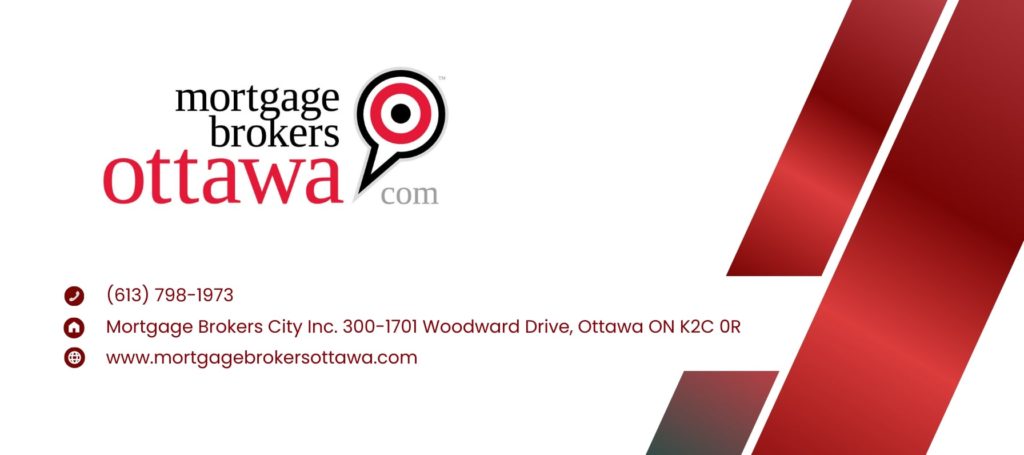 BEST FOR
Affordable rates
SERVICES
Renewal
Pre-Approval
Renovation
Investment
Purchase
Refinance
Residential
Commercial
Remortgage Loans
Debt Consolidation
Property
WEBSITE
www.mortgagebrokersottawa.com
ADDRESS
Mortgage Brokers City Inc. 300-1701 Woodward Drive, Ottawa ON K2C 0R
CONTACT DETAILS
(613) 798-1973


[email protected]

OPERATING HOURS
LICENSE #
11759
Mortgage Brokers Ottawa has been in business for many years, providing their services to clients in Ottawa and the surrounding areas. They've been the Consumers Choice Award winner for 9 years straight, which is a strong testament to their reputation.
Their website is comprehensive, featuring online mortgage calculators, info, profiles of all their licensed brokers, and more. They work with highly reputable lenders while also providing competitive rates.
According to clients, their customer service is second to none as they walk each client through the process, handle complaints and concerns with professionalism, and create long-term relationships with their clients.
Very informative website
Multiple languages spoken
Reasonable rates
Customer Reviews
If being the recipient of an award 9 years in a row isn't good enough, Mortgage Brokers Ottawa also receives great reviews from satisfied clients:
"Lianna Napolitano is amazing! I am very high maintenance when it comes to banking and she responded immediately to all of my questions, offered valuable guidance and made me laugh when I was stressed. Highly recommend. Great team, very approachable and very efficient.
I can't thank her enough for her help!" -Kendra Sonnenburg
"Thank you Greg Extence- (sp?)called in a panic and was reassured and redirected to go back to the bank. Was given informative and cost saving advice. I think he mentioned he will be retiring soon but I sure hope he doesn't. Truly a passionate and knowledgeable person! Amazing customer service." -Mic Jules
7. Capital Mortgages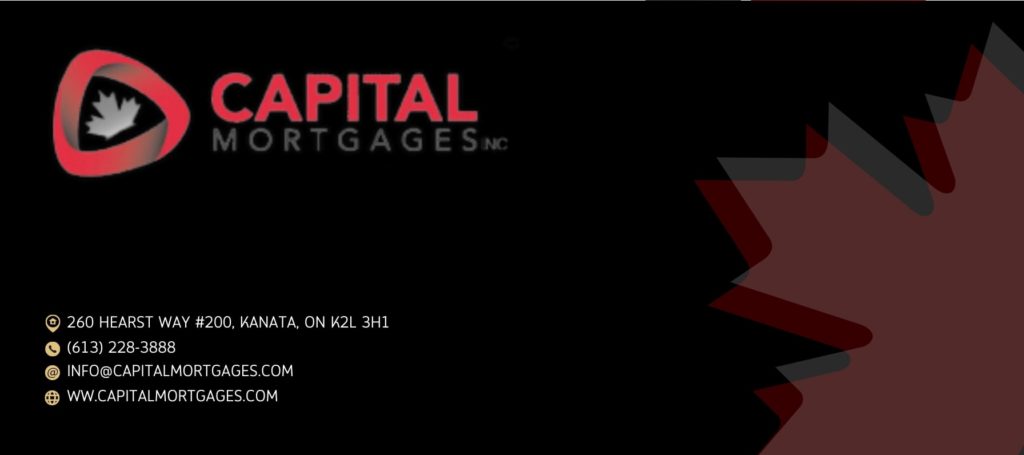 BEST FOR
Residential and Commercial mortgages
SERVICES
Residential Mortgages
Commercial Mortgages
Investment & Rental Property Mortgages
Construction & Renovation Mortgages
Mortgage Refinancing & Debt Consolidations
Mortgage Renewals
Mortgage Pre-Approvals
Private & 2nd Mortgages
WEBSITE
www.capitalmortgages.com
ADDRESS
260 Hearst Way #200, Kanata, ON K2L 3H1
CONTACT DETAILS
(613) 228-3888


[email protected]

OPERATING HOURS
LICENSE #
10575
Capital Mortgages is one of Ontario's leading real estate mortgage brokerages with offices in Ottawa and the valley. Established in January 1999, they have worked with thousands of clients and arranged several billion dollars in mortgages to date.
According to them, they understand that today's consumer is looking for optimum mortgages with minimum inconvenience, lower borrowing costs, sustainable peace of mind, and increased personal wealth by becoming mortgage free as soon as possible. Thousands of satisfied clients and reviews have agreed with this sentiment.
They have maintained long-term relationships with most of their clients thanks to their team's dedication to customer service.
Offices in multiple areas
Customer Reviews
Being a great first-timer-friendly mortgage company, Capital Mortgages has sealed its reputation as a reliable company to work with according to these reviews:
"I was able to ask question about the entire home buying process and get quick, honest, unbiased advice. Even after our closing my agent made her self available to answer our questions and alleviate our worries. I really appreciated her email on closing day wishing us luck and congratulating us." -Jenn & Bryon
"When my husband and I fell in love with a cottage in 2010, we were first-time buyers, self-employed, and terrified. In that state I contacted Donna Mahoney, explaining that with our complete lack of experience we needed someone to hold our hand every step of the way, and was she willing to do that? Without any hesitation, Donna took us on, guiding us through the many steps we needed to take, encouraging us, patiently answering all our questions, standing by us until that wonderful day when our dream became reality and we owned our own place on our own land." -Margaret L.
8. Brad Goldthorpe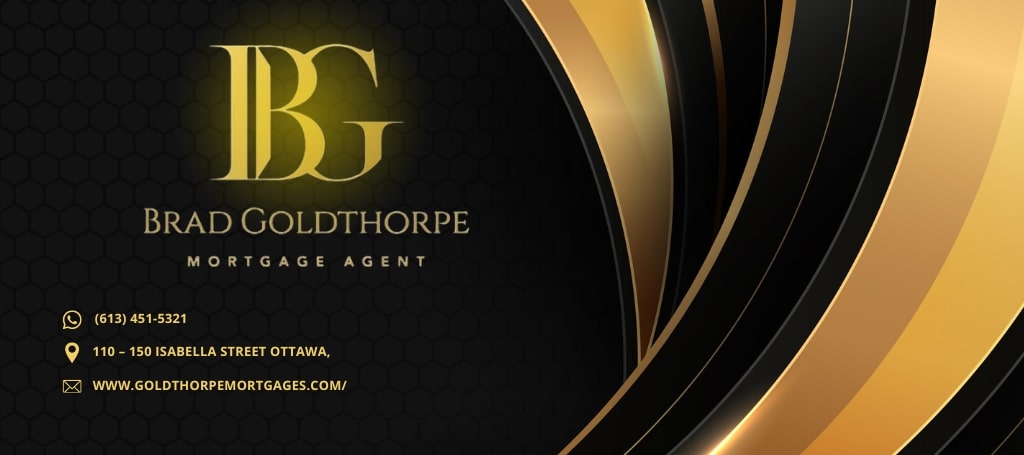 BEST FOR
Residential and Private Mortgages
SERVICES
Residential Mortgages
Private Mortgages
WEBSITE
https://goldthorpemortgages.com/
ADDRESS
110 – 150 Isabella Street Ottawa,
ON K1S 1V7
CONTACT DETAILS
(613) 451-5321


[email protected]

OPERATING HOURS
Contact for more information
LICENSE #
Contact for more information
Brad Goldthorpe is a mortgage agent who's always informed about the latest Ottawa mortgage trends.
We like that he wants to help clients learn more about mortgages in an enjoyable way, especially when it comes to residential and private mortgages.
We find it rare to find a lot of people with so much integrity when it comes to their work, and we're glad to find that in Brad. He keeps everyone informed and is very professional.
He's also one to listen to and understand his clients and this is something we highly appreciate.
He doesn't entirely work alone. He also works closely with realtors, financial planners, insurance brokers, lawyers, bookkeepers, accountants, and numerous other leading professionals to ensure that all his clients receive the most comprehensive service possible.
Another thing we like that he offers a free quote when you get in touch.
If you need help with mortgage calculation, he's also placed a calculator on his website. Although something he doesn't have on his website is his operating hours.
Professional mortgage broker
Works with other professionals to provide the most comprehensive service possible
Operating hours unavailable on website
Customer Reviews
"I can't say enough great things about Brad and how he operates his business. Brad is responsive, communicative and available as needed (even on short notice). He is also very clear and concise and goes above and beyond to ensure his clients are well taken care of. I will continue to recommend Brad. Thanks for the great work that you do!"
"Brad possesses all the qualities of a stellar mortgage agent. Mortgage approvals are often not a straight forward process, and having an agent like Brad on your side can make all the difference in the world. I continue to be impressed by his resourcefulness when it comes to complex situations. He also consistently prioritizes efficient communication and makes sure that you are always up to speed. I gladly recommend Brad's services to anyone who is looking for a highly committed and efficient mortgage agent."
"This was our first experience dealing with a mortgage broker and we could not be more satisfied with the services provided by Brad. He was always professional, prompt and helpful. Brad went that extra mile, with a tight deadline, to propose and implement a revised financing structure to enable us to successfully close on the purchase of our home. His efforts were much appreciated and we will not hesitate to use his services in the future."
FAQs About Mortgage Broker Services
---
That concludes our list of the top mortgage brokers in Ottawa! We hope you found the article useful and helped you make a decision on where to go.
Did we miss someone you recommend? Let us know, we'd love to hear from you!
We have more information for your other needs in our other articles, by the way. If you're looking for a personal injury lawyer, then this article is for you!