The 5 Best Mental Health Clinics in Ottawa
Our mental health is very important. But due to our busy lives, we often forget to keep it in check. Mental health facilities are a good option to keep ourselves mentally stable and healthy.
We've listed down the best mental health clinics in Ottawa so you can find the right one for your needs.
How much do mental health facilities charge in Ottawa?
Mental health facilities usually charge around $125/hr to $200/hr, but this also depends on the length of service and the therapists' pricing.
The table below will give you a better idea of the related costs you may encounter at a mental health clinic.
| Service | Average Cost |
| --- | --- |
| Depression Therapy | $60 to $150 hourly |
| Addiction Therapy | $60 to $200 hourly |
| Group Therapy Session | $300 to $400 hourly |
| Individual Therapy Session | $50 to $240 hourly |
| Mental Health Meds | $30 to $200 per month |
The Best Mental Health Clinics in Ottawa
To get the best mental health facilities in the city, we used the following criteria in our selection process:
1. Royal Ottawa Mental Health Centre

Test
Info
SERVICES
Community Mental Health, Geriatric Psychiatry, Long-Term Care, Mental Health and the Law, Mood and Anxiety, Structured Psychotherapy, Operational Stress Injury Clinic, Schizophrenia Recovery Clinic, Substance Use Treatment, Sleep Clinic
WEBSITE
http://www.theroyal.ca/
ADDRESS
1145 Carling Ave, Ottawa, ON K1Z 7K4, Canada
CONTACT DETAILS
613-722-6521
OPERATING HOURS
Monday to Friday 6 AM - 4 PM

Closed on weekends
| | |
| --- | --- |
| Criteria | Ratings |
| Price | ★★★★★ (5/5) |
| Experience | ★★★★★ (5/5) |
| Specialization | ★★★★★ (5/5) |
| Patient Feedback | ★★★★ (4/5) |
The Royal Ottawa Mental Health Centre is a psychiatric hospital based in Ottawa. It's known not just for its therapy services but also for other mental health treatments such as group therapy, schizophrenia recovery, and a sleep clinic.
We are impressed with this hospital's facilities. Other than having its own mental health ward, it also has specific areas for mental health conditions like PTSD, schizophrenia, and more.
It also has its own area for children with mental health issues. We believe it's important to address such issues, especially at a young age when they're easier to correct.
The hospital provides a solid consultation program for people unsure if they have clinical mental health issues. This is a good way to have the patient diagnosed so they can get the meds and support they need early on.
The downside we noticed is that the hospital's urgent care facility needs work. Doctors around the emergency care unit are mostly experts for physical injuries, so mental health doctors have to be called, which could take a few hours.
Some patients might not appreciate the wait, just like we don't.
Other than the said issues, we think the hospital's great, especially because of the many mental health-related services it can offer.
Offers a variety of options for mental health care
Facilities are great and large
Urgent care facility needs work
Customer service can be improved
Customer Reviews
Good job
"We just brought in a woman who was wandering the streets in a very bad way and, although it is a Saturday and closed, the receptionist was wonderful and called for someone to come and assess her and even alerted security to be sure that she would remain for an assessment. I was so appreciative as I didn't know if they could help and if not, what to do? My only other experiences with the hospital have been for lectures. Also so impressive. Thanks to the staff!! – Adai Heuchan
Excellent work
"I was in the ACU and CDU back in 2016 to help with alcohol detox and the staff was the nicest I've ever had. The doctors are nurses went above and beyond. I also was there in 2019 and the experience was incredible! They are all excellent" – Matt Y.
2. Crossroads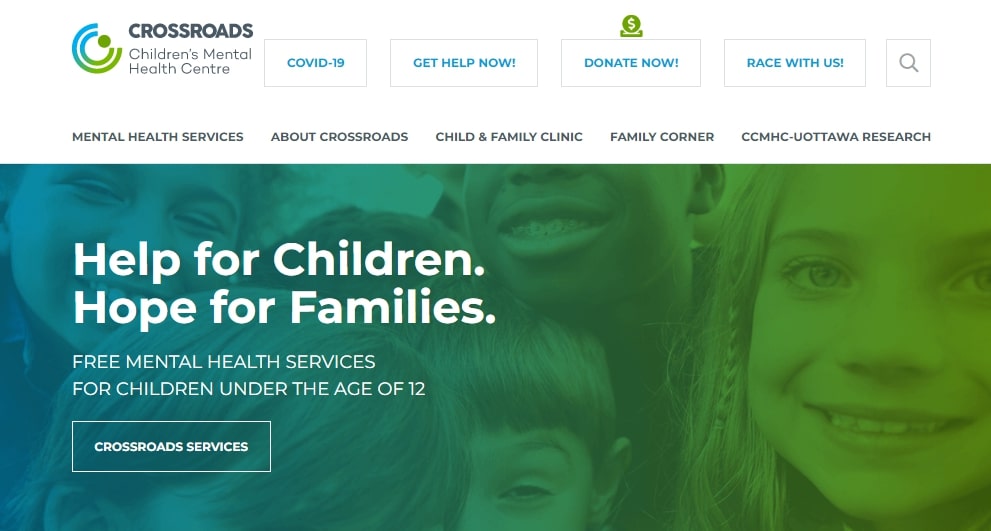 Test
Info
SERVICES
In-Home Treatment, Parent Groups, Child and Family Therapy, Day Treatment, School-based Program, Infant and Early Childhood Mental Health, Intensive Mental Health Services
WEBSITE
https://crossroadschildren.ca/
ADDRESS
1755 Courtwood Crescent, Ottawa, ON K2C 3J2, Canada
CONTACT DETAILS
613-723-1623
OPERATING HOURS
Wednesday: 9 AM – 12 PM

Thursday:12PM - 8PM

Closed on other days
| | |
| --- | --- |
| Criteria | Ratings |
| Price | ★★★★★ (5/5) |
| Experience | ★★★★ (4/5) |
| Specialization | ★★★★ (4/5) |
| Patient Feedback | ★★★★★ (4/5) |
Crossroads is a great mental health center that specializes in children and family therapy. The people behind it understand that kids have it hard too, especially those in big families with lower income streams.
Because of this understanding, the founders established Crossroads as a means to help children cope with their issues.
Unlike the other clinics and facilities in this article, Crossroads is mostly focused on children. Children's brains are like sponges and are more sensitive to trauma, depression, and other issues.
While the clinic gives therapy to adults as well, this is only available during family group therapy sessions.
We also like Crossroads' willingness to work with children's communities. It does research in a child's community to see how he or she is living and also does in-home treatment for therapy sessions.
To us, this makes it a very convenient service.
When it comes to downsides, we're a bit disappointed that it is only open for two days a week. A mental health facility should be open at least 5 days a week to increase its chances of helping more people.
Its customer service also needs work.
Further, if you are an adult looking for mental health help, Crossroads may not be able to assist you. The best it can do is refer you to a similar facility.
Overall, Crossroads is very good for children and families. So if you fall under that category, you have nothing to worry about.
Vast selection of services for children and their families
Crisis assistance
Offers in-home and school-based treatments
Open twice a week only
Customer service can be hard to contact
Only for children up to age 12
Customer Reviews
No bad experience
"After many frustrating experiences in trying to access parenting support for our family, where the main strategies are based in punitive methods and conditional approval, it was truly a relief to work with a counselor from Crossroads. It has never been my experience that a counselor would not attribute ANY negative intent to the child, or suggest that the reason a child is struggling is because they are not punished for their negative behaviour. I am absolutely thrilled this resource exists to support families and provide a collaborative attachment-focused alternative. Thank you!" – Anon Feedaback
Great and connected easily with our child
""Our counsellor has been great at establishing a connection with our child and has great instincts about how to get to the heart of the issue. He is relatable and meets our child on their level but encourages them to grow in ways that are just right. He quickly created a rapport and a trusted safe space for our child to be able to express difficult feelings. Our child feels validated and heard. Our counsellor has also been a great guide for us as parents as we navigate the parenting challenges we face." – Anon Feedback
3. Psychiatric Survivors of Ottawa

| Test | Info |
| --- | --- |
| SERVICES | Substance Use Health Group, Online Peer Support Groups, Peer Support, Family Peer Support, Virtual Family Peer Support, Walking Groups, Family Dialogue, Urgent Mental Care |
| WEBSITE | https://www.pso-ottawa.ca/ |
| ADDRESS | 211 Bronson Ave, Ottawa, ON K1R 6H5, Canada |
| CONTACT DETAILS | 613-567-4379 |
| OPERATING HOURS | Mondays only: 1 PM - 2:30 PM |
| | |
| --- | --- |
| Criteria | Ratings |
| Price | ★★★★★ (5/5) |
| Experience | ★★★★★ (5/5) |
| Variety of Options | ★★★★★ (5/5) |
| Customer Feedback | ★★★★★ (5/5) |
Psychiatric Survivors of Ottawa or the PSO offers group mental health support. It also accepts volunteers who are willing to help unfortunate communities who are dealing with mental health issues.
It focuses on mental health as a community problem, so it seeks the help of other people who are willing to assist. This may be different from the usual therapy sessions shown in the media but it's effective because the people relate to each other.
Of course, the PSO also has expert medical practitioners. Some of these medical experts are volunteers as well.
This facility is mostly volunteer-based. It has the manpower, but funding is a bit of an issue.
Because of this, the space can get crowded especially during large group sessions.
Luckily, online group sessions are also available. This is a good choice for those who are too busy or prefer to stay at home.
For individual sessions, the PSO doesn't offer much, but it is still available for special cases. Mostly the PSO holds family or group therapy sessions and is not really your typical therapy solo talk with a psychologist.
Overall, it's still a solid choice, especially for people under a strict budget. Engaging with this company is also a good way to help other people who are dealing with similar issues.
Offers lots of group sessions
Offers online sessions
Complimentary services
Absence of price guides on some offers
Meeting areas can sometimes be too small
Customer Reviews
Life changing
"Life changing support for mental health and addictions." – Debbie Warren
Excellent
"A peer based recovery centre with excellent full range of services" – J Gnome
4. Ottawa Counselling and Psychotherapy Centre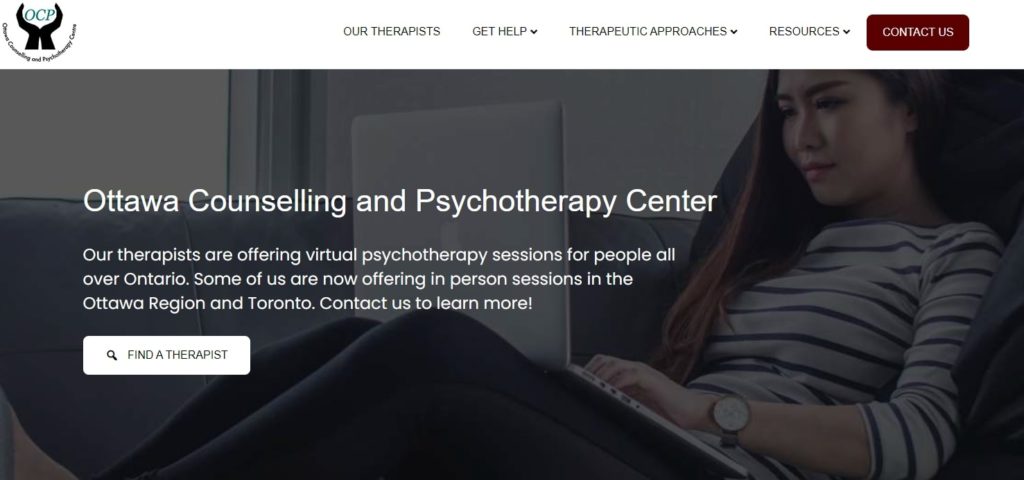 Test
Info
SERVICES
Acceptance and Commitment Therapy, Animal & Pet Therapy, Art Therapy, Attachment Therapy, Brainspotting, Behavior Therapy, Hypnotherapy, Group Therapy, Drama Therapy, EMDR, Sandtray Therapy, Psychodynamic Therapy
WEBSITE
https://ocpsychotherapycentre.com/
ADDRESS
356 Woodroffe Ave #201, Ottawa, ON K2A 3V6, Canada
CONTACT DETAILS
613-699-0060
OPERATING HOURS
Monday - Friday: 9 AM - 7 PM

Closed on weekends
| | |
| --- | --- |
| Criteria | Ratings |
| Price | ★★★★ (4/5) |
| Experience | ★★★★★ (5/5) |
| Specialization | ★★★★★ (5/5) |
| Patient Feedback | ★★★★ (4/5) |
For a more formal option, the Ottawa Counselling and Psychotherapy Centre in Woodroffe avenue is definitely the way to go. It offers individual counseling, grief therapy, hypnotherapy, and more.
It specializes in clinical therapy and counseling. These are scientific methods that have been proven to be as effective as group sessions, so we think they are good options for those who can afford them.
The clinic charges a bit more expensive because its sessions are mostly done in private. They are also much more regular and scheduled.
Medicines are prescribed especially for issues with depression, PTSD, schizophrenia, and other similar cases, which can further rack up the cost.
It should be worth noting that this doesn't mean the provider only offers individual sessions.
Group therapy sessions are also available, but they can be more expensive.
We like that the center has many medical practitioners under its belt so it can cater to numerous types of mental health issues.
On its downside, the clinic may have too many patients daily, so it can be difficult to schedule an appointment. We suggest potential patients schedule their appointments earlier than usual.
Overall, the clinic is a very good choice for people who can afford it. For those who might not, there are some discounted services — just make sure to check with its customer service before signing up.
Services are separated by different types of therapy
Numerous therapists under its belt
Many clients, so scheduling may take a while
Some sessions are appointment-based only
Pricey
Customer Reviews
Favorite place
"I had my first in person session with Aisley and it went better then I expected I was extremely nervous but Aisley was super kind and welcoming! I've never experienced therapy before but she made me feel comfortable and was a great listener. I will definitely be back to see her." – Mel P
Great work!
"Sogol is s very kind-minded, knowledgeable, and professional counsellor. I had been suffering from severe anxiety and depression for many years. When I met her for the first time I did not know who I am. She was professionally diagnosed roots and main causes of my personal problems. Then she patiently started to solve them out one after another.
I appreciate what she has done for me. Highly recommended." – Maryan Fatahi
5. Mental Health and Addiction Services of Ottawa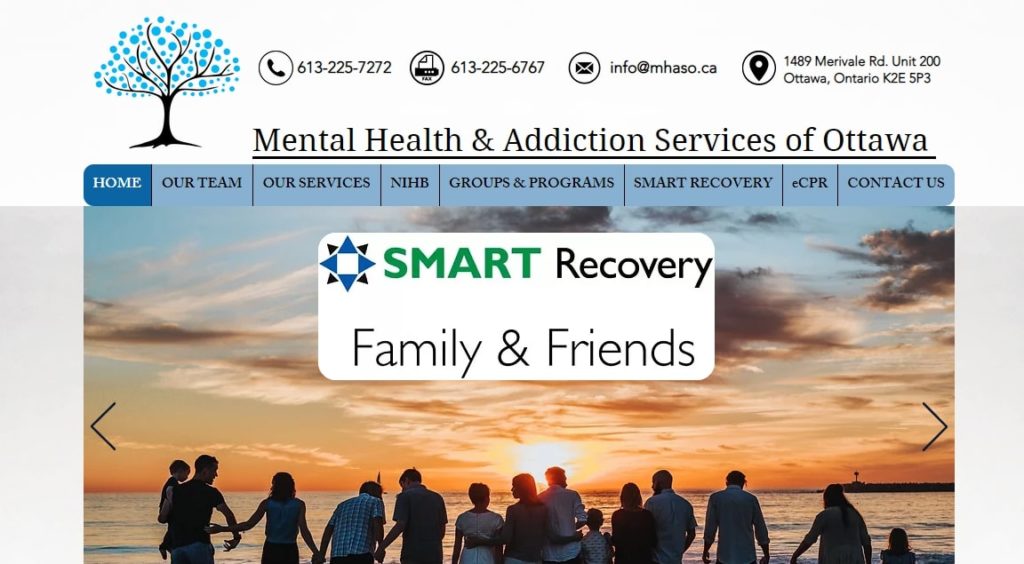 Test
Info
SERVICES
Individual Counseling, Couples Counseling, Addiction Counseling, Family Counseling, Anxiety, Depression, Tourettes Syndrome, Bipolar Disorder, Family Conflict, Trauma & PTSD, Mindfulness CBT, Behavioral Issue
WEBSITE
https://www.mhaso.ca/
ADDRESS
1489 Merivale Rd #200, Nepean, ON K2E 5P3, Canada
CONTACT DETAILS
613-225-7272
OPERATING HOURS
Monday to Friday 10 AM - 8 PM

Closed on weekends
| | |
| --- | --- |
| Criteria | Ratings |
| Price | ★★★★★ (5/5) |
| Experience | ★★★★★ (5/5) |
| Specialization | ★★★★★ (5/5) |
| Patient Feedback | ★★★★ (4/5) |
As its name suggests, the Mental Health and Addiction Services of Ottawa not only focuses on mental health issues but also addiction. It's a good option, especially for people with problems concerning both.
For therapy and group counseling, the MHAS offers live in-person sessions but also has online options for those who cannot come to the facility. For drug-related issues, however, the facility only offers online recovery sessions for now.
The Mental Health and Addiction Services of Ottawa is not just a clinic but also a research center that uses the knowledge they gain from patients (with their consent) to help other people in need.
Previous patients' records are studied as well to learn more about behavior when it comes to mental health and addiction.
We like this type of focus because it involves everyone – patients and doctors included, in helping other people. The online Smart Recovery option is very convenient, especially for those who cannot come to the area all the time.
Unfortunately, the pricing is not specified online, so guardians or families of potential patients will need to call the clinic's hotline. It also has an influx of patients at times, which can delay appointment schedules.
Overall, this facility is very high-end and also helpful to both addicts and mental health patients. It's a perfect combination because these two problems usually intertwine.
Offers a variety of services concerning mental health
Also offers group sessions
Smart Recovery (online session)
Options for gendered group sessions
No price guide
Addiction recovery is online only
Too many patients sometimes, appointments can take long to schedule
Customer Reviews
Online sessions were great
"Willing to help, even though I can't come in!" – Josh K.
FAQs about Mental Health Facilities in Ottawa
---
We understand how important mental health is, so we compiled this list to help you get the support and treatment you need.
For other health-related concerns, check out our article on the best home health care providers in Ottawa!