5 Best Marriage Counselling Services in Ottawa
Couples who've been going through a rough patch in their relationship or marriage could do with some professional advice and guidance. Luckily, we're going to be looking at the best marriage counselling services in Ottawa today.
If you're looking for a reputable one, you might also be wondering if it's an expensive way to deal with issues in your relationship.
With that in mind, let's take a look at the costs related to marriage counselling in the next section.
How Much Does Marriage Counselling Cost in Ottawa?
The cost of marriage counselling in Ottawa will depend on several factors. One of them is if it's the couple actually seeking counselling or just one of the spouses.
Individual clients will likely be charged less than a couple, as illustrated in the table below. Please note that the estimated costs are taken from current national averages.
| | |
| --- | --- |
| MARRIAGE COUNSELLOR/SERVICE | ESTIMATED FEE |
| A counsellor with a therapist background | $150 up per hour |
| Intern-level counsellor | $75 up per hour |
| Individual session | $125 per hour |
| Couple's session | $150 per hour |
The training, experience, certification, and background of the counsellor will also play a big part in the pricing. Those with a background in therapy or who have been counselling for a long time will understandably charge more than an intern-level counsellor.
It's best to do prior research about the reputation, history, and client feedback of a certain marriage counsellor before setting an appointment with them.
The good news is that plenty of counselling services do offer free initial consultations for potential clients. But it's best to make sure they offer this by asking them or looking up information on their websites.
The Best Marriage Counselling Services in Ottawa
Now that you're ready to take the plunge into having a better relationship, it's time to look at how the best marriage counselling services in Ottawa can help you.
There are also some FAQs toward the end of this listicle for reference and guidance.
1. Capital Choice Counselling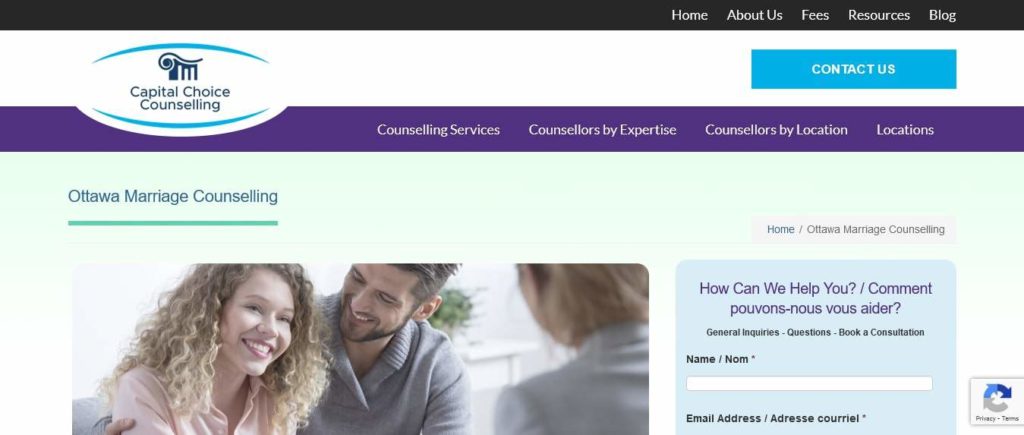 SERVICES
Marriage, couples, and family counselling, psychotherapy, cognitive behavioural therapy, Internet addiction
ADDRESS
40 offices throughout the city of Ottawa
CONTACT NUMBER
+1 613-425-4257


[email protected]

WEBSITE
https://capitalchoicecounselling.com
OPERATING HOURS
By appointment only
Since 2006, Capital Choice Counselling has been using psychotherapy and conducting workshops to help improve relationships. The company now has more than 30 therapists in its roster made up of Registered Psychotherapists, Registered Social Workers and Psychologists.
Aside from couples and marriage counselling, the centre also has therapists who are experts in workplace stress, family issues, teenage counselling, anxiety, addictions, psychotherapy, and cognitive therapy. Some services are eligible for insurance coverage (but not OHIP).
Clients can choose between experienced therapists and those who are working as interns. The latter has a more affordable therapy fee at $75 per hour and also a sliding scale fee.
It helpfully offers its services in different languages for clients: English, French, Spanish, Cantonese, and Mandarin. This is a good way to close communication gaps and ensure that counselling sessions are truly effective.
For convenience, Capital Choice Counselling has several locations in Ottawa and one in the Ottawa Valley for those living outside the city. There's also an online counselling service if you prefer therapy at home.
Multilingual services and staff
Several locations in and near Ottawa
Some services can be covered by workplace insurance
Online counselling available
Sliding scale fees applicable to interns only
No BBB accreditation
Customer Reviews
Liked the informal format and opportunity to ask questions
"Capital Choice Counselling Group has been offering seminars at St. Paul University for the past several years, and I have attended quite a few of them. As a therapist, I take any opportunity to continue educating myself, and to learn about being a better spouse and mother. The topics have been varied over the years, but the focus remains on family and marriage. Most recently, I attended the "online dating" seminar, it really opened my eyes. It made it relevant to the fact that one of the presenters spoke of her own online dating experience. I like the informal format and the opportunity for asking questions. I will continue to attend." – Clara Panarella
Topics are beneficial to everyone
"I have attended, with great interest, many Relationships Matter Seminars at St Paul University. The topics are beneficial to everyone who wants a better understanding of oneself and relationships. I always come out at the end of the evening with better knowledge and good feelings. Many thanks to the speakers — great presentations!" – Denise Cholette
2. Ottawa Counselling and Mediation Services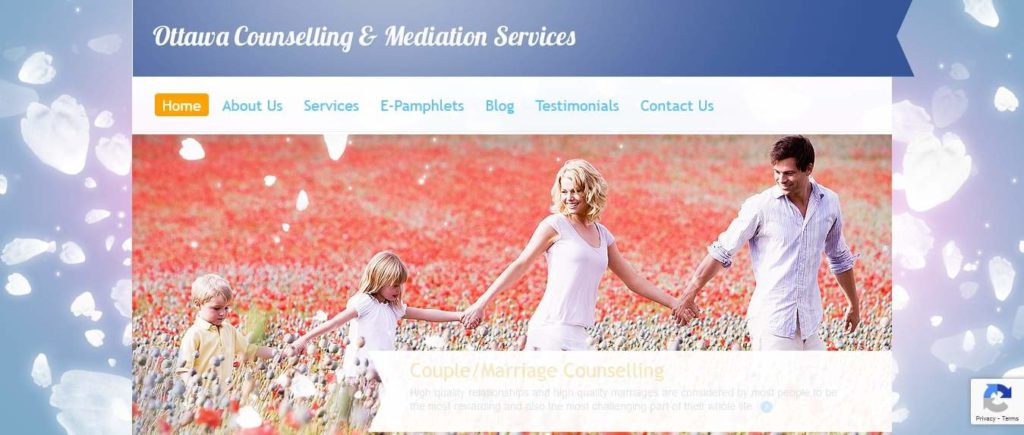 SERVICES
Couples/marriage counselling, individual counselling, family counselling, anger management, hypnotherapy
ADDRESS
15 Aylmer Avenue Ottawa, Ontario K1S 3X1
CONTACT NUMBER
(613) 234-5678


[email protected]

WEBSITE
https://www.ottawacounselling.com/
OPERATING HOURS
(Bank Street office)
Mondays 10 AM – 9 PM

(Nepean office)
Tuesdays, Wednesdays and Thursdays 10 AM – 9 PM
Fridays 10 AM – 3 PM
Richard Haney is the force behind Ottawa Counselling and Mediation Services. For over three decades now, he's been offering professional counselling and mediation services in two locations in Ottawa.
His couples and marriage counselling services aim to empower couples to improve communication and connect emotionally on different issues. His sessions have dealt with concerns on interpersonal conflict, financial issues, sex and infertility, parenting and co-parenting, and even building healthy relationships post-separation or divorce.
The downside is that his practice is limited to just the weekdays. He's at the Bank Street branch every Monday and at the Nepean office from Tuesdays to Fridays with no other therapists on staff.
This Harvard University-educated therapist also has a Ph.D. in Counselling Therapy and specializes in marriage and comprehensive family mediations.
And with his keen sense of knowledge in both family laws and the legal system, he's represented clients in Ontario Courts for family arbitration cases.
Clients are encouraged to book at least a week in advance as counselling slots can get filled up quickly. However, with enough heads-up, Richard Haney can accommodate emergency appointments.
Expertise in marriage counselling and family mediations
Emergency appointments can be accommodated
Two locations in Ottawa
Good range of counselling services
Open once a week in Bank Street branch
Appointments have to be booked a week ahead
Open on weekdays only
No BBB accreditation
Customer Reviews
Works with people to develop effective and creative solutions
"Richard brings a wealth of experience and professionalism to his practice. His open and straightforward manner enables him to connect easily with people and zero in on their issues. His concept of Partners in Healing is not just a slogan – it is his lifestyle. He is assiduous about getting down to root causes and working with people to develop effective and creative solutions. I would highly recommend Richard to anyone who is looking for a heart-connected, down-to-earth counsellor who puts people first." – M. McConnell
Sage advice and counsel
"I have seen Richard on and off for the past 8 years – his sage advice & counsel have allowed me to continue on a, more or less, straight path. I didn`t always hear what I wanted to hear – and left some sessions muttering some expletives – but in moments of quiet thought and contemplation things just made sense." – Anonymous client
3. Relationship Solutions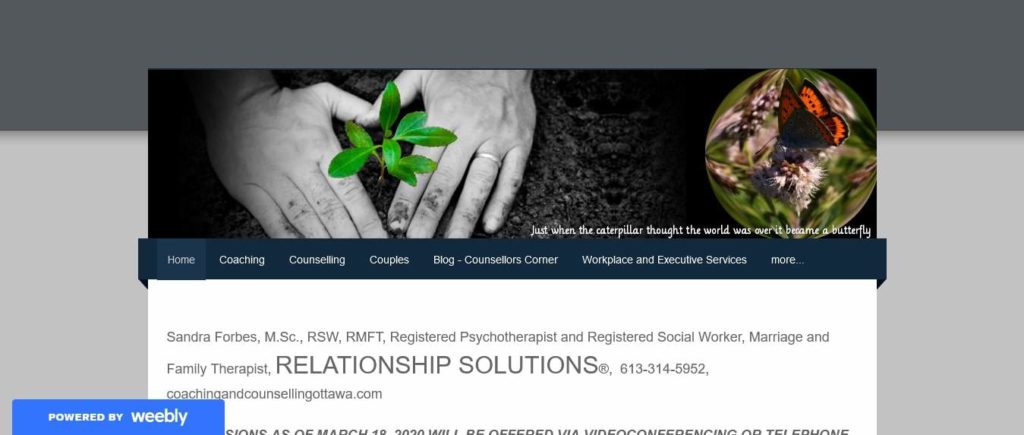 SERVICES
Individual counselling, couple counselling, family therapy, professional and work-life coaching, remote sessions
ADDRESS
300 March Rd. Fourth Floor, Suite 444, Kanata, ON, K2K 2E2
CONTACT NUMBER
613-314-5952


[email protected]

WEBSITE
https://www.coachingandcounsellingottawa.com/
OPERATING HOURS
Mondays and Thursdays 11 AM – 7 PM
Tuesdays and Wednesdays 8 AM – 5 PM
Closed on Fridays, Saturdays, and Sundays
Sandra Forbes is the registered psychotherapist behind Relationship Solutions. Her clientele covers married and in-relationship couples, families, and individuals needing counselling on their professional and personal lives.
In her marriage counselling and therapy services, she focuses on certain areas that deal with both physical and psychological issues. These cover challenges in communication, intimacy and infidelity issues, divorce and separation, fertility issues, disability and rehabilitation, and more.
She also conducts couples workshops dealing with marriage preparation courses, proper communication, and enhancing intimacy. But given the current global situation, all sessions including workshops are done by video conference or phone.
Sanda Forbes's fees are a bit higher than the national average at $160 per counselling hour and $450 per couple for the marriage preparation course. The good news is that most of the services are covered by insurance plans and there's an intern-level price range that operates on a sliding scale.
Most services covered by insurance
Focuses on both physical and psychological relationship issues
Also available for online counselling
Intern-level sliding scale fees are available
Open for only four days a week
Slightly higher counselling fees
Website information and design need updating
No BBB accreditation
Customer Reviews
The most talented clinician
"Sandra so shaped my clinical practice I would often hear her words speaking through me to my clients. By far the most talented clinician I have come across." – Elaine Saunders
4. Ottawa Couple and Family Institute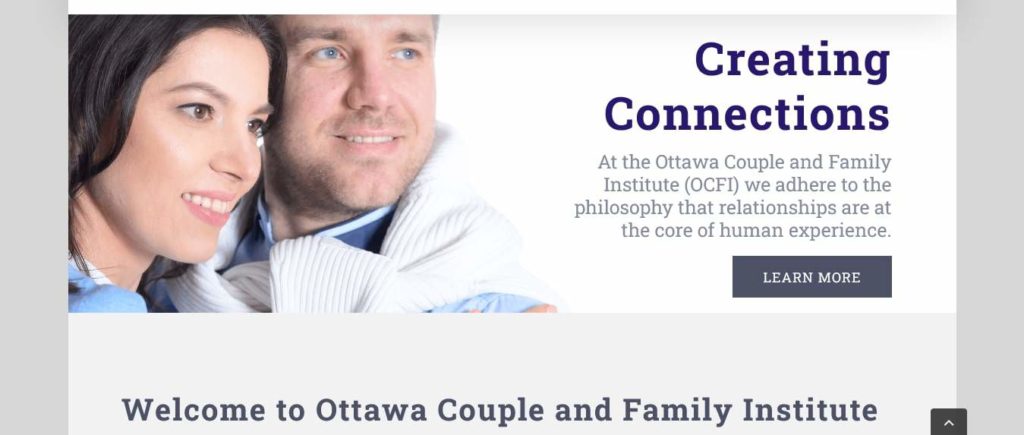 SERVICES
Couple, family and individual therapy, Emotionally Focused Therapy
ADDRESS
Suite 201, 1869 Carling Avenue, Ottawa K2A 1E6
CONTACT NUMBER
613.722.5122


[email protected]

WEBSITE
www.ocfi.ca
OPERATING HOURS
Monday to Friday 9 AM – 5 PM
Closed on Saturdays and Sundays
With the belief that relationships are at the core of the human experience, the Ottawa Couple and Family Institute uses what it calls Emotionally Focused Therapy. Its team of therapists includes dozens of psychologists and at least five marriage and family therapists.
Dr. Sue Johnson is the primary developer of Emotionally Focused Therapy and is also the head psychologist of the Ottawa Couple and Family Insitute. EFT focuses on interventions to repair relationships and encourage traumatized couples to repair rifts and develop stronger bonds.
For its couples sessions, the OCFI therapists focus on both the physical and mental health of the couple and how these affect their relationship. What's great about this centre is how it accommodates both traditional couples and those in the LGBT community, as well.
While most psychological services are covered by extended insurance policies, OCFI counselling and therapy sessions are unfortunately not covered by OHIP. Each therapist at the institute also has individual billing rates and fees.
Offers EFT for traumatized couples
Accommodates both traditional and LGBT couples
Focuses on both physical and mental health
Most services covered by extended insurance plans
Counselling and therapy not covered by OHIP
Different billing rates per therapist
Open on weekdays only
No BBB accreditation
Customer Reviews
Life-changing therapist
"Thank you, Dr. Joan MacDonald, you are the most life-changing therapist out there!" – Bailey Alyssa Clinton
Amazing to work with
"Dr. Angela Caron is amazing to work with and she has helped me so much." – rael3174
5. Couple Enrichment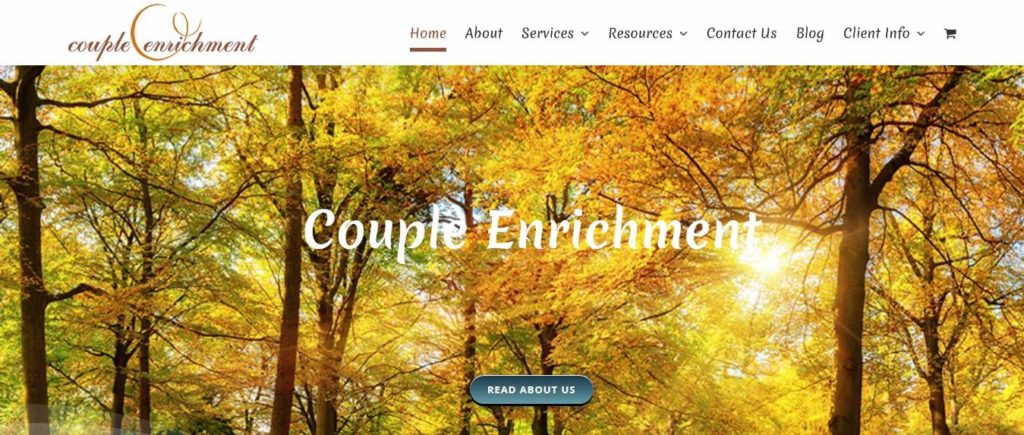 SERVICES
Couples and marriage therapy, intensive retreats, couples workshops
ADDRESS
2583 Carling Avenue, Ste 14 Ottawa, Ontario K2B 7H7
CONTACT NUMBER
877-897-2333


[email protected]

WEBSITE
https://couple-enrichment.com/
OPERATING HOURS
Monday to Sunday 9 AM – 5 PM
For couples who feel like they need in-depth therapy, Couple Enrichment offers an Intensive Marriage and Couple Counselling program for them.
It takes into account some common marriage issues like infidelity, feeling as if they've fallen out of love, breakdown in communication, and insecurity about intimacy. Couple Enrichment's counselling services include intensive retreats, couples workshops, and weekly or bi-weekly couples counselling sessions.
Prices for Couple Enrichment's (group) workshops are a bit steep (starting at $585 per couple) but they do run for five weeks and can be made with one or two payment options.
The centre also offers regular podcasts, workshops, and webinars for those who subscribe to them. Couple Enrichment's website also gives helpful resources and blog posts on relationship topics like honesty, knowing your partner, and being pro-self.
Aside from couples and marriage counselling, the centre also offers individual counselling services for women's issues. There's also a unique one that accommodates women entering their senior years with potential late-in-life challenges.
Since the centre has registered psychotherapists on staff, most of its services are recognized as medical expenses under extended health insurance plans. However, Couple Enrichment advises clients to clarify with their health insurance providers regarding which ones are considered eligible for tax credits.
Most services are covered by insurance
Open seven days a week
Has helpful relationship resources on the website
Offers focused counselling for women over sixty
Somewhat expensive couples therapy fee
Couples therapy and retreat slots could get filled up fast
No BBB accreditation
Customer Reviews
Pragmatic, genuine, trustworthy, and sincerely cares for clients
"I have come to know Louise and David as a couple who are devoted to each other and their practice. They both are pragmatic, genuine, trustworthy and sincerely care for their clients. Knowledgeable and forward-thinking. Our times spent together, have always provided me with insight and a gift of understanding, enabling me to become a better partner." – Cathy Clark
Excellent in the field of couple counselling
"Louise and David are a warm, dedicated and professional couple who are excellent at what they do in their field of couple counselling. They present as a couple who show a great deal of respect and love towards one another. It is evident they work on their own relationship as part of their life's work, in the personal workshops and courses they attend. I have had the wonderful opportunity to experience many years of their coaching and counselling and have learned a lot about what makes a secure and loving relationship. Any workshops presented by David and Louise that I have attended, gave me a greater insight into myself, along with tools to enhance my partner relationship." – Lynda May
FAQs About Marriage Counselling in Ottawa
---
The best marriage counselling in Ottawa can help you get on the right path to better communication, a stronger bond, and forgiveness for each others' shortcomings.
Did we forget to include a good marriage counselling service in this article? If so, send us a message so we can review it, too.
But if you have specific mental health or psychological issues you want to be addressed, you could read our listicle on the best psychologists in Ottawa, instead.