The 5 Best Lip Injections in Ottawa
Want to plump up your lips or improve your smile? Perhaps knowing where to get the best lip injections in Ottawa can help you know where to start.
Luckily, we're reviewing some reputable clinics and centres that specialize in lip augmentation and similar procedures today.
Of course, one of the most important factors to consider would be how much you'll end up paying for a pretty pout. Let's discuss that in the next section.
How Much Do Lip Injections Cost in Ottawa?
The cost will depend on several important factors. These include the kind of lip filler you'll choose and the amount needed for your procedure.
Hyaluronic acid fillers are currently the most popular type of lip injection for plumping up the lips. They cost somewhere between $600 – $800 per syringe, with patients typically needing one or two injections to achieve the desired look.
Collagen used to be the go-to lip augmentation filler, but it declined in recent years because it didn't give lasting results. If you opt for collagen, it will likely cost you $400 – $800 for each treatment.
Some clinics also offer a more permanent type of lip augmentation using implants or fat transfer. The cost for these types of procedures can range from $2,000 all the way up to $10,000.
Of course, the clinic rates also play a big role in the overall cost. Their reputation, location, technology, surgeons' and physicians' expertise and specializations, and certification or recognition by trustworthy organizations all contribute to the cost.
To give you a clearer picture, the table below illustrates the different procedures involved with lip augmentation. Beside each one is the estimated cost based on national averages.
| | |
| --- | --- |
| PROCEDURE | ESTIMATED COST |
| Injectable filler (six to 18 months effect) | $500 – $1,000 per syringe (depending on clinic rates) |
| Lip implants/fat transfer (permanent) | $2,000 – $4,000 (depending on clinic rates) |
| Botox lip flip treatment | $80 – $500 (depending on clinic rates and number of injections) |
| Permalip silicone implant | $2,500 per lip $4,250 for both upper and lower lips |
| Collagen injection | $400 – $800 per treatment (depending on clinic rates) |
Please note that the above prices do not reflect the different rates and fees from each of the clinics we're featuring today. It's good to still ask the clinic of your choice for an estimate or quote to know how much you'll end up paying in the end.
The Best Clinics for Lip Injections in Ottawa
Now that you have a general idea of the different costs, it's time to take a closer look at the best clinics to get lip injections in Ottawa.
1.   Ottawa Institute of Plastic Surgery
SERVICES
Cosmetic injections: lip and cheek fillers, wrinkles, axillary hyperhidrosis, body and face laser treatments, breast, body, and face surgical procedures
ADDRESS
405-1919 Riverside Drive Ottawa, ON K1H 1A2
CONTACT NUMBER
613.702.5333


[email protected]

WEBSITE
 https://ottawasurgery.com
OPERATING HOURS
Monday to Thursday 9 AM – 3.30 PM
Closed on Fridays, Saturdays, and Sundays
What makes the Ottawa Insitute of Plastic Surgery stand out in this listicle is its unique female cosmetic perspective. Founded by women, each member of the cosmetic surgery team has Royal College of Physicians and Surgeons of Canada qualifications.
There's a good range of surgical and non-surgical procedures offered at the clinic. Lip treatments fall under the cosmetic injections umbrella with hyaluronic acid as the clinic's dermal filler of choice.
The clinic explains that its lip injection procedure is for patients seeking modest changes in their appearance instead of a dramatic makeover. Its experienced cosmetic surgeons are willing to give each patient professional advice on what will be best for them based on their aesthetic goals.
Interested clients can book a consultation using the online form on the website. The clinic is only open four days a week but can be reached via email or phone.
All-female cosmetic surgery team
Gives honest and well-intentioned assessments
Monthly financial options available
Closed three days a week
No BBB accreditation
No discernible pricing matrix
Customer Reviews
Read the feedback from these patients of the Ottawa Insitute of Plastic Surgery:
"I'm being treated for Rosacea, and the treatment is fantastic! Everyone here is so nice and patient… and the results! Worth every painless minute!! Thank you!" – Karen Moon
"I had chest contouring surgery by Dr. Haemi Lee, who is referred by one of my relatives. It was a day of surgery. Dr. Lee and her team were very polite, professional, and considerate. The surgery went very well and smoothly. One day after surgery, I felt almost no pain and stopped taking Tylenol. Five days later, I removed the drain. In just over a month, I almost recovered to my normal state. I am very happy with the result. I sincerely thank Dr. Lee and her team!" – Jason Qin
2.   Dermaworks Medical Aesthetic Clinic
SERVICES
Belkyra, Botox, chemical peels, dermal fillers, Dysport, facial mesotherapy, hand rejuvenation, Hyperhidrosis treatment, Juvederm, laser hair removal, microdermabrasion, micro-needling, PRP, Radiesse, Restylane, Sculptra, soft lift, spider vein removal
ADDRESS
1081 Carling Ave # 301 Ottawa, ON, Canada K1Y 4G2
CONTACT NUMBER
+1 613-667-9455
WEBSITE
 https://dermaworks.com
OPERATING HOURS
Monday to Wednesday 9 AM – 5 PM
Fridays 9 AM – 5 PM
Thursdays 10 AM – 6 PM
Closed on Saturdays and Sundays
Dermaworks is a medical aesthetics company that calls itself the "premier Botox and skin clinic." But aside from Botox and medical-grade skincare, the clinic also offers derma fillers and other surgical cosmetic procedures.
It gives a specialized focus on hyaluronic acid fillers to add volume to thin lips. There are several HA fillers to choose from at Dermaworks: Juvéderm Ultra XC or Volbella XC, Restylane, Belotero, or Revanesse Versa.
Calling it a "lunch hour" procedure, the clinic's physicians promise patients that the thin lip procedure only takes between 10 to 15 minutes. There's also very little to no downtime involved as far as full healing goes.
Interested clients can schedule a consultation by filling out the online form at the website. The clinic can also be reached by phone on weekdays.
Addresses a wide range of aesthetic concerns
Offers quick lip procedures
Good options between surgical and non-surgical procedures
Closed on weekends
No BBB accreditation
No discernible pricing matrix
Customer Reviews
See how past clients of Dermaworks Medical Aesthetic Clinic liked its services:
"Dr. Vassilou does excellent work. She spends the time to get to know you & what your needs are. I recently had an area that was causing me real concern & she was able to fix it, giving me a huge boost in my confidence. I trust her & highly recommend her services." – Barb McIntyre
"Dr. Vessiliou and her team have exceptional customer service. It's like service satisfaction guaranteed. I am completely happy and satisfied with the end result of my treatment. Professional, honest work that exceeds expectations. I am very grateful with Dermaworks." – Noel Alfonso
3.   Facial Surgery & Cosmetic Centre of Ottawa
SERVICES
Anti-ageing rejuvenation, cosmetic plastic surgery, facial contour, facial rejuvenation, medical-grade skincare products, scar and stretch mark reduction, skin rejuvenation
ADDRESS
1919 Riverside Dr., Suite 308 Ottawa, Ontario, Canada K1H 1A2
CONTACT NUMBER

[email protected]


613-706-1971
WEBSITE
 https://ottawafacialsurgery.com
OPERATING HOURS
Monday to Friday 9 AM – 5 PM
Closed on Saturdays and Sundays
Dr. Gregory P. Antoniak aims for all his patients to look as natural as possible after getting a procedure from his clinic. He is the founder of Facial Surgery & Cosmetic Centre of Ottawa with over 30 years of cosmetic and facial surgery experience.
There's a good range of rejuvenation, cosmetic surgery, and skincare offerings at this medical aesthetic centre. There are several non-invasive options for lip augmentation and care, including injectable fillers.
If you opt for injectable fillers, there's a consultation prior to the actual procedure to discuss any sensitivities and what to expect during and after the treatment. The procedure itself is handled by a qualified physician and two registered nurses.
The clinic also offers several medical-grade lip care products that promise to stimulate collagen for natural plumping effects. There's a virtual shop on the website for both skincare and cosmetic products, as well.
BBB-accredited, Aᐩ rating
Medical-grade skin care products offered
2014 Consumer Choice awardee
No clinic on weekends
No discernible pricing matrix
Pricey products
Customer Reviews
Learn how these happy patients of Facial Surgery & Cosmetic Centre of Ottawa liked their experience:
"Best Facial Surgery & Cosmetic center! Dr. Antoniac and all his staff are amazing in all the treatments they provide. Professional, experienced, and very personal taking care of all my needs. Thanks for being here." – Carol Deavy
"Right on schedule, friendly, professional, informative and attentive. What could be better to build confidence and trust!! The expertise is fully obvious." – Marilynne Sinclair
4.   JB Cosmetics and Facial Surgery
SERVICES
Visia skin & complexion analysis, chemical peels, cyst and mole removal, digital surgery imaging, digital imaging for rhinoplasty, LED skin treatment, lip augmentation, nasal fracture repair, photo facials IPL, scar removal, skin care products, retinol products, skin tightening, skin lightening creams
ADDRESS
460 W Hunt Club Road Unit 105-A Ottawa, ON K2E 0B8
CONTACT NUMBER
613-369-8369


[email protected]

WEBSITE
 https://drbonaparte.com
OPERATING HOURS
Monday to Friday 9 AM – 5 PM
Closed on Saturdays and Sundays
The "JB" in JB Cosmetics & Facial Surgery stands for James Bonaparte, its founder and head doctor. He is a multi-awarded facial plastic surgeon specializing in head and neck surgery.
The clinic offers procedures and treatments for the face, skin, nose, eyes, cheeks, and lips. To give lips the desired volume and lift, Dr. Bonaparte and his team use Hyaluronic acid dermal fillers and perform at least 20 injections per day.
Aside from lip injections, Botox can be used to remove wrinkles on the lips and around the mouth while also plumping them up. Whatever a patient ends up choosing, meeting with Dr. Bonaparte and his staff of cosmetic nurses is required before the actual treatment to discuss after-care, expectations, and possible side effects.
Clients can call or email JB Cosmetics & Facial Surgery during its weekday operating hours. There are also online contact forms on the website for inquiries and other concerns.
Good range of facial cosmetic surgery and treatments
Medical-grade skin care products offered
Honest assessment before procedures
No BBB accreditation
No clinic on weekends
No discernible pricing matrix
Customer Reviews
The following clients have positive things to say about JB Cosmetics & Facial Surgery clinic:
"Dr. B is one of the kindest most professional and skilled people I ever met. Would recommend him highly. Had a facelift. Thanks again." – Lucia Brooks Allemann
"Dr. Bonaparte is by far the best doctor I have dealt with. He is personable, friendly, patient, and generous with his time. I had a septorhinoplasty performed by him earlier in the year and am ecstatic with how I am healing thus far. It was a real life-changer – for the good. He applies a great deal of artistry to his surgical skills and spent a great deal of time discussing realistic expectations, proportion, etc, and how everything should balance out in the end. The result looks natural but still enormously improved. I wish I could articulate it better but he has a very high recommendation coming from me. Absolutely will go to him if ever I need or want any other facial cosmetic procedures. Simply the best. Go to him first if you are considering having your nose done. You will not be disappointed, I assure you." – Charles Von Hamme
5.   The Ottawa Skin Clinic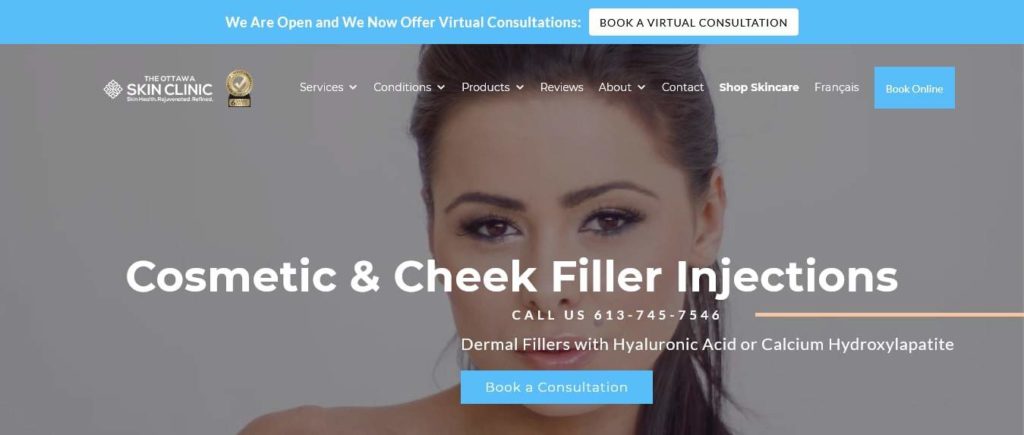 SERVICES
Skincare, body sculpting, laser treatments, injectables, non-surgical procedures
ADDRESS
349 St. Laurent Blvd, Ottawa, ON K1K 2Z7
CONTACT NUMBER
613.745.7546


[email protected]

WEBSITE
 https://www.ottawaskinclinic.ca
OPERATING HOURS
Monday to Friday 9 AM – 7 PM
Saturdays 8 AM – 6 PM
Closed on Sundays
The Ottawa Skin Clinic believes that beauty should go beyond looks and well into actually making clients feel great about themselves. It offers a variety of rejuvenation and non-surgical aesthetic services to clients with a focus on tailor-made procedures and after-care treatments.
Its lip treatments fall under the clinic's Injectable Services. Aside from Botox, hyaluronic acid injections are used to give patients' lips a refreshed, plumper look while removing smoker's lines and wrinkles.
The medical aesthetic centre was recently voted Ottawa's Top Choice Cosmetic Clinic of 2021. It promises to cater to a wide demographic regardless of economic background with a customized walk-through consultation for each one.
There's also a virtual shop for medical-grade skincare products. Potential patients can book a consultation via the website's online form or call the clinic during its operating hours.
Virtual consultations available
Offers regular promos and discounts
Voted Top Choice Cosmetic Clinic of 2021
No clinic on Sundays
No BBB accreditation
No discernible pricing matrix
Customer Reviews
Read the following feedback from past clients of The Ottawa Skin Clinic:
"Dr. Michon did such an amazing job on my lips and made me feel so comfortable. Would recommend him to anyone in the area. ." – Emily Drenth
"Where do I start, I have been seeing Sarah at the Ottawa Skin Clinic for my lip enhancement since May 2019 and I must say she is the best!! For my first meeting, Sarah really took the time to ask questions and get a feeling for what it is that I was looking for. Sarah offered alternatives if the ones I proposed were not ideal. Throughout the time I have been with Sarah she has been able to add much-needed symmetry and filled the areas where my scars on my lips are very visible, leaving me with beautifully aligned and hydrated lips. I can't wait to see what else Sarah has in store for me next! Thank you so much, Sarah!" – Kay Moyes
FAQs About Lip Injections in Ottawa
---
We hope that this listicle on the best lip injections in Ottawa can give you a prettier pout and smile very soon!
If you think we missed reviewing a good clinic offering lip injections, please send us a message.
And if you're considering other cosmetic procedures in the future, we got you covered. Read our article on the top plastic surgery clinics in Ottawa as a handy resource.