The 6 Best Insurance Lawyers in Ottawa
Insurance lawyers are there to help their insured clients navigate around claims, contracts, and coverages. They're particularly essential when a dispute over coverage cannot be resolved and litigation is needed.
This article lists the most sought after insurance attorneys particularly focused on dealing with professional liability, bodily injury, accident benefits, and property loss cases.
But before we get into the best insurance lawyers in Ottawa, let's first see how much hiring them can cost you.
How Much Do Insurance Lawyers in Ottawa Cost?
If your insurance lawyer successfully wins you money in your case, they'll typically receive your settlement check directly. This way, the lawyer can simply take out their percentage as their "contingency" fee for their services.
Contingency fees can either be a flat rate or a percentage. The exact percentage of the fee will be worked out between the lawyer and you.
Make sure that the contingency fee is right for you when you speak with your lawyer. The table below is a very simplified version of how your legal and contingency fees may play out, without taxes or other costs included.
| | |
| --- | --- |
| SUMMARY | SAMPLE SCENARIO |
| Value of Claim | $100,000 |
| Rate / Contingency | 30% |
| Lawyer's Fee (Value of Claim x Rate) | $30,000 |
| Disbursements (paid by the lawyer to run your file) | $15,000 |
| What You Take Home (Value of Claim – Lawyer's Fee – Disbursements) | $55,000 |
The Best Insurance Lawyers in Ottawa
Now that you're informed about the initial costs of getting an insurance lawyer in Ottawa, let's get into the list.
1. Mann Lawyers LLP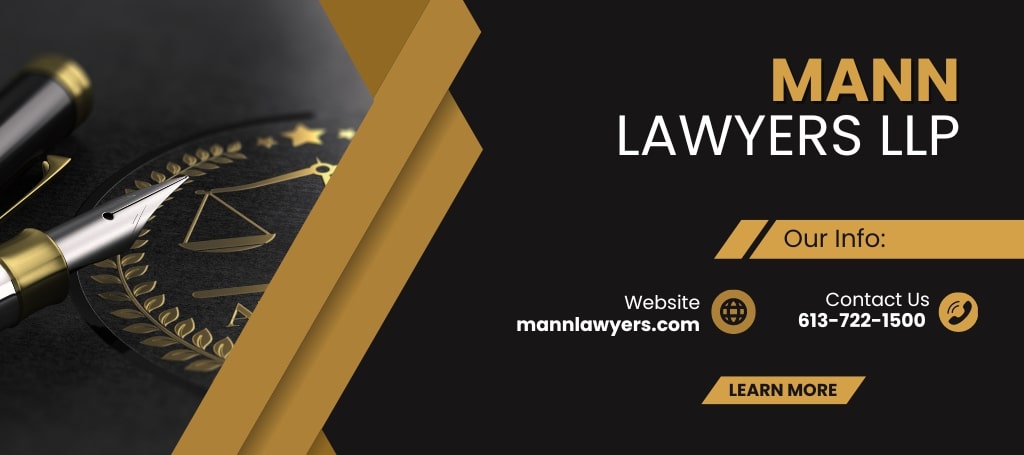 | | |
| --- | --- |
| SERVICES | Personal Injury, Bankruptcy, Business, Commercial Litigation, Construction Law, Disability Insurance Claims, Employment, Human Rights and Labour, Environmental Law, Estate Litigation, Franchise Law, Family, Litigation, Real Estate, Services for Professionals, Wills and Estates |
| WEBSITE | https://www.mannlawyers.com/ |
| ADDRESS | 11 Holland Ave #300, Ottawa, ON K1Y 4S1, Canada |
| CONTACT DETAILS | Phone: +1 613 722-1500 |
| OPERATING HOURS | Mondays to Fridays: 8:30 AM – 5:00 PM |
Mann Lawyers LLP is one of the best law firms with insurance lawyers in Ottawa. The firm itself has over many years of collective legal experience when it comes to handling personal injury and disability insurance.
What made Mann Lawyers part of the list is the endless list of client feedback detailing how the firm has helped them during a physically painful and mentally distressing time in their lives. These testimonials range from those who pursued an individual or organization for accidental injury to those who have been denied an insurance claim.
Their team of lawyers know that on top of these issues, financial burdens can further weigh on their clients. This is why they are focused on helping their clients by understanding their concerns and custom-building a solution for them, so they won't be weighed down with legal concerns.
Whether or not the solution would be going into the courtroom, Mann Lawyers also provides excellent legal advice for those who have been injured in an accident, disabled from their job, or those whose claims for disability benefits have been denied.
For clients who are in need of legal assistance, Mann Lawyers is a trusted firm in the community of Ottawa and can help you navigate through your legal issues as you focus on getting better.
Aside from personal injury and disability insurance claims, they also provide a broad range of legal services and representation to a diverse clientele including legal services for bankruptcy, real estate, and family law matters, among many others.
Reasonable fees
Flexible fee arrangements
Flexible meeting times, including weeknights if required
Lawyers are available to clients via email and phone calls
Regular updates on your file
Participates in community and charitable events
Firm can be hard to reach
Bilingual services not guaranteed
Closed during the weekends
Customer Reviews
A review from Edith Lachapelle commends Mann Lawyers LLP, saying:
"I had the pleasure of working with Ted Masters who provided me with honest, feedback and took the time to explain all of my options and provide sound and reasonable feedback related to a personal injury lawsuit resembling a David vs Goliath scenario. He managed my expectations realistically, honest and was responsive and available at all times. Although I hope to never again require his services, I would call upon his services in a heartbeat if I ever had the misfortune of having to litigate a personal injury matter again."
Another review from Meegan Morris reads:
I am very thankful for the guidance from Nigel McKechnie of Mann Lawyers. During an emotionally challenged situation that required legal assistance, I relied on Nigel for direction. He handled the situation with both directness and compassion, I never doubted his advice. I am nothing but grateful for Nigel and the team at Mann Lawyers.
2. David Hollingsworth and Associates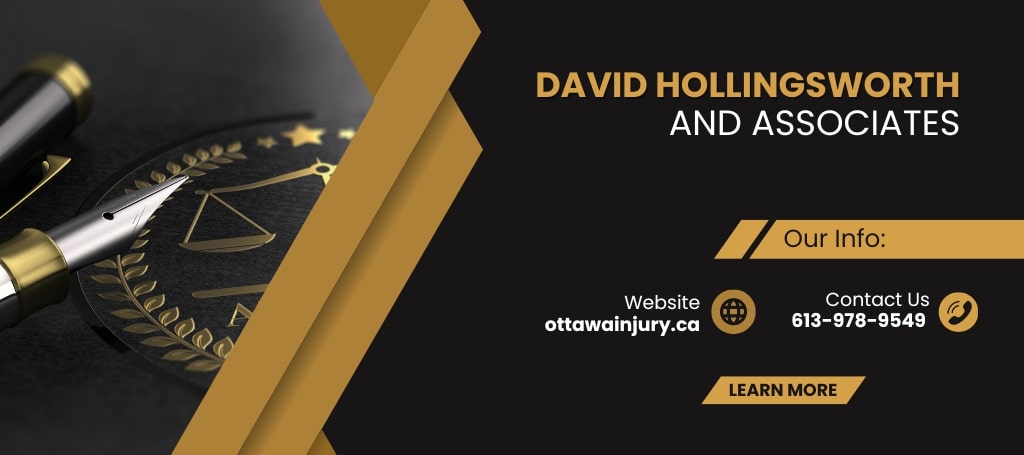 | | |
| --- | --- |
| SERVICES | Accident Benefits Insurance Claims, Assaults & Sexual Assault, Car Accidents, Disability Claims, Defective, Dangerous, and Faulty Products, Slip and Fall Accidents, Workplace Injury |
| WEBSITE | https://ottawainjury.ca/ |
| ADDRESS | 176 Bronson Ave, Ottawa, ON K1R 6H4, Canada |
| CONTACT DETAILS | Phone: +1 613 978-9549 |
| OPERATING HOURS | Mondays to Sundays: 8:30 AM – 9:00 PM |
David Hollingsworth and Associates is another law firm to consider for insurance claims and legal assistance for personal injury. They currently have five well-respected and experienced lawyers specializing in personal injury.
This team of lawyers specifically focuses on spinal cord injuries, brain and head injuries, catastrophic injury, and orthopaedic or broken bones injury, among many others.
Their team also has an accident benefit specialist whose expertise is in insurance claims, providing legal advice to clients on what they rightfully deserve depending on their coverages.
What makes them one of the most relied upon firms for insurance claims and personal injury is that they give free advice for the consultation. They advance the expenses of their clients, which means no out of pocket expenses.
The lawyers can also travel to where their clients are most comfortable meeting to discuss with them what options are best for them.
They have helped thousands of people in the community with injury and accident cases and have successfully settled said cases without going to court.
Another important benefit of going to this firm is that most of their lawyers are multilingual, which is ideal for anyone who may find language to be a barrier for a legal consultation.
No upfront costs
Multilingual lawyers
Lawyers can meet anywhere
Available for evening and weekend appointments
Incredibly high success rate
Free consultations
No fee until the client wins
Only 1 available accident benefit specialist
Relatively smaller firm
Customer Reviews
A review from Jihane BG states their experience with David Hollingsworth and Associates:
"I contacted this firm regarding a complicated and unique personal injury case. Denis was responsive, professional, warm, and caring. Although this firm wasn't able to help me (because my accident happened in another province), Denis provided me with a prompt response, support, and referral to a lawyer who can assist me. I can't thank you enough for your kindness and help, and I wish my case was different so I can have this firm represent me. Thank you Denis!"
Another review from Leonid Dolayev via Google reads:
"The entire experience and the end result were above expectations. As someone who has had no prior experience of any form of litigation I had many concerns and uncertainties about the process. David and David's team were patient and professional on navigating the case as well as addressing my concerns. As I was warned by David, the process took a fair amount of time, with long periods without any progress. For someone who has no experience in such matters this was strange and frustrating. However, in retrospect, I can now say that the team knew what they were doing very well and were fully deserving of my trust. I would definitely recommend David Holligsworth services to friends and coworkers, and already have."
3. MG Law Personal Injury Lawyers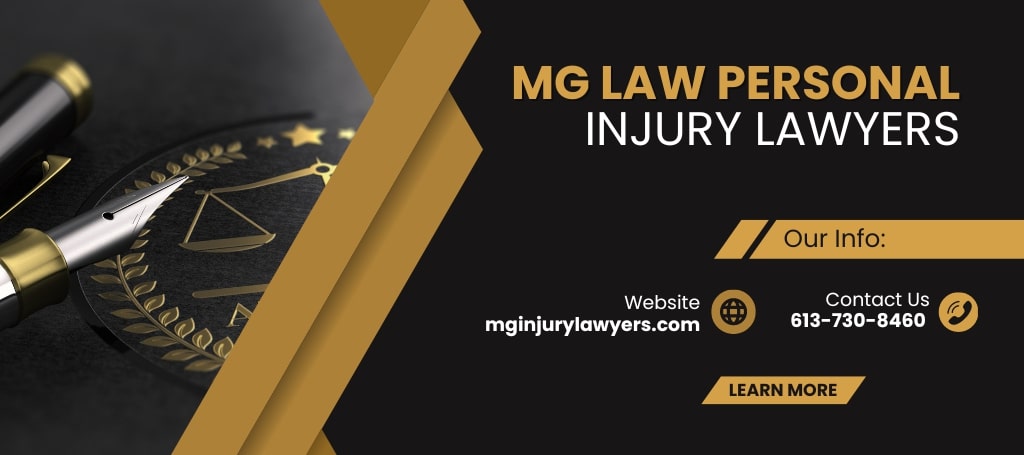 | | |
| --- | --- |
| SERVICES | Disability Claims Insurance Disputes, Car Accidents, Public Transit Accidents, Pedestrian Accidents, Brain Injury and Concussion Accidents, Slip and Fall Accidents, Swimming Pool Accidents, Spinal Cord Injury Accidents, Catastrophic Injury |
| WEBSITE | https://mginjurylawyers.com/ |
| ADDRESS | 1676 Bank St, Ottawa, ON K1V 7Y6, Canada |
| CONTACT DETAILS | Phone: +1 613 730-8460 |
| OPERATING HOURS | Mondays to Fridays: 9:00 AM – 5:00 PM |
MG Law has over a decade of experience serving clients with insurance claims and other legal issues in Ottawa. Ever since 2009, their lawyers have been helping accident victims and their families who have experienced serious personal injuries.
Their lawyers have experienced hundreds of cases and are well aware of the difficult life-changing consequences people can go through. This is what motivated them to help get all their clients the compensation they deserve.
Often, insurance companies will deal with and treat lawyers much differently than they do the average consumer. MG Law understands this and can help you tip the scales in their clients' favour.
Their team of legal professionals represent their clients' best interests in insurance disputes, making recommendations on how to best proceed. They can also give a free review of the case for those looking for legal guidance.
Another benefit that makes them one of the best and sought after law firms is their team of multilingual lawyers who can speak English, French, Russian, and Arabic. This ability is a plus in helping the most clients at one of the most difficult moments of their lives.
Free consultation
Multilingual lawyers
Extensive range of personal injury services
Incredibly high success rate
Easy booking process
Closed during the weekends
Office is in downtown Ottawa and can be inaccessible to some
Customer Reviews
A review from Medea C reads:
"I had the greatest experience with MG law. They understood my situation and gave me the support I needed during a difficult time. MG law is a firm that has the highest level of professionalism. They do not give up on you. They made sure I can communicate in Russian since I don't speak English well. I don't know what would have happened to me if I did not find out about Miryam and the wonderful team at the firm. I will only recommend MG law to anyone who is in need of help."
Another review from Ron Shafer says:
"After having lawyers who seemed to be working for the insurance company instead of working for me, I switched to MG Law. What a difference! Besides being very professional, MG Law took an interest in me and my situation. I would recommend them to everyone."
4. Samfiru Tumarkin LLP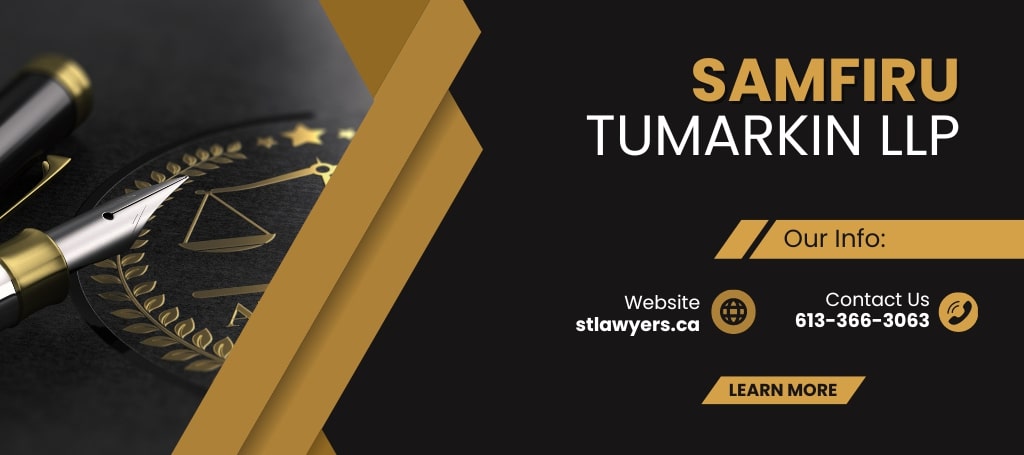 | | |
| --- | --- |
| SERVICES | Personal Injury matters related to motor vehicle accidents, bicycle accidents, slip and falls, pedestrian accidents, spinal cord injuries, brain injuries, and wrongful death |
| WEBSITE | https://stlawyers.ca/ |
| ADDRESS | 275 Bank St #402, Ottawa, ON K2P 2L6, Canada |
| CONTACT DETAILS | Phone: +1 613 366-3063 |
| OPERATING HOURS | Mondays to Fridays: 9:00 AM – 5:00 PM |
Samfiru Tumarkin LLP is also one of Canada's most experienced and trusted employment, labour and disability law firms. Previous clients have attested to their years of experience and success in the courtroom and at the negotiating table.
Their law firm can assist with any personal injury matters related to motor vehicle accidents, bicycle accidents, slip and falls, pedestrian accidents, spinal cord injuries, brain injuries, and wrongful death.
For clients whose legitimate long-term disability claim has been denied or cut off by the insurance company, their team of lawyers can provide legal advice on possible options to get the compensation the client deserves.
Some insurance companies will use several tactics to deny disability claims and force their clients to walk away from money that they are owed. Some insurance companies also often deny claims for people suffering from an invisible illness.
Samfiru Tumarkin's team of lawyers have been defending thousands of clients' enforceable rights whenever this would happen. Their collective experiences have made them one of the best law firms for insurance claims.
Aside from Ottawa, this firm has also served clients across British Columbia and Alberta.
Free consultation
Bilingual lawyers
Easy booking process
Available in other parts of Ontario, British Columbia, and Alberta
Closed during the weekends
Relatively smaller firm
Customer Reviews
A review from Kay MacQuarrie says:
"During a very stressful time, I want to thank Samara Belitzky for taking the time to listen to my situation and for the understanding and support she offered. The recommendations she provided were honest, detailed and helpful in allowing me to make informed decisions. I am completely happy and satisfied with the results she negotiated for on my behalf. She has my gratitude for taking a daunting task and turning it around. I would 100% recommend her and her team."
Another review from Jeannie Nguyen reads:
"Alex took on my case and was able to get a fair resolution in just over a month. He took the time to answer my questions and always offered to hop on a call if I needed to chat through anything. Even though Alex is the managing partner of the Ottawa office (who I'd expect to be very busy), I always felt I could count on him or his assistant, Sajeela, to get back to me in a timely fashion. I really appreciated Alex's direct approach (he balances that with a great bedside manner) and knew I could trust his legal advice (he's obviously very knowledgeable). It was truly a great experience working with Alex and I 100% recommend him and his team!"
5. Howard Yegendorf & Associates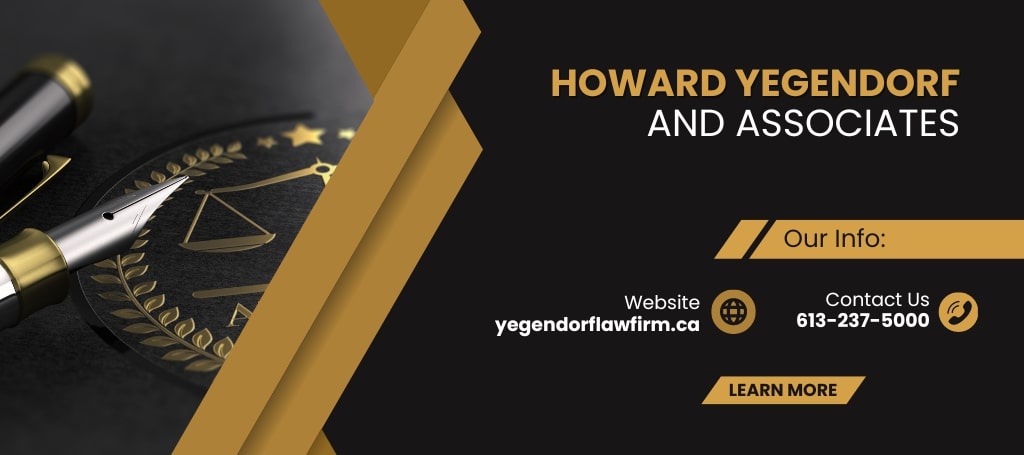 | | |
| --- | --- |
| SERVICES | Motor Vehicle Accidents, Catastrophic Injuries, Slip & Fall Accidents, Insurance Disputes, Long Term Disability Insurance |
| WEBSITE | https://www.yegendorflawfirm.ca/ |
| ADDRESS | 100 Queen St #700, Ottawa, ON K1P 1J9, Canada |
| CONTACT DETAILS | Phone: +1 613 237-5000 |
| OPERATING HOURS | Mondays to Fridays: 9:00 AM – 5:00 PM |
The law firm of Howard Yegendorf & Associates consists of a well-respected team of Ottawa personal injury lawyers and support staff who provide comprehensive legal services to the most complex of personal injury cases, typically involving brain injuries, spinal injuries and wrongful death.
Their team has helped hundreds of clients for over three decades, representing people who deserve fair and equitable financial compensation after receiving critical injuries through no fault of their own.
The firm has helped people and families resolve disputes and settle civil lawsuits with insurance companies, medium corporations, public institutions as well as at-fault individuals.
The firm has also acted on behalf of people who have been seriously injured at homes and on roads and highways. Motor vehicle and car accidents are specifically stressful since it involves a lot of complexities.
These include securing a replacement vehicle, analyzing police reports, fighting the insurance company for funding for appropriate rehabilitation, as well as dealing with the trauma of getting back into a vehicle.
Howard Yegendorf & Associates has an experienced car accident lawyer who can help clients handle everything involved in dealing with a motor vehicle accident, pursuing both accident benefits and insurance compensation, so clients can focus on healing.
Free consultation
Bilingual lawyers
Easy booking process
Expertise in personal injury involving car accidents
Decades of combined professional legal experience
Closed during the weekends
Relatively smaller firm
Customer Reviews
A review from Keanu Stoltenberg via Google says:
With personal injury lawyers I feel like its really important to make sure you work with the best. I had a work related accident and was bed ridden for the better part of a year. I talked to a number of lawyers but none of them took the time to sit down with me and explain the whole process and explain how they could help. I saw Howards ad online and thought I would give them a call and I'm so glad I did. These people helped me from being left without an income for half a year. I really can't say thank you enough.
Virginia Carter also left a review saying:
"Talked to a number of personal injury lawyers but Najma and Howard were the only ones that seemed to genuinely care. After our initial meeting I pretty much knew I was going to go with them. These are great people to work with and they are fantastic lawyers."
6. SG Injury Law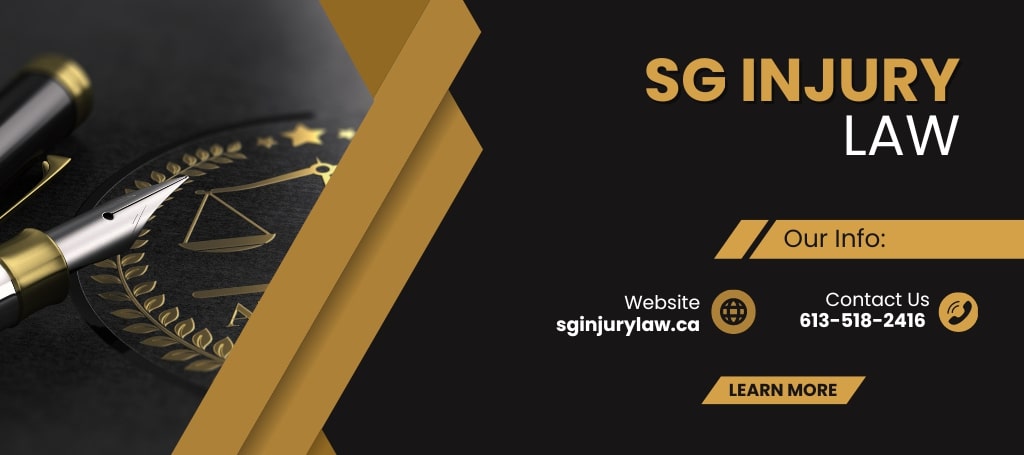 SG Injury Law is a law firm that provides clients with various fields of expertise when it comes to personal injury practices and long-term disability. With their office at a convenient location and free parking, they are then able to accommodate cases in Ottawa, Kingston, Pembroke, and Brockville.
We find their diverse network of professionals aside from lawyers to be very appropriate wherein they could easily ask for an expert's advice to help a certain client's case which could prove to be very efficient for the nature of the cases that they handle.
Though there aren't straightforward estimates and rates of their products, they do offer a free consultation for a client's case wherein it will be given the standard confidential case evaluation with no obligation.
Another thing we find commendable is their personable approach toward handling the cases of their clients wherein they combine expertise, professionalism, and accommodation so that clients can get the tailored service that they need.
Overall, with their diverse experience with insurance companies, they know the ins and outs of how each operates and are good assets for clients to successfully appeal denied claims in a smooth and less stressful procedure.
Diverse network of connections in the industry
Wide area of service
Free consultation
Operating hours unavailable
Customer Reviews
Here are some reviews from their clients:
"The experience with Mr. Sean Giovannetti was wonderful and has made the experience go very smoothly. Throughout the entire process, Sean was a wonderful person and lawyer. I have to say that I am happy with their promptness each and every time we communicated, and I appreciate all their advice in regards to my claim. Thanks to his relentless work and dedication, my case was successfully closed. I do not hesitate to recommend his services to anyone." – Bryan E. Holder
"Kathleen is a striving new lawyer with the SG law firm. She is accommodating and works diligently to get all of your needs. The firm also has a gem of a legal assistant, Amber. If you ever had an injury that doesn't heal in a timely efficient manner you should definitely get in contact with this firm." – Joel Ricard
FAQs on Insurance Lawyers
---
And that ends our list of the best insurance lawyers in Ottawa. If you've had the opportunity to work with any of the lawyers listed here, we'd love to hear about your experience!
If you know of other law firms that offer excellent legal services regarding insurance law, let us know by sending us a message and we'll see if they make the cut in our list.
For matters regarding employment, you can read our top recommendations for the best employment law firms in Ottawa.