5 Best Indoor Playgrounds in Ottawa
Children are bundles of energy and joy. They need activities and places where they can release this energy.
Knowing the best indoor playgrounds in Ottawa could give you an edge in planning your kids' activities. You don't have to worry about the weather and focus on how you can let your children have a new experience.
You might be wondering how much you need to prepare to have a fun time in such places. Check out the next section for some ideas.
How much do indoor playgrounds charge in Ottawa?
The rates of indoor playgrounds depend on the activities. Some activities require more materials and equipment which could affect the fees that one has to pay.
Some indoor playgrounds charge by the hour. They usually have discounted prices for longer hours.
Some indoor playgrounds have group rates. This is for larger groups of children celebrating special occasions such as birthdays.
The table below shows the price range of the entries that we have included in our list.
| INDOOR PLAYGROUND | ESTIMATED PRICE RANGE |
| --- | --- |
| Fun Haven | $10 to $250 |
| Cosmic Adventures | $20 to $25 |
| Starr Gymnastics | $138 to $346 / 12 sessions |
| Bubble Sea Adventures | $7 to $22 |
| Flying Squirrel | |
|  Trampoline Park | $10 to $40 |
|  Adventure Playground | $20 to $30 |
The Best Indoor Playgrounds in Ottawa
Now that we have settled the estimated rates of the best indoor playgrounds in Ottawa, you can now look at other factors for you to see if the place you have in mind is the perfect fit.
Here are some things you can consider when picking an indoor wonderland for your kids. These are also the same criteria we used to come up with today's list.
1. Fun Haven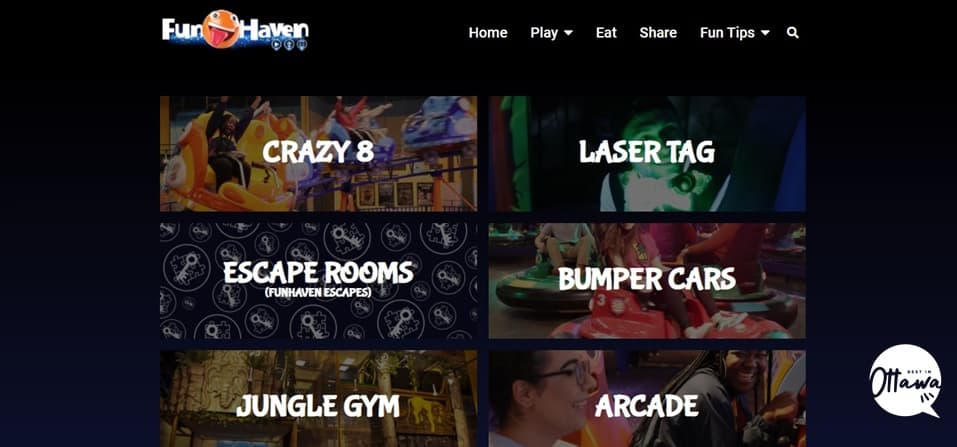 Test
Info
SERVICES
Crazy 8, Laser Tag, escape rooms, bumper cars, jungle gym, arcade, parties
WEBSITE
https://www.funhaven.com/
ADDRESS
1050 Baxter Road Ottawa, Ontario, Canada K2C 3P1
CONTACT DETAILS
(613) 828-4386
BUSINESS HOURS
Monday to Thursday 2 PM to 10 PM

Friday 11 AM to 11 PM

Saturday 10 AM to 11 PM

Sunday 10 AM to 9 PM
| | |
| --- | --- |
| Criteria | Ratings |
| Activities | ★★★★✩ (4/5) |
| Diversity | ★★★★★ (5/5) |
| Age Limit | ★★★★✩ (4//5) |
| Reasonable Price Point | ★★★✩✩ (3/5) |
| Facilities | ★★★★✩ (4/5) |
| Customer Service | ★★★✩✩ (3/5) |
| Friendliness | ★★★✩✩ (3/5) |
| Helpfulness | ★★★✩✩ (3/5) |
Funhaven has been in operation since December 2011. At present they offer six attractions/activities for their customers to enjoy.
We like the fact that they have a mixture of activities to stimulate the mind and engage the body. However, the said activities are not that ideal if you have a kid below 3 years old in tow.
It's also good news that you wouldn't be hassled with reservations because Funhaven accepts walk-ins. On this same note, though, you must be ready for long queues and for the place to get crowded sometimes.
Funhaven charges on a credit system which according to some clients we have talked with can translate to very steep prices. For example, their bumper car ride costs around $9 (35 credits) and you only get to ride for a few minutes.
Somehow, they compensate these steep prices with promotional discounts like half-priced plays every Tuesday from 5 PM to closing hours. You can check out their website for more information about these promotions for different days.
Students can also enjoy 10% off from Sundays to Wednesdays. They only need to show their ID to avail themselves of this discounted price.
We appreciate that Funhaven devised its own child-finding system called Code Adam. In rare cases where it's needed, this system has been effective in finding the missing child.
Unfortunately, aside from steep prices, there are more irate complaints about other rides and arcade games not working properly. Their customer service also needs some improvement because some clients shared with us some unimpressive encounters with the staff.
Has many activities to choose from
Offers promotions
Accepts walk-ins
Has a child-finding system
Offers a discount for students
Prices on the steep side
Place can get busy/crowded
Nothing much to offer for 3 years and below
Client complaints on customer service and facilities
Customer Reviews
Parents can relax while kids enjoy
"Went in to visit them with two young kids, (ages 9 and 7). Paid once and used Jungle Gym all day. Kids loved New Laser tag. In between Jungle Gym and Laser tag…. I barely saw them. Got to relax and enjoy some me time. Shout out to Larisa for her outstanding help." — Natalia Petrenko
Also for the kids at heart
"Such a blast! Felt like a kid again! Enough things in there to keep kids entertained, and the adults too! Loved laser tag and the Dark Room." — Brandon Bourgoin
2. Cosmic Adventures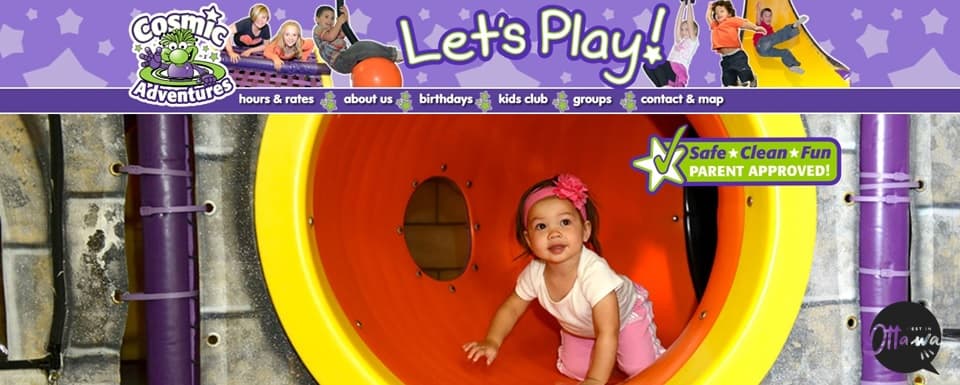 | Test | Info |
| --- | --- |
| SERVICES | Indoor playground, birthday party packages, school group adventures, Starcade, Galaxy Grill |
| WEBSITE | https://www.cosmicadventures.ca/ |
| ADDRESS | 1373 Ogilvie Rd. Ottawa, On K1J 7P5 |
| CONTACT DETAILS | 613-742-8989 |
| BUSINESS HOURS | Monday to Sunday 9 AM to 8:30 PM |
| | |
| --- | --- |
| Criteria | Ratings |
| Activities | ★★★★✩ (4/5) |
| Diversity | ★★★★✩ (4/5) |
| Age Limit | ★★★★★ (5/5) |
| Reasonable Price Point | ★★★★✩ (5/5) |
| Facilities | ★★★★★ (5/5) |
| Customer Service | ★★★★✩ (4/5) |
| Friendliness | ★★★★✩ (4/5) |
| Helpfulness | ★★★★✩ (4/5) |
Cosmic Adventures has been in the industry for more than two decades. As such, some remarkable points have let them win the hearts of their clientele.
We love that there are enough activities to do for all age groups including babies and toddlers. This age group even has two designated areas for them alone so they would be able to explore and play without being hurt.
Cosmic's play structures include giant slides, tunnels, climbing walls, jungle gyms, only to name a few. There are also wide spaces just for kids, and adults, to run around.
Speaking of adults, they can play with their children with ease because the structures are tall enough to fit the full height of the child's companions. It's a relief to know that you don't need to experience back pains from bending over.
There's even more good news for parents of older children who can play unsupervised. Cosmic has a relaxing room for parents called Silent Cone Room (just the name can give any parent a sigh of relief) where they can work, rest, or chat with each other.
We also like the fact that Cosmic does not charge for children below 1 year of age. However, their accompanying adult needs to pay.
One major downside of playing in Cosmic is that it's a bit pricey for single visits, especially if you have multiple children in tow. However, this can be easily solved by availing of their annual membership (if you're a local) which gives the member plus two adults unlimited access all year round to the indoor playground.
Another letdown is some complaints we heard from unsatisfied customers. Some have negative feedback on how the staff interacts with guests, while others express dissatisfaction with the food being served in Galaxy Grill (the restaurant inside Cosmic).
Free for children below 1 year old
Offers annual membership
Has designated areas for younger kids
Play structures can fit adults
Has a quiet space for parents (Silent Cone Room)
Pricey for single visits
Some complaints on customer service and food quality
Customer Reviews
Toddler dream place
" Very clean. My kid always has lots of fun and would probably live there if she could. There are toddler areas so the little ones can have fun without being run over by the bigger kids." —Sabrina D'Arcy
Safe place to burn energy
"I bring my grandchildren here to wear them out and they have a great time doing it. It is secure enough I don't need to keep my eyes on the youngest continuously and I don't worry. I highly recommend it." — Gail Arsenault
3. Starr Gymnastics & Parkour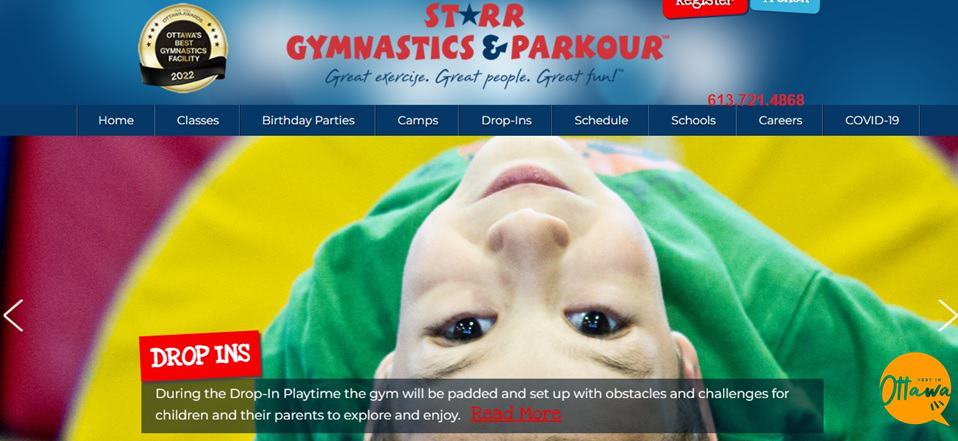 Test
Info
SERVICES
Classes, birthday parties, drop-ins, camps
WEBSITE
https://www.starrgymnastics.ca/index.php
ADDRESS
2766 Lancaster Rd, Ottawa, ON K1B 4S4, Canada
CONTACT DETAILS
(613) 721-4868
BUSINESS HOURS
Monday, Tuesday, Thursday 9 AM to 9 PM

Wednesday 4 PM to 9 PM

Friday 9 AM to 12:30 PM
| | |
| --- | --- |
| Criteria | Ratings |
| Activities | ★★★★✩ (4/5) |
| Diversity | ★★★★✩ (4/5) |
| Age Limit | ★★★★★ (5/5) |
| Reasonable Price Point | ★★★★★ (5/5) |
| Facilities | ★★★★★ (5/5) |
| Customer Service | ★★★★★ (5/5) |
| Friendliness | ★★★★★ (5/5) |
| Helpfulness | ★★★★★ (5/5) |
Starr Gymnastics & Parkour has three locations. The one in Lancaster Road is frequented by Ottawa locals.
If you're looking for more structured activities for your kids, this place is an ideal choice. They offer classes of 12 sessions each for different age groups.
What we love about Starr Gymnastics is how well-thought-of the activities are for each age group. What they're expected to do is age-appropriate and would both challenge them and give them enjoyment.
Children from below a year old to teens 15 years of age would find many things to occupy their time here. Imagine the youngest ones enjoying a large space to crawl, the middle-aged kids learning to do somersaults and cartwheels, and the teens attempting ninja stunts and some obstacle courses.
The trained instructors are always ready to give a hand to their members and encourage them. The sessions are also great bonding experiences for parents and children.
Worried that you already missed some of the sessions? There's no cause for panic because they have ongoing registration and their fees are prorated, so it doesn't matter if your child comes in a few sessions behind.
One major downside is that their sessions only run for around 45 to 60 minutes. Some kids and parents may prefer longer or unlimited time (as offered by other indoor playgrounds) to burn the excess energy of children.
If you're undecided about enrolling in the sessions, there's a drop-in playtime option where you can let your child play for an hour in the facilities. However, this is only offered for children 5 years old and younger.
The good news is that they do offer birthday packages which include an hour of gymnastic adventure and another hour in the party room. This is also a unique and fun way to celebrate your child's birthday.
Offers prorated fees
Accepts all age groups
Ongoing registration
Offers age-appropriate activities
Operates in 3 locations
Drop-in playtime is only for 5 years old and below
45 to 60 minutes sessions only
Customer Reviews
My toddler can't get enough
"Today we went for our first drop-in. Our toddler (20 mo) had so much fun we are now signed up for the entire fall season!" —Jody-Anne Cargill
Worthy of a recommendation
We've participated in baby drop-in classes and the toddler gymnastics classes at both the Orleans and Lancaster locations. Orleans is more bright and spacious, however, the staff are friendly and fun at all locations! My babies have had a lot of fun at Starr. They have amazing customer service. Can't recommend them enough!" —Emily MacIsaac
4. Bubble Sea Adventures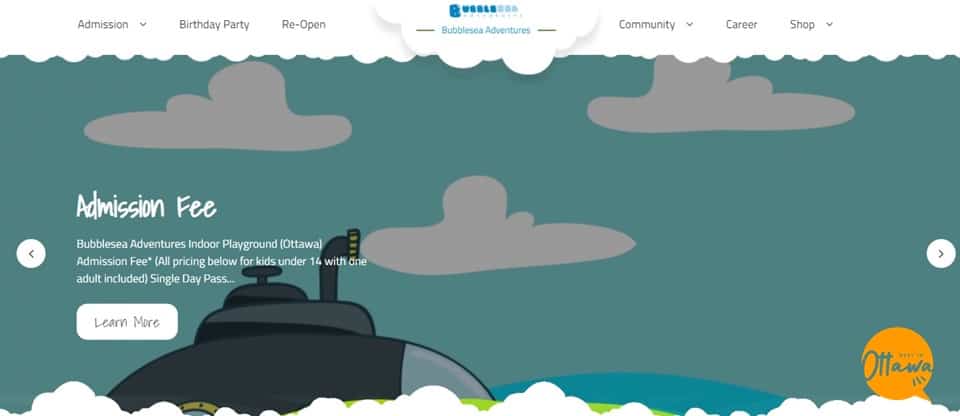 Test
Info
SERVICES
Indoor playground, birthday party
WEBSITE
https://bubbleseaadventures.com/
ADDRESS
18A-1547 Merivale Road, Ottawa
CONTACT DETAILS
613-225-5532
BUSINESS HOURS
Monday to Saturday 10 AM to 7:30 PM

Sunday / Holiday 10 AM to 6:30 PM
| | |
| --- | --- |
| Criteria | Ratings |
| Activities | ★★★★✩ (4/5) |
| Diversity | ★★★★✩ (4/5) |
| Age Limit | ★★★★★ (5/5) |
| Reasonable Price Point | ★★★★★ (5/5) |
| Facilities | ★★★★✩ (4/5) |
| Customer Service | ★★★★✩ (4/5) |
| Friendliness | ★★★★✩ (4/5) |
| Helpfulness | ★★★★✩ (4/5) |
Bubble Sea Adventures' edge over its competitors mainly lies in its reasonable price point. This criterion is very important for parents who have more than one child or whose child is still very young to make good use of most structures.
We appreciate the fact that single-visit fees don't burn holes in the parents' pockets. It's also good news that one adult is free of charge in accompanying their child inside the facility.
If you want to save some more, you can go for their annual membership fee which gives your child unlimited access to Bubble Sea all year round. There's also a discounted membership fee for up to three siblings if registered on the same day.
Another perk of visiting Bubble Sea Adventures is that children below a year old are free of charge, as long as their older sibling is paid.
It's not to say that Bubble Sea has only a reasonable price point to boast about. Their structures such as slides, giant ball pit, and obstacles are a big hit with children of all ages.
They also have a separate play area for the younger kids to help them enjoy their time here better. This also ensures that they wouldn't get hurt by playing with the bigger children.
In our opinion, though, their website could use some updating. There is little information offered here on what activities can be enjoyed at Bubble Sea Adventures.
Most parents would want to gather as many details as they can before trying out a certain place. It could discourage parents and they might look elsewhere if they can't find some vital information they need.
Also, it's quite alarming that some guests we have talked to voiced their concerns about a lack of supervision from staff. Some also complained of structures that need to be updated because they feel unsafe.
Indoor playgrounds must put safety on top of their priorities. This includes having trained people to spot potential dangers and sturdy structures that can withstand even the most active kids.
Offers annual membership
Has sibling membership discounts
Competitive prices
One adult is free along with a paying child
Website needs more information
Some complaints on lack of supervision and outdated structures
Customer Review
The cleanliness is commendable
"Got to try out Bubblesea Adventure for a family member's birthday party. Everything was clean, and staff stayed on top of their scheduled cleaning protocols. The play park was big enough for adults to join, a small area for infants and there were lots of obstacles for kids of all ages." —Natalie Nagasar
Age-appropriate activities
"Love this place! The ball pit was a big hit with my daughter. Impressive variety of toys available for kids of all ages. Liked too how they had multiple areas that were for kids 4 and under. The whole area was nice and clean with a great staff. Love the extra safety measures to ensure the kids go home with the right parents." -Christina MacDonald
5. Flying Squirrel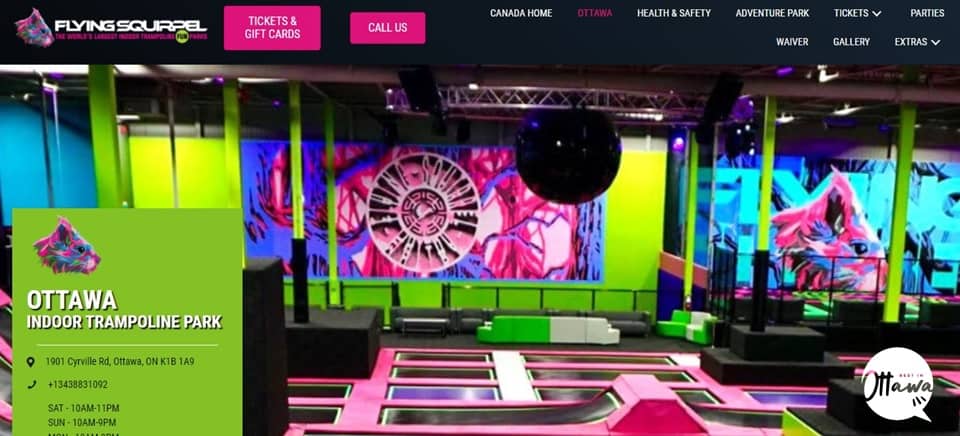 Test
Info
SERVICES
Trampoline park, adventure playground, ropes course, climbing walls, parties
WEBSITE
https://flyingsquirrelsports.ca/ottawa-ontario/
ADDRESS
1901 Cyrville Rd, Ottawa, ON K1B 1A9
CONTACT DETAILS
+13438831092
BUSINESS HOURS
Sunday, Monday 10 AM to 9 PM

Tuesday to Thursday 2 PM to 9 PM

Friday 2 PM to 11 PM

Saturday 10 AM to 11 PM
| | |
| --- | --- |
| Criteria | Ratings |
| Activities | ★★★★★ (5/5) |
| Diversity | ★★★★★ (5/5) |
| Age Limit | ★★★★★ (5/5) |
| Reasonable Price Point | ★★★★★ (5/5) |
| Facilities | ★★★★✩ (4/5) |
| Customer Service | ★★★★✩ (4/5) |
| Friendliness | ★★★★✩ (4/5) |
| Helpfulness | ★★★★✩ (4/5) |
Flying Squirrel is an ideal place for children who love to jump, climb, and play. They have a trampoline park, climbing towers, foam pits, rope swing, ropes course, dodgeball courts, only to name a few.
You don't have to worry about taking your little ones here as they also have Kiddie Courts and Toddler Zones. Children 6 years old and below can enjoy their version of trampoline park and adventure playground without the fear of getting hurt.
We love the fact that parents can look after their child in the trampoline area yet are not expected to jump with them. They are given the parent wristband for free so they can gain entry to this area and supervise their child's jumping activities.
Another thing that we appreciate is their discounts for military (past and present), first responders (EMT, doctors, firefighters). These people only need to show their ID and they (and their immediate family) can enjoy a 50% discount on their jump times.
Are you a college student feeling the pressures of student life? It's good news for you that Flying Squirrel offers a 20% discount for you on weekdays so you can let go of some steam.
Flying Squirrel also shows inclusivity to those with special needs. Children with special needs enjoy a discounted price of $8 per hour jump time.
Another way to save up at Flying Squirrel is to avail of the toddler pass or family pass. Both are 10-hour punch cards that can be used any day at any time.
The toddler pass is for children 6 years and below. The family pass can be shared by you and your immediate family.
The only thing that we noticed with the discounts and special passes is that they only apply to the trampoline park. We hope that Flying Squirrel can devise some discounts and promotions for their adventure park.
Afraid that you may lose some valuables while jumping or getting active on Flying Squirrel's structures? You can rent a locker to keep your things safe or store them in cubbies for free (at your own risk).
Some things that Flying Squirrel should work on are cleanliness (especially of their washrooms) and the long queues and waiting time. Other guests that we have talked to are also not impressed with the customer service that they received.
Offers special needs rate, military, first responders, and student discounts
Offers family pass and toddler pass
Has separate area for smaller kids
Has lockers and storage cubbies
Offers "parent wristband" for free
Has many activities to choose from
Some complaints on cleanliness, waiting time, and customer service
Place can get busy/ crowded
Discounts mostly apply to trampoline parks only
Customer Review
Huge and fun areas to get active
"Wow! It was amazing! Very nice place to spend some winter time with your kids. There is a food court and huge area for jumping. Also, they have a fun area for smaller kids and climbing wall." —Libi Mirkin
Helpful and cheerful staff
"Great place for kids!! Lots of things to do and you can just experience most things with them. Nice cool obstacle courses and great trampolines. The staff is helpful and cheerful." —Saman Tayari
FAQs about Indoor Playgrounds in Ottawa
---
The best indoor playgrounds in Ottawa will help your child gather fun memories of their childhood. These places could also be their go-to place to burn excess energy, socialize, and even celebrate special occasions.
Did we miss a premier indoor playground in Ottawa? Help them make it to our list by sending us your recommendation.
Aside from indoor playgrounds, there are many ways to entertain a child and help them see the world. These articles could help you plan some interesting itineraries for your kid's day out.