The 5 Best Ice Cream Shops in Ottawa
Ice cream is one of those desserts for all seasons. Winter, spring, summer, or fall—it's the ubiquitous sweet treat because it's creamy, versatile, and brings out the inner child in all of us.
What makes it even better is we're living in a time when ice cream flavours and textures aren't confined to merely vanilla or chocolate. Today, even if you're vegan and enjoy the most exotic of flavours (like rhubarb), you can have a scoop of it without any worry of shortage.
So with that, we're going to tackle the best ice cream offerings in Ottawa. We've considered several factors, including prices and flavours.
How Much Does Ice Cream Cost in Ottawa?
The great thing about ice cream is that it's relatively affordable compared to other desserts. And it's found in almost every corner of the world, too.
But what sets ice cream in Ottawa apart from other frozen desserts in the world is that it's the result of a melting pot of cultures. Here, you can get not only traditional Canadian or American-type ice cream but also gelato and flavours using spices and ingredients from other countries.
That being said, the cost of ice cream would depend a lot on which shop is selling it. The ingredients, packaging, flavours, form, and other factors could also affect its price tag.
Today, we're listing some of the best ice cream Ottawa has to offer. They are served up in different kinds like gelato, bars, and soft serve, and in a variety of sizes and serving styles.
To compare prices, we're listing some of the shops' bestsellers and signature ice cream offerings. Hopefully, this will give you an idea of the variety and costs available to you in the area.
ICE CREAM SHOP
PRICE
The Merry Dairy
Per pint $9

Ice cream sandwich $4

Float kit $15

Ice cream cake $35 up
Stella Luna
Gelato half a litre $17.99 – $18.99

Gelato cake $42 up
Moo Shu Ice Cream and Kitchen
Per pint $12

Dipped bar $5.30
Mantovani 1946
Per cup $6.99

Per cone $6.40
Carp Custom Creamery
Ice cream cake $30

Single litre tub $12

Double litre tubs $265

Triple litre tubs $360

Ice cream tacos (4-pack) $16.95
Holmespun Ice Cream
Ice cream sandwiches $4.50

Ice cream cannolis $4.50

Ice cream cupcakes $3.50

Ice cream cakes Starting from $30

Ice cream doughnuts $5

Litres $12
The table above illustrates the range of offerings and prices of some of the most popular ice cream offerings in Ottawa. Some are affordable while others understandably have a higher price tag, which we'll get to explore in a bit.
The Best Ice Cream Stores in Ottawa
Now that we've got you salivating for a delectable scoop or pint of ice cream, it's time to do some serious research. Let's visit popular ice cream shops in Ottawa to see what makes them uniquely delicious.
1. The Merry Dairy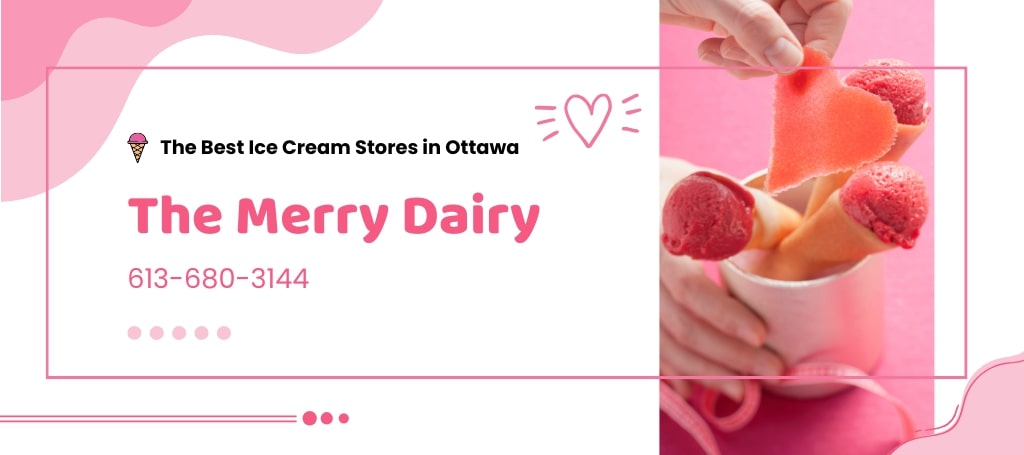 SERVICES
Online ice cream shop, window takeaway, pickup, delivery, drive-thru, catering, gift cards, gift shop, custom cake, private events booking, ice cream truck
ADDRESS
102 Fairmont Ave, Ottawa, ON K1Y 1X6
CONTACT NUMBER
613-680-3144


[email protected]




[email protected]

WEBSITE
https://themerrydairy.com/
OPERATING HOURS
Online orders
Tuesday to Saturday 3 PM – 8 PM
(drive-thru pickup/walk-up/ bike backdoor pickup)

Wednesday to Saturday 3 PM – 8 PM
(free citywide delivery with a minimum order of $35)

Takeaway window
Tuesday to Sunday 12 noon – 8 PM
The Merry Dairy has delicious ice cream in flavours ranging from classic to refreshingly fruity. And there's good news for non-dairy ice cream fans—most flavours are available in vegan options!
There's an online shop where customers can buy their favourite ice cream flavours by the pint (and maybe a couple of ice cream sandwiches). Ice cream by the scoop is a usual takeaway window offering, but the service has recently been subjected to COVID restrictions.
The Merry Dairy not only has a physical store, but also an ice cream truck delivery. Clients can reserve the truck through the website, and the rates will depend on the Ottawa postal code.
If there's an extra-special occasion coming up, the shop also offers handmade ice cream cakes and rhubarb ginger pies. They can be requested in gluten-free options and other flavours, too.
Free citywide delivery with a $35 minimum order
Gluten-free and vegan options are available
Affordable prices
Ice cream by the scoop is currently unavailable
Some flavours get sold out fast
The shop is closed on Mondays
Customer Reviews
Read about the ice cream experience from some happy customers of The Merry Dairy:
"Quality is always great but what sets "Merry Dairy" apart is service. With a daughter with peanut and tree nut allergies, having a safe spot for a treat is amazingly comforting. The staff is great, and in our new reality of social distancing the online ordering and text ahead pick up is a wonderful service. To Marlene, the owner, thanks for making our daughter's Easter with the ice cream cake. Her brother was impressed too." – SoccergodManU
"Delicious homemade ice cream and vanilla custard. Exceptional quality, friendly service and generous portions. The actual establishment is welcoming, clean and fresh. On hot days a spray fan is set up outside to keep you cool while enjoying your delicious ice cream. My family frequents the Merry Dairy on a regular basis, and we are never disappointed." – Suzanne B.
2. Stella Luna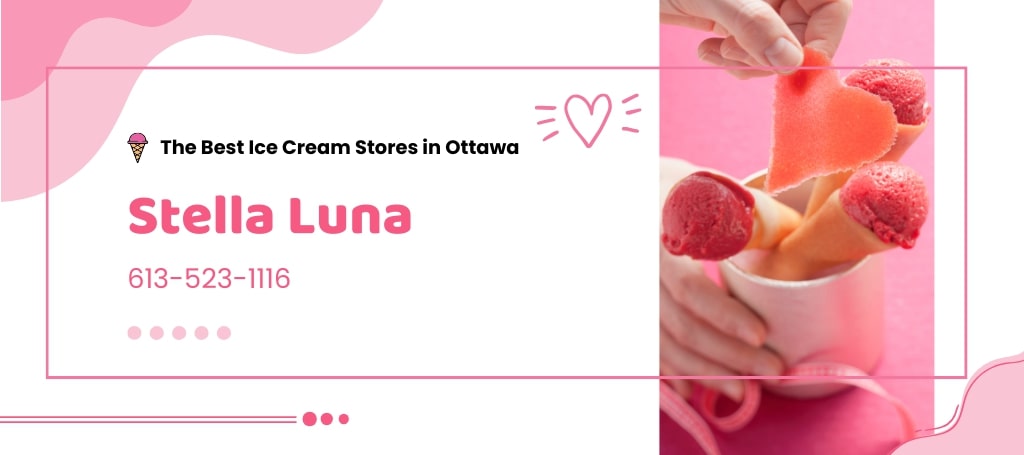 SERVICES
Italian cafė, gelato shop, pastries, coffee, sandwiches, Uber Eats, catering, grocery
ADDRESS
1103 Bank Street Ottawa, K1S 3X4, Canada
CONTACT NUMBER

[email protected]


6135231116
WEBSITE
https://www.slgelato.com/
OPERATING HOURS
Tuesday to Sunday 10 AM – 8 PM
Closed on Statutory Holidays
Stella Luna is not just a gelato place but also a cafė serving authentic Italian savoury meals and coffee. However, its range of artisanal gelato is the primary reason for its popularity outside of Italy.
It has several awards to show for how good its gelato is, in fact. It won the 2016 Top 3 Gelato Shops in America award, as well as the 2017 International Journalist's Choice award.
The gelato is served fresh every single day using locally sourced high-quality ingredients. But the technique employed in gelato-making is a product of intensive studying under the gelato masters of Italy.
This means the Stella Luna gelato and cafė menu changes daily. Orders will have to be made in advance for specialties, but there's also an Uber Eats option for quick delivery of available products.
Gelato and savoury meals made fresh daily
Vegan and fat-free options available
Takeout menu and grocery products available via Uber Eats
No fixed gelato menu
The cafė is closed on Mondays and holidays
Customer Reviews
If you're craving for gelato from Stella Luna, see how past customers liked it:
"This place is amazing: the gelato are all homemade, with natural ingredients and this is clear from the first lick! The owners have travelled and researched a lot before opening this great place. During the summer months, expect to stand in line for a while, especially evening time.
The staff is very friendly. The number of choices: +- 30 unique flavours! Winner of many national and international awards. You will definitely want to come back for more." – Neree Utashi S.
"On point in my opinion. Fast and friendly service with a delicious product to back it up. + 30 degrees today, so the refreshing sorbet options hit the spot. I left feeling like the green apple and black currant- pineapple flavours were the perfect combo for cooling my core temperature. Recommended next time you are strolling among the Glebytes.Cheers!" – Simplethings4me
3. Moo Shu Ice Cream and Kitchen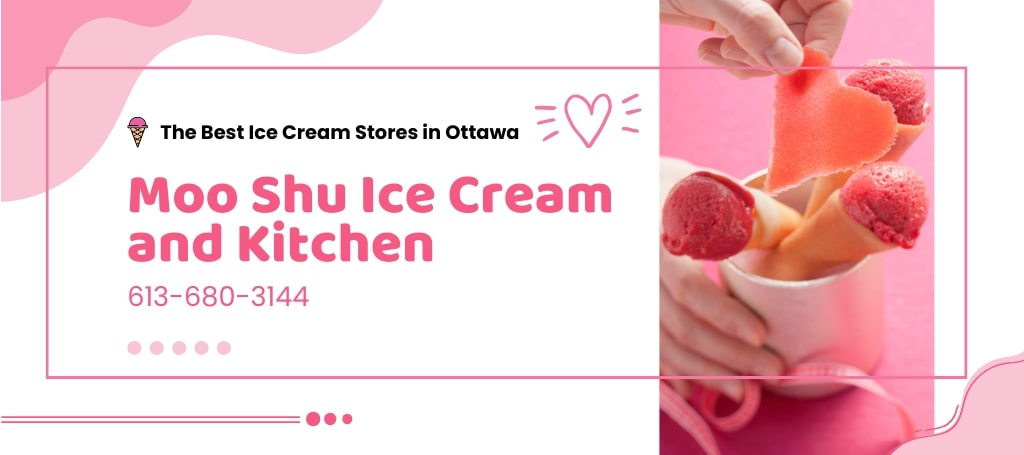 SERVICES
Online ice cream shop, ice cream by the scoop, dumpling menu, frozen dumplings, pre-packaged items, gift cards, merchandise, online food shop
ADDRESS
477 Bank St. Ottawa ON.
CONTACT NUMBER
613-565-1524


[email protected]

WEBSITE
https://www.mooshuicecream.com/
OPERATING HOURS
Thursday to Sunday 12 PM – 6 PM
Closed from Monday to Wednesday
One look at Moo Shu Ice Cream's scooping menu will tell you this is not your usual ice cream fare. Flavours like matcha green tea, Vietnamese coffee, lime leaf and fresh mint, and taro & coconut will give your taste buds a free trip around Asia.
The shop also has the most aesthetic and palate-pleasing dipped bars. The Robin's Egg bar comes with a blue-speckled milk chocolate coating with a salted duck egg custard and condensed vanilla milk interior.
Non-dairy and gluten-free ice cream fans can also partake of these extraordinary flavours. Most of the ice cream pints and all of the dipped bar flavours come in vegan options, as well.
And in case you're craving for Asian food to go with your frozen treats, Moo Shu has got your back. It also sells frozen dumplings, bottled Asian sauces, and even kombucha in its online shop.
Unique Asian-flavoured ice cream offerings
Vegan, vegetarian, and gluten-free options available
Shortened current operating hours
Only pre-packaged and frozen items are currently available
Closed from Monday to Wednesday
Customer Reviews
If you want to try a unique flavour in ice cream, learn what these Moo Shu customers have to say about its products:
"Moo Shu was a nice surprise for us! A little shop offering unique ice cream flavours.
We were told that they make all their ice cream in-house and use available locally sourced ingredients. The fresh waffle cones were great! No seating but we suggest you stop by and try some of their amazing flavours. Pistachio and saffron were pretty yummy!" – Catalin O.
"We are so happy to have discovered this gem! Very unique flavours and great quality. I love that they offer dairy-free flavours. You won't notice a difference!" – Carolyn C.
4. Mantovani 1946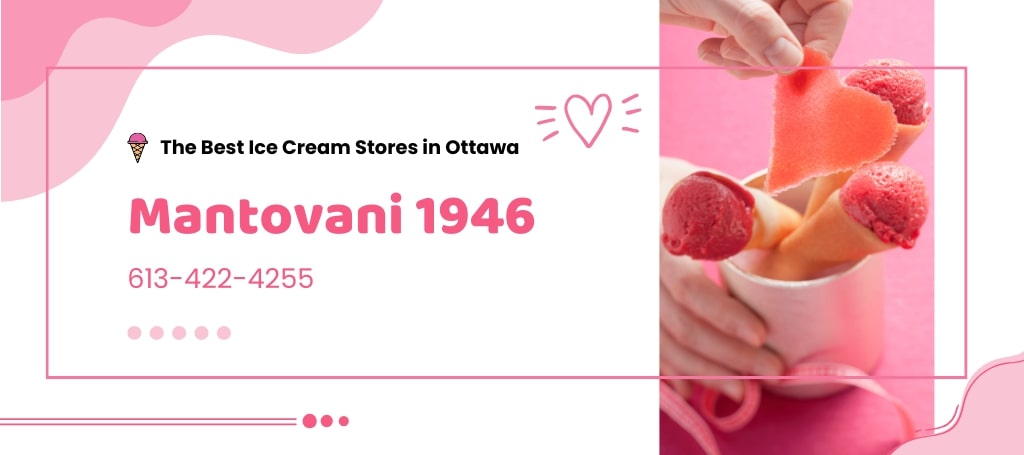 SERVICES
Gelato desserts, artisanal desserts, coffee, pastries, cafe, pre-order menu, cakes, cookies, vegan fare, dairy-free and gluten-free fare
ADDRESS
87 Murray Street Ottawa, Ontario, Canada K1N 5M5
CONTACT NUMBER
613-422-4255


[email protected]

WEBSITE
https://www.mantovani1946.ca/home
OPERATING HOURS
Saturdays 1 PM – 8 PM Sundays 1 PM -7 PM
We've already previously featured a gelato shop in this list of ice cream places in Ottawa. But we firmly believe that a city can never have too many authentic Italian sources for frozen desserts and baked treats.
Mantovani 1946 sounds like a prestigious and classy restaurant because that's exactly what it is. It's the 2018 Top Choice awardee for Gelato Cafė of the Year and has won the 2015 Gelato Festival award in Italy.
The cafė itself is decorated to make customers feel as if they're having dessert in Italy. Most of the items on the menu also come in vegan and diabetic-friendly options.
All raw ingredients are imported from Italy and made into artisanal gelato desserts, coffee, and other beverages. The shop also offers delectable baked goods and pastries for pre-order.
Serves up authentic Italian gelato and savoury meals
Gluten-free and vegan options are available
Fresh ingredients shipped from Italy
Slightly more expensive than other ice cream shops
Shortened operating hours
Currently only open for delivery and takeout
Customer Reviews
Fancy some gelato today? Learn what past Mantovani 1946 customers have to say about it:
"Been here a couple of times, usually for their Gelato. They've got so many different options for gelato; sugar-free, vegan, fat-free and their flavours change and vary depending on the season. Everything's made from Italy. Their lavender gelato is one of my favourites. Their Italian desserts are also seasonal. I tried their pistachio chocolate mousse cake. It was delicious. Their tiramisu is apparently a popular dessert and is always available!" – LydiaEatsOttawa
"Ordered a lovely Almond Lemon Ricotta cake and gelato for curbside pickup for my recent birthday. The process was super easy which involved an e-transfer. I loved that the cake was made fresh and the gelato (my choice of 2 flavours) were hand-packed in a tub for me.
Thanks, Mantovani for making your tasty creations available during lockdown through your friendly online service. I would've loved to celebrate my birthday with an in-store visit, but a curbside pickup was the next best thing, and contributed to a delicious home birthday celebration." – JerseyMomOttawa
5. Holmespun Ice Cream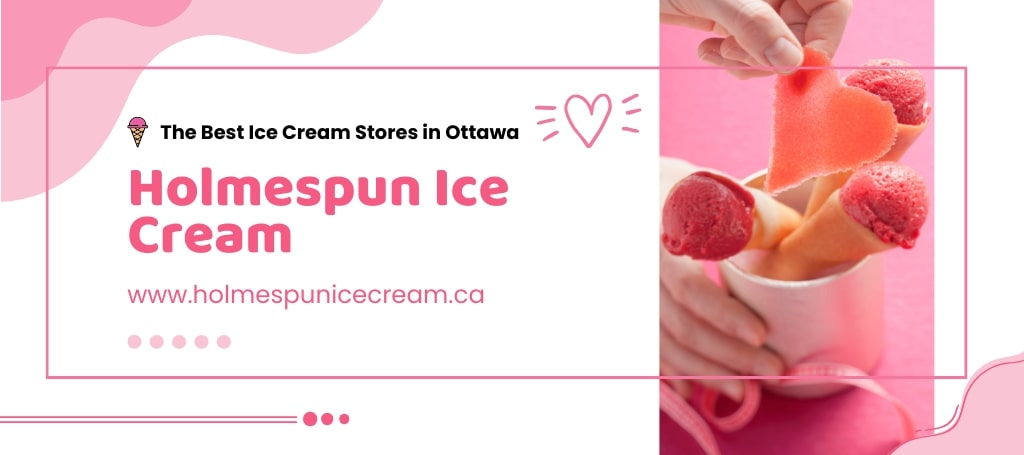 | | |
| --- | --- |
| SERVICES | Ice cream, Ice cream sandwiches, Ice cream cannolis, Ice cream cupcakes, Ice cream cakes, Ice cream doughnuts |
| ADDRESS | 247 Westbrook Road, Ottawa Ontario, K0A1L0 |
| CONTACT NUMBER | |
| WEBSITE | https://holmespunicecream.ca |
| OPERATING HOURS | By appointment |
Next on our list is an ice cream business that has plenty to offer when it comes to the frozen treat.
Holmespun Ice Cream specialises in fresh handcrafted ice cream. All of the products that they sell are made fresh weekly, resulting in better flavours and texture regardless of the choice of treat.
Now, when it comes to the menu, Holmespun has one of the largest on our list, featuring not only ice cream by the scoop and litre, but also ice cream sandwiches, ice cream cannolis, ice cream cupakes, ice cream cakes, and even ice cream doughnuts!
As for the flavours, there are the crowd favourites, which consist of s'mores, cookies & cream, and peanut butter cup, as well as seasonal flavours like buttertart, pumpkin pie, and apple crumble. Holmespun Ice Cream is always endeavouring to come up with tasty flavours that have never been done before.
It's worth noting that Holmespun Ice Cream is completely mobile and operate from a vintage ice cream bike. However, customers can place their orders and pick them up at the Holmespun's commercial kitchen in Stittsville.
Wide array of dessert treats available
Offers seasonal flavours
Custom ice cream cakes available by request
No proper physical location
FAQs About Ice Cream in Ottawa