The Best Hypnosis Clinics in Ottawa
Do you need a shift in perception or behavior but seem to struggle to do so on your own? One method that can help you is hypnotherapy.
This kind of therapy helps you get into a trance-like state, wherein you become more receptive to suggestions. If you respond well with each session, it can spell the end of smoking, anxiety, and other issues.
Want to try if hypnosis works for you? We have picked the best hypnosis clinics in Ottawa to guide you.
We are also sharing essential knowledge about this practice such as costs, success rate, and possible side effects for you to consider.
How much does hypnosis cost in Ottawa?
The national average cost of hypnosis (or more precisely, hypnotherapy) is $175 per session, with the range falling between $150 to $200.
The exact fee will depend on how many sessions a client needs. Two sessions may be enough for issues such as procrastination, while complex problems such as anxiety may require 10 to 15 sessions.
The type of hypnotherapy will also affect the exact price. Generally, programs aimed at smoking cessation and weight loss will cost more than other sessions.
Here are some hypnosis clinics and their prices to guide you.
Company
Estimated Cost
Grounded Hypnosis
Session fees vary per client and program Hypnosis course: $99
Canadian Hypnosis Centre
Single session: $160

Two sessions: $320

Four sessions: $540

Six sessions: $792

Ten sessions: $1,280

Stop smoking hypnosis: $540

Ottawa Counselling and Mediation Services
Session fees vary per client and program
Somerset Health and Wellness Center
In-person session: $150.44 (per hour)

Virtual session: $150.44 (per hour)

AC Inspirations
Session fees vary per client and program
Fortunately, most hypnosis clinics will offer a free screening via phone. This service will allow the hypnotist to assess your condition and propose programs for you.
Also, it will allow you to build a rapport with your hypnotist first, which will make it easier to work with them.
Best Hypnosis Clinics in Ottawa
Hypnosis is one process that can help bring about changes in a person's life through direct and indirect suggestions during your trance state. But you should know that its effectiveness will depend on the person.
Also, it will depend on the hypnosis center you choose to use. As such, we have formed a set of criteria to collate the best hypnosis clinics in Ottawa that might help you.
1. Grounded Hypnosis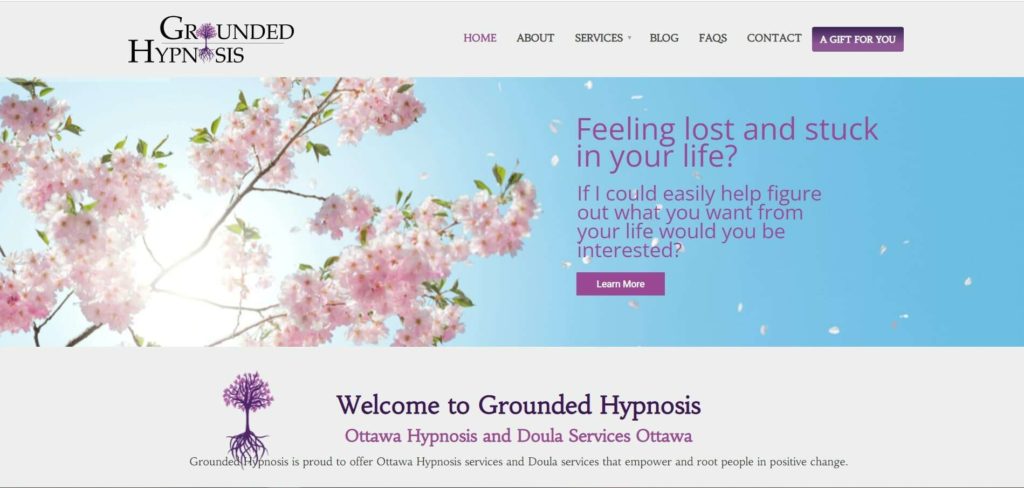 Test
Info
SERVICES
- Hypnosis for anxiety and pain

- Labour and postpartum doula services

- Breastfeeding counseling services

WEBSITE
https://groundedhypnosis.com/
ADDRESS
The Village Clinic, 361 Churchill Ave., Ottawa, ON K1Z 5C4
CONTACT DETAILS
(613) 898-1476
OPERATING HOURS
Monday, Wednesday to Friday: 10:00 AM - 5:00 PM

Tuesday: 10:00 AM - 8:00 PM
| | |
| --- | --- |
| Criteria | Rating |
| Range of services | ★★★★★ (5/5) |
| Professionalism | ★★★★☆ (4.5/5) |
| Credentials | ★★★★☆ (4/5) |
| Conduct of practice | ★★★★★ (5/5) |
| Client care | ★★★★☆ (4/5) |
| Responsiveness | ★★★★☆ (4/5) |
| Accommodation and follow-ups | ★★★★☆ (4/5) |
Hypnosis services usually aid in managing stress and anxiety and in gradually changing behaviors. If any of these fits your needs, a visit to Grounded Hypnosis may help you.
The sessions are led by doula-hypnotist Jennifer Lawrence (not the celebrity). We adore her calming voice and consequently love her services, as we see them as package deals promoting empowerment.
Moreover, we like that she has experience dealing with women starting families. Giving birth and postpartum is a challenge to new mothers, and we believe her guidance will help immensely.
Aside from consultations, you can also avail yourself of the Grounded Hypnosis' course that aims to provide life coaching lessons. The fee is a bit expensive, though.
Fortunately, you can check the free previews first to help you decide whether to enroll or not.
Know that there are no set prices for Jennifer's services. The professional fee will depend on the number of sessions she deems fit for the client.
While we understand the setup, we can see its potential pitfalls. The hypnotist usually discusses the pricing after screening the client over the phone, which can mean time wasted if you opt not to push through with the session.
But if you think hypnosis works for you and can put your trust in the process, we believe you'll reap more rewards from the sessions.
Caters to first-time mothers
Accessible location
Hypnotist has wide online presence
Offers helpful life-coaching course
Professional fees can become costly
Course fee is expensive
Customer Reviews
Assisting new mothers to wellness
"Jen is truly amazing, I reached out to her for breastfeeding help. She is very knowledgeable and has a way with people that makes you feel at ease. The tips and advice she gave have really helped and breastfeeding is going very well!" —Tamarah Nelson, Google Reviews
Hypnosis done right
"After a very pleasant but in-depth conversation with Jennifer I found her to be professional, [and] extremely insightful and made me feel very comfortable. Her probing questions lead her to discover things about me that had not been uncovered by others in the past. I feel very strongly that, thanks to Jennifer's guidance and positive energy, I am back on the path to stress-free wellness once again!" —Paul Toshack, Google Reviews
2. Canadian Hypnosis Centre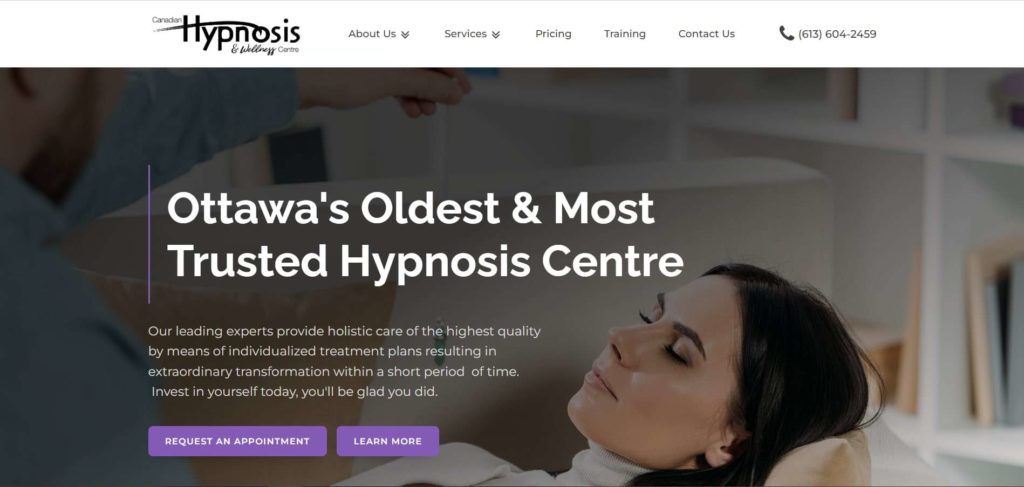 Test
Info
SERVICES
- Pain and stress management hypnosis

- Grief hypnosis

- Corporate workshops

WEBSITE
https://canadianhypnosiscentre.com/
CONTACT DETAILS
(613) 604-2459
OPERATING HOURS
Monday to Thursday: 8:00 AM - 8:00 PM

Friday: 8:00 AM - 6:00 PM
| | |
| --- | --- |
| Criteria | Rating |
| Range of services | ★★★★★ (5/5) |
| Professionalism | ★★★★★ (5/5) |
| Credentials | ★★★★★ (5/5) |
| Conduct of practice | ★★★★★ (5/5) |
| Client care | ★★★★☆ (4/5) |
| Responsiveness | ★★★★☆ (4/5) |
| Accommodation and follow-ups | ★★★★☆ (4/5) |
Some people might be hesitant to seek a hypnotist because of the hassle of in-person visits. But you need not worry about that if you go with the Canadian Hypnosis Centre, as they offer virtual sessions.
The setup makes the company easily reachable wherever you are in Ottawa. It's so convenient that even clients from other parts of North America can book sessions with them.
Though, the virtual setup might not appeal to everyone. That's because some clients prefer a face-to-face session when discussing personal and emotional matters.
That unique issue aside, we see that the center holds a great promise for clients looking to change their lives. After all, trained clinical hypnotists provide the services.
Further cementing the credibility of the center's hypnotists is their association with the National Guild of Hypnotists and the International Association for Counseling.
What we love most is that the center is transparent with its pricing. The service fees are posted on their website, helping first-time clients decide if they'll book a session right away after checking their budgets.
Clients with naturopath coverage on their health plans may also save more. That said, we suggest contacting the company first to confirm if you're eligible.
Upfront pricing posted online
Strong team of clinical hypnotists
Quick and clear response to queries
Offers training for aspiring hypnotists
Currently does not offer in-office sessions
Virtual setup might not work with some clients
Customer Reviews
Expertise warrants a testimony and recommendation
"I have known Dave Hallett & crew at the Canadian Hypnosis Centre for many years. He is a caring instructor of hypnotism. Whether you want to learn hypnosis or to make a change in your life, Dave Hallett is the professional to see." —Tommy Vee, Google Reviews
Will make you feel that you're in good hands
"Best service, extremely helpful and the owner does his best to keep you informed and relax, really best service I had!!!!!" —Solange Mendoza, Google Reviews
3. Ottawa Counselling and Mediation Services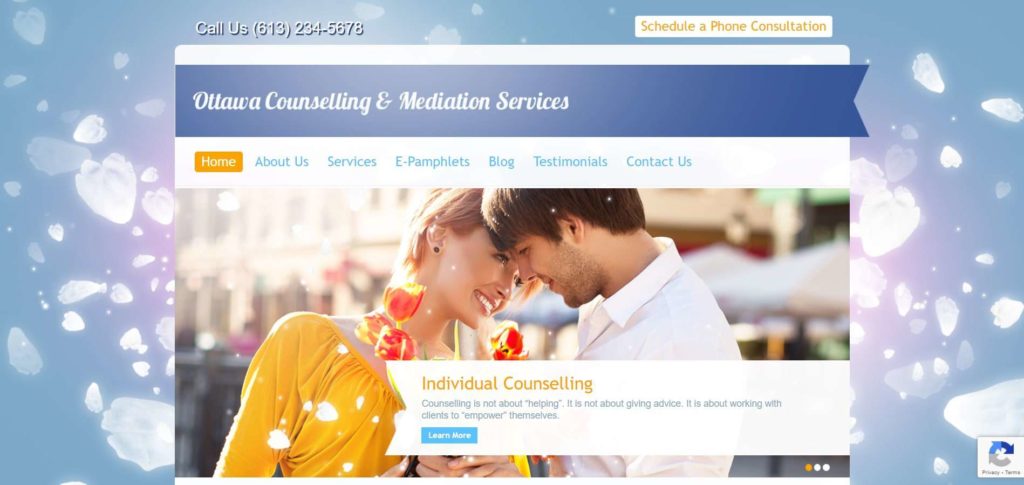 Test
Info
SERVICES
- Individual and marriage counseling

- Family counseling

- Hypnotherapy

WEBSITE
https://www.ottawacounselling.com/
ADDRESS
15 Alymer Ave., Ottawa, ON K1S 3X1
CONTACT DETAILS
(613) 234-5678 / (613) 726-3636
OPERATING HOURS
Monday to Friday: 8:00 AM - 8:00 PM
| | |
| --- | --- |
| Criteria | Rating |
| Range of services | ★★★★☆ (4.5/5) |
| Professionalism | ★★★★☆ (4.5/5) |
| Credentials | ★★★★★ (5/5) |
| Conduct of practice | ★★★★☆ (4/5) |
| Client care | ★★★★☆ (4/5) |
| Responsiveness | ★★★★☆ (4/5) |
| Accommodation and follow-ups | ★★★★☆ (4/5) |
If you're looking to use other methods apart from hypnosis, you can also try the old and proven counseling method. That said, we found the Ottawa Counselling and Mediation Services worth trying.
The company is headed by Dr. Richard Merrill Haney who has been in the counseling field for 35 years. He spent the last 20 years offering hypnotherapy and counseling services in Ottawa.
The long experience and the academic credentials under his belt, including a PhD in Counseling Therapy, are eye-catchers. Fortunately, the positives don't end there.
We love that the clinic offers marriage counseling, which we see as promoting healthier and more open relationships. We laud the effort put into fixing cracks in a relationship, as it may help alleviate unpleasant court sessions and broken families.
The center also offers family mediation, which is usually rendered in the face of divorce and child custody issues.
Offering both services shows that the center accepts the reality that not all married and family life succeed.
Dr. Haney is more known for his counseling services, but we have recommended his center based on him being a trained hypnotherapist since the '90s. If you place "experience" as a top factor, we suggest filling out the center's contact form to begin using the service.
Convenient downtown location
Counselor with a long and broad experience
Helpful articles about counseling posted on website
Online audio clip sample gives a glimpse of hypnotherapy
No upfront pricing details
Website could use a revamp
Customer Reviews
Helps clients navigate hard-to-process emotions
"RICHARD'S PROFESSIONALISM, OBJECTIVITY, AND WISDOM IN APPROACHING SENSITIVE personal situations are beyond reproach. I have sought his help on numerous occasions during times of personal tragedy. He has been nothing but empathetic, always objective, and always honest. His hallmark is finding creative ways to deal with difficult issues. Richard is insightful, conscientious, and extremely trustworthy. I have nothing but good things to say about his counseling and have no hesitation in recommending him highly." —Carole Champion, Google Reviews
Personable counselor
"Richard brings a wealth of experience and professionalism to his practice. His open and straight-forward kind manner enables him to connect easily with people and zero in on their key issues. His concept of Partners-in-Healing is not just a slogan-It is a lifestyle. He is assiduous about getting down to the root causes and working with people to develop effective and creative solutions. I would highly recommend Richard to anyone who is looking for a heart-connected, down-to-earth counselor who always puts people and their needs first." —Merle McConnell, Google Reviews
4. Somerset Health & Wellness Center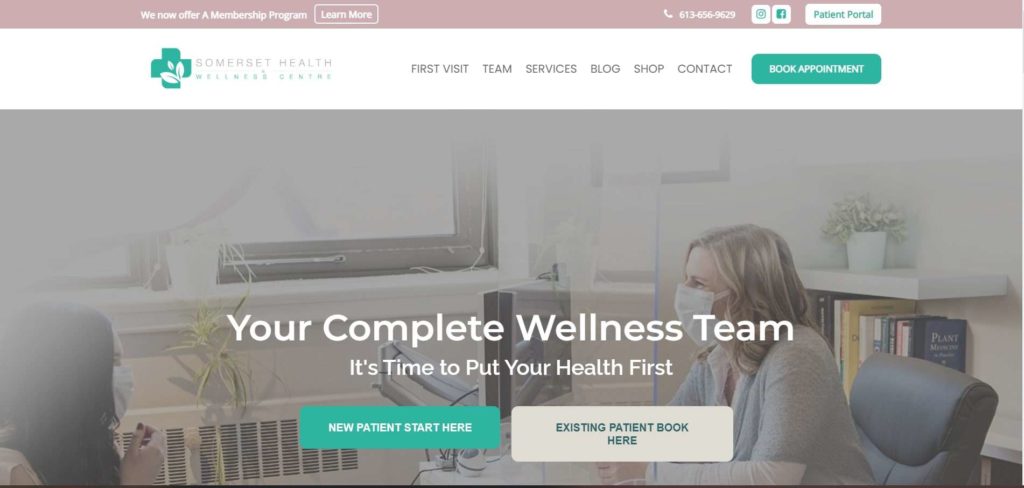 Test
Info
SERVICES
- Homeopathic medicine

- Hypnotherapy

- Counseling

WEBSITE
https://somersethealth.ca/
ADDRESS
190 Somerset St., West Suite 210, Ottawa, ON K2P 0J4
CONTACT DETAILS
(613) 656-9629
OPERATING HOURS
Monday to Friday: 9:30 AM - 6:00 PM
| | |
| --- | --- |
| Criteria | Rating |
| Range of services | ★★★★★ (5/5) |
| Professionalism | ★★★★★ (5/5) |
| Credentials | ★★★★★ (5/5) |
| Conduct of practice | ★★★★★ (5/5) |
| Client care | ★★★★☆ (4/5) |
| Responsiveness | ★★★★☆ (4/5) |
| Accommodation and follow-ups | ★★★★☆ (4/5) |
Clients seeking hypnotherapy and also interested in natural medicine will find the Somerset Health and Wellness Center a haven.
The well-known clinic has a wide range of services including lifestyle and nutritional counseling and hypnotherapy. In addition, they also focus on non-conventional medicine ranging from botanical to homeopathic.
As for the hypnotherapy side, the services include hypnosis for anxiety, stress, and improving or changing behaviors.
What we love most is that the counselor, clinical hypnotist Kelly McGuire, specializes in guiding women and children. We have seen some hypnosis clinics setting age restrictions, so hers is a breath of fresh air.
We also love that the center does a free 15-minute meet and greet. It allows you to assess whether the service works for you without taking up much of your time.
However, know that email responses from the center will take time, as they usually take up to three days to answer.
You can also book an appointment online, but it will require patience, especially if your chosen practitioner's availability conflicts with your schedule.
That said, we think the center's transparency makes up for the occasional glitches. We particularly love that you can see the pricing online, saving you the guesswork.
Pricing available online
Promotes inclusivity
Accommodates children
Champions natural medicine
Closed on weekends
Response to emails might take long
Customer Reviews
Holistic customer service
"Knowledgeable, supportive and friendly staff, lots of clear communication and follow up reminders of appointments and prescriptions. Had a very positive experience and will be returning." —Anastasiya Boika, Google Reviews
Provides a haven
"Honest, caring, attentive, sincere, and judgment-free. Finally, a place where I feel comfortable talking about my health concerns." —Toni, Google Reviews
5. AC Inspirations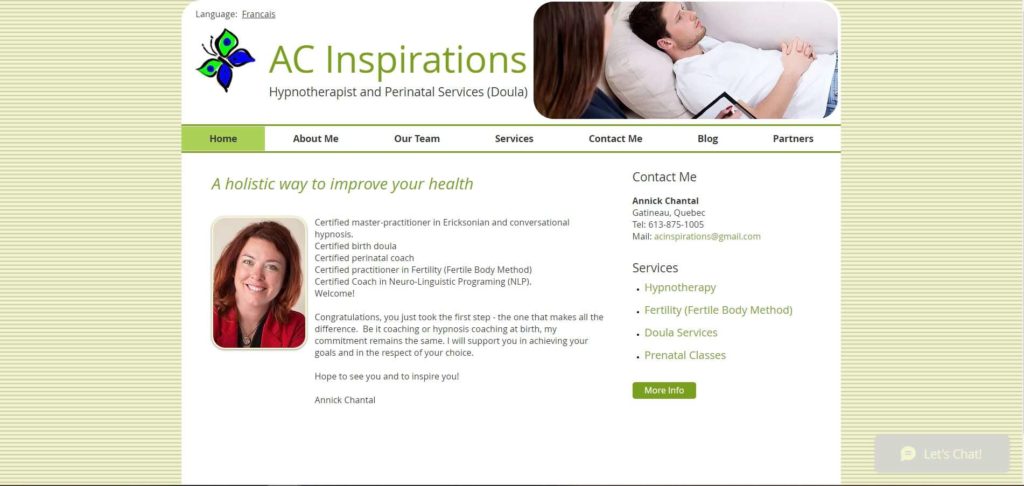 Test
Info
SERVICES
- Hypnotherapy

- Doula services

- Prenatal classes

WEBSITE
https://www.ac-inspirations.ca/home
ADDRESS
30 Rue de l'Equater, Gatineau, QC J9A 3H4
CONTACT DETAILS
(613) 875-1005
OPERATING HOURS
Monday to Friday: 9:00 AM - 5:00 PM
| | |
| --- | --- |
| Criteria | Rating |
| Range of services | ★★★★★ (5/5) |
| Professionalism | ★★★★☆ (4.5/5) |
| Credentials | ★★★★☆ (4/5) |
| Conduct of practice | ★★★★★ (5/5) |
| Client care | ★★★★☆ (4/5) |
| Responsiveness | ★★★★☆ (4/5) |
| Accommodation and follow-ups | ★★★★☆ (4/5) |
If you live close to Ottawa river's northern bank and won't mind driving across to Gatineau, we suggest checking out the hypnosis services of AC Inspirations.
The company offers hypnotherapy, and the hypnotist Annick Chantal does so with a modern approach. She employs Ericksonian hypnosis, which uses metaphor and storytelling to help change your behavior.
The said method might be effective for clients who resist traditional hypnosis. If you're one to ignore the usual route, maybe the Ericksonian one can work wonders for you instead.
We love that the hypnosis service focuses on helping expecting mothers prepare for labor and pain management. Young families will find the specialization favorable and helpful.
We also like that Annick has a dedicated team of practitioners that can aid her in providing doula services. With them on board, women clients who will give birth will have all the support they need and more.
However, AC Inspirations doesn't show fees on its website. Such an issue might turn away some first-time clients looking for hypnotists to trust.
We suggest calling the center first and see if you jibe with Annick and the rest of the team. After all, it's essential that you feel an immediate connection with your hypnotist early to ensure you'll get the most out of your sessions.
Greater focus on the well-being of expecting mothers
Has experienced and qualified practitioners
Flexible hypnosis approach
Also offers prenatal classes
Driving for an in-person visit can take long
Insufficient online pricing information
Customer Reviews
Offers a caring hand to young families
"My wife and I couldn't be more blessed by the exceptional services Annick provided during the pregnancy and childbirth. From hypnotherapy, informational sessions, emotional support, and just her presence made all the difference in our exceptional situation. I would highly recommend her services to anyone who is going through their first pregnancy and rest assured that we will be requesting her services in the future." —Patrick Iamarche, Google Reviews
Friendly to first-time clients
"I was a little nervous trying hypnotherapy for the first time, but Annick put me at ease immediately. She was professional, warm, and welcoming – and I finished our first session feeling relaxed and hopeful. I will be returning and I look forward to discovering what I can accomplish with Annick's help. Highly recommended." —Judy Reid, Google Reviews
FAQs about Hypnosis in Ottawa
---
Hypnosis is an effective process that can help induce positive change in a person, provided that your chosen practitioner is knowledgeable and operates with good intentions.
We hope our list can guide you to a hypnotist who can help improve your life.
If you're looking to improve your physical condition as well, our articles on the best physiotherapy clinics in Ottawa and top naturopath services in Ottawa may help you.