Clinics with the Best Hair Transplants in Ottawa
Have you ever looked at the mirror and seen patches of skin or scalp where hair should be? Total nightmare indeed!
It's a welcome relief that you can have your pick of clinics with the best hair transplants in Ottawa. Getting the treatments or procedures you need will help you gain back your confidence – and your hair.
You might be thinking about how much it will cost for you to have healthy hair again. The next section gives you some quick estimates.
How Much Do Hair Transplants Cost in Ottawa
Hair transplant costs differ from one patient to another. Many factors come into play with these services.
Most clinics charge on a "per graft" basis. This means that if the balding area needs more hair follicles, then the costs would increase, too.
To give you an idea, here are the average costs of hair transplant services.
| Hair Transplant Service | Estimated cost |
| --- | --- |
| Eyebrow Transplant | $ 3,500 |
| Facial Transplant | $5,000 to $12,000 |
| Hair Transplant | $ 6,000 to $20,000 |
The expertise of the doctor and the team who would do the procedure also adds to the cost. Some hair loss issues also require more sessions which translates to higher fees.
The best way for you to get the actual cost of the procedure you desire is to have a thorough consultation first. Through this, your hair issue could be assessed better.
Clinics With the Best Hair Transplants in Ottawa
We prepared this list to help you decide on where you want to get the finest hair transplants. Here are some factors we took into consideration.
Knowing where to go for the best hair transplants in Ottawa will help you get your money's worth and get back the self-esteem that you lost along with your hair. Without further ado, here's the list of those who are on the top of the hair restoration industry in Ottawa.
1. Capilia Ottawa

Test
Info
SERVICES
Microfollicular hair transplant, non-surgical hair replacement, PRP treatment, hair loss prevention treatment
WEBSITE
https://www.regencyhair.ca/
ADDRESS
595 Montreal Rd, Suite 303 K1K 4L2
CONTACT DETAILS
(613) 505-9088
OPERATING HOURS
Monday to Friday 9:00 AM to 5:00 PM

Saturday 9:00 AM to 2:00 PM
| | |
| --- | --- |
| Criteria | Ratings |
| Advanced techniques | ★★★★☆ (4/5) |
| Range of services | ★★★★☆ (4/5) |
| Reasonable prices | ★★★★☆(4/5) |
| Comprehensive processes | ★★★★★(5/5) |
Capilia Ottawa has been in the hair industry for over three decades. Jocelyn Brazeau is the man behind this place who has been consistently providing premier hair loss solutions.
The Capilia experience is nothing but detailed and personalized. Expert consultants will walk you through custom solutions for your hair concerns and would not just hand you existing programs.
What we like about the initial consultation is that it is free of charge. The client is not in any way obligated to purchase or avail of anything at this point.
Also, during the initial consultation, they would ask you to bring a photo of yourself before the onset of your hair loss. This is because they want to come up with a solution that is as natural-looking as possible.
Clients vouch for their microfollicular hair transplant as yielding satisfactory results. The whole Capilia team ensures that the client is well-taken care of and well informed prior, during, and after their procedure.
Through the aid of technology, their non-surgical hair replacement products are far from being fake-looking or ill-fitting. It is hard to detect the difference against your natural hair and you would not have to worry that they would fall off.
Clients are also all praises for how hands-on and warm the people in Capilia are. Even the owner, Jocelyn, was mentioned a couple of times to go above and beyond to ensure that the client receives the best care.
One downside is that their website failed to put even a range of their prices. Though some reviews say that the fees are affordable, it could have been better for people searching the internet to see upfront estimates so they would know what to expect.
Free initial consultation
Accommodates both men and women
Natural-looking hair solutions
Warm and accommodating staff
Client complaints about service
Details in their website need updating
Customer Reviews
Capilia garnered some amazing testimonials from their clients. Here are some of them.
Professional yet warm
"I would like to thank Capilia Ottawa for the success of my hair transplant, which took place in July 2019. From the first visit, I was told about the different solutions to my hair loss, the course of the procedure and we answered all my questions. We are warmly welcomed and after a few minutes, we feel like we are a member of the team. There is no doubt that the professionalism of the entire team contributes to the success of my transplant and my satisfaction. To you Brigitte; once again, a thousand thanks for all the good care you took towards me during my transplant and all those comforting words that put me at ease. To Francine; for all treatments and postoperative verifications. Your explanations are only clearer and the love of your profession is transmitted in your excellent service. To Jocelyn and Mr. Brazeau; for your concern for the well being of your customers and their satisfaction, without forgetting Dr. Duguay; for an intervention without pain and a more than satisfactory result. Your professionalism reassures us and I am happy with my new look. The technicians have also done a remarkable job. Thank you once again Capilia and I hope you will continue for a long time to make people happy."  — Dufdorko Gynabi (Review translated by Google)
Greatly reassured; enough to sleep through the procedure
"After a few years of trying various hair products, with little to no success. I decided to research hair loss clinics and visited three. Capilia is where I felt most comfortable and welcomed. I got the sense that they cared and really wanted to help me. In the spring of 2016, I did my hair transplant for my hairline and temples. I had a great experience. The staff made sure that I was well prepared- before and during my procedure. I was so comfortable that I fell asleep during the session. One of the reasons I had originally hesitated to do the hair transplant is the scarring. I had seen so many images on the internet of horrible scarring that I was worried, but with Capilia I felt reassured that I was in the hands of professionals. When I got home from my surgery my wife did not even notice the scar! I would recommend Capilia to any man that finds his self-confidence affected by hair loss. After my initial transplant, I was surprised to find there was minimal discomfort and even less with the second procedure. The post-operative care at Capilia was above reproach. " —Anonymous Client
2. HairClub Ottawa

Test
Info
SERVICES
Follicular Unit Extraction (FUE), Follicular Hair Transplantation (FUT), BioGraft, RestorInk, Laser Hair Treatment, Xtrands, Xtrands+, Halos, and Extensions
WEBSITE
https://www.hairclub.com/
ADDRESS
1730 St. Laurent Blvd. Suite 430 Ottawa, ON K1G5L1
CONTACT DETAILS
(613) 655-1506
OPERATING HOURS
Tuesday, Wednesday 11:00 AM to 7:00 PM

Thursday, Friday 9:00 AM to 5:00 PM

Saturday 8:00 AM to 4:00 PM
| | |
| --- | --- |
| Criteria | Ratings |
| Advanced techniques | ★★★★★ (5/5) |
| Range of services | ★★★★☆ (4/5) |
| Reasonable prices | ★★★☆☆(3/5) |
| Comprehensive processes | ★★★☆☆(3/5) |
HairClub is not a name that is only recognized in Ottawa. In Canada alone, they have 12 centers where people can go for hair loss solutions.
They are also internationally renowned with over a hundred more centers dotting the USA and Puerto Rico. This kind of reputation speaks of high-quality service as vouched by their clients.
Patients who have undergone their FUE and FUT procedures can't help but gush how they feel more confident upon regaining their hair. However, one downside is that these procedures are not done at HairClub's centers.
Surgeries are done by HairClub's affiliated physicians in their offices. As such, there isn't much to say about how HairClub handles preoperative and postoperative care.
HairClub provides its clients with a free health hair check-up. Though it has no charge, you would be treated to an in-depth analysis of your hair and scalp.
Clients only have wonderful feedback about HairClub's regrowth and replacement solutions. Their hair solutions encourage people to be proactive and make them feel more confident.
We specifically like the ease of use of their laser hair therapy products. You can practically have a DIY approach in stimulating your hair growth right at the comfort of your home with a bit of coaching from the experts.
Another program of HairClub that we admire is HairClub for Kids. Serving the North American region, kids with hair loss issues can avail of non-surgical hair replacement solutions for free.
However, prices for adults are quite steep as compared to others in the industry. This could discourage people from availing their service.
Promotes hair solutions one can use at home
Free health hair check-up
Offers virtual consultations
Caters to children
Closed on Mondays and Sundays
No in-house physicians
Relatively higher rates
Customer Reviews
Satisfied clients loved how they now feel more confident through the help of HairClub. Here are their thoughts.
Enjoying how I look
"Before, I constantly worried about my hair. Now, I look at myself in the mirror and I like what I see." —Adrian M.
Amazing to have my natural hair again
"It's amazing to look in the mirror, and actually have natural hair. I always tell people I think it's not like other surgeries, where you're trying to make yourself look better, that you didn't have. You're just trying to get back what you did have" — Patrick B.
3.Rahal Hair Transplant 

Test
Info
SERVICES
Follicular Unit Extraction (FUE), Follicular Hair Transplantation (FUT), hair transplant surgery, and eyebrow transplant
WEBSITE
https://www.rahalhairtransplant.com/
ADDRESS
2081 Merivale Rd #1300, Nepean, ON K2G 1G9, Canada
CONTACT DETAILS
1-877-409-0017
OPERATING HOURS
Monday to Thursday: 6:00 AM to 6:00 PM

Friday: 8:00 AM to 6:00 PM
| | |
| --- | --- |
| Criteria | Ratings |
| Advanced techniques | ★★★★☆ (4/5) |
| Range of services | ★★★☆☆ (3/5) |
| Reasonable prices | ★★★★☆(4/5) |
| Comprehensive processes | ★★★★★(5/5) |
Dr. Rahal needs little introduction in the hair transplant industry. His expertise has earned him the nickname of "Hairline King."
True to this reputation, Dr. Rahal has helped balding men for over 25 years. He has under his belt an average of 13,000 hair transplant procedures.
Also, he has recommendations from the American Hair Loss Association and The International Alliance of Hair Restoration Surgeons. These endorsements speak for themselves and give assurance to his clients of his skills.
What we love about Rahal Hair Transplant is the Growth Guarantee. Simply put, this means that you get your money back when your new hair does not grow or look unnatural.
Rahal Hair Transplant focuses on hair restoration procedures. This could be a disadvantage if the client is also on the lookout for hair replacement solutions as an alternative.
Rahal's clients agree that the care and service that they receive from Dr. Rahal and his staff are exemplary. People who have undergone the procedures felt genuine concern from the team about their progress and recovery.
Another thing that sets this clinic apart is their provision of a guest house for patients who came from out of town. This way, the patients can recover well, attend follow-up check-ups without trouble, and even bond with other patients.
The costs of the procedure are at par with the standards in the industry. There are also financing options available, making their hair treatments a bit more accessible for more Ottawans.
Competitive fees
Financing options available
Free initial consultation
Rahal Guest House for patients who are from out-of-town
Caters to men only
Does not offer hair regrowth or replacement solutions
Customer Reviews
Dr. Rahal lives up to his reputation as the "Hairline King". His clients only have good things to say about the outcome of their procedures.
Life changing results
"I'm one year post-op FUT and I'm amazed at the results. Truly life changing. Rahal, his staff, and facility in Ottawa are world-class. Amazing patient care. Strongly recommend the Rahal guest house.." —Danny
People can't help but compliment the results
"I'm very pleased and happy with the results and get a lot of compliments. Friends can't believe how natural it looks. There are other clinics but Dr. Rahal's one of the top guys in the world." -Mike
4. Sure Hair International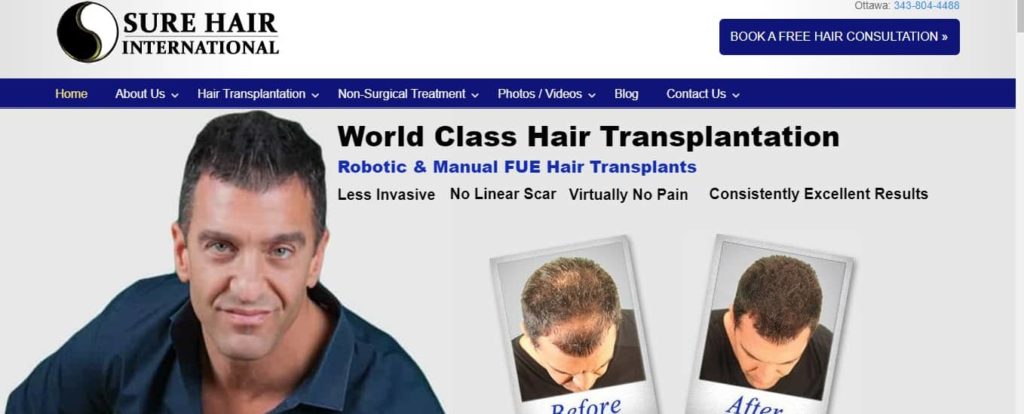 | Test | Info |
| --- | --- |
| SERVICES | Follicular Unit Extraction (FUE), Follicular Hair Transplantation (FUT), ARTAS hair transplant, eyebrow hair transplant, hair regrowth treatment, laser hair therapy |
| WEBSITE | https://surehair.com/ |
| ADDRESS | Smyth Medical Centre 1929 Russell Rd Suite #226 Ottawa, ON K1G 4G3 |
| CONTACT DETAILS | 343.804.4488 |
| OPERATING HOURS | Tuesday to Saturday: 9:00 AM–5:00 PM |
| | |
| --- | --- |
| Criteria | Ratings |
| Advanced techniques | ★★★★★ (5/5) |
| Range of services | ★★★★☆ (4/5) |
| Reasonable prices | ★★★★☆(4/5) |
| Comprehensive processes | ★★★★★(5/5) |
Sure Hair International has a six-year streak of being voted as Consumer's Choice Award winner in the Greater Toronto Area. This recognition comes from giving top-caliber service to clients for the past 25 years.
Dr. Gupta and his team have handled around 16,000 successful hair transplant procedures. That number sure translates to tons and tons of hair!
But, those figures are not only about hair or surgeries. These are men and women who only have kind words for Sure Hair International because they were able to regain their hair, life, and confidence.
What we find exceptional about Sure Hair International is the ARTAS hair transplant. This is a robotic FUE procedure.
There are many advantages that patients enjoy with the ARTAS procedure. Some of them are reduced recovery time, reduced discomfort, and more accurate graft harvest.
Even with the use of the latest technology, Sure Hair maintains its warmth. Their clients only have positive things to say about how the team made them very comfortable in all stages of their surgeries.
Sure Hair also offers non-surgical treatments like Platelet Rich Plasma Therapy and Laser Hair Therapy. Their clients love how these non-invasive treatments make them feel good about regrowing their hair.
We also like the idea that their website is updated and transparent with the costs. Aside from the cost estimate, there is also some useful information on how to obtain medical financing.
Competitive rates
Uses advanced techniques with their hair loss solutions
Free consultation
Online consultation available
Closed on Mondays and Sundays
Does not offer hair replacement solutions
Customer Reviews
Sure Hair International is sure to be there to assist you before, during, and after the procedure. Here are some reviews from satisfied clients.
Staff made me extremely comfortable
"I had a 2500 graft FUE procedure done with Dr. Gupta. I've done months of research before settling with SureHair. The consultation went smoothly and I was able to select a date for my procedure . Everything was explained of what was to be expected . The day of the procedure was very long, almost 14 hours . This really shows that Dr. Gupta and his staff took their time and didn't rush the procedure. There was pain and discomfort but its different depending on your pain threshold. I was accommadated with lunch, dinner and snacks throughout the day. The staff was really polite and there's a TV in the room to keep you entertained. Overall very good experience and I look forward to my results." — Arlsan FZ
Premium postoperative care
"This is my third experience at Sure Hair. I am extremely satisfied with the process, the staff, their professionalism and the results. The aftercare and follow-up ensured my recovery was seamless. The results exceeded my expectations" —Tom B.
5. Toronto Hair Transplant Clinic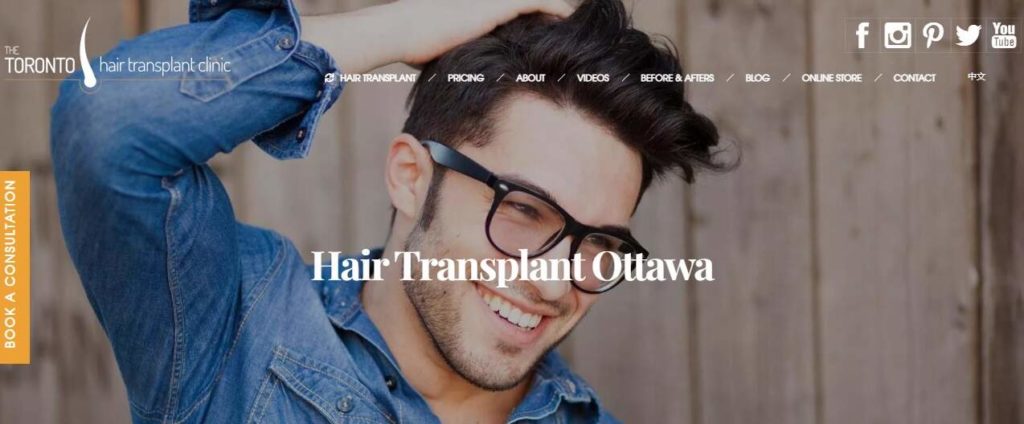 | Test | Info |
| --- | --- |
| SERVICES | Follicular Unit Extraction (FUE), NeoGraft, SmartGraft, Scalp Micropigmentation, and PRP Therapy |
| WEBSITE | https://torontohairtransplantclinic.com/hair-transplant-ottawa/ |
| ADDRESS | 59 Hayden Street 7th Floor, Toronto, ON M4Y 0E7 |
| CONTACT DETAILS | (647) 351 0061 |
| OPERATING HOURS | Monday to Friday 8:00 AM to 5:00 PM |
| | |
| --- | --- |
| Criteria | Ratings |
| Advanced techniques | ★★★★★ (5/5) |
| Range of services | ★★★☆☆ (3/5) |
| Reasonable prices | ★★★★☆(4/5) |
| Comprehensive processes | ★★★★★(4/5) |
Though located in Downtown Toronto, this clinic is still a wise choice for people residing in Ottawa. Out-of-town patients come to THTC because of the powerful combination of a top-caliber surgeon and the latest technology.
Dr. Cory Torgerson's expertise as a head and neck surgeon makes THTC a reliable pick for people who want to have hair transplants. Clients who have tried their services feel well-informed and safe.
A big plus for THTC is how the use of the most advanced equipment makes their patients very comfortable. Most apprehensions about pain and discomfort are dismissed and some even liken the surgery to a "day in the spa".
The whole team of Dr. Torgerson also contributes to THTC's success. Their professionalism and warmth are mentioned time and again by satisfied clients.
The downside is that they can only accommodate 1 or 2 patients a day. Also, their clinic is closed on weekends.
These factors make the wait for securing an appointment longer. Some people may find it hard to find the perfect fit for their busy schedules.
THTC's rates are on the higher-end of the industry's average. But, there are financing options available.
State-of-the-art equipment and processes
Caters to both men and women
Online pricing matrix available on their website
Have financing options
Closed on weekends
Can only accommodate 1 or 2 patients a day
Customer Reviews
Clients expressed their satisfaction with their experience at Toronto Hair Transplant Clinic. Here are some of the reviews.
No regrets in spending my money here
"I am currently 1 week post-op from my FUE hair transplant. I cannot properly express how blown away I am by the professionalism, the service, and the care by Dr. Torgerson, Brian, Rein, Laura, and everyone else at the clinic. I am a young adult, so this was a very difficult decision for me to make financially. From consultation to procedure, and follow up afterward, Brian has been excellent. By no means am I a high spending client, however, I have been treated like gold. I will recommend Dr. Torgerson and his clinic to others at every possible opportunity. These procedures can be very scary to commit to, however, I feel comfortable spending my money here and going through with the procedure. Everyone made it very easy and Brian responded to every single question I had in detail, in under an hour. Thank you and I cannot wait to see my results." —Paul Martins
The obvious and only choice versus others
"I recently received a 2200 FUE graft transplant, and the results are excellent, considering it has only been five months. Dr. Torgenson is friendly, knowledgeable, and patient. He has a beautiful facility, and an incredible staff. Brian goes above and beyond to make sure you feel comfortable throughout the entire process, and Rachelle, Igor, and Jeanne are incredibly skilled. It took over a year for me to decide to have the procedure, and consulted with at least five other offices, and after much deliberation, The Toronto Hair Transplant Clinic was my only choice, and I knew I was in good hands. I'm extremely happy and impressed with everything they did, and continue to feel more and more confident as time passes. I highly recommend this office and this team." —Shawn Evanston
FAQs about Hair Transplants in Ottawa 
---
This rounds up our list of clinics with the best hair transplants in Ottawa. You can check them out and get results that will make you feel and look good.
Do you have in mind other clinics with first-rate hair transplants in Ottawa? We would be delighted to hear from you.
Being more proactive with your looks can boost your confidence. Here are more articles to help you create the best version of yourself.