9 Best Furniture Stores in Ottawa
If you think your home could do with some sprucing up, perhaps a few key furniture pieces could do it. Luckily, we're reviewing the best furniture stores in Ottawa today!
Of course, one of the first concerns about buying new furniture is the cost. In the next section, we'll be taking a look at the estimated price of certain furniture items.
How Expensive Are Furniture Stores in Ottawa?
Decorating your home is always a fun venture. Unfortunately, it could also become a costly one.
If you're the type who doesn't mind hand-me-down furnishings or flea market finds, you won't have to worry too much about the costs. But as the table below indicates, brand-new major furniture pieces that you'll be needing for your rooms could have you digging deep into your pockets.
| | |
| --- | --- |
| FURNITURE PIECE | AVERAGE COST |
| Three-seater sofa | $2,000 – $4,500 |
| Six-seater dining table | $1,700 – $5,000 |
| Queen-sized bed | $1,500 – $3,000 |
| Sectional sofa | $3,500 – $9,000 |
Of course, not all furniture stores in Ottawa charge the same (though we did get the above-average rates from some of them we're reviewing today). A lot will depend on the store's pricing scheme, but there are other contributing factors to the price tag, too.
Consider the materials, brand, and dimensions of the furniture piece. Certain wood materials, fabrics, hardware, and manufacturing techniques can dictate how much the resulting piece will cost.
Some furniture shops also bundle certain pieces so customers can save more than if they buy them individually. Those are always worth checking out so you can get your home furnished within your budget.
The Best Furniture Stores in Ottawa
After learning about the average prices of furniture pieces, it's time to see what the best furniture stores in Ottawa can do to liven up your home.
1. Blueprint Home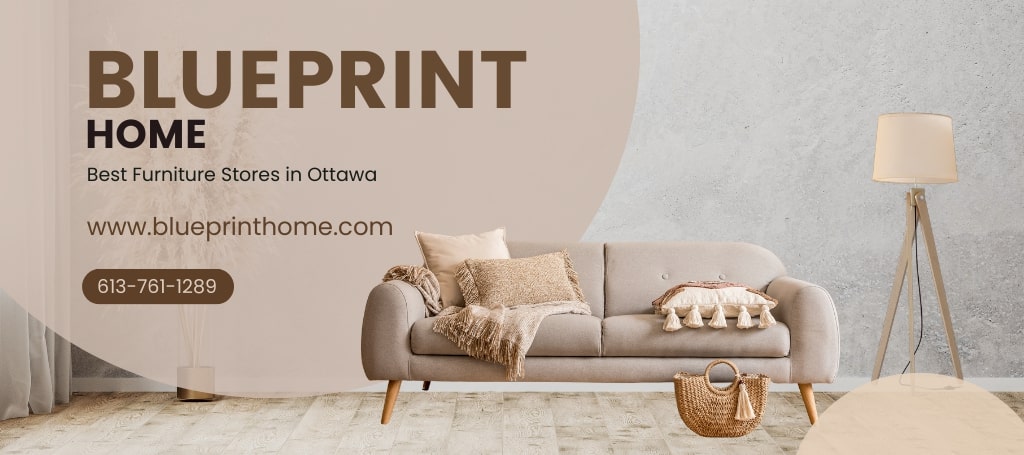 SERVICES
Furniture store selling sofas, sectionals, sofabeds, chairs, ottomans + benches, accent tables, workspace and media units, dining tables, dining chairs, stools, buffets + sideboards, beds, nightstands + dressers, storage + shelving, lighting, carpet, and decor items
ADDRESS
1301 Wellington St. W. Ottawa, ON K1Y 3B1 Canada
CONTACT NUMBER
613.761.1289


[email protected]

WEBSITE
https://blueprinthome.com/
OPERATING HOURS
Monday to Tuesday 12 PM – 5 PM
Wednesday to Thursday 10 AM – 5 PM
Fridays 11 AM – 5 PM
Saturdays 10 AM – 5 PM
Sundays 11 AM – 4 PM
With its over 20 years in the furniture business, Blueprint Home has also been a Better Business Bureau-accredited company for at least half of its existence. In its bio, it calls itself "one of the first stores of its kind in Ottawa".
Instead of the usual furniture stockroom or warehouse look and feel, Blueprint Home takes pride in having a boutique ambience and service. Its product catalogue features the kind of modern yet elegant furniture pieces that could look right at home anywhere, whether it's in a lakehouse or a high-rise condo.
However, the price to pay for these unique offerings can be literally seen in its furniture's price tags. The average price for its couches and sofas is around $3,000 while the shop's typical queen size bed would cost an estimated $1,800.
But based on general client feedback, the quality of both the curated selections and the furniture items themselves are more than satisfactory. The same can be said about Blueprint Home's services and the friendliness of its staff, as well.
Boutique furniture store with unique offerings
BBB-accredited, A+ rating
Open 7 days a week
Higher price range
Confusing weekly operating hours
Additional delivery fee could be added for locations with stairs
Customer Reviews
The following are positive customer feedback for Blueprint Home:
"Blueprint Home is my go-to furniture store. It's modern and fresh and full of great ideas to inspire my space. The staff is friendly and very helpful in selecting pieces that would work best in my home. I'm looking forward to getting some special gifts for friends this Christmas." – Cathy Morrissey
"Amazing selection of modern furniture. We fell in love with a Gus sofa! Thanks for the excellent service." – Patrick Biggs
2. Leon's Furniture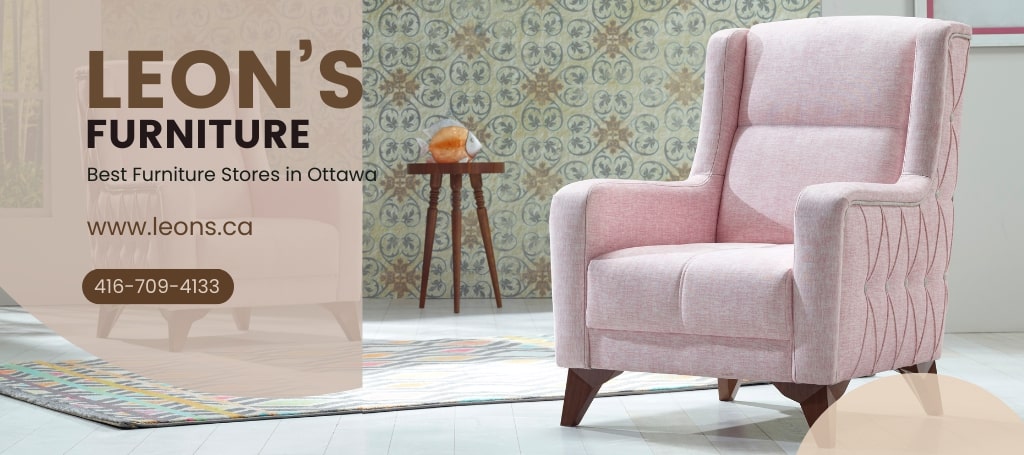 SERVICES
A store selling major furniture pieces, mattresses, bed accessories, decorative pieces, accent furniture, outdoor furniture, electronics, appliances, online shop
ADDRESS
2600 Queensview Drive, Ottawa, ON K2B 8H6
CONTACT NUMBER
+1 416-709-4133


[email protected]

WEBSITE
https://www.leons.ca/
OPERATING HOURS
Monday to Friday 11 AM – 8 PM
Saturdays 10 AM – 6 PM
Sundays 11 AM – 5 PM
Leon's Furniture has serviced generations of Ottawa homes with more than a hundred years of experience in the furniture and appliances business. It's now one of the most recognized franchise furniture stores all over Canada.
Customers can buy major furniture pieces and decorative accents at Leon's. Since it aims to be a one-stop-shop for everything related to home interiors, it also carries mattresses, appliances, electronics, and outdoor furniture.
The furniture pricing here definitely falls under the affordable range. Three-seater couches are between $500 – $1,000 on average, with leather pieces costing just over $1,000!
The website offers a handy way to browse for furnishings by way of material, colour, functionality, brand, and price range. There's a 60-day price guarantee and free local deliveries for customers ordering items worth at least $498.
And if you really want to fit a couple of furniture pieces and appliances within your budget, head over to the Leon website's clearance page and see all the discounted items on sale.
Free local delivery on orders $498 and up
Affordable rates
60-day price guarantee
Offers a one-stop furniture shopping experience
Open 7 days a week
No BBB accreditation
Several customer complaints on unfulfilled orders and delayed deliveries
Additional fee for installation services
Customer Reviews
See how customers liked their experience with Leon's Furniture:
"Had a good experience at Leon's. We were greeted by Alex, who was amazing! We had a list of items we wanted to look at. She was able to take us to each one and go over all the features, pros and cons. Anything she didn't know she was able to quickly find out. The customer service was excellent!" – Vincent McKie
"Was in Leon's at their scratch and save the event, Thursday, and was looked after by Sawsan wherein I had excellent service. She was friendly, patient, made some excellent recommendations and was very professional. Also, dealt with John in electronics who was also excellent. One-stop shopping experience. Shout out to manager assistance too." – Cathy
3. Upper Room Home Furnishings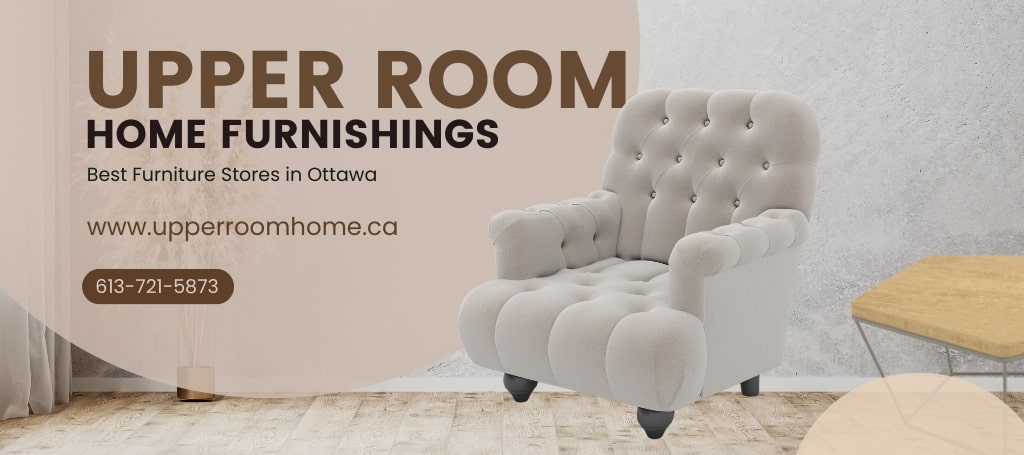 SERVICES
Shop selling living room, dining room, bedroom furniture, mattresses, home office, entertainment, accessories
ADDRESS
255 Kanata Ave Ottawa, ON K2T 1K5
CONTACT NUMBER
613-721-5873


[email protected]

WEBSITE
https://www.upperroomhome.ca/
OPERATING HOURS
Monday to Friday 11 AM – 7 PM
Saturdays 10 AM – 6 PM
Sundays 11 AM – 5 PM
What makes the Upper Room Home Furnishing store stand out (especially during these interesting times) is its virtual tour. Though it lacks the tactile and olfactory satisfaction of a brick and mortar shop, seeing all the furniture pieces laid out like a real shop is still a visual treat for buyers and window shoppers alike.
The shop also offers a full white-glove service. This means you won't have to worry about unpacking a furniture delivery and getting it installed wherever you prefer it at your home.
Upper Room Home Furnishing is confident enough in its pricing that clients are given a 30-day price match guarantee for all items in the shop. Should a customer find a similar item in another store with a lower price (within 30 days), Upper Room will gladly give the customer 100% of the difference!
Flexible finance plans are available in Upper Room. And just in case there's a pricing error in the catalogue or actual stores, the shop will give customers a full refund if they don't want to push through with the purchase.
30-day price match guarantee
Virtual tour available
BBB-accredited, A+ rating
Full white glove service
Financing plans available
Does not deliver breakable items like mirrors and lamps
Cannot install electronics or mount breakable items
$200 monthly storage fee after 30 days of holding bought items
Customer Reviews
The following customers have good things to say about Upper Room Home Furnishing:
"We had a great experience so far with Joanne at the Kanata location. She was very knowledgeable, pleasant and kind. She was able to answer all of our questions and concerns with ease. She was extremely patient with us, we took a lot of time deciding on our order and we feel like we made the perfect choice." – Paul Raubic
"Super thrilled with our first experience at Upper Room. Gorgeous furniture. Beautiful Showroom. Brandon was knowledgeable, helpful, professional & not pushy at all. He knows the products so well and was great at suggesting ideas and putting colours together. We are stunned by the incredible price we got for several pieces of furniture. Looking forward to getting it all in our home!" – Sherri Moffat
4. Alteriors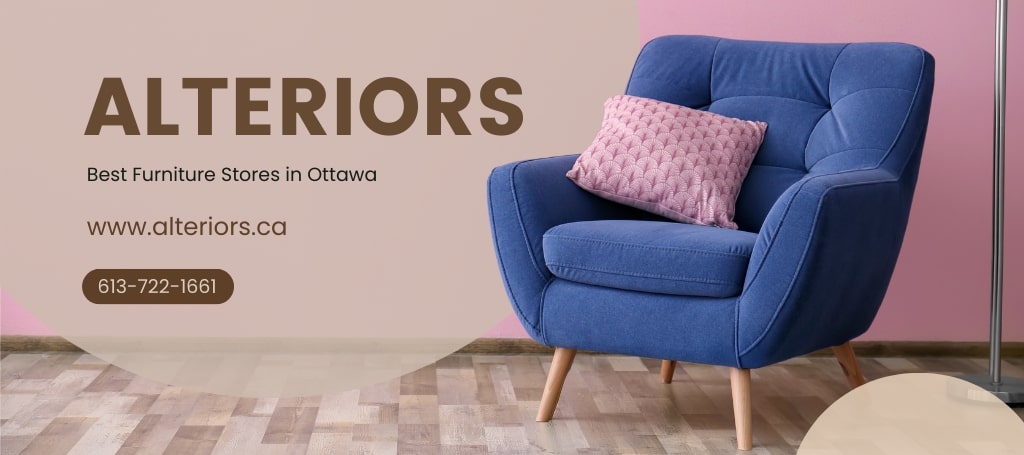 SERVICES
Shop selling contemporary furniture for living room, dining room, bedroom, office, outdoors, lighting, accessories
ADDRESS
1158 Bank St Ottawa, ON, Canada K1S 3X8
CONTACT NUMBER
+1 613-722-1661


[email protected]

WEBSITE
https://alteriors.ca/
OPERATING HOURS
Wednesday to Sunday 11 AM – 4 PM
Closed on Mondays and Tuesdays
Alteriors is the kind of furniture store that appeals to many homeowners and interior design enthusiasts who love both timeless and contemporary designs. The furniture pieces' silhouettes are sleek and streamlined and the colour palettes are mostly muted and neutral.
That's not to say that the furniture designs at Alteriors aren't exciting — far from it. Geometric forms made of natural materials are softened by gently curving details that almost look sculptural.
It's an unapologetically high-end boutique furniture shop through and through. Even its virtual showroom and shop, Dealteriors, has the look and feel of a luxury furniture store.
The good news is that there's a clearance section at the Alteriors site in case you're working within a budget. The bad news? Some clearance items like a queen-sized storage bed cost around $5,000 — definitely pricier than the average brand-new bed in other shops!
Provides detailed information for every item in the shop
Gorgeous selection of contemporary furniture
Has a dedicated virtual showroom and store
High-end store with a higher price range
Open only five days a week
No BBB accreditation
Customer Reviews
These customers have good things to say about Alteriors:
"THE best place to find the finest contemporary furniture in Ottawa. Received top-notch service from Mark and Jacob." – Lyne Vincent
"I met with Jake the first time I walked in the store and it was obvious that he has a passion for design. He walked me through the store and gave me advice on different pieces. I ended up buying several coaches (Ligne Roset) and Lighting (Bocci). It has been a year now and I love the pieces and I am grateful for all the useful advice." – Jerome S.
5. Artemano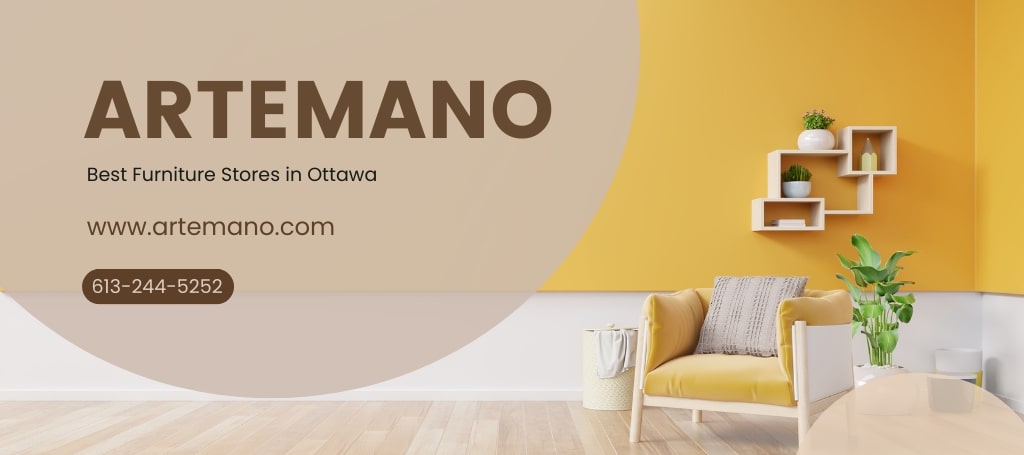 SERVICES
Furniture store for dining room, living room, bedroom, office, home decor
ADDRESS
100 Trainyards Drive, Unit 32-C – Ottawa, Ont. K1G 0Z1
CONTACT NUMBER
613.244.5252


[email protected]

WEBSITE
https://artemano.com
OPERATING HOURS
Monday to Wednesday 10 AM – 6 PM
Thursday to Friday 10 AM – 8 PM
Saturday to Sunday 10 AM – 5 PM
Pureness and simplicity of form and function drive Artemano's business model. Its featured collections of furniture pieces are made of wood essences selected for their density, strength, and aesthetic appeal.
While its overall emphasis is on a natural, cottage-style interior, there are still some contemporary and classic pieces to be had at Artemano. For instance, some loveseats and sofas in the online catalogues could look right at home in either a modern condo unit or a countryside getaway.
But since it sells mostly wood-based furniture items, the shop also includes some touch-up and cleaning products for sale. There are proprietary scratch removers for both light and dark wood available, as well as wood polish and cleaning solutions.
Artemano offers customers a one-year warranty should they find manufacturing defects. If there is no damage and the customer simply changed their mind about a purchase, a 20% restocking fee will be charged to cover return shipping costs.
Beautifully crafted wooden furniture available
One-year warranty against manufacturing defects
Open 7 days a week
Maximum delivery radius of 50 km from the distribution centre
Most items on the online catalogue already sold out
No BBB accreditation
Confusing weekly operating hours
Customer Reviews
Read the following feedback on Artemano's products and services:
"Beautiful store and ambiance. Unique exotic wood pieces imported from southeast Asia are not found anywhere else in the city. Definitely check it out, you won't be disappointed. The prices are what you'd expect from a high-end furniture store that offers unique items." – Martin Boileau
"Super cool store & ambiance. It was my first time visiting the store and Sally was extremely helpful, friendly, and knowledgeable. A big thank you for all her help!" – Lara S.
6. Toja Ottawa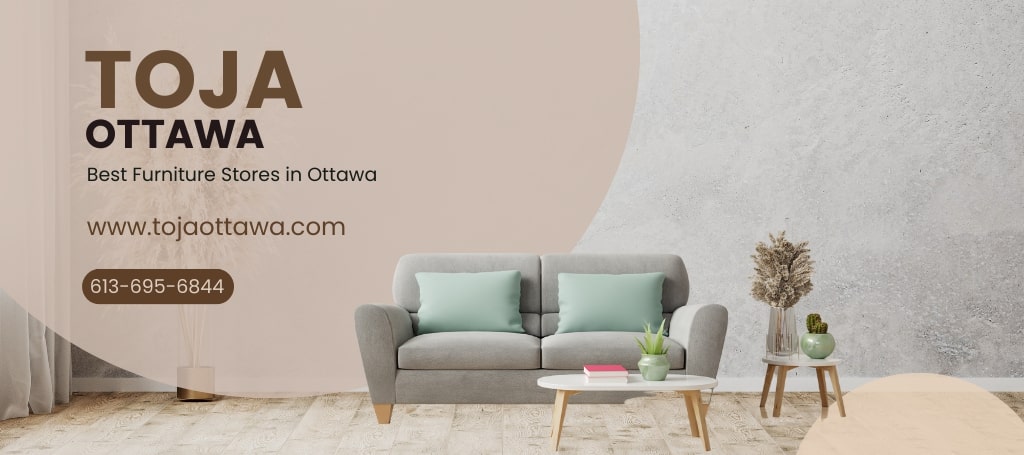 SERVICES
Patio, Lounger, Sectional Sets, Dining, DIY Furniture, Pergolas, Covers, Accent Pillows
ADDRESS
5549 Ann St, Manotick, Ontario, K4M 1A6
CONTACT NUMBER
613-695-6844


[email protected]

WEBSITE
https://tojaottawa.com/
OPERATING HOURS
Monday-Friday: 9am – 5pm
Sat/Sun: by appointment only
Toja Ottawa carries patio furniture that offers to hold up against even extreme weather. Their products are light-weight, rust-resistant, water-repellent and mold-resistant, all the way from the frame to the fabrics they offer.

What we like about Toja, is that their patio furniture is made from a premium synthetic material and sturdy 100% aluminum frames. This means that it can withstand even the harshest conditions of fluctuating weather and climate.

They offer three main styles of their signature furniture: Turo (Straight Arm), Bretton (Sloped Arm) and Slim (which is best for small spaces like condos and boathouses). If you're looking for other types of furniture, like a living room set or work desk, this is not the place to do so.
For those that want to ensure their furniture's protection even further, you can purchase custom-fit fabric covers. These are crafted locally in Canada and made with water-repellent and mold-resistant material.
Specializes in patio furniture
Made from durable synthetic rattan

Also offers furniture covers, hammocks, and pillows
Doesn't sell a wide variety of furniture; niche store
7. Furniture Point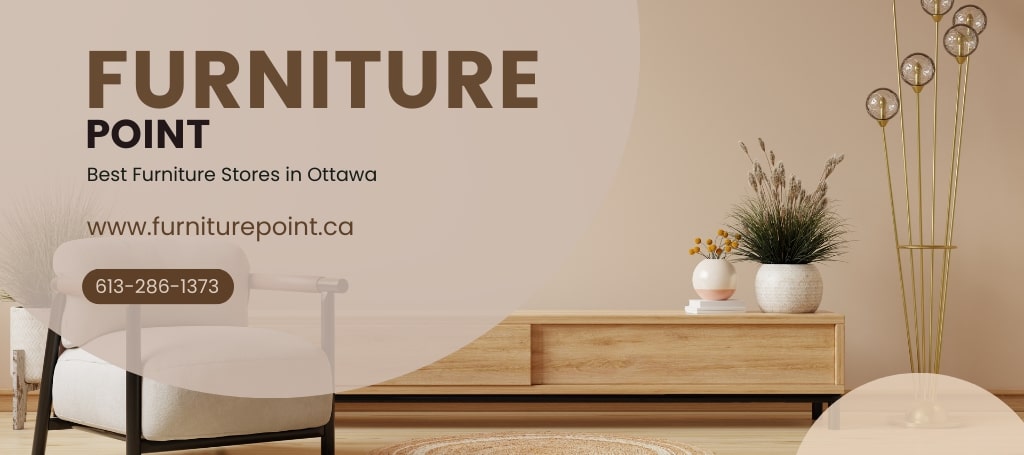 Choosing the right furniture/s for your house or office reflects you, your personality, or even the company that you have. It is really critical for this furniture will convey the ambiance of the whole room or office. That is why it is important that you carefully choose the quality, style, and comfort that will go well together.
For more than seven years, Furniture Point has served Canadians with their furniture needs. It began as a small group of dedicated individuals with a strong desire to succeed and provide high-quality home and office furnishings.
They give importance to the aesthetic of your furniture without jeopardizing its quality and comfort cause who will be buying a piece of furniture that is stylish but gives you pain whenever you sit on it or use it, right? They see to it that they will be able to provide you a piece of furniture with a luxurious feel.
It is also impressive that they have a partnership with Flexiti, through which you can apply for and purchase their furniture at a 0% interest rate. They also have sales and promotions. They had a No Tax Event March Madness last March, and a Family Flash Sale last February. Simply follow their Facebook page to stay up to date on their latest sales and promotions.
One-stop furniture shop
Flexiti Instant Financing Available
Fast Delivery
Free Assembly
Has 10% off on selected items
No BBB accreditation
No description for every mattress that they have
Customer Reviews
Below are some reviews of the satisfied customers of Furniture Point:
"Bought sofa l shape there ,it's just perfect, customer service perfect,they deliver on time ,prices are great,I would recommend everyone to go there,won't regret!" – Merima Mesic
"Good quality custom furniture at reasonable prices. Definitely recommend 👍👍" – Janak Singh
"On time as promised delivery for custom sofas, they really helped to bring them into apartment for us , , will definitely recommend furniture point thanks …" – Ahamad Mohamad
8. The Sofa Bed Store™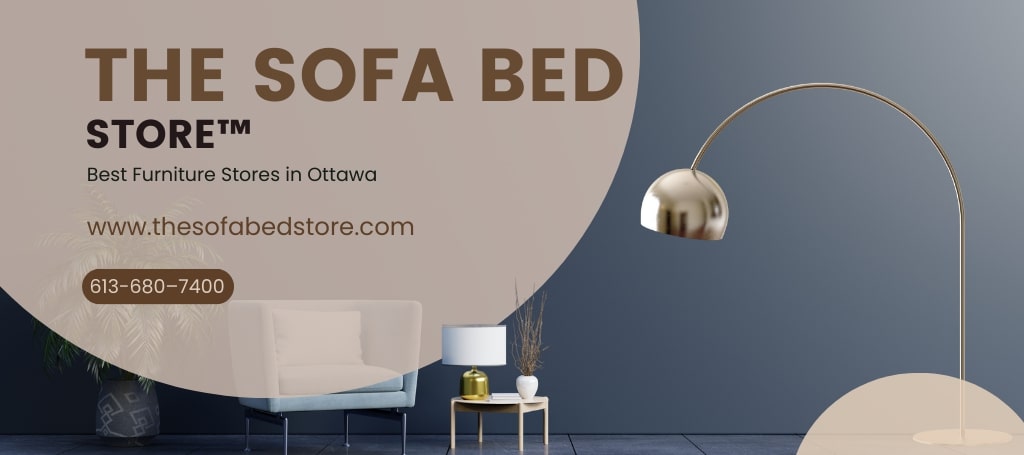 One of the nicest couches in Ottawa can be found at The Sofa Bed StoreTM. They are well-known for their one-of-a-kind couches, which are the result of extensive study into the advantages of sofas and beds.
They were able to give the appropriate answer by researching couch beds and pull-out bed options such as the futon, day bed, trundle, and click clacks. Unlike most standard sofa beds, which conceal the mattress within the seat, their chairs are part of the mattress.
This eliminates the need to settle for a thin foam mattress that has to be tucked away. The result is a clean look and a premium mattress with only comfort in mind.
Aside from their expertly crafted sofa, you can enjoy some of the benefits upon purchasing from their store including free shipping across Ontario and Quebec, easy access & set-up, and quality sofa fabrics.
Quality sofa fabrics
Provides free shipping
Designed in Denmark
Affordable couches
Customer Reviews
We are very happy to have found the Sofa Bed store as an option for additional sleeping space
"We are very happy to have found the Sofa Bed store as an option for additional sleeping space. They were very helpful in working with us to find a product that works in our space. They were very upfront about what they had on hand and what type of fabrics would require delayed delivery. When it was delivered, the crew were very professional in setting up the furniture in the space (on the second floor!). Thank you again for a solid but comfortable bed for our guests!" – NAME HERE
We are very happy with the delivery and quality of the product.
"We are very happy with the delivery and quality of the product. The owner of the company was coming in our direction over the weekend and offered to hand deliver our couch to save shipping fees. It was delivered at the time he said he would be by. We assembled the couch that evening and we love the quality! We were told a little trick on how to pull the seat out to become the bed, which we appreciated. Amazing quality, easy to assembly, extremely comfy to use. 100% would order from them and recommend." – Shelby Carpenter
9. Dala Decor Furniture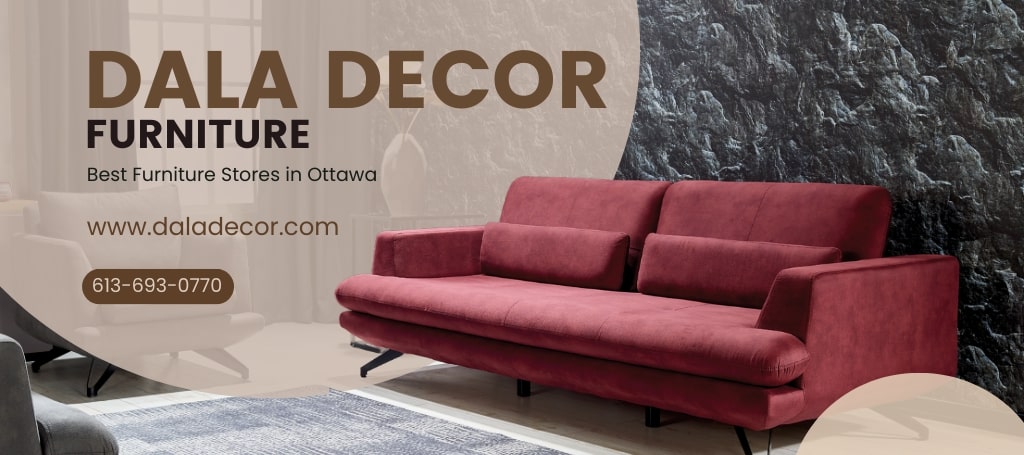 SERVICES
Services
WEBSITE
https://www.daladecor.com/
ADDRESS
1790 Woodward Dr, Ottawa, ON K2C 0P7, Canada
CONTACT DETAILS
+1 613-693-0770
OPERATING HOURS
Tuesday: 10 AM–5:30 PM
Wednesday: 10 AM–8 PM
Thursday: 10 AM–5:30 PM
Friday: 10 AM–5:30 PM
Saturday: 10 AM–4 PM
Dala Decor Furniture is a furniture store and custom design house that aims to bridge the gap between designers and consumers by providing a space for people to explore their design style and have their wants and needs heard.
We prefer them over others because they offer a highly curated selection of furniture pieces, ensuring that customers have access to a range of high-quality and design-forward options. What's great about this is that by sourcing from various suppliers and manufacturers, they can provide a diverse selection to cater to different design styles and preferences.
Aside from this, as a custom design house, their customers can also create bespoke furniture pieces tailored to their specific requirements. This personalized approach allows customers to bring their unique design visions to life and have furniture that perfectly fits their space.
Unlike other stores, Dala Decor Furniture has developed its own line of furniture called the Dala Luxe Collection. This collection is designed in-house and offers design-forward pieces at an achievable price point. Inspired by nature, the collection features timeless, organic silhouettes and textures, giving each piece a distinctive and one-of-a-kind feel.
As of now, Dala Decor Furniture has a flagship showroom, but the availability of their physical stores may be limited to certain areas. This can make it less convenient for customers who are not located near their showrooms and prefer in-person shopping experiences
Curated Selection
Custom Design Services
Has their own line of furniture
Limited Physical Presence
Customer Reviews
"If you are looking for great quality furniture and custom pieces, this is the place to go. Having now purchased a number of products at Dala, it is obvious the staff and design team know their stuff. They are always incredibly helpful and knowledgeable on all the products they can source you. Will look to use Dala in the future for both my residential as well as hospitality spaces."
"Worked with one of the stylists are Dala and they did a great job using some of my existing furniture pieces and finding complimentary decor, bed, bench, art work and plants to tie everything together. Couldn't be happier with how my room turned out. The side tables are originally mine and I didn't think they could work and was planning to buy new but they made it look like it was all meant to be."
FAQs About Furniture Stores in Ottawa
---
A visit to the best furniture stores in Ottawa should help you achieve that interior decorating peg you've always envisioned.
If you think we left out some furniture stores worth reviewing, please send us a message so we can consider them.
And if you have furniture pieces that don't fit your current decorating scheme but you don't want to get rid of yet, you can look up the best self-storage spaces in Ottawa.