Top 5 Fine Dining Restaurants in Ottawa
On special occasions, most people go to fine dining restaurants to experience luxurious meals and impeccable, elegant service. So if you're thinking of visiting one soon, this list of the best fine dining restaurants in Ottawa might help.
Fine Dining Restaurant Specialties
To give you a head start on what to expect from the entries included in this list, below is a table that shows each of the restaurant's specialties.
| Fine Dining Restaurant | Specialty |
| --- | --- |
| Beckta Dining & Wine | 5-course meal and wine pairing |
| Stofa Restaurant | Duck steak and seafood |
| Gezellig | Beef tartare and butterfinger (dessert) |
| North & Navy | Italian dishes |
| Courtyard Restaurant | Short rib and salmon |
Top Fine Dining Restaurants in Ottawa
The restaurants above were selected based on the following criteria:
1. Beckta Dining & Wine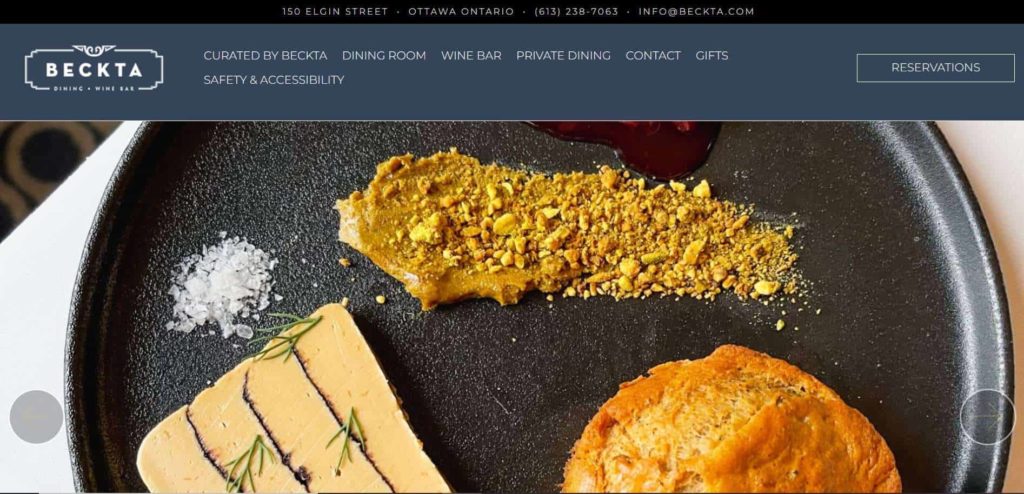 | Test | Info |
| --- | --- |
| PRODUCTS & SERVICES | Snacks, Salads, Duck Breast, Ribeye, Chicken, Tasting Menu, Wines, Beer, Cocktails, Curbside Pickup, Home Delivery |
| WEBSITE | https://www.beckta.com/ |
| ADDRESS | 150 Elgin St, Ottawa, ON K2P 1L4, Canada |
| CONTACT DETAILS | +1 613-238-7063 |
| OPERATING HOURS | Monday to Saturday 5 PM - 10 PM |
| | |
| --- | --- |
| Criteria | Ratings |
| Menu | ★★★★★ (5/5) |
| Price | ★★★★✩ (4/5) |
| Location | ★★★★★ (5/5) |
| General Feedback | ★★★★✩ (4/5) |
Known for its Canadian cuisine, Beckta Dining & Wine is one of the fine dining restaurants to be. Situated along Elgin Street in the downtown core of Ottawa, access to great food and service is made easy.
Providing great hospitality, we like that the restaurant has a team of professionals to provide you with impeccable service. We also like that it offers 2 menus for delicious à la carte dishes or a 5-course, interactive chef's tasting.
On your visit, we suggest getting some of its octopus and duck recipes. For the chef's tasting, we recommend trying out the wine pairings.
It's great that the restaurant has a wine bar that offers a more casual and approachable vibe. There are fine dining meal kits and curated wine packages, too, that are available for curbside pickup or home delivery.
Should you choose to get more privacy, there are private dining rooms as well. With a menu that suits various tastes and addresses different dietary restrictions, these rooms, which can accommodate up to 36 people, are also perfect for corporate events.
The only downside, however, is that occupying the private rooms requires food and beverage minimums that can range from $800 to $2,000. An extra 19% gratuity and 13% HST charge are also added to the final bill.
Although the dishes, in general, are great, some have not been very happy with the food quality consistency. Others even deem some of the food options relatively pricier.
Nonetheless, we still think that Beckta Dining & Wine is a nice place to have a great fine dining experience.
Convenient location
A decent array of food options
Meal kits and wine packages
5-course chef's tasting
With private rooms
Relatively pricier
Issues with food quality consistency
Closed on Sundays
Customer Reviews
Can't get enough
"Can't get enough Beckta. Wow. Every dish makes you say mmmmm. Each dish has balanced flavours, nothing dominates on a plate, and everything comes together fabulously. Their dishes have such great texture combinations as well. You can have such a variety of combinations of food based on what you put onto each forkful and it's all so delicious. Did their chef's tasting menu. Everything was fabulous. Salad, soft shell crab, duck, dessert. Consistent, high quality, wonderful service, and such a fantastic experience when you eat at Beckta." — Amanda Brewster, Google Reviews
Good place
"Beckta was a perfect dinning experience. No room for improvement. The food was sublime and the staff and service was incredible. The setting was classic upscale but contemporary with great music, giving a relaxed vibe that was lovely for an evening dinner. We celebrated a 40th Birthday and I don't think anyone was disappointed. Thank you Beckta for making it a spectacular night!" — Nathan MacAlpine, Google Reviews
2. Stofa Restaurant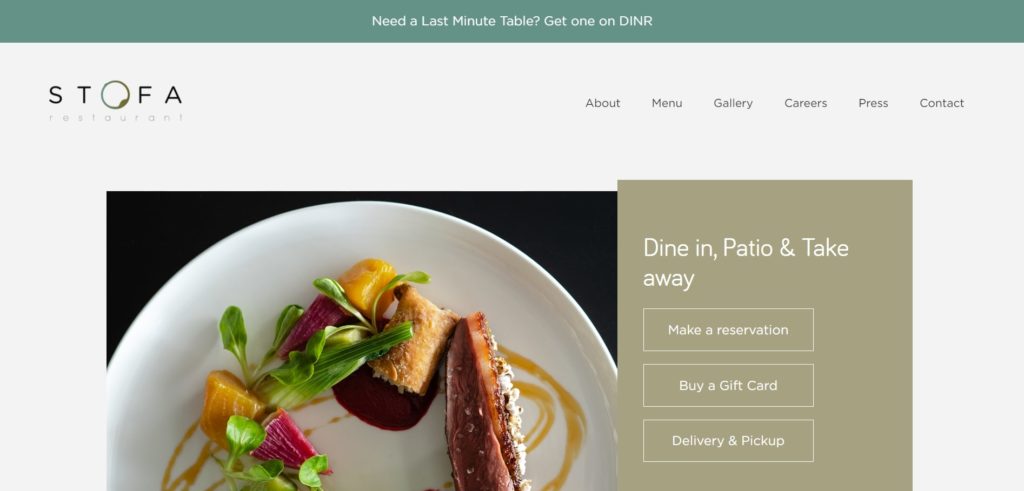 Test
Info
PRODUCTS & SERVICES
Salad, Shrimp, Pork, Pasta, Steak, Dessert, Wines
WEBSITE
https://www.stofarestaurant.com/
ADDRESS
1356 Wellington St. W, Ottawa, ON K1Y 3C3, Canada
CONTACT DETAILS
+1 613-722-6555
OPERATING HOURS
Wednesday to Friday 5 PM - 8:30 PM

Saturday 5 PM - 8:45 PM
| | |
| --- | --- |
| Criteria | Ratings |
| Menu | ★★★★✩ (4/5) |
| Price | ★★★★✩ (4/5) |
| Location | ★★★★★ (5/5) |
| General Feedback | ★★★★★ (5/5) |
Chosen as one of Canada's 100 Best Restaurants in 2018, Stofa Restaurant is a fine dining restaurant to consider. Conveniently located along a major street in Ottawa, getting there is a breeze.
The restaurant is owned by Jason Sawision, who won gold at the Canadian Culinary Championships in Kelowna last 2012 and 2016.
His 15-year experience is complemented by two competent people — Chef de Cuisine Kathryn Ferries and Sommelier Shane Dirksen.
We appreciate that the restaurant features a menu that uses ingredients that are produced by local farmers and suppliers. It's also great that the chef can easily work around allergies and accommodate different dietary restrictions.
As of writing, it only offers a 5-course table d'hote menu for $110 per person, excluding taxes and beverages.
As this may change, we recommend visiting its website for more information, especially when placing reservations.
Stofa Restaurant is open for inside dining, and if the weather permits, patio evening dining. There's also a Stofa on the Sofa meals, which are ideal for two.
However, if you're celebrating a special occasion that falls between Sunday and Tuesday, this restaurant might not work for you as it is only open from Wednesday to Saturday. The operating hours, from 5 to 8:30 PM, are also relatively shorter.
Although the price is a little expensive for the rather smaller portions, every dish is worth it. The friendly and knowledgeable staff also makes the dining experience extra special.
Top 100 restaurants in 2018
Convenient location
Accommodates dietary restrictions
5-course menu
Relatively limited food options
Closed from Sunday to Tuesday
Customer Reviews
The most recommended restaurant
"This is the most recommended restaurant on our drive all the way from Vancouver. Every dish is exquisite and very tasty. This is a multiple enjoyment of color and taste. Also, the service staff are very nice. Although the price is a little expensive, it is definitely worth it. Every dish is worth waiting patiently and expecting." — Emily Tong, Google Reviews
Great experience
"Great experience at Stofa. My partner and I were celebrating our 3 yrs together and wanted a nice romantic evening with great food and wine and we were not disappointed. The wine pairing was great (mostly wines from Ontario) and our servers were very knowledgeable about where the food and wines came from explaining the reasons for serving those choices that evening. We will definitely be going back for more!" — Lina Brouillard, Google Review
3. Gezellig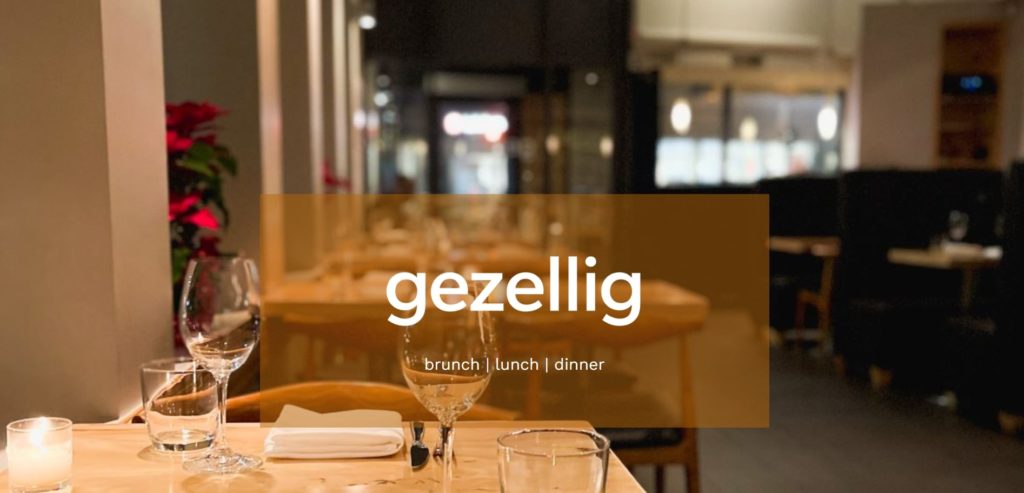 Test
Info
PRODUCTS & SERVICES
Appetizers, Snacks, Soup, Panini, Burger, Ribeye, Pork Loin, Wines, Cocktails
WEBSITE
https://www.gezelligdining.ca/
ADDRESS
337 Richmond Rd, Ottawa, ON K2A 0E7, Canada
CONTACT DETAILS
+1 613-680-9086
OPERATING HOURS
Tuesday to Wednesday 5 PM - 9 PM

Thursday 11:30 AM - 2 PM, 5 PM - 9 PM

Friday 11:30 AM - 2 PM, 5 PM - 10 PM

Saturday 10 AM - 2 PM, 5 PM - 10 PM

Sunday 10 AM - 2 PM, 5 PM - 9 PM
| | |
| --- | --- |
| Criteria | Ratings |
| Menu | ★★★★★ (5/5) |
| Price | ★★★★✩ (4/5) |
| Location | ★★★★★ (5/5) |
| General Feedback | ★★★★✩ (4/5) |
Named after a Dutch adjective that means time spent with loved ones, Gezellig remains true to its commitment to providing extraordinary food, wine, and dining experience.
Located at the heart of Westboro Village, patrons can enjoy the great ambiance of a converted 1950's bank building.
Led by Executive Chef Katie Ardington, the restaurant offers various menus for brunch, lunch, and dinner. You may also opt to get some add-ons like side bacon for brunch or compliment your delicious meals with a nice selection of wine.
On your visit, we recommend trying out the PEI mussels as an appetizer, and gnocchi and pork for the main dish. You might want to wrap up your meal with the restaurant's renowned Butterfinger for dessert as well.
If you're dining with your little ones, there's a special option for kids consisting of banana bread, French toast, and fresh fruits.
There's also private dining with additional amenities like high-speed internet and an HD 55″ TV that you and your guests can enjoy. You can even have the entire restaurant closed down if you were to hold an event for larger groups.
We like that it is open 6 days a week, with operating hours that extend as early as 10 AM up to 10 PM. The restaurant, however, is not appropriate for special occasions that fall on a Monday as they are closed then.
Although some might have not been very satisfied with the taste and portions of some of the dishes, we still think that it offers great food. The friendly and professional staff members are a bonus.
Great location
Offers various menus
With kids' menu
Private dining option
Nice ambiance
Some food portions are relatively small
Closed on Mondays
Customer Reviews
An amazing experience
"Went here for the first time on a date – what an amazing experience! Great decor and friendly staff. Had lunch items – gnocchi, tuna tartar, salad greens, and their famous butter-finger for dessert. We shared and they were kind enough to present the food on 2 plates. The gnocchi and tuna left us speechless on the first bites. HIGHLY recommend this place. Will be going back for dinner or brunch next time!" — Rahul Sharma, Google Reviews
Give this place a try
"My mother and I spontaneously decided to give this place a try, and we're so glad we did! Probably the best service I've received in a long time. The hostess, the bartender and the server were all so welcoming and professional. The food was absolutely amazing. We ordered 3 starter plates: lamb rigatoni, gezellig greens and blue crab cake which came hot and beautifully presented. Our mains were butternut gnocchi and pork. It was incredible! Highly recommend to those who love to try new things!" — Laura Colasante, Google Reviews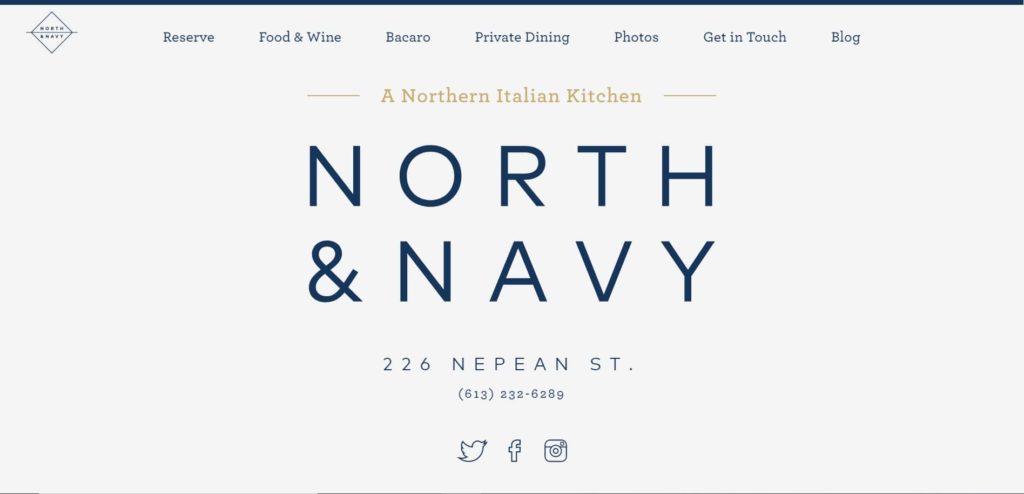 | Test | Info |
| --- | --- |
| PRODUCTS & SERVICES | Appetizers, Pasta, Seafood, Vegetables, Desserts, Wine |
| WEBSITE | https://northandnavy.com/ |
| ADDRESS | 226 Nepean St, Ottawa, ON K2P 0B8, Canada |
| CONTACT DETAILS | +1 613-232-6289 |
| OPERATING HOURS | Monday to Saturday 5 PM - 10 PM |
| | |
| --- | --- |
| Criteria | Ratings |
| Menu | ★★★★✩ (4/5) |
| Price | ★★★★✩ (4/5) |
| Location | ★★★★★ (5/5) |
| General Feedback | ★★★★★ (5/5) |
Located along downtown Ottawa, North & Navy is one of our top choices for an awesome fine dining experience. Dining here is made extra convenient with available parking on the street and a city parking situated just across.
Turning to its food selections, the restaurant boasts a tradition-inspired menu. On your visit, we recommend trying out its squid ink pasta and other beef dishes.
If you're vegetarian, there is also a decent array of dishes you can choose from. Since fine dining wouldn't be complete without wine, the restaurant also has a nice list of wines you can choose from — from bubbles to reds.
For an intimate gathering for a small group of people or a corporate event, you might want to consider booking the restaurant for private dining. What's nice is that the space is fully equipped with all the audio and visual equipment you would need.
The issues, however, are that food options are relatively fewer and that the $100-per-guest pricing might be a bit heavy for some.
It's great that North & Navy offers gift certificates that you can use to pay the entire bill or a part of it. This could also be a perfect gift idea for family and friends who deserve a nice evening to share.
The restaurant is open from Monday to Saturday. Operating hours from 5 PM – 10 PM might seem relatively shorter, though.
While food and service might be great, servings are not quite satisfying as the portions are relatively smaller. The prices of most food choices are also deemed pricey.
Nonetheless, with its first-class hospitality, great food, and a nice ambiance, North & Navy remains one of the best places to visit.
Nice location
Tradition-inspired menu
Private dining options
Offers gift certificates
Convenient street and city parking
Relatively fewer food options
Small servings for the price
Customer Reviews
They will not let you down
"Favourite restaurant in Ottawa. The food and the service are a top tier experience. You get the quality of fine dining in the food, drink and service but can also enjoy the vibe of a quaint and family-owned restaurant. Impress your parents or a date by taking the to North & Navy, they will not let you down! ❤️" — Alannah Link, Google Reviews
A dining experience you will not soon forget
"Simply put, North & Navy is amazing. The ambiance, service, and food make it one of my favourite places in Ottawa. The incredible attention to detail makes this a dining experience you will not soon forget. I still dream of the short rib ravioli in the jus/whey sauce. It was so good that we ordered another serving for dessert!!" — Allyson Fraser, Google Reviews
5. Courtyard Restaurant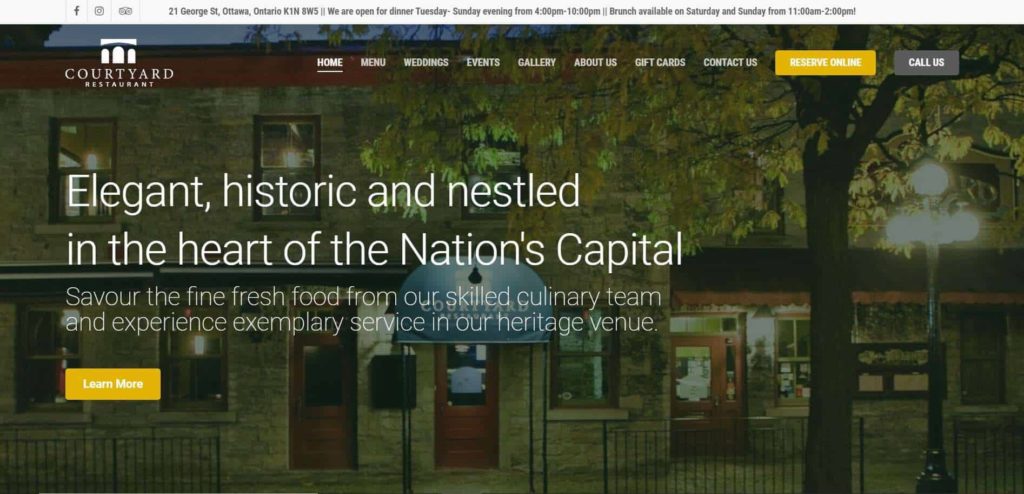 | Test | Info |
| --- | --- |
| PRODUCTS & SERVICES | Appetizers, Chicken, Steak, Seafood, Duck, Lamb, Wine |
| WEBSITE | https://www.courtyardrestaurant.com/ |
| ADDRESS | 21 George St, Ottawa, ON K1N 8W5, Canada |
| CONTACT DETAILS | +1 613-241-1516 |
| OPERATING HOURS | Monday to Saturday 5 PM - 10 PM |
| | |
| --- | --- |
| Criteria | Ratings |
| Menu | ★★★★★ (5/5) |
| Price | ★★★★★ (5/5) |
| Location | ★★★★★ (5/5) |
| General Feedback | ★★★★✩ (4/5) |
Situated along Ottawa's famous ByWard Market, The Courtyard Restaurant promises fine fresh food that is matched with superb service. No wonder it won Tripadvisor's Traveler's Choice Award in 2020.
Renowned for its romantic vibe, it is ideal for dates and anniversary celebrations. Further, its gorgeous 60-seat patio that's available from May to September can help make your intimate dining experience worth remembering.
For corporate events, the restaurant can accommodate 10 to 150 guests with special cocktail receptions and customizable menus. There are several rooms as well that you can choose from, but The Loft with a contemporary fireplace is a personal favorite.
Led by award-winning Phil Waserman with over 30 years of culinary experience, the restaurant offers great food options.
On your visit, we recommend trying out its Kale Caesar as an appetizer, and the Denver steak or Roasted Lamb Chops for the main dish.
Apart from having vegan and vegetarian options for those with dietary restrictions, portions are also satisfactory and quite filling. While food rates can be relatively pricier, the taste will all be worth every cent.
Should you choose to enjoy the food at home, there are take-out menus available. There are delectable "choice" menu packages, which allow customers to select between 2 to 3 separate entrées, appetizers, and desserts.
As an added convenience, there are 2 large public parking lots located directly beside the courtyard. A metered public parking is also available throughout the ByWard Market area.
Overall, with excellent food and attentive staff, dining in the beautifully decorated restaurant will be an experience you won't easily forget.
Won a relevant award
Convenient location
With private rooms
Accessible parking
Closed on Mondays
Food rates can be pricier
Customer Reviews
Hats off
"Beautiful decor and atmosphere. The service was excellent. The food was out of this world. The duck was cooked to perfection. The chicken was moist and very flavourful. Hats off to the chef for the combination of flavours! Will definitely be back. We highly recommend." — Julie Sommerville, Google Reviews
Beyond what we ever imagined
"Our overall experience was beyond what he'd ever imagine. Julia and her team were phenomenal. Everything was so stress free and ran smoothly. The food was fantastic, well worth every dollar spent. I highly recommend this venue!!! You will not regret it!" — Lorraine Viau, Google Reviews
FAQs about Fine Dining Restaurants
---
There you have it! We hope that the list has helped you find the perfect fine dining restaurant to make your next celebration extra special.
Since you're on this page, you might also find the following articles interesting: