The 14 Best Electricians in Ottawa
Have an electrical issue that you need fixed right away? You're in luck, as we're bringing you the top electricians in Ottawa!
We'll also talk about how much electrical services cost in general here and give you answers to FAQs on the topic. By the end of this article, you should be able to find the right electrician for your needs!
What to Look For in an Electrician
Let's start by taking a look at what you should know before hiring an electrician.
License and Insurance
There are different types of licenses: make sure that the electrician you're hiring has all the necessary ones. For obvious reasons, also check that the licenses presented are not expired!
Value for Money
Once you know exactly what you need done, get at least 3 quotes with price breakdowns so you can compare your options.
You should avoid those that charge a significant amount above the group mean. At the same time, one that's too cheap could be cause for concern.
That's why you need to assess your choices based on multiple aspects, not just cost!
Qualifications and Experience
There are a lot of different electricians, many with extra qualifications and experience in specific fields of electrical work. We typically recommend hiring master electricians if you can get them.
Hiring a master electrician guarantees at least 3 years of experience and a 12-month warranty on workmanship. Pro tip: opt for an electrician who holds energy efficiency accreditation too.
Recommendations or References
A recommendation from a trusted friend or family member is invaluable when choosing a tradesman to hire. Knowing that someone you're personally familiar with has had a positive experience with them will also put you at ease when it comes to their workmanship.
That said, references from a lot of other people are valuable too. References from business owners are particularly useful, as these are clients who have strong incentive to get their money's worth.
Attitude and Communication
Professionalism comes in many forms, but a non-negotiable one is attitude.
If they come on time or let you know beforehand that they might be coming in late for any reason, are transparent with cost breakdowns, and are generally pleasant to work with, then you've got yourself a keeper!
How Much does hiring an Electrician Cost in Ottawa?
We've listed the average hourly rates for the different levels of electricians, but remember that actual prices may vary!
| | | |
| --- | --- | --- |
| Type of Electrician | First Hour rate | Average hourly rate |
| Master | $195 | $129 |
| Journeyman | $84 | $71 |
| Apprentice | $84 | $51 |
Top Electricians in Ottawa
Now that you know what you're looking for (and how much it may cost), we've prepared a list of the best electrician services in Ottawa. Let's get started!
1. MIKE FULLER ELECTRIC LTD.
BEST FOR
Rewiring
SERVICES
Home Inspections
Lighting Design
Pool and Landscape Wiring
Breaker Switch
Troubleshoot Electrical Problems
Rewiring
Service Panels
Aluminum Wiring
Light and Electrical Outlet Installation
Bulb Replacement
Kitchen Upgrades
Basement Wiring
Parking Lot Lighting
WEBSITE
www.mikefullerelectric.com
ADDRESS
1692 Ortona Avenue, Ottawa, ON K2C 1W7
CONTACT DETAILS
(613) 225-3249
OPERATING HOURS
Mon – Fri 7:00 am – 4:00 pm
Sat & Sun By Appointment
License number
#7000374 #6000576
Mike Fuller Electric Ltd. is a family-owned and family-operated electrical business, and it has more than 33 years of experience in this industry, operating since 1987.
The company offers a variety of electrical services for both commercial and residential needs, specializing in rewiring older homes, upgrades, and outdoor lighting. They also provide a 1-year warranty on all electrical repair and installation services.
The company offers fully insured services, free quotes, and great customer service. They cover areas all around Nepean, Kanata, Orleans, Stittsville, Westboro, Ottawa South & Barrhaven – but try giving them a call if you're close to any of these places as they're very accommodating!
Available for servicing every day of the week
30 years' experience
Full insurance
Weekends are only by appointment
Higher prices than most
Customer Reviews
With over 30 years of experience and an excellent track record, Mike Fuller Electric Ltd. has made a name for itself in Ottawa. Check out these reviews from satisfied clients:
"They were polite, timely, and efficient. Not sure what else you could really ask for. I recommend them whole-heartedly and will definitely use them again in future." Duncan Butcher
"Installed an upgraded service and new service panel. Work was done on schedule and quickly. All necessary dry wall holes where patched. Crew was friendly and accommodating. Not the cheapest but by far best value for money." Kevin O'Hara
2. RING ELECTRIC, INC.
BEST FOR
Upgrades and Energy Efficiency
SERVICES
Home Renovations
Rewiring Residential Multiplexes
Knob and Tube Wiring Replacement
Electrical Panels Upgrades
Generator Back-Up Installation and Maintenance
Communications and Entertainment Systems Wiring
Strip Lighting Designs
Surge Protection
LED Light Panels
WEBSITE
www.ringelectric.ca
ADDRESS
27 Northside Road, Unit 23, Nepean, Ottawa, ON K2H 8S1
CONTACT DETAILS
(613) 421-4442 (613) 299-8239

[email protected]

OPERATING HOURS
Mon – Fri 7:30am – 4:00pm
Sat – Sun Closed
License
#7003099
Ring Electric Inc. has operated for over 17 years, specializing in outside lighting, ceiling rewiring older homes, and fan installations.
Their team of highly skilled technicians delivers licensed electrical services at affordable prices, also offering free quotes.They also handle car charger installation services with a wide variety of LED lighting options.
Ring Electric Inc. offers full installation services and has been said by many clients to get the job done quickly and efficiently. They're known for providing the best customer care with full transparency and a positive attitude!
Affordability
Great customer care
Customer Reviews
Affordability and reliability are two things that Ring Electric is never in short supply of, according to these happy customers:
"Beyond satisfied!
Quote was reasonable, they showed up as promised and work was done efficiently. After they left, other than the new plug, you would never have known they were there.
I would recommend them highly for any electrical need." -Robb
"I contacted Ring Electric to help me sort out a problem with an exhaust fan. We exchanged a few emails to attempt to troubleshoot the issue, but in the end I was not able to resolve it on my own. The electrician arrived on time, diagnosed a problem with the switch and replaced it. He wore a mask on site and maintained distance while in the home. Very happy with the service." – AJ
3. Gorilla Voltage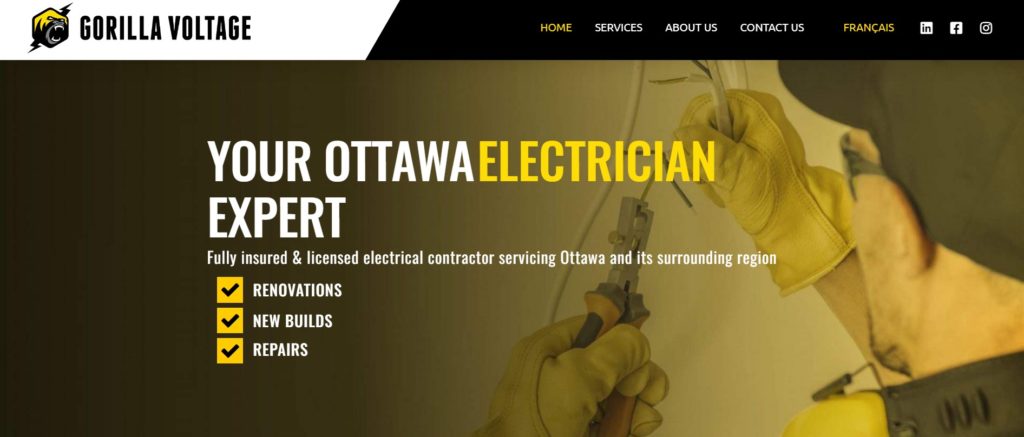 BEST FOR
Residential Renovations and New Builds
SERVICES
Lighting InstallationsElectrical Panels
EV Chargers
Hot Tubs/ Pool Connections
Home Renovations
New Builds
WEBSITE
https://gorillavoltage.ca
ADDRESS
255 Trailsedge Way, Orleans, On, K1W 0E8
CONTACT DETAILS

[email protected]


613-704-2931
OPERATING HOURS
Mon-Fri: 8am-4pm
Weekends: By appointment only
License
#7014700
Gorilla Voltage is a licensed electrical contractor that provides electrical services to residential clients, specializing in renovations and new builds.
Their team consists of registered apprentices and licensed Journeypersons from the Ontario College of Trades. We like that each project is also overseen by a Master Electrician for extra supervision.
Gorilla Voltage's services include lighting installations, electrical panels, EV chargers, Hot tubs, etc.
As a plus, they offer a 2 million-dollar liability coverage in their projects. This assures their clients that they provide quality services in every operation.
In terms of pricing, they are slightly more expensive than others. Clients may request a virtual consultation to discuss their projects and dream outcome.
Virtual Consultations
Registered and licensed company
Projects always supervised by Master Electricians
Has 2M liability coverage
Slightly more expensive than most
Weekends by appointment only
Customer Reviews
Here are what some clients have to say about their services on Google:
"Ask yourself this – What's more important? A crazy cool logo that blows your mind whenever it pulls up to your house? Or a reliable, hard working professional thats dedicated to setting the new standard here for the Ottawa Sparkies…Doesn't matter. With Gorilla Voltage you get both!Count on Nick and his team to deliver quality service every time!" – Jonathan Gagne
"My experience was incredibly stress free and positive. Our electrician Nick was professional, reliable and knowledgeable. I would definitely use this company again." – Sarah Smith
4. SALT ELECTRIC
BEST FOR
Affordability
SERVICES
Troubleshooting
Kitchen
Bathroom
Recessed and Outdoor/Landscape Lighting
Dedicated Circuits
Electrical Surge Protection
Attic and Bath Exhaust Fans
Ceiling Fan Installation
Fixture Repair and Replacement
Hot Tub and Appliance Wiring
Sub-Panels
Dimmer
Light Fixture
WEBSITE
www.salterelectric.com
ADDRESS
7 Crownhill Street, Ottawa, ON K1J 7K1
CONTACT DETAILS
(613) 789-6202

[email protected]

OPERATING HOURS
Mon – Fri 8:00 am – 4:00 pm
Sat – Sun Closed
Richard Salter Electric Ltd. specializes in electrical safety and maintenance inspections & electrical panel upgrades services.
In fact, they've performed these things for the past 55 years. Thanks to this, they are one of the most experienced and reliable electric service companies in Ottawa.
The team strives to surpass their customers' expectations on every job, with highly trained and courteous technicians for their work. Providing good customer service and offering a complete range of high-quality electrical services are the top priorities of the company.
Richard Salter Electric Ltd. offers free consultation services and the lowest price guarantee for all their electrical upgrade and installation services. They also have a reputation for having technicians with great dispositions!
Excellent customer service
Affordable
Customer Reviews
Affordable prices, friendly technicians, and decades of experience – what more could you ask for, their clients told us. Here are some reviews from satisfied customers:
"The electrician called me back the next day and has answered my inquires and book an appointment for the next day. On time, the service was accomplished perfectly. The price was the lower price I found in my research." -Celso Arrais
"Light switch not working, I called Salter Electric to come and fix 3 light switches that weren't working, Steve was very professional and clean and found the issue within 20 mins. The cost was very reasonable!" -Joe J
5. NEPEAN ELECTRIC
BEST FOR
General Electrical Work
SERVICES
Residential
Commercial
Industrial
Renovations
Rewiring
Pot
Lights
Master Electrician
Electrical Contractor
Electrical Service
Service / Panel Upgrades
Aluminum Wire Specialists
Hot Tubs & Pools
Stand-by Generator Installation
Authorized Convectair Installation
24 Hour Emergency Service
WEBSITE
www.nepeanelectric.com
ADDRESS
3137 Robertson Rd, Nepean, ON K2H 7T8, Canada
CONTACT DETAILS
(613) 829-2765

[email protected]

OPERATING HOURS
Mon – Tues 7:00am – 6:00pm
Wed – Fri 7:00am – 6:00pm
Sat – Sun closed
Nepean Electric believes that being "up to code" is the absolute minimum standard. They guarantee that they accomplish each electrical project with precision and integrity while giving their clients safe and efficient services.
With over 40 years of reliable service, they've done work in hundreds of households across Ottawa and surrounding areas. Their customer service is top-notch as well – and includes round-the-clock emergency services, ensuring that you get what you need whenever you need it.
They have an easy-to-navigate website that tells you most of the information you need. They also offer free consultations on weekdays!
24-hour emergency service
Great website
Slightly more expensive than most
Customer Reviews
With their 24-hour emergency service and great customer care, clients say you can't go wrong with Nepean Electric. Here are some reviews from satisfied clients:
"I have used these guys twice and they are stellar. Derek did some previous work for me and I was very impressed, today Derek and Kevin were at my house to fix some wiring, I called and these guys were there in an hour or so willing, ready and able to fix my problem. They are very polite, curtious, professional and knowledgeable. I have great confidence in highly recommending Nepean Electric for any job you may need." –Heath Devine
"Electricians arrived on time and gave me a quick appointment. They were courteous and professional and the work was done quick with minimal disturbance. Definitely would recommend this company." –Diana Abdulhamidova
6. WATSON ELECTRICAL LTD.
BEST FOR
Electrical Installation and Repair
SERVICES
Residential and commercial services
Panel upgrades
Wiring repairs
Electrical troubleshooting
Switch, lighting, and new outlet installation
WEBSITE
www.watsonelectrical.ca
ADDRESS
54 Nighthawk Cres, Kanata, ON K2M 2X6
CONTACT DETAILS
(613) 230-9725
OPERATING HOURS
Mon – Fri 8:00am – 5:00pm
Sat – Sun closed
Watson Electrical has been providing electrical services to both commercial and residential clients since 1983. They serve Ottawa and the surrounding area, including Barrhaven, Kanata, Richmond, and Nepean.
They specialize in electrical installations and repairs. They do take on other jobs such as panel upgrades, rewiring, and lighting work, though.
They say that their goal is to provide timely, professional and superior service in every job they take on. From what we've seen, they do appear to operate with genuine commitment to offering expert service.
They also have a reputation for professional conduct. Their licensed electricians are said by clients to be respectful to each and every customer, for example.
Affordable
Great insurance
Website doesn't offer much information
Closed on weekends
Customer Reviews
With affordability and a good insurance policy, Watson Electrical has been consistently providing excellent electrical services throughout the years. Here are a few reviews from happy clients:
"David and his team installed an EV charger for my car at our house recently. Not only was his work excellent, as verified by the Electrical Safety Authority's (ESA) inspection, his quoted price for the work was one of the most reasonable in Ottawa. His communication was always prompt, friendly, and thoroughly professional. I can't recommend him highly enough." -Robin Frost
"I had Watson Electrical install a charger for my new Tesla at my condo parking spot.
Everyone involved was friendly, honest and professional. They got the job done on time and there were no surprises. The work passed inspection easily.
I would not hesitate to recommend them for any kind of work you might require.
Thanks guys!" -David Frere
7. MONTANA ELECTRIC
BEST FOR
Residential Electrical Solutions
SERVICES
HOUSEHOLD ELECTRICAL SERVICES
RENOVATIONS
BASEMENT WIRING
HOT TUB WIRING
SWIMMING POOL WIRING
EV CHARGING STATION
ALUMINUM WIRE / COPPER PIGTAILING
SERVICE UPGRADES
ESA INSPECTION & REPAIR
WEBSITE
http://montanaelectricalservices.com/
ADDRESS
1568 Merivale Rd. Suite 609
Ottawa, Ontario, K2G 5Y7
CONTACT DETAILS
613-612-6462
[email protected]
OPERATING HOURS
Contact for more information
Montana Electric is one of the oldest electricians in Ottawa, having been established in 1998. Make no mistake, though, since master electrician David has been servicing the area for much longer than that, and started his company in hopes of providing quality residential electrical services to all of Ottawa.
From then until now, the company has maintained its standards of service, offering honest, effective work to all of its clients. The range of services has also grown as well, now including new home and post-renovation wiring as well as the occasional light commercial work.
With Montana Electric, clients need not worry about professional electricians being too busy to take on "simple" or "small" home electrical jobs. The Montana Electric team is always readily available, even offering free estimates.
It's also worth noting that they're quick to respond, and endeavors to work on clients' electrical needs as soon as they are able to.
Free estimates given
Accepts various payment methods
Competitive rates
Only occasionally takes on commercial electrical jobs
Customer Reviews
Here are some comments left by very satisfied clients of Montana Electric:
"Great service. Had a residential electrical problem in my basement that was quickly fixed on time and was done professionally. I would definitely use Montana for any future residential work."
"Needed an electrician with some jobs around the house (ceiling fan, dimmers, ceiling lights and relocation and installation of smoke/CO2 detectors). Received a fair quote and appointment. David completed the job in a professional manner and was courteous in answering any of our questions. David will now be our go-to for electrical work. I highly recommend Montana Electrical"
8. CERTIFIED OTTAWA ELECTRICIANS
| | |
| --- | --- |
| BEST FOR | Emergency Electrical Services |
| SERVICES | Residential and Commercial Electrical Services |
| WEBSITE | https://electricianinottawa.com |
| ADDRESS | 440 Laurier Ave W Suite 200, Ottawa, ON K1R 7X6 |
| CONTACT DETAILS | (613) 800-2661 |
| OPERATING HOURS | 24/7 |
Certified Ottawa Electricians comprises of skilled electricians who put great focus on customer satisfaction. As a result, they constantly strive to provide prompt, high-quality electrical services to the people of Ottawa.
It's worth noting that this company is one that specialises in emergency electrical services for residential and commercial properties. Despite the rush that these jobs entail, Certified Ottawa Electricians are thorough and effective in their work, ensuring that wires are properly done and problems have been resolved before they leave the properties.
Certified Ottawa Electricians' team is also made up of certified electricians, who are at least 70% proficient in their fields. They also possess 309As, a ticket that allows them to work on properties ranging from simple homes to industrial buildings.
Emergency services available
Electricians possess valid 309A tickets that allow them to work on residential, commercial, and industrial properties
Proficient and certified electricians
9. OTTAWA ELECTRICAL SERVICES
BEST FOR
Electrical Services for Homeowners and Businesses
SERVICES
Aluminum Wiring
Ceiling Fan Installation
Electrical Inspections
Electrical Outlet Installation and Socket Replacement
Electrical Service and Panel Upgrades
EV Charger Installation
Pot Light Installation
Rewires
Service Calls
Smoke Alarm Installation
WEBSITE
https://www.ottawaelectricalservices.ca/
ADDRESS
66 Meadowlands Dr. W, Nepean, ON K2G 2R6
CONTACT DETAILS
613 600-6448 | [email protected]
OPERATING HOURS
Monday – Friday, 8:00 AM to 4:00 PM
Reliable and locally owned, Ottawa Electrical Services has serviced Ottawa Area for over 15 years. This company provides services to homeowners and businesses alike.
As interest continues to increase, especially with smart homes and electric vehicles, their team's purpose is to bring state-of-the-art electricians to businesses and homeowners in Ottawa.
To ensure the quality of their services, Ottawa Electrical Services prides themselves in having fully licensed and insured electricians who have over 8 years of experience in the electrical industry. In addition to being fast and efficient, they are also prompt and tidy.
Finally, they aim to give 100% customer satisfaction, making their client's needs their top priority. This is why Ottawa Electrical Services offer free quotations with no hidden fees and offers a flexible schedule that would fit their customer's needs.
Over 15 years of experience
Free quotation
No hidden fees
Emergency calls available
Can be pricey
Closed on weekends
Customer Reviews
Here are a few reviews that previous clients have left:
"Ryan was great to deal with. Very happy with the pot lights and other general repairs they preformed. You guys are now my go to electricians."
"I live in Nepean, and needed an electrician to move some plugs for a new patio door. The guys that showed up were on time and very professional. Very happy to use Ottawa electrical services again."
10. FOCAL ELECTRIC
BEST FOR
Responsive and professional electricians
SERVICES
Residential and Commercial Electrical Services
WEBSITE
https://focalelectric.ca
ADDRESS
283 Losino Crescent, Stittsville, Ontario K2V 0E4
CONTACT DETAILS
613-250-8592
[email protected]
OPERATING HOURS
Mon-Fri 08:00 AM – 05:00 PM
Quick responses, quality wiring, and professional electricians — these are only some of what Focal Electric promises to their clients. This company constantly works to provide reliable, high functioning electrical work to Ottawa, Nepean, Orleans, Kanata, Stittsville, and Barrhaven.
Unlike other electrical companies, Focal Electric caters to both residential and commercial clients, assisting in wiring new homes, established homes, offices, and businesses. Their team of expert electricians move with minimal disruptions caused, and always leave the properties they work on with excellent wiring and maintenance that is just as good.
24/7 services
Fully-screened and background checked electricians
Fully-licensed, bonded, and insured
Customer Reviews
Learn more about Focal Electric from previous clients:
"I've never hired an electrician before and this was a daunting process. We tried 4 other companies – none would show up or call back. Focal Electric to the rescue! They came within 24 hours, were kind & professional, used Covid precautions, and were thorough. They shared their knowledge during the process. I'm hiring them again in the near future for another project. Reasonable pricing as well."
"Professional, very responsive, great quality and value. Quotes were very competitive and the folks at Focal were very accommodating. Pot lights are looking great and they fixed some issues we had with wiring of switches and outlets. Highly recommend the great guys at Focal."
11. OTTAWA ELECTRIC
BEST FOR
Safe and Reliable Electrical Services
SERVICES
Residential and Commercial Electrical Services
WEBSITE
https://www.ottawa-electric.ca/
ADDRESS
80 Topley Crescent, Ottawa , ON Ottawa, Ontario,
CONTACT DETAILS
Phone:
+1 613-218-0341
E-mail:
[email protected]
OPERATING HOURS
Mon-Fri 08:00 AM – 05:00 PM
Ottawa Electric endeavours to provide quality electrical services to the people of Ottawa. The company accommodates both residential and commercial clients, offering a wide range of services that are safe, efficient, and reliable.
The aforementioned services typically have to do with circuit installation and upgrades, home lighting design and installations, and electrical panel upgrades. Ottawa Electric also offers more specialised services, such as child proofing outlets and upgrading aluminium to copper.
For commercial clients, Ottawa Electric can provide electrical services for new construction builds and existing ones.
Ottawa Electric is insured for up to 5 million and will provide one year warranty.
Professional licensed electricians
Caters to residential and commercial clients
Excellent customer service
12. BRT ELECTRIC
BEST FOR
Wide selection of electrical services for residential, commercial, and industrial properties
SERVICES
Troubleshooting
Exterior lighting
Inspect for safety and hazard
Load calculation of power consumption
Ceiling fan
Exhaust fan Changing
Transfer switch
Upgrading the panel
Hot Tube/Sauna
Dryer and stove outles
Pools
Electrical lighting upgrades Bathroom lights
Security lights
WEBSITE
https://www.brtelectric.ca/
ADDRESS
80 Topley Crescent, Ottawa , ON Ottawa, Ontario
CONTACT DETAILS
Phone:
+1 613-218-0341
E-mail:
[email protected]
OPERATING HOURS
Mon-Fri 08:00 AM – 05:00 PM
If you are looking for a great electrician in Ottawa, then look no further than BRT Electric. They are one of the best electricians in Ottawa, but that's not all.
They offer all sorts of electrical services, from electrical inspections to wiring upgrades.
BRT Electric can do everything from installing new electrical outlets to installing new generators. Their electricians are always up-to-date with the latest codes and regulations to make sure that your home or office is safe and compliant with all the requirements.
Additionally, BRT Electric is available seven days a week, even offering emergency services. So, if you're in need of electrical services ASAP, we recommend giving BRT Electric a call.
Free consultation
Large service area
Extensive electrical services
Emergency services available
Customer Reviews
Learn more about BRT Electric from previous clients:
"Andrei Queyras has done an outstanding job on the electrical connection of our new hot tub. His workmanship is very professional and his finishing work is very clean and organized. If you are looking for a professional who pays attention to the fine details, I highly recommend BRT Electric for all your electrical needs."
"Highly recommend. BRT was very responsive, professional and reasonably priced. Andrei did good quality work and accomplished exactly what we asked."
13. ELECTRICIANS OTTAWA
Another one in our list is Electricians Ottawa, a company owned by Highbridge Electrical. This company aims to provide you with the best electrical and renovation services.
What we like about them is they service residential, commercial and industrial spaces. So, if you have a home and a commercial space in the area, you don't need to look for multiple electric companies to do the job.
Their services include lighting, safety, and upgrades and installations.
What's great about them is that they have an emergency service available anytime. You can easily get in touch with licensed electrical professionals for anything urgent.
If you'd like to avail of their services, you may simply call their hotline and discuss your electrical problems, then schedule a service.
Another good thing is that they'll also let you talk to the electrician and ask them questions before getting the job done.
You may also get a quote through their website, but we're not entirely sure how quickly they respond through this.
They also don't have their general rates listed on their website, so you'd have to contact them if you're canvassing prices.
Wide range of residential, commercial and industrial electrical services
Offers emergency services
Can get a quote through website or phone
No information regarding rates on the website
Operating hours unavailable on website
Customer Reviews
Here's feedback from a past client:
"Extremely satisfied with the price and service they provided. They were very professional and there were no hidden cost. I would highly recommend Electricians Ottawa to anyone."
14.   FLOODLIGHT ELECTRIC
Maintaining your electrical needs is a must, especially if there are always people with, to ensure both your safety and theirs.
Floodlight Electric is one of our preferred electrical companies because, unlike others, they offer almost everything. From electric vehicle charger installations to HVAC units, they offer a full-service of electrical system solutions including electrical installations, repairs, and maintenance.
We personally prefer them because before they provide an estimate, they will first make sure that they have fully grasped the scope of the work. This is great for those who have a strict budget and prefer to see the specific break down of costs.
It can be difficult to determine which is a true electrical emergency or what can really wait. Availing of a home inspection from them will be absolutely helpful for you because in comparing them to others, you will be given a comprehensive report of all the components that were examined.
What makes them better is that they will also provide you with a detailed list of recommendations that are necessary to upgrade,
Timely and quality service
Transparent pricing
Passionate about our work
Courteous and accommodating
Guarantee cleanliness and respect your space
Rates are unavailable on their website
Customer Reviews
Here are reviews from their previous clients:
"
  Joel, Robbie and their colleague did a fantastic job on my bathroom pot lights. They rewired everything the way I requested. Will be calling them again for future projects."
"
  Cannot speak highly enough of Floodlight Electric. We had pot lights installed in both our kitchen and living room as well as a number of other smaller electrical fixes throughout the house and outdoors. The Floodlight team was professional, timely and very easy to work with. Would hire them again in a heartbeat!"
FAQs About Electricians and Electrical Services
---
This concludes our list for the best electricians in Ottawa! If we missed someone you'd recommend, let us know – we'd love to hear from you!
Looking for furnace repairs as well? Check out this article to help you get started!