5 Best Door Repair Services in Ottawa
Have you been having a hard time shutting your front door properly because the frame has warped? Don't waste precious time trying to wrestle with it if the best door repair companies in Ottawa can fix it in a snap!
For this article, we're taking a closer look at the service providers who can secure your entryways professionally, speedily, and with friendly rates.
In the next section, we'll also discuss how much some typical front door problems will cost.
How Much Does a Door Repair Cost in Ottawa?
Let's concentrate on the types of door repair services in Ottawa that are commonly addressed by technicians. Please note that this doesn't reflect the cost of a total door replacement.
We created the table below to reflect the national average costs on repairs or certain door part replacements.
| | |
| --- | --- |
| DOOR REPAIR SERVICE | ESTIMATED COST |
| Professional painting | $250 |
| Locks and deadbolt replacement | $35 |
| Handle or knob replacement | $45 |
| Frame or door slab replacement | $500 |
| Rotted wood or materials replacement | $45 |
| Storm door removal or reinstallation | $100 |
| Door caulking | $1,495 (inclusive of labour and materials) |
Your final invoice will likely hinge on (pun unintended!) the kind of material your door is made from, plus how bad its state is and the time and labour that are needed to address the problem.
Of course, an experienced technician can always assess your door repair needs before giving you a price quote. It's best to consult with one before booking an appointment.
The Best Door Repair Services in Ottawa
Without further ado, let's take a peek at the best door repair services in Ottawa so your home can feel safe and secure again in no time.
1. Graemar Carpenters and Joiners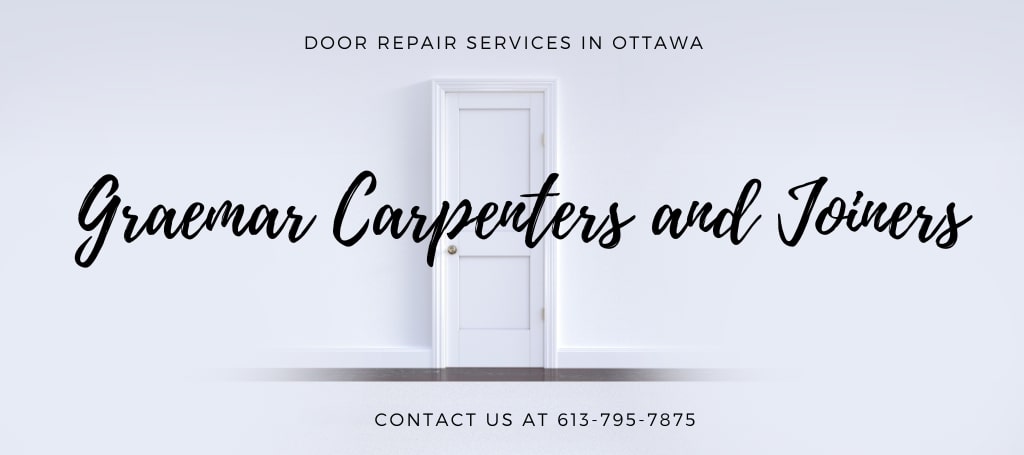 SERVICES
Custom solid wood doors, door installation, door repair, exterior door installation, custom cabinets & millwork
ADDRESS
4090 Belgreen Dr, Ottawa, ON K1G 3N2, Canada
CONTACT NUMBER
613-795-7875
WEBSITE
https://graemar.com/
OPERATING HOURS
Monday to Friday 8 AM – 4 PM
Closed on Saturdays and Sundays
Graemar Carpenters and Joiners is all about building custom doors, cabinetry, vanities, and other heritage carpentry work. But since it's a company that places special emphasis on properly insulated doors, we're including it in our list.
Right off the bat, the company does try to convince clients to go for a total door replacement instead of trying to patch up their existing door problems one at a time. Normally, this would be a red flag for those on a budget if not for its proposed solutions to marry value and efficiency.
Understanding that antique and vintage doors hold sentimental values for homeowners, the team behind Graemar uses weather sealing techniques to prevent drafts from entering. Insulated wood panels and glass can also ensure that your home stays warm, dry, and cozy without compromising your front door's beauty and legacy.
To sweeten the deal, clients can request for green products to be used in reinforcing and repairing their doors. Graemar utilizes low VOC coatings and formaldehyde-free plywood for all its projects.
Green products used for carpentry work
One-year limited warranty on solid wood entry doors
Uses computer-aided designs
Advocates for total door replacement over repair work
Doesn't provide pricing information
Open only on weekdays
Customer Reviews
See how past clients liked Graemar Carpenters & Joiners' services:
"Extremely professional, local artisan and very creative. They proposed a new front door that complimented the house and neighbourhood and what a difference this has made to my home! Excellent detail and quality – top notch!" – Robert Ashton
"Mike Bays and his partners are true craftsmen who care about doing a great job. They executed a whole wall of cherry kitchen cabinets and a new mahogany front door for us and they did a spectacular job on both. You won't go wrong using Graemar." – nhill55
2. Merivale Windows and Doors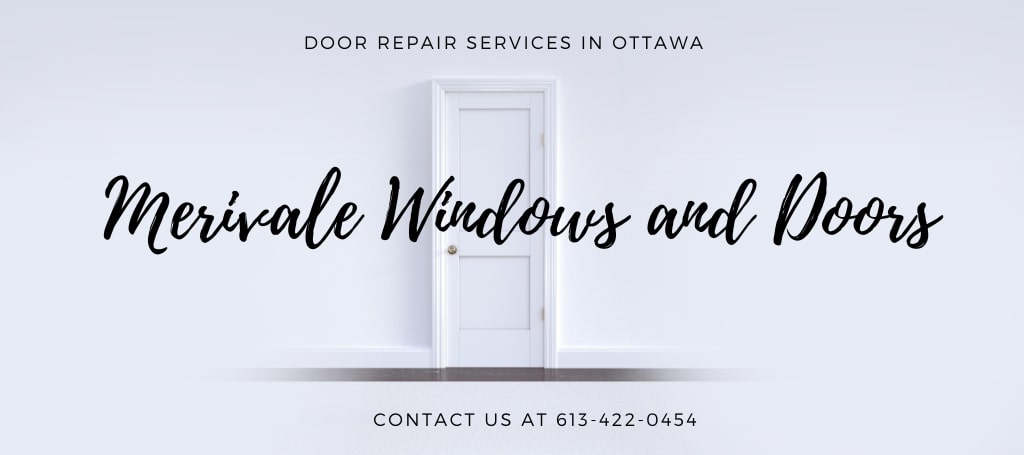 SERVICES
Window and door supplier, entryway, patio doors, vinyl windows, garage doors, caulking, porch enclosures
ADDRESS
1916 Merivale Rd, Nepean, ON K2G 1E8
CONTACT NUMBER
613-422-0454
WEBSITE
https://merivalewindows.com/
OPERATING HOURS
Monday to Friday 8 AM – 4 PM
Closed on Saturdays and Sundays
Merivale Windows and Doors is primarily a manufacturer specializing in steel and fibreglass doors. But one of its main services is caulking for drafty or leaky windows and doors.
It carefully explains the process of stripping old caulking and ensuring an air-tight seal around your doors and windows. It's to ensure a comfortable, climate-controlled home and to add longevity to the life of your precious front door, as well.
Merivale also carries a myriad of door hardware and locking systems for your peace of mind. If your door's security system isn't as foolproof as you'd like it to be, the company can provide solutions and a seamless installation process for you at any time you need it.
You can also opt to reinforce your front door with entry door grilles. The company promises to install one that not only adds extra security to your home but will also complement the look and style of your front door and the entire home.
Flexible financing options
Caulking service and entry door grilles are available
Free quotes
Mostly does sales for new doors
No emergency door repair services
Closed on weekends
Customer Reviews
Read the following client feedback on Merivale Windows and Doors:
"I had my front door replaced by a beautiful fibreglass one. Now I can recognize my home for miles, it's easily the best one on the street! Friendly and professional team that made sure to clean up after they were done. Great service and love the new door!" – Teddra Jones
"Great service from booking to install! There was always a representative waiting to tell me my next steps and what we can do to reach them. The design, modelling, energy efficiency, possible government grants, everything's taken into consideration here. The financing here is also great on your wallet." – James Johnson
3. Gillespie Handyman Services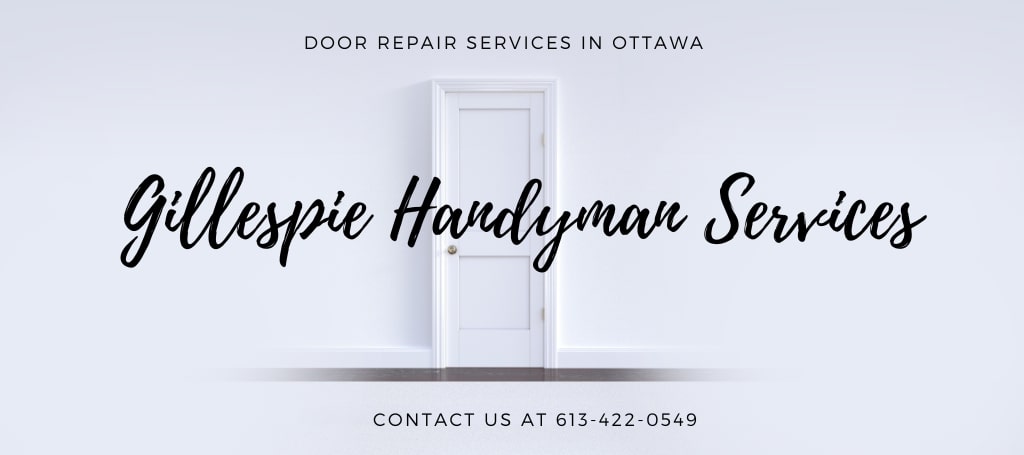 SERVICES
Appliance installation, door installation, floor repair, furniture assembly, home remodelling, tile installation, caulking, door repair, flooring installation, furniture repair, plumbing services
ADDRESS
176 Grenfell Crescent Ottawa, ON K2G 0G4 Canada
CONTACT NUMBER

[email protected]


613-422-0549
WEBSITE
https://gillespiehandyman.com/
OPERATING HOURS
Monday to Friday 8 AM – 4 PM
Closed on Saturdays and Sundays
Though it's a general handyman service, Gillespie makes it to this listicle because it takes pride in its team that has vast construction experience and on-the-spot creativity. And whether it's a simple or complex door repair problem you have, the company can offer solutions that are practical and quick.
In fact, you can find door hardware/lock replacement and caulking services under its handyman to-do list. This means the seemingly small tasks which the Gillespie Handyman Services team often performs actually add value to a home.
Because their skills cut across various disciplines, the carpenters, technicians, and workers of this company can also accommodate facilities management for property owners. Door and window repairs are par for the course with them.
And in case there's actually a job (door-related or otherwise) that's too big for the team to handle, the company promises to refer clients to trusted partners to address it.
Serves residential and commercial clients
Can accommodate facilities management services
Full year labour warranty
Free quotes
Door repairs fall under general handyman services
Some customer complaints about delayed work
No emergency services
Customer Reviews
These customers have good things to say about Gillespie Handyman Services:
"I was very happy with the service provided by Gillespie. I hired them last fall to install a panel of siding on the front of my house. From my first contact with the office staff, they treated me well and were responsive and provided me with a timely, fair quote. They also responded to all of my questions in advance of the work. This was appreciated as I have sometimes found as a single woman that other companies have not been as responsive to me or provide quotes that are obviously overpriced. My neighbours were also interested in having the same work done and Gillespie helped to coordinate the work schedule and payment. We were all very happy with the final result. I will be using them again for future jobs around my house. Thanks to all of the staff, especially the office ladies!" – Willow
"So pleased with service we received. From the first contact to completion was less than 2 weeks! The gentleman (Ryan) that helped us was fantastic. Definitely will be contacting them first when I need a hand next time. Check them out!" – Jason Reeson
4. Queensway Door Service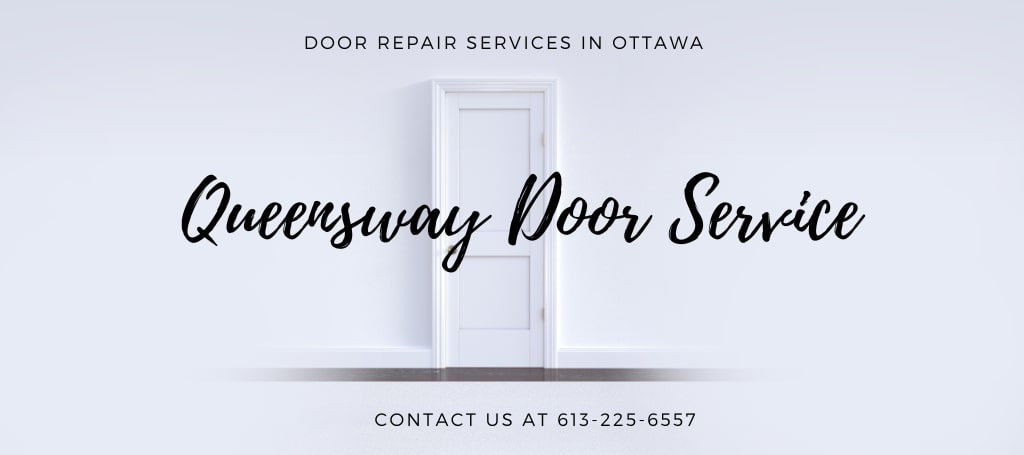 SERVICES
Residential and commercial door and window sales, installations, repairs, and replacements
ADDRESS
41 Capital Drive Nepean, ON, K2G 0E7
CONTACT NUMBER
613-225-6557


[email protected]

WEBSITE
https://www.queenswaydoorservice.com/
OPERATING HOURS
Monday to Thursday 8 AM – 4.30 PM
Fridays 8 AM – 4 PM
Closed on Saturdays and Sundays
Queensway Door Services has been providing commercial and residential door installation services to Ottawa clients since 1979. But it goes beyond sales by doing window and door repair tasks, as well.
In fact, it doesn't push for a total door replacement like other companies do. Its team of skilled technicians can do complete glass replacements, lock repairs or re-keying, storm door repairs and replacements, screen door repair, and even mirrored door services.
Because it also caters to commercial clients, the company throws in some unique products and services for business owners and their customers. For instance, it can install automated doors for people with disabilities and provide break-in deterrent hardware for extra safety and security.
Potential clients can ask for repair and door installation advice and information from the company's bilingual staff. Queensway Door Services also offers free estimates for any of its products or services.
Free estimates
Caters to commercial and residential clients
Bilingual staff
BBB-accredited, A+ rating
No information is available on labour and parts warranties
Open only on weekends
No emergency door repair services
Customer Reviews
Learn how past clients liked Queensway Door Services:
"Great service. Ron and Eric did a fantastic job installing our new storm door. They were efficient and a pleasure to work with. Thank you!" – Eleanor Reid
"Was very happy with the service received. Spoke with Andre to arrange to have our front door fixed and the repair was performed by Eric and Ron very professionally and efficiently. Will definitely use this company again!" – Alexander H.
5. Paramount Door and Window Service, Inc.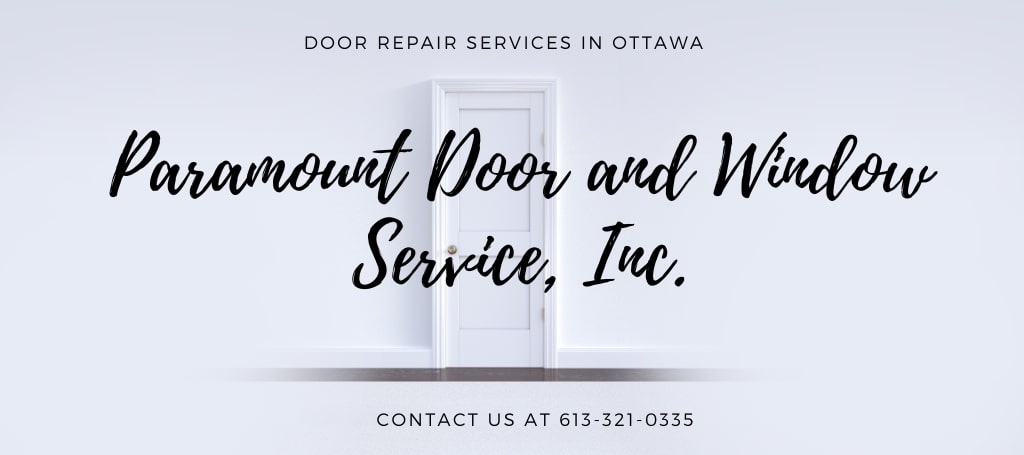 SERVICES
24-hour emergency service, garage door installation, garage door opener installation, maintenance and inspection, automatic door servicing, screen repairs and replacement, window installation, door installation, patio door installation, fire-rated steel door installation, frame construction
ADDRESS
2295 Stevenage Dr. Unit 6 Ottawa, Ontario K1G 3W1, Canada
CONTACT NUMBER
(613) 321-0335
WEBSITE
https://paramountdws.ca
OPERATING HOURS
Monday to Friday 8 AM – 4.30 PM
Closed on Saturdays and Sundays
Paramount Door and Window Services, Inc. succinctly describes its range of services as "complete front to back solutions for all types of clients."
And when it says "all types", it means everything from residential clients to medical schools, convenience stores, restaurants, and religious venues. It even offers 24-hour emergency services even though its operating hours are limited to just the weekdays.
The company partners with an impressive list of suppliers for all door and window glass parts, rolling entry systems, hardware, metal systems, aluminum products, screens, and specialized parts. It's also staffed by bilingual technicians to accommodate a wider range of client queries.
As far as door-related services go, Paramount is arguably one with the most extensive list of services to offer to clients. Its team can repair screen doors, install patio, garage, or steel doors, maintain and inspect commercial and residential entryways, and even construct doorframes as requested.
Caters to commercial and residential clients
Bilingual staff
Free quotes
24-hour emergency services
No available information on labour and parts warranties
Doesn't provide pricing information on products and services
No live customer chat for emergencies
Customer Reviews
Read some client feedback on Paramount Door and Windows Service:
"Very fast and efficient! Dominic and Junior were super friendly and had a great sense of humour! Great customer service! Quality work! Will definitely call back for my future window and door issues. Highly recommended! Also COVID safe!" – Lisa Moreau
"Absolutely first class service. The owner is very knowledgeable and even gave me tips to save money on the repair! Their guys showed up on time, very polite, efficient, and competent. Replaced the rollers on my patio door and got it working like new again. Very fair service charges. I highly recommend this company." – Mark Mulye
FAQs About Door Repair Services in Ottawa
---
We hope that this article on the best door repair services in Ottawa will help you secure your front door ASAP!
We're also open to suggestions for other door repair companies if you have some to recommend!
And if it's your garage doors giving you problems, we got that covered, too. Read our listicle on the best garage door repair companies in Ottawa.