5 Best Date Ideas in Ottawa
Been wanting to take that special someone out for a romantic afternoon or evening? Today's listicle is all about the best date ideas in Ottawa so get ready to have fun together!
Of course, we made sure to select only those that are creative, non-cliché, and more importantly, affordable. So let's discuss some date ideas and how much they'll cost in the next section, shall we?
Are There Affordable Date Ideas in Ottawa?
Count your lucky stars because yes, there are affordable date ideas in Ottawa. In fact, some of the most interesting ones are those that won't burn holes in your pockets.
We'll go as far as saying you can have a memorable date for less than $100. To illustrate further, here's a table of creative date ideas along with their estimated costs.
| | |
| --- | --- |
| DATE IDEA | ESTIMATED COST |
| Drive-in movie with drinks and snacks | $20 – $60 |
| Live comedy show with buffet dinner | $22 – $43 per person |
| Escape room | $25 per person |
| Coffee and dessert | $50 up per person |
| Museum visit | $20 per person |
These date ideas are based on some of the venues and activities we're reviewing today. Some locations like museums might have days with free admissions while coffeeshops and drive-ins could feature promos and discounts on special days.
So if you're low on funds but want to up the fun, we recommend looking up schedules and pricing information on the official websites. Better yet, call up the venues before settling on a date.
The Best Date Ideas in Ottawa
Time to preen and make yourself presentable because we'll be taking a closer look at the best ideas in Ottawa. Let's see which one among them suits your personality (and budget) best.
1. Skylight Drive-In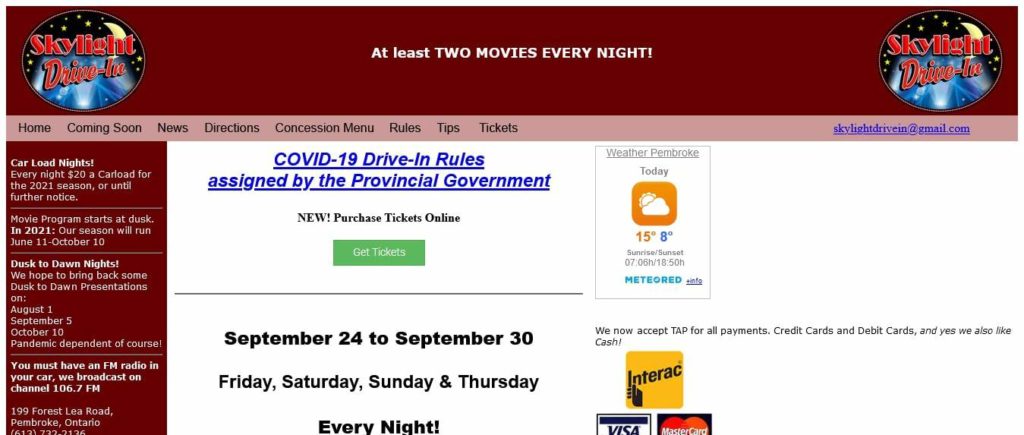 SERVICES
Drive-in movie theatre, food and drinks concessionaire, historical landmark
ADDRESS
199 Forest Lea Road Pembroke, ON, Canada K8A 6W6
CONTACT NUMBER

[email protected]


+1 613-732-2136
WEBSITE
http://www.skylightdrivein.com/
OPERATING HOURS
Nightly screening times are approximate
Movies are always a great first-date idea because there are so many things to discuss or debate over afterward. Plus, a movie date is never complete without going somewhere to eat or have a drink afterward (that's a two-in-one deal!).
Skylight Drive-In can up the movie experience with a romantic drive-in setup plus more bang for your buck at just $20 per car. It offers at least two movies every night which you can watch in the comfort of your own vehicle.
There's also a concession menu with all the goodies of a typical movie theatre snack stand. You and your date can get medium ($4) or extra-large ($7) popcorn buckets with a choice of seasoning, plus cold drinks, candy, or hotdogs.
Of course, the movies start at dusk but with approximate showtimes. If you want to see a particular film, you're going to have to check the schedules on Skylight Drive-In's website so you can book tickets online.
Only $20 per car
Affordable concession menu
At least two movies per night
Also great for family outings
Debit, credit tap or exact change only at the concession
Showtimes are approximate
Dusk to dawn nights are subject to changing schedules
No BBB accreditation
Customer Reviews
Great customer service
"Great place. great customer service. (I made an error, called and it was rectified easily and happily!) I love that they play two movies still and they bring in new films." – Chantal Marie
Great movie lineups
"We've been to all of the drive-ins near us and I have to say this is one of my favourites!! Love their movie lineups/great movie combos and they tell you a month in advance so you can plan ahead. Friendly staff and a great assortment of candy and drinks. We will continue to choose this place over the rest!" – Myriah Saulnier
2. Absolute Comedy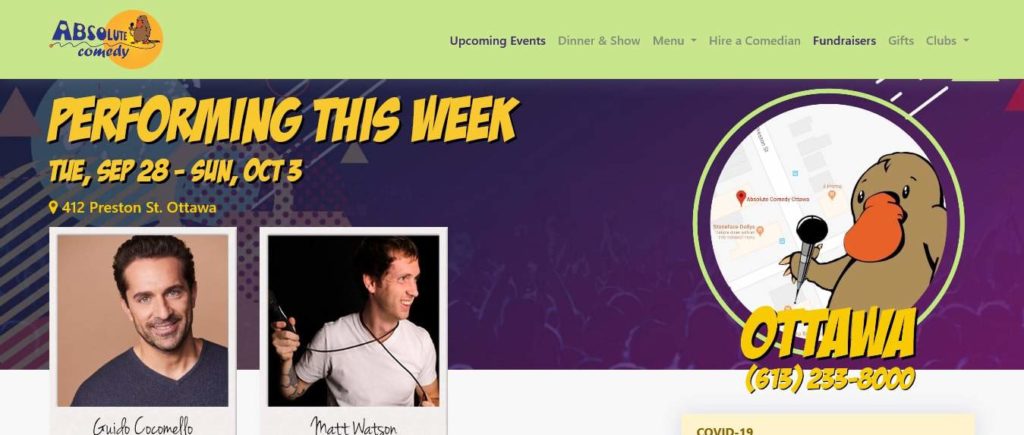 SERVICES
Live comedy show and dinner package, buffet
ADDRESS
412 Preston St, Ottawa, ON K1S 4M9
CONTACT NUMBER
(613) 233-8000
WEBSITE
https://www.absolutecomedy.ca
OPERATING HOURS
Tuesday to Thursday 8.30 PM
Friday (Early) 8 PM
Friday (Late) 10.30 PM
Saturday (Early) 8 PM
Saturday (Late) 10.30 PM
Sunday 8 PM
The most unforgettable dates are usually the ones where you end up laughing a lot over a shared experience (but hopefully not at each other!). Absolute Comedy in Ottawa wants you to have both belly laughs and a full belly.
It's a live comedy club that also offers either a set dinner or a buffet. This means you won't have to book two locations because you can already get a bundled dinner and show for one price.
The featured comedians have detailed biographies so potential audience members can see if their brand of comedy is something they'd go for. We just wish there were links to videos of past performances to serve as previews.
Absolute Comedy also sells gift certificates which are good for any show (except special and concert ones) if you have one of those date nights when you can't decide what to do.
The downside? The gift certificates can only be used 72 hours after purchasing them.
Detailed biographies of upcoming comedy acts
Affordable menu items
Affordable dinner and show rates
Gift certificates are good for almost all shows
Reservations are required
Gift certificates can't be used until 72 hours after purchase
No shows on Mondays
No BBB accreditation
Customer Reviews
Great food and drinks, awesome servers
"This was a fantastic experience! The place was clean and organized, the food and drinks were great, and the employees and servers were awesome. The best part was the comedians who did a great job making the crowd excited and we all had a fantastic time. We will be back for sure when we are in Ottawa again!" – Tali Thompson
Fantastic comedians and top-tier service
"An honest review would say that the seating is comfortable, the service is top tier attentive and fast, food and drink prices are more than fair and ultimately and most importantly the comedians are fantastic… great experience for a night out with friends. Looking forward to being back soon!" – Ian Longo
3. Escape Manor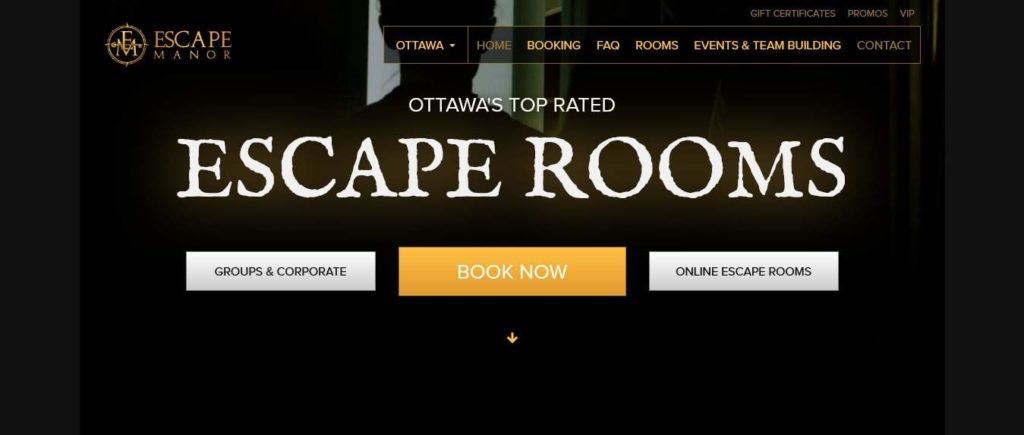 Now here's something for adventurous couples. Escape Manor might be a favourite corporate team-building activity, but there's something in it for people on dates, as well.
This interactive and immersive entertainment can be a great bonding for couples who are just getting to know each other and even those who've been together for some time.
There are different themed rooms to explore so you won't run out of challenges anytime soon. You and your date can choose from the whimsical Wonderland room, the pirate-inspired Hooked room, the maddening Asylum room, and others that need logical deduction and courage to get out of.
If you and your date end up escaping all of the rooms together and want some more, Escape Manor promises new themes and clues every nine to 12 months.
And if you feel like grabbing a drink together after all that "escaping", the Queen Street location offers both non-alcoholic and select wine and spirits on their menu!
Beer, wine, and spirits served at Queen Street branch
Queen Street location is wheelchair accessible
New themed rooms and clues every 9 – 12 months
Gift certificates available for purchase
Slots can get filled up fast
Currently doesn't accept cash payments
Some escape rooms are not accessible by wheelchair
No BBB accreditation
Customer Reviews
So much fun and highly entertaining
"My boss at my work T-Base took myself and my coworkers to escape manor for a fun team building night. It was so much fun and highly entertaining. I will definitely be going back again to escape manor! I highly recommend them. I have done other escape rooms and this one was by far the best." – Elise Chehowski
Awesome place with great staff
"Was in tonight with my friends and we did the Wonderland room! This place is awesome with great staff!! We all had an awesome time and shoutout to our room host Beatrice who made the experience a thousand times better!!! Thanks to the whole team and we hope some new, fun rooms are out soon!" – Jaime Savoy
4. Oh So Good Desserts and Coffeehouse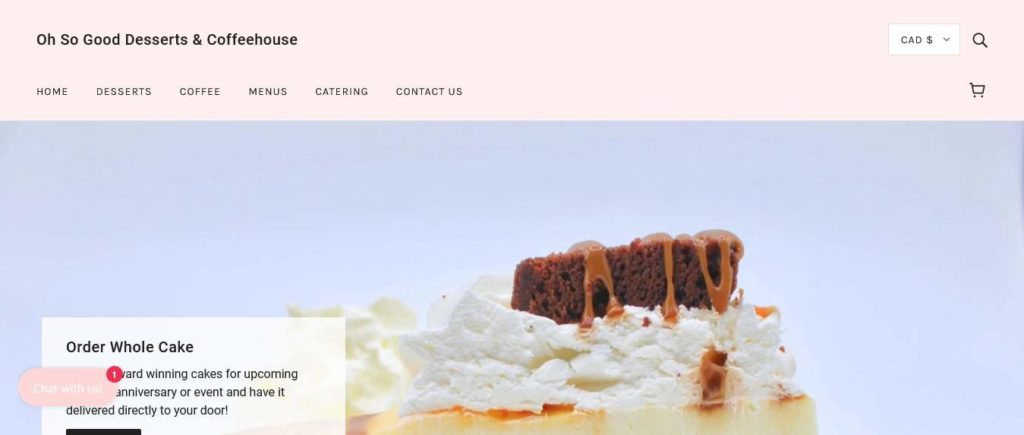 SERVICES
Desserts, coffee, catering
ADDRESS
Byward Market (Downtown) 25 York St Ottawa, Ontario K1N 9J6
CONTACT NUMBER
(613) 241-8028


[email protected]

WEBSITE
https://ohsogood.ca
OPERATING HOURS
Monday to Sunday 12 noon – 12 PM
If you believe that the way to someone's heart is through their stomach, then Oh So Good Coffeehouse might just be your cup of tea (or in this case, coffee). It also does private catering for your special occasions.
This Byward Market coffeehouse and dessert place offers award-winning cakes and freshly brewed coffee. It's the perfect place to take your date whether it's for an anniversary, birthday, or just because you feel like indulging your sweet tooth.
There are whole and small cakes to choose from, as well as pies, gelato, tarts, and cheesecakes. Coffee beverages are available hot or cold, and customers can take their pick of a selection of teas, Italian sodas, milkshakes, smoothies, and other non-alcoholic drinks.
Aside from being affordable and delicious, clients always rave about how big the dessert portions of Oh So Good are.
It's just a pity that it opens around lunchtime so breakfast dates are out of the question. But to sweeten the deal, the shop uses North Brew coffee which is a local company that donates proceeds of sales to homeless shelters in Ottawa.
Generous dessert portions
Reasonably priced desserts and drinks
Can do private catering
Uses local coffee company that donates to the homeless
Not open for breakfast
Minimum of same 10 plates per catering order
No BBB accreditation
Customer Reviews
Very generous portion
"Ordered a full Black Forest cake for $60, and I was expecting a cake 2/3 that size(aka it was much larger than I expected!) It's a very generous portion of individual cake, great for sharing, and already split and ready to serve!
Also, wow it was absolutely delicious. Definitely worth trusting them with all things cake!" – Remington Robison
Best date spot to take your partner
"The best date spot to take your partner or your friends for some coffee or tea & dessert. Super friendly and accommodating staff, good quality cakes & very cozy environment!" – Nicole Glowala
5. National Gallery of Canada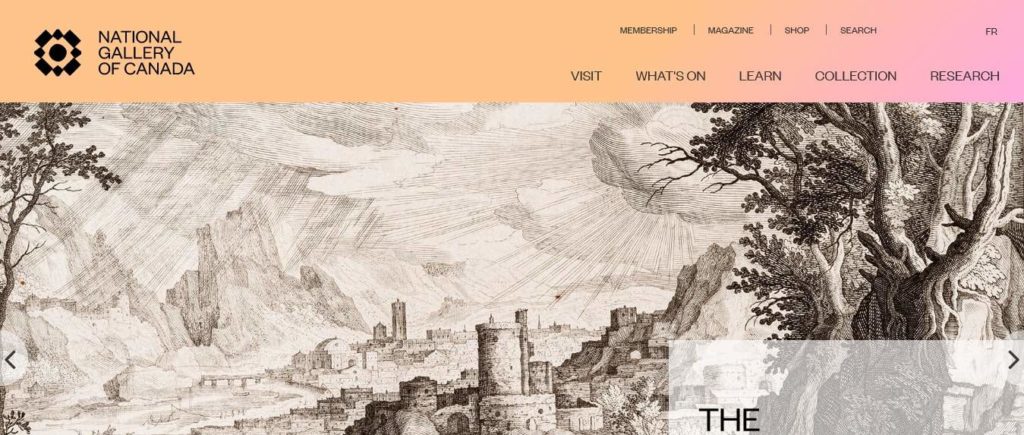 SERVICES
Art museum and the permanent home of the world's most comprehensive collection of Canadian art, temporary exhibits, public events and activities
ADDRESS
380 Sussex Drive Ottawa, ON, Canada K1N 9N4
CONTACT NUMBER
613-990-1985


[email protected]

WEBSITE
https://www.gallery.ca/
OPERATING HOURS
Closed on Mondays and Tuesdays
Wednesdays 10 AM – 5 PM
Thursdays 10 AM – 8 PM
Friday to Sunday 10 AM – 5 PM
What makes the National Gallery of Canada such a potent place for dates (as well as other kinds of visits) is how it holds powerful visual tools that represent different parts of the country's history. In fact, the institution's new purpose is "to nurture interconnection across time and place".
There are current exhibitions to explore at the gallery which typically run for a couple of months. They range from photography, installations, documents, paintings, sculptures, and other forms of visual expression.
There are also permanent national exhibitions on indigenous and Canadian art as well as work from contemporary Canadian artists. To keep with modern times, the gallery also offers a virtual exhibition called Photostories Canada which is a searchable resource of over 800 photostories between 1955 – 1971 by the National Film Board of Canada's Still Photography Division.
And if you want to make your date extra memorable, hop on over to the shop to buy artsy things like jewellery, art books, apparel, and home decor. There's also a coffee shop and a tavern on the premises for post-gallery dates.
Free entrance to members and children 11 years old and younger
Free shipping for shop items worth over $50
15% online shopping discount for members
Coffeeshop and tavern on the premises
Gallery cafeteria is currently closed
Tickets have to be bought online or by phone before visiting
Open for only five days a week
Customer Reviews
Happy to experience such a show
"The Rembrandt exposition was one of the best you've had! I can't remember the last time I was so excited and happy to experience such a show. the covid arrangements were well thought out. thank you for a great afternoon, it was awesome!" – Marilyn Harris Mills
Stunning collection of artworks
"Quite a stunning collection of artworks. I really appreciated the nuanced works added … I particularly loved the insertion of indigenous and POC art in their colonial painting to show how colonial art is viewed from all perspectives.. very interesting!" – Jean-Marc dos Santos
FAQs About Date Ideas in Ottawa
---
We believe the best date ideas in Ottawa are those that will suit any budget, personality, and preference.
If you have a good date idea in mind, please send us a message so we can review it next.
And in case you want to end your date on a sweet note, take a look at what the best ice cream shops in Ottawa can offer you and your special someone.