Top 5 Cosmetic Dentistry Clinics in Ottawa
A beautiful smile makes a lot of difference with how a person feels about themselves. It also affects how others perceive someone, either socially or professionally.
Stained teeth or crooked ones can give a hard blow to your confidence. Fortunately, the top cosmetic dentistry clinics in Ottawa can help fix these issues
Does it cost a lot to get cosmetic dentistry services? Let's find out in the next section.
How Much Do Cosmetic Dentistry Services Cost in Ottawa
The costs of cosmetic dentistry services depend on the severity of the issue being fixed. The best way for you to know how much you need to shell out for that winning smile is to have your teeth assessed.
A cosmetic dentist's experience or expertise may also add to the total fees.
There's also what cosmetic dentists call a "smile makeover" where they can bundle certain services together.
The table below shows some rates of the most common cosmetic dentistry services.
| Cosmetic Dentistry Services | ESTIMATED COST |
| --- | --- |
| Teeth Whitening | Between $120 to $180 |
| Dental Veneers | Between $450 and $1,800 |
| Dental Bonding | Between $300 to $600 |
| Invisalign | Between $4,000 to $8,000 |
Unfortunately, OHIP does not cover dental procedures, you can check if you or a family member is eligible for some government-funded dental care programs.
Some examples of these are the Ontario Disability Support Program (ODSP) for eligible adults and the Healthy Smiles Ontario (HSO) for kids.
The Top Cosmetic Dentistry Clinics in Ottawa
The top cosmetic dentistry clinics in Ottawa will give you not only a bright smile but so much more.
Here are the criteria we used to handpick the entries in our list.
With these guidelines, we're now ready to learn more about what makes each cosmetic dentistry clinic stand out. The FAQ at the end will also give you some extra insights.
1. Inova Dental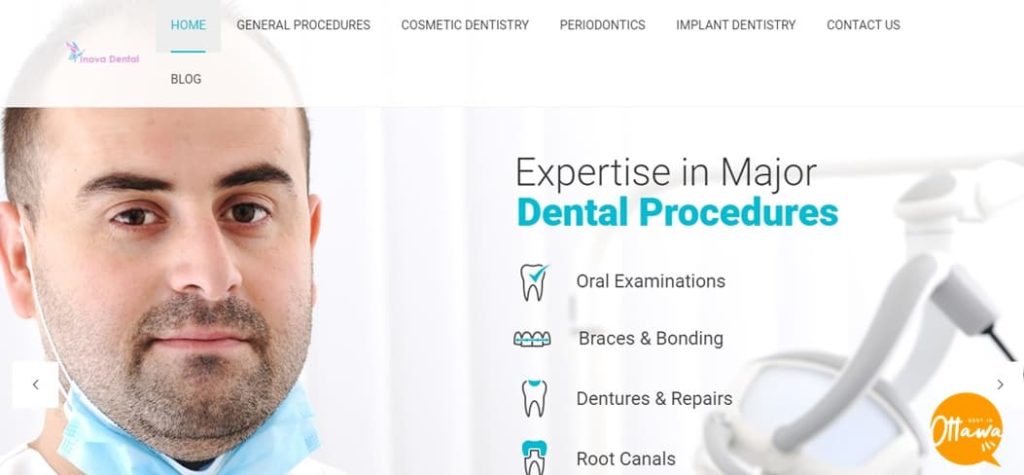 | Test | Info |
| --- | --- |
| SERVICES | Invisalign, veneers, teeth whitening, laser gum contouring, composite bonding, non-surgical gum treatment, general dentistry services, periodontics, implant dentistry |
| WEBSITE | https://inovadental.com/ |
| ADDRESS | 1405 Bank Street Ottawa, ON K1H 8N1 |
| CONTACT DETAILS | (613) 733-8000 |
| OPERATING HOURS | Monday to Saturday 9:00 AM to 5:00 PM |
| | |
| --- | --- |
| Criteria | Ratings |
| Range of Services | ★★★★★ (5/5) |
| Clinic Ambiance | ★★★✩✩ (3/5) |
| Customer Service | ★★★★✩ (4/5) |
| Equipment & Facilities | ★★★★✩ (4/5) |
Inova Dental draws in clients with its smart combination of cleaning and teeth whitening services. When you avail of teeth cleaning, you get whitening for free.
Many satisfied clients can't help but contrast the difference in how their teeth look before and after their whitening session.
Another thing that we like about this clinic is their direct billing to a client's insurance. This leaves you with zero hassle in paperwork and transactions with your insurance provider.
If you're interested in getting a cosmetic dentistry procedure done but aren't sure which ones to go with, you'll be glad to know that Inova Dental offers free cosmetic smile assessments.
They offer a wide range of cosmetic dentistry services like Invisalign, veneers, laser gum contouring, composite bonding, among many others.
You also don't need to worry if you can't squeeze in dental appointments during your workweek since Innova Dental is open on Saturdays.
Sadly, though, there are some negative feedbacks about Inova Dental's pricing and hidden fees. In our opinion, issues like this could be prevented by having a price matrix posted on their website.
Also, some expressed their discontent about having to undergo unnecessary procedures. Others complain about a very quick session where they felt their needs were not addressed.
We also think that an upgrade with their clinic layout would make the space more comfortable. Some patients have professed to a long waiting time for their turns, and they didn't feel at home with the sofas and the visible dirt seen in the waiting area.
Direct billing to insurance
Open on Saturdays
Free cosmetic smile assessment
Free whitening treatment when you avail of cleaning services
Some client complaints about pricing and unnecessary procedures
Long waiting time
No price matrix on the website
Customer Reviews
The whitening made a big difference
"AMAZING place! Great staff, very professional and accommodating. The owner, the hygienist and the receptionists were all very professional and kind to my husband and I. The whitening is so worth it! I saw a big difference after my first session. Love the place and the staff! We highly recommend this place! Keep up the good work." — Maryam Jaggan
Excellent hygienist
"Abrar was amazing. She did my teeth cleaning; was very gentle and extremely sweet. She catered to my needs and made sure I was comfortable the whole time. I feel very good about having her as my hygenist. A huge bonus was that she gave me thoughtful tips and information on dental health 🙂 Everyone at Inova dental was generally so sweet and so helpful. Definitely going to be my go-to place." —Nadine Mourad
2. Aqua Dental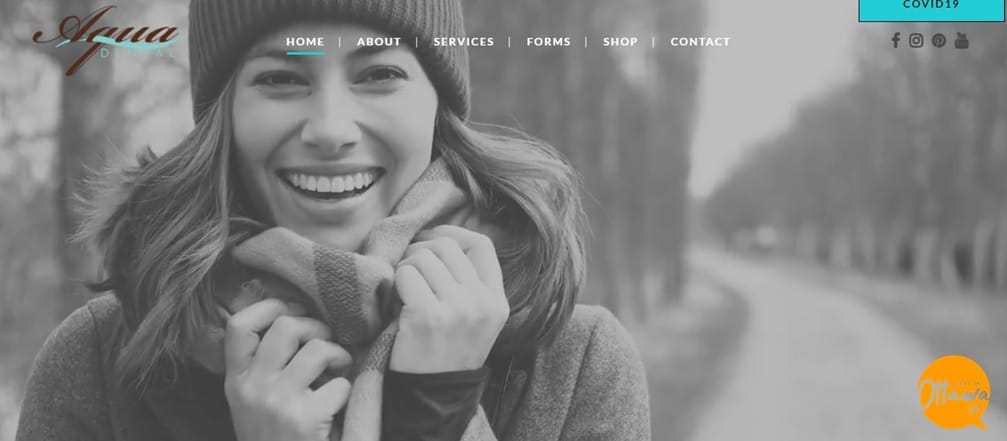 Test
Info
SERVICES
Teeth whitening, porcelain veneers, direct bonding, oral surgery, orthodontics, general dentistry
WEBSITE
https://aquadentalottawa.ca/
ADDRESS
9-3091 Strandherd Drive Ottawa, Ontario, K2G 4R9, Canada
CONTACT DETAILS
613-825-5000
OPERATING HOURS
Monday, Thursday 8:30 AM – 5:00 PM

Tuesday, Wednesday 7:30 AM – 4:00 PM

Friday 8:30 AM – 2:00 PM
| | |
| --- | --- |
| Criteria | Ratings |
| Range of Services | ★★★★★ (5/5) |
| Clinic Ambiance | ★★★★★ (5/5) |
| Customer Service | ★★★★☆ (4/5) |
| Equipment & Facilities | ★★★★★ (5/5) |
Dental anxiety and phobia are all too common for many people. Aqua Dental has won the hearts of many patients because they make sure to alleviate such worries and fears.
We love the idea of having a massage chair instead of the traditional dental chair. It doesn't hurt also to have the option to watch Netflix while having some of your dental procedures done.
We also like the fact that Aqua Dental has a playroom for children to help them be more relaxed before their dental appointment.
But it's not only their facilities that would help you enjoy your dental visit. The empathetic and knowledgeable staff can help you relax and make you feel informed about what's being done to your teeth.
You would find that Aqua Dental uses top-of-the-line technology. For example, they use the digital smile design to start their patients' journey of regaining their smiles.
This treatment planning tool combines videos, pictures, X-rays, and 3D imagery to help patients see how they want their smiles to turn out.
With all these wonderful services, it would have been helpful if they have a price matrix on their website to help potential clients decide faster.
Another letdown with Aqua Dental is that they are closed on weekends. Also, due to the restraint of the COVID situation, they have to stop their direct billing to their patients' insurance providers.
Uses digital smile design (DSD) to assess smile
Has a massage chair in place of a traditional dental chair
Option to watch Netflix while undergoing dental procedures
Has an online before-and-after gallery
 A large team of dental professionals
No price matrix on the website
Closed on weekends
Stopped direct billing to insurance providers since COVID time
Customer Reviews
Gentle hands translate to painless dental visits
"Extremely friendly staff, make you feel like family! Dr. Huda and all her staff are incredible, always going above and beyond for us! Gentle hands make for painless visits, would 100% recommend booking an appointment!" —Antwan Danial
Non-judgemental environment
"I have severe anxiety when it comes to the dentist because of previous root canals and extractions without freezing. My teeth are broken, missing, stained and just overall in bad shape. Dr. Huda and her team are kind, non-judgemental, gentle, patient (I always have to pee at some point during the procedures because of my anxiety, but they never seem to be frustrated at having to stop and remove everything) and are very good at what they do!
Wonderful friendly inviting family atmosphere!" — W.S.
3. Dentistry at the Crossing

| Test | Info |
| --- | --- |
| SERVICES | Teeth whitening, Invisalign, dental bridge, dental crowns, inlays/ onlays, routine teeth cleaning, oral surgery, emergency dental services |
| WEBSITE | https://www.dentistryatthecrossing.com/site/home |
| ADDRESS | 1884 Merivale Rd, Nepean, ON K2G 1E6 CA |
| CONTACT DETAILS | (613) 225-7000 |
| OPERATING HOURS | Tuesday to Friday 7:30 AM to 4:30 PM |
| | |
| --- | --- |
| Criteria | Ratings |
| Range of Services | ★★★★★ (5/5) |
| Clinic Ambiance | ★★★★★ (5/5) |
| Customer Service | ★★★★✩ (4/5) |
| Equipment & Facilities | ★★★★★ (5/5) |
Dental emergencies, such as a severe toothache or bleeding gum, can be intolerable. We appreciate the fact that Dentistry at the Crossing accepts patients in such situations to provide the needed relief.
For regular visits, you may opt to use their online booking to set an appointment or give them a call. For our personal choice, we love the first method because it's more convenient.
The use of intra-oral cameras allows you to be on the same page with your dentist as you see what they see. 3D scanning and digital radiography also help to lessen radiation exposure.
An overhead television in the dental room serves two purposes—you could see the treatment being done to you should you request it. Another option is to just chill with regular programming, instead.
The modern dental chair which boasts of memory foam and massaging features is a very wise investment, in our opinion. This could make the patients feel like they're visiting a spa instead of a dental office.
One disadvantage of booking an appointment with Dentistry at the Crossing is there are fewer slots available. This is because they're closed on Mondays, Saturdays, and Sundays.
It would also be helpful for potential clients if their website could include a price matrix.

Uses intra-oral cameras and digital imaging
Has a modern dental chair (with memory foam and massaging features)
Has an online before-and-after smile gallery
Offer emergency dental procedures
Have an online booking appointment
Closed on Mondays, Saturdays, Sundays
No price matrix on the website
Some client complaints about dental procedures done
Customer Reviews
Positive atmosphere
"Wonderful atmosphere. Clean, modern, and everyone is so kind. Looking forward to our next visit!" —Stephanie LS
No more dental anxiety
"I've been going to Dr.Shadi for about 7 years now. I've always had a ton of anxiety going to the dentist until I started going here. Dr. Shadi is an amazing dentist, he and his assistant Sarah have a great ability to make you feel comfortable and confident going into any procedure, which I am sure is not an easy task in their line of work. I highly recommend dentistry at the crossing." -Chris Wagner
4. Rockcliffe Dental and Denture Centre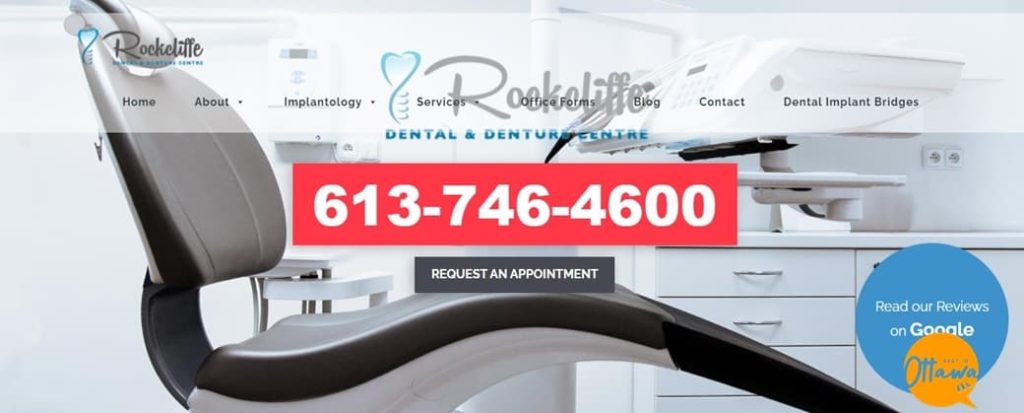 Test
Info
SERVICES
Teeth whitening, porcelain veneers, inlays/onlays, smile makeover, dental bonding, gum contouring, bridges and crowns, general dentistry, pediatric dentistry, emergency dental services
WEBSITE
https://familydentistottawa.com/
ADDRESS
681-A Montreal Road, Ottawa, Ontario K1K 0T1
CONTACT DETAILS
613-746-4600
OPERATING HOURS
Monday, Wednesday, Thursday 7:00 AM to 5:00 PM

Tuesday 7:00 AM to 7:00 PM

Friday 8:00 AM to 5:00 PM
| | |
| --- | --- |
| Criteria | Ratings |
| Range of Services | ★★★★★ (4/5) |
| Clinic Ambiance | ★★★★✩ (4/5) |
| Customer Service | ★★★★✩ (4/5) |
| Equipment & Facilities | ★★★★✩ (4/5) |
Most people desire convenience, even with their dental visits. Rockcliffe Dental and Denture Centre gained loyal patronage by addressing this need.
We like the fact that this dental office shows attention to seemingly small yet important details. For example, clients don't have to worry about where to park because the clinic offers free parking.
We also appreciate the fact that Rockcliffe is a handicap-friendly facility. This shows that everybody should have access to proper oral healthcare.
Also, their flexible payment methods allow patients to choose which is most convenient for them. You can pay with cash, do debit transactions, or use your Visa or MasterCard.
They also provide direct billing to your insurance. However, they still advise patients to inquire about what services are covered by their providers.
You don't have to worry about not getting a schedule for your next appointment. Rockcliffe staff would ask you to schedule it at the end of your dental visit.
This, of course, could be subject to change, provided that you notify them at least 48 hours before your scheduled appointment.
One thing that they need to make consistent is their customer service. Some sources said that they have unimpressive experiences with their dental visits here.
It is also unfortunate that they are close on weekends and can't cater to patients' needs when most people have a longer free time.
Offers teeth whitening kit
A large team of dental professionals
Schedules next appointment at the end of each dental visit
Flexible payment methods
Direct billing to insurance providers
Free parking
Handicap-friendly facility
Closed on weekends
No price matrix on the website
Some client complaints about customer service
Customer Reviews
I regained my confidence and my smile
"This is truly the best dental services. Clean, happy and very professional. After 10 years of never smiling. Rockcliffe Dental gave me back my smile. You are all amazing!!!" —Sandy Gagne
Excellent in his field
"The place is clean and the staff is exceptional. Dr. Koniouchine is good with cosmetics procedures. Thanks.." —Catherine
5. Dentistry @ Bank Street Professional Centre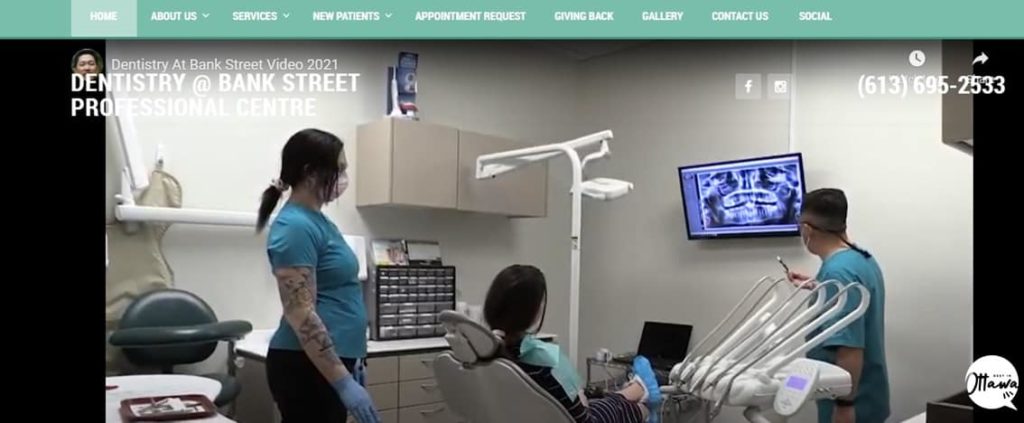 Test
Info
SERVICES
Cosmetic dentistry, preventative dentistry, dental implants, dentures
WEBSITE
https://www.dentistryatbank.com/
ADDRESS
1355 Bank Street, SUITE #108 Ottawa, ON K1H 8K7
CONTACT DETAILS
(613) 695-2533
OPERATING HOURS
Monday to Thursday 8:00 AM to 4:30 PM

Friday 8:00 AM to 12:30 PM
| | |
| --- | --- |
| Criteria | Ratings |
| Range of Services | ★★★★☆ (4/5) |
| Clinic Ambiance | ★★★★★ (5/5) |
| Customer Service | ★★★★★ (5/5) |
| Equipment & Facilities | ★★★★★ (5/5) |
Kind, professional, friendly, and thorough are some adjectives that always come up when patients are asked about their dental encounters with Dr. Lee and his team.
Aside from a caring nature, what we commend with Dentistry @ Bank Street is their use of "trial smile". By having a clear preview through computer imaging or 3-D models, the patient would be fully informed and could adjust their vision if necessary.
You can even have temporary restorations to have the actual feel of it without committing to the cosmetic procedure yet. With this approach, you would have no regrets about your smile makeover.
It's also helpful that aside from English, some of the staff can also converse in French. On top of that, Dr. Melvin can explain the procedures in Korean.
Some also comment on the convenience of the location. The clinic is situated on the first floor, with ample parking space outside and a drugstore just next door.
Another plus point for this dental clinic is that they arrange for some of their services to be paid through your insurance. The staff will ensure that you get the best value of your policy concerning dental needs.
However, we noticed that their website needs to have more personalized content. While their content is informative, they need to focus more on giving information about what their dental office offers.
A price matrix would also be helpful to attract potential clients to their door.
Another letdown is that they do not operate on weekends when most people have some spare time to take proactive care of their oral health.
Multilingual staff (English, French, and Korean)
Offers a "trial smile"
Convenient location
Some services can be covered by insurance
Has an online before-and-after gallery
Closed on weekends
No price matrix on the website
Customer Reviews
His expertise translates to a beautiful smile
"My experience at this clinic has been outstanding. I haven't been to the dentist for a true oral health exam in more than maybe 10 years and needless to say I had a lot of work ahead of me. Dr. Lee was direct yet compassionate in every exam, and made sure I was comfortable with each procedure along the way. I had several fillings that were completed over two separate visits. Scheduling these appointments was made easy by the excellent staff and they were very accommodating. We managed to spread the work out so the first visit was in 2019 and the second in 2020, taking full advantage of my insurance. The patient coordination was exceptional, and their knowledge of my insurance coverage was really impressive and comforting. I really felt like I was in good hands. One thing I'd like to point out as well was some of the cosmetic dentistry that was performed. I had stains on my front teeth and white blotches that I was self-conscious about and Dr. Lee had them taken care of within 20 minutes of the second appointment. I feel more confident with my smile and I'm really grateful for his professionalism and expertise." —Greg K.
Satisfactory cosmetic procedures
"I saw Dr. Lee and his team today for a checkup. Everything went well and I continue to be very pleased with the cosmetic dentistry he did a few years ago. My crowns are better than my original teeth. Absolutely no issues, and I recommend him to anyone wanting a better smile!" — Roy Y.
FAQs about Cosmetic Dentistry Services in Ottawa 
---