5 Best Chemical Peel Clinics in Ottawa
Not a lot of people know this, but facial treatments such as chemical peels aren't just about keeping your skin smooth. They are actually good for keeping your skin healthy and are important for your body in the long run.
In this article, we round up the best chemical peel clinics in Ottawa so you can find the one best suited to your needs, preferences, and budget.
How much do chemical peel clinics charge in Ottawa?

The typical price of a chemical peel procedure in Ottawa is $150 for a light peel and up to $3000 for a deep peel.
In the table below, you'll see a more specific price list for chemical peels and other skin procedures.
| Type of Skin Procedure | Average Estimated Costs |
| --- | --- |
| Light to Medium Chemical Peel | $135 - $200 |
| Deep Chemical Peel | $2500 - $6000 |
| Wrinkle & Scar Reduction | $150 - $250 |
| Acne Reduction | $100 - $250 |
| Hydrafacial | $150 - $250 |
The Best Chemical Peel Clinics in Ottawa
We wanted to find the best clinic for you. There are numerous options in the city, but we chose our favorites based on the following criteria:
1. Dermaworks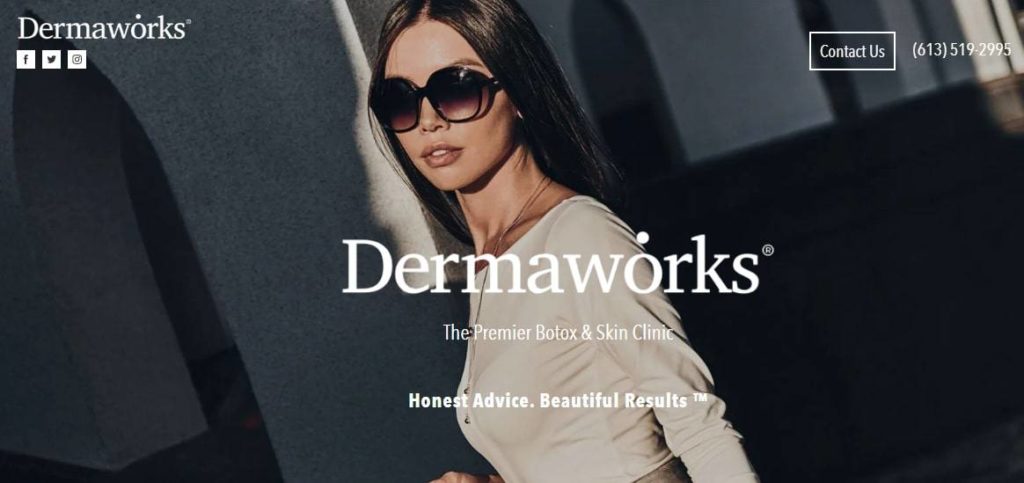 Test
Info
SERVICES
Chemical Peels, Acne Treatment, Acne Scars Treatment, Facial Treatment
WEBSITE
https://www.dermaworks.com/
ADDRESS
1081 Carling Ave #301, Ottawa, ON K1Y 4G2, Canada
CONTACT DETAILS
613-667-9455
OPERATING HOURS
Mondays to Fridays: 9:00 AM – 5:00 PM

Closed on Weekends
| | |
| --- | --- |
| Criteria | Ratings |
| Rates | ★★★★ (4/5) |
| Location | ★★★★ (4/5) |
| Equipment | ★★★★★(5/5) |
| Portfolio | ★★★★★(5/5) |
Carling Avenue's Dermaworks is a skin clinic that is able to provide multiple services, including therapeutic chemical peels. The clinic is located on a busy yet attractive street not too far from the main city.
What we like about Dermaworks is the vast array of options it presents when it comes to chemical peels. The blended solution it uses contains medical-grade ingredients that can take care of the outer layer of your face without harming you.
We are also big fans of the custom chemical peel treatments it offers. We like this because everyone has unique issues when it comes to their face and needs to be careful of what they apply to their skin.
One of the clinic's procedures that caught our eye is the Superficial Chemical Peel. This type of chemical peel procedure is done with milder acid that only affects the top layer of the skin.
Hence, it is perfect for those with sensitive skin types. The mild chemical isn't too strong but is good enough to take care of minor discolorations and rough areas without damaging the top layer.
Another type of chemical peel the clinic offers is the Medium Chemical Peel, which penetrates deeper into the layers of your skin to deal with issues such as age spots, wrinkles, sun spots, and more.
This is especially used for clients with a tougher skin exterior — usually middle-aged to elderly clients.
We also like the Deep Chemical Peel, which is recommended for more intense skin issues such as facial scars, lines, and hyperpigmentation.
If you're concerned and unsure about your skin type and what kind of peel would suit it, there's no need to worry because Dermaworks has physicians that will check your skin before applying any kind of treatment.
Overall, this clinic is a solid choice for your chemical peel needs. We love that it wants to ensure its client's safety with custom peels and physician checkups.
The only possible downside with Dermaworks is the clinic's price but this depends on what procedure you'd like to avail of.
Numerous chemical peel options
Also does other skin procedures
Customer Reviews
Great experience
"Dr. Vassiliou is a consummate professional and always works in the best interest of the individual. Her products are exceptional, but it's her attention to detail and optimizing your individual results is why you should look no further if you are considering treatment. I cannot say enough how pleased I am with my experience and highly recommend you book your appointment now." – Nick V.
Excellent service

"Dr. Vassiliou and her team have been my physician for many years now. She is very experienced and a pleasure to see at each visit. Her products are well priced and very effective. I recommend anyone to attend her office for your skin care needs. You will leave there feeling wonderful as I do every time. The clinic is warm and safe and everything is thoroughly explained to you. They are my go to to feeling great !" – Pam C.
2. Essence of Beauty

Test
Info
SERVICES
Chemical Peels, Acne Treatment, Acne Scars Treatment, Facial Treatment
WEBSITE
https://www.essenceofbeauty.ca/
ADDRESS
Pebb Building, 2197 Riverside Dr. #200, Ottawa, ON K1H 7X3,
CONTACT DETAILS
613-220-2101
OPERATING HOURS
Closed on Monday & Tuesday

Wednesday 10:00 AM – 6:00 PM

Thursday – Friday 10:00 AM – 6:00 PM

Closed on Saturday
| | |
| --- | --- |
| Criteria | Ratings |
| Rates | ★★★★ (4/5) |
| Location | ★★★★ (4/5) |
| Equipment | ★★★★★(5/5) |
| Portfolio | ★★★★ (4/5) |
The Essence of Beauty's chemical peel procedure is a solid option for anyone who wants skin problems to go away. The clinic has numerous services available, and all of them are non-invasive and non-toxic.
Its Skincare Specialist and CEO, Eva, is very experienced in skin treatments. With over 28 years in the industry, you can be confident that you're in the right hands.
For skincare, the Essence of Beauty offers No-Acid Special Peels. This type of peel is non-toxic and safer for clients with sensitive skin.
We really appreciate that Essence of Beauty understands that sometimes, too many products on our skin can lead to terrible side effects.
So we are very happy with its No-Acid peels, which use only a few ingredients — unlike other clinics that use too much product that can have opposite effects on the skin.
While Essence of Beauty has safer and more effective chemical peel treatments, we did notice, of course, that it charges higher prices.
The other peels the clinic has available are the Herbal Green Peel and the Salicylic Acid Peel. Both are great options as well and also provide skin rejuvenation without being acidic or toxic.
Overall, with the types of services it offers, the Essence of Beauty is definitely a solid choice for anyone who needs healthier skin. The only issue is it's only open three times a week and can be fully booked often, so remember to set a schedule early.
Good option for natural peeling
Good price
Parking can be full sometimes
Only open three times a week
Customer Reviews
Fair price and knowledgeable

"I am very picky about who touches my face, and I can say that I trust Eva. Had a wonderful experience! My milias were removed for a very fair price. Eva is very kind and knowledgeable. I look forward to doing more services with her." — Brittany Luanzon
Great advice and procedure
"So happy to have found Eva through exactly these reviews! I went to see her for my Rosacea and acne problems. I had lost complete control of my skin. Extreme facial flair ups and acne was my ordeal. My skin had doubled in thinness and was bumpy in some areas. Her advice is not just to correct the problem externally but also internally." – M. W.
3. MediSpa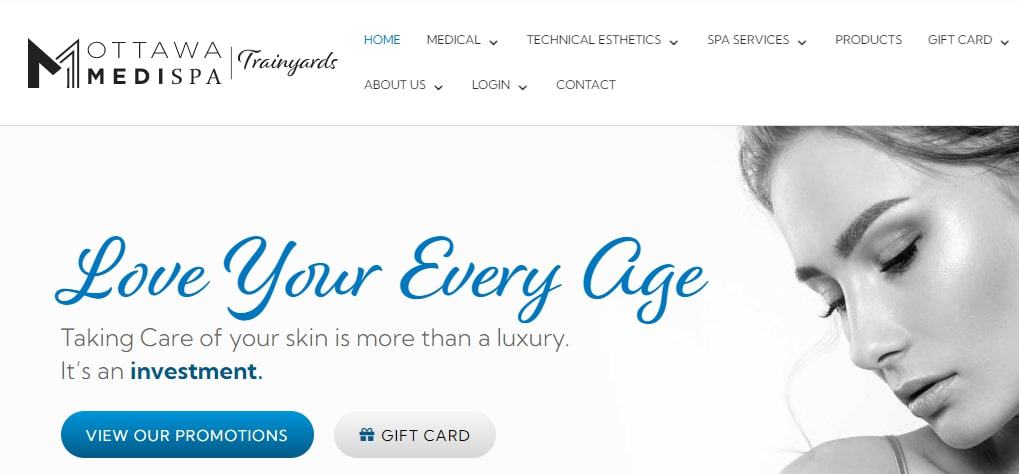 Test
Info
SERVICES
Chemical Peels, Acne Treatment, Acne Scars Treatment, Facial Treatment
WEBSITE
https://ottawamedispa.ca/
ADDRESS
140 Trainyards Dr #4, Ottawa, ON K1G 3S2, Canada
CONTACT DETAILS
613-733-5500
OPERATING HOURS
Mondays to Thursdays: 9:00 AM – 7:00 PM

Fridays: 9:00 AM - 6:00 PM

Saturday: 9:00 AM - 5:00 PM

Closed on Sundays
| | |
| --- | --- |
| Criteria | Ratings |
| Rates | ★★★★★(5/5) |
| Location | ★★★★ (4/5) |
| Equipment | ★★★★★(5/5) |
| Portfolio | ★★★★★(5/5) |
MediSpa is also a great clinic for maintaining healthy skin. For its chemical peels, the clinic has partnered with the well-known brand, Alumier.
With Alumier, MediSpa has access to numerous medical-grade skincare advancements. Of course, these premium brands come at a price and can be a dealbreaker for some clients.
Among the services it offers are skin rejuvenation procedures, acne clearing, and other facial treatments. We like a clinic that can offer numerous services because it adds to the convenience of its service.
We're big fans of how MediSpa educates its clients, telling them the specific details of each type of chemical peel. The physicians in the clinic also make sure that they inform the clients of how to maintain their skin after the procedure.
The clinic offers three main chemical peels: light, medium, and deep. Each one has its own unique specialties.
We like that these chemical peels are organized and coordinated properly so people with different types of skin have the option to choose. It also minimizes the risk of side effects, especially the deep chemical peel, which is very strong compared to the first two.
We also like that the clinic is open on Saturdays, which to us is the best day to spend time at the spa or dermatologist to treat yourself to a full facial treatment.
Overall, despite some pricey procedures, MediSpa is a solid choice for your chemical peel needs.
Open on Saturdays
Good location
Customer Reviews
I'm glowing

"Sue at Ottawa MediSPA is a treasure. She gives solid advice based on her analysis of your skin's unique needs and delivers treatments with great skill and attention to detail. Plus she is one of the kindest people out there! You really cannot go wrong. My face glows." – Alyssa N.
Trustworthy

"Nurse Amy is one of the best professionals I have encountered in the industry. She listens and addresses any concerns or questions with her client. Trust is number one and I cannot wait for my next appointment. 10 out of 10 rating from me." – Cynthia Laham
4. Dermis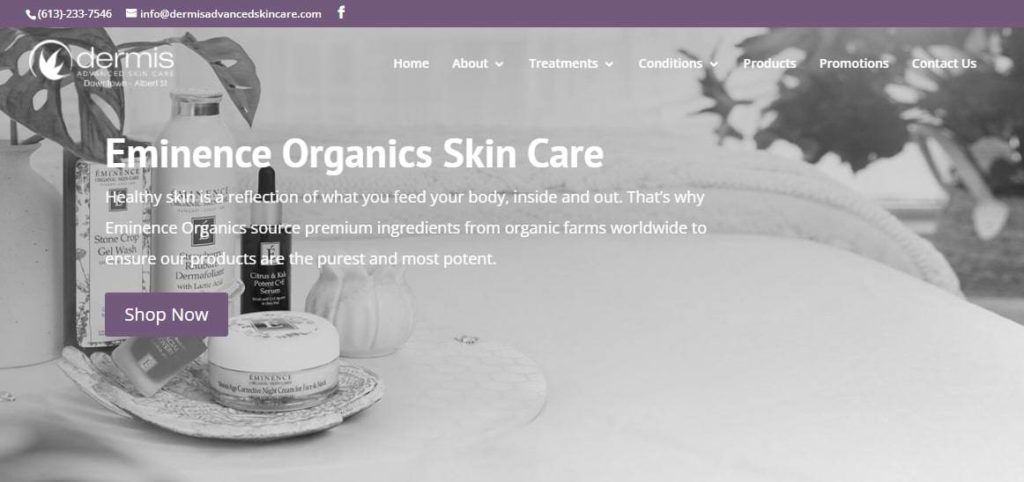 Test
Info
SERVICES
Chemical Peels, Laser Hair Removal, Tattoo/Pigment Removal, Acne Scarring, Skin Rejuvenation, Neuromodulators/Fillers, Microdermabrasion
WEBSITE
https://www.dermisadvancedskincare.com/
ADDRESS
B116 Albert St #110, Ottawa, ON K1P 5G3, Canada
CONTACT DETAILS
613-233-7546
OPERATING HOURS
Mondays to Fridays: 9:00 AM - 7:00 PM

Closed on Weekends
| | |
| --- | --- |
| Criteria | Ratings |
| Rates | ★★★★ (4/5) |
| Location | ★★★★ (4/5) |
| Equipment | ★★★★★(5/5) |
| Portfolio | ★★★★★(5/5) |
The Dermis clinic has over 10 years of experience in skincare. Similar to MediSpa, it has partnered with Alumier for its chemical peels.
Stephanie Toste, its founder, is an expert on skin treatments who believes that everyone should have access to healthy skin.
With that said, Dermis offers numerous services for skin treatments including skin rejuvenation, acne treatment, and tattoo removal, but we will focus on its chemical peel services here.
Dermis specializes in laser treatments, so its chemical peel procedure is more laser-based. Basically, using a laser, the chemicals are warmed up to make the procedure more effective.
Although this is unusual and can be scary for newcomers, we actually like this method. It is more precise and reaches deeper into the skin without using toxic chemicals.
However, this can be a dealbreaker for clients who are more comfortable with the classic chemical peel procedure. Some clients may also be intimidated by the laser and may choose to go with other clinics instead.
Similarly, we hope that Dermis has the option for ordinary chemical peels, not just laser-based ones so they can grow their clientele and cater to different preferences.
Overall, we think Dermis' method is quite unique. The price may be expensive for some but with its experience and reputation, we're confident that its methods work well.
Pricey
Laser may be intimidating for some
Customer Reviews:
Thankful

" I was hoping to book here for my daughter. Thank goodness they responded promptly. They were very patient and understanding with all my concerns and questions I had. The 1st treatment looks very effective. I am looking forward to my daughter's follow up appointments and see the full effect. Thank you for your guidance and care." – Beth Enriquez
Rewarding

"I am very happy with Dermis Clinic. My experience was extremely positive and pleasant and very rewarding. I always look forward to my next appointment. It's life changing! I recommend this place!" – Natalie M. Andrades
5. Ottawa Laser Clinic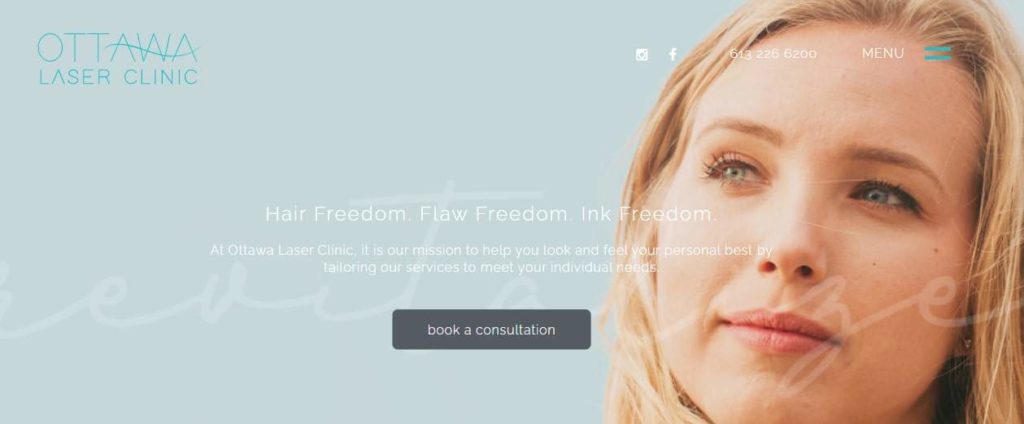 Test
Info
SERVICES
Chemical Peels, Laser Hair Removal, Tattoo/Pigment Removal, Acne Scarring, Skin Rejuvenation, Neuromodulators/Fillers, Microdermabrasion
WEBSITE
https://ottawalaserclinic.ca/
ADDRESS
2725 Queensview Dr #400, Ottawa, ON K2B 0A1, Canada
CONTACT DETAILS
613-226-6200
OPERATING HOURS
Monday: 10:00 AM - 6:00 PM

Tuesday to Friday: 9:00 AM - 8:00 PM

Saturday: 9:00 AM - 5:00 PM Closed on Sundays
| | |
| --- | --- |
| Criteria | Ratings |
| Rates | ★★★★ (4/5) |
| Location | ★★★★ (4/5) |
| Equipment | ★★★★★(5/5) |
| Portfolio | ★★★★★(5/5) |
The Ottawa Laser Clinic is another great candidate for the title of the best chemical peel clinic in Ottawa. With 15 years of experience in the skin care industry, the OLC definitely knows the ins and outs of medical-grade chemical peels.
The clinic has partnered up with Alumier to offer two types of chemical peels: superficial and medium depth.
Similar to light chemical peels, the superficial chemical peel focuses on minor blemishes and minor scars while the medium-depth peel has a similar but more intense process.
We like that the OLC gives a couple of options for its clients. But it's a bit disappointing that it only offers two types of chemical peels.
Some clients may need a stronger or more personalized option.
With that said, the OLC's chemical peel services may not be that vast, but it also has other treatments to offer. These include hair removal, acne treatment, and microdermabrasion.
Have we mentioned that the clinic was also awarded a consumer's choice trophy by Top Choice Awards Ottawa?
Aside from the limited chemical peel options, the only downside with OLC is it has a lot of clients, so make sure to schedule your appointment early to secure a spot.
With that said, OLC is still a solid pick for anyone with skin care needs. It has multiple services available and its chemical peel treatment is unique and effective.
Also offers other services
Great portfolio
Lots of clients, which can make it hard to book its services
Customer Reviews:
Caring

"The owner (Alison) cares a lot about her customers' satisfaction and she is very professional. I had to interrupt the treatments due to pregnancy and she was very understanding. Moreover, I got great results despite having to stop the treatments. – Emilie Noel
Focused on helping

"Alison, (the owner and laser technician) is caring, attentive, meticulous and makes anyone feel welcome but mostly comfortable at any time and that in itself is very comforting. I trust her completely with any care whether it be laser hair removal or facials or any treatment she performs or advice she offers. Her team makes you feel the very same" – C. Lat
FAQs about in Chemical Peel Clinics Ottawa
---
When it comes to chemical peel clinics, there are numerous options in the city. To help you choose the right one for you, we rounded up the best ones that offer quality treatments and undeniable expertise.
Looking for more ways to improve your appearance? How about visiting a dentist? Check out the best dentists in the city here!